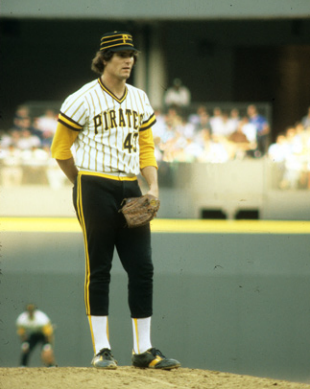 ---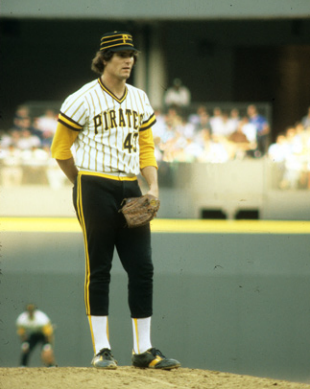 In the eyes of Pittsburgh Pirates fans, Don Robinson showed up right on time for a city and a team looking for homegrown talent to fill out the Pirates pitching staff and add a piece to a team capable of winning a pennant in the late 1970s. Had the Philadelphia Phillies selected Robinson in the 1975 draft as many (including Robinson himself) had thought they would, Robinson's career would have turned out differently. Thankfully for Pittsburghers, he began and spent most of his career as a Pirate, contributing to and embraced as the youngest member of the 1979 World Series family in only his second year as a major leaguer.
Born in Ashland, Kentucky, on June 8, 1957, the son of Donald and Priscilla Robinson, Donald Allen Robinson had his father to thank for his devotion to baseball. An interview with Robinson offered a first-hand perspective of a father helpful to his baseball upbringing.1 His father's love for the game and his commitment to his son's baseball development showed through the early exposure to baseball that he gave his son via Little League and other opportunities. Robinson's height — he was a 6-foot-4 right-hander by the time he reached high school — did not hurt, either. As a freshman member of the Ceredo-Kenova High School (Kenova, West Virginia) varsity baseball team, he threw a no-hitter. By his senior year, he had begun drawing the attention of major-league scouts from a number of teams, including Cincinnati, Philadelphia, and Pittsburgh. Kenova is 10 miles west of Huntington, 140 miles east of Cincinnati's Crosley Field, so it was only natural that Robinson followed the Reds in his youth. He graduated in June 1975 in a class of 112. Alongside the attention to graduation that month was the baseball amateur draft that would lay the groundwork for Robinson's career.
The idea of Robinson's favorite team drafting him was appealing, but it was the Philadelphia Phillies that made the most noise before the draft about signing him as a number-one pick. Robinson was that good. His pitching command gave him a fastball and a curve that complemented each other well. And he could throw hard. That said, the Phillies ended up drafting three others in the first three rounds. None of the three would ever make the majors. The Pirates, drafting eight spots behind the Phillies, took shortstop Dale Berra in the first round and Jeffrey Pinkus, a high-school pitcher who never advanced beyond Class A, in the next round before selecting Robinson in the third round.
"Howie Haak called me to ask if he could watch me throw," Robinson said. Haak was the Pittsburgh scout who had recommended that the Pirates draft Roberto Clemente. He later was instrumental in the Pirates signing Omar Moreno, Manny Sanguillen, and Rennie Stennett, all of whom contributed to Pittsburgh's 1979 World Series success. "I threw 15, 20 pitches," said Robinson and Haak said, "That's all I need to see," he recalled.
Like a number of draft picks, once selected, the conversation shifted to signing a contract. "I held out for more money. Murray Cook [from the Pirates front office] offered me $10,000 and then $20,000. I wanted $30,000." Robinson ended up signing for $38,000 plus incentives and was assigned to the Pirates' Gulf Coast League affiliate in Bradenton, where he pitched in 10 games as a starter, hurling 66 innings with a 2.45 ERA. He then played in the 60-day instructional league until November. There he hurt his arm and as he readied for 1976, Robinson said, he knew "my arm was not right." In 1976, he was the Opening Day starter for the Charleston (South Carolina) Patriots of the Class A Western Carolinas League, and pitched in 24 games with a 12-9 record before having elbow surgery to remove a bone spur in August. That autumn he was invited to play in the Puerto Rico winter league. When he got to Puerto Rico, he said, "I could not throw 80 miles an hour." But with the help of Doc Ewell, Houston's trainer, Robinson "got on a rubber band program [using a band to strengthen the arm] and did rehab there for five weeks, getting my speed back up to 90 mph."
In 1977 Robinson was assigned to Shreveport of the Double-A Texas League, where he went 7-6, then made one appearance for Triple-A Columbus and got a victory by pitching five scoreless innings. After a successful stint in Puerto Rico, Robinson got an invitation to spring training in 1978. Robinson credited Larry Sherry, then a Pirates minor-league instructor, for teaching him a hard breaking ball that complemented his fastball.
"When spring training came in 1978, I thought I would make Triple A. I was on the 40-man roster," Robinson said. At 21, this was not a bad trajectory for a third-round draft pick out of high school. Sherry was the pitching ccoach for the Pirates and José Pagán, his winter-league manager, the first-base coach. They were invaluable to Robinson's chances for making the big-league club since both had worked with him in the minors. Robinson often threw in later innings during spring training and estimated that he saw about 18 or 19 innings of work.
Manager Chuck Tanner "loved me," Robinson said. "We need to make a trade and if we do, you will make the team," Chuck told him. And sure enough, a trade of relief pitcher Elías Sosa, outfielder Miguel Diloné, and infielder Mike Edwards to the Oakland A's to bring back a Pittsburgh icon, Manny Sanguillen opened a pitching spot on the 25-man roster. Reportedly, Tanner told the front office as the roster was being finalized, "If he doesn't go north with me, I resign." Robinson went north. His uniform number? Robinson said, "43 was given to me — young player — you don't say anything."
Tanner advised Robinson that he would pitch if the team were way ahead or way behind. However, this soon changed. After making his debut on April 10, pitching 4⅓ innings in relief of Jim Rooker in a blowout loss to the St. Louis Cardinals and giving up four runs, he made his first start against Rick Reuschel of the Cubs on April 16 in Chicago. He gave up three runs (one earned) in seven innings and lost. He won his first game (a 2-1 complete game) against the Mets in New York on April 25. Robinson went on to pitch in 35 games that year, all but three as a starter.
The Pirates were a great team to begin a career with — "they were all vets," Robinson said. "On a veteran staff, you learned a lot." And Tanner made it clear to the youngsters (Robinson was 21) that you could not question or get back at a vet. "They taught me so much," Robinson said. Among the major influences was Willie Stargell. Stargell told Robinson, "If you want to stay in the big leagues, you have to be able to learn how to deal with failure." For Robinson with his arm problems, this became good advice and a catalyst to his being able to pitch in the majors for 15 years.
"It was a great run in 1978; we almost caught the Phillies [finishing 1½ games back]," Robinson said. Had the Pirates swept the Phillies in the four-game series at the end of the season (they won three of four), they would have been a half-game ahead in the division with a makeup game at Cincinnati to determine if a one-game playoff against Philadelphia would be needed to break a tie in the NL East.
As a 21-year-old rookie that year, Robinson put up pretty impressive numbers. His 14 wins against 6 losses (.700) was the second best won-loss percentage to NL Cy Young Award winner Gaylord Perry, who finished at 21-6 (.778)for the Padres.
Robinson was named The Sporting News NL Rookie Pitcher of the Year and was third in overall NL Rookie of the Year voting behind Bob Horner of the Atlanta Braves and Ozzie Smith of the San Diego Padres. He finished eighth in the Cy Young Award vote and had established himself as a young presence for the Pirates' 1979 starting rotation in a year they hoped they would contend with the Phillies and the Expos for the National League East Division championship.
Early in 1979, Robinson said, "(M)y shoulder started bothering me. [In an April 24 night game in Cincinnati] during a rain delay I could not lift my arm." Robinson went on to finish the game with a 9-2 victory over Frank Pastore (the pitcher the Reds selected instead of Robinson in the 1975 draft). "I was in and out of the rotation during the year and at one point did not pitch for two weeks. At one point, because of my shoulder problems, Chuck put me in the bullpen. I was taking cortisone shots." Back in the rotation on September 17, before 54,609 at Stade Olympique in Montreal, Robinson pitched a 2-1 complete-game victory over All-Star hurler Steve Rogers to put the Pirates in first by one game over the Expos. He lost twice in the remaining two weeks of the campaign, both to the Cubs. On the last day of the season, September 30, Bruce Kison defeated the Cubs 5-3 in Pittsburgh to win the NL East Division by two games.
The Pirates used John Candelaria, Jim Bibby, and Bert Blyleven in the best-of-five National League Championship Series rotation and employed Robinson out of the bullpen. Robinson came out of the bullpen against the NL West champion Cincinnati Reds in the NLCS came at Riverfront Stadium in the bottom of the 11th inning of Game One after Willie Stargell had broken a 2-2 tie in the top of the inning with a three-run homer. Grant Jackson had got the first two outs, but then gave up a single to Dave Concepción and walked George Foster. Robinson was warming in the bullpen. He said, "I was throwing 97 mph, but could not hit the catcher." Tanner called for Robinson, who walked Johnny Bench on a 3-and-2 count to load the bases and bring up Ray Knight, representing the winning run. Said Robinson, "Stargell comes in from first and said he would pitch." That broke the tension for Robinson, who struck out Knight on a 1-and-2 pitch in the dirt, with Ed Ott firing the ball to Stargell to save the game for Pittsburgh.
Robinson came into Game Two after Kent Tekulve blew a save opportunity by allowing back-to-back doubles in the ninth and Dave Roberts followed and walked the only batter he faced. With the score tied 2-2, and the winning run at second base, Robinson struck out Concepción and induced Foster to ground out. The Pirates scored in the 10th when Dave Parker singled home Omar Moreno. Robinson closed out the game in the bottom of the 10th by striking out Bench and retiring Dan Driessen and Knight on fly balls. Then Blyleven pitched a 7-1 victory in front of 42,240 in Pittsburgh for a three-game sweep of the NLCS to secure the NL pennant.
In the World Series, against Baltimore, Robinson again worked out of the bullpen. Game One had a disastrous start by the Pirates with Kison giving up five runs (four earned) in one-third of an inning. Relievers Rooker, Enrique Romo, Robinson, and Jackson threw 7⅔ innings of scoreless ball, but the Pirates could not overcome the first inning and lost 5-4 in Baltimore. Robinson's relief stint of two hitless innings was his third postseason appearance. He pitched again the next night, taking over a 2-2 game in the bottom of the seventh, walking the bases full before striking out Ken Singleton to end the inning. He retired the Orioles in the bottom of the eighth after giving up a leadoff single to Eddie Murray by pitching around an error and the Pittsburgh infield turning a 6-4-5-4 double play to snuff out a Baltimore scoring chance. Robinson got the win as the Pirates scored in the top of the ninth on Sanguillen's single.
Robinson did not pitch in the Game Three loss to the Orioles, but got into Game Four with the Pirates up 6-3. He started the eighth, replacing Jackson, and recorded his worst performance of the postseason. Two singles, a groundout, and a walk loaded the bases. Tanner pulled Robinson and brought in Tekulve, who allowed all three of the runners to score along with three of his own. The Pirates lost 9-6 to go down 3 games to 1, but won Game Five, 7-1, and Game Six, 4-0 behind Candelaria and Tekulve, and the Series was tied. Robinson did not pitch in Game Four or Five.
In the Game Seven clinching win for the Pirates, Robinson pitched in the fifth inning in relief of Jim Bibby with the Orioles leading 1-0. He gave up a single to Doug DeCinces and then got two fly-ball outs but walked the opposing pitcher, Scott McGregor, on a full count. Grant Jackson relieved and retired Al Bumbry on a foul popup to third base to retire the side. The Pirates iced the Series with a two-run homer by Stargell in the top of the sixth and two more runs in the ninth.
Reflecting on the 1979 season, Robinson said, "A classy team! How much fun!" And the stories were true, "the music was turned up sky high in the clubhouse. Stargell and his speeches! Dave Parker was so witty. Everybody got along; there was so much experience on the team. I learned how to play the game the right way."
In the nearly eight full years with the Pirates that followed from 1980 until the trade-deadline move that sent him to San Francisco on July 31, 1987, Robinson appeared in 279 games, 69 as a starter, winning 43 and losing 55 with 42 saves. His career shifted gears from the starting rotation to the bullpen in 1984.
Robinson had shoulder surgery after the World Series and started 1980 on the disabled list. He ended the year at 7-10, starting 24 games and pitching 160⅓ innings. He was limited to 16 games in 1981 due to shoulder problems, the near two-month players strike, and an injury to his pitching hand suffered when he was in a traffic accident in Pittsburgh while riding with teammate Jim Bibby in early August. His best year other than his rookie campaign came in 1982. Other than 1978, "this was my healthiest year," he said. It may have been due to his winter rehab, but whatever the reason, He pitched 227 innings, the second highest innings total in his career, and had a career-high 15 victories (the most wins on the Pirates) against 13 losses for a team that finished 84-78 in fourth place in the NL East.
Robinson was always a good hitter. In 1982 he had 85 at-bats and batted .282 with two homers, 24 hits, and 16 runs batted in. It was the year he earned his first of three Silver Slugger Awards. His secret? "I waited for breaking balls."
But in 1983 Robinson appeared in just nine games, in between lengthy periods on the disabled list with recurring shoulder issues; and that fall, he played in the Florida Instructional League as a right fielder, leading the league with 9 home runs and 35 RBIs and batting .313. This offseason adjustment positioned Robinson to shift from pitching to the outfield, but in discussions with Tanner, the decision for 1984 was to use him as the setup man for Tekulve. Healthy again that season, he led NL relievers in innings pitched (122) and had 10 saves along with 8.1 strikeouts per nine innings, the highest ratio of his career. After the season he received the Fred Hutchinson Award, given annually to an active major-league baseball player who "best exemplifies the fighting spirit and competitive desire of Fred Hutchinson, by persevering through adversity."
Robinson went through an ineffective 5-11 season in 1985 and in 1986 new manager Jim Leyland converted him to the club's closer. He pitched in 50 games for a team that won only 64, finishing last in the NL East. He saved 14 games. In 1987 he continued in the role of closer, saving 12 games before being traded to the Giants, for whom he saved another seven.
In the later years in Pittsburgh, Robinson became good friends with Leyland and was seen as one of the veterans. Leyland worked hard to motivate his players and was known for his dugout and clubhouse tirades. According to Robinson, "Leyland screamed and yelled in the dugout as result of bad play by the Pirates and later called me in to his office to ask, 'Was I pretty good?'"
The post-World Series years were not the best for the Pirates: An inadequate roster, ownership transition challenges, the Pittsburgh Drug trials in which a number of major-league players (Dave Parker among them) were charged with drug use; all made for an uncertain time in Pittsburgh that Leyland, along with a remade farm system and some good trades, eventually remedied for the Pirates. But not until after Robinson was traded.
As the 1987 season progressed, the likelihood intensified that Robinson would be dealt. "When I got traded (I wanted to go to the Reds), Jim Leyland called me in to his office before the trade deadline to say that I had been traded to Cincinnati," he said. After a moment, Leyland told him it was a joke. The trade instead was with San Francisco and in return for Robinson, the Giants sent Mackey Sasser and $50,000 to Pittsburgh.
"The difference between Pittsburgh and San Francisco was night and day," Robinson said. San Francisco was the classier team, treating the team well, flying charters, etc. The Giants needed his help in the bullpen to compete for the NL West title. In second place when he was acquired, the team made several other moves to bolster its lineup, including picking up pitcher Rick Reuschel from the Pirates. Managed by Roger Craig, the team won the NL West by six games but lost to the St. Louis Cardinals in seven games in the National League Championship Series.
Robinson joined the Giants on the road in Cincinnati for their August 1 matchup against the Reds. Warming up in the sixth inning to relieve Mike LaCoss, Robinson said, "I was nervous." He pitched 2⅔ innings, giving up four hits and a run in a 7-3 Giants win.
One 1987 game Robinson recalled fondly was on September 28 against the Padres in San Diego. Inheriting a 4-3 lead, he took the mound to start the bottom of the fifth inning. The Padres tied the game 4-4 in the bottom of the seventh on a triple by Benito Santiago and Robinson implored Craig to keep him in the game and let him lead off in the top of the eighth. Craig agreed and Robinson responded by hitting a homer off a breaking ball from Lance McCullers.
Craig kept Robinson in to finish the game. In the ninth, the Padres got Tony Gwynn to third with two outs. Up next was John Kruk who in four previous plate appearances had walked once and struck out twice with no hits. His walk and one of his strikeouts came from Robinson. "I threw a split fastball to him that did not split," Robinson said. "When I looked back (to follow the track of the long fly ball to left field) I saw Jeff Leonard on the warning track, looking as if the ball was going into the stands. Then he caught it. He was pulling my leg."
Robinson pitched three times during the NLCS against St. Louis, in Games Three, Six, and Seven. With the Giants ahead 4-2 in Game Three, he took the loss in relief after allowing an inherited runner to score as well as two of his own. Craig Lefferts allowed Robinson's remaining baserunner to score, leading to a 6-5 loss. In Game Six Robinson pitched two hitless innings, but the Cardinals won 1-0, having scored off Dave Dravecky in the bottom of the second. In Game Seven, the clincher for St. Louis, Robinson pitched a scoreless eighth and was one of seven Giants pitchers in a 6-0 loss.
Robinson made it to the postseason one more time. The Giants played the Chicago Cubs in the NLCS in 1989 and Robinson pitched in Game Three with the series tied at a game each. He won the game after entering in the top of the seventh inning and giving up a run that put the Cubs up by one, 4-3. Robby Thompson hit a two-run homer in the bottom of the inning that reclaimed the lead for the Giants. In the top of the eighth, Robinson got two outs but then right fielder Candy Maldonado made an error and Shawon Dunston singled. Lefferts got the last out of the inning and Steve Bedrosian held the Cubs in the ninth, giving Robinson the win. The Giants won the NLCS 4 games to 1 and moved on to face the Oakland Athletics in the Bay Bridge World Series, known for the 6.9 magnitude Loma Prieta Earthquake that hit the area on October 17 just as Game Three was to begin. The Giants were down two games to none at that time and the Series was postponed until October 27. Robinson started Game Four and pitched only 1⅔ innings, giving up four runs. The Giants battled back, but could not catch the A's, who won 9-6 for the sweep. Robinson took the Game Four loss.
Robinson's hitting prowess manifested itself in San Francisco, where he won his second and third Silver Sluggers in 1989 and 1990. From 1987 to 1991, Robinson was 42-33 (.560) during the 170 games in which he was both a starter and a closer for the Giants. His 3.56 bettered his 10-year composite 3.85 ERA in Pittsburgh. Reflecting on his time in San Francisco he said, "I loved to play at Candlestick. We had the advantage." Playing for Roger Craig was also enjoyable. Craig's stature and his experience as a former pitcher were appreciated by Robinson.
After the 1991 season, during which he split time almost evenly as a starter and reliever, Robinson signed with the California Angels for 1992, but after going on the disabled list in April, he was released in mid-May after pitching in only three games (all as a starter) with a 1-0 record. Robinson was signed by the Philadelphia Phillies on May 22, but his season was cut short after he went 1-4 in eight starts with a 6.18 ERA. Plagued by a bad arm, he averaged a little more than five innings a start and was released on July 16. His last decision came on July 12 against the Padres, when he pitched only 2⅓ innings, giving up six runs. With injuries shutting him down for the rest of the year, Robinson decided to retire. Although Phillies manager Jim Fregosi (he and Robinson had played together in Pittsburgh in 1978) wanted Robinson to return in 1993, it was not to be.
Why retire in 1992 at the age of 35? "It wasn't fun anymore what with my health issues," Robinson said. "My biggest regret was not being healthy all of the time. I was only healthy in 1978 and 1982." Named "The Caveman" by Giants teammate Mike Krukow for his physique and his ability to endure numerous surgeries and shots, Robinson said his career was a testimony as much to his stamina and persistence as his split fastball, deadly curve, and silver bat.2
Robinson's experiences in dealing with injuries were emblematic of a time when most teams did not have the resources for medical and training support for players year-round. "My best years were after winter rehab got me ready," he said.
Living in Bradenton, Florida, where the Pirates have held their spring training since 1969, Robinson as of 2016 was the pitching coach for the State College of Florida Manatees, located in Bradenton.
Sources
Finoli, David, and and Bill Ranier. The Pittsburgh Pirates Encyclopedia (Champaign, Illinois: Sports Publishing LLC, 2003).
Ranier, Bill, and David Finoli. When the Bucs Won It All (Jefferson, North Carolina: McFarland & Company, 2005).
Notes
1 Unless otherwise noted, all quotations from Don Robinson are from the author's interview with him on July 6, 2015.
2 Don Robinson, written note, January 10, 2016.
Born
June 8, 1957 at Ashland, KY (US)
If you can help us improve this player's biography, contact us.
https://sabr.org/sites/default/files/Don%20Robinson.png
600
800
admin
/wp-content/uploads/2020/02/sabr_logo.png
admin
2012-01-04 20:45:53
2021-06-07 11:40:18
Don Robinson