This Week in SABR: June 13, 2014

Welcome to "This Week in SABR!" Here's what we've been up to as of June 13, 2014:
---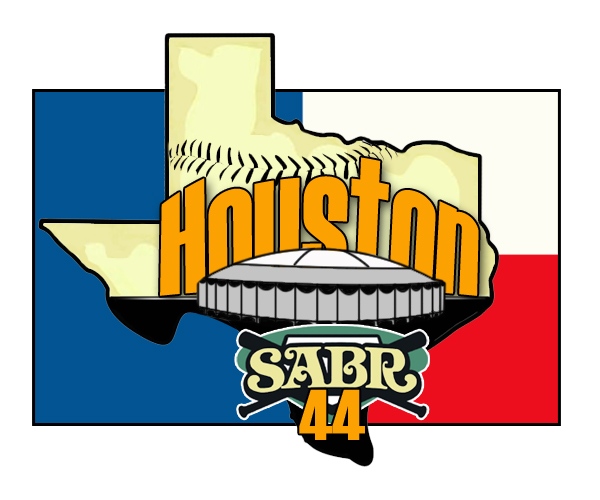 We hope you'll join us for SABR 44 on July 30-August 3 at the Royal Sonesta Houston. We have an All-Star lineup of guest speakers, panelists and presentations, so register today for a full week of baseball fun.
---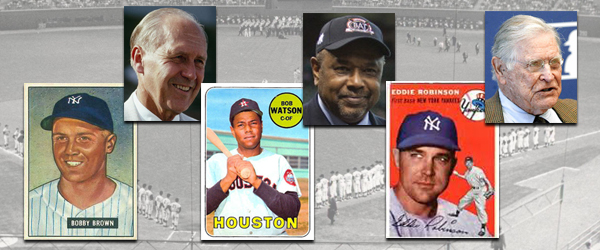 We're pleased to introduce the featured panelists for the SABR 44 panel From Playing Field to Front Office, which is scheduled for 10:30 a.m. Saturday, August 2 in the at the Royal Sonesta Houston. This panel will focus on the unique experiences of three baseball lifers who all began their careers as major league players and moved into the executive realm.
Visit SABR.org/convention for a complete schedule of panels, research presentations, and committee meetings, as well as registration information and details.
Please note that all speakers are subject to change depending on availability.
Dr. Bobby Brown: Nicknamed "The Golden Boy" during his playing career, Dr. Brown has had a golden life in baseball. A left-handed-hitting third baseman, he played on five championship teams with the New York Yankees, batting .439 in 17 World Series games over an eight-year career from 1946 to 1954. While in college at Stanford, he enlisted in the Navy during World War II and was awarded the U.S. Coast Guard Silver Lifesaving Medal; a decade later, he missed parts of two seasons in the major leagues while serving as an Army doctor in the Korean War. He retired from baseball in 1954 at the age of 29 to become a full-time cardiologist after graduating from Tulane Medical School; he practiced for more than thirty years and like another famous baseball doctor, Moonlight Graham, he says he's never regretted his decision. In 1974, he returned to baseball briefly as interim president of the Texas Rangers. Ten years later, major league owners offered Dr. Brown the job as president of the American League. He served from 1984 to 1994 and resigned just before the players' strike that ended the season. He is a member of the Athletic Halls of Fame at Stanford, UCLA, and Tulane University.
Eddie Robinson: Eddie spent more than six decades in professional baseball, as a player, coach, scout and executive. When he retired after 65 years in 2004, he had worked in some capacity for 16 different big-league clubs. The native of Paris, Texas, was a four-time All-Star first baseman who spent 13 seasons in MLB (1942-57). He saw action in two World Series, with the Cleveland Indians in 1948 and the New York Yankees in 1955. He also set a Chicago White Sox single-season record with 29 home runs in 1951. After his playing days ended, he served as the assistant general manager and farm director for the expansion Houston Colt .45s and later as GM of the Atlanta Braves (1976) and Texas Rangers (1977-82.)
Bob Watson: Bob spent 19 seasons in the big leagues with the Houston Astros, Atlanta Braves, New York Yankees and Boston Red Sox, and was named to two National League All-Star teams in 1973 and 1975. He garnered nationwide attention in 1974 when he scored what was thought to be the 1 millionth run in major league history. In 1977, he set career highs with 22 home runs and 110 RBIs for the Astros. He was traded to the Red Sox in 1979, then signed a free-agent deal with the Yankees. He hit .318 with two home runs in the 1981 World Series to help the Yankees beat the Dodgers. After his playing career ended, he coached with the Oakland A's, then became Assistant General Manager of the Astros. In 1994, he was promoted to General Manager, the second African-American in baseball history to serve in that role. He held the same job with the Yankees in 1996-97 and led the Bronx Bombers to another World Series championship in '96. He later served as Vice President of Major League Baseball, and he was responsible for on-field discipline until his retirement in 2010.
Moderator: C. Paul Rogers III: Paul is a professor of law and former dean of the Dedman School of Law at Southern Methodist University when he is not acting as president of the Hall-Ruggles SABR chapter in the Dallas-Fort Worth area, which he has done since 2000. Paul has co-authored three baseball books, the latest with Hall of Fame pitcher Robin Roberts, published articles, and book reviews in numerous baseball journals and written more than a dozen biographies for the SABR BioProject.
Click here for more information on the From Playing Field to Front Office panel.
For more information on SABR 44 or to register, visit SABR.org/convention.
---
We're pleased to introduce the featured panelists for the 1980 Houston Astros Panel at SABR 44, which is scheduled for 10:00 a.m. on Friday, August 1 at the Royal Sonesta Houston. This panel will discuss the Astros' memorable 1980 National League West championship team, the first in Houston major league history to make the postseason.
Enos Cabell: Signed by the Baltimore Orioles as an amateur free agent in 1968, Enos played third base, first base, and outfield for five teams over 15 major league seasons from 1972 to 1986. He compiled 1,647 hits with the Astros, Tigers, Dodgers, Orioles and Giants. In retirement, he worked as an Astros broadcaster from 1991-96 and has served as the Astros' special assistant to the general manager since 2005, helping to evaluate talent in the organization's farm system. His honest feedback and keen recommendations have helped shape the Astros' minor league system into one of the best in baseball.
Jose Cruz: Jose is in his 31st season with the Houston Astros, having spent 13 years as a player, 13 years as a coach and the last five seasons as a special assistant to the general manager. At the time of his retirement after the 1988 season, he held the franchise records in games played, at-bats, hits, total bases, and triples. Nicknamed "Cheo," he has been involved in all of the Astros' nine postseason appearances. His number 25 was retired by the team in 1992.
Deacon Jones: Deacon has spent nearly five decades in baseball, as a player, coach and scout. He appeared in 40 major league games for the Chicago White Sox over parts of three seasons from 1962 to 1966, and hit .318 as a minor leaguer in the White Sox system over 12 years. After he hung up his spikes, he became a roving hitting instructor and minor league manager for the White Sox until Astros manager Bill Virdon hired him to be the major league hitting coach in Houston, which he did from 1976 to 1982. He also worked as a scout and coach for the New York Yankees and San Diego Padres before Roland Hemond hired him to be an advance scout for the Baltimore Orioles in 1988. He spent 20 years in that role until retiring in 2007. Now, he makes his home in Houston and scouts part-time for the Orioles.
Tal Smith: Tal has served in every top leadership position with the Houston Colt .45s/Astros franchise in three separate tenures, beginning as the farm director in 1961 and culminating as president of baseball operations from 1994 to 2011. He supervised the construction of the Astrodome and the introduction of Astroturf, and later had a similar role in the design of Minute Maid Park. In between, he was the Astros' general manager from 1975-80, building a team that won Houston's first division title in 1980. Afterward, Tal formed a successful consulting firm advising baseball teams on salary and personnel matters. In recent years, he has served as special advisor to the Sugar Land Skeeters independent team. The Astros created "Tal's Hill," a unique 10-degree incline in center field at Minute Maid Park, to honor his contributions to baseball in Houston.
Moderator: Kenny Hand: A graduate of the University of Texas-Arlington, Kenny has been an award-winning media fixture in Houston for the past 37 years. At the Houston Post, he was the beat writer for the Houston Astros for eight seasons and covered several championship teams. He then went on to being a sports columnist for ten years. He is a lifetime member of the Baseball Writers Association of America and a voting member of the Texas Sports Hall of Fame. Kenny is now the Associate Publisher of Texas Links.
Click here for more information on the 1980 Houston Astros panel.
For more information on SABR 44 or to register, visit SABR.org/convention.
---
With generous funding from The Anthony A. Yoseloff Foundation, Inc., SABR will award up to four scholarships to high school or college students to attend SABR 44 on July 30-August 3, 2014, in Houston, Texas. This scholarship will pay for registration, transportation and lodging up to a total value of $1,250.
The objective of this scholarship fund is to encourage high school and college-level student engagement with baseball research and to engender an active interest in baseball and SABR. The Yoseloff scholarship is to assist young researchers who want to attend SABR's annual convention and to introduce them to fellow SABR members. Through this fund, SABR hopes to inspire future baseball research, expose students to high-quality research and build the research capability of interested students.
Students must be currently enrolled in a high school, college undergraduate or graduate program, and be between 18 and 29 years of age at the time of the conference. All applications must be postmarked or e-mailed to Jeff Schatzki at jschatzki@sabr.org by 11:59 p.m. PDT on FRIDAY, JUNE 13, 2014.
For more information on the SABR 44 Yoseloff Scholarships, along with eligibility requirements, click here.
---
We want to offer a special thanks to all of our vendors at SABR 44 for their support. We invite you to visit our digital Vendors Room at SABR.org/convention/sabr44-vendors and check out these groups, both online and at the convention in Houston this summer:
Please stop by the first-floor Founders Ballroom at SABR 44 — July 30-August 3, 2014, at the Royal Sonesta Houston, 2222 W Loop S Fwy., Houston, TX 77027 — and purchase an item to remind you of your experience at the 2014 SABR convention.
If you would like to reserve a table in the Vendors Room at SABR 44, please contact Jeff Schatzki. Space is limited.
Visit SABR.org/convention for more information.
---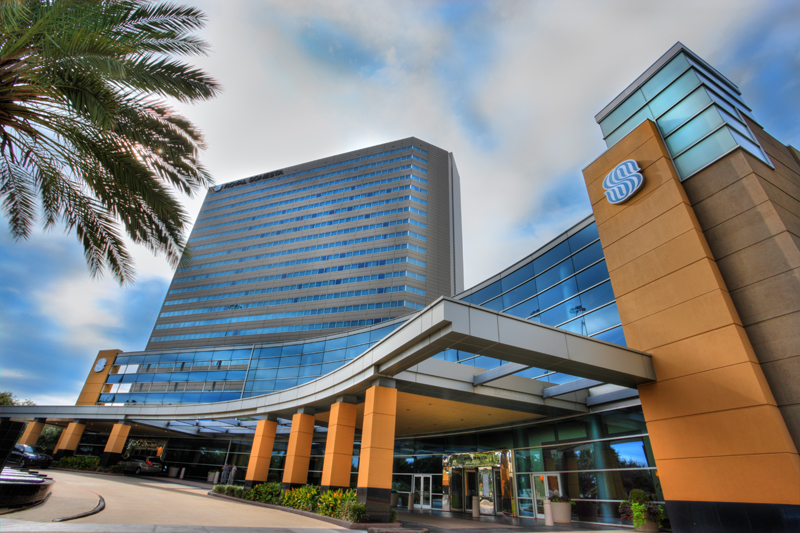 SABR 44 will be held July 30-August 3, 2014, at the Royal Sonesta Houston, in the heart of the Galleria, just minutes from downtown and Minute Maid Park.
We hope you'll join us for what promises to be a spectacular SABR 44 convention in the summer of 2014.
Members of the host Larry Dierker Chapter have compiled a list of transportation tips to help visitors and convention attendees enjoy their stay in the Bayou City, including directions to the hotel from both of Houston's major airports (IAH and Hobby), along with a special SABR 44 SuperShuttle discount.
If you have any questions during your stay, please don't hesitate to ask a friendly SABR 44 volunteer for assistance.
To view the SABR 44 Transportation Tips page, click here.
---
Three of the optional off-site events scheduled for SABR 44 are now sold out.
If you wish to be placed on a waiting list for the Sugar Land Skeeters ballgame, the Houston City History Tour, or the Historical Ballparks Site Tour, please please e-mail djayne@sabr.org. Requests will be handled on a first-come, first-serve basis if a spot opens up for any of these events.
On Wednesday, the combination bus/walking City History Tour will leave from the Royal Sonesta and head to Minute Maid Park, where we'll walk around Downtown Houston and give tour-goers a taste of Bayou City history. Tour guide Mike Vance, a SABR member and Executive Director of Houston Arts and Media, is one of the top historians and storytellers in Houston. He will have dozens of stories to share along the walk. Participants will see the site of an early capitol of the Republic of Texas, now a historic hotel where JFK stayed the day before he was assassinated. There will be stops to see stellar art deco architecture and gleaming modern skyscrapers mixed in with tales of dueling, Civil War murder and oil barons.
On Thursday, we'll visit Constellation Park, home of the Atlantic League's Sugar Land Skeeters, about 20 miles southwest of downtown Houston for a game between the Skeeters and the Bridgeport Bluefish. Before the game, former Houston Astros president and SABR member Tal Smith, a special advisor to the president of the Skeeters, will welcome SABR 44 attendees, along with Ira Liebman, voice of the Skeeters and also a SABR member. An optional all-you-can-eat buffet also will be served. Buses will leave the hotel beginning promptly at 4:00 p.m. The game begins at 7:05 p.m.
On Sunday, the Historical Ballparks Site bus tour will include stops at the sites of the three minor league and two former major league ballparks that hosted professional baseball in Houston from the 1870s until 1999. There will also be drive-bys of a few semi-pro baseball locations where former major leaguers stayed in the game after their days in the majors had ended. The tour culminates with a visit to the Astrodome, the most architecturally significant stadium in America.
For more information on SABR 44, visit SABR.org/convention.
---
The SABR Board of Directors has released the following statement:
The SABR Board of Directors is saddened to announce the resignation of Director Fred Worth, effective May 27, 2014. Worth's wife, Beth, suffered a stroke this winter and he decided the amount of time that her care demands would keep him from being able to properly serve SABR's interests. Worth's counsel on the Board will be missed.
The SABR By-Laws provide that an open Director's seat may be filled by the remaining Board members within 60 days by a 2/3 majority vote (in this case, 5 of 7 votes), or the Board must call a special election.
Chris Dial of Durham, North Carolina, has been appointed to fill Worth's remaining term, effective June 8, 2014. Dial, a SABR member since 1994, is a frequent contender in recent SABR Board elections. The term expires at the end of the Annual Business Meeting at the 2016 SABR convention.
Dial was the second-place finisher in the recent election after processing the preferential ballots as if there were two director seats available, and he was also the runner-up in the Board selection process that resulted in Emily Hawks' appointment to replace Paul Hirsch last year.
In 2013, Dial was named to the SABR Defensive Committee which adds a sabermetric component to the selection of the Rawlings Gold Glove Awards and Rawlings Platinum Glove Award, presented by SABR. He is the developer of a statistical measure called Runs Effectively Defended (RED), a defensive analysis system used in the formation of the SABR Defensive Index (SDI).
Dial also helped create and develop the SABR initiative of Chartered Communities, which launched in the fall of 2009; he is co-chair of the Baseball Think Factory chartered community. He holds a bachelor's degree in Chemistry from what is now Pfeiffer University in North Carolina. He is Director of Integration at Catalent Pharma Solutions, where he has worked since 1998.
---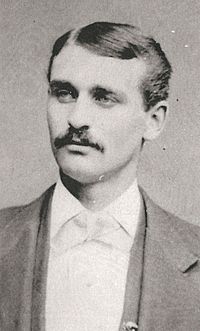 Each year, SABR's Nineteenth Century Research Committee selects its Overlooked 19th Century Base Ball Legend — a 19th century player, manager, executive or other baseball personality not yet inducted into the National Baseball Hall of Fame in Cooperstown, New York.
In the past, only members of the committee voted for this award. Last summer, the project committee leaders decided that all SABR members should join in the fun.
Past winners of the award are Pete Browning (2009), Hall of Fame electee Deacon White (2010), Harry Stovey (2011), Bill Dahlen (2012), and Ross Barnes (2013).
The voting is simple:
Before voting, please review the ballot to learn more about the 10 finalists who are not yet in the Hall of Fame: Doc Adams, Bob Caruthers, Jim Creighton, Jack Glasscock, Paul Hines, Dummy Hoy, Bobby Mathews, Tony Mullane, Al Reach, and George Van Haltren. Click here to download a PDF with bios for the 10 finalists.
Go online to vote in the election: https://www.surveymonkey.com/s/2014-overlooked-19c-legend
Rank your top 5.
Here's the fine print:
All ballots must be cast by 11:59 p.m. PDT on Tuesday, June 17, 2014.
You may only vote once.
You MUST vote for five candidates or your ballot will not count.
Results will be announced on Thursday, July 31, 2014 during the annual business meeting of the Nineteenth Century Committee to be held during SABR 44 in Houston, Texas.
Thank you for participating!
The Overlooked 19th Century Base Ball Legends Project Committee consists of: Joe Williams, Chair; Adam Darowski; Charles Faber; Bob Gregory; and Ralph Peluso.
---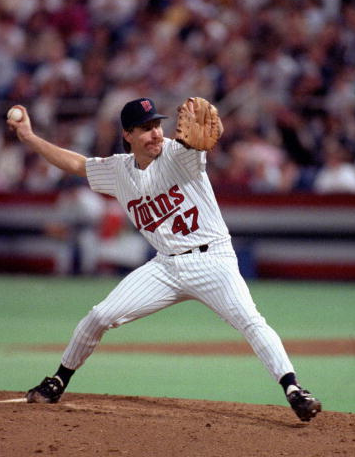 Three new biographies were posted as part of the SABR Baseball Biography Project, which brings us to a total of 2,836 published biographies. Here are the new bios:
All new biographies can be found here: http://sabr.org/bioproj/recent
You can find the SABR BioProject at SABR.org/BioProject.
Bios on more than just ballplayers: The ambitious goal of the SABR Baseball Biography Project is to publish a full-life biography of every major league player in history. But SABR members write about a lot more than just ballplayers. In addition, we have pages for Ballparks, Broadcasters, Executives, Games, Managers, Scouts, Spouses, Umpires and a lot more on the BioProject website. You can browse all of these categories at http://sabr.org/bioproj/browse. So if you've ever thought, "Hey, that person (or ballpark) should get the full BioProject treatment" — write the story and we'll publish it!
Get involved! If you'd like to help contribute to the SABR BioProject, visit our BioProject Resources page or read the FAQs section to get started. We're also looking to expand the BioProject to include all "encyclopedic" articles on baseball-related subjects from past SABR publications or committee newsletters. If you come across an article you think should be included in the SABR "baseball repository" at the BioProject, send a copy or link to markarmour04@gmail.com or jpomrenke@sabr.org.
---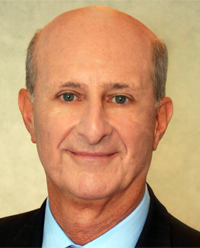 Columbia University's School of Continuing Education has appointed SABR President Vince Gennaro as director of its Master of Science in Sports Management.
Gennaro is a consultant to Major League Baseball teams, President of the Society for American Baseball Research, and the author of Diamond Dollars: The Economics of Winning in Baseball. He appears regularly on MLB Network's studio shows including Clubhouse Confidential, a television show featuring leading edge baseball analytics. Early in his career, Gennaro was a pioneering sports entrepreneur, raising capital to purchase and operate a franchise in the upstart Women's Professional Basketball League, a forerunner to today's WNBA.
"As a leader in the sports industry, Vince Gennaro embodies the School of Continuing Education's goal to incorporate senior sector professionals in our students' experience," says Kristine Billmyer, Dean of Columbia's School of Continuing Education.
Gennaro currently teaches a sports research course in the Sports Management program and is Chair of Curriculum Assessment and Evaluation and the Curriculum Advisory Committee.
"I am thrilled to take my work with Columbia's students to the next level as director. Since joining the program as a faculty member and advisor, I have become increasingly impressed with the quality of our students and the impact that the Sports Management M.S. can have on their careers."
Gennaro founded the Diamond Dollars Case Competition series, which brings students and sports executives together in a forum that allows students to apply their skills to solve real sports business problems. He serves on the Advisory Board of The Perfect Game Foundation. Gennaro's work in the sports industry follows a successful business career, which is highlighted by a 20-year career at PepsiCo, where he was president of a billion dollar division. He holds an MBA from the University of Chicago.
---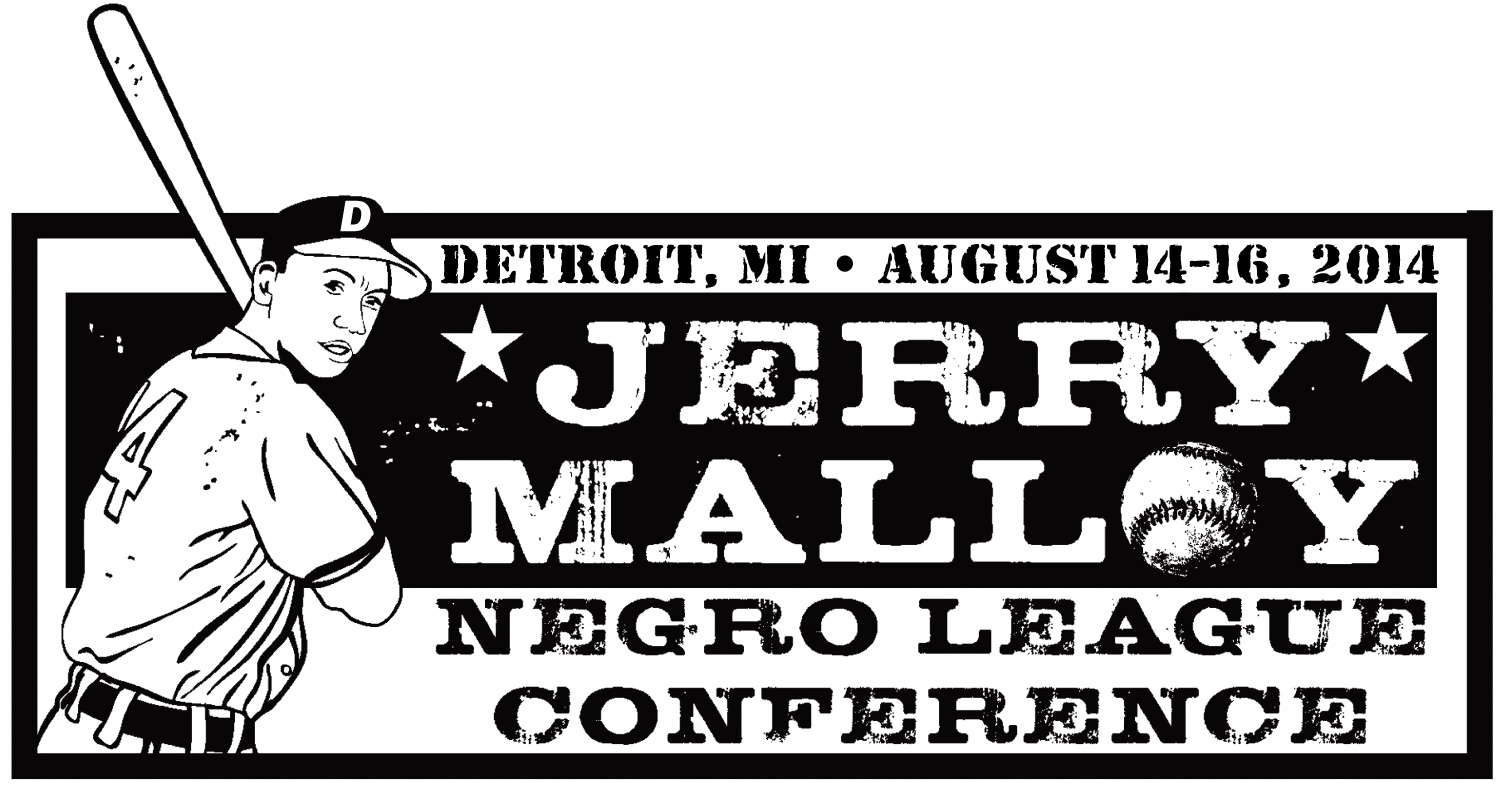 The 2014 Jerry Malloy Negro League Conference will be held August 14-16, 2014, at the Marriott Courtyard Downtown (333 E. Jefferson Avenue) in Detroit, Michigan. The conference is open to all baseball, history and sports fans of all ages.
The conference theme is "Turkey Stearnes and Black Baseball in Michigan." Black baseball has a long history in Michigan, especially centered in the Motor City. Among the original entrants to the Negro National League in 1920 was Tenny Blount's Detroit Stars, managed by Pete Hill and anchored by Big Bill Gatewood on the mound. The Detroit Wolves and Motor City Giants also played in Mack Park and Hamtramck stadium. In addition to the well-known Turkey Stearnes other star players included catcher Bruce Petway, the speedy Jimmie Lyons and the powerful Edgar Wesley.
The 17th annual Jerry Malloy Negro League Conference will celebrate this rich baseball history. In addition to two days of research presentations and player/author panels, attendees will also enjoy special presentations about local parks as well as a Tigers game against the Seattle Mariners.
To learn more, visit SABR.org/malloy.
---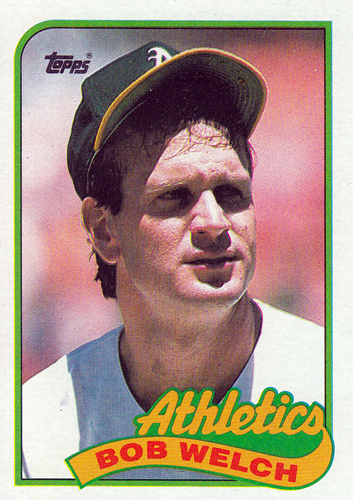 We're saddened to report that SABR member Bob Welch, 57, has died of a reported heart attack on June 9, 2014, in Seal Beach, California.
Welch won the 1990 American League Cy Young Award after recording a 27-6 mark for the pennant-winning Oakland A's. Following a 17-year playing career in which he won 211 games and compiled a 3.47 ERA with the Los Angeles Dodgers and Oakland A's from 1978-94, he also served as pitching coach for the Arizona Diamondbacks in 2001 when they won the World Series. In recent years, he was a popular minor league pitching instructor in the A's organization and made his home in the Phoenix area. He was active in local SABR events when his baseball schedule allowed.
"This is a tragic and sad day, as Bob Welch will be remembered by everyone who knew him as a great teammate and a great friend," said Diamondbacks President and CEO Derrick Hall, in a statement released by the team. "He impacted many people's lives in a positive way and he will truly be missed."
Welch played on five teams that reached the World Series (1978, 1981, 1988, 1989 and 1990), winning two titles in 1981 and 1990. His 27 wins in 1990 tied him with Steve Carlton (1972) for the most in a single season since Denny McLain won 31 games in 1968.
"This is a sad day for the entire A's organization," Athletics Vice President and General Manager Billy Beane said. "Those of us who knew Bob as a teammate and a friend will miss him greatly. My condolences go out to his family."
Welch won 115 games for the Dodgers and was a member of the 1981 World Series champions, and will be remembered for striking out Reggie Jackson to end Game 2 of the 1978 World Series, won by Los Angeles, 4-3.
In retirement, Welch and George Vescey collaborated on Five O'Clock Comes Early: A Cy Young Award-Winner Recounts His Greatest Victory, which chronicled Welch's battle with alcoholism.
Welch is survived by his sons Riley and Dylan, daughter Kelly, and former wife Mary Ellen. Memorial services are pending.
Related links:
---
We've heard your feedback: Some of you have said you look forward to "This Week in SABR" every Friday, but sometimes there are just too many compelling articles and announcements to read every week. We're not complaining — hey, keep up the great work! — but we know the feeling. So in an effort to make the length of this newsletter more manageable to read, we'll summarize some of the repeating/recurring announcements in a special "In Case You Missed It (ICYMI)" section of "This Week in SABR".
Here are some major headlines from recent weeks that we don't want you to miss:
All previous editions of This Week in SABR can be found here: http://sabr.org/content/this-week-in-sabr-archives.
---
We'd like to welcome all of our new SABR members who have joined this week. You can find all Members-Only resources at members.sabr.org and the New Member Handbook can be downloaded here.
Please give these new members a warm welcome and help them make the most of their membership by giving them the opportunity to get involved in their local chapter or a research committee.
| Name | Hometown | | | Name | Hometown |
| --- | --- | --- | --- | --- | --- |
| Hy Algazi | Corona del Mar, CA | | | Mike Mitchem | Jonesboro, GA |
| Greg Brislain | Chico, CA | | | Ashley Norwood | Huntsville, TX |
| Jacob Ginsberg | Metairie, LA | | | Cordell Oberholtzer | Terre Hill, PA |
| Henry D. Glaister | Harker Heights, TX | | | Linsey Smeltzer | York, PA |
| Eric Harmell | Fort Lauderdale, FL | | | Frank Sponsler | Greenville, IL |
| Kazushige Honda | Wayland, MA | | | Todd Trimble | Fairland, IN |
---
Here are the new SABR research committee newsletters published this week:
Find all SABR research committee newsletters at SABR.org/research.
---
There were no new chapter meeting recaps published this week.
Visit SABR.org/chapters for more information on SABR regional chapters.
---
Here is a list of upcoming SABR events:
All SABR meetings and events are open to the public. Feel free to bring a baseball-loving friend … and make many new ones! Check out the SABR Events Calendar at SABR.org/events.
---
Here are some recent articles published by and about SABR members:
Read these articles and more at SABR.org/latest.
---
This Week in SABR is compiled by Jacob Pomrenke. If you would like us to include an upcoming event, article or any other information in "This Week in SABR," e-mail jpomrenke@sabr.org.
Are you receiving our e-mails? "This Week in SABR" goes out by e-mail to all members on Friday afternoons. If they're not showing up, try adding "sabr.notes@sabr.org" to your contact list to ensure they show up in your inbox (and not the spam folder.)
---
Originally published: June 11, 2014. Last Updated: April 3, 2020.
https://sabr.org/wp-content/uploads/2020/03/research-collection4_350x300.jpg
300
350
jpomrenke
/wp-content/uploads/2020/02/sabr_logo.png
jpomrenke
2014-06-11 20:04:45
2020-04-03 14:39:17
This Week in SABR: June 13, 2014