This Week in SABR: June 24, 2016

Welcome to "This Week in SABR!" Click here to view this week's newsletter on the web. Here's what we've been up to as of June 24, 2016:
---

We're just over a month away from SABR 46, and there's still time to register for our 2016 national convention — July 27-31 at the Hyatt Regency Miami in downtown Miami, Florida.
Even if you can't make it for the entire convention, single-day registration for SABR 46 is also available online for $99 per day in addition to the regular registration rate. Single-day rates are available for SABR 46 on Thursday, July 28 and/or Saturday, July 30. Registration includes admission to all convention panels, research presentations, and committee meetings at the Hyatt Regency Miami on those days. Single-day rates also will be available on-site at the Hyatt Regency Miami beginning on Wednesday, July 27. The daily rate can be purchased during normal registration hours via cash, check, or credit card (sorry, no American Express accepted.)
All baseball fans are welcome to attend. The full schedule for SABR 46 is now available online; click here to view a detailed schedule.
All SABR 46 attendees will also receive a souvenir print edition of The National Pastime, our annual convention journal, focusing on baseball teams, players and events in the Miami area. All SABR members, whether you attend the convention or not, will receive the expanded e-book edition of The National Pastime in their inboxes later this summer. Visit SABR.org/convention to register for SABR 46.
---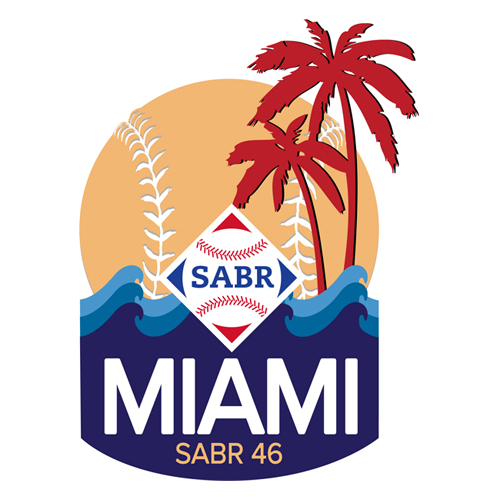 Want to throw out the first pitch at SABR 46?
Thanks to the generosity of the Miami Marlins, anyone who makes a donation of $1,000 or more to the SABR General Fund will have the opportunity to go on the field for batting practice before the Marlins game vs. the St. Louis Cardinals on Friday, July 29 at Marlins Park.
Participating donors will also be entered into a drawing to throw out the first pitch at the Marlins game on July 29. The drawing will be held during the Ross Adell Welcome Reception during SABR 46.
This special opportunity is only available for up to six SABR donors (or a guest of your choosing.) Following our SABR 46 ballpark session — highlighted by guest speakers Barry Bonds, Don Mattingly, Andre Dawson, Tony Perez, and Eduardo Perez — SABR donors will be able to go on to the field during batting practice before the game. Each one-time donation is good for one on-field ticket.
In addition to the on-field opportunity at Marlins Park and the chance to throw out the first pitch, the SABR 46 donation package also includes two tickets to the SABR 46 Donors Breakfast, a SABR logo commemorative crystal baseball, and a one-year membership to SABR.
SABR is a 501(c)(3) organization and all donations are tax-deductible to the extent allowed by law.
If you are interested in the SABR 46 donation package, please contact Jeff Schatzki at jschatzki@sabr.org.
---
As you prepare for your trip to SABR 46 next month, members of the host South Florida Chapter have compiled a list of transportation tips to help visitors and convention attendees enjoy their stay in the Sunshine State. If you have any questions during your stay, please don't hesitate to ask a friendly SABR 46 volunteer for assistance.
Visit SABR.org/convention/sabr46-transportation to view the SABR 46 Transportation Tips page, where you'll find directions on how to get to the Hyatt Regency Miami from Miami International Airport or Fort Lauderdale Airport, information about getting around Miami, and learn more about area attractions.
For more on Miami's award-winning restaurants and upcoming events, visit miamiandbeaches.com.
---
There's just a few days left to register online for the 19th annual Jerry Malloy Negro League Conference, scheduled for July 7-9, 2016, in Kansas City. The conference is open to all baseball, history and sports fans of all ages.
Please note: Only single-day registration is still available; the full conference registration is now sold out. Single-day registration for Friday or Saturday is $85 for SABR members, $105 non-members. The Thursday education forum only is $20 for SABR members, $35 non-members. You can also purchase tickets to the Meet-and-Greet Reception on Thursday ($20) or the Awards Dinner on Saturday ($65). Kansas City Royals game tickets and Negro Leagues Museum tour tickets are now SOLD OUT!
Registration is only available online at SABR.org/malloy through Wednesday, June 29, so sign up today to join us!
To register: Click here to register online at the SABR Store. Or click here to download a printable registration form and information packet (PDF); you can mail your check or money order before Wednesday, June 29 to SABR Malloy Conference, Cronkite School at ASU, 555 N. Central Ave. #416, Phoenix, AZ 85004.
Book your hotel room: The Malloy Conference will be held at the Sheraton Overland Park Hotel at the Convention Center, 6100 College Boulevard, Overland Park, KS 66211. Limited rooms are available at a special discounted rate of $119/night (plus tax) for singles/doubles or $129/night (plus tax) for triples. Click here to reserve your room today or call (866) 837-4214 and mention the Jerry Malloy Conference. Please note: The cutoff date to book your room at the SABR discounted rate is June 13, 2016.
Schedule: Check out the complete Malloy Conference schedule by clicking here.
The 2016 Jerry Malloy Negro League Conference will celebrate "Barnstorming in the Negro Baseball Leagues." Barnstorming has always been a central part of the life of Negro League ballplayers. All Negro Leaguers took part in barnstorming games across the country and in cities like Kansas City. Monarchs great Satchel Paige, whose 110th birthday is being celebrated during this conference, did his fair share of barnstorming. Presentations may focus on any topic related to the theme, or other Negro Leagues issues.
Visit SABR.org/malloy for information on the 2016 Call for Papers, Essay Contest, Art Contest, and Library Grant Program.
---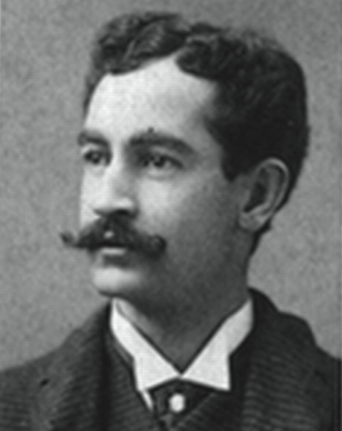 Each year, SABR's Nineteenth Century Research Committee selects its Overlooked 19th Century Base Ball Legend — a 19th century player, manager, executive or other baseball personality not yet inducted into the National Baseball Hall of Fame in Cooperstown, New York.
Committee members vote to narrow down the ballot to 10 finalists, then all SABR members are eligible to cast a vote for the winner. The winner is announced at the Nineteenth Century Committee's annual meeting at the SABR convention.
2016 finalists: Earlier this year, members of the Nineteenth Century Research Committee selected the finalists for the 2016 Overlooked 19th Century Baseball Legend. Click here to download a PDF with the finalists' bios, compiled by project chair Adam Darowski and Joe Williams. Voting in the final election will run from June 3 to June 30, and will be open to all SABR members.
Vote now! Click here to access the 2016 ballot. All SABR members are eligible to vote in the election for this year's Overlooked 19th Century Legend. You *MUST* select five candidates — ranking them from first choice to fifth choice — from among the candidates presented. You are only allowed to vote once. You are on the honor system to submit only one ballot. ALL BALLOTS MUST BE CAST PRIOR TO 11:59 p.m. PDT on Thursday, June 30, 2016.
Click here for a list of past winners.
For more information on the Overlooked 19th Century Baseball Legends Project, contact Project Chairman Adam Darowski or visit the project's Facebook page.
---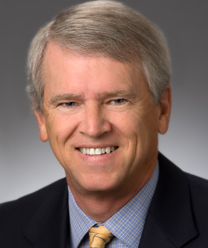 The Houston Astros held a special ceremony at Minute Maid Park before Sunday's series finale with the Cincinnati Reds to recognize veteran broadcaster Bill Brown's 30th season as the club's primary play-by-play television announcer.
Brown, a longtime SABR member who is active in the local Larry Dierker/Houston Chapter, was recognized on the field during a ceremony that featured a video tribute with several of Brown's most memorable calls, including Craig Biggio's historic 3,000th hit in 2008 and Mike Fiers' no-hitter last season vs. the Los Angeles Dodgers. Brown, now 68 years old, was presented with an authentic Astros jersey as a gift, signed by all current Houston players.
Brown was officially hired by the Astros on February 6, 1987, and the first regular-season game he called in his Astros career came on April 6, 1987 — a 4-3 win over the Dodgers on Opening Day at the Astrodome.
"This has been the biggest joy to me and my family to have this opportunity," Brown said of his 30 seasons with the Astros. "Houston has been great to us. We never could have dreamed when I took this job that we'd be here this long. The fans in Houston have been tremendous and the players have been great."
Read the full story on Bill Brown's ceremony at MLB.com.
— Ben DuBose
---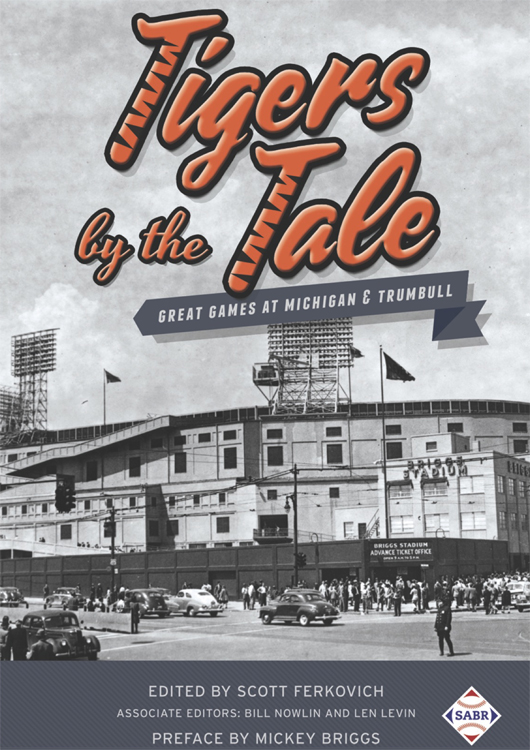 The newest publication by the SABR Digital Library comes from one of baseball's most famous corners:
Tigers by the Tale: Great Games at Michigan & Trumbull
Edited by Scott Ferkovich
ISBN (ebook): 978-1-9438-1620-0, $6.99
ISBN (paperback): 978-1-9438-1621-7, $12.95
156 pages, 8.5″ x 11″
For over 100 years, Michigan and Trumbull was the scene of some of the most exciting baseball ever. This book, the collaborative work of 34 members of the Society for American Baseball Research (SABR), portrays 50 classic games at the corner, spanning the earliest days of Bennett Park until Tiger Stadium's final closing act. From Ty Cobb to Mickey Cochrane, Hank Greenberg to Al Kaline, and Willie Horton to Alan Trammell, the illustrious names of Tiger legends shine forth in these pages. A must-read for those who love the crack of the bat, the glory of green grass, and tales of great games well told.
Contributors include: David W. Anderson, William M. Anderson, Will Bennett, Rich Bogovich, Raymond Buzenski, Marcus W. Dickson, Scott Dominiak, Scott Ferkovich, David Fleitz, Brent Heutmaker, Maxwell Kates, Matt Keelean, Jeffrey Koslowski, Steven Kuehl, Marc Lancaster, Susan A. Lantz, Doug Lehman, Len Levin, Mitch Lutzke, Mike Lynch, John Milner, Jerry Nechal, Bill Nowlin, Dave Raglin, Richard Riis, Ruth Sadler, Jeff Samoray, Terry Sloope, Steve J. Weiss, Mike Whiteman, Phil Williams, Jim Wohlenhaus, and Gregory H. Wolf.
SABR members, get this e-book for FREE!
Having trouble downloading our e-books? To view PDF files on your computer, click here to download the free Adobe Reader software. Having trouble downloading e-books to your Kindle, Nook, Sony Reader or iPad? Click here for additional help.
SABR members will get discounted rates for all Digital Library publications, including all e-books for free. To download past titles, visit SABR.org/ebooks.
---
The Philadelphia 19th Century Baseball Interdisciplinary Symposium, co-hosted by SABR's Nineteenth Century Research Committee and the Connie Mack/Philadelphia Chapter, will take place from 9:00 a.m.-5:00 p.m. on Saturday, November 12, 2016, at Maggiano's Restaurant, 1201 Filbert St. in the Center City of Philadelphia.
The Philadelphia symposium will include a welcoming address by MLB Official Historian John Thorn; a buffet lunch with special luncheon speakers Daniel R. Biddle and Murray Dubin; research presentations by Ralph Carhart, Jerrold Casway, Richard Hershberger, and John Schiffert; a panel discussion on "Philadelphia's 19th Century Baseball Movers & Shakers;" book signings and more. Space is limited, so reserve your spot today!
For more information, please contact Peter Mancuso at peterplus4@earthlink.net.
---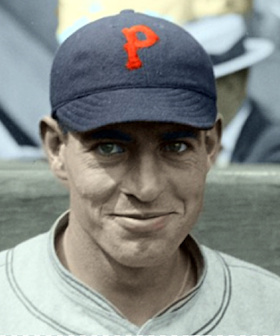 Seven new biographies were posted this week as part of the SABR Baseball Biography Project, which brings us to a total of 3,798 published biographies. Here are the new bios published this week:
All new biographies can be found here: /bioproj/recent
Search for any SABR biography: You can now visit sabr.org/bioproj_search to search for any player — or manager, executive, scout, spouse, broadcaster, or umpire — who appears in the SABR BioProject. You can also browse all of these BioProject categories and a lot more, including 300-game winners, Hall of Famers, 1960s All-Stars, or Negro Leaguers, at our Browse page: sabr.org/bioproj/browse.
Authors needed for 1972 Rangers book: The following players still need biographers for our upcoming 1972 Texas Rangers book project: Vic Harris, Jim Panther, Mike Paul, Tom Ragland, coach George Susce Sr., and future GM Joe Burke. If you are interested in writing any of these SABR bios and having your article published in the book, please contact editor Steve West at texaskiwi98@yahoo.com.
---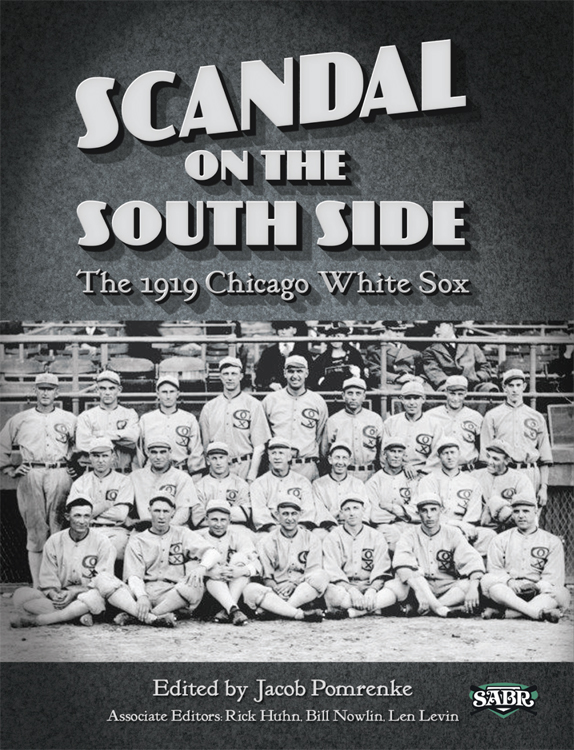 In SABR's Scandal on the South Side: The 1919 Chicago White Sox, edited by Jacob Pomrenke and published in 2015, we examined the team at the center of "the darkest hour" in baseball history.
Scandal on the South Side includes a comprehensive recap of Chicago's pennant-winning season, the tainted 1919 World Series, and the sordid aftermath. Shoeless Joe Jackson, Buck Weaver, Eddie Cicotte, Lefty Williams, and the other players implicated in the Black Sox Scandal were all banned from organized baseball for life. The team roster also included three future Hall of Famers — Eddie Collins, Ray Schalk, and Red Faber — a 20-year-old spitballer who would go on to win 300 games in the minor leagues (Frank Shellenback), and even a batboy (Eddie Bennett) who later became a celebrity with the "Murderers' Row" New York Yankees in the 1920s.
The SABR BioProject biographies that appeared in Scandal on the South Side can now be read online at: /category/completed-book-projects/1919-chicago-white-sox.
You can also purchase the book or download the e-book by clicking here. SABR members can download all SABR Digital Library e-books for free at SABR.org/ebooks.
---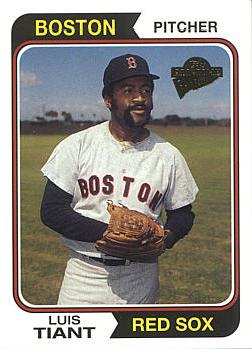 Five new game stories were posted this week as part of the SABR Games Project. Here are the new game stories:
The 1975 Red Sox stories also appeared in '75: The Red Sox Team that Saved Baseball, edited by Bill Nowlin and Cecilia Tan, published by SABR in 2015. Find more 1975 Red Sox game stories at the SABR Games Project here.
All new Games Project stories can be found here: /gamesproject/recent
---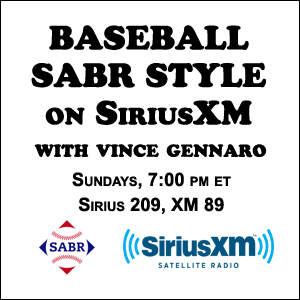 Behind the Numbers: Baseball SABR Style on SiriusXM, a radio show hosted by SABR President Vince Gennaro, will air this weekend at its regular time, 7:00-8:00 p.m. ET on Sundays, on MLB Network Radio.
This week's guests are SABR member Bill Petti of The Hardball Times and Matt Lyons of letsgotribe.com.
Now, you can also watch video highlights of Behind the Numbers: Baseball SABR Style on SiriusXM on MLB.com and you can also listen to all recent episodes on-demand on the SiriusXM Internet Radio App.
Click here to watch more video highlights of Baseball SABR Style from MLB.com.
Behind the Numbers: Baseball SABR Style on SiriusXM focuses on examining and interpreting the statistical analysis that plays a critical role in baseball today. It airs weekly throughout the year on MLB Network Radio, available to subscribers nationwide on XM channel 89, Sirius channel 209, and on the SiriusXM Internet Radio App.
---
We've heard your feedback: Some of you have said you look forward to "This Week in SABR" every Friday, but sometimes there are just too many compelling articles and announcements to read every week. We're not complaining — hey, keep up the great work! — but we know the feeling. So in an effort to make the length of this newsletter more manageable to read, we'll summarize some of the repeating/recurring announcements in a special "In Case You Missed It (ICYMI)" section of "This Week in SABR".
Here are some major headlines from recent weeks that we don't want you to miss:
All previous editions of This Week in SABR can be found here: /content/this-week-in-sabr-archives.
For more information, click here.
---
We'd like to welcome all of our new SABR members who have joined this week. You can find all Members-Only resources at members.sabr.org and the Membership Handbook can be downloaded here.
Please give these new members a warm welcome and help them make the most of their membership by giving them the opportunity to get involved in their local chapter or a research committee.
You can find contact information for any SABR member in the online membership directory (SABR.org/directory).
| Name | Hometown | | | Name | Hometown |
| --- | --- | --- | --- | --- | --- |
| Philip Bess | South Bend, IN | | | Tim Matz | Burlington, ON |
| Richard Brozman | Seymour, TN | | | Tom McGrath | Carrollton, TX |
| Patrick Daly | Reading, MA | | | James Moynihan | N. Attleboro, MA |
| Kipi Fleming | Hurst, TX | | | Chad Reineke | Louisville, KY |
| Chad Hagan | Roswell, GA | | | Greg Tanner | Trabuco Canyon, CA |
| Steve Hickey | Haverhill, MA | | | Peter Tompkins | Durham, NC |
---
Here are the new SABR research committee updates this week:
Find all SABR research committee newsletters at SABR.org/research.
---
Here are the new regional chapter updates this week:
Baltimore Babe Ruth Chapter meeting recap (May 14; Baltimore, MD)
Bob Broeg St. Louis Chapter meeting recap (June 21; St. Louis, MO)
Connie Mack/Philadelphia Chapter: The Connie Mack/Philadelphia Chapter is co-hosting the Philadelphia 19th Century Baseball Interdisciplinary Symposium from 9:00 a.m.-5:00 p.m. on Saturday, November 12 at Maggiano's Restaurant in Center City. Registration is now available and space is limited. Click here to learn more.
Wally Pipp Chapter: Member Douglas Redford is interested in reviving the Wally Pipp Chapter in West Michigan. If you would like to participate or help organize local SABR-related meetings and activities, please contact douglasredford@sbcglobal.net.
Best Practices handbook: Chapter leaders, download the new Chapter Leaders Best Practices Handbook, compiled by SABR staffer Marisa Elliot, on the Admin Tools page at admin.sabr.org. The handbook offers suggestions and guidelines for meetings, speakers, revitalizing a chapter, and getting publicity for SABR and chapter events.
Visit SABR.org/chapters for more information on SABR regional chapters.
---
Here is a list of upcoming SABR events:
All SABR meetings and events are open to the public. Feel free to bring a baseball-loving friend … and make many new ones! Check out the SABR Events Calendar at SABR.org/events.
---
Here are some recent articles published by and about SABR members:
Read these articles and more at SABR.org/latest.
---
This Week in SABR is compiled by Jacob Pomrenke. If you would like us to include an upcoming event, article or any other information in "This Week in SABR," e-mail jpomrenke@sabr.org.
Have trouble reading this e-mail? Click here to view this week's newsletter on the web.
Are you receiving our e-mails? "This Week in SABR" goes out by e-mail to all members on Friday afternoons. If they're not showing up, try adding "sabr.notes@sabr.org" to your contact list to ensure they show up in your inbox (and not the spam folder.)
---
Originally published: June 24, 2016. Last Updated: April 3, 2020.
https://h2j7w4j4.stackpathcdn.com/wp-content/uploads/2020/03/research-collection4_350x300.jpg
300
350
admin
/wp-content/uploads/2020/02/sabr_logo.png
admin
2016-06-24 15:00:00
2020-04-03 14:38:46
This Week in SABR: June 24, 2016