This Week in SABR: June 3, 2016

Welcome to "This Week in SABR!" Click here to view this week's newsletter on the web. Here's what we've been up to as of June 3, 2016:
---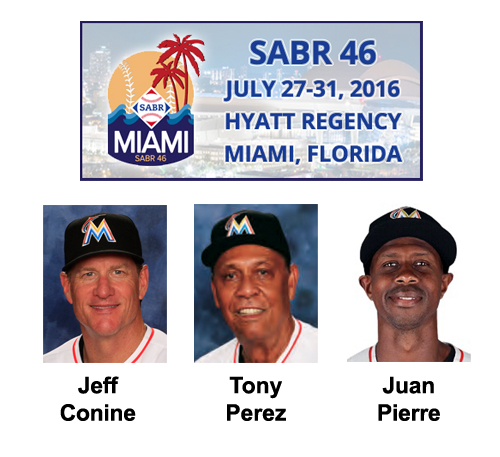 Just confirmed! Hall of Famer Tony Perez will be joining his son, ESPN analyst Eduardo Perez, on our star-studded SABR 46 pregame ballpark session, scheduled for Friday, July 29 at Marlins Park, along with Barry Bonds, Don Mattingly, and Hall of Famer Andre Dawson. Our special block of Marlins game tickets will only be available for purchase until June 13, so sign up today to join us.
For the 2003 Marlins Championship Panel, scheduled for Thursday, July 28 at the Hyatt Regency Miami, former outfielders Juan Pierre and Jeff Conine will join manager Jack McKeon and broadcaster Dave Van Horne for our look back at the Marlins' World Series-winning season.
We're also excited to announce two more panels at SABR 46:
Media Panel
9:00 a.m., Friday, July 29
Raul Striker Jr., Miami Marlins' Spanish-language TV play-by-play announcer
Reynaldo Cruz, a Cuban journalist who writes for the newspaper Ahora! and founder/editor of the Universo Béisbol digital magazine
More speakers TBA
Moderator: Chuck Hildebrandt, chair of SABR's Baseball and the Media Committee
Cuban Player Panel
1:00 p.m., Saturday, July 30
Miguel "Mike" de la Hoz, infielder who played in parts of nine seasons with the Indians, Braves (both Milwaukee and Atlanta), and the Reds
Leo Posada, Kansas City Athletics outfielder from 1960-62
More speakers TBA
There's less than two weeks left to take advantage of the early registration discount for SABR 46. Our 2016 national convention will be held July 27-31 at the Hyatt Regency Miami in downtown Miami, Florida. Early registration is only available through Monday, June 13 at SABR.org/convention. Sign up today!
---

We hope you'll join us for what promises to be a spectacular SABR 46 convention, July 27-31, 2016, at the Hyatt Regency Miami in downtown Miami, Florida.
All SABR 46 attendees will also receive a souvenir print edition of The National Pastime, our annual convention journal, focusing on baseball teams, players and events in the Miami area. All SABR members, whether you attend the convention or not, will receive the expanded e-book edition of The National Pastime in their inboxes later this summer. Visit SABR.org/convention to register for SABR 46.
---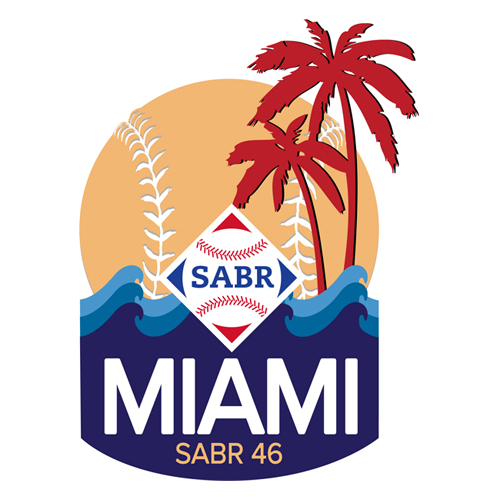 Want to throw out the first pitch at SABR 46?
Thanks to the generosity of the Miami Marlins, anyone who makes a donation of $1,000 or more to the SABR General Fund between now and June 15, 2016, will have the opportunity to go on the field for batting practice before the Marlins game vs. the St. Louis Cardinals on Friday, July 29 at Marlins Park.
Participating donors will also be entered into a drawing to throw out the first pitch at the Marlins game on July 29. The drawing will be held during the Ross Adell Welcome Reception during SABR 46.
This special opportunity is only available for up to six SABR donors (or a guest of your choosing.) Following our SABR 46 ballpark session — highlighted by guest speakers Barry Bonds and Don Mattingly — SABR donors will be able to go on to the field during batting practice before the game. Each one-time donation is good for one on-field ticket.
In addition to the on-field opportunity at Marlins Park and the chance to throw out the first pitch, the SABR 46 donation package also includes two tickets to the SABR 46 Donors Breakfast, a SABR logo commemorative crystal baseball, and a one-year membership to SABR.
SABR is a 501(c)(3) organization and all donations are tax-deductible to the extent allowed by law.
If you are interested in the SABR 46 donation package, please contact Jeff Schatzki at jschatzki@sabr.org.
---
The full schedule of research committee meetings at SABR 46 in Miami is now available by clicking on the link below:
Committee meetings are open to any SABR convention attendee.
Any committee leaders who do not see their annual meeting listed here should contact Jacob Pomrenke to get added to the schedule.
---
We want to thank all our participating vendors at SABR 46 for their support. Click here to learn more about our vendors.
Baseball America
Baseball-Reference.com
Joshua Tree Sales of Palm Springs
McFarland & Co.
Miami-Dade County Sports Commission
Rowman & Littlefield
University of Nebraska Press
University of Pennsylvania Press
Please stop by the Vendors Room at SABR 46 and purchase an item to remind you of your experience at the 2016 SABR convention. The Vendors Room will be located in the Jasmine Room on the Terrace level of the Hyatt Regency Miami.
If you would like to reserve a table in the Vendors Room at SABR 46, please contact Jeff Schatzki. Space is limited.
---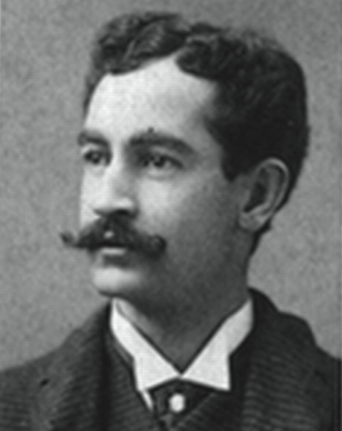 Each year, SABR's Nineteenth Century Research Committee selects its Overlooked 19th Century Base Ball Legend — a 19th century player, manager, executive or other baseball personality not yet inducted into the National Baseball Hall of Fame in Cooperstown, New York.
Committee members vote to narrow down the ballot to 10 finalists, then all SABR members are eligible to cast a vote for the winner. The winner is announced at the Nineteenth Century Committee's annual meeting at the SABR convention.
2016 finalists: Earlier this year, members of the Nineteenth Century Research Committee selected the finalists for the 2016 Overlooked 19th Century Baseball Legend. Click here to download a PDF with the finalists' bios, compiled by project chair Adam Darowski and Joe Williams. Voting in the final election will run from June 3 to June 30, and will be open to all SABR members.
Vote now! Click here to access the 2016 ballot. All SABR members are eligible to vote in the election for this year's Overlooked 19th Century Legend. You *MUST* select five candidates — ranking them from first choice to fifth choice — from among the candidates presented. You are only allowed to vote once. You are on the honor system to submit only one ballot. ALL BALLOTS MUST BE CAST PRIOR TO 11:59 p.m. PDT on Thursday, June 30, 2016.
Click here for a list of past winners.
For more information on the Overlooked 19th Century Baseball Legends Project, contact Project Chairman Adam Darowski or visit the project's Facebook page.
---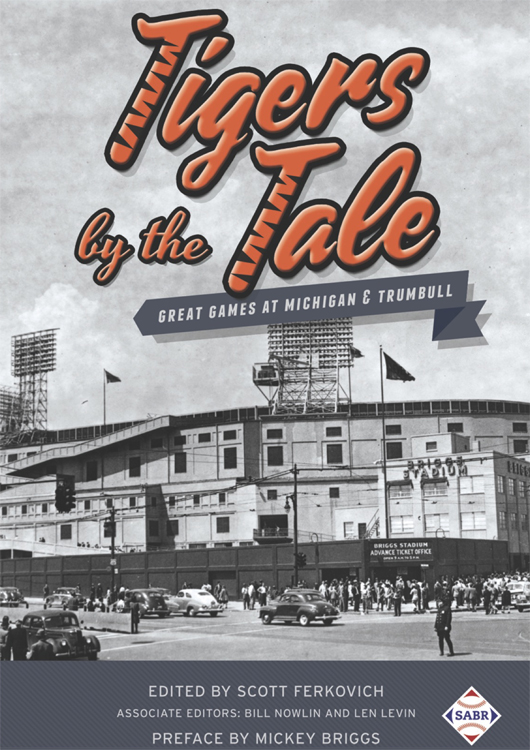 The newest publication by the SABR Digital Library comes from one of baseball's most famous corners:
Tigers by the Tale: Great Games at Michigan & Trumbull
Edited by Scott Ferkovich
ISBN (ebook): 978-1-9438-1620-0, $6.99
ISBN (paperback): 978-1-9438-1621-7, $12.95
156 pages, 8.5″ x 11″
For over 100 years, Michigan and Trumbull was the scene of some of the most exciting baseball ever. This book, the collaborative work of 34 members of the Society for American Baseball Research (SABR), portrays 50 classic games at the corner, spanning the earliest days of Bennett Park until Tiger Stadium's final closing act. From Ty Cobb to Mickey Cochrane, Hank Greenberg to Al Kaline, and Willie Horton to Alan Trammell, the illustrious names of Tiger legends shine forth in these pages. A must-read for those who love the crack of the bat, the glory of green grass, and tales of great games well told.
Contributors include: David W. Anderson, William M. Anderson, Will Bennett, Rich Bogovich, Raymond Buzenski, Marcus W. Dickson, Scott Dominiak, Scott Ferkovich, David Fleitz, Brent Heutmaker, Maxwell Kates, Matt Keelean, Jeffrey Koslowski, Steven Kuehl, Marc Lancaster, Susan A. Lantz, Doug Lehman, Len Levin, Mitch Lutzke, Mike Lynch, John Milner, Jerry Nechal, Bill Nowlin, Dave Raglin, Richard Riis, Ruth Sadler, Jeff Samoray, Terry Sloope, Steve J. Weiss, Mike Whiteman, Phil Williams, Jim Wohlenhaus, and Gregory H. Wolf.
SABR members, get this e-book for FREE!
Having trouble downloading our e-books? To view PDF files on your computer, click here to download the free Adobe Reader software. Having trouble downloading e-books to your Kindle, Nook, Sony Reader or iPad? Click here for additional help.
SABR members will get discounted rates for all Digital Library publications, including all e-books for free. To download past titles, visit SABR.org/ebooks.
---
The 19th annual Jerry Malloy Negro League Conference will be held July 7-9, 2016, in Kansas City. The conference is open to all baseball, history and sports fans of all ages. Registration is now available.
To register: Click here to register online at the SABR Store. Or click here to download a printable registration form and information packet (PDF); you can mail your check or money order before June 20 to SABR Malloy Conference, Cronkite School at ASU, 555 N. Central Ave. #416, Phoenix, AZ 85004. The early registration rate for SABR members is $165 for adults (includes all activities) or $120 for students. (Non-members: $200 adults/$150 students). Single-day registration for Friday or Saturday is $75 for SABR members, $95 non-members. The Thursday education forum only is $15 for SABR members, $30 non-members. Optional sessions or guest tickets are also available. Please note: The early registration rate expired on May 10, 2016.

Book your hotel room: The Malloy Conference will be held at the Sheraton Overland Park Hotel at the Convention Center, 6100 College Boulevard, Overland Park, KS 66211. Limited rooms are available at a special discounted rate of $119/night (plus tax) for singles/doubles or $129/night (plus tax) for triples. Click here to reserve your room today or call (866) 837-4214 and mention the Jerry Malloy Conference. Please note: The cutoff date to book your room at the SABR discounted rate is June 13, 2016.
The 2016 Jerry Malloy Negro League Conference will celebrate "Barnstorming in the Negro Baseball Leagues." Barnstorming has always been a central part of the life of Negro League ballplayers. All Negro Leaguers took part in barnstorming games across the country and in cities like Kansas City. Monarchs great Satchel Paige, whose 110th birthday is being celebrated during this conference, did his fair share of barnstorming. Presentations may focus on any topic related to the theme, or other Negro Leagues issues.
Visit SABR.org/malloy for information on the 2016 Call for Papers, Essay Contest, Art Contest, and Library Grant Program.
---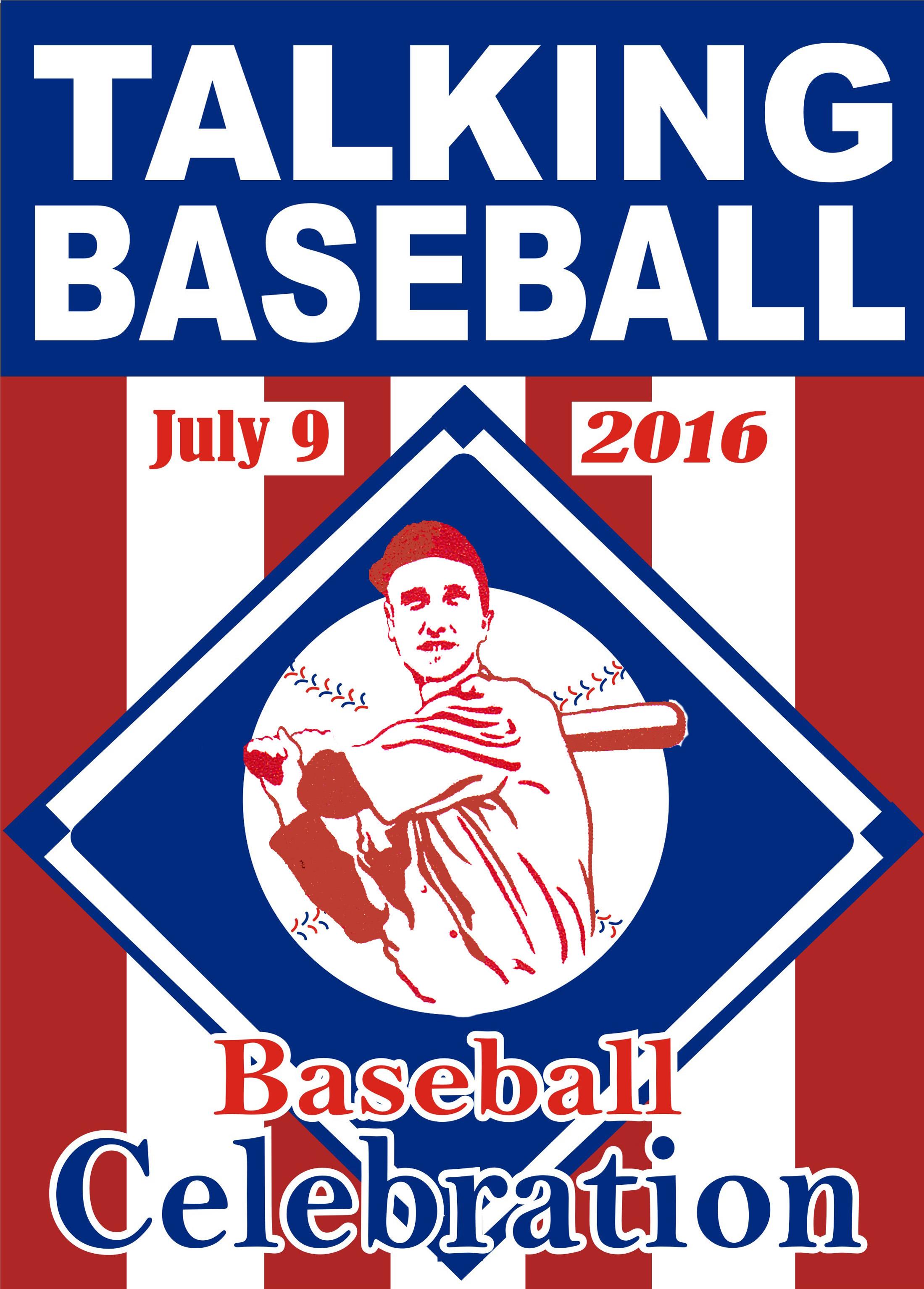 Coming to San Diego for the 2016 MLB All-Star Game festivities? Join us on Saturday, July 9 as SABR's Ted Williams Chapter will present Talking Baseball at the San Diego Central Library's Neil Morgan Library Auditorium.
This free public event is sponsored by PostalAnnex, Elite Services, and Hunt Auctions. Tickets and reservations are NOT required. This event will provide an eclectic assortment of baseball speakers, singers, documentary, and a no-hitter. The library is located in downtown San Diego at 330 Park Boulevard, next to Petco Park.
The lineup of speakers includes: Dan Boyle, Ted Williams Chapter president; Jacob Pomrenke, SABR Black Sox Scandal committee chair; Bob Kendrick, Negro Leagues Baseball Museum president; Joe Rathburn, San Diego baseball singer/songwriter; Matt Nokes, former major-league catcher who will narrate a video of Jim Abbott's 1993 no-hitter; Matt Thompson, with a one-man show on Ted Williams; filmmaker Jon Leonoudakis, who will screen his new documentary "Hano! A Life in the Bleachers"; baseball folk singer Ross Altman; and former Padres outfielder Gene Locklear, who will discuss his experiences as a Native American ballplayer and artist.
The San Diego Central Library includes the spectacular Sullivan Family Baseball Research Center, home of the SABR Collection, which can be viewed on the eighth floor of the library during regular business hours.
The Baseball Research Center opened in 2001, with an initial collection of books and microfilm donated by SABR's Ted Williams Chapter. In the years since, it has grown to more than 3,000 publications, books, and journals, and 300 microfilm reels, all available to the public at San Diego's downtown library.
For more details on the event, click here.
---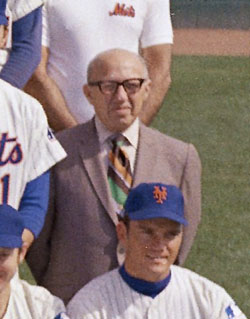 Six new biographies were posted this week as part of the SABR Baseball Biography Project, which brings us to a total of 3,778 published biographies. Here are the new bios published this week:
All new biographies can be found here: /bioproj/recent
Search for any SABR biography: You can now visit sabr.org/bioproj_search to search for any player — or manager, executive, scout, spouse, broadcaster, or umpire — who appears in the SABR BioProject. You can also browse all of these BioProject categories and a lot more, including 300-game winners, Hall of Famers, 1960s All-Stars, or Negro Leaguers, at our Browse page: sabr.org/bioproj/browse.
---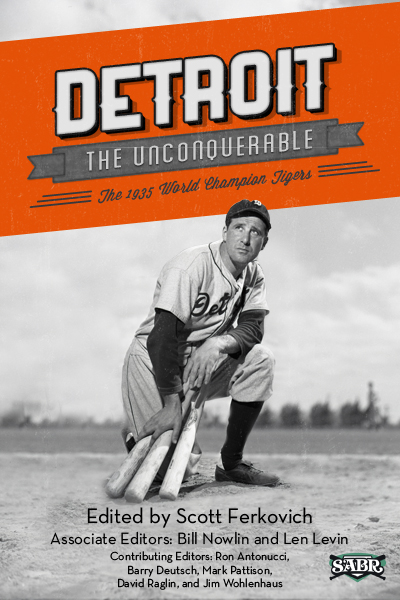 In SABR's Detroit the Unconquerable: The 1935 World Champion Tigers, edited by Scott Ferkovich and published in 2014, we celebrated the team that delivered Detroit's first World Series championship in the midst of the Great Depression.
The team was led by player-manager Mickey Cochrane, and featured an offense fueled by Hank Greenberg, Charlie Gehringer, and Goose Goslin (dubbed the "G-Men"). On the mound were Lynwood Thomas "Schoolboy" Rowe, Tommy Bridges, Elden Auker, and General Crowder.
The SABR BioProject biographies that appeared in Detroit the Unconquerable can now be read online at: /category/completed-book-projects/1935-detroit-tigers.
You can also purchase the book or download the e-book by clicking here.
---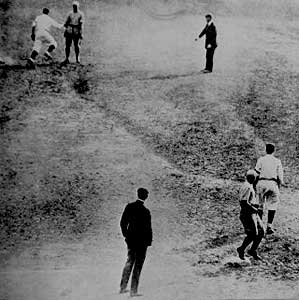 Three new game stories were posted this week as part of the SABR Games Project. Here are the new game stories:
All new Games Project stories can be found here: /gamesproject/recent
---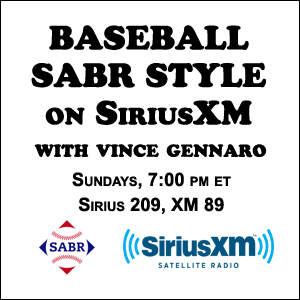 Behind the Numbers: Baseball SABR Style on SiriusXM, a radio show hosted by SABR President Vince Gennaro, will air this weekend at its regular time, 7:00-8:00 p.m. ET on Sundays, on MLB Network Radio.
This week's guests are T.J. Quinn of ESPN on the rise of PED suspensions and John Manuel of Baseball America on the upcoming amateur draft.
Now, you can also watch video highlights of Behind the Numbers: Baseball SABR Style on SiriusXM on MLB.com and you can also listen to all recent episodes on-demand on the SiriusXM Internet Radio App.
Click here to watch more video highlights of Baseball SABR Style from MLB.com.
Behind the Numbers: Baseball SABR Style on SiriusXM focuses on examining and interpreting the statistical analysis that plays a critical role in baseball today. It airs weekly throughout the year on MLB Network Radio, available to subscribers nationwide on XM channel 89, Sirius channel 209, and on the SiriusXM Internet Radio App.
For more information, click here.
---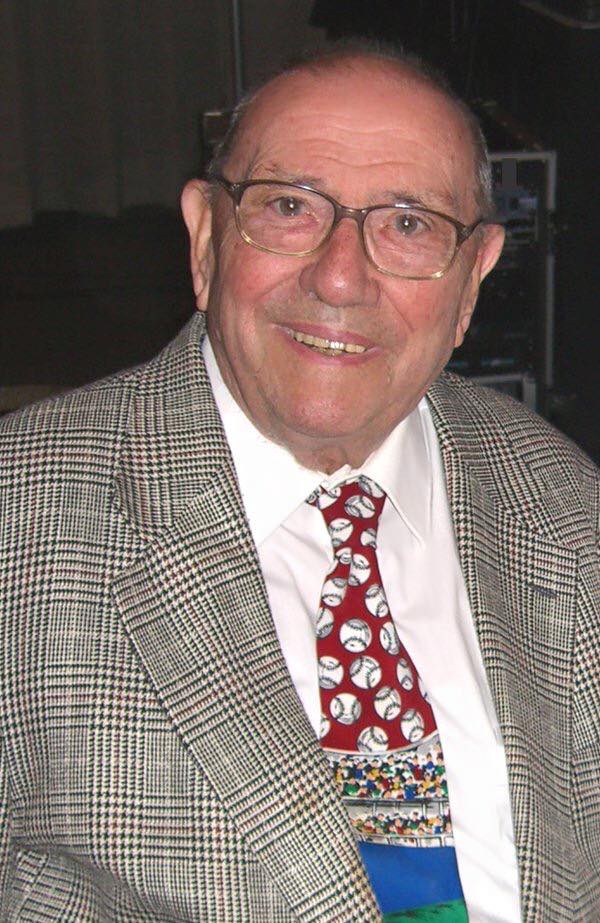 We are saddened to report that Arthur O. Schott, 97, one of SABR's earliest members and Louisiana's official baseball historian, died on May 27, 2016.
Born and raised in New Orleans, Schott was a combination of baseball historian, statistician, raconteur, and foremost authority on all things baseball in the area. In 1973, Gov. Edwin Edwards proclaimed Schott to be the official Baseball Historian for the State of Louisiana.
He joined SABR as member No. 26 on August 31, 1971, just three weeks after the organization's founding. He wrote an article on Babe Ruth's only minor-league home run for the premiere edition of the Baseball Research Journal in 1972 and served as SABR's Vice President in 1977-78. He also helped co-found SABR's Louisiana chapter, which was later renamed in his honor, and was the recipient of a SABR Salute in 1986. He was known for his generosity, often showing off his personal collection of baseball memorabilia and sharing his research with anyone who asked.
Click here to learn more about his Art Schott's life.
A visitation and funeral Mass was held at St. Pius X Catholic Church on Wednesday, June 1 in New Orleans, with a private burial afterward. Donations may be made to St. Pius X Catholic Church, or if you prefer, go to a baseball game and think of Schott while there; he would have liked it.
Many of Schott's research articles are compiled on the New Orleans chapter's website; click here to read them.
---
Each year, the SABR Board of Directors appoints more than a dozen members to small committees that choose our research award winners.
Now is the time to let us know if you would like to be considered for one of these positions. To apply, please send an e-mail to SABR Director Ty Waterman indicating which award you would like to judge, and providing answers to these questions: (1) why you are interested in serving (2) any relevant experience (3) what your research interests are. If you choose to weave these questions into one answer, you may do so.
For a complete list of SABR research awards, click here.
---
Calling all User Interaction and Big Data Geeks
Perhaps a camel is a horse designed by committee, but small groups can deliver outstanding apps in short order with the right combination of people. Imagine you could sit in front of the 120,000 index cards The Sporting News kept on every player who signed a professional baseball contract during the 20th century and use them to complete the information missing from the master database of major and minor league players.
Soon, SABR members will be able to do this — if we build them a great app. In conjunction with the LA84 Foundation, SABR is imaging the cards and digitizing the contents into full text records with integrated image mapping in XML files.
If this intrigues you and you think you may have expertise to bring to the table, please contact SABR Treasurer F.X. Flinn, who is coordinating the project.
---
We've heard your feedback: Some of you have said you look forward to "This Week in SABR" every Friday, but sometimes there are just too many compelling articles and announcements to read every week. We're not complaining — hey, keep up the great work! — but we know the feeling. So in an effort to make the length of this newsletter more manageable to read, we'll summarize some of the repeating/recurring announcements in a special "In Case You Missed It (ICYMI)" section of "This Week in SABR".
Here are some major headlines from recent weeks that we don't want you to miss:
All previous editions of This Week in SABR can be found here: /content/this-week-in-sabr-archives.
---
We'd like to welcome all of our new SABR members who have joined this week. You can find all Members-Only resources at members.sabr.org and the Membership Handbook can be downloaded here.
Please give these new members a warm welcome and help them make the most of their membership by giving them the opportunity to get involved in their local chapter or a research committee.
You can find contact information for any SABR member in the online membership directory (SABR.org/directory).
| Name | Hometown | | | Name | Hometown |
| --- | --- | --- | --- | --- | --- |
| Gary Britton | Hamilton, NJ | | | Scott Ludwig | Hopkins, MN |
| Michael Cole | Liverpool, NY | | | Hanford Pittman | Los Angeles, CA |
| Bill Collins | New York, NY | | | Eric Sildon | Arlington, VA |
| Layne Douglas | Calgary, AB | | | George Taylor | Denver, CO |
| Kurt Duryea | Centre, AL | | | Nick Thomas | Lubbock, TX |
| Ethan Healey | Raymond, NH | | | | |
---
Here are the new SABR research committee updates this week:
Oral History: The Oral History Committee is beginning a project to record oral histories with baseball official scorers. It is a combined effort with SABR's newly-formed Official Scoring Committee, chaired by Stew Thornley. We are seeking volunteers who wish to conduct interviews with current and former major league official scorers. To learn more, contact John McMurray at sabroralhistorycommittee@gmail.com. John recently conducted a 90-minute interview with SABR member David Vincent about his longtime work as an official scorer in both the major and minor leagues. You can listen to that interview by clicking here.
Find all SABR research committee newsletters at SABR.org/research.
---
Here are the new regional chapter updates this week:
Visit SABR.org/chapters for more information on SABR regional chapters.
---
Here is a list of upcoming SABR events:
All SABR meetings and events are open to the public. Feel free to bring a baseball-loving friend … and make many new ones! Check out the SABR Events Calendar at SABR.org/events.
---
Here are some recent articles published by and about SABR members:
Read these articles and more at SABR.org/latest.
---
This Week in SABR is compiled by Jacob Pomrenke. If you would like us to include an upcoming event, article or any other information in "This Week in SABR," e-mail jpomrenke@sabr.org.
Have trouble reading this e-mail? Click here to view this week's newsletter on the web.
Are you receiving our e-mails? "This Week in SABR" goes out by e-mail to all members on Friday afternoons. If they're not showing up, try adding "sabr.notes@sabr.org" to your contact list to ensure they show up in your inbox (and not the spam folder.)
---
Originally published: June 3, 2016. Last Updated: April 3, 2020.
https://h2j7w4j4.stackpathcdn.com/wp-content/uploads/2020/03/research-collection4_350x300.jpg
300
350
admin
/wp-content/uploads/2020/02/sabr_logo.png
admin
2016-06-03 15:00:00
2020-04-03 14:38:46
This Week in SABR: June 3, 2016