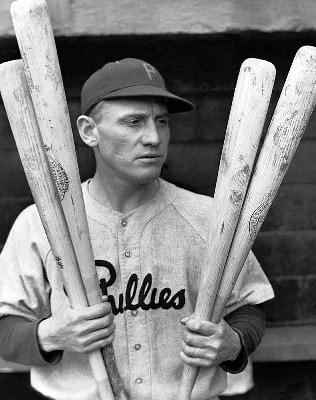 ---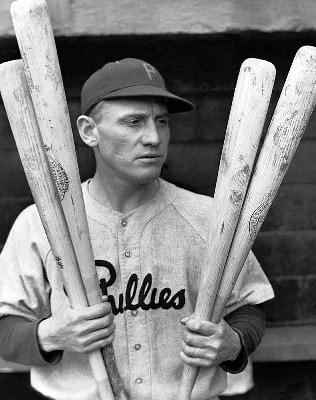 Charles Herbert Klein was born in Indianapolis, Indiana, on October 7, 1904. His parents, Frank and Margaret, were German-born farmers who had immigrated to America shortly before the turn of the last century. The couple owned a relatively small corn farm a few miles south of the state capitol. In addition to farming, Frank Klein served as a deputy sheriff and held several local political jobs and minor offices.
When Chuck Klein was six years old, he entered Silver Nock Grammar School, a tiny elementary school, but as his education progressed, he discovered other things beside school that he liked to do. "I worked on a farm. Played ball, and loafed along the fishing and swimming holes of the White River, and my boyhood was not a lot different from that of other youngsters. I avoided as much work as possible in the classroom, but did all the work possible on the ball field."
In 1919, Klein entered Southport High School, a few miles south of Indianapolis, and soon distinguished himself as the school's best baseball player. By his sophomore year, Klein was the team's star pitcher and its most powerful slugger. While he garnered attention and praise from the local newspapers for his athletic exploits, he was not approached or scouted during his high school years by any professional clubs.
When he graduated from Southport High in 1923, Klein's poor grades and lack of money foreclosed any chance at college. Needing to make his own way, he worked on a road crew swinging a pick axe until one day he saw an advertisement that "strong young men" were needed by the nearby Chapman-Prico Steel Mill in Indianapolis. Klein applied, got the job, and worked at the mill for the next three years, heaving 200-pound white-hot ingots into a blast furnace six days a week. He later credited this hard labor with developing his unusual physical strength: "There is one thing I can say about working in a steel mill. If it does not kill you, it will make a man out of you."
During his first year at Chapman-Prico, Klein was recruited to play outfield for a local semipro team, playing games almost every day after his shift and sometimes two games apiece on Saturday and Sunday. He continued this routine of work and baseball for the next three years, filling out his naturally powerful physique to a full six feet and 190 pounds.
On August 16, 1927, while playing with the semipro Keystone Athletic Club, he was spotted by a Prohibition agent named Adolph Stahlman, who recommended him to A.G. Beard, owner of the Evansville Hubs of the Three-I League. In 14 games with Evansville, the 22-year old Klein hit .327 with 2 doubles, 2 home runs, and 10 runs scored. Just as his pro ball career was taking flight, however, Klein broke his ankle sliding into third base in his fifteenth game of the year. The injury sidelined him for the rest of the 1927 season.
In the off-season Indianapolis sold Klein's contract to Fort Wayne of the Central League for a mere $200. In his first 88 games with Fort Wayne in 1928, Chuck hit .331 with 26 home runs, 29 doubles, and 85 runs scored. Klein later credited his rapid rise to Fort Wayne manager Punch Knoll, saying: "He was the one who polished my rough edges as a batter, and believe me, as a batter, I was full of them."
Klein's stellar play with Fort Wayne drew the attention of several major league clubs. Fort Wayne was a St. Louis Cardinals farm club, and therefore the Redbirds ostensibly held Klein's rights. However, the Cardinals also owned the Central League's Dayton club, a violation of baseball's conflict of interest rules. Commissioner Kenesaw Mountain Landis punished St. Louis by ordering the team to sell Fort Wayne and all its players.
The Philadelphia Phillies were well on their way to yet another 100-loss season when Klein became available. Desperate for young, inexpensive talent, the Phillies purchased his contract from Fort Wayne for $7,500, outbidding the New York Yankees, who only offered $5,000.
Klein reported to Philadelphia on July 30, 1928. When he met manager Burt Shotton, Shotton looked him over and said, "Alright kid, they tell me you can hit. God knows we need hitters, we need everything." Shotton used Klein as a pinch hitter that very afternoon in the bottom of the seventh inning against St. Louis Cardinals pitcher Syl Johnson.
Although he popped out in his first big league at-bat, which was his sole plate appearance of the day, Klein impressed Shotton enough that the manager started him the next day. The move paid off as the rookie doubled in three at-bats. That won him a starting job for the rest of the season, and in those 64 games, Klein hit even better than he had in the minors.
In 275 plate appearances, the 23-year old rookie hit .360 with 11 home runs and 34 RBI. He posted an on-base percentage of .396, slugged .577, and finished the shortened season with an OPS of .973.
Despite his promising start, Klein began 1929 in a minor batting slump. The Phillies were beginning to wonder whether their "future superstar" was turning out to be a dud. Klein persevered, taking extra batting practice every day, and soon began to improve. By the end of April, he was on an absolute tear, which led to a month of May in which he hit .413 with 11 home runs and 34 RBI.
After a solid June, Klein erupted again in July, batting .448 with 14 home runs and 40 RBI. By August, the local sportswriters began referring to him as the "Babe Ruth of the National League."
Especially in light of the fact that 1929 was his first full season in the majors, Klein's statistics are staggering. He hit .356 and set a new National League record with 43 home runs. As with many of his other career hitting exploits, Klein's home run record created a great deal of controversy.
On the last day of the Phillies' season, the team played a double-header with the New York Giants. Going into the second game Giants' outfielder Mel Ott had 42 home runs, one less than Klein. With the two left-handed sluggers aiming at the Baker Bowl's 280-foot right field fence, the game held promise for high drama. It didn't happen. Klein went 0 for 5. Ott barely got a chance to hit. Phillies pitchers walked him five times in six plate appearances. He managed a single in his other at-bat, but no home runs. Although Ott had one more game to match Klein the next day against the Boston Braves, and failed to do so, the Phillies refusal to pitch to him undoubtedly helped secure the home run crown for Klein.
Klein's 145 RBI ranked fourth in the NL and his 405 total bases ranked second to Rogers Hornsby's 409. Hornsby won the MVP; Klein finished in eleventh place.
Klein was humble about his quick rise to stardom, telling reporters after his remarkable season, "I find it very difficult to realize that I, Chuck Klein, the chap who was working in a steel mill three years ago, am the same fellow who led the National League in home runs this season. Isn't that a laugh?"
After the season Klein sought and received $15,000 for his 1930 contract. Despite the many comparisons with Ruth, Klein wasn't being paid like the Bambino, who was making $80,000 per season.
When Klein arrived at spring training in 1930, he made no bones about his personal hitting goals, telling a reporter from the Philadelphia Evening Bulletin, "I think I can hit fifty [home runs] this year. Last year I didn't really try for homers until I realized I had a chance for the record. I'm going to try this year right from the start and I'm sure I can beat my own record." It was a bold prediction. After all, at that time, no one other than Ruth had ever hit 50 in a season.
As he'd predicted, Klein got off to a fast start, batting .370 in April. On May 18 he began a 26-game hitting streak that raised his batting average to .429 by the middle of June. At the season's halfway point he had 26 home runs and 97 RBI. His prediction of 50 round-trippers seemed well within his grasp.
On July 12 Klein began another 26-game hitting streak, this time raising his batting average to .413 in early August. Unfortunately for Klein, he hit "only" .336 in August and a "mere" .355 in September, which lowered his season average to .386. He finished in third place, trailing the Giants' Bill Terry (.401) and the Dodgers' Babe Herman (.393). He collected 250 hits, sixth most in major league history. It wasn't enough to lead the National League, however, Terry had 254 hits.
Klein's 445 total bases topped the league and remains the fourth-most total bases collected by a player in a single season. Only Babe Ruth (457 in 1921), Rogers Hornsby (450 in 1922), and Lou Gehrig (447 in 1927) have surpassed Klein's total.
Although he didn't match his 43 homers from the prior year, Klein's 40 homers were second best in the NL. He hit 26 at home and 14 on the road. His 170 RBI ranked second to Hack Wilson's all-time record 191. Klein also led the league in runs scored with 158. It marked a new modern National League record, one that still stands as of the 2010 season.
Klein also greatly improved his defense, which had been the only aspect of his game lacking. He credited manager Burt Shotton for the improvement, acknowledging that prior to Shotton's instruction he was prone to holding a ball to long before trying to throw out a runner.
"Shotton told me: 'From the outfield, you never throw a man out by more than a step. If you take a step before you throw, that's the step which allows the runner to tie you. You probably lose him. If you take two steps, you're sure to lose him.'" The lessons worked. In 1930 Klein set the modern major league record for outfield assists with 44. Like his runs scored mark, this record still stands today.
Unfortunately, the Phillies weren't as successful as their biggest star. Anchored by a pitching staff whose ERA was a league-worst 6.71, the Philadelphians finished in last place with a 52-102 record.
Before the 1931 season Klein inked a three-year deal for $17,500 per year and kept rolling right along. He led the National League in home runs (31), runs batted in (121), runs scored (121), slugging percentage (.584), and total bases (347).
1931 was also the first year of the so-called "modern" Most Valuable Player Award, this one to be awarded by a vote of the Baseball Writers Association of America. Despite having statistics that dwarfed his competitors, Klein finished second to Frankie Frisch, who led the St. Louis Cardinals to the National League pennant, while the woeful Phillies finished 66-88, a full 35 games behind the Cardinals.
Klein's magnificent run continued in 1932. He hit .348 with a league-leading 38 home runs and 137 RBI. He also stole a National League-best twenty bases, making him the first, and still the only, player in the post-1920 era to lead his league in both home runs and steals in the same year.
Klein had 50 doubles and 15 triples, and his 420 total bases topped the National League for the third consecutive season. He also led the NL in outfield assists again. For his efforts, the BBWAA named Klein that year's National League Most Valuable Player.
In 1933 Klein led the league with a .368 batting average. He also finished tops in homers (28) and RBI (120), making him only the fourth player after 1900 to win the Triple Crown. The highlight of Klein's season came on May 26, 1933, when he hit for the cycle against Dizzy Dean and the St. Louis Cardinals.
In his first five full seasons (excluding his 64-game 1928 season), Klein averaged .359 with 36 home runs, 46 doubles, 139 RBI, 132 runs, 224 hits, and 396 total bases per season. He truly was the Babe Ruth of the National League.
But Klein's team stunk and it was almost broke. The Great Depression hit the city hard, and as unemployment climbed, fans stopped coming to baseball games. Attendance at Baker Bowl dropped from 299,000 in 1930 to 156,000 in 1933. The Phillies were on the verge of bankruptcy.
Team owner Gerald Nugent had no choice but to unload his most valuable player to help satisfy the club's debts. And so on November 21, 1933, the Phillies traded Klein to the Chicago Cubs for shortstop Mark Koenig, outfielder Harvey Hendrick, pitcher Ted Kleinhans, and $65,000 in cash. The Cubs paid their new outfielder $30,000.
Not everyone was so confident about the trade. It was clear that Klein and the Baker Bowl were made for each other. The right field wall was only 280 feet from home plate, and just 300 feet to the right-center power alley. Although the wall itself was 60 feet high, the statistics clearly show that Klein took full advantage of the park's cozy dimensions. During his five-plus years with the Phillies, Klein hit .420 at home and .296 on the road. His power differentials were equally staggering: in roughly the same number of at-bats, Klein totaled 131 home runs and 469 RBI at Baker Bowl, while hitting just 60 homers and 259 RBI in road games.
But the question remained whether Wrigley Field could fit the slugger's game as well.
During the first two months of the 1934 season, Klein looked at home in Wrigley and in a Cubs uniform. In his first 41 games he hit .333 with an OPS well over 1.000. He was among the National League leaders with 38 runs scored, 14 home runs, and 40 RBI. But on May 30 Klein suffered an injury that would limit his play and production for the next two seasons.
"When I joined the Cubs, I started out doing good work. I thought I was set for one of my best years, but on the thirtieth of May, while I was running the bases, I tore a muscle loose the back of one of my legs," he told reporters years later, "it bothered me, but I stayed on my feet for some time until I discovered that I was making a bad matter worse. Without any hesitation I'll say that my disappointing work in 1934 was mainly due to my leg. It hurt me in 1935 too."
Teammate Billy Herman corroborated those statements, saying that "no player would have played with the injured leg that Chuck had with the Cubs."
After the injury, Klein's power declined. He hit four home runs in June and then only one in July. The nagging injury finally knocked him out of the lineup on August 1. He didn't return to starting duty for almost a month, and played miserably for the rest of the year, batting .197 in September with one homer and 7 RBI.
Considering that he missed 37 games, Klein's final statistics for the 1934 season were quite respectable — .301 batting average, 20 home runs, 80 RBI, an OPS of .882 — although they were a far cry from the numbers he had posted in Philadelphia.
Klein began the 1935 season slowly. The lingering leg injury held him to just 23 games in April and May, during which time he hit .232 with 2 home runs and 11 RBI. But as the weather heated up, so did Klein. He hit .291 with 9 home runs and 21 RBI in June. In July the Cubs went on a tear, winning 24 of 27 games and cutting the Cardinals' lead in the National league from 10 ½ games to ½ game. Klein was the team's best hitter during the month, hitting .333 with 7 home runs and 26 RBI.
For the first time in nearly two seasons in Chicago, Klein finally started getting some good press. Under the headline "Klein At Last Wins Favor in Chicago," writer Sam Murphy noted, "Klein has been under terrific grueling since he flopped as a slugger but in the last month the veteran has won over thousands of rooters by his work on the field."
Murphy further predicted that the Cubs would bring Klein back in 1936, adding that "team officials were certain that his success in Philadelphia was not due to the short right field fence." Klein's roll continued into August, when he hit .340 with 15 RBI.
But he began September in a 2-for-23 slump with no extra-base hits and no RBI. And just like that, Chicago's brief love affair with Klein turned sour. Charlie Grimm benched him on September 7 and didn't put him back in the lineup until the last game of the season. By that time the Cubs had clinched the National League pennant due to a 21-game September winning streak.
Despite hitting .321 with 18 home runs and 62 RBI in 89 games from June through August, when the Cubs clinched the National League pennant on Friday, September 27, few gave Klein credit for the team's success. In fact, it was quite the opposite. As the World Series against Detroit approached, local sportswriters were not kind to Klein, criticizing him for his play and his time off the field nursing injuries. "Considering the number of times his name is entered in the all-time records of the game, Chuck is a pathetic figure, if one may feel sorry for someone who may receive $5,000 for simply watching a World Series."
But Klein turned out to be a key part of the Cubs in the Series. He pinch-hit in the ninth inning of Game 2. With the Cubs trailing 8-3 and one man out, Cubs manager Charlie Grimm substituted Klein for pitcher Fabian Kowalik. Klein flied out to left field and the Tigers won the game, evening the Series at one game apiece.
Game 3 sent the series to Chicago, and again Klein did not start. However, Grimm used him again as a pinch-hitter, and in the same situation. Stan Hack, the Cubs third baseman, was on first base with one out in the bottom of the ninth inning. The Cubs trailed, 5-3. This time Klein didn't fail. He ripped a single to left field that advanced Hack to second. Pinch-hitter Ken O'Dea then singled, scoring Hack and moving Klein to third base. Augie Galan, the next hitter, hit a sacrifice fly and Klein crossed the plate to tie the game. Unfortunately, the Cubs couldn't keep it going. They lost the game in 11 innings, 6-5.
Klein also didn't start in Game 4. He pinch-hit in the bottom of the seventh and grounded out in the Cubs' 2-1 loss. Manager Charlie Grimm finally started Klein in Game 5. Batting against Tigers starter Schoolboy Rowe, Klein ripped a singled to right field in the bottom of the first inning. Billy Herman opened the third inning with a triple off Rowe. Klein came to the plate with a chance to put the first run on the board. He ended up bringing home two with a home run to deep right field that put the Cubs ahead, 2-0. Although Klein failed to get a hit in his next two at-bats, his two-run blast proved to be the difference in the game as the Cubs prevailed, 3-1.
The Series moved back to the Motor City for Game 6. In the first inning Klein grounded out and he flied out in the third. In the fifth inning he singled to centerfield but was stranded there when Gabby Hartnett flied out to left fielder Goose Goslin. In the seventh inning, with Billy Herman on first base and two out, the score was tied at 3-3. A double could have scored Herman and put the Cubs ahead. But Klein didn't come through, grounding out to Tigers first baseman Marv Owen.
Two innings later Goose Goslin singled home Tigers catcher Mickey Cochrane, giving the Tigers a 4-3 win and a World Series title, their first ever.
Klein's dramatics in the World Series increased his manager's confidence in the slugger. In spring training 1936, Charlie Grimm was particularly high on Klein's chances for the upcoming season, saying: "Chuck's timing is perfect again. I had a hunch when he hit that home run in the Series that his troubles were over. Don't be surprised if he leads the National League in hitting, like he did in 1933, and breaks his old home run record."
Klein did get off to a fairly good start in 1936. In his first 29 games, he was batting .294 with 5 home runs and 18 RBI. But it wasn't enough for the Cubs, who were hoping for even more offense. Accordingly, on May 21, 1936, the Cubs traded Klein and pitcher Fabian Kowalik back to the Phillies in return for veteran outfielder Ethan Allen and journeyman pitcher Curt Davis.
Before returning to Philadelphia, Klein married Mary Torpey Leet, a Philadelphia widow, at St. Mary's Church in Chicago. Klein had met Mary a few years earlier in Medford Lakes, New Jersey, at the time more of a lake resort than the suburb of Philadelphia it is today.
Klein rejoined the Phillies on May 26, 1936, and manager Jimmie Wilson inserted him into the third spot in the batting order. Klein came through for Baker Bowl fans, going two for four with an RBI. Three days later, against the Brooklyn Dodgers, Klein looked like the man he'd been for those five glorious years in Philly, going 3 for 5 with a double, a home run, and 5 RBI as the Phillies blew out the Dodgers, 10-2.
The fans and media took notice. Within weeks Klein was batting .370 since his return to the Phillies. Perhaps sportswriter Sam Murphy summed up the mood and general opinion at the time when he wrote: "The Chucker should never have been let loose from the Phillies bandbox in the first place. He needs the Baker Bowl as much as the Phillies need him in it."
On July 10, 1936, Klein smashed four home runs and came within a few feet of a fifth against the Pittsburgh Pirates at Forbes Field. He began the day with a three-run homer in the first inning against Pittsburgh starter Jim Weaver. Klein next came to the plate in the second inning, and drove a long, high fly ball toward the right-field wall. But the ball came to rest in the glove of Paul Waner, whose back was to the wall as he made the catch.
In his next three at-bats, Klein hit three more solo shots, one off Weaver in the fifth, another in the seventh inning against Mace Brown, and the last off reliever Bill Swift in the tenth to help the Phillies pull out a 9-6 victory. The drives came in spacious Forbes Field, ironic considering that so many believed Klein's success was misleading because of the tiny Baker Bowl. The day raised the spirits and hopes of Phillies fans and local sportswriters alike.
While Klein continued to play well, the Phillies continued to flop. In 117 games with Philadelphia, he batted .309 with 30 doubles, 20 home runs, and 86 RBI. For the entire season Klein hit .306 with 35 doubles, 25 home runs and 104 RBI, his best performance since 1933. The Phillies, however, won only 54 games against 100 losses and finished 38 games behind the Giants.
Although hampered by injuries in 1937, Klein again posted respectable offensive statistics. His big streak came from June 2 through June 18, when he hit in 13 straight games, batted .463 with 8 doubles, 3 home runs and 13 RBI, and raised his average from .296 to .380. He finished the season with a .325 average, 15 home runs and 57 RBI—not the fence-busting numbers of his heady days, but certainly productive for playing only 115 games.
Conventional wisdom states that Klein collapsed after his dominant five-year run from 1929 through 1933. But a closer look at his numbers from 1934 through 1937 reveals that he was still a very good hitter, if not the hammer he had been as a younger player. Over that four year period, Klein hit .306 and averaged 20 home runs and 79 RBI despite playing an average of only 124 games a year. Had he been healthy enough to play every day, Klein's statistics project to a .306 batting average, 25 home runs, and 100 RBI per season during the years of his "early decline."
Chuck Klein entered the 1938 season in high spirits, perhaps because he was "batting .300 again in the health department and raring to go," as he wrote in a spring training letter to Stan Baumgartner of the Philadelphia Inquirer. He described an active off-season that included golf, bowling, boxing, baseball, hunting, and fishing from which, Klein wrote, he'd emerged "in great shape to start the training season."
At first Klein's prediction of a healthy, productive season seemed to be coming true. In April he hit .386, but then his average plummeted to .279 in May and fell further to .243 in June. To make matters worse, the Phillies decided they were finished once and for all with the outdated and decaying Baker Bowl, and leased Connie Mack's Shibe Park as the new site for their home games. Shibe was a bigger park than the Baker Bowl, especially in right field, where the foul pole sat 331 feet from home plate, 50 feet beyond the short porch of the Bowl. Many predicted that the change in venue would doom Klein.
As if a stadium change wasn't enough of a disruption, the Phillies made the switch in mid-season, debuting in Shibe Park on Independence Day against the Boston Braves. Klein was 2 for 4 with a double and an RBI in the Phillies' 10-5 loss. Chuck hit well not only in that game but also for the rest of the six-game home stand, during which he batted .318 with 3 doubles and 3 RBI. Unfortunately, the successful opening home stand at Shibe Park didn't spark a resurgence in Klein. His batting average continued to slide and his power evaporated completely. For the rest of the season he hit only two home runs, one at Shibe Park. His final statistics were the worst of his career: a .247 batting average with 8 home runs and 61 RBI.
In 1939 Klein played 25 only games for the Phillies and continued to struggle mightily. After he hit .191 with 1 home run and 9 RBI in 59 plate appearances, the Phillies released him on June 6, 1939. Klein later recalled the incident to sportswriter Jack Singer, saying that he was shocked by the team's decision to cut him loose. "I didn't sleep that night. I was out of a job and didn't know what the future held in store for me. I got up early the next day and bought the papers. 'Klein Released by Phillies' mocked the headlines. I crumpled them up savagely and threw them into the waste basket."
After 11 seasons in the game, and still only 34 years old, Klein refused to accept that he was finished. "I can't be through as a major league player, I said to myself again and again. All I need is a chance to play regularly." As fate would have it, the Pirates were light-hitting and cash-strapped, and found themselves searching for a cheap power hitter in mid-season. Upon learning of Klein's release, the team picked up the veteran on June 7. He met up with the Pirates in Boston for a game with the Braves. Klein went 1-for-4 with a single.
After settling into his new team with a .262 average during 14 games in June, Klein went on a tear reminiscent of his glory days. It began on July 1 with a 2-for-4 showing against the Cardinals in St. Louis, and continued for the next 20 games in which Klein collected at least one hit. During the 21-game hitting streak, Klein hit .412 (35 for 85) with 5 home runs and 22 RBI. He raised his average from .225 to .316, and the Pirates went 14-7 during Klein's streak and briefly climbed into second place a week later.
Unfortunately, the hot streak came to an end on July 23 when Klein failed to get a hit in five at-bats against Milt Shoffner of the Boston Braves. After that, Klein fell back to earth, hitting just .224 with 5 home runs and 14 RBI in August and September. His final numbers with the Pirates were more than respectable. In 85 games, he hit an even .300 with 11 home runs and 47 runs batted in.
His brief resurgence in Pittsburgh turned out to be Klein's last flash of success in the big leagues. In March 1940 the Pirates released him. The Phillies re-signed him for the 1940 season, perhaps inspired by Klein's second-half exploits with the Pirates. But 1940 only proved what the Phillies had suspected a year earlier: Klein was past his prime. In 354 at-bats, he hit a lowly .218 with 7 home runs and 37 RBI.
One of the few bright spots of the season came on September 4, when the Phillies held "Chuck Klein Night" at Shibe Park to honor their longtime slugger. More than 18,000 fans attended the game, the largest crowd to watch a Phillies home game all season. Although Klein didn't officially retire for another four years, 1940 marked the last season in which he had more than 73 at-bats.
Klein appeared in 50 games in 1941, mostly as a pinch hitter. On August 18 at Shibe Park, he hit his 300th home run. Pinch-hitting in the bottom of the ninth inning for Phillies starter Johnny Podgajny, Klein smacked his benchmark blast off Junior Thompson of the Cincinnati Reds. It was one of the few bright spots of the season, as Klein hit .123 in 73 at-bats. His 300th homer was the only one he hit all season. It was also the last of his career.
Over the next three seasons, Klein had 41 at-bats, nearly all as a pinch hitter, and hit .097. His final at-bat came against the Giants on June 11, 1944, when he singled to right field.
From 1942 through 1945, Klein also served as a coach for the Phillies. At the end of the 1945 season he retired from the game as a coach, and for the next two years he operated a neighborhood tavern at the corner of Coral and York streets in the Kensington section of Philadelphia.
Despite being a relatively young man, Klein's health began to decline almost immediately after his retirement. In 1947 he suffered a stroke that left one leg paralyzed. He returned to Indiana after the stroke to visit his mother and brother. According to his brother, Klein was in a "semi-coma," almost unable to walk, could barely speak, and had great difficulty with his memory.
Klein was diagnosed with a disease of the central nervous system that had been aggravated by alcohol and a poor diet. His mother and brother took him in and began nursing him back to health. Klein gave up drinking and didn't touch a drop of alcohol for the last 11 years of his life. While under his family's care, he made some progress but never fully recovered, and was unable to work during his final years. He was estranged from his wife, and the two divorced in 1956. On March 28, 1958, Chuck Klein died of a cerebral hemorrhage at age 53.
One of the most notable aspects of Klein's legacy was his long and winding road to the National Baseball Hall of Fame. From his first year of eligibility, his candidacy stirred up a great deal of controversy among voters. Klein's supporters pointed to his raw statistics, especially during his five-year run from 1929 through 1933, which was one of the best in history. During that span, Klein hit .359, averaged 46 doubles a season, won four home run titles, an MVP award, and a Triple Crown. He led his league in runs scored three years in row and scored a modern National League record 158 runs in 1930.
He led all senior circuit outfielders in assists three times and set a modern major league record with 44 in 1930. Klein wasn't a speed demon on the base paths, swiping only 79 bases in his career. However, he remains the only post-1920 player to lead his league in home runs and stolen bases in the same year, when he slammed 38 homers and stole 20 bases in 1932.
Despite his drop-off following the 1933 season, and his absolute collapse beginning in 1938, Klein's career totals were still very impressive: He batted, .320 with 300 home runs and 1,201 RBI.
Klein's detractors argued that his gaudy statistics were due to the tiny dimensions of the Baker Bowl. With the right-field stands a mere 280 feet from home plate, the Baker Bowl surely had a short porch for left-handed hitters, but it wasn't the only chip shot in the game at the time. During the years Klein starred in Philadelphia, the Polo Grounds right field porch was a Pony League-like 258 feet, which surely helped Mel Ott put up his Hall of Fame numbers. On the other side of New York, in Yankee Stadium, Babe Ruth and Lou Gehrig took aim at a fence just 295 feet from home plate. And players in those parks didn't have to hit the ball over a sixty-foot barricade, as Klein had to do in order to clear the Bowl's right field wall.
Klein's detractors far outnumbered his supporters among the sportswriters who voted for the Hall of Fame, as evidenced by the fact that he garnered only 2.5% of the vote in his first year of eligibility in 1948. Over the next 15 years Klein never even came close to induction, his best year being 1964 when he got 28%, a far cry from the 75% needed.
For the next five years, his candidacy was all but dead. But in 1969 a Philadelphia schoolteacher named Edward "Dutch" Doyle began a letter-writing campaign to the Hall of Fame and its Veterans Committee. Often recruiting his students for assistance, Doyle said that he lost count of the letters he had sent arguing the merits of Klein's career. Klein's sister-in-law, Virginia Torpey had been running her own campaign on Klein's behalf for five years when she met Doyle and the two combined their efforts.
During that period Klein's name turned up on President Richard Nixon's all-time team. Nixon, a fan of the National Pastime, chose Klein as one of the reserve outfielders on his pre-1945 National League team (after picking Paul Waner, Mel Ott, and Hack Wilson as his starters).
By March 1978, Doyle and Torpey wrote more than 1,000 letters to Hall of Fame officials and sportswriters. The Veterans Committee nominated Klein for consideration for induction in 1979. Although he didn't make it that year, the Veterans Committee finally voted him into the Hall of Fame on March 12, 1980. At his induction, Klein's nephew, Bob, and Commissioner Bowie Kuhn spoke on the deceased player's behalf. Also inducted that day were Duke Snider, Al Kaline, and Tom Yawkey.
Chuck Klein is buried in St. Joseph's Cemetery in Indianapolis.
Sources
Baseball-Reference.com
Chuck Klein Hall of Fame Profile Article
Edgar G. Brands, "Philly Star Retains Awards of Last Year," The Sporting News, September 29, 1932.
Bob Broeg, "Grimm Backs Wilson for Shrine," St. Louis Post-Dispatch, November 5, 1977.
Bob Broeg "Klein and Baker Bowl Made for Each Other," St. Louis Post-Dispatch, September 9, 1978.
Harry T. Brundidge, "Chuck Klein Seeks $15,000 Salary to Hit Home Runs for Phils" The Star-Chronicle Publishing Company, November 20, 1929.
David Condon, "In the Wake of the News," Chicago Tribune, March 31, 1958.
Happy Fine, "Phils' Chuck Klein Finally Makes Hall," Philadelphia Journal, March 13, 1980.
Chuck Klein, "Messages in Mid-Winter from Phillies' Players," Philadelphia Inquirer, February, 1938.
F.C. Lane, "Is He Baseball's Chief Enigma?" Baseball Magazine, July 1936.
Allen Lewis, "Klein Long Overdue in Hall of Fame," Philadelphia Inquirer, March 4, 1979.
Bill McCollough, "Batting Background at Baker Bowl Ideal for Slugging Chuck," Times-Union May 29, 1936.
Tom Meany "Chuck Klein Proved You Can't Judge a Batter by his Stance," March 13, 1941. (Publication name not listed on the article in Klein's Hall of Fame file.)
Dick Mittman, "Chuck Klein is Still on Outside of Hall," Indianapolis News, July, 1979
Sam Murphy "Klein Regains Batting Form of Early Days" June 8, 1936 (Publication name not listed on the article in Klein's Hall of Fame file.)
Sam Murphy, "Klein on His Way Out of Majors," January 6, 1938 (Publication name not listed on the article in Klein's Hall of Fame file.)
President Richard Nixon, "Nixon Picks His All-Time Baseball Team," Associated Press, July 2, 1972.
Ed Pollock, "Playing the Game," Philadelphia Evening Bulletin, March 29, 1930.
Jack Singer, "Release by Phils Shock," August 3, 1939 (Publication name not listed on the article in Klein's Hall of Fame file.)
Red Smith, "Chuck Klein Was a Sweet Guy," syndicated column in the Cincinnati Times-Star, April 1, 1958.
Red Smith, "Chuck Klein's Cooperstown," The New York Times, March 16, 1980.
Edgar Williams, "Fan's Winning Run Sends His Hero Home," Philadelphia Inquirer, August 1, 1980.
Joe Williams, "How Parks Make Muscle Hitters," New York World Telegram and Sun, April 1, 1958.
Staff Correspondent, "Klein, With 420 Bases, Again Leading N.L. Slugger," Philadelphia Inquirer, January 5, 1933,
Staff Correspondent, "Klein Official National League Leader," Philadelphia Inquirer, December 7, 1933.
Staff Correspondent, "Klein, Spurred by World Series Clout is Newest of Baseball's Cubs." March 7, 1936 (Publication name not listed on the article not named in Klein's Hall of Fame Profile.)
Anonymous, "Chuck Klein and Tom Yawkey Named to Hall of Fame," National Baseball Hall of Fame News Release, March 13, 1980.
Anonymous, "Change of Scenery Bought Back Slugger's Eye," Philadelphia Inquirer, July 11, 1936,
Anonymous, "Chuck Klein Goes on Hitting Streak to Help Pirates," Pittsburgh Post-Gazette, July 21, 1939.
Anonymous, "Phillies Former Slugger Chuck Klein Dies of Cerebral Brain Hemorrhage at Age 52," The Philadelphia Evening Bulletin, March 29, 1958.
Born
October 7, 1904 at Indianapolis, IN (USA)
Died
March 28, 1958 at Indianapolis, IN (USA)
If you can help us improve this player's biography, contact us.
http://bioproj.sabr.org/bp_ftp/images5/KleinChuck.jpg
600
800
admin
/wp-content/uploads/2020/02/sabr_logo.png
admin
2012-01-04 20:33:47
2012-01-04 20:33:47
Chuck Klein