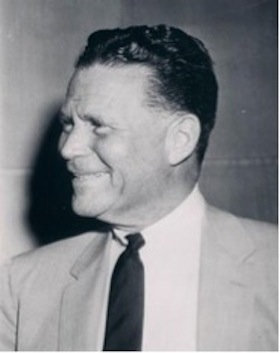 ---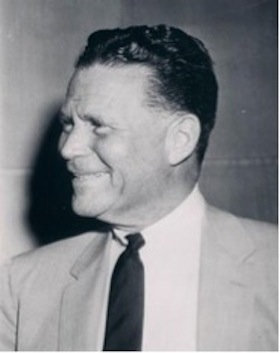 Pack your bags. Frank Lane's in town.
The compulsive trader known as Frantic Frank shuffled at least 690 players in 414 transactions with five teams.1 Wherever Lane went, turmoil followed. He traded one manager for another. He traded a home run champion for a batting champ. He traded local heroes and future Hall of Famers. He traded a father and son. Except for his first team, the White Sox, Lane never stayed long in one place. When he moved on, each roster was transformed and usually improved.
Bing Devine, who worked for Lane and then succeeded him in St. Louis, thought he was addicted to trading like a smoker craving a cigarette. "Some of his trades were nuts, and some were good," Devine said. "Frank wasn't remorseful about a deal if it didn't pan out. He was satisfied as long as he got attention out of it."2 Dodgers general manager Buzzie Bavasi commented, "Frank Lane was a great trader. But, when I say that, I don't mean the trades he made were great."3
Most of Lane's deals reflected his urgency to make his team better right now. "You don't stand pat if you don't win the pennant," he said.4 His clubs never won one, though a couple of them came close, and he only once left behind the core of a championship roster. The drive to win now was Lane's greatest strength and his greatest weakness. He often traded young players for older ones.
As he pinballed from team to team, Lane was in "perpetual motion," according to one sportswriter, a "human hurricane" according to another. He stayed up late and got up early. With a phone affixed to his ear, he hounded subordinates and other general managers at all hours. He drove convertibles, usually Cadillacs provided by his employers, and his associates knew to make sure their wills were up to date before they rode with him. He read dozens of newspaper sports pages every day, with near-total recall of players and their records.
Even sportswriters who slammed Lane for trading fan favorites loved him because he was good for a headline any time, any day. All a writer had to do was say hello and start taking notes.
Lane was born in Cincinnati on February 1, 1895, but the older he got, the younger he got. For most of his baseball career he claimed to be a year younger. When he was 83 and still scouting, he told a writer he was 79. The 1895 birth date appears on his gravestone and in the Social Security Death Index.
He gave his full name as Frank Charles Lane, but that appears to be less than the whole truth. Lane told sportswriter Harry T. Paxton that his father, Frank J. Lane, was a pharmacist who died when he was four, and his mother's maiden name was Julia Jacobs.5 But his Texas death certificate, presumably based on information from his second wife and his daughter, lists his name as Frank Charles Meyers Lane and his father as Frank Charles Meyers. Ohio birth records show that a Frank Charles Meyers was born in Cincinnati on February 1, 1895, to Frank Charles Meyers and Julia Jacobs. Frank J. Lane was most likely his stepfather. By the time of the 1910 census, Julia Lane and her son Frank Lane were living in Cincinnati with no husband listed.
Frank said his mother took in sewing to pay the bills. He went to work in a drugstore at 12. He described his young self as "a big, fat sissy" who was bullied and tormented with the nickname "Fatty." To fight back, he turned into a fitness fanatic. Lane built himself up to a muscular 6-foot-1, 210-pound tackle on college and, briefly, professional football teams.6 As an adult he did pushups and sit-ups every morning, didn't smoke, and seldom drank.
Sports became his life's work. "I wanted to be a ball player," he said. "But I couldn't hit a curve, or maybe I just couldn't hit — period."7 He started umpiring baseball and officiating basketball and football as a teenager. He worked games in the Big Nine (later Big 10) and Southern conferences for two decades. Whatever the weather, he usually wore short-sleeved zebra shirts to flaunt his biceps.
The 35-year-old bachelor fell for Selma Dent as soon as he spotted her at St. Petersburg Beach in Florida. She was not yet 18 when they married in 1931. Their daughter, Nadi, was born seven years later. Selma maintained their home in St. Petersburg while her husband spent much of his life on the road. Even their vacations were working trips; Frank took his family to Mexico or the Caribbean and scouted winter ball while his wife and daughter enjoyed the beach.
Lane met Larry MacPhail when they officiated football games together and introduced MacPhail to a Cincinnati banker who helped arrange the sale of the bankrupt Reds to industrialist Powel Crosley Jr. When MacPhail became the Reds' general manager in 1933, Lane joined him as business manager and all-purpose gofer. By 1937 he was running the farm system.
After Pearl Harbor, Lane enlisted in the navy at age 47. He rose to the rank of commander, traveling to war zones in North Africa, Europe, and the Pacific as an inspector of Naval Air Force athletic facilities. Discharged in February 1946, he rejoined MacPhail, now part-owner of the Yankees. Lane became general manager of the Kansas City Triple-A club and supervisor of all Yankee farm teams in the West.
In November 1946 he was named president of the American Association, one of the three Triple-A circuits. Lane looked the part with his tailored suits and wavy auburn hair slicked back. League president is a nice title, but a dull job. It did allow Lane to circulate and meet executives from many big league organizations as he pursued the job he coveted.
Chicago White Sox, 1949-1955
Before Lane: 51-101, last place in 1948.
Best season: 94-60, 3rd in 1954.
After Lane: 85-69, 3rd in 1956. AL pennant in 1959.

Best trades: November 10, 1948, C Aaron Robinson to Detroit for LHP Billy Pierce and $10,000. Pierce became the Sox' ace and led the AL in ERA and strikeouts. Aaron Robinson was not Jackie, or Frank, or Brooks.

October 19, 1949, backup C Joe Tipton to the Athletics for 2B Nelson Fox, who turned into the spark plug of the White Sox.

April 30, 1951, OF Gus Zernial to the Athletics in a three-way deal, acquiring OF-3B Minnie Minoso from Cleveland. Minoso and Pierce have decent Hall of Fame arguments, although Fox, a lesser player, was the one who made the Hall.

Worst: February 9, 1953, Ps Skinny Brown, Marv Grissom, and Bill Kennedy to the Red Sox for Vern Stephens. Stephens had been the best shortstop in the game, but he had a bad knee and was finished. Brown and Grissom were valuable pitchers for several years.
Some of Lane's friends warned him not to take the job as general manager of the White Sox. Once the American League's premier franchise, the club had been a wreck since the Black Sox were banned in 1920. Grace Reidy Comiskey, the widow of founder Charles Comiskey's only son, ran the Sox as a family piggy bank. Her two daughters drew paychecks, her son-in-law was farm director, and a brother-in-law was traveling secretary. Her son and the only male heir to the Comiskey legacy, 22-year-old Charles A. Comiskey II, had just joined the front office and recommended Lane. Mrs. Comiskey told Lane that part of his job was to train Chuck to take over.
But it was a major league team, and at 53 Lane might not get another chance. The last-place White Sox were so bad that when he put the entire 40-man roster on waivers, only two players were claimed by other teams. "We'll have to gamble," he said. "We may have to make startling deals, because a club that is standing still isn't going anywhere."8
Three relative nobodies acquired in Lane's first year laid the foundation for the Sox' revival. Billy Pierce, a wild 21-year-old left-hander, had won just three big league games. Nelson Fox, also 21, was a slight second baseman of no distinction. , Chico Carrasquel a shortstop bought from the Dodgers farm system, had played only one season in Double A.
After losing seasons in 1949 and 1950, Lane signed the man he wanted to lead the team. Paul Richards, a lanky, intense Texan, had been a light-hitting catcher who made his reputation as a wartime fill-in, when he got credit for developing Detroit's Hal Newhouser and Dizzy Trout into ace pitchers for a World Series champion. He had managed in the minors for nine years and was widely recognized as a big league manager in waiting, but he and Lane barely knew each other.
The two had one thing in common: their enormous egos. Yet they forged a winning partnership. Lane followed Richards' lead in acquiring players the manager knew and liked, and molded the roster to fit Richards' emphasis on pitching, defense, and speed. The Chicago Daily News's John P. Carmichael wrote, "They so often thought as one man."9
The one man Richards wanted most was Orestes Minoso, but Lane protested, "He can't play anything." The Cleveland farmhand was a poor outfielder and a worse third baseman. Richards, managing in Seattle the year before, had watched Minoso devastate the Pacific Coast League. He hit .339 for San Diego with 40 doubles, 10 triples, 20 homers, 115 RBIs, and 30 stolen bases. "I'll find a place for him," Richards said. "We'll just let him hit and run."10
Lane checked into the Commodore Hotel in New York at the end of April 1951, put on his pajamas, and spent more than 20 hours on the phone to orchestrate a three-way deal. Cleveland's general manager, Hank Greenberg, wanted a left-handed pitcher; Lane arranged to get Lou Brissie from the Athletics. The A's wanted a power hitter; Lane offered Gus Zernial, who held the White Sox home run record but was a joke in left field. All three teams threw in some fungible pieces, and Lane got his man.
Minoso was the team's first black player, a Cuban who was either 25 or 27 or 28 depending on when he was telling the tale. He hit a home run in his first time at bat and became the igniter of the Go-Go Sox and one of the most popular players in their history. Of all Lane's deals, this was the best.
The White Sox took off on a 14-game winning streak in May to climb into first place. Fox, a career .247 hitter, was leading the league in batting average. He had gotten a complete makeover by Richards and coaches Doc Cramer and Ray Berres. Carrasquel became the first Latino player to start an All-Star Game. Billy Pierce learned a slider from Richards, cut his walk rate in half, and won 15 games. Saul Rogovin, a sore-armed minor league right-hander picked up at Richards' suggestion, led the league in ERA. Minoso, who hit .324/.419/.438 with 31 steals after the trade, was named the AL's top rookie by The Sporting News.
The Sox cooled off in the second half and finished fourth at 81-73, their best record in eight years. Attendance topped one million for the first time in history. Lane and Richards had turned around a losing franchise, but they could never get past the powerful Yankees and Indians, who had a lock on the top of the standings from 1951 through 1956. Chicago moved up to third in 1952 and stalled there. The 1954 White Sox won 94 games, the most of any of Lane's teams.
Lane didn't give up, and he didn't give up dealing. Sherman Lollar came from the Browns in November 1951 and became the regular catcher for a decade, with six All-Star selections. After the 1952 season Lane traded his only power hitter, first baseman Eddie Robinson, for the Athletics' first baseman and two-time batting champ, Ferris Fain. Fain's best days were in the rear-view mirror; his biggest hit of 1953 landed on the jaw of a bar patron and won him a broken hand.
The acquisition of Vern Stephens before the 1953 season was a bust; Stephens and his troublesome knee lasted only four months. Another big name, former batting champion George Kell, came from Boston with a bad back, but hit well when he was able.
Even though the White Sox didn't advance in the standings, Lane's trades kept the team in the headlines. He mingled with fans at Comiskey Park, betting them soft drinks on what would happen next, and hung out in the press box entertaining sportswriters, who heard him ripping the players and second-guessing the manager. "What should I do if he makes a mistake?" he asked. "Pretend that it's all right?"11
Manager Richards didn't think the second-guessing was all right. At the end of the 1954 season he left to become manager and general manager of the Baltimore Orioles. "I never liked him," Lane said. "Richards looked out for Richards, but nobody ever did his job any better."12 Lane would never work so closely — or so productively — with another manager.
The Orioles had tried to hire Lane the year before when the franchise moved to Baltimore from St. Louis. Instead the White Sox gave him a seven-year contract. But his relations with the crown prince, Chuck Comiskey, had become testy. Chuck, approaching his 30th birthday, thought it was time to claim his birthright.
Their final break came during the 1955 season. Lane, raging at an umpire's calls, ran down to the box seats at Comiskey Park to vent his anger at Cal Hubbard, the AL umpire supervisor, and league president William Harridge. When Commissioner Ford Frick fined Lane $500 and ordered him to make a public apology, Chuck told a reporter that Lane deserved it.
"'Junior' wants me out," Lane said.13 Grace Comiskey would not meet with the GM; she accepted his resignation by letter. The tempest, hardly worthy of a teapot, may have been a put-up job on both sides. Chuck Comiskey was glad to get Lane out of his way, and Lane had lined up a soft landing. Comiskey later said hiring Lane was the best decision he made for the White Sox.
Lane left behind a transformed franchise. Beginning in 1951, the Sox rang up 17 consecutive winning seasons. "When I started, the club was all but bankrupt," he said, "and when I left there was $3 million in the bank and the club was good enough to win the pennant in '59."14 The White Sox won their first pennant since the Black Sox with a core of players acquired by Lane and Richards. Among Lane's final gifts was Luis Aparicio, a young Venezuelan shortstop he signed illegally by slipping some money under the table.
Like many managers and general managers, Trader Lane's success in first job created a halo that kept him employed for years. But his deal-making grew ever more impulsive and often nonsensical.
St. Louis Cardinals, 1956-1957
Before: 68-86, 7th in 1955.
Best: 87-57, 2nd in 1957.
After: 72-82, 5th in 1958. Next won pennant in 1964.

Best trades: December 11, 1956, Ps Tom Poholsky, Jackie Collum, and others to the Cubs for RHP Sam Jones and others. Jones gave the Cardinals two good years then, after Lane left, was swapped to San Francisco for Bill White, an All-Star first baseman.

November 19, 1956, OF Rip Repulski and IF Bobby Morgan to Philadelphia for OF Del Ennis. As the Cardinals made a run at the pennant in 1957, Ennis contributed 24 homers and 105 RBIs. He was 32 and that was his last productive season. Repulski and Morgan were primarily bench players.

Worst: May 17, 1956, CF Bill Virdon to Pittsburgh for CF Bobby Del Greco and P Dick Littlefield . Virdon was an elite defensive center fielder for another decade. Del Greco couldn't hit.

June 14, 1956, 2B Red Schoendienst, OF Jackie Brandt, and others to the Giants for SS Alvin Dark, 1B-OF Whitey Lockman, and others. Trading the popular Schoendienst ignited a public relations backlash, made worse when he helped Milwaukee beat out the Cardinals for the 1957 pennant. Brandt played 11 seasons as an excellent defensive outfielder. Dark, 34, hit well for a shortstop, but soon had to move to third base.
The Cardinals, winners of nine pennants in 20 years from 1926 through 1946, had not won another. Owner August A. Busch Jr. wanted to restore the team to glory, and the head of one of the world's largest breweries was accustomed to getting what he wanted with no excuses and no delays. After his club fell to seventh place in 1955, Busch promised Lane a blank check to turn it around.
Lane brought in a new manager, Fred Hutchinson, a ferocious competitor who suffered defeat with a vesuvian, chair-throwing temper. Lane always said the relationship between manager and general manager was the most important on the club, but Hutchinson, like Paul Richards, was a man he knew mostly by reputation.
The new GM's first move was one of his most unpopular. He banished the venerable birds-on-a-bat logo from the Cardinals uniforms. (He didn't trade the birds; they were back on their perch after one season.) Lane listed six Cardinals as untouchables: Stan Musial, Red Schoendienst, Ken Boyer, Bill Virdon, Wally Moon, and Harvey Haddix. Three of them were gone before the season was half done, and he would have traded two more if Busch hadn't stopped him.
St. Louis was virtually tied with Brooklyn for first place when Lane's merry-go-round began whirling. In the first 17 days of May he pulled off six deals involving 17 players. The two most significant: Haddix, a onetime 20-game winner, and Stu Miller, a failed pitching prospect, to Philadelphia for middling pitchers Herm Wehmeier and Murry Dickson, a former Cardinal who was 39; and center fielder Virdon, the 1955 Rookie of the Year, to Pittsburgh for center fielder Bobby Del Greco and lefty Dick Littlefield.
The Virdon trade "made no sense at all," said Lane's assistant, Bing Devine. "But Frank worked to convince everyone that Virdon had bad eyesight, that his sight was going bad so that he won't be able to play much longer."15 Virdon hit .334 for the Pirates and played 10 more years. Del Greco hit .215 for the Cardinals. In later years Lane acknowledged that this was his worst trade.16
Lane wasn't finished. Just before the June 15 trading deadline, he offered Stan Musial, three-time MVP and future St. Louis statue, to the Phillies for ace pitcher Robin Roberts. Musial's business partner, Biggie Garagnani, got wind of the impending deal. Unable to reach Busch, he warned brewery executives that Musial would retire if he was traded. Busch ordered Lane to forget it. (Lane later insisted this never happened, but Musial believed it and so did longtime St. Louis writer Bob Broeg.)17
Unable to trade The Man, Lane traded Musial's roommate, second baseman Red Schoendienst, to the Giants. This one made baseball sense: ,Don Blasingame nine years younger than Schoendienst, was ready to take over second base. But Schoendienst was almost as big a St. Louis icon as Musial, and they were the last men left from the 1946 World Series champions.18 "The way they carried on there," Lane said, "you'd think I'd killed Schoendienst."19 Busch, furious, voided Lane's blank check and ordered him to clear all major deals with the owner.
The renovated Cardinals improved by eight wins and rose to fourth place in 1956, but a Musial biographer, James N. Giglio, said Lane's upheaval destroyed morale and left the club "wracked by dissension."20 More than beer was brewing at Anheuser-Busch. In Gussie Busch, Lane encountered a character as impulsive and unpredictable as himself. Before the 1957 season Busch told a banquet audience, "Either the Cardinals will win the pennant by 1958 or Frank Lane will be out on his rump."21 (Of course, he didn't say "rump.")
Lane nearly pulled it off. During the winter he acquired Del Ennis, a right-handed power bat to balance the lineup, and pitcher Sam Jones, a two-time NL strikeout leader. The Cardinals charged into the pennant race in 1957, contending with the Dodgers and Braves until a nine-game losing streak in August brought them down. They finished second at 87-67, an 11-victory improvement. Milwaukee, with Schoendienst at second base, won the pennant.
Lane's acquisitions strengthened the team, but the key improvements came from holdover players. Musial won his seventh batting title, and homegrown pitchers Larry Jackson and Lindy McDaniel each won 15 games. The Virdon trade left a hole in center field, so third baseman Boyer moved there, and his hitting suffered.
Lane agreed to trade Boyer to Philadelphia for Richie Ashburn, a speedy center fielder and .300 hitter with no power. Busch made it clear that he didn't like the deal, but he didn't say no.22 Lane had to communicate with the owner through several intermediaries, vice presidents of the brewery, and he was too impatient for the protocols of corporate politics. It was time for him to go.
Within days after The Sporting News named him Major League Executive of the Year, Lane went shopping for a new job. Busch didn't try to stop him.
Cleveland Indians, 1958-1960
Before: 76-77, 6th in 1957.
Best: 89-65, 2nd in 1959.
After: 78-83, 5th in 1961. Next won pennant in 1995.

Best trade: March 21, 1959, OF Larry Doby, 35, to Detroit for OF Tito Francona, 25. Doby played only 39 more games. Francona hit .363 for the Indians in 1959 and had four good years.

Worst: April 17, 1960, OF Rocky Colavito to Detroit for OF Harvey Kuenn. "The Curse of Rocky Colavito": the home run champion for the batting champion. Colavito was a more valuable player for longer, and the trade outraged many Cleveland fans.

April 12, 1960, 1B Norm Cash to Detroit for 3B Steve Demeter in a swap of prospects. Cash, originally signed by Lane with the White Sox, hit 377 homers. Demeter had two big league hits.

December 4, 1957, P Early Wynn and OF Al Smith to the White Sox for OF Minnie Minoso and 3B Fred Hatfield. Minoso outlasted Wynn as a productive player, but Wynn won the 1959 Cy Young Award as he and Smith helped Chicago beat out Cleveland for the pennant. Indians historian Russell Schneider ranks these three trades as the worst in franchise history.
One again Lane took over a team in decline and achieved short-term improvement at long-term cost. Cleveland had been a contender for a decade, and was the only club to interrupt the Yankees' pennant run from 1947 to 1958, but the Indians slipped to sixth place in 1957. The franchise cornerstone, its storied starting rotation, had grown old. Attendance tanked, and some stockholders wanted to move the club out of town.
As the first step in his housecleaning, Lane traded 38-year-old pitcher Early Wynn, whose ERA had swelled to 4.31, to Chicago for his favorite, Minnie Minoso, who was somewhere in his 30s. By the end of 1958 Lane had moved 42 players.
One controversial trade looks worse in hindsight than it did at the time, but it is typical of Lane's impatience to win now. The Indians' prize prospect, 23-year-old outfielder Roger Maris, had batted just .234/.344/.405 with 14 home runs in his rookie year, then held out for a pay raise. In June 1958 Lane shipped him to Kansas City with others for Woodie Held and Vic Power. Held could play shortstop or center field and had some home-run pop. Power, a Gold Glove first baseman and .300 hitter, could also handle second, third, and the outfield.
The manager Lane inherited, Bobby Bragan, lasted only 67 games. Bragan wrote later, "All Lane wanted to do was blow his own horn and denigrate everything and everybody else."23 Lane replaced him with Joe Gordon, a former all-star second baseman for the Indians. The club improved by only one win, to 77-76, but Lane's overhaul paid off in 1959. Cleveland held on to first place for most of the first half and was still in the race with the White Sox in September.
Lane and Gordon squabbled constantly. With 10 days to go and the team's pennant hopes still mathematically alive, Gordon announced his resignation, effective at the end of the season. When Chicago clinched the pennant four days later by beating Cleveland — winning pitcher, Early Wynn — Lane fired Gordon, effective immediately.
At a press conference the next afternoon, sportswriters waited for the introduction of Leo Durocher as the new manager. Lane told an assistant, "Bring in Leo." In walked Joe Gordon to sign a two-year contract at a substantial raise. Explaining his second coming, Gordon said, "We were just a couple of hotheads in a pennant race."24
The pennant-winning White Sox — with Wynn, Nellie Fox, Billy Pierce, Luis Aparicio, Sherm Lollar, Dick Donovan, and Al Smith —were the best team Lane ever built. Instead of celebrating in Chicago, he settled for second place in Cleveland. The Indians finished five games behind at 89-65. Attendance soared to 1.5 million, the best in eight years, and the owners announced that the club would stay in Cleveland.
Lane trashed all the goodwill two days before Opening Day in 1960. By then only two holdover players were left on the 40-man roster: Herb Score, the once-dominant lefty who had been struggling with a sore arm after being hit in the eye by a line drive in 1957, and Rocky Colavito, the right fielder who had tied for the league lead with 42 home runs in 1959.
Lane's trade of Colavito to Detroit for the reigning batting champion, Harvey Kuenn, triggered an earthquake that shook the ground on the shore of Lake Erie. It was the worst blunder of Lane's life. No deal, not even the sale of Babe Ruth to the Yankees, had sparked such outrage among fans. The handsome Colavito was Cleveland's heart throb, "a special hero to tens of thousands, young and old."25
Lane explained, "We've given up 40 home runs for 40 doubles. We've added 50 singles and taken away 50 strikeouts."26 It was, he said, like swapping hamburger for steak. Tigers GM Bill DeWitt gloated, "I like hamburger."27
Colavito, just 26, bashed 117 home runs for Detroit in the next three years. Kuenn, who was three years older, batted .308/.379/.416 for Cleveland in 1960, with 24 doubles, not 40. After that one season Lane packed him off to San Francisco in return for Willie Kirkland, a power hitter who was not in Colavito's class, and Johnny Antonelli, a washed-up pitcher.
The day after the Colavito trade, Lane made it a clean sweep by sending Herb Score to the White Sox.
Lane's dealing went from outrageous to ridiculous in August when he and the Tigers' DeWitt swapped managers: Joe Gordon for Jimmy Dykes. Lane always maintained it was DeWitt's idea, and Dykes said, "This was no trade. This was just a couple of guys getting fired and getting fielded on the bounce by a couple of other guys."28 The manager "trade" became Exhibit A whenever Lane was accused of dealing for the sake of dealing.
Cleveland fans voted with their feet; the Indians' attendance dropped by one-third in 1960 as they slid to fourth place with a losing record. The club fell into a downward spiral that lasted more than three decades. Again Lane sought to get out of town before he was run out, and his bosses held the door open.
Kansas City Athletics, January-August 1961
Before: 58-96, last place in 1960.
"Best": 61-100, tied for last in 1961.
After: 72-90, 9th in 1962. Next won division title in 1971.

Best trade: Charlie Finley for unemployment.
Unemployment beat working for Charles O. Finley. In the new owner of the Athletics, Lane met a man even more volatile than he was.
Finley, who got rich selling insurance to doctors, put his best sales pitch on Lane. Or his best con job. Even before Lane left Cleveland, Finley began calling every day. Lane said he turned him down four times. He should have made it five.
Finley lured him to Kansas City with a four-year contract at a reported $100,000 a year, probably an exaggeration. Starting a new job just before his 66th birthday, Lane quickly ran head-on into the reality of life with Charlie O: "As soon as I arrived on the scene, he made it clear he didn't need a general manager."29
The A's were bad when Lane arrived and just about as bad when he left. He moved 50 players in and out to no discernible effect.
The volcanic pair put up with each other for less than eight months. "I wouldn't 'yes' him," Lane said.30 After Finley fired him and cut off his paychecks, Lane went to court to collect. Because he claimed he was still under contract to Kansas City, no other team could hire him without Finley's permission. Fat chance.
Lane was a hostage, and so was his car. Finley had given him a Mercedes convertible, but never handed over the title. That meant Lane couldn't get new license plates, so he had to park the beauty in a garage — where it sat for two years while the lawsuit played out. Pittsburgh general manager Joe L. Brown learned of the dispute and worked out a three-way deal, or steal: He paid Lane $2,000 for the Mercedes and Finley $1,000 for the title.
In exile Lane hooked on as general manager of the National Basketball Association Chicago Packers. Left behind when the team moved to Baltimore in 1963, he retreated to his winter home in Acapulco, Mexico.
The lawsuit finally went to trial in late 1964, and Finley's attorneys persuaded him to settle when the testimony went against him. Lane received a payoff variously reported as $113,000 to $153,000. He was free at last, but he was nearly 70, out of baseball for 3½ years. His eyesight was poor, and he wore prescription sunglasses to conceal his need for corrective lenses.
He found work as a super scout for the Baltimore Orioles. Club president Lee MacPhail, the son of Lane's first mentor, had worked with him in the Yankees organization. Lane was a player again, traveling the circuit evaluating major leaguers for possible trades, but he could only advise. He yearned for another chance to be a decision maker.
Milwaukee Brewers, 1971-1972
Before: 65-97, 4th of six in AL West in 1970.
Best: 69-92, last in 1971.
After: 74-88, 5th of six in 1973. Won pennant in 1982.

Best trade: October 10, 1971, Ps Marty Pattin and Lew Krausse, OF Tommy Harper, and a minor leaguer to Boston for Ps Jim Lonborg and Ken Brett, 1B George Scott, and others. Lonborg gave the Brewers one good season, but Boomer Scott was the key man. Over the next five years he hit 115 homers and won five Gold Gloves for Milwaukee, then was traded back to the Red Sox for 1B Cecil Cooper, who was even better.

Worst: February 10, 1971, LHP Al Downing to the Dodgers for OF Andy Kosco. Downing won 20 games for Los Angeles and pitched well for two more years. Kosco hit .227 for Milwaukee and was traded for a .200 hitter.
Nearly 10 years after he had last served as a general manager, Lane mesmerized Milwaukee's principal owner, a car dealer half his age named Bud Selig. "You should hear him rattle off names of players in both leagues and their abilities," Selig gushed. "That's what appeals to me about him, his in-depth knowledge of the game and the men in it. I wanted action right now."31
Selig hired him as director of baseball operations, with authority limited to the major-league roster. Lane was 76, but sportswriters somehow got the impression that he was 71 or maybe 72. "I signed a long-term contract," he said. "At my age that means two weeks."32
The Brewers, one year removed from being the expansion Seattle Pilots, were not a rebuilding job, but a building job. In less than a year Lane disposed of 33 of the 40 players on the roster. Few of the deals made any immediate impact because he had little to offer in trade. Only the swap that sent lefty Al Downing and his 2-10 record to the Dodgers qualifies as a true clunker.
The club inched up from 65 victories in 1970 to 69 in '71, but fell to last place in the AL West. Lane's 10-player trade with Boston after the season brought first baseman George Scott and third baseman Joe Lahoud to provide hitting punch, and right-hander Jim Lonborg, who chalked up a 2.83 ERA and 14-12 record in 1972. Selig hailed the deal as a turning point for the franchise, but the team only spun its wheels. When the Brewers moved to the AL East in 1972, the result was the same: last place.
With one year left on his contract, Lane was put out to pasture. Selig demoted him to a scouting job, but went out of his way to soften the blow: "No man ever stepped into a more intolerable, distressing total situation and pulled it out as he has in the last two years."33 Lane's retooled roster improved to 74 victories in 1973 and escaped the cellar.
Who would hire a 78-year-old with suspect eyesight? Quite a few people, as it turned out. He scouted for a year for the Texas Rangers, then joined the California Angels under GM Harry Dalton, who had worked with him in Baltimore. "He is my CIA," Dalton said.34 Dalton's successor, Buzzie Bavasi, credited Lane with arranging a deal with his old pal Bill Veeck to get catcher Brian Downing from the White Sox.
Sometime after Selma Lane died in 1976, Frank married Gloria Solario. He lived during baseball seasons in a Chicago hotel so he could see teams from both leagues without traveling. While working as a consultant with the San Diego Padres in 1980, he fell and broke a hip. He moved to a nursing home in Richardson, Texas, near his daughter's home, and died there on March 19, 1981, at 86.
"If Trader Lane had been as smart in baseball as he thought he was," St. Louis writer Bob Broeg commented, "he would have won pennants rather than friends."35 Even in death Lane wasn't without critics, but he was seldom without a job. For more than two decades he was the man to call for a quick fix.
Always eager for new ideas, he promoted batting helmets, interleague play, the designated hitter, and expansion long before they were accepted into the game. As chairman of the American League's realignment committee in 1955, he wrote a prescient report showing that clubs could make a profit despite increased travel costs if the league put two teams in California. As president of the American Association in the 1940s, he proposed a new statistic to give a batter credit for every base runner he advanced, not just runs batted in.
But Lane's reputation stands or falls on his trades. "The only deals that irked me are the ones I didn't make," he said. And he seldom admitted that he blew one. Years afterward he insisted, "If I had it to do over, I'd still trade that dago fruit peddler for Kuenn."36
Additional sources
Bingham, Walter. "The Joys and Agonies of Frank Lane." Sports Illustrated, July 27, 1959.
Brown, Warren. "The Lane of Many Turnings." Sport, March 1956.
Notes
Full Name
Frank Charles Meyers Lane
Born
February 1, 1895 at Cincinnati, OH (US)
Died
March 19, 1981 at Richardson, TX (US)
If you can help us improve this player's biography, contact us.
http://sabr.org/sites/default/files/LaneFrank.jpg
600
800
admin
/wp-content/uploads/2020/02/sabr_logo.png
admin
2016-09-19 14:51:45
2016-09-19 14:51:45
Frank Lane