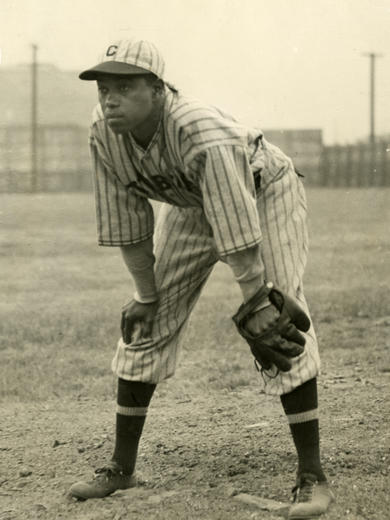 ---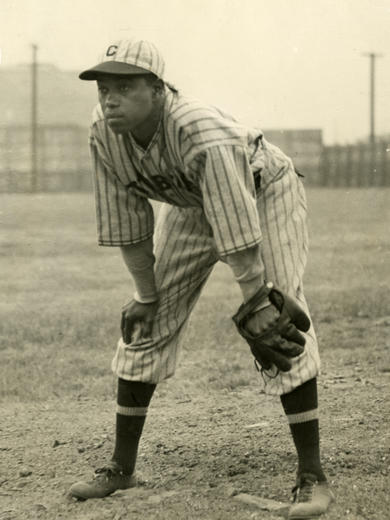 Quiet, mannerly, and somewhat introverted, Judy Johnson for all his reticence was a leader. He commanded respect by his actions on and off the field. Slight of build but with the inner constitution of a bulldog, he went about his job efficiently and steadily. A black man who knew his choices were limited by a society then closed to him, he was determined to use his athletic skills to make a life for himself and his family. His strong family ties gave him solid psychological grounding.

Baseball wasn't easy for players in the Negro Leagues. It was hard driving day and night, dealing with rejection, mindless bigotry and the barrier against playing in the Major leagues. Despite the travails, for many of the players it was a time of happiness, adventure, and camaraderie. The Negro Leagues also offered comparative wealth and some star status in contrast to the menial jobs most of the African-American population had to endure during the first half of the twentieth century.

Judy Johnson was of the Charlie Gehringer mold: "You just wind him up at the start of the season and he goes out without anything to say and does the job." Johnson grabbed anything within reach and slapped line drives all over the field. Quiet, dependable, no gloss, just a smart third baseman, he made difficult plays look routine.

William Julius "Judy" Johnson was born in Snow Hill, Maryland, presumably on October 26, 1899, to Annie (Lee) Johnson and William Henry Johnson, a sailor and licensed boxing coach. When Judy was five years old, the family moved to Wilmington, Delaware, where his father worked as a shipbuilder and athletic director of the Negro Settlement House.

According to Judy's niece, Sandra Johnson, Miss Annie, as everyone called her, was an orphan and was left in a basket on a doorstep, probably in Snow Hill, Maryland. She married William Henry Johnson in Snow Hill, where Judy and his sister Mary Emma were born. When the family moved to the West Side of Wilmington to Delamore Place, Miss Annie played the gracious hostess to all who entered and always had a hot pot of coffee ready to serve. Sandra's grandfather, Judy's father, was a fan and friend of heavyweight boxing champion Jack Johnson, for whom Mary Emma and Judy's brother John was named. Sandra still has a gold ring that Jack Johnson gave to her father.

The Johnsons were a middle-class family with strong values that underscored a clean life. Athletics was a prominent part of that life, as Johnson's father stressed through his work at the Negro Settlement House. Judy, following in his father's passion for sports, soon found he loved baseball. The family's emphasis on middle-class values stood him in good stead for his entire life. Despite the racial barriers, Johnson stood on solid psychological ground because of his family life and was able to deal healthily with the obstacles that stood in his way.

Judy's younger brother was the coach of an all-white semi-pro football team named the Wilmington Defiance, something unheard of in the 1930s. During one game the opposing team and the staff walked off the field, refusing to play against a black coach. Sandra Johnson remembers her mother making hundreds of waffles for the husky and hungry young men of the Wilmington Defiance football team.

Johnson's father wanted Judy to become a boxer. His sister was his sparring partner and would pummel Johnson all over, but he would never retaliate because she was a girl. "Where do you hit a girl?" he asked. After serving as batboy on his father's local baseball team, the Royal Blues, his dream was to become a professional baseball player. The first glove he used was a hand-me-down from his father. It was so beaten up that it eventually fell apart. His father bought Johnson another glove so small that it looked like a dress glove when compared to today's baseball gloves. Johnson quit Howard High School (the only black high school in then-segregated Delaware) after the tenth grade to work on the docks in New Jersey. He got his first break in professional baseball during World War I when many of the players were called up to military duty.

Growing up a bit (he would never weigh more than 150 pounds), Johnson joined a team called the Rosedales. They played at Second and Adams, in Eden Park, on Saturdays. After games, he would hang around the captain's house to talk baseball and steal shy glances at Anita Irons, the captain's sister and the future Mrs. Johnson.

After the war, Johnson played with the Chester (Pennsylvania) Giants and was paid five dollars a game. In 1919, he played for the semi-pro Madison Stars of Philadelphia, a minor league team that supplied talent to the Negro Major Leagues club, the Hilldale Daisies of Philadelphia. The Daisies acquired Johnson for $100 in 1919. In 1920, Johnson was installed as the Daisies' regular third baseman at a salary of $150 a month. While playing with the Daisies, he got the nickname of "Judy" because he resembled Chicago player Judy Gans. John Henry "Pop" Lloyd became Johnson's mentor in his early days. "He's the man I give the credit to for polishing my skills; he taught me how to play third base and how to protect myself . . . John taught me more baseball than anyone else." Becoming a confident young man, Johnson felt that he was the best third baseman around town.

Considered the steadying influence on the Hilldale Daisies, Johnson had the uncanny knack of anticipating what the opposition was about to do. From 1923 through 1929 he was the on-field leader of the Daisies.

Ed Bolden, a postal official in the Philadelphia suburb of Darby, owned the Hilldale Daisies, and demanded that the players dress and act like gentlemen even in the face of the racism they had to endure. Johnson told John Holway of traveling from Pittsburgh to Hot Springs, Arkansas, for spring training. The players crammed themselves and their uniforms into two cars and headed south, where they encountered racism in all its ugliness. Restaurants-even hot dog stands-and hotels were off-limits, and they had to eat and sleep wherever they could. They would spend ten days in Hot Springs, go to New Orleans to play a doubleheader, and work their way north for the season.

Recalling another bone-jarring and tedious trip, Johnson told Holway of the time he and his teammates rode a bus non-stop from Chicago to Philadelphia after playing a doubleheader-800 miles of cat naps, sandwiches, and soda pop. When the bus pulled into Philadelphia, Johnson's ankles were swollen to twice their normal size. But there was no time to rest; they had to play a doubleheader that afternoon in Shibe Park.

The ball fields they played on varied from town to town. Some were rock strewn, others were cow pastures, and the players' bruises from bad hops were evidence of the hazardous conditions. The Hilldale Daisies owned their own field that seated 5,000. Johnson remarked on the smoothness of the field: "The dirt was something like silver and had an isinglass look. And if it rained for an hour, one-half hour after the rain stopped the entire field was dry."

On rare days off, Johnson said, the players would go to major league games and see what they could learn. They never had to pay at Yankee and A's games. In St. Louis, however, not only did they have to pay, they had to sit behind chicken wire in the Jim Crow section.

In 1924, Johnson batted .327 for the regular season and had a sensational World Series, the first official Negro World Series, pitting the Kansas City Monarchs against the Hilldale Daisies. In game five of the series, Johnson's clutch inside-the-park homer won the game for Hilldale. The Hilldales lost the series, but Johnson led all batters with a .364 average that included six doubles, a triple, the home run, and a slugging average of .614.

Slight of build at five foot eleven inches and 150 pounds, Judy Johnson sprayed the ball hard to all fields. In the field his sterling play picking up bunts and gunning down runners and his ability to scoop up hard smashes earned him the respect of his peers and the fans.

Johnson hit batted .392 in 1925 (for which he was rewarded with a ten-dollar raise!) and helped his team defeat the Kansas City Monarchs in the World Series. Not content with playing ball during the summer, he played winter ball in the Cuban League for six seasons, compiling a solid .334 batting average.

As in the major leagues, the ball became livelier in the late 1920s for the Negro Leagues. In 1929, Johnson batted .416 and was only sixth best in the league.

In the 1930s, along with the rest of the nation the Negro Leagues were in the grip of the Great Depression. The Hilldale club temporarily folded. Johnson joined the Homestead Grays and at the young age of 29 became its player-manager. His rapt attention to what was going on enabled him to steal signs and maneuver his players into position, winning him the respect of his peers.

Johnson did much more than play the game. He had the gift of recognizing talent and even more in taking that talent and molding it into a fine work of art. In 1930, the Grays were playing a night game in at Forbes Field in Pittsburgh. The lights at that time were primitive and far from ideal. Homestead catcher Buck Ewing hurt his hand because he could not follow the ball. Unable to go on, Ewing was replaced-by an eighteen-year-old spectator whom Johnson had seen play sandlot baseball. Thus began the career of Josh Gibson. Johnson and Gibson became close friends, with Johnson becoming Gibson's mentor. After every game, Gibson would ask Johnson, "How'd I look?" and the lecture would begin. Johnson was as much a teacher as a ballplayer.

In 1932, Gus Greenlee, numbers boss and owner of one of the hottest night clubs in Pittsburgh, decided to buy himself the best team in the Negro Leagues. He induced Judy Johnson to become a Pittsburgh Crawford. The 1932 team has been compared to the 1927 New York Yankees team as one of the greatest teams ever assembled. The team included such stars as Josh Gibson, Oscar Charleston, Chet Williams, Satchel Paige, Vic Harris, and Cool Papa Bell.

The Crawfords, with Johnson as their captain, won the first half of the 1935 season but finished behind the Cuban Giants in the second half. In an exciting playoff series, going the full seven games, the Crawfords were trailing 7-4 in the final and deciding game going into the last of the ninth. Two men were on base with two outs. Johnson kept things going by beating out an infield hit. With the bases loaded, Oscar Charleston came to bat and in Frank Merriwell fashion, smashed a game winning grand slam homer to win the pennant. That game was Johnson's last hurrah. After fifteen years as a player in the Negro League, Judy Johnson retired at the end of the 1936 season.

After retiring as an active player, Johnson worked for the Continental Cab Company and ran a general store with his brother John. In 1954, he was hired as a coach and scout for several big league clubs, including the Athletics, the Phillies, and the Dodgers. When Johnson was scouting for the A's, he said that he could have had Hank Aaron, then playing for the Indianapolis Clowns, sign with the A's for $3,500. As Johnson related it, "I got my boss out of bed and told him I had a good prospect and he would not cost too much. My boss cussed me out and said $3,500 was too much money." Johnson also said he could have had Larry Doby and Minnie Minoso for the Athletics, who might still be in Philadelphia if the powers that be had listened to him. Johnson was responsible for Dick Allen signing with the Phillies. He scouted Bill Bruton, who became a star with the Milwaukee Braves and later became Johnson's son-in-law when he married Johnson's daughter, Loretta. Johnson's ability to sniff out talent and help develop it would help him become the first full-time black coach in the major leagues.

Johnson also found time, after retiring, to coach the Alco Flashes, a semi-pro basketball team that became the Delaware State champions in 1937. That team included Bill Campbell, a pitcher in the Negro Leagues, and Bill Yancey, a star in the Negro Leagues.

After a lengthy campaign by the Baseball Writers Association of America, the best of the black players were allowed into the Hall of Fame. Johnson became a member of the Committee on Negro Baseball Leagues, whose responsibility was to select Negro Leagues stars worthy of induction into the Baseball Hall of Fame in Cooperstown. Ever the gentleman, in 1975, he withdrew from the Committee when he became a candidate for the Hall of Fame.

The Phillies prized Johnson's intelligence and ability to help young talent. He became the first black coach in the major leagues when the Phillies invited him to spring training in 1954. He continued going to spring training with the Phillies through 1974.

Johnson married Anita T. Irons, a schoolteacher, in 1923; they had one daughter, Loretta, who became the wife of Bill Bruton, star centerfielder of the Milwaukee Braves. They lived in Marshallton, Delaware. Johnson's home in Marshallton is now listed in the National Register of Historic Places. The house is located at the intersection of Newport Road and Kiamensi Avenue.

Judy Johnson received many tributes. Pittsburgh teammate Ted Page's praise was typical: "Judy Johnson was the smartest third baseman I ever came across. A scientific ball player, he did everything right, more than anybody I ever saw. And I saw Brooks Robinson, Mike Schmidt and even Pie Traynor. He had a powerful, accurate arm. He could do anything, come in for a ball, cut it off at the line or range way over toward the shortstop hole. Judy could have done the majors a lot more good as somebody who could help develop players." Cool Papa Bell talked of Johnson's grace under pressure; Buck Leonard put him on his combined Negro and white ballplayers all-star team. Most students of the Negro Leagues consider (in alphabetical order) Ray Dandridge, Judy Johnson and Oliver Marcelle the greatest third basemen of the Negro Leagues. They also give a nod to Jud Wilson for his terrific bat but acknowledge that he couldn't have carried any of their gloves and note that Dandridge, Johnson, and Marcelle were hardly automatic outs.

Most poignant, though, is Johnson's experience with Connie Mack, which tells everything anyone needs to know about the era. Mack told Johnson, "If you were a white man, you could name your own price." Johnson once asked Connie Mack why he didn't sign black players. Mack replied that there would have been too many young black men coming in and they would have taken jobs away from white players.

Judy Johnson's memory remains alive and well. Ron Whittington, Director of the Office of Affirmative Action and Multicultural Programs at the University of Delaware, has developed a dramatic presentation of Judy Johnson. A few years ago he developed a slide presentation on Johnson for his then 5-year-old daughter's elementary school class about Judy Johnson. Whittington now does a dramatic presentation in which he dons a Homestead Grays uniform and becomes Johnson. His theatrical presentations have been well received. He has given performances in Philadelphia, New Castle County, and at the Negro Leagues Museum in Kansas City, Missouri.



Johnson's intelligence and dedication to baseball were rewarded in 1975 when he became the sixth black player inducted into the Hall of Fame. His cool reserve melted in the middle of his acceptance speech when he broke down and was unable to continue. Cool Papa Bell said of Judy Johnson, "No matter how much the pressure, no matter how important the play or the throw or the hit, Judy could do it when it counted." Arthur Ashe wrote in A Hard Road to Glory, "Judy Johnson set the standard by which other third-basemen were measured." Jake Stephens, a teammate of Johnson's on the Hilldale team, called Johnson with his own nickname of Jing-a-Ling. He said of Johnson, "[H]e had no alibi, always cool, lots of patience and very conservative." A life-size statue of Judy Johnson, crouched in ready position to field a hot grounder, stands outside Frawley Stadium in Wilmington, Delaware. The city of Wilmington in recognition of his baseball career and his efforts to better the quality of life for the city's young adults renamed a park at 2nd and du Pont in his honor.

Sandra Johnson fondly recalls the happy times she spent at her uncle's home in Marshallton: "The house was beautiful, surrounded by trees and pretty flowers that invited one into the house. He was a warm and generous person as was his wife Anita." His niece recalls how they all would go into the kitchen and can jellies and jams. Their farm surrounded the house, and Judy would work there when he had the time.

Anita died in November 1985. Judy died almost four years later on June 15, 1989, in Wilmington, Delaware. The devoted couple was buried in Silverbrook Cemetery in Wilmington. Flags were flown at half-mast in Wilmington in his honor. The media said Johnson was eighty-nine years old, but according to Sandra, no one knows for sure how old Judy was, and he may have been in his nineties. Surviving him were his daughter Loretta Bruton, who lives in New England with her children and grandchildren, and his niece Sandra Johnson, who lives in Philadelphia.

The painful journey has ended, as black ballplayers have proven themselves equal to their white counterparts. The final step is to look on all ballplayers as just ballplayers regardless of their color or ethnicity. Fans and the media of the 1930s and 1940s noted ethnicity in the cases of Hank Greenberg, Joe DiMaggio, and others. That is now a thing of the past. No longer do writers remark that someone is Jewish or Italian. When Jackie Robinson and Larry Doby entered the majors, it was noted that they were black. Now the game has become truly international, and most writers look at ballplayers strictly on their merits.

Judy Johnson was one traveler on the long and arduous road that led to acceptance. He did not reach that Promised Land as a player, but his ability and character surely helped open the gates for others. Johnson may have been slight of build, but his broad shoulders were among the many upon which others stood and entered the game of major league baseball. He is gone now, but those who truly care for the game and understand his contribution smile with the same joy that Judy Johnson had about playing the game of baseball. Ballplayer, teacher, family man, and friend to all who crossed his path, Judy Johnson was special-a great player and a better man.


NOTE: There is considerable confusion about Johnson's dates of birth and death. The Social Security Death Index gives his dates as December 26, 1899-June 15, 1989. James A. Riley (The Biographical Encyclopedia of the Negro Baseball Leagues) and Baseball: The Biographical Encyclopedia, compiled by the editors of Total Baseball, agree on the dates of October 26, 1900-June 15, 1989. The Baseball Encyclopedia (Macmillan, 9th ed.) records October 20, 1900-June 15, 1989. Furthermore, Terry A. Baxter, writing in Biographical Dictionary of American Sports (David L. Porter, ed.) uses October 26, 1899-June 14, 1989. Finally, Larry Lester (Black Baseball's National Showcase: The East-West All-Star Game, 1933-1953) uses October 26, 1899-June 15, 1989. The dates October 26, 1899-June 15, 1989, have been chosen for the purposes of this biography, with the understanding that guesswork has played a large part in the decision.



Sources

Ashe, Arthur. A Hard Road to Glory. New York: Amistad Press, 1988.

Clark, Dick, and Larry Lester, eds. The Negro Leagues Book. Cleveland: Society for
American Baseball Research, 1994.

Dixon, Phil, with Patrick J. Hannigan. Negro Baseball Leagues: A Photographic History. Mattituck, New York: Amereon Ltd., 1992.

Holway, John B. Black Diamonds. Westport, Connecticut: Meckler Books, 1989.

James, Bill. The New Bill James Historical Baseball Abstract. New York: Free Press,
2001.

Light, Jonathan Fraser. The Cultural Encyclopedia of Baseball. Jefferson, North
Carolina: McFarland, 1998.

McNeil, William F. Cool Papas and Double Duties. Jefferson, North Carolina:
McFarland, 2001.

New York Times. Obituary. July 17, 1989.

O'Neil, Buck, with Steve Wulf and David Conrads. I Was Right on Time. New York: Simon and Schuster, 1996.

Peterson, Robert. Only The Ball Was White. New York: McGraw Hill, 1970.

Pietrusza, David, Matthew Silverman, and Michael Gershman, eds. Baseball:
The Biographical Encyclopedia. Kingston, New York: Total Sports Illustrated,
2000.

White, G. Edward. Creating the National Pastime, Baseball Transforms Itself.
Princeton: Princeton University Press, 1996.

Baseball Library.com.

BaseballOnline-William Julius (Judy) Johnson.

Baseball-Reference.com.

Delaware History.com.

Interview with Sandra Johnson.

Whittington, Ron. University of Delaware Office of Affirmative Action and
Multicultural Programs. University of Delaware Daily. January 2002.



Born
October 20, 1900 at Snow Hill, MD (US)
Died
June 15, 1989 at Wilmington, DE (US)
If you can help us improve this player's biography, contact us.
Tags
https://sabr.org/sites/default/files/JohnsonJudy.jpg
600
800
admin
/wp-content/uploads/2020/02/sabr_logo.png
admin
2012-01-29 20:43:50
2012-01-29 20:43:50
Judy Johnson