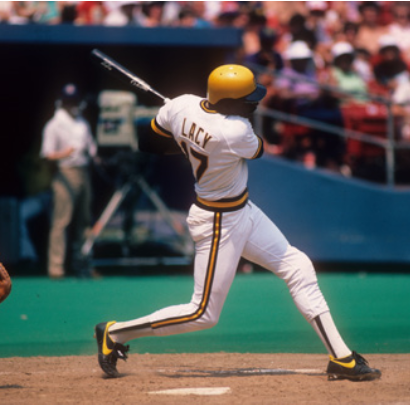 ---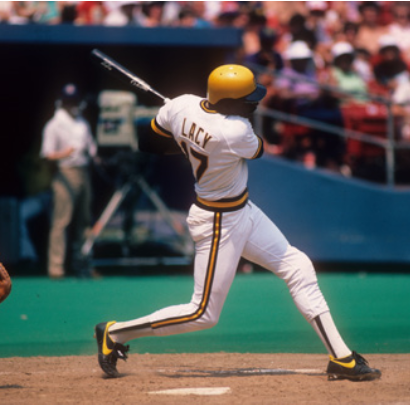 "I can play this game," said Lee Lacy confidently. "For hustle and determination, I won't take a back seat to anyone."1 An All-Star at three different infield positions in the minors, the right-handed-hitting Lacy broke in with the Los Angeles Dodgers in 1972 and fashioned a 16-year big-league career spent primarily as a versatile utilityman and platoon player whose calling card was consistent line-drive hitting with an occasional pop, and plenty of speed. "I've always been able to hit all kinds of pitchers," said Lacy, whose most productive seasons were in his early 30s with the Pittsburgh Pirates. "Basically, I'm a bad-ball hitter, so it doesn't matter where you throw it. I don't pay a lot of attention to fundamentals. I just attack the ball."2
Leondaus "Lee" Lacy was born on April 10, 1948, in Longview, Texas, but grew up in Oakland, California, where his Lone Star State-born parents, Berry and Johnny Lee Lacy, had relocated by the early 1950s. The elder Lacy was a former semipro ballplayer in Texas and one-time teammate with future Dodgers All-Star infielder Charlie Neal. By all accounts, Lee was raised with a baseball in his hand and learned his trade as a youth on the sandlots of Oakland's west side. "They told me I was too skinny to play ball," recalled Lacy about trying out for a Babe Ruth league.3 But the youngster was undeterred. With the encouragement from his father and neighbor Charlie Beamon, a former right-handed pitcher who had a cup of coffee with the Baltimore Orioles in 1958, Lacy stuck with baseball as a way to escape the poverty and social unrest of Oakland of the 1960s. He was a standout infielder at McClymonds High School, whose contributions of players to the ranks of professional sports are among the most impressive in the country. The list includes Frank Robinson, Ernie Lombardi, Vada Pinson, and Curt Flood in baseball, Bill Russell and Paul Silas in basketball, and many others since. After graduating from high school, Lacy played baseball for Laney College, a local community college, earning second-team all-Golden Gate Conference honors as a third baseman in 1969.4 He also polished his skills in the semipro ranks with the Alameda Braves.  Based on the recommendation of longtime team scout Bill Brenzel, the Dodgers selected Lacy in the second round with the 29th overall pick in the January 1969 amateur draft.
Lacy joined an organization whose farm system was the best in baseball and stacked with major-league talent. In his first season he batted .293 for the Ogden (Utah) Dodgers, earning a berth on the All-Star team of the short-season Rookie-class Pioneer League. "I was surprised that most of the players weren't superhuman at all, they were just like me, normal," said Lacy.5 With sluggers Steve Garvey and Ron Cey tabbed as the heirs apparent to the hot corner on the big-league club, Lacy was moved to shortstop in the Arizona Instructional League. He struggled in the field (63 errors in 111 games) at his new position for Bakersfield in the Class A California League in 1970, but was once again named an All-Star owing to his .301 batting average. While the Dodgers had at least four major-league shortstop prospects (Lacy, Bobby Valentine, Iván de Jesús, and Tim Johnson), Bakersfield manager Don LeJohn praised Lacy for his "aggressiveness," noting that the 22-year-old "hustles so we like to think that his chances are good at making it."6 The only question was at what position.
In 1971 Lacy got a taste of what the big leagues might be like by participating in spring training with Los Angeles at Dodgertown in Vero Beach, Florida. Lauded by skipper Walter Alston and praised by sportswriter Bill Fleishman as the "top rookie" in camp, Lacy was assigned to Albuquerque in the Double-A Dixie Association.7 At 6-feet-1 and about 170 pounds, Lacy was quick and agile, characteristics the Dodgers thought could land him a spot in the big leagues as a second baseman. Moved to the keystone sack, Lacy seemed to find his home. More at ease in the field (.967 fielding percentage), Lacy continued his steady hitting (.307 average), but with little power (.371 slugging percentage) to earn his third consecutive league All-Star berth, all at different infield positions. He was also named the second baseman on the Topps-National Association Double-A All-Star team.8
Lacy honed his craft at second base with Hermosillo in the Mexican Winter League in the offseason in preparation for Dodgers spring training in 1972. (In characteristic fashion, he also bashed pitchers south of the border, setting a league record with 11 straight hits.9) But the Dodgers had the luxury of depth. Lacy began the season back in Double A, with El Paso in the Texas League, while their top second-base prospect, the speedy Davey Lopes (a converted outfielder), remained in Triple A for the third straight season.
Lacy finally had some chips fall his way when he got off to a torrid start with El Paso in 1972, earning the Topps Double-A Player of the Month award in June, when he batted .389, lined 20 doubles and knocked in 26 runs.10 Dodgers GM Al Campanis turned to the hot-hitting Lacy, and not Lopes, for a look-see to shore up a suddenly depleted infield. Garvey was bothered by nagging injuries, infielder Billy Grabarkewitz was out with a broken finger, and shortstop Bill Russell was called to complete a two-week stint in the Army Reserve. Lacy debuted on June 30, batting leadoff and playing second base, going 1-for-5 in an 8-4 loss to the San Francisco Giants at Candlestick Park. After a successful pinch hit on July 2, Lacy went on a roll, batting .407 (11-for-27, all singles) with six runs and four RBIs to share NL Player of the Week honors with Pittsburgh's Manny Sanguillen. Lacy went from a short-term fix to the starting second baseman, supplanting Valentine, who moved into a super-utility role. Described as "an excellent fielder, with good hands, arm and range," Lacy fielded just a few percentage points under the league average and batted a respectable .259 in an era where middle infielders weren't expected to contribute much offensively. His season abruptly ended in the second game of a doubleheader on September 4 when Cincinnati's Hal McRae took him out on an aggressive slide, resulting in a strained tendon in his knee. Lacy was still hobbling two months later when he was sent to the Arizona Instructional League to work with Russell, his double-play partner, who had been converted from an outfielder in light of shortstop Maury Wills's age.
Lacy began the 1973 season as the Dodgers' regular second baseman, but not for long. Batting a paltry .226 with just one double after 16 games, he was benched in favor of Lopes. The slap-hitting Lacy, who critics claimed lacked a natural position, found himself on a team with what emerged as the most stable infield in baseball history. The quartet of Garvey, Lopes, Russell, and Cey remained together through the 1981 season, by which time each had earned a combined 21 All-Star selections. Not just good, the quartet was also remarkably resilient and healthy. Occasionally spelling Lopes and pinch-hitting, Lacy hit a disappointing .207 and slugged an anemic .222 in his sophomore season. A rusty Lacy played winter ball in Puerto Rico for San Juan, skippered by former Dodgers great Jim Gilliam.
For the remainder of his tenure with the Dodgers, through 1978 (interrupted by a brief interlude with the Atlanta Braves), Lacy bided his time as a role player, making occasional starts at second base, all three outfield positions, and a few times at third base. In 1974 the Dodgers captured their first NL pennant since 1966, in the heyday of Sandy Koufax and Don Drysdale. Lacy played only 35 games in the field, including 17 starts at second base, and batted a respectable .282 in just 78 at-bats. In the postseason he had only one plate appearance, striking out in the fifth inning as a pinch-hitter against Catfish Hunter in Game Three of the Dodgers' eventual World Series loss to the Oakland A's in five games.
While manager Walter Alston lauded his bench players like Lacy, Tom Paciorek, and Rick Auerbach as one of the strengths of the club, Lacy made it known that he would play anywhere, including the outfield. "I'm not yelling about wanting to be traded or anything," said Lacy. "I just know I can play. I can always hit."11 He got his chance when early-season injuries moved Lopes to the outfield and later in the season when left fielder Bill Buckner was sidelined with a badly sprained left ankle that eventually required season-ending surgery. On May 17 Lacy finally launched his first career home run, after 535 at-bats, a three-run shot off Pittsburgh's Jim Rooker. Three days later, he connected for his second one. He made history with his first career pinch-hit round-tripper, on July 23 against St. Louis, when he followed Willie Crawford's blast to become with Crawford just the sixth set of teammates to have pinch-hit homers in the same inning.12 Lacy proved that he was a bona-fide hitter (.314 average and impressive .451 slugging percentage), but it was his fielding that turned heads. "[M]ost spectacular has been his throwing from the outfield," gushed sportswriter Gordon Verrell, noting that Lacy threw out seven runners in just 43 games in the outfield."13 Widely seen as the center fielder of the future, replacing the achy-kneed Jim Wynn, Lacy impressed the Dodgers' brass in the Arizona Instructional League. "He gets rid of the ball very well, like an infielder does," opined Alston.14 But just when Lacy had a starting position in his sights with the Dodger blue, he was traded, along with Wynn, Paciorek, and Jerry Royster, to the Atlanta Braves for left fielder Dusty Baker and utiltyman Ed Goodson on November 17.
Atlanta moved Lacy back to second base, but as fate would have it, the 28-year-old's stint as a starter for the Braves lasted only about 2½ months. On June 23 he was shipped back to the Dodgers, along with pitcher Elias Sosa for outspoken and disgruntled reliever Mike Marshall. "I'm a smarter hitter now from just playing," said Lacy, whose center-field spot had been taken by offseason acquisition Rick Monday. Making starts in all three outfield positions and pinch-hitting, Lacy finished with a .269 batting average.
With the advent of free agency in 1976 contributing to the rise of salaries across baseball, Lacy's frustration as a utility player mounted. "There's not much chance of getting the (financial) security I want the way I'm being used," said Lacy as the Dodgers marched toward another NL pennant in 1977. "I can't overly enjoy this season, although it's a winning situation."15 The lack of playing time affected Lacy's hitting (.266 in just 169 at-bats). In Game One of the World Series against the New York Yankees, Lacy connected for the biggest hit of his career, lining a one-out pinch-hit single off reliever Sparky Lyle and driving in Dusty Baker to tie the game 3-3 in the top of the ninth during an eventual 12-inning New York victory, 4-3, at Yankee Stadium. With the Dodgers later down two games to one, first-year skipper Tommy Lasorda shuffled his outfield, moving Reggie Smith to center and installing Lacy in right field for Games Four and Five. In the latter game Lacy went 2-for-3 with a run and an RBI single in the Dodgers' 10-4 victory in Los Angeles. New York captured the title the next game, 8-4, when starting hurler Mike Torrez caught Lacy's pinch-hit bunt popup to record the final out, setting off a melee at Yankee Stadium in a game most remembered for Reggie Jackson's three home runs on three consecutive pitches.
In what seemed like an annual tradition, trade rumors swirled around Lacy in the offseason. This time sportswriters had him in a package deal to the San Diego Padres in exchange for Dave Winfield, but Lacy was still with the team when the season opened. Making starts at five positions and pinch-hitting regularly, the valuable utility player had his best season at the most opportune time. On May 17 he connected for a home run off Pittsburgh's Will McEnaney to set a major-league record with his third pinch-hit home run in as many at-bats. (In 1979 Del Unser tied the record.) Lacy batted only .261, but for the first time in his career, he showed power, clouting 13 home runs and 16 doubles in just 245 at-bats, good for a career-best .518 slugging percentage. Lacy's late-season slump continued into the postseason for the pennant winners. He managed only two hits in 14 at-bats with no runs and one RBI in four starts as DH in the World Series as the Dodgers once again fell to the Yankees in six games. Declared a free agent in the offseason, he signed a lucrative six-year deal with Pittsburgh for a reported $1.05 million.
Lacy's contradiction-filled tenure with the Pirates marked both the zenith and nadir of his career. He proved he could be a consistent .300 hitter while also revealing a flawed side as he was involved in the Pittsburgh drug trials that rocked baseball in 1985 and 1986. He achieved personal and team success, yet could not shed a new label as platoon player.
"I can play five different positions, all the outfield plus second and third," responded Lacy when asked why the Pirates signed him. "I can give them a pinch-hitter, I can hit with power and I know how to win."16 The signing seemed odd, given that all three Pirates outfield positions were occupied by well established veterans: perennial All-Star and former MVP Dave Parker in right, Omar Moreno in center, and the dependable Bill Robinson in left. Nonetheless the signing was lauded by pundits. "He'll help (the Pirates) win a lot of games that won't show up in his personal stats," suggested Dick Young in The Sporting News.17 At Pirates spring training in Bradenton, Florida, the 31-year-old Lacy explained his approach to a new chapter in his career. "I am the Pirates' utility player," he said. "I've got to work harder because of my versatility. I have to concentrate more, and I've got to keep myself in good physical shape."18
Manager Chuck Tanner expected Lacy to have a big role on the team; however, Lacy "rusted on the bench," wrote Pittsburgh sportswriter Charley Feeney.19 Suffering from a sore heel early in the season and slowed by a bad back and viral infection at the end of one of the most exciting campaigns in Pirates history, Lacy made only 41 starts (38 in left field) and hit a disappointing .247 in 182 at-bats. For the third consecutive season, Lacy was on a pennant-winning club. After not playing in the Pirates' three-game sweep of the Cincinnati Reds in the best-of-five NLCS, Lacy made four pinch-hitting appearances in the World Series against the favored Baltimore Orioles, connecting for a single in Game Five of the "We Are Family" Pirates' eventual title after being down three games to one.
"I wouldn't say that it was a wasted year," responded Lacy when asked about his first season in the Steel City. "A lot of positive things happened. It was a year where I didn't have too many alternatives. I was labeled an outfielder, but there was little room to play in the outfield."20 Lacy spent most of the 1980 season platooning in left field with left-handed slugger Mike Easler while Robinson moved to first with reigning NL co-MVP Willie Stargell hobbled by bad knees. Lacy got off to a hot start, keeping his batting average north of .400 through June 21 (42-for-103, .408), including three three-hit games and one four-hit game. On July 20 Lacy punctuated a successful late-game at-bat in the first game of a doubleheader against Los Angeles by going 5-for-5 in the second game, giving him seven consecutive hits (over three games), scoring three times and driving in two runs on "Willie Stargell Day" in front of a raucous crowd of 41,932 at Three Rivers Stadium. Before the celebrations honoring the Pirates' captain between games took place, an ugly incident marred the first game when Dave Parker was almost hit in the head by a battery thrown from the right-field stands, and was removed for his safety. While the Pirates finished a disappointing third (83-79) in the NL East, Lacy batted a career-best .335 and slugged .511 to form with Easler (.338/.583) a potent one-two punch in left field. That success didn't assuage Lacy's frustrations, though. "A good ballplayer is never satisfied. I'm a platoon ballplayer because they think of me as a platoon player," he said. "I've never considered myself a platoon ballplayer."21
The fifth work stoppage since Marvin Miller became head of the Major League Players Association in 1966 led to the cancellation of 713 games of the 1981 season from June 12 through August 10. The Pirates (46-56) had their first losing season since 1973, as injuries and growing dissent among players marred the forgettable campaign. On May 22 Lacy was almost hit by a bottle while playing left field at Three Rivers Stadium, but refused to press charges. "A person is going to have to do a lot more than that for me to file a complaint," he said. "I did some things when I was young that I shouldn't have."22 While Lacy's batting average slipped to .268, he emerged as a threat on the basepaths, crediting pinch-runner Matt Alexander for teaching him how to take big leads.23 After stealing 18 bases in the previous season, he swiped 24 in 27 attempts in 1981.
Lacy took some heat in the offseason when he referred to Dave Parker "as a bad person to have on this team."24 Since signing the largest contract in Pirates history during the 1979 season, the enigmatic Parker had become a target for fans' frustrations with the team and with what many perceived as exorbitant player salaries while Pittsburgh was gripped by economic woes after the collapse of the steel industry. Seemingly discontent, Lacy also added a jab about Three Rivers Stadium: "I like the guys on the Pirates, but I wouldn't mind being traded. The field is very hard, the worst in the league."25 The Pirates had no intention of moving Lacy, widely regarded as one of the best-hitting platoon and bench players in baseball.
While Lacy and Parker avoided one another in the clubhouse in spring training, the Pirates got off to a slow start in 1982 and finished in fourth place in the division despite leading the league in hitting (.273) and slugging (.408) and placing second in runs. Lacy, making 53 starts for the injured Parker in right field, batted .312 while setting new personal bests for hits (112), runs (66), and stolen bases (40). On May 14 it appeared as though Lacy had finally hit his first career grand slam. With the Bucs trailing Cincinnati, 7-5, at Three Rivers, Lacy launched an offering from Reds reliever Tom Hume over the right-field wall with the bases loaded. In his excitement, Lacy passed Moreno about halfway to second base, and the result was an automatic out. "I grabbed my head and stopped, but I was already past Omar, and it was too late," said Lacy, whom teammates razzed mercilessly for his baserunning blunder and three-run single. "It goes to show you what happens when you don't know your own power," he joked.26 Lacy never hit a grand slam in the big leagues.
Making starts in all three outfield positions in 1983, Lacy batted over .300 for the third time in four seasons and stole 31 bases, but was criticized for his lack of production. He started out with a "real bang" batting leadoff in the season opener in St. Louis as he hit the first pitch of the game, thrown by Bob Forsch, for a home run, but he drove in only 13 runs in 288 at-bats while the Pirates duplicated their 84-78 record from the previous season, although finishing two positions higher, in second place.
The next three years were trying ones for Lacy. His name seemed to regularly grace the front pages of Pittsburgh's sports pages in the 1983-84 offseason. After rumors of Lacy's trade to San Francisco proved to be false, he figured prominently in a mini-scandal when team coach Joe Lonnett castigated his defense in a widely reported interview. "Lacy can't play center field. Man, he'd kill you in center," said the longtime coach, explaining why rookie Marvell Wynne took over for Moreno, who had departed via free agency. "Wherever you put [Lacy], he's going to hurt you."27 Lonnett also criticized the play of outfielder Lee Mazzilli, infielder Jim Morrison, and first baseman Jason Thompson, but somehow weathered the storm by issuing a feeble public apology, and was with the team when the club opened spring training.
The first salvo in the eventual drug scandals that rocked baseball in 1985 and 1986 occurred during spring training in 1984. Sportswriter Dan Donovan of the Pittsburgh Press reported on March 21 that Lacy was involved in a contentious child-custody suit in Oakland.28 According to that report, Cecelia Trainor Chapman had filed an affidavit claiming that Lacy was "dependent on cocaine" and was unsuited to have custody of their daughter, Jennifer. Lacy was raising the child with his wife, Suzanne (née Mitchell), whom he had married in San Diego in July 1979. Lacy emphatically denied the charge, claiming, "How could I play baseball at age 34 if I did that?"
Despite the off-field distraction that forced Lacy to occasionally miss games to tend to personal matters in California, he entered his contract season with a vengeance while the Pirates plunged to last place in the NL East for the first time since division play began in 1969. He started a career-high 116 games, including 86 in right field, where he platooned with weak-hitting Doug Frobel (.203), and led the team with a .321 batting average (second highest in the league, but well behind Tony Gwynn's .351) on a career-best 151 hits. Declaring free agency after the season, Lacy signed a three-year deal with the Baltimore Orioles in January 1985.
"I hit the ball all over and have occasional power down the lines," said the 37-year-old Lacy, whose 70 RBIs in 1984 were easily the best total of his career. "I'll chink it over the infield or beat out chops. I love to bunt. If I see crumbs in the third baseman's eyes, like he's been out too late the night before, I'll lay one down for a hit."29 But before Lacy could showcase his hitting in the AL, he severely injured his thumb diving for a fly ball in an exhibition game on March 12. He required surgery and missed five weeks.
Lacy's spring training went from bad to worse when Dan Donovan published a bombshell article in the Pittsburgh Press on March 31, 1985.30 He reported that no fewer than eight major-league players, among them Lacy, Keith Hernandez, Tim Raines, and Enos Cabell, had testified before a federal grand jury in Pittsburgh before spring training about the sale of cocaine, as part of an investigation targeting dealers and not players. The ensuing trial, which began in September 1985, made national headlines with testimony from seven players, including former Pirates Dave Parker and Dale Berra, about widespread cocaine use among major-league players in the previous five years, and even inside the clubhouse at Three Rivers Stadium. Lacy was sworn in to testify, but did not. The trial eventually resulted in the conviction of seven drug dealers. Commissioner Peter Ueberroth considered the episode closed on February 28, 1986, when he suspended 11 players (seven for one year, Parker and Berra among them; and four for 60 days, including Lacy);31 however, players were permitted to play if they agreed to donate 10 and 5 percent, respectively, of their salary to antidrug programs; all players agreed to the stipulation.
The drug trials notwithstanding, Lacy was steady offensively, though far from spectacular in his first two seasons in Baltimore, but proved to be a liability in right field. In 1985 he walloped his first and only walk-off home run, connecting off the California Angels' Donnie Moore with one on and one out in ninth to give the Orioles a 7-5 win on June 3. At the end of the same month he commenced a personal-best 20-game hitting streak (38-for-84, .452) en route to 144 hits and a .293 average as the oldest starting outfielder in the league; only the Angels 39-year-old first baseman Rod Carew was an older starting position player in the AL. Lacy inherited that mantle the following season, scored a career-high 77 runs and batted .287. Among his 91 big-league home runs, three came on June 8, 1986, at Yankee Stadium when he went 4-for-6 and set personal bests with four runs scored and six RBIs in the Orioles 18-9 thrashing of New York. With his playing time reduced in 1987, Lacy was released by the Orioles near the end of spring training in 1988, and subsequently retired.
In 16 big-league seasons, Lacy batted .286 and collected 1,303 hits. In parts of four seasons in the minors, he hit .314. Lacy enjoyed great success against pitchers Rick Reuschel (14-for-29,  .483), Jerry Koosman (16-for-41, .390) and Steve Carlton (33-for-88, .372), while having difficulty against Gene Garber (1-for-20, .050), Joe Niekro (5-for-38, .132), and Bob Shirley (6-for-37, .162). And Lacy always seemed to take his game to another level when playing the Dodgers, against whom he batted .348 (49-for-141), his highest average versus any team. In 1989 and 1990 Lacy played in the short-lived Senior Professional Baseball Association.
As of 2016 Lacy resided in metropolitan Los Angeles, where he has long been active in various community outreach and charity programs sponsored by the Los Angeles Dodgers Foundation. He has regularly served as a guest instructor at youth baseball campus and participated in events focusing on education and baseball opportunities for inner-city youth, such as Dodgers RBI (Reviving Baseball in Inner Cities). "I just want to play," Lacy once said.32 That remark aptly serves as an epitaph for his baseball career and reflects his passion for the sport that he has worked diligently to advocate and teach to youngsters.
Sources
In addition to the sources noted in this biography, the author also accessed the Encyclopedia of Minor League Baseball, Retrosheet.org, Baseball-Reference.com, the SABR Minor Leagues Database, accessed online at Baseball-Reference.com, and The Sporting News archive via Paper of Record. Special thanks to Bill Mortell for his assistance with genealogical research.
Notes
1 The Sporting News, June 27, 1981: 28.
2 The Sporting News, March 11, 1985: 6.
3 Fred Lewis, "Lee Lacy 'Too Skinny to Play Ball' Fattens Average on Caloop Hurlers," Bakersfield Californian, August 1, 1970: 11.
4 "All Conference Trio Honored," The Times (San Mateo, California), May 20, 1969: 30.
5 Lewis.
6 Ibid.
7 The Sporting News, April 17, 1971: 39.
8 The Sporting News, December 4, 1971: 39.
9 The Sporting News, January 29, 1972: 42.
10 The Sporting News, August 5, 1972: 26.
11 The Sporting News, June 21, 1975: 3.
12 Crawford and Lacy's feat also marked just the fifth time in big-league history that teammates hit back-to-back pinch-hit home runs.
13 The Sporting News, October 11, 1975: 8.
14 Ibid.
15 The Sporting News, June 25, 1977: 24.
16 Marino Parascenzo, "Versatile Lacy Joins Bucs," Pittsburgh Post-Gazette, January 20, 1979: 10.
17 The Sporting News, February 3, 1979: 2.
18 Dan Donovan, "Motto of New Pirate Lacy: Be Prepared," Pittsburgh Press, March 2, 1979: 24.
19 The Sporting News, December 22, 1979: 6.
20 Dan Donovan, "Lacy'll Be Hanged If He Doesn't Help," Pittsburgh Press, March 5, 1980: 64.
21 Dan Donovan, He's Platooned but Lacy's a Good Soldier," Pittsburgh Press, August 3, 1980: 3.
22 The Sporting News, June 20, 1981: 30.
23 The Sporting News, June 27, 1981: 28.
24 "Lacy Labels Parker 'Bad,'" Pittsburgh Press, October 26, 1981: 3.
25 Ibid.
26 Russ Frank, "Lacy's Slam That Wasn't Still Grand," Pittsburgh Press, May 15, 1982: 8.
27 The Sporting News, February 13, 1984: 46.
28 Dan Donovan, "Lacy Used Cocaine, Witnesses Say," Pittsburgh Press, March 21, 1984: 51.
29 The Sporting News, March 11, 1985: 8.
30 Dan Donovan, "Ex-Pirate Lacy Called as Witness in Drug Probe," Pittsburgh Press, March 31, 1985: B10.
31 Charley Feeney, "Commissioner Penalizes 11," Pittsburgh Post-Gazette, March 1, 1986: 19.
32 The Sporting News, June 21, 1975: 3.
Born
April 10, 1948 at Longview, TX (USA)
If you can help us improve this player's biography, contact us.
https://sabr.org/sites/default/files/Lee%20Lacy.png
600
800
admin
/wp-content/uploads/2020/02/sabr_logo.png
admin
2012-01-04 20:25:23
2021-05-12 17:44:55
Lee Lacy