This Week in SABR: February 3, 2017

Welcome to "This Week in SABR!" Click here to view this week's newsletter on the web. Here's what we've been up to as of February 3, 2017:
---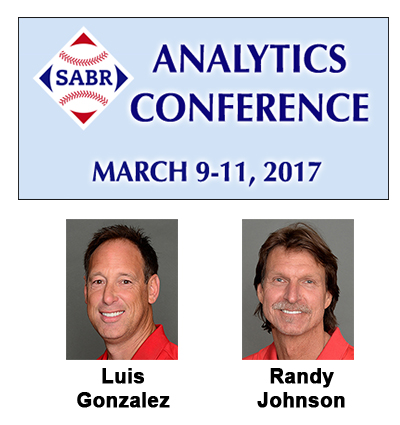 We are pleased to announce a Hall of Famer and a postseason legend as featured panelists at the sixth annual SABR Analytics Conference in Phoenix, Arizona.
The SABR Analytics Conference will be held Thursday, March 9 to Saturday, March 11, 2017, at the Hyatt Regency Phoenix. The conference is open to all baseball fans. Early registration is only available through February 15, so click here to register!
Luis Gonzalez is one of the most iconic and popular players in Arizona Diamondbacks history, the first to ever have his number (20) retired by the team. His game-winning single in Game 7 of the 2001 World Series delivered the first championship in franchise history and was the highlight of a 19-year career that saw him record more than 2,500 hits, 354 home runs, and 596 doubles. He is entering his eighth season in the Diamondbacks front office, where he is the Senior Advisor to the President and CEO.
Randy Johnson became the first Arizona Diamondbacks player to be inducted into the Baseball Hall of Fame in 2015, following a stellar 22-year career in which he won 303 games and five Cy Young Awards. "The Big Unit" helped the franchise win its first World Series in 2001 and was named co-MVP. He ranks second all-time in career strikeouts with 4,875, the most among left-handers, and is one of just a handful of pitchers to strike out 20 batters in a game. He threw two no-hitters, including a perfect game in 2004. Following his retirement, he has dedicated significant time to photography, a pursuit that has taken him around the world and back. He now serves in the Diamondbacks front office as Special Assistant to the President and CEO.
Our all-star lineup of speakers and panelists at the 2017 SABR Analytics Conference is also expected to include: sabermetric pioneer Bill James, Seattle Mariners GM Jerry Dipoto, Arizona Diamondbacks GM Mike Hazen, ESPN analyst Jessica Mendoza and broadcaster Jon "Boog" Sciambi, MLB Network host Brian Kenny and analyst Eric Byrnes, MLB Advanced Media's Tom Tango, Mike Petriello, and Daren Willman, SABR President Vince Gennaro, FanGraphs writer Eno Sarris, Arizona Diamondbacks broadcaster Mike Ferrin, deCervo co-founder Jordan Muraskin, Dan Migala of PCG & SportsDesk Media, sports ophthalmologist Daniel M. Laby, Brian Murphy of StriVR, and many more. Click here to learn more about our speakers.
Please note: All speakers are subject to change depending on availability.
For more information, or to register for the SABR Analytics Conference, visit SABR.org/analytics.
---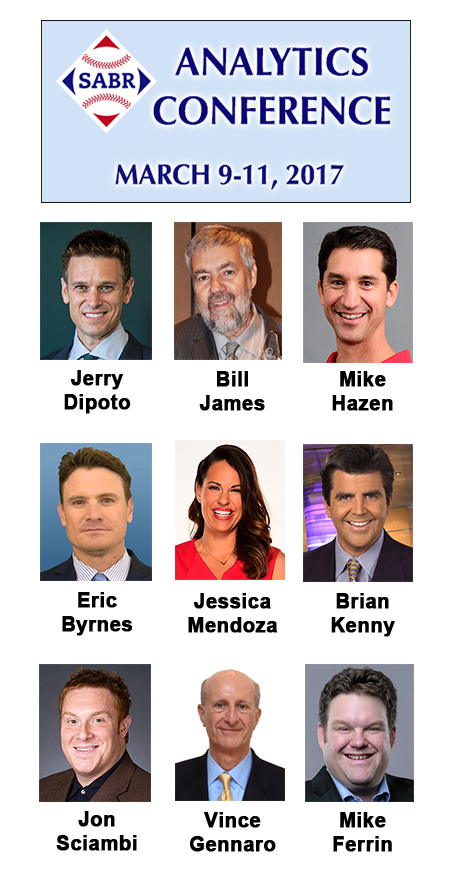 Early registration is still open for the sixth annual SABR Analytics Conference on March 9-11, 2017, in Phoenix, Arizona, but you should register before February 15 to take advantage of the early registration discounted rate. Our special group rate at the Hyatt Regency Phoenix also expires on February 15, 2017.
We hope you'll join us this spring in Arizona, where we'll bring together the top minds in the baseball analytics community to discuss, debate and share insightful ways to analyze and examine the great game of baseball. All baseball fans are welcome to attend. Click a link below for more information:
SABR has a long and storied history with baseball statistical analysis, evidenced by the link between our name and sabermetrics. SABR's long history in this area of baseball research, coupled with our mission of advancing the understanding and knowledge of baseball, makes us the perfect choice to coordinate and host this ground-breaking event.
The Analytics Conference schedule consists of a combination of Guest Speakers, Panels, and Research Presentations — plus the unique Diamond Dollars Case Competition, in which undergraduate, graduate and law school students from across the country analyze and present a real baseball operations decision.
For more information on the 2017 SABR Analytics Conference, visit SABR.org/analytics.
---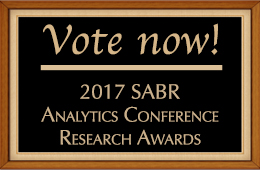 Here's your chance to vote for the 2017 SABR Analytics Conference Research Award winners.
The SABR Analytics Conference Research Awards will recognize baseball researchers who have completed the best work of original analysis or commentary during the preceding calendar year. Nominations were solicited by representatives from SABR, Baseball Prospectus, FanGraphs, The Hardball Times, and Beyond the Box Score.
To read any of the finalists, and to cast your vote for the winners, click on the link below:
/latest/vote-now-2017-sabr-analytics-conference-research-award-winners
Voting will be open through 11:59 p.m. MST on Monday, February 13, 2017. Details and criteria for each category can be found here. Only one work per author was considered as a finalist.
---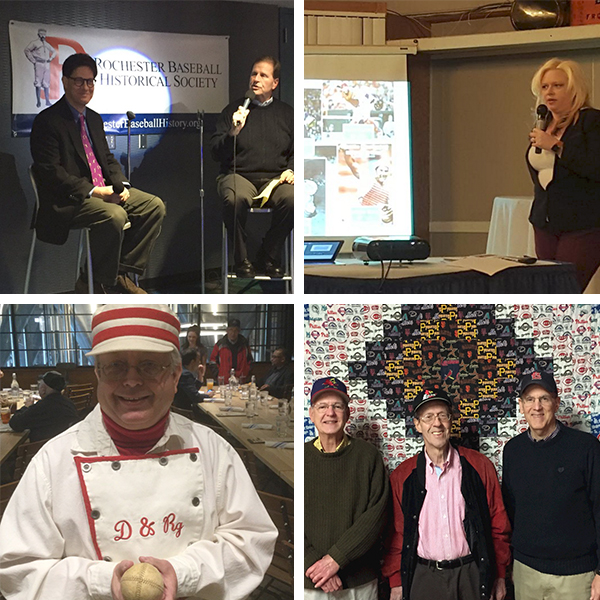 Hundreds of SABR members and friends gathered together in 31 different cities last weekend to celebrate the eighth annual SABR Day on Saturday, January 28, 2017.
SABR Day is our annual Hot Stove gathering to celebrate the beginning of a new baseball season. It's always held on the weekend between the NFL championship games and the Super Bowl. On that day, SABR's regional chapters organize baseball events around the globe, and everyone is invited to attend.
In Nashville, members of the Rice-Russell Chapter heard from major-league pitcher R.A. Dickey at Lipscomb University; in St. Louis, J.G. Taylor Spink Award winner Rick Hummel, "The Commish," and Cardinals scouting director Randy Flores spoke at the Bob Broeg Chapter's Hot Stove banquet at Favazza's on the Hill; while former Angels and Red Sox general manager Mike Port spoke at SABR Day at the San Diego Central Library for members of the Ted Williams Chapter.
Check out more stories and photos from SABR Day at SABR.org/sabrday.
SABR Day isn't over yet! Check out information on the terrific SABR Day meetings scheduled tomorrow — Saturday, February 4 — at SABR.org/sabrday. In Atlanta, the Magnolia Chapter will hear from Auburn University professor John Carvalho, author of a new biography of baseball commissioner Ford Frick. In Cleveland at the Jack Graney Chapter meeting at League Park, the guest speakers include Cleveland Indians broadcaster Matt Underwood and team historian Jeremy Feador. In Detroit, the focus of our SABR Day meeting at the Detroit Public Library will be on black baseball, with screenings of Negro Leagues documentaries and special guest Joyce Stearnes Thompson, daughter of Hall of Famer Turkey Stearnes. Gary Gillette will also give an update on the significance of the recent award of an African American Civil Rights Grant to Hamtramck Stadium. Finally, the Bob Davids Chapter will gather for its annual meeting in Washington, DC, and hear from Nationals beat writer Mark Zuckerman, authors Paul Dickson, Bruce Adams, and Tim Wendel, Retrosheet president David W. Smith, and National Symphony violinist Glenn Donnellan.
---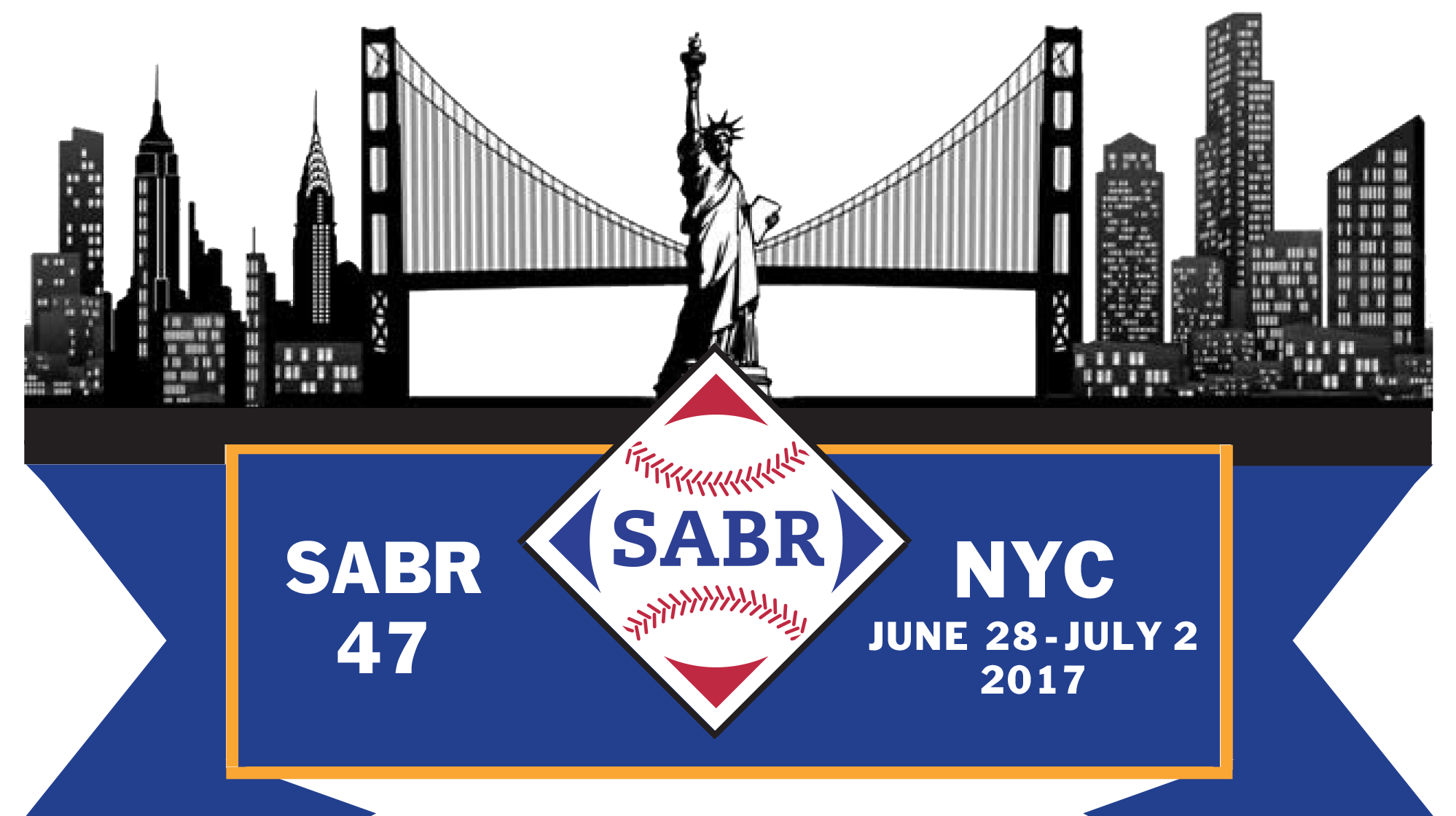 We hope you'll join us for what promises to be a spectacular SABR 47 convention, June 28-July 2, 2017, at the Grand Hyatt New York. Conference and hotel registration is now available. Click here for more information on SABR 47 registration rates, all-inclusive packages, and optional sessions. Or click here to register for SABR 47.
This year's SABR National Convention will combine some familiar SABR traditions along with a number of new events. For the second year in a row and third time in four years, SABR will present "A Day at the Ballpark" before the New York Mets game on Friday, June 30 at Citi Field. Special thanks to the Mets staff for this great opportunity and for offering us a large block of tickets in the Big Apple Reserved section at an affordable price. A special ballpark session will be held at Citi Field on Friday afternoon, followed by the game that night between the Mets and the Phillies. More details on the guest speakers will be announced soon, but you can be sure we will have an All-Star lineup.
The Grand Hyatt New York, one of the city's most historic and luxurious hotels, is conveniently located in Midtown Manhattan just steps from Grand Central Terminal and within walking distance of many major attractions, including Times Square, the Empire State Building, and the New York Public Library.
Click on a link below for more information about SABR 47.
Registration: Click here for complete information on SABR 47 registration rates, all-inclusive packages, and optional sessions. Or click here to register for SABR 47! We're again offering a special all-inclusive rate for the annual SABR convention. For $319, a savings of $39 off the regular rate, SABR members can get:
— Full registration to SABR 47 in New York (regular rate: $269)
— 1 ticket in the Big Apple Reserved section to the Mets vs. Phillies game on Friday, June 30 — includes special "A Day at the Ballpark" pregame session at Citi Field and round-trip subway transportation ($50 value)
— 1 ticket to the Awards Reception on Thursday, June 29 ($69 value)
Non-members can pay $394 for the all-inclusive rate. The deadline to register with the all-inclusive rate is Monday, May 1, 2017.
Hotel: The special SABR group rate at the Grand Hyatt New York of $199/night (plus tax) is only available to registered convention attendees. After you register for the SABR 47 convention, you will receive an e-mail confirmation with details on how to book your hotel room at the SABR group rate. There are a limited number of rooms in our group block and it will be virtually impossible to find a comparable rate at a top NYC hotel in the Midtown area, so be sure to register for SABR 47 early!
Awards Reception: SABR will host a special Awards Reception in the early evening on Thursday, June 29 at the Grand Hyatt New York. The Awards Reception will feature the announcement of SABR's annual awards — including the Bob Davids Award, our highest honor — plus an array of hot and cold hors d'oeuvres and a cash bar. The reception will be held this year in place of the Awards Luncheon. One ticket to the Awards Reception is included in the all-inclusive package or guest tickets are available for $69 when you register for SABR 47.

Research presentations: SABR invites all members to present their research findings to their colleagues attending SABR 47. The deadline to submit your abstract is Sunday, February 26, 2017. Click here for complete details and application form.
We hope you'll join us this summer in New York City! Visit SABR.org/convention to learn more.
For a multimedia look at every SABR convention since 1971, click here.
---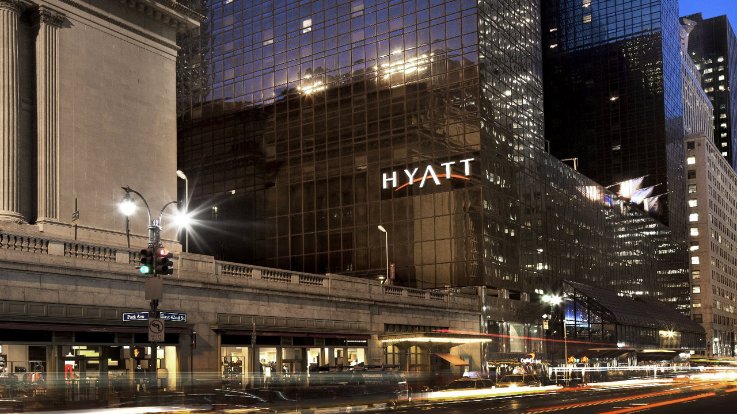 SABR invites all members to present their research findings to their colleagues attending SABR 47, which will be held June 28-July 2, 2017, at the Grand Hyatt New York in Midtown Manhattan. Early registration rates and hotel information are now available at SABR.org/convention.
Oral presentations are expected to last 20 minutes, followed by a five minute question-and-answer period. Posters will be presented, with the author on-hand to discuss the work, during a poster session of 90 or so minutes, and will probably remain on display throughout the convention.
Through on-site judging, the most highly-regarded presentations will receive the Doug Pappas Award for best oral presentation and the USA Today Sports Weekly Award for best poster presentation.
The submission deadline for SABR 47 abstracts is midnight PST, Sunday, FEBRUARY 26, 2017.
Click here for complete details and criteria. Please note: If your abstract is accepted and you intend to make a research presentation, you must register to attend the SABR 47 convention. Registration details are now available at SABR.org/convention.
---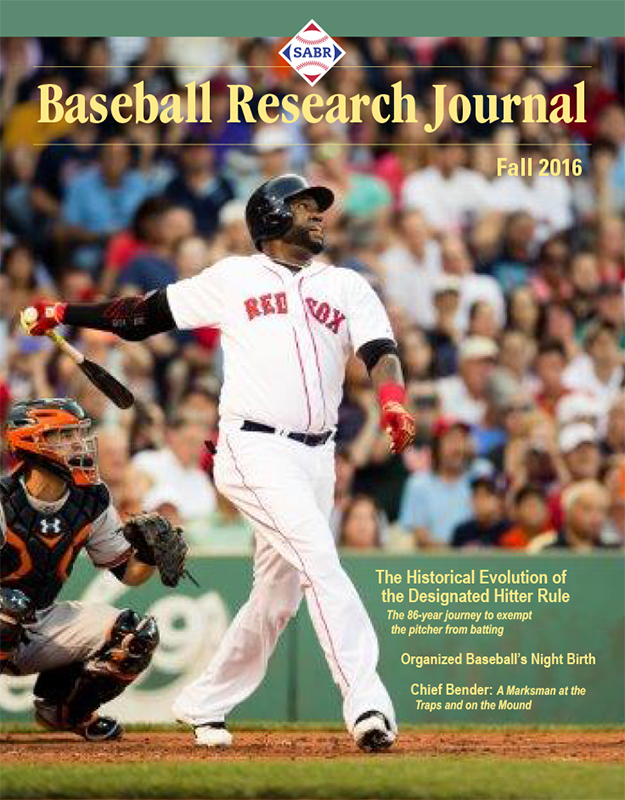 For those of you whose memberships expired recently, there's still a little time left to renew and be a part of the SABR community again in 2017. If you've already renewed, we thank you for your support and look forward to another exciting year ahead.
Renew now to receive the Spring 2017 edition of the Baseball Research Journal, plus discounts on registration to the 2017 SABR Analytics Conference and SABR 47 in New York City, and a lot more! Please note: We MUST receive your dues by February 28, 2017, in order for you to receive the upcoming BRJ.
Here's how to renew: You can renew your membership for 1 year or 3 years online at the SABR Store; by phone at (602) 496-1460; or by mailing this downloadable PDF form and your payment to the SABR office at Cronkite School at ASU, 555 N. Central Ave. #416, Phoenix, AZ 85004.
Dues are the same as they have been in recent years: $65 for an annual membership or $45 for anyone under 30 or over 65. For this low price, you get two editions of the Baseball Research Journal, the expanded e-book edition of The National Pastime; 8-10 free e-books published by the SABR Digital Library; "This Week in SABR" every Friday; access to research resources such as Paper of Record (with complete archives of The Sporting News); discounts to all SABR conferences such as the National Convention (NYC 2017), the SABR Analytics Conference, the Jerry Malloy Negro League Conference, and the Frederick Ivor-Campbell 19th Century Conference; and much, much more. Click here for a list of SABR membership benefits.
We believe SABR has something for everyone, from the active researcher to someone passionate about baseball. We hope you'll invite your friends, colleagues and family members to join at store.sabr.org.
---
The SABR Nominating Committee seeks nominations for candidates for the Spring 2017 elections. All candidates for the Board of Directors must have been members of the Society for at least the preceding four years to be eligible for election. Deadline for nominations is February 27, 2017. Nominees must prepare a Candidate Statement Form following guidelines that will be available from any Nominating Committee member.
The Candidate Statement Form must be received by the Nominating Committee chair no later than March 18, 2017.
The offices to be filled:
President (2-year term; currently Vince Gennaro)
Treasurer (3-year term; currently F.X. Flinn)
Director (3-year term; currently Emily Hawks)
The Nominating Committee also seeks your input. Members are asked to submit office-specific questions for each of the offices open in this election. We also seek input on general questions for every nominee. Candidates will answer selected questions on the Candidate Statement Form. Regional Chapter leaders and Research Committee Chairs are especially encouraged to pass on this request to their respective members to better address member needs.
Self-nominations are welcome. If you would like to nominate yourself or another candidate or suggest a question for the candidates, contact Nominating Committee chair Neal Traven at beisbol@alumni.pitt.edu.
---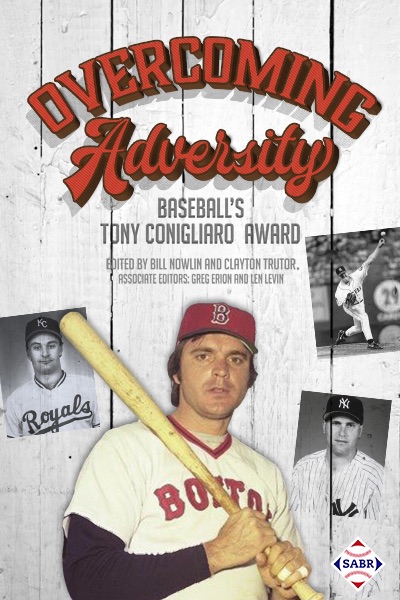 Add the newest e-book from the SABR Digital Library to your baseball collection:
Overcoming Adversity: Baseball's Tony Conigliaro Award
Edited by Bill Nowlin and Clayton Trutor
ISBN (paperback): 978-1-9438-1643-9, $14.95
ISBN (e-book) 978-1-943816-42-2, $6.99
211 pages, 8.5″ x 11″
The Tony Conigliaro Award is given each year to the MLB player who "overcomes an obstacle and adversity through the attributes of spirit, determination, and courage that were trademarks of Tony Conigliaro." Conigliaro was hit in the face by a pitch in 1967. His injuries were so severe that he did not return to the playing field until 1969, homering on Opening Day. Despite his dramatic return, Conigliaro continued to be plagued with vision problems and was forced to retire at age 30. Instituted in 1990 by the Red Sox to honor Conigliaro after his death, the award has been given to 29 players including Rocco Baldelli, Dickie Thon, Jim Abbott, Curtis Pride, and R.A. Dickey. The life stories of these players have been gathered in this book through the collective efforts of 27 authors and editors who are members of SABR, the Society for American Baseball Research.
Professional athletes perform seemingly superhuman feats at work every day. While they possess extraordinary skills, they, too, must persevere through human struggles, both physical and personal. Many MLB players have overcome significant adversity, obstacles, and disabilities to achieve their dreams on the diamond. The 29 athletes who have been presented with the Tony Conigliaro Award offer inspirational examples of ballplayers who have overcome significant adversity to enable them to pursue their professional careers.
Contributors include: Rich Bogovich, Ryan Brecker, Mark Brunke, Alan Cohen, Rory Costello, Gordon Edes, Greg Erion, Charles F. Faber, Eric Frost, Joy Hackenmueller, Donna L. Halper, Mike Huber, Norm King, Susan Lantz, David Laurila, Bob LeMoine, Len Levin, Scot Johnson, Skip Nipper, Bill Nowlin, Joel Rippel, David E. Skelton, Mark S. Sternman, Rick Swaine, Clayton Trutor, Saul Wisnia, and Gregory H. Wolf.
SABR members, get this e-book for FREE!

Having trouble downloading our e-books? To view PDF files on your computer, click here to download the free Adobe Reader software. Having trouble downloading e-books to your Kindle, Nook, Sony Reader or iPad? Click here for additional help.
SABR members will get discounted rates for all Digital Library publications, including many for free. If you're not a member, click here to join SABR.
For past titles from the SABR Digital Library, visit SABR.org/ebooks.
---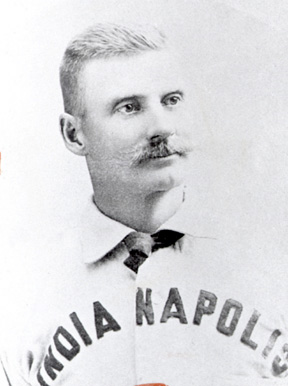 2017 is here and it's time to start the ball rolling as we choose our Overlooked 19th Century Baseball Legend of the year.
Last year, Jack Glasscock (pictured at right) joined previous winners Pete Browning (2009), Hall of Famer Deacon White (2010), Harry Stovey (2011), Bill Dahlen (2012), Ross Barnes (2013), Daniel Lucius "Doc" Adams (2014), and Tony Mullane (2015) as SABR's Overlooked 19th Century Baseball Legends.
The preliminary voting process, which we call the Overlooked Primary Election, will consist of each voter selecting 10 names from the list of 25 candidates. The top 10 will be presented to the SABR membership in May 2017, when all members will be able to vote in the final election. The winner will be announced at the SABR 47 convention this summer in New York City.
Below is a PDF with the 25 candidates for 2017 and a brief explanation of their baseball accomplishments and/or contributions to our national pastime. You can download the PDF with biographies for the 25 candidates by clicking on the link below:
https://sabr.box.com/shared/static/4ksxbr8cmbezp4crtyru8dkhpqlvj640.pdf
The voting in the Overlooked Primary Election will end at 11:59 p.m. MST on Monday, February 13, 2017.
To vote in the Primary Election, you must be a member of the Nineteenth Century Committee. Click here to join the group and then you can request a copy of the ballot from Adam Darowski.
---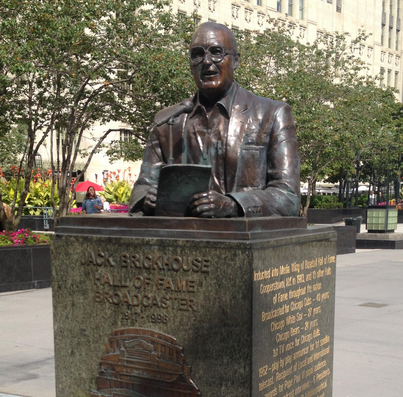 The "Baseball Buffet," a new monthly podcast from the SABR Baseball and the Media Committee, features a get-together and conversation about the latest news and hot-button issues in baseball, including media issues, from the perspective of four SABR members who by all rights should be too old to work this podcast thing:
Each podcast runs about 20-25 minutes, a length which fits quite nicely as a quick listen into your own lunch schedule.
Click here to listen to the first two episodes: http://sabrmedia.org/2017/02/03/the-baseball-buffet-is-on-the-air-2/
---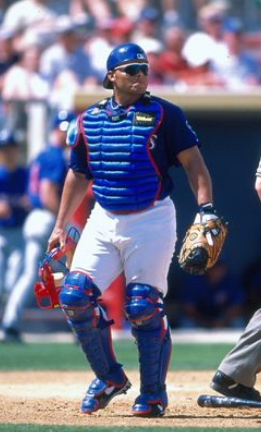 Nine new biographies were posted this week as part of the SABR Baseball Biography Project, which brings us to a total of 3,991 published biographies. Here are the new bios published this week:
All new biographies can be found here: /bioproj/recent
Search for any SABR biography: You can now visit sabr.org/bioproj_search to search for any player — or manager, executive, scout, spouse, broadcaster, or umpire — who appears in the SABR BioProject. You can also browse all of these BioProject categories and a lot more, including 300-game winners, Hall of Famers, 1960s All-Stars, or Negro Leaguers, at our Browse page: sabr.org/bioproj/browse.
1975 Reds essays posted: Essays from SABR's The Great Eight: The 1975 Cincinnati Reds (University of Nebraska Press, 2014), edited by Mark Armour, were published last week at SABR.org. Click here to read articles from this book, including "Pete Rose mans the hot corner" by Rory Costello, "The Big Red Boys of Summer" by Steve Treder, and "The Fall of the Big Red Machine" by Anthony Giacalone. Or click here to read all player biographies that appeared in The Great Eight at the SABR BioProject.
---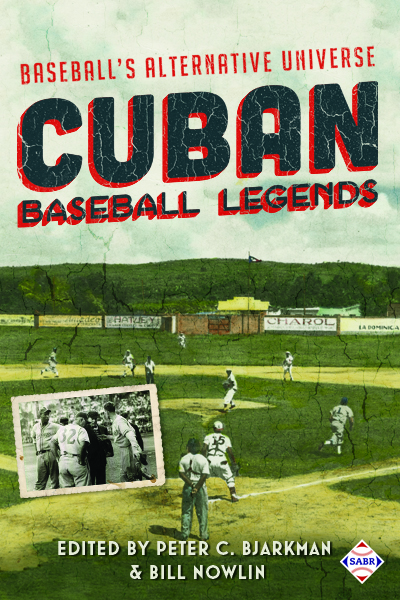 In SABR's Cuban Baseball Legends: Baseball's Alternative Universe, edited by Peter C. Bjarkman and Bill Nowlin and published in 2016, we focused on legendary ballplayers from Cuba's rich baseball history. It was also SABR's first bilingual publication.
Minnie Minoso. Martin Dihigo. Luis Tiant and Luis Tiant Sr. Orlando "El Duque" and Livan Hernandez. These are only a few of the leading lights profiled in Cuban Baseball Legends: Baseball's Alternative Universe. The 47 individuals profiled here represent only a small handful of the legions of memorable and sometimes even legendary figures produced over nearly a century and a half by an island nation where the bat-and-ball sport known as baseball is more than a national pastime, it is the national passion. The book presents 47 biographies in all, plus essays on the Cuban League, Fidel Castro's baseball career and legacy, and more.
The SABR BioProject biographies that appeared in Cuban Baseball Legends can now be read online at: /category/completed-book-projects/cuban-baseball-legends
You can also purchase the paperback or download the e-book — along with its Spanish-language edition, Leyendas del Béisbol Cubano — by clicking here. SABR members can download all SABR Digital Library e-books for free at SABR.org/ebooks.
---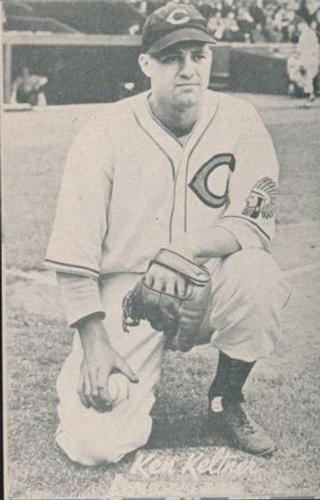 Four new game stories were posted this week as part of the SABR Games Project. Here are the new game stories:
New Games Project stories can be found at /gamesproject/recent. Find all published Games Project articles at SABR.org/GamesProject.
If you have any questions about the Games Project, please contact Greg Erion. If you want to know if a game is available to write about, please contact Bruce Slutsky. After the article has been completed in accordance with our Authors' Guidelines, please submit it to Len Levin, who will initiate the editing process and get your story ready for toward publication.
Get involved: Have memories of a game you attended? Or a game you watched that caught your interest? Write about it! Writing for the Games Project is an easy way to get involved as a SABR member. Find out how by reading the Games Project FAQs section or checking out the Authors' Guidelines. We have editors and fact checkers who are willing to help you write your first article.
Contributor Release Form: As of January 1, 2017, all writers publishing articles (biographies, essays, game pieces, etc.) are being asked to sign a Contributor Release Form which can be sent via email to jpomrenke@sabr.org or hard copy to SABR, 555 N. Central Ave., Suite #416, Phoenix, AZ 85004. The form only needs to be filed once for all future SABR publications. Click here to download the form.
Still seeking a Chief Editor: We are still seeking a Chief Editor to help coordinate the editing for all Games Project stories. This is a crucial role that is necessary to keep the project running smoothly. If you are interested, please contact Greg Erion for more information.
---
Behind the Numbers: Baseball SABR Style on SiriusXM, a radio show hosted by SABR President Vince Gennaro is back for the Hot Stove League offseason, at a new time: 4:00-5:00 p.m. ET on Sundays, on MLB Network Radio.
You can watch video highlights of Behind the Numbers: Baseball SABR Style on SiriusXM on MLB.com. Click here to watch more video highlights of Baseball SABR Style from MLB.com. You can also listen to archives of recent episodes on-demand on the SiriusXM Internet Radio App.
Behind the Numbers: Baseball SABR Style on SiriusXM focuses on examining and interpreting the statistical analysis that plays a critical role in baseball today. It airs weekly throughout the year on MLB Network Radio, available to subscribers nationwide on XM channel 89, Sirius channel 209, and on the SiriusXM Internet Radio App.
---
Please note: Only ONE entry per nomination will be considered (do not submit multiple nominations for the same award). For more information on SABR Awards, click here.
---
Minutes from the Board of Directors conference call on December 3, 2016, have now been posted on the SABR website.
You can view all past minutes of SABR Board meetings by going to the page below:
Or you can go to the Members' Info page and click on "Org. files", then "Board Minutes" to view the minutes.
---
We've heard your feedback: Some of you have said you look forward to "This Week in SABR" every Friday, but sometimes there are just too many compelling articles and announcements to read every week. We're not complaining — hey, keep up the great work! — but we know the feeling. So in an effort to make the length of this newsletter more manageable to read, we'll summarize some of the repeating/recurring announcements in a special "In Case You Missed It (ICYMI)" section of "This Week in SABR".
Here are some major headlines from recent weeks that we don't want you to miss:
All previous editions of This Week in SABR can be found here: /content/this-week-in-sabr-archives.
For more information, click here.
---
We'd like to welcome all of our new SABR members who have joined this week. You can find all Members-Only resources at members.sabr.org and the Membership Handbook can be downloaded here.
Please give these new members a warm welcome and help them make the most of their membership by giving them the opportunity to get involved in their local chapter or a research committee.
You can find contact information for any SABR member in the online membership directory (SABR.org/directory).
| Name | Hometown | | | Name | Hometown |
| --- | --- | --- | --- | --- | --- |
| Michael Bates | North Liberty, IA | | | Eric Paulson | New York, NY |
| Peter D'Antonio | Washingtonville, NY | | | David Peng | Cerritos, CA |
| Nestor R Duprey | San Juan, PRI | | | Richard Pesosky | Elkhart, IN |
| Jason Eaton | Temperance, MI | | | Manny Randhawa | Parker, CO |
| Mark Felderman | Ankeny, IA | | | Gordon Sharpless | Albany, CA |
| Richard Foderaro | Parma, OH | | | Joseph Stradley | Atlanta, GA |
| Joe Gazzo | Strongsville, OH | | | Lane Sulzer | Auburndale, MA |
| Thomas Heebink | Pacific Grove, CA | | | Laurence Tasaday | Nederland, CO |
| Jeff Jurgella | Middleton, WI | | | Tony Trifaro | Statesville, NC |
| Dennis Kaperzinski | Chicago, IL | | | Tom Weckesser | Smithville, OH |
| Pete Madzelan | Santa Fe, NM | | | Steven Wildman | Grover Beach, CA |
| Duane McCollum | Maple Valley, WA | | | Jeff Williams | Columbia, SC |
| Jim O'Connor | Livermore, CA | | | Christopher Zurn | Shoreview, MN |
---
Here are the new SABR research committee updates this week:
Find all SABR research committee newsletters at SABR.org/research.
---
Here are the new regional chapter updates this week:
Bob Broeg St. Louis Chapter meeting recap (February 1; St. Louis, MO)
Rogers Hornsby Chapter: Season 5 of the Alzheimer's Talking Baseball program, or BasebALZ, held at Westminster Senior Living in Austin, Texas, began last week. Last year's program ran from September 12 to November 14, and 11 participants and caregivers were in attendance. The program continues to be a success for all involved. Click here to learn more at SABRHornsby.org.
SABR Day highlights: Find complete details on all SABR Day meetings at SABR.org/sabrday.
Visit SABR.org/chapters for more information on SABR regional chapters.
---
Here is a list of upcoming SABR events:
All SABR meetings and events are open to the public. Feel free to bring a baseball-loving friend … and make many new ones! Check out the SABR Events Calendar at SABR.org/events.
---
Here are some recent articles published by and about SABR members:
Read these articles and more at SABR.org/latest.
---
This Week in SABR is compiled by Jacob Pomrenke. If you would like us to include an upcoming event, article or any other information in "This Week in SABR," e-mail jpomrenke@sabr.org.
Have trouble reading this e-mail? Click here to view this week's newsletter on the web.
Are you receiving our e-mails? "This Week in SABR" goes out by e-mail to all members on Friday afternoons. If they're not showing up, try adding "sabr.notes@sabr.org" to your contact list to ensure they show up in your inbox (and not the spam folder.)
---
Originally published: February 3, 2017. Last Updated: April 3, 2020.
https://h2j7w4j4.stackpathcdn.com/wp-content/uploads/2020/03/research-collection4_350x300.jpg
300
350
admin
/wp-content/uploads/2020/02/sabr_logo.png
admin
2017-02-03 15:00:00
2020-04-03 14:38:44
This Week in SABR: February 3, 2017