This Week in SABR: June 17, 2016

Welcome to "This Week in SABR!" Click here to view this week's newsletter on the web. Here's what we've been up to as of June 17, 2016:
---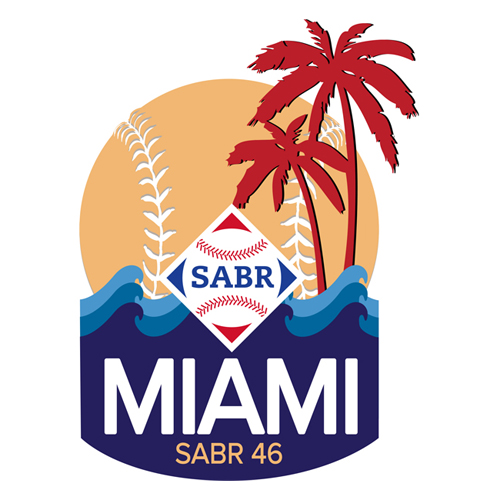 Want to throw out the first pitch at SABR 46?
Thanks to the generosity of the Miami Marlins, anyone who makes a donation of $1,000 or more to the SABR General Fund will have the opportunity to go on the field for batting practice before the Marlins game vs. the St. Louis Cardinals on Friday, July 29 at Marlins Park.
Participating donors will also be entered into a drawing to throw out the first pitch at the Marlins game on July 29. The drawing will be held during the Ross Adell Welcome Reception during SABR 46.
This special opportunity is only available for up to six SABR donors (or a guest of your choosing.) Following our SABR 46 ballpark session — highlighted by guest speakers Barry Bonds, Don Mattingly, Andre Dawson, Tony Perez, and Eduardo Perez — SABR donors will be able to go on to the field during batting practice before the game. Each one-time donation is good for one on-field ticket.
In addition to the on-field opportunity at Marlins Park and the chance to throw out the first pitch, the SABR 46 donation package also includes two tickets to the SABR 46 Donors Breakfast, a SABR logo commemorative crystal baseball, and a one-year membership to SABR.
SABR is a 501(c)(3) organization and all donations are tax-deductible to the extent allowed by law.
If you are interested in the SABR 46 donation package, please contact Jeff Schatzki at jschatzki@sabr.org.
---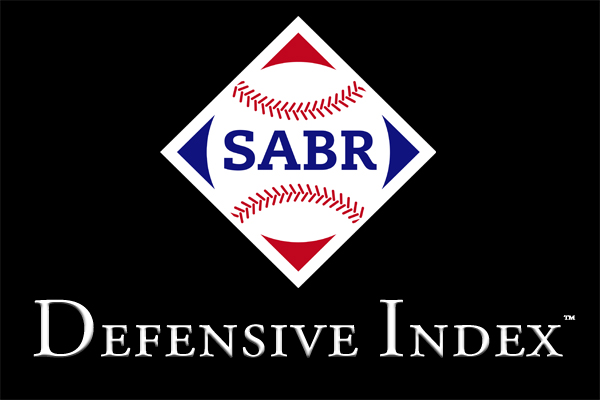 Chicago right fielder Adam Eaton has a commanding lead in the AL and Colorado third baseman Nolan Arenado has taken the NL's top spot in the SABR Defensive Index™ rankings through games of June 12, 2016.
For the fourth consecutive season, the SABR Defensive Index will be used to help select the winners of the Rawlings Gold Glove Award® and Rawlings Platinum Glove Award™, presented by SABR. The SABR Defensive Index accounts for approximately 25 percent of the Rawlings Gold Glove Award selection process that will be added to the votes from the managers and coaches.
Eaton's SDI of 12.7 is the best in the game among all qualified defenders. In the AL, Toronto center fielder Kevin Pillar (8.9), Kansas City center fielder Lorenzo Cain (6.7), Texas third baseman Adrian Beltre (6.7), and Kansas City catcher Salvador Perez (6.4) round out the top five.
Arenado's SDI of 9.0 leads the NL, followed by Chicago right fielder Jason Heyward (8.0), San Francisco shortstop Brandon Crawford (7.8), Cincinnati left fielder Adam Duvall (6.7), and Cincinnati shortstop Zack Cozart (6.2).
The updated SDI results were released today by the Society for American Baseball Research.
For more information on the SABR Defensive Index, visit SABR.org/SDI.
---

Although the early-bird discount and all-inclusive package are no longer available, there's still time to register for what promises to be a spectacular SABR 46 convention, July 27-31, 2016, at the Hyatt Regency Miami in downtown Miami, Florida.
All baseball fans are welcome to attend. The full schedule for SABR 46 is now available online; click here to view a detailed schedule.
All SABR 46 attendees will also receive a souvenir print edition of The National Pastime, our annual convention journal, focusing on baseball teams, players and events in the Miami area. All SABR members, whether you attend the convention or not, will receive the expanded e-book edition of The National Pastime in their inboxes later this summer. Visit SABR.org/convention to register for SABR 46.
---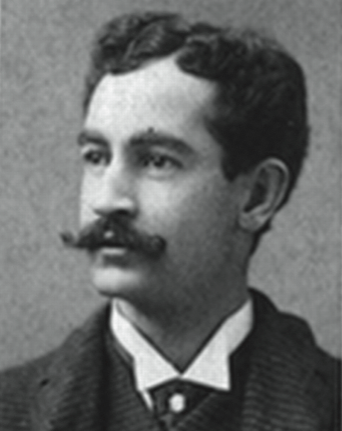 Each year, SABR's Nineteenth Century Research Committee selects its Overlooked 19th Century Base Ball Legend — a 19th century player, manager, executive or other baseball personality not yet inducted into the National Baseball Hall of Fame in Cooperstown, New York.
Committee members vote to narrow down the ballot to 10 finalists, then all SABR members are eligible to cast a vote for the winner. The winner is announced at the Nineteenth Century Committee's annual meeting at the SABR convention.
Click here for a list of past winners.
For more information on the Overlooked 19th Century Baseball Legends Project, contact Project Chairman Adam Darowski or visit the project's Facebook page.
---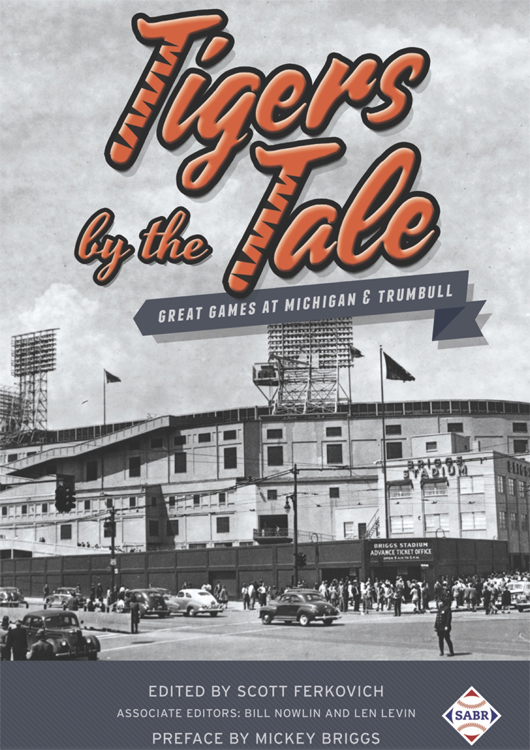 The newest publication by the SABR Digital Library comes from one of baseball's most famous corners:
Tigers by the Tale: Great Games at Michigan & Trumbull
Edited by Scott Ferkovich
ISBN (ebook): 978-1-9438-1620-0, $6.99
ISBN (paperback): 978-1-9438-1621-7, $12.95
156 pages, 8.5″ x 11″
For over 100 years, Michigan and Trumbull was the scene of some of the most exciting baseball ever. This book, the collaborative work of 34 members of the Society for American Baseball Research (SABR), portrays 50 classic games at the corner, spanning the earliest days of Bennett Park until Tiger Stadium's final closing act. From Ty Cobb to Mickey Cochrane, Hank Greenberg to Al Kaline, and Willie Horton to Alan Trammell, the illustrious names of Tiger legends shine forth in these pages. A must-read for those who love the crack of the bat, the glory of green grass, and tales of great games well told.
Contributors include: David W. Anderson, William M. Anderson, Will Bennett, Rich Bogovich, Raymond Buzenski, Marcus W. Dickson, Scott Dominiak, Scott Ferkovich, David Fleitz, Brent Heutmaker, Maxwell Kates, Matt Keelean, Jeffrey Koslowski, Steven Kuehl, Marc Lancaster, Susan A. Lantz, Doug Lehman, Len Levin, Mitch Lutzke, Mike Lynch, John Milner, Jerry Nechal, Bill Nowlin, Dave Raglin, Richard Riis, Ruth Sadler, Jeff Samoray, Terry Sloope, Steve J. Weiss, Mike Whiteman, Phil Williams, Jim Wohlenhaus, and Gregory H. Wolf.
SABR members, get this e-book for FREE!
Having trouble downloading our e-books? To view PDF files on your computer, click here to download the free Adobe Reader software. Having trouble downloading e-books to your Kindle, Nook, Sony Reader or iPad? Click here for additional help.
SABR members will get discounted rates for all Digital Library publications, including all e-books for free. To download past titles, visit SABR.org/ebooks.
---
There's just two weeks left to register online for the 19th annual Jerry Malloy Negro League Conference, scheduled for July 7-9, 2016, in Kansas City. The conference is open to all baseball, history and sports fans of all ages.
Our block of Kansas City Royals tickets is now sold out, so registration has been discounted to $155 for SABR members ($190 non-members) or $135 for students. Registration is only available online at SABR.org/malloy through Wednesday, June 29, so sign up today to join us!
The 2016 Jerry Malloy Negro League Conference will celebrate "Barnstorming in the Negro Baseball Leagues." Barnstorming has always been a central part of the life of Negro League ballplayers. All Negro Leaguers took part in barnstorming games across the country and in cities like Kansas City. Monarchs great Satchel Paige, whose 110th birthday is being celebrated during this conference, did his fair share of barnstorming. Presentations may focus on any topic related to the theme, or other Negro Leagues issues.
Visit SABR.org/malloy for information on the 2016 Call for Papers, Essay Contest, Art Contest, and Library Grant Program.
---
The Philadelphia 19th Century Baseball Interdisciplinary Symposium, co-hosted by SABR's Nineteenth Century Research Committee and the Connie Mack/Philadelphia Chapter, will take place from 9:00 a.m.-5:00 p.m. on Saturday, November 12, 2016, at Maggiano's Restaurant, 1201 Filbert St. in the Center City of Philadelphia.
The Philadelphia symposium will include a welcoming address by MLB Official Historian John Thorn; a buffet lunch with special luncheon speakers Daniel R. Biddle and Murray Dubin; research presentations by Ralph Carhart, Jerrold Casway, Richard Hershberger, and John Schiffert; a panel discussion on "Philadelphia's 19th Century Baseball Movers & Shakers;" book signings and more. Space is limited, so reserve your spot today!
For more information, please contact Peter Mancuso at peterplus4@earthlink.net.
---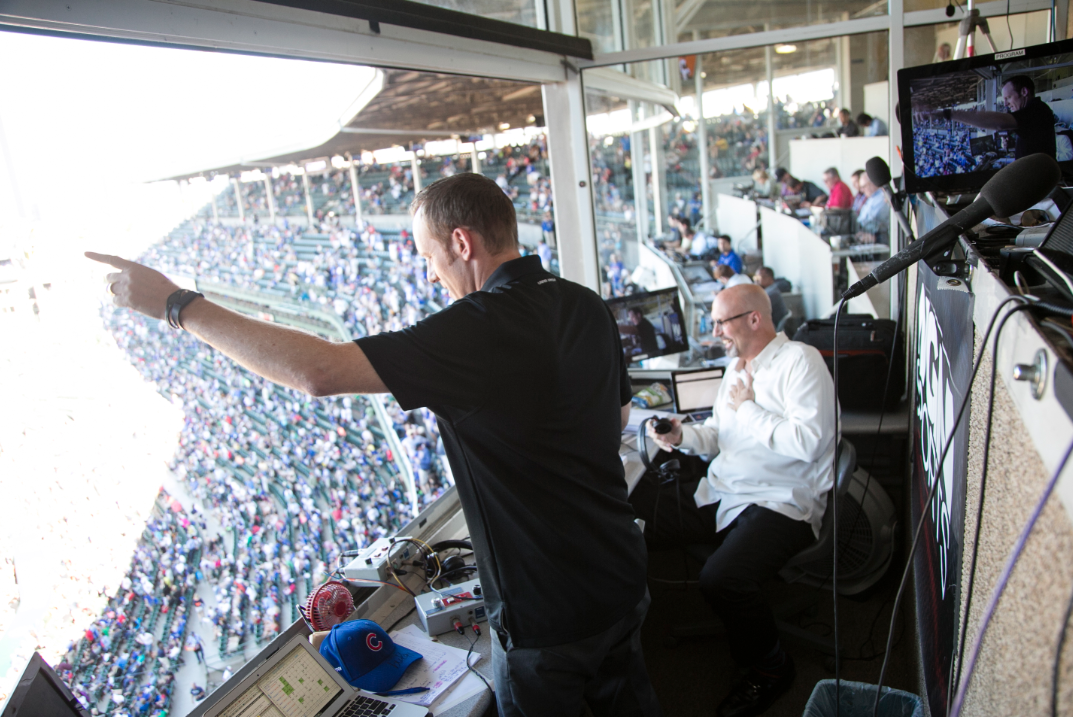 Many baseball fans have their favorite and least favorite broadcasters. This preference is often correlated with what team follows (or hates). This was especially true long ago, when you could only hear the local clubs or those you'd pick up at night over a transistor radio. But the Internet age—thanks, MLB.com—has made it possible to hear and see every club's broadcasts, both on radio and television.
As a student of baseball broadcasting history, and the author of Calling the Game: Baseball Broadcasting From 1920 to the Present, SABR member Stuart Shea thought it might be appropriate to "rate" the current MLB radio and TV broadcast teams. This involves listening to and watching a lot of baseball (not a terrible thing, right?) not only for the result but also for the way the games are delivered.
Shea rated these men and women—well, woman, anyway—on voice quality, knowledge of the game, analytical skills, and interaction with their partners.
Click here to read the full article at SABRMedia.org.
---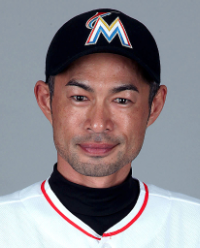 Ichiro Suzuki of the Miami Marlins was celebrated around the baseball world this week for reaching 4,257 career hits in professional baseball — combining his 2,979 hits in Major League Baseball since 2001 and his 1,278 hits in Japan's Nippon Professional Baseball from 1992 to 2000. Pete Rose holds MLB's all-time record with 4,256 hits in a star-crossed career that lasted from 1963 to 1986.
Ichiro, who is enjoying a resurgence with the Marlins at age 42, is hitting .349 in his 16th MLB season. Entering tonight's game, he is now just 21 hits away from reaching the 3,000-hit milestone in MLB alone; maybe he'll reach that mark when we're in Miami for SABR 46 next month? There's only one way to find out!
As SABR member Barry M. Bloom writes at MLB.com, "Rose, for all his warts and problems, is still Major League Baseball's all-time hit king. But what Ichiro has accomplished reveals just how far baseball has come in a little more than three decades. Fully a quarter of the players on Major League rosters are now born outside of the U.S., with nine of them hailing from Japan. And with the globalization of the sport and the qualification rounds for next year's fourth World Baseball Classic now in full swing, acknowledging what Ichiro has done is certainly appropriate."
Back in 2013, in an article for SABR.org after Ichiro had surpassed 4,000 professional hits in the U.S. and Japan, Scott Simkus provided some historical and global context to the exclusive club, shining a light on all the players who had reached that milestone in their careers, combining all professional levels in all countries, including the Negro Leagues, winter leagues, Japan, Cuba, and even the MLB postseason. In addition to Pete Rose and Ty Cobb — the only players to reach 4,000 hits in the MLB regular season alone — the other members of the club include Hall of Famers Hank Aaron and Stan Musial, Pacific Coast League legend Arnold "Jigger" Statz, the great Cuban outfielder Minnie Minoso, the well-traveled Julio Franco, and New York Yankees star Derek Jeter.
We'll never know how many career hits Ichiro would have had in MLB if he had played his entire career in the U.S. But his accomplishment is worth celebrating all the same, on both sides of the pond.
Related links:
---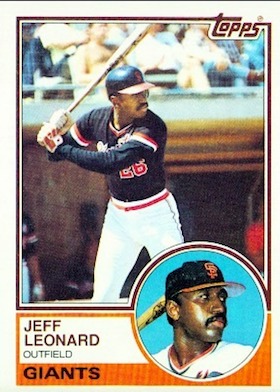 Seven new biographies were posted this week as part of the SABR Baseball Biography Project, which brings us to a total of 3,791 published biographies. Here are the new bios published this week:
All new biographies can be found here: http://sabr.org/bioproj/recent
---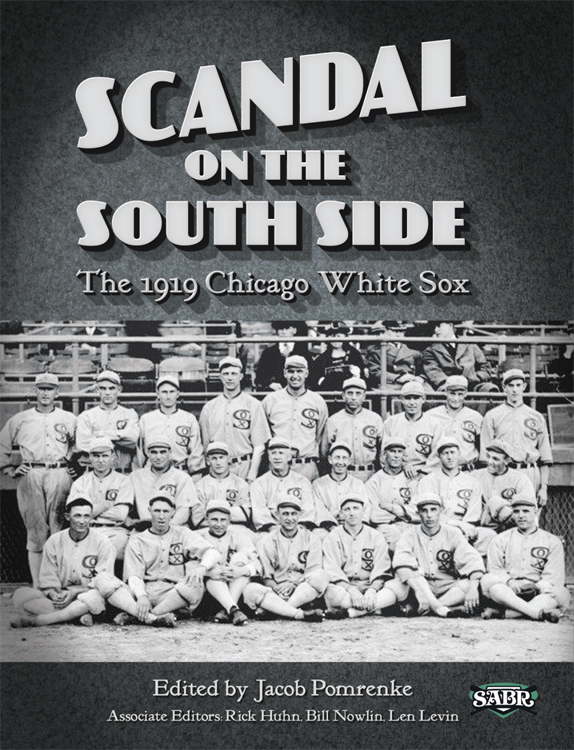 In SABR's Scandal on the South Side: The 1919 Chicago White Sox, edited by Jacob Pomrenke and published in 2015, we examined the team at the center of "the darkest hour" in baseball history.
Scandal on the South Side includes a comprehensive recap of Chicago's pennant-winning season, the tainted 1919 World Series, and the sordid aftermath. Shoeless Joe Jackson, Buck Weaver, Eddie Cicotte, Lefty Williams, and the other players implicated in the Black Sox Scandal were all banned from organized baseball for life. The team roster also included three future Hall of Famers — Eddie Collins, Ray Schalk, and Red Faber — a 20-year-old spitballer who would go on to win 300 games in the minor leagues (Frank Shellenback), and even a batboy (Eddie Bennett) who later became a celebrity with the "Murderers' Row" New York Yankees in the 1920s.
The SABR BioProject biographies that appeared in Scandal on the South Side can now be read online at: http://sabr.org/category/completed-book-projects/1919-chicago-white-sox.
You can also purchase the book or download the e-book by clicking here. SABR members can download all SABR Digital Library e-books for free at SABR.org/ebooks.
---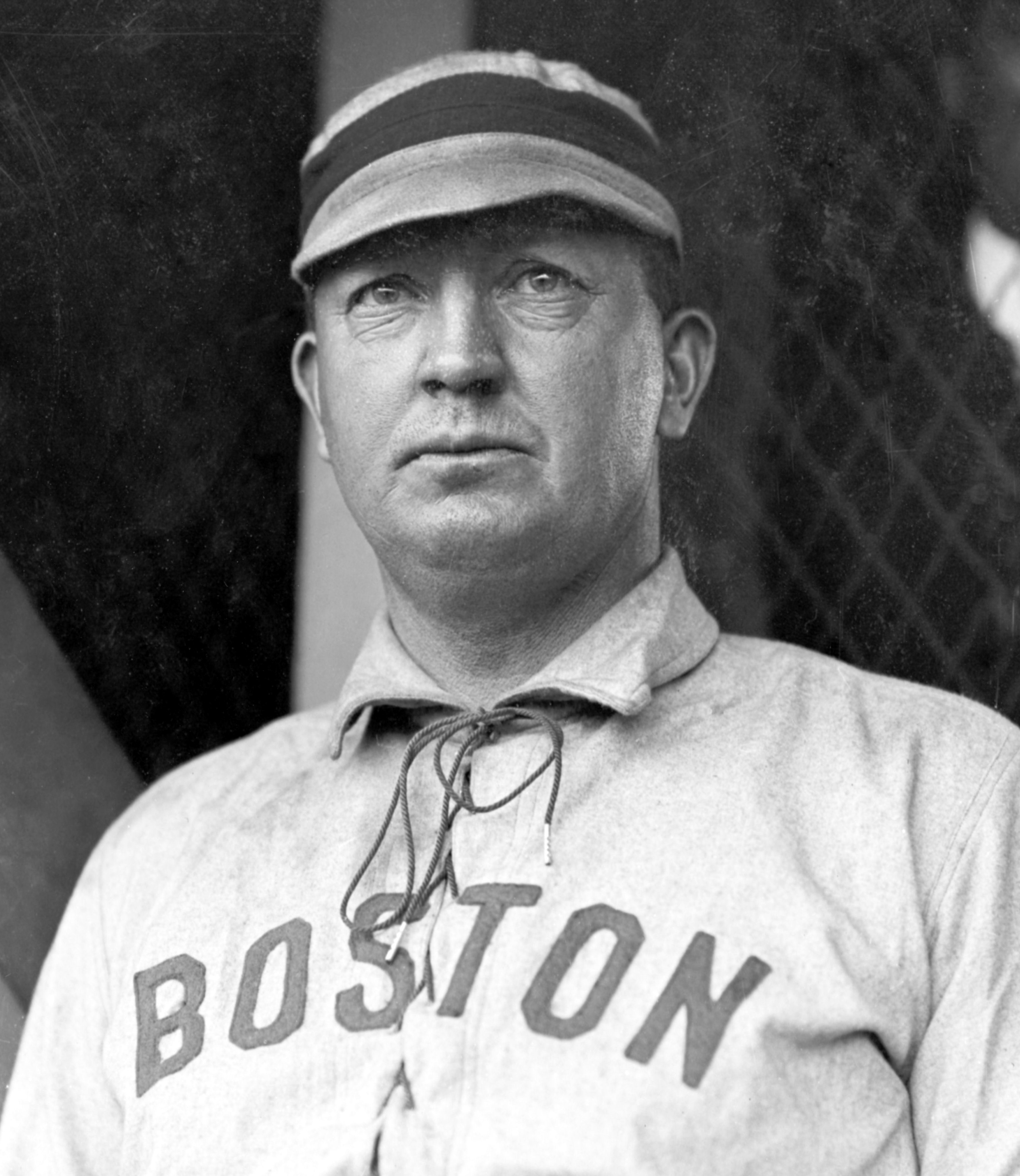 Three new game stories were posted this week as part of the SABR Games Project. Here are the new game stories:
All new Games Project stories can be found here: http://sabr.org/gamesproject/recent
---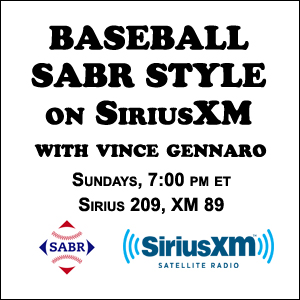 Behind the Numbers: Baseball SABR Style on SiriusXM, a radio show hosted by SABR President Vince Gennaro, will air this weekend at its regular time, 7:00-8:00 p.m. ET on Sundays, on MLB Network Radio.
This week's guests are Jim Callis from MLB.com and Eli Ben-Porat from The Hardball Times.
Now, you can also watch video highlights of Behind the Numbers: Baseball SABR Style on SiriusXM on MLB.com and you can also listen to all recent episodes on-demand on the SiriusXM Internet Radio App.
Click here to watch more video highlights of Baseball SABR Style from MLB.com.
Behind the Numbers: Baseball SABR Style on SiriusXM focuses on examining and interpreting the statistical analysis that plays a critical role in baseball today. It airs weekly throughout the year on MLB Network Radio, available to subscribers nationwide on XM channel 89, Sirius channel 209, and on the SiriusXM Internet Radio App.
---
Each year, the SABR Board of Directors appoints more than a dozen members to small committees that choose our research award winners.
Now is the time to let us know if you would like to be considered for one of these positions. To apply, please send an e-mail to SABR Director Ty Waterman indicating which award you would like to judge, and providing answers to these questions: (1) why you are interested in serving (2) any relevant experience (3) what your research interests are. If you choose to weave these questions into one answer, you may do so.
For a complete list of SABR research awards, click here.
---
Calling all User Interaction and Big Data Geeks
Perhaps a camel is a horse designed by committee, but small groups can deliver outstanding apps in short order with the right combination of people. Imagine you could sit in front of the 120,000 index cards The Sporting News kept on every player who signed a professional baseball contract during the 20th century and use them to complete the information missing from the master database of major and minor league players.
Soon, SABR members will be able to do this — if we build them a great app. In conjunction with the LA84 Foundation, SABR is imaging the cards and digitizing the contents into full text records with integrated image mapping in XML files.
If this intrigues you and you think you may have expertise to bring to the table, please contact SABR Treasurer F.X. Flinn, who is coordinating the project.
---
We've heard your feedback: Some of you have said you look forward to "This Week in SABR" every Friday, but sometimes there are just too many compelling articles and announcements to read every week. We're not complaining — hey, keep up the great work! — but we know the feeling. So in an effort to make the length of this newsletter more manageable to read, we'll summarize some of the repeating/recurring announcements in a special "In Case You Missed It (ICYMI)" section of "This Week in SABR".
Here are some major headlines from recent weeks that we don't want you to miss:
All previous editions of This Week in SABR can be found here: http://sabr.org/content/this-week-in-sabr-archives.
For more information, click here.
---
We'd like to welcome all of our new SABR members who have joined this week. You can find all Members-Only resources at members.sabr.org and the Membership Handbook can be downloaded here.
Please give these new members a warm welcome and help them make the most of their membership by giving them the opportunity to get involved in their local chapter or a research committee.
You can find contact information for any SABR member in the online membership directory (SABR.org/directory).
| Name | Hometown | | | Name | Hometown |
| --- | --- | --- | --- | --- | --- |
| Jeff Abicht | St. Augustine, FL | | | Mike Moss | Dallas, TX |
| Ruby Berryman | Lancaster, NH | | | James Neighbor | Las Vegas, NV |
| Norman Blankstein | Boynton Beach, FL | | | Thomas Pyle | Westfield, NJ |
| Nicolette Cavallaro | Lakewood, CO | | | Paul Royka | Lunenburg, MA |
| Matthew Curtis | Haverhill, MA | | | Glen Sparks | St. Louis, MO |
| Rick Greene | Baton Rouge, LA | | | Greg Tanner | Trabuco Canyon, CA |
| Mike Langthorne | Phoenix, AZ | | | Richard Ventresca | Venice, FL |
| Robert McCamant | Livonia, MI | | | Dallas Weddle | Pineville, NC |
| Dave Mendonca | Eugene, OR | | | Hank Widmer | Las Vegas, NV |
| Aaron Mintz | South Deerfield, MA | | | Robert Wilhelmi | Omaha, NE |
---
Here are the new SABR research committee updates this week:
Find all SABR research committee newsletters at SABR.org/research.
---
Here are the new regional chapter updates this week:
Visit SABR.org/chapters for more information on SABR regional chapters.
---
Here is a list of upcoming SABR events:
All SABR meetings and events are open to the public. Feel free to bring a baseball-loving friend … and make many new ones! Check out the SABR Events Calendar at SABR.org/events.
---
Here are some recent articles published by and about SABR members:
Read these articles and more at SABR.org/latest.
---
This Week in SABR is compiled by Jacob Pomrenke. If you would like us to include an upcoming event, article or any other information in "This Week in SABR," e-mail jpomrenke@sabr.org.
Have trouble reading this e-mail? Click here to view this week's newsletter on the web.
Are you receiving our e-mails? "This Week in SABR" goes out by e-mail to all members on Friday afternoons. If they're not showing up, try adding "sabr.notes@sabr.org" to your contact list to ensure they show up in your inbox (and not the spam folder.)
---
Originally published: June 17, 2016. Last Updated: April 3, 2020.
https://sabr.org/wp-content/uploads/2020/03/research-collection4_350x300.jpg
300
350
admin
/wp-content/uploads/2020/02/sabr_logo.png
admin
2016-06-17 15:00:00
2020-04-03 14:38:46
This Week in SABR: June 17, 2016