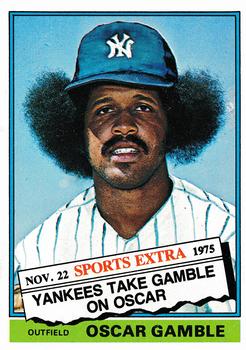 ---
"It exceeded all proportion,
It could not be contained,
It bloomed round like a dark sunrise,
It glistened in the rain.

The little boys with crew cuts
Or blond locks oh so fair
Would look and cheer with wonder
At Oscar Gamble's hair."
—Roy Peter Clark1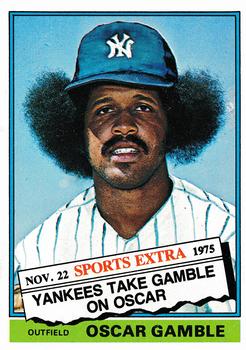 Oscar Gamble made his big-league debut in 1969 and played with seven teams during his 17-year career in the majors. He established himself as a power hitter with the Cleveland Indians in the mid-1970s and hit a career-high 31 home runs with the Chicago White Sox in 1977. His seven seasons with the New York Yankees included two World Series appearances. Gamble hit 200 homers in The Show despite being a platoon player for most of his career. "When I'm at bat, I'm in scoring position," he famously once said.2
Yet despite his potent bat, Gamble is undoubtedly most remembered for his enormous Afro, one of the defining images of 1970s baseball.
Oscar Charles Gamble was born on December 20, 1949 in Ramer, Alabama, a rural community in Montgomery County.3 He was the seventh of eight children born to Sam and Mamie (née Scott) Gamble. Sam worked as a sharecropper, and Mamie was a homemaker.4 Sam died when Oscar was six, leaving Mamie to raise the family.5 The Gambles moved from the farm to Montgomery, where Mamie worked as a maid and factory worker until she was struck by lightning.6 After graduating from high school, Oscar's older siblings helped provide for the family with employment at a local meat factory.7
Oscar grew up playing baseball on sandlot teams managed by his brother, Jimmy.8 Oscar roamed center field while two other brothers, Tom and Rich, caught and pitched, respectively.9 They played as the Oakwood Clowns on Saturdays and the Montgomery Mets on Sundays. "It was the same team, but we played in two leagues," Oscar later explained.10 Oscar spent three years playing with the Mets, part of the Central Alabama League, and was named MVP in 1967.11 "I hit about four somethin' and about 25 home runs a year," he later said.12 He was a star basketball player at George Washington Carver High School in Montgomery, but the school did not have a baseball program. Instead, he honed his skills against older competition on semipro teams making six dollars a game.13
Oscar's heroes as a youngster were two fellow Alabamans: Willie Mays and Hank Aaron. "I first saw Hank Aaron play in person at Atlanta in 1967," said Gamble in 2007. "We lived about two hours from Fulton [County] Stadium by car. … I told my brothers I was going to play in that stadium one day. I was just running off at the mouth."14
Baseball icon Buck O'Neil, a scout for the Chicago Cubs, first noticed Gamble on the sandlots. He compared the youngster, who had a wiry frame and strong wrists, to Billy Williams.15 The Cubs selected Gamble in the 16th round of the 1968 draft on O'Neil's recommendation. "This kid is the greatest prospect I've signed since Ernie Banks," declared O'Neil.16
The Cubs assigned Gamble to the Caldwell (Idaho) Cubs of the rookie-level Pioneer League for the summer of 1968. Limited to 34 games because of a leg muscle strain, the 18-year-old hit .266 with two home runs and 12 RBIs.17 Gamble was a standout that fall in the Arizona Instructional League, leading the 46-game slate in batting average (.344), runs, doubles, and triples.18
Gamble was a non-roster invitee to big-league camp in 1969, and received extended playing time after an injury to regular center fielder Adolfo Phillips.19 Gamble, who threw right-handed and hit from the left side, was listed at 5-foot-11 and 160 pounds. The Chicago Tribune reported that he "looked more like a bat boy in uniform and like one of the players' little brothers in street clothes."20 The youngster made a strong impression on Cubs' manager Leo Durocher, who compared him to a young Mays.21 After spring training, Gamble was sent to the San Antonio Missions of the Double-A Texas League. In 119 games, he hit .298 with seven home runs, 32 RBIs, and a league-leading 32 doubles.
In late August 1969, the Cubs, in the thick of the pennant race, sought an upgrade in center field (Jimmy Qualls went on the disabled list) and purchased Gamble's contract from San Antonio. The 19-year-old rookie made his debut on August 27 versus the Cincinnati Reds at Wrigley Field, hitting eighth in the order and playing center. He walked in his first at-bat against Tony Cloninger and then singled to right field in the bottom of the seventh for his first career hit.
Platooning with the right-hand hitting Don Young, Gamble appeared in 24 games and hit .225 (16-for-71). Gamble's lone home run came off Expos hurler Jerry Robertson. His inexperience on defense was demonstrated by several blunders, including four charged errors. Banks took the rookie under his wing, picking him up at his hotel and making sure he got to the ballpark on time.22 "He was a wide-eyed, smiling skinny kid with great baseball tools and a positive attitude," recalled teammate Roe Skidmore. "He could really run, had a strong arm, and surprising power for a slightly built guy."23
After the season, Gamble returned to the Arizona Instructional League. Skidmore recalled that Gamble got the largest cap size and then had the trainer cut a slit in the back to accommodate his burgeoning Afro.24 Gamble's time in the desert was cut short, however, when he was traded. The Cubs, in win-now mode with veterans Banks, Williams, and Ron Santo, acquired established big-league outfielder Johnny Callison and Larry Colton from the Philadelphia Phillies for Gamble and pitcher Dick Selma. The Chicago Sun-Times later reported that the Cubs' conservative ownership traded Gamble because he had dated white girls.25
Gamble made waves in spring training when he left the Phillies rather than accept an assignment to minor-league camp.26 His taste of the top level had convinced him that he belonged. "I'd rather sit on the bench in the majors than play in the minor leagues," Gamble said at the time.27 He returned a few days later, paid a fine, and began the 1970 season with the Eugene Emeralds in the Triple-A Pacific Coast League. He hit .296 in 28 games before getting called up to Philadelphia in mid-May to replace struggling Larry Hisle.
Gamble was hitless in his first 18 at-bats before settling in as a semi-regular outfielder. In 88 games (71 starts), he hit .262 with only one homer. His defense tested the patience of manager Frank Lucchesi, who pulled Gamble from a game on August 20 after the young center fielder failed to take charge on a shallow fly ball and then allowed a single to roll through his legs.28 Gamble closed out the season by driving home the game-winning run with what was the last ever hit at Connie Mack Stadium (formerly known as Shibe Park).
Gamble returned to Eugene to start the 1971 season and transitioned from center to left field. After hitting .290 with four home runs in 39 contests, Gamble returned to Philadelphia in late May. "Little O," as his teammates called him, made a splash in his first night back, May 29, with a fourth-inning solo home run and a two-run eighth inning double off Dodgers' hurler Bill Singer, but it was all for naught as the Dodgers won, 9-3. Gamble batted .304 in his first 18 games but just .194 in his next 74. In 280 at-bats overall, he hit .221 with six home runs. That off-season, he married the former Juanita Kenner in Montgomery on New Year's Eve.
Despite playing well in the Grapefruit League in 1972, Gamble was sent back to Eugene to start the season. He hit .292 with eight home runs in 42 games. After joining the Phillies in early June, Gamble was relegated to mostly pinch-hitting duty owing to pulled muscles in both legs.29 He played in 74 contests (32 starts) and hit .237 with one homer. On December 1, the Phillies traded Gamble and Roger Freed to Cleveland for Del Unser.30
Gamble arrived at Indians camp in 1973 with a gigantic Afro, an unusual look in the conservative world of major league baseball. "I was trying to get in the lineup a little more," he later said, "I thought the hair was one way of getting noticed."31 His 'fro was trimmed following a "man-to-man talk" with manager Ken Aspromonte.32 Gamble joked at the time that he lost two pounds and several hat sizes after the shearing.33
He made the Opening Day roster after a strong spring in which he led the team with a .393 average.34 The majority of Gamble's 99 starts came at designated hitter, and he played almost exclusively against right-handed pitching (only 21 of his 432 plate appearances were against lefties). He hit .267 and showed an impressive increase in power with 20 home runs, four of which came in a four-game series versus Milwaukee in early August. When a reporter asked the slender outfielder about the source of his power, he demonstrated a flick of the wrist and said, "That's where my power is. Just a little snap right there."35 Gamble, a low-ball hitter, had a crouched batting stance, leaning over at the waist with his knees bent, his body in the shape of a question mark. He found this allowed him to see the ball better.36
As the season progressed, Gamble grew out his signature Afro. His hair flowed out from under his batting helmet, giving the appearance he was wearing large earmuffs or Mickey Mouse ears. His helmet frequently fell from his head as he ran the bases. Decades later, Gamble's Afro is remembered as one of baseball's iconic images from the 1970s, but it was not viewed that way at the time. The hairstyle led some to presume Gamble was "a militant, a badass, or worse."37 Sportswriters were reluctant to approach him for this reason. Some fans threatened to boycott Indians games, and Gamble often heard jeers from fans who yelled at him to cut his hair. The stereotype belied his persona amongst teammates, who found him "loose, easy-going, and quick to laugh."38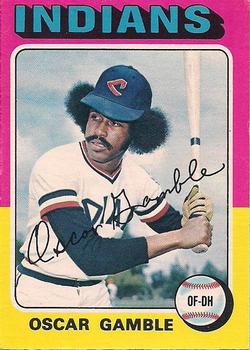 Though Gamble preferred to play the field, he served as Cleveland's primary DH in 1974. Of his 124 starts, only 12 came in the outfield. He hit .357 through his first 24 games before a hand injury caused his average to fall off.39 On June 4, Gamble DH'd in the infamous "Ten Cent Beer Night" game, in which thousands of Cleveland fans stormed the field and began attacking the visiting Texas Rangers. Gamble and his teammates emerged from dugout wielding bats in an effort to defend the Rangers players from the intoxicated rioters. The actions of the fans resulted in a Cleveland forfeit. In September 1974, Gamble made headlines when he was charged with rape and assault. The alleged incident occurred on September 15 in Baltimore while the Indians were in town playing the Orioles. Gamble denied the charge and called it a "frame-up."40 The charges were later dropped after the accuser asked that case be dismissed.41 In a career-high 509 plate appearances, Gamble produced 19 home runs and an .833 OPS while batting .291 –including .302 against lefties.
Despite those good numbers, he was relegated to a platoon role in 1975, much to his chagrin. All but five of his starts –75 games in left and 21 at DH – came against righties. The situation created a rift between Gamble and first-year player-manager Frank Robinson. When Gamble asked why he was not playing more, Robinson said, "a guy hitting .200 shouldn't be asking to play every day."42 Indeed, Gamble struggled in the first half of the season (.227 average, five homers, .702 OPS) but rebounded with a strong second half (.295 average, 10 homers, .925 OPS) for the middling Indians. Following the season, he was traded to the Yankees for pitcher Pat Dobson.
When Gamble walked into the Yankee clubhouse in the spring of 1976, there was no uniform in his locker. When he asked manager Billy Martin why he wasn't issued pinstripes, Martin said "George [Steinbrenner said when you get a haircut, we'd issue you a uniform." Steinbrenner, the Yankees' owner, had established a strict policy of no long hair or facial hair. There was one problem; Gamble had agreed to do a commercial for Afro Sheen. The team arranged for a barber to cut his hair, and Steinbrenner compensated Gamble with $5,000 to make up for the lost endorsement.43 "To be honest, I didn't really mind because there was something special about those Yankee pinstripes," Gamble said in 2005.44 The haircut also saved him the hour and half each day it took to wash and blow-dry his hair out.45 Though his signature hairdo was gone, Gamble's 1976 Topps Traded baseball card depicts him in an Afro; it was an old picture with a Yankees uniform airbrushed on.
Gamble started exclusively against right-handed pitching in a platoon with Lou Piniella and Otto Velez. In 110 games, he amassed 384 plate appearances and hit .232 with 17 home runs and 57 RBIs. His round-trippers included a walk-off to beat Rollie Fingers and the Athletics in the second game of a doubleheader on June 6 and his first career grand slam versus Brewers' hurler Jim Slaton on September 10. The Yankees captured the American League East crown, and Gamble appeared in his first postseason. He went 2-for-8 in the five-game ALCS victory over Kansas City. The Yankees were swept by the Cincinnati Reds in the World Series, with Gamble starting twice and going 1-for-8. "He was a great guy to have on your club," said Martin, noting Gamble's knack for keeping teammates loose.46 During the off-season, Gamble opened a discotheque in Montgomery called Oscar Gamble's Player's Club.47
The Yankees' acquisition of Reggie Jackson before the 1977 season made Gamble expendable. On April 5, he was traded with LaMarr Hoyt, minor-league pitcher Bob Polinsky, and $200,000 to the White Sox for Bucky Dent. In 113 starts (all but eight versus righties) for the South Side Hitmen, Gamble set career highs in doubles (22), home runs (31), and RBIs (83) while producing a slash line of .297/.386/.588. He became the first left-handed hitter in White Sox history to hit 30 homers in a season, and his home run rate of one in every 13.2 at-bats led the American League.
Gamble and the White Sox discussed a contract extension, but ultimately the two sides were not close. He filed for free agency after the season and sought a five-year contract with the highest bidder.48 "I goes where the money is," said Gamble.49 On November 23, 1978, the San Diego Padres announced the signing of Gamble to a six-year contract worth $2.85 million.50 The deal included deferments that continued until 1998. Gamble, who had purchased a house for his mother after a couple of seasons in the majors, treated himself to a 1977 Rolls-Royce at a price of $54,000.51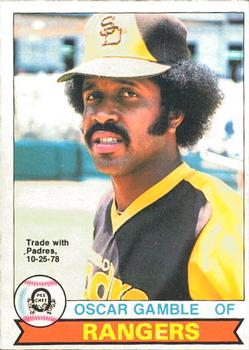 Gamble admittedly felt pressure to live up to his contract and struggled with the Padres. Fans often reminded him of his salary in phrases laced with expletives. "Every day I play I hear about how much money I got," said Gamble, "It's like my last name. My name is 2.85 instead of Gamble."52 Much to his displeasure, Gamble started only 106 games and by September was benched in favor of Jerry Turner. In 375 at-bats, Gamble hit .275 and managed only seven home runs in spacious San Diego Stadium. After the season, the Padres traded him along with Dave Roberts and $300,000 to the Rangers for Kurt Bevacqua, Bill Fahey, and Mike Hargrove. Padres owner Ray Kroc summed up his feelings about Gamble's brief tenure in San Diego: "I signed Oscar Gamble under the advice of my attorney. I no longer have Oscar Gamble, and I no longer have my attorney."53
Gamble felt more relaxed with the Rangers and enjoyed a blistering start in 1979. He hit .349 through 19 games before fouling a ball off his foot and breaking a bone. The injury sidelined him for four weeks, but he played even better upon his return. After going 3-for-4 versus Oakland on July 1, Gamble was hitting .422 (43-for-102) with an OPS of 1.237. By July 30, he was still hitting .335, and the Rangers were in the pennant race, 4½ games behind the Angels.
An unusual set of circumstances led to Gamble being traded for the sixth time in his career. The Rangers and Yankees initially agreed to a deal that would bring Mickey Rivers to Texas in exchange for three minor-leaguers (Gary Gray, Mike Hart, and Domingo Ramos) and a player to be named later.54 Steinbrenner had asked that the names of the minor-league players be released to reassure fans that it was a good deal for the Yankees, and the Rangers' front office complied with the request.55
However, two of the players should not have been named because they hadn't cleared waivers. Commissioner Bowie Kuhn voided the deal on this technicality, and the two teams had to renegotiate a deal for Rivers, who had already reported and played with the Rangers. The Yankees wanted Gamble, and the Rangers reluctantly let him go in a trade announced on July 30. The Rangers sent Gamble, minor-leaguer Amos Lewis, and players to be named later to the Yankees in exchange for Rivers and players to be named later. On October 8, the deal was finalized with New York receiving Ray Fontenot and Gene Nelson and minor-leaguers Bob Polinsky, Neal Mersch, and Mark Softy heading to Texas.
With the Yankees, Gamble continued his torrid hitting: .389 with 11 homers and 32 RBIs in 36 games down the stretch, including a grand slam off Fergie Jenkins on August 27 and a pair of walk-off shots in September. For the season, he compiled 274 at-bats and hit .358 with a 1.065 OPS. He was happy to be back in pinstripes. "I'm afraid to say how much I like it here. Sometimes they find out you like a place and bye, bye," said the well-traveled veteran.56
Gamble's powerful left-handed swing was well-suited for Yankee Stadium's short right field porch, and he fit in well on a team full of larger-than-life personalities. Once, when asked about the spectacle that was the Yankee clubhouse, Gamble produced a memorable quote: "They don't think it be like it is, but it do."57 With the 1980 club, he was part of a crowded outfield group that included Jackson, Piniella, Ruppert Jones, Bobby Murcer, and Bobby Brown. Gamble was 9-for-19 with three home runs to start the season but had a difficult time cracking the starting lineup. After suffering a broken toe on May 13, he was out of action for two weeks, and did not return to the lineup until June 27.
In August and September, he saw more regular playing time and was one of the team's hottest hitters down the stretch. He was named AL Player of the Week in early September and hit .360 for his last 26 games of the season extending from September 1 through October 4. For the season, he batted .278 with 14 homers in 194 at-bats. The Yankees reeled off 103 wins to win the AL East crown but were swept by the Royals in the ALCS. Gamble was 1-for-5 with a walk in the series.
In the strike-shortened 1981 season, Gamble played in 80 games (51 starts) and hit .238 with 10 home runs and 27 RBIs. His batting average nosedived after a horrendous 0-for-27 slump to end the season. Nonetheless, manager Bob Lemon showed confidence in the veteran and installed him as the DH in Game 1 of the ALDS versus Milwaukee. Gamble busted out of the slump with a 3-for-4 day, including a two-run homer off Moose Haas in the Yankees' victory. He went 5-for-9 with two home runs in the series, which New York won in five games. The Yankees defeated Oakland in the ALCS and met the Dodgers in the World Series. Gamble's only two hits came in Game Four, and the Dodgers won the series in six games.
In March 1982, the Yankees and Rangers agreed to a trade that would have sent Gamble back to Texas in exchange for Al Oliver. Rangers general manager Eddie Robinson flew to Tampa, Florida to get Gamble's approval for the deal (the Rangers were on his no-trade list).58 Gamble refused to meet with Robinson and nixed the deal. "He didn't have the guts to talk to me when he traded me," said Gamble, "Why should I meet with him now?"59 The situation infuriated Steinbrenner and placed Gamble in the owner's doghouse.
Though Gamble may have irked Steinbrenner, his sense of humor and attributes as a teammate were appreciated by his peers. "He was a great teammate on and off the field, period," recalled Rich "Goose" Gossage. "A terrific home run hitter and a comic all the time. I played on nine different teams and had a lot of teammates, but they didn't come any better than Oscar Gamble."60
Injuries to Ken Griffey, Dave Winfield, and Jerry Mumphrey resulted in Gamble getting regular at-bats early on in the 1982 campaign. He hit six homers in May and received a Player of the Week nod. In 382 plate appearances, Gamble produced a slash line of .272/.387/.522 with 18 home runs and 57 RBIs. He hit .382 (13-for-34) against lefties but was still pigeonholed as a platoon player. The Yankees finished with a losing record of 79-83. Steinbrenner, still simmering over Gamble's refusal to be traded, attributed the team's failures to the lack of Oliver, whom he called the "last piece to the puzzle."61
Gamble did not want to spend 1983, the final year of his contract, on the bench. "I want to play here, or I want to play somewhere else, or else I'll be their fourth outfielder if they extend my contract," he said during spring training.62 He refused to have his picture taken by the team photographer, figuring his days on the team were limited.63 However, he was not traded, even after calling Steinbrenner a liar.64 Instead, he sat on the bench and started only one of the team's first 29 games. In 208 plate appearances, Gamble hit .261 with seven homers and 26 RBIs. He planned to seek another opportunity in free agency following the season. "I'm gone," he said, "Ain't no playing time for me here and that leaves me no choice but to go elsewhere."65
Gamble received an offer from the Detroit Tigers in late February 1984.66 He shopped the offer around and ended up in negotiations with, of all people, Steinbrenner. Perhaps realizing he overestimated his market value, Gamble reconsidered his stance on playing with the Yankees. "I don't care how they use me. I know I belong on the team," he said at the time.67 After several weeks of exchanging figures, Gamble agreed to re-sign with the Bronx Bombers on March 26 for $500,000.68 He missed the first 10 games of the season with knee soreness and started slowly. Under manager Yogi Berra, Gamble appeared in only 54 games and hit .184 in 125 at-bats. Nonetheless, he still homered 10 times, including four consecutive games from July 7-14. Berra insisted that the team decline Gamble's club option following the season, a move that cost Steinbrenner $200,000.69
Coming off a subpar season and arthroscopic knee surgery, Gamble aroused minimal interest in the free agent market heading into 1985. On March 16, he signed a one-year deal with the White Sox for $350,000 with a club option for 1986.70 His first home run of the year was a seventh-inning, game-tying two-run shot against Joe Cowley of the Yankees at Chicago on April 28. Steinbrenner, undoubtedly upset after getting beaten by the player his manager ran out of town, fired Berra after the game (New York was in last place with a 6-10 record).71 On August 3 at Yankee Stadium, Gamble hit the 200th and final home run of his career. He was released five days later. In 148 at-bats, all as a DH or pinch-hitter, he hit .203 with four home runs and 20 RBIs.
Gamble opened a sporting goods store in Montgomery in 1986. He kept his swing sharp by going to the local batting cage and stayed in shape by swimming, but his hopes of a comeback never came to fruition.72 He ended his 17-year big-league career with a slash line of .265/.356/.454 in 4,502 at-bats. He had more walks (610) than strikeouts (546). When he retired, his home run rate at Yankee Stadium, one in every 12.4 at-bats, was second only to Babe Ruth's one every 11.8.73
In 1989, Gamble competed against fellow former major-leaguers as a member of the St. Lucie Legends of the Senior Professional Baseball Association. He later spent his time in youth baseball, worked as a sports agent, and attended fantasy camps and memorabilia shows.74 He was inducted to the Alabama Sports Hall of Fame in 2016.
Gamble had six children: LaToya, Sheena, Sean, Shane, Kalani, and Kylah. His marriage to Juanita ended in divorce, and he had a second marriage to Lovell Woods. Sean was drafted by the Philadelphia Phillies in the sixth round of the 2004 draft, spent three seasons in the minor leagues, and worked as a scout for the Colorado Rockies as of 2021.
Gamble kept his head shaved later in life and once said that he received more attention for his Afro in retirement than he did when he played.75 He received calls from reporters asking his thoughts about the Yankees' grooming policy whenever the topic came up, and baseball cards bearing his famous hair-do arrived in his mailbox regularly.76 Though Gamble's hair is what people remember most, his successful career and prodigious power should not be overlooked. "I think I could have been a better player," said Gamble in 2008. "I wanted to play more, but I appreciate what I got a chance to do. I was platooning, so I didn't get to put up the numbers I thought I could … when I got 400 at-bats, I did real well and that's one of the things I am proud of."77
Oscar Gamble died of ameloblastic carcinoma, a rare tumor of the jaw, on January 31, 2018 in Birmingham, Alabama.78 He was 68 years old. He is buried at Calvary Baptist Church Cemetery in Montgomery.
Acknowledgments
This biography was reviewed by Malcolm Allen and Rory Costello and fact-checked by Mark Sternman.
Sources
In addition to the sources cited in the Notes, the author relied on Baseball-Reference.com.
Notes
1 Roy Peter Clark, "An Ode to Oscar Gamble's Hair," Montgomery (Alabama) Advertiser, February 23, 2018: C1.
2 Peter Botte, "Former Yankee Oscar Gamble, Known for his Giant Afro and Lefty Power, Dead at 68," Daily News (New York, New York), January 31, 2018, https://www.nydailynews.com/sports/baseball/yankees/oscar-gamble-afro-lefty-power-dead-68-article-1.3790239, accessed April 30, 2021.
3 Ramer was also the birthplace of Negro League and Major League player Joe Caffie.
4 Richard Sandomir, "Oscar Gamble, Power Hitter with Prodigious Hair, Dies at 68," New York Times, January 31, 2018, https://www.nytimes.com/2018/01/31/obituaries/oscar-gamble-power-hitter-with-prodigious-hair-dies-at-68.html, accessed April 20, 2021.
5 Phil Hersh, "Most of All, Oscar Gamble Likes Money," Arizona Daily Star, May 19, 1978: 75.
6 Bill Conlin, "Gamble's Aim: Lift Family from Poverty," Philadelphia Daily News, March 18, 1970: 55.
7 Conlin.
8 "Cubs Take Big Gamble on Oscar, 19," Des Moines Tribune, September 5, 1969: 19.
9 "Cubs Take Big Gamble on Oscar, 19."
10 "Cubs Take Big Gamble on Oscar, 19."
11 "Ex-Carver Athlete Signs Chicub Contract," Montgomery Advertiser, June 22, 1968: 12.
12 Conlin.
13 Hersh.
14 Todd Newville, "Dream Weaver: Oscar Gamble Parlayed His Dream Into a Successful 17-Year Major League Career," Baseball Digest, June 2007, Vol 66, No 4: 62. https://web.archive.org/web/20140813211003/http://www.baseballtoddsdugout.com/oscargamble.html, accessed May 1, 2021.
15 George Langford, "Cubs' Phillips to be Ready for Opener," Chicago Tribune, March 15, 1969: 60.
16 "Cubs Take Big Gamble on Oscar, 19."
17 "Cubs Take Big Gamble on Oscar, 19."
18 "Gamble Heads Winter Hitters," Arizona Republic, December 22, 1968: 35.
19 Dick Smith, "Oscar Gamble May Earn Job with Chicago," Arizona Republic, March 13, 1969: 23.
20 Langford.
21 Russell Schneider, "Gamble Produces Handsome Payoff for Indians," The Sporting News, May 12, 1973: 20.
22 Newville.
23 Personal communication between Roe Skidmore and the author, May 4, 2021.
24 Personal communication between Roe Skidmore and the author, May 4, 2021.
25 Hersh.
26 Allen Lewis, "Oscar Gamble in Center Field," Philadelphia Inquirer, May 15, 1970: 29.
27 Ray W. Kelly, "The Gamble with Oscar May Pay Big Dividends," Courier-Post (Camden, New Jersey), June 14, 1971: 23.
28 Tom Cushman, "'Gambles' KO Lucchesi's Patience," Philadelphia Daily News, August 21, 1970: 68.
29 Rick Young, "Phillies' Gamble Adept Pinch-Hitter," Montgomery Advertiser, September 5, 1972: !2.
30 Bruce Keidan, "Phils Deal Freed, Gamble for Unser, Philadelphia Inquirer, December 2, 1972: 21.
31 Rick Morrissey, "Gamble's Big 'Do Now a Don't," Chicago Tribune, April 19, 2006: 4-1.
32 Hank Kozloski, "He's Good 'Gamble' for Opening Day," Daily Reporter (Dover, Ohio), March 22, 1973: 21.
33 "Indians Make First 'Cut,'" Akron Beacon Journal, March 3, 1973: 16.
34 Schneider.
35 Kozloski.
36 Newville.
37 Hersh.
38 Jim Reeves, "Gamble's Happy Pressure has Eased," Fort Worth Star-Telegram, March 31, 1979: 19.
39 Roy Thomas, "Gamble had Bat Ready," Montgomery Advertiser, July 2, 1974: 14.
40 Roger Twigg and Joseph J. Challmes, "Oscar Gamble Charged with Rape in City," Baltimore Sun, September 18, 1974: 34.
41 "Oscar Gamble Cleared of Rape Charge," Times Recorder (Zanesville, Ohio), April 26, 1975: 12.
42 Phil Pepe, "'More Trades on Fire' – Yankees' Paul," The Sporting News, December 13, 1975: 62.
43 Morrissey.
44 Harvey Araton, "The Yankees' Hair Apparent in Center Field," New York Times, December 22, 2005, https://www.nytimes.com/2005/12/22/sports/baseball/the-yankees-hair-apparent-in-center-field.html, accessed May 1, 2021.
45 Morrissey.
46 Hersh.
47 Dale Russakoff, "It was Ho-Hum Until Out of Dugout Came…," Alabama Journal, January 12, 1977: 51.
48 "Well-Traveled Gamble Wants Five-Year Pact," Montgomery Advertiser, June 21, 1977: 8.
49 Phil Hersh, "Most of All, Oscar Gamble Likes Money," Arizona Daily Star, May 19, 1978: 75.
50 Phil Collier, "Big Deal May Follow Padre Plunge on Gamble," The Sporting News, December 10, 1977: 63.
51 Hersh.
52 Murray Chass, "Injuries, Expletives have Plagued the Free Agents," Tampa Tribune, June 20, 1978: 39.
53 "Morning Briefing," Los Angeles Times, December 18, 1978: 47.
54 Jim Carley, "Yanks Claim Gamble for Rivers," Fort Worth Star-Telegram, August 1, 1979: 35.
55 Carley.
56 Jim Dente, "Yanks' Gamble is Good Risk," Herald-News (Passaic, New Jersey), September 28, 1979: 19.
57 Ronald Blum, "Oscar Gamble, MLB Outfielder, 68," Boston Globe, February 2, 2018: B9.
58 Jim Reeves, "Mazzilli, Parrish in Texas Outfield," The Sporting News, April 17, 1982: 24.
59 Reeves, "Mazzilli, Parrish in Texas Outfield."
60 Botte.
61 Dick Young, "Yankees Need Shorter Fence," Press and Sun-Bulletin (Binghamton, New York), June 29, 1982: 20.
62 Filip Bondy, "Gamble Can't Bet on Future as a Yankee," Record (Hackensack, New Jersey), March 7, 1983: 42.
63 Bondy.
64 Al Mari, "Gamble Says George Lied," Journal-News (White Plains, New York), April 27, 1983: 21.
65 Bill Madden, "Idling Gamble Ready to Shed his Pinstripes," Daily News (New York, New York), September 15, 1983: 206.
66 Bill McGraw, "Tigers Decide to Take No Gamble," Detroit Free Press, March 24, 1984: 27.
67 Claire Smith, "Gamble May Get Dusty; Dusty Opts to Gamble," Hartford Courant, February 22, 1984: 88.
68 Mike Kiley, "Sox Obtain 'New' Face: Oscar Gamble," Chicago Tribune, March 17, 1985: 44.
69 Bill Madden, "Gamble HR Helps to Bring Down Berra as White Sox Sweep, 4-3," Daily News, April 29, 1985: 105.
70 Kiley.
71 The firing occurred through an intermediary and began a 14-year long feud between Berra and Steinbrenner, who later said the decision was the biggest mistake he made in baseball.
72 David Granger, "Oscar May Take Another Gamble," Montgomery Advertiser, August 16, 1986: 37.
73 Granger.
74 Anthony McCarron, "Where are they Now? Oscar Gamble's Life has Taken him to-and-fro," Daily News, November 16, 2008. https://www.nydailynews.com/sports/baseball/yankees/oscar-gamble-life-to-and-fro-article-1.336569, accessed April 29, 2021.
75 Newville.
76 McCarron.
77 McCarron.
78 Sandomir.
Born
December 20, 1949 at Ramer, AL (USA)
Died
January 31, 2018 at Birmingham, AL (USA)
If you can help us improve this player's biography, contact us.
https://sabr.org/wp-content/uploads/2012/01/Gamble-Oscar-NYY.jpg
350
246
admin
/wp-content/uploads/2020/02/sabr_logo.png
admin
2021-05-20 03:15:35
2021-05-21 03:20:30
Oscar Gamble