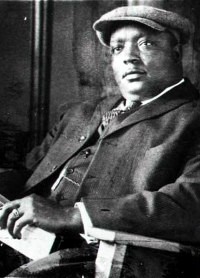 ---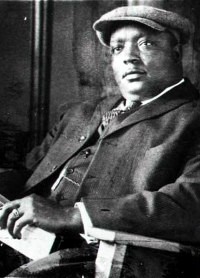 Jackie Robinson is considered by many to be the African-American who had the greatest impact on the integration of baseball. This opinion is of course understandable, for Robinson broke the color line in 1947 and is well known in circles far removed from baseball. But perhaps the person with the greatest impact upon African-American baseball is the less renowned Andrew "Rube" Foster, generally considered not only to be one of the greatest pitchers and managers of the early twentieth century but also the architect of the Negro National League.1 Despite facing immense racial prejudice, Foster persisted to carry out three distinctive baseball positions during his lifetime, and consequently is often known as the "Father of Negro Baseball."
According to Phil S. Dixon, Andrew Foster was born the son of Andrew and Evaline Foster on September 17, 1879 in Calvert, Texas.2 Foster's father was a preacher, while his mother was a respectful wife from Mississippi. The 1880 Census oddly lists Foster's birth name as Bishop; only speculation exists as to the reason for the change in name to Andrew. 3 Although a member of the first African-American generation born free from the heinous institution of slavery, Foster's childhood was still difficult as he and his family sought all the benefits of citizenship in the face of prejudice. Although Foster was born the fourth of sixth children, only he and two of his siblings, Christiana (born 1877) and Johnson (born 1884) survived until adulthood. (A younger half-brother, William "Bill" Foster, followed in Rube's footsteps and was elected to the Baseball Hall of Fame.) The lives of Foster's other siblings were taken by tuberculosis, a disease that undoubtedly impacted young Andrew's interest in baseball. Foster himself said that "if it hadn't been for playing ball and living outdoors, I don't suppose I'd (be) here today." 4 Physicians during Foster's childhood indeed felt that spending time outdoors was the only way to avoid catching tuberculosis, a belief that only affirmed Foster's interest in baseball. 
Foster began his baseball career as a teenager, leaving school after the eighth grade to try to make a living in baseball. He started pitching for the local Waco Yellow Jackets, an independent African-American club. In 1902, Foster joined the Chicago Union Giants; managed and owned by Frank Leyland, the Union Giants were perhaps the best black team in the Midwest. Interestingly enough, Foster's first appearance for Chicago did not come as a pitcher, but rather as a pinch hitter. 5 Foster struggled in his first professional season, eventually earning his release from the club, and then signing with an inter-racial semi-pro team in Otsego, Michigan. It was in Otsego where Foster first flashed his tremendous ability; because of his success in Otsego, Foster joined the Cuban X-Giants for the start of the 1903 season, and immediately became their ace pitcher. In his first full season with the club, Foster helped the X-Giants to the black baseball championship, defeating his future team, the Philadelphia Giants.
As Foster's reputation as an outstanding pitcher began to spread, the feats and stories surrounding the imposing 6'2", 200 lb. right-hander became legendary. Foster was credited with a 51-4 record for the 1905 season, although evidence to prove such an eye-popping record is murky at best. John McGraw, the magnificent manager of the New York Giants, allegedly sought out Foster to instruct the New York pitchers. Foster purportedly taught future pitching star Christy Mathewson how to throw the screwball.6 Foster is also said to have fared well in matchups against pitching legends Cy Young and Mordecai Brown.7 An even better known tale surrounding Foster is he supposedly acquired the nickname "Rube" from his victory over Hall of Famer Rube Waddell in 1902.8 While the tales surrounding Foster's exploits may be fictional, he certainly earned the respect of his fellow ballplayers. Frank Chance, of Cubs fame, said of Foster "he is the most finished product I've ever seen in the pitcher's box," while Honus Wagner suggested Foster was "one of the greatest pitchers of all-time." 9
Foster married Sarah Watts, with whom he would have two children. Little information exists about Foster's marriage; most biographies of Foster simply exclude mention of his family. The marriage certificate for Rube and Sarah has yet to be found, so we cannot be certain where or when he married her, but it seems likely that the wedding occurred either in Texas or Illinois in either 1909 or 1910. Foster's children, son Earl and daughter Sarah, lived with him in Illinois throughout his baseball career. His wife knew little about Foster's playing career or baseball business ventures, for she was not a fan of the game herself. 
Foster's ambitions in baseball went beyond simply being an amazing talent on the mound, but extended into the dugout and eventually the front office. Taking on the position of player-manager for the Leland Giants in 1907, Foster's pitching and managing helped lead the Giants to win a phenomenal 110 games and to capture the Chicago City league title. As a manager, Foster was renowned for his use of "intimidation, psychology, speed, and the bunt-and-run." 10 Unfortunately, Foster suffered a leg injury during the 1909 season, and had to sit out the crucial championship series, leading to a defeat for his Giants. However, Foster's championship years were not over, and he sought to wrest control of the Giants from Frank Leland during the 1909-1910 offseason. 
Foster split with Leland and decided to put together his own team for the 1910 season. He signed players away from both the old Leland Giants and the Philadelphia Giants to form the Chicago American Giants. With stars such as John Henry Lloyd, Pete Hill, and Home Run Johnson, Foster considered this to be "the greatest baseball talent ever assembled."11 He managed and pitched for the Giants, leading them to an astounding 128-6 record.
The following season of 1911, Foster sought and gained a partnership with White Sox owner Charles Comiskey's son-in-law John Schorling. Schorling agreed to allow Foster's team to play at the Sox's old stadium South Side Park; through this partnership and Foster's playing, managing, and ownership skills the Chicago American Giants became the most prominent black baseball team. John McGraw is rumored to have told Foster that he would gladly have taken nine of Foster's players if they were white. By 1915, Foster was pitching very little, and began to focus his efforts solely on the operation of the Giants. Foster's last recorded appearance on the mound came in 1917.
Foster's Giants claimed the western league championship from all seasons between 1910 and 1922, with the exception of a defeat to Indianapolis in 1916. Yet despite all his personal success, Foster noticed the distinct lack of a national black baseball championship and the lack of a national black baseball league. Seeking to unite African-American baseball, Foster began to put out feelers to other black owners, during the 1910s, but found the owners were unable to come to any sort of agreement. In 1919, Chicago was in the midst of violent race riots that only further demonstrated to Foster the need for improvement in African-American life; Foster empathized with his fellow African-Americans who felt mistreated at the hands of white Americans. The race riots spurred Foster to finally push through the formation of a Negro National League. He gathered all the owners together in Kansas City at the YMCA, and helped hammer out an agreement among the owners. The Negro National League was founded in 1920; through Foster's unceasing efforts, he had helped to form the first black baseball league.
The new league's initial members included teams in Dayton, St. Louis, Detroit, Kansas City, Cincinnati, Indianapolis, and two teams in Chicago, including Foster's club. Elected the first president and treasurer of the league, Foster continued to manage the Chicago American Giants, leading to some complaints that he was tilting the rosters in his favor. Yet Foster was a well-respected leader who turned black baseball into a successful enterprise; his devotion to the league was incredible, and he often helped teams in poor finances out by paying their payroll out of his own pocket. Teams such as the Chicago American Giants and Kansas City Monarchs often were more profitable than white baseball teams, which helped spawn black baseball leagues in the south and the east. Foster's tenure as president laid the groundwork for the future success of the Negro Leagues. 
In 1926, the stressful positions Foster held caught up to him. After an exposure to gas in 1925, Foster began to encounter medical problems and became erratic. He experienced a psychological breakdown, and was confined to an asylum in Illinois for the remainder of his life. Foster died at the asylum in Kankakee, Illinois on December 9, 1930. His wife Sarah and his son Earl survived him; his daughter died prior to her father's decease. Almost 3,000 people showed up for his funeral in Chicago, where he was eulogized a great leader and pioneer for Negro Baseball. Foster is interred at the Lincoln Cemetery located in Blue Island, Illinois.
Without his leadership, the Negro National League he founded struggled to survive. Although it stayed intact until after Foster's death, it was never really the same without Foster. With the impact of the great depression, the first National Negro League folded in 1931. However, the Negro Leagues would reopen in the mid-1930s and continue through till 1960, and was the first professional league for major league greats such as Jackie Robinson, Willie Mays, and Henry Aaron. Foster's vision of a sporting landscape that fostered and allowed blacks to make a living was nevertheless achieved, as he raised the profile of baseball for his race throughout the nation. The Veterans Committee recognized Foster for his contributions to the game by electing him to the Hall of Fame in 1981. 
Foster's impact on the game we all know and love is often left in the background to the contributions of more famous players, managers, and executives. But Foster's life in baseball helped revolutionize the game. In the words of author Robert Peterson: "If the talents of Christy Mathewson, John McGraw, Ban Johnson, and Judge Kenesaw Mountain Landis were combined in a single body, and that body were enveloped in a black skin, the result would have to be named Andrew (Rube) Foster."12
Sources
In preparing this biography, the author relied mostly upon Phil S. Dixon's biography Andrew "Rube" Foster: A Harvest on Field's Freedom; clippings and biographies about Foster from the National Baseball Hall of Fame and Negro Baseball League Hall of Fame; Baseball-Reference.com and BaseballLibrary.com; the United States Census and World War I draft cards from 1880—1930; and a book about Negro League baseball titled Only the Ball Was White: A History of Legendary Black Players and All-Black Professional Teams by Robert Peterson.
Notes
Born
September 17, 1879 at Calvert, TX (US)
Died
December 9, 1930 at Kankakee, IL (US)
If you can help us improve this player's biography, contact us.
http://bioproj.sabr.org/bp_ftp/images5/FosterRube.jpg
600
800
admin
/wp-content/uploads/2020/02/sabr_logo.png
admin
2012-01-01 00:00:00
2021-09-17 01:07:27
Rube Foster