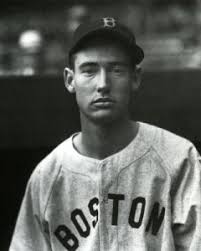 April 23, 1939: Ted Williams hits his first major-league home run
---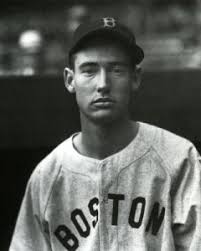 Ted Williams hit the first of his 521 major-league home runs on Sunday afternoon, April 23, 1939, at Fenway Park against the visiting Philadelphia Athletics. It was the Red Sox' fourth game of the season. Twelve thousand fans had come out to see the game despite it being a rather cold and rainy day.
The home run came in the first inning against 28-year-old right-hander Bud Thomas. Luther "Bud" Thomas was a Virginian. He'd pitched in a few games for the Washington Senators in 1932 and 1933 and then spent the next three years in the minors before returning with Philadelphia in 1937. For his career, Thomas had 389 innings of major-league experience with the Senators and Athletics, and a record of 17-29.
When Thomas took the mound, Philadelphia had already staked him to a 3-0 lead. Red Sox manager Joe Cronin started Elden Auker, a veteran of six seasons with the Tigers. The Red Sox had acquired him in a December 1938 trade; this start was his debut for Boston. But Auker walked every other batter of the first five he faced. With the bases loaded and two outs, he proceeded to walk two more — third baseman Dario Lodigiani and first baseman Nick Etten.
Auker had convinced Cronin. He didn't have it this day.1
Denny Galehouse, another veteran acquired over the offseason, came on to try to at least get the final out. He did, but only after giving up an RBI single to shortstop Skeeter Newsome. The third out came courtesy of Bud Thomas, whom Galehouse struck out.2
The A's had a 3-0 lead. The Red Sox came to bat.
Center fielder Doc Cramer flied out to left. The left fielder, Joe Vosmik, walked. First baseman Jimmie Foxx singled, and Vosmik scored on an error by center fielder Sam Chapman. Foxx ended up on third base.
Cronin — who played shortstop as well as managing — grounded out, short to first, with Foxx scoring on the play. Jim Tabor singled to his counterpart at third base, Lodigiani. The Red Sox now had a runner on first with two outs.
This brought up the 20-year-old rookie, Ted Williams. He had enjoyed a tremendous buildup in the Boston press, earned because he had already begun to fascinate Boston sportswriters in two spring trainings with his brash style and because he had won the Triple Crown in the American Association in 1938 with the Minneapolis Millers. He had hit 43 home runs, driven in 142 runs, and recorded a .366 batting average. He'd also scored a league-leading 130 runs.
"The Kid" had hit in each of his first three big-league games, with a double, a single, and — the day before — a double and a single. He had two runs batted in the three games.
Tabor stole second base to set up another RBI opportunity for his rookie teammate. But Williams ultimately did not need the assistance to change the numbers on Fenway Park's scoreboard.
Thomas threw the ball and Williams hit it out. Contemporary reports indicate that the pitch was a fastball and Williams's drive landed in the right-center-field bleachers, where only Babe Ruth, Lou Gehrig, Roy Johnson, Tommy Henrich, Johnny Marcum, and Hal Trosky had ever placed one. The Boston Herald's estimate had it at about 430 feet.3 It was 4-3, Red Sox.
Connie Mack, in his 39th season at the helm in Philadelphia, pulled his pitcher and brought in right-hander Dave Smith.4 Like Auker, Thomas had lasted just two-thirds of an inning.
Red Sox second baseman Bobby Doerr was the first batter Smith faced; Doerr doubled to left field. Smith then walked the next two batters, catcher Gene Desautels and the pitcher, Galehouse. Between the two teams, there had already been eight walks in the game. With the bases loaded, Mack summoned his third pitcher of the inning, Cotton Pippen.5 Pippen got Cramer to ground out to short.
The inning was finally over, but the Red Sox had a 4-3 lead.
The Athletics quickly took the lead back in the top of the second. After a pair of singles with another walk in between, Lodigiani doubled off Galehouse and drove in two runs. It was 5-4, Athletics.
Pippen set the Red Sox down in order in the second. Galehouse did the same to the Athletics in the top of the third.
In the bottom of the third, Tabor flied out to center. Williams was up next and he doubled high off the wall in left-center field, a ball that missed going out by inches. Doerr singled to right field and drove in Williams. Desautels doubled to left and scored Doerr. Boston had taken the lead again, 6-5.
After a scoreless fourth, back-to-back doubles by the A's Etten and Newsome tied the game in the top of the fifth.
In Boston's fifth, Williams hit "a fierce line single into right field" but, after Doerr singled too, was left stranded on second.6
The Red Sox took an 8-6 lead in the bottom of the sixth. It started with another walk to Cramer. Mack beckoned in another "Smith" to pitch — Eddie Smith, a left-hander starting his fourth season with the A's. After Vosmik flied out, Foxx singled and Cronin walked, loading the bases. Tabor hit a sacrifice fly, scoring Cramer. And Ted Williams hit a "shot back through the box" — a single up the middle for his fourth hit of the game, scoring Foxx.
In the top of the eighth, the Athletics went ahead again, scoring six runs. Lou Finney pinch-hit for Smith and drew a walk. Galehouse handed the ball to Cronin, who turned it over to Fritz Ostermueller. Wally Moses singled, Finney going to third.
Joe Heving relieved Ostermueller. Chubby Dean pinch-hit and grounded out, but Finney scored. Chapman singled. Heving got another out on Williams's spectacular catch, but then gave up back-to-back RBI singles to catcher Frankie Hayes and Lodigiani.7 Philadelphia had regained the lead, 9-8.
Emerson Dickman became Boston's fourth pitcher of the inning. Etten singled, driving in Hayes. Newsome walked, the 10th base on balls doled out by a Boston pitcher. (The A's walked seven.) Finney hit a ball that Tabor misplayed at third and two more runs scored. It was 12-8.
There was no more scoring in the game. Roy Parmelee had taken over pitching for the A's in the top of the eighth, Williams led off the bottom of the ninth. He was 4-for-4 in the game with three runs batted in but this time he flied out to left field, a ball caught by Johnson with his back to the wall. It was said to have been hit hard enough to clear the wall but held up by the wind.8
Reminiscent of the way fans had stuck around to see Babe Ruth's last at-bat of a game, as soon as Williams was out, "the crowd gave him a grand reception, and, forthwith, believe it or not, thousands actually arose from their seats and went for the nearest exits."9
Eddie Smith got the win, making him 1-0; four days later he was waived to the Chicago White Sox.10
Williams did not mention the home run in his autobiography, but Thomas remembered it in a 1997 interview: "He hit his first home run off me. The first one he ever hit. In Fenway Park. 1939. Spring of '39. He hit a sort of a change of pace, like it was a slow ball."11
Bud Thomas was placed on waivers by the A's and picked up by the Senators on May 1. After 17 days in the Senators system, the Detroit Tigers claimed him off waivers.12
After all of one home run, the headline writer at the Boston Globe awarded the young rookie the headline, "TED WILLIAMS REVIVES FEATS OF BABE RUTH."13 But Williams soon exceeded even the loftiest projections for his rookie campaign. His home run against Thomas was the first of 31 home runs in 1939.14 By year's end, he had 145 runs batted in, a rookie record that has never been matched, even with the longer 162-game season.
Ted Williams went on to hit 520 more home runs for the Boston Red Sox in a career that concluded with a home run in his final at-bat in 1960.
Somewhere there likely once existed a drawing that Ted Williams had made of the home run. Williams wrote, "I can't imagine anyone having a better, happier first year in the big leagues. I used to send [his neighborhood playground director] Rod Luscomb diagrams showing how the parks were laid out and where I had hit my home runs, and telling him how happy I was. I hit a home run in every park, completing the list in Yankee Stadium on the last day."15
Sources
In addition to the sources cited in the Notes, the author consulted Baseball-Reference.com and Retrosheet.org.
https://www.baseball-reference.com/boxes/BOS/BOS193904230.shtml
https://www.retrosheet.org/boxesetc/1939/B04230BOS1939.htm
Notes
1 Auker finished 1939 with a record of 9-10 and a 5.36 earned-run average.
2 Galehouse also finished the year with a 9-10 record, in his case with an ERA of 4.54
3 Burt Whitman, "Williams' Giant Homer, Three Other Hits Solace for Sox 12-8 Loss to A's," Boston Herald, April 24, 1939: 12.
4 Smith had been 2-1 in 21 games and 44⅓ innings in 1938. This was his first — and only — appearance in 1939. He faced just the three batters. Smith was sent to the minor leagues. He never made it back to the majors.
5 Pippen had struck out Ted Williams in his first at-bat in professional baseball, back in 1936 when Williams was with the San Diego Padres. Williams said he was "too scared to swing while he poured three straight down the middle." Ted Williams with John Underwood, My Turn at Bat (New York: Simon & Schuster, 1969), 62.
6 Moore.
7 Williams' catch of Johnson's drive saved a hit. "Out of nowhere came the long loping Williams. Going at full tilt he stuck his gloved hand down to about his knee and snatched the dropping sphere." Moore.
8 The ebullient Moore wrote that the ball "nearly drove Left Fielder Bob Johnson through the left field scoreboard before Johnson finally speared a line drive that was prevented from landing up against the barrier only by an unfavorable East Wind."
9 Whitman.
10 With a couple of years out due to military service, Eddie Smith played for the White Sox into 1947, for whom he was 1-3 that year. He came to Boston during the season and was also 1-3 for the 1947 Red Sox in his final major-league games. In Smith's SABR biography, two items stand out. He was described as someone who had maybe "lost more one-run games than any pitcher who ever played the game." See "Old C-J League Plans a Reunion," Trenton Evening Times, March 26, 1978: 68. However, what was likely his "most notable moment of the '41 season was becoming the winning pitcher in the All-Star Game, when Ted Williams hit a three-run homer in the bottom of the ninth to boost the A.L. to a 7-5 victory." Bill Nowlin, "Eddie Smith," SABR BioProject, sabr.org/bioproj/person/eddie-smith/.
11 Author interview with Bud Thomas on July 13, 1997. Thomas was 87 at the time and, 58 years after the homer, his memory of location and type of pitch differs from contemporary reports. He said of Williams, "He pulled it hard. It was just a fair ball way down the (right-field) line." Thomas said he never talked about the homer with Ted, not after the game nor ever.
12 Thomas worked solely in relief but put up a record of 7-0 for Detroit by the end of the year. He pitched just four innings in three games in 1940 but spent most of the year with Beaumont, where he was 14-12 with a 1.79 ERA. He was 1-3 in 26 games (one start) for the 1941 Tigers. His career concluded with 30 games (7-8, 4.46) for the Buffalo Bisons in 1942.
13 Gerry Moore, "Ted Williams Revives Feats of Babe Ruth," Boston Globe, April 24, 1939: 1. A large sports page cartoon on page 8 ran under the headline "Ted Williams Wins Right to Idolatry of Fane." And Wheaties ran an advertisement saying, "Watch This Boy Williams!" on the same page with two photographs of Williams (one batting and one eating a bowl of the cereal.)
14 Someone had a souvenir as well. A brief note in the Boston Globe read: "In the scramble that ensued among the center-field bleacherites for the Ted Williams home run ball at Fenway Park yesterday Robert Glaser of 77 Harvard st., Dedham, suffered a laceration over the eye. He was removed to the City Hospital, where he was released after treatment. It is not known whether he got the souvenir."
15 My Turn At Bat, 64.
Additional Stats
Philadelphia Athletics 12
Boston Red Sox 8
---
Fenway Park
Boston, MA
Box Score + PBP:
Corrections? Additions?
If you can help us improve this game story, contact us.
Tags
https://sabr.org/sites/default/files/Williams-Ted-1939.jpg
600
800
sabr
/wp-content/uploads/2020/02/sabr_logo.png
sabr
2021-01-22 02:19:17
2021-01-22 02:19:17
April 23, 1939: Ted Williams hits his first major-league home run