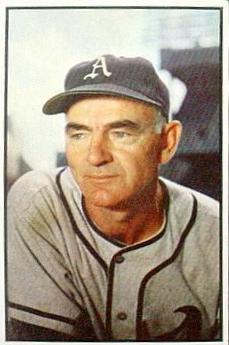 ---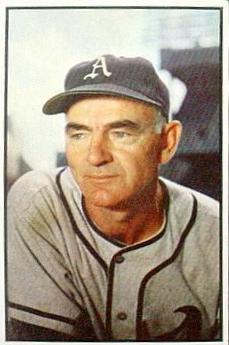 A speedy line-drive-lashing lefty with a strong arm, veteran Wally Moses joined the Red Sox midway through the 1946 season, shored up right field during Boston's run to the American League pennant, and batted .417 in four World Series games. A well-liked and respected Georgian who spent 41 seasons in the majors, 17 as a player, 16 as a coach, three as a scout, and five more as a hitting instructor, Moses contributed solid outfield play on a part-time basis to Boston's 1947 and 1948 AL pennant pursuits.
By the time he joined the Red Sox, the 5-foot-10, 160-pound Moses was in the twilight of a productive playing career. In 2,012 games, all in the American League, he collected 2,138 hits and batted .291. A top-of-the-order slap hitter, Moses laced 435 doubles, 110 triples, and 89 home runs. He drew 821 walks, stole 174 bases, and scored 1,124 runs, and was a two-time All-Star. A stellar and fearless fly chaser who sometimes struggled with grounders and often dropped to one knee to field them, Moses possessed exceptional range and a strong arm. He collected exactly 4,000 career putouts and dealt 147 career assists.
Between 1935 and 1951, he turned in some of baseball's least predictable seasons. Moses spent his first seven big-league campaigns with Connie Mack's Philadelphia Athletics, and batted better than .300 in each of those seven seasons — but never did so again during the rest of his 17-year career. In 1937, Moses blasted 25 home runs — but he never hit more than nine in any other year, and smacked just 64 in his other 16 seasons. Mack dealt Moses to the White Sox before the 1942 campaign, and a year later the fleet-footed outfielder stole 56 bases — 35 more than his next best season and nearly a third of his career production. Moses also tied for the league lead with 12 triples in 1943, and two years later he belted an AL-best 35 doubles and led the league's outfielders in putouts.
The easy-going lefty spent 2 1/2 years with Boston before he went back to Mack to close out his playing days and launch his coaching career in Philadelphia. Between 1952 and 1970, Moses served five different teams. As a player, he had hit with an open stance and a grip so loose it looked as though he might drop the bat. As one of baseball's first — and most respected — full-time hitting coaches, he taught batters to take a short stroke, direct the ball with the bat, and run to first base fast; and was adept at correcting flaws in a hitter's swing. "I'm a closed-stance guy," Red Sox hitting guru Johnny Pesky said, "but Wally Moses had much success teaching his open-stance style." Involved in baseball into his 60s, Moses served as a hitting instructor for several seasons after his coaching career was over, still able to lace lengthy line drives in batting practice, dissect and correct a swing, or spellbind a crowd with tales of hitters and hitting, past and present.
"In our days, we weren't averse to taking a good rip now and then," Moses once told the New York Daily News. "With two strikes against us, most of us would concentrate on guarding the plate and meeting the ball. That's where the difference comes in now. Today the guys keep swinging from their heels, regardless of the count."
Wallace "Wally" Moses, Jr., was born October 8, 1909, in Uvalda, Georgia, the first child of Wallace Moses, Sr. and Martha Louise "Mattie Lou" (Smith) Moses, both natives of Georgia. Although baseball references list his birth year as 1910, the United States Census of that year, taken on April 10, indicated that Wallace, Sr. and Mattie Lou were living with their six-month-old son, Wallace, Jr., and her parents in nearby Tattnall County. Wallace, Sr. was employed as a retail sales clerk. Three brothers and a sister followed, the family moved to Vidalia, Georgia, today famous as home of the Vidalia onion, and Wallace Sr. and Mattie Lou separated. After Wally graduated from high school in Vidalia, he left home and journeyed 12 miles west to play baseball at Brewton-Parker College in Mount Vernon, Georgia, from 1926 to 1928, and then toiled for local teams. It was reported that in 1930 he stole eight bases in a game and hit a pair of bases-loaded triples in the same inning. According to legend, he was "discovered" by Georgia native Ty Cobb, who had been asked to umpire a sandlot game. Moses embarked on his professional career with the Augusta (Georgia) Wolves of the short-lived Palmetto League in 1931. A 1936 Sporting News story suggested that New York Giants manager John McGraw saw his name and dispatched a scout to meet Moses in search of a "Hebrew player" who could be a box office star in New York. The speedy youngster of Scots-Irish and English descent pointed out that he wasn't Jewish, the scout replied "Ah, hell!" and didn't sign him. Moses reportedly had stolen 22 bases and Augusta led the Class D Palmetto League when it folded in July. The young lefty moved on to the Elmira (New York) Pioneers in the Class B New York-Pennsylvania League.
Moses returned to the South for the 1932 season. He toiled for the Monroe (Louisiana) Drillers of the Class D Cotton States League before that circuit disbanded in July, then the Tyler Sports of the Texas League, who played the second half of the season in Texas after a midyear fire destroyed their ballpark in Shreveport, Louisiana. The Sports moved back to Shreveport and jumped to the Dixie League, but Moses stayed in the Texas League, and led the Galveston Buccaneers to a second-place finish in 1933 and the league championship the following year. Near the end of the season, on August 9, 1934, Connie Mack's Philadelphia Athletics purchased Moses, and directed him to report the next spring.
Moses joined a franchise in rapid decline. Mack had guided the Athletics to three consecutive AL titles and two world championships between 1929 and 1931 and a second-place finish in 1932. But as the Great Depression deepened and box office revenues plummeted, Mack, past age 70, sold off the stars, and by spring training of 1935, first baseman Jimmie Foxx and outfielder Roger "Doc" Cramer were about the only holdovers from those great teams. The A's were about to embark on a stretch where they would finish last in the AL nine times in 12 years, and never out of the second division in that stretch.
Moses was a bright spot. The Georgian made his major-league debut on Wednesday, April 17, 1935, in a 4-2 Opening Day loss to the Senators at Griffith Stadium in Washington. Splitting time with another Southern lefthander, Alabaman Lou Finney, in right field, with Cramer in center and with Indian Bob Johnson in left, Moses hit .325 with five home runs and 21 doubles, and 60 runs scored. His season ended on August 17 when he crashed into a wall at Chicago's Comiskey Park and fractured his left wrist, but he was still named the AL's top rookie by baseball writers.
The showing was impressive enough that the always cash-strapped Mack — who had already pocketed $150,000 in a deal that sent Foxx (and offered Moses) to Boston — shipped Cramer to the Red Sox before the 1936 season in a deal that netted $75,000; Mack installed Moses in center field. The depleted A's lost 100 games and finished last, but Moses responded by batting a career-best .345, rifled 202 hits, including 35 doubles, 11 triples, and seven homers, stole 12 bases, scored 98 runs, drove in 66, and amassed a career-best 396 putouts.
He was called "Wallace" by the venerable Mack and dubbed "the Georgia Express" by The Sporting News. "If a spectacular dive over the turf is necessary to snare a fly ball seemingly out of his reach, Wally dives," the baseball bible reported. "Moses is a little fellow who hustles every minute." Teammate Bill Werber called him the league's premier leadoff hitter and the fastest man getting from the batter's box to first base. Moses hustled to the altar that winter. On December 2, 1936, he married Billie Mae Haines, a native of Houston, Texas, whom he had met when he played in the Texas League.
With little more than Moses and Johnson, Philadelphia managed to climb out of the cellar to seventh place in 1937. Moses enjoyed the finest season of his career, when he batted .320 and slammed 25 home runs — the only time he hit more than nine. "I reported late to Mexico by 10 days," Moses told baseball biographer Norman Macht. "Connie Mack sent two pitchers to throw for me for extra hitting, Bud Thomas and Al Williams. I was a straightaway or up-the-alleys hitter, always swung from the end of the bat. The pitchers were throwing pretty good, so I had to shorten up on my grip about three inches, and they pitched inside to me and I found when they pitched me high and tight, I could pull the ball, so that year, I hit 25 home runs. I'd always been a low-ball hitter, so the AL pitchers kept pitching me high and tight, and now I could pull it." Along the way, he collected 208 hits, and became the final A's player of the 20th Century to reach the 200 mark. He also achieved career highs with 154 games played, 48 doubles, 86 runs batted in, 357 total bases, and a .550 slugging percentage.
That summer of 1937, Moses became one of the first baseball players to grace a Wheaties cereal box and was named to the American League team for baseball's fifth All-Star Game. Moses and his ex-teammate Cramer sat on the bench while Dizzy Dean took an Earl Averill line drive off his toe and Lou Gehrig homered to lead the AL to an 8-3 victory at Griffith Stadium in Washington.
Though he hit a respectable .307 and scored 86 runs, the 1938 season was a disappointment. Moses held out for a second straight spring, this time for a month, and settled for a two-year $12,500-per-season deal instead of a big raise from the taciturn Mack. He joined the team in Atlanta on its way north in early April, but suffered a devastating injury sliding into home in his second game. "The next spring a catcher fell on me in Portsmouth, Virginia, and broke my shoulder and I could never swing the same again," Moses told Macht. "It ruined my career." He managed just eight home runs, slugged only .424, and drove in but 49 runs. The Athletics lost 99 games and finished dead last in the American League; then lost 97 more in 1939. Moses represented the Athletics at a game that marked the opening of Baseball's Hall of Fame in 1939 and again batted .307, but battled a spring training ankle injury, played in only 115 games, homered just three times, slugged only .423, and drove in but 33 runs.
Looking to cut costs again, Mack moved Moses to Detroit in a trade for Benny McCoy, a reserve infielder, on December 9, 1939. But a month later, on January 14, 1940, Baseball Commissioner Kenesaw Mountain Landis declared 97 players in the Tigers system, including McCoy and pitcher Johnny Sain, free agents because of signing improprieties and a subsequent organizational cover-up. The edict nullified the trade, Moses returned to Philadelphia, and Mack ended up with McCoy anyway when he won a bidding war for the second sacker's services. Moses and McCoy played together for the Athletics, who managed to lose 100 games and finish eighth, while the Tigers went on to win the 1940 AL title. Moses injured his ankle in an exhibition game at Lafayette College in Pennsylvania, but still batted .309 in 142 games in 1940, hit nine homers, and scored 91 runs, one on a 10th-inning game-winning steal of home in the second game of an August 20 doubleheader with the White Sox. In 1941, Moses injured his shoulder in an automobile accident while traveling from "boiling out" in Hot Springs, Arkansas, to spring training in Anaheim, California. Moses and Athletics outfielder Al Simmons were traveling in Simmons' new car. On February 24, outside of Lubbock, Texas, Moses tried to pass a slow moving school bus, but the bus turned and Moses drove into the ditch to avoid it. The car rolled once and landed right side up. Simmons, a future Hall of Famer, was unhurt, but Moses missed the first month of the season. He rebounded to hit .301 (the last time he would exceed .300) in 116 games. Philadelphia lost 90 more times.
Mack was unhappy with the outcome, and impatient with Moses. Never tolerant of holdouts, the Tall Tactician had grown more annoyed each time his fleet outfielder stayed home in hopes of a better contract. Mack seemed to shop Moses to other AL teams yearly, and trade rumors had swirled since the Georgian's rookie season. A story circulated that during one of the holdouts, a reporter commented to Mack that Moses' only weakness was fielding groundballs in the outfield. Moses often dropped to one knee, which allowed runners to take an extra base. Mack reportedly replied, "Yes, but that's a strong weakness." The Grand Old Man of Baseball wasn't interested in negotiating another contract with Moses. Two days after the Japanese attack on Pearl Harbor and exactly two years after he traded him the first time (the voided deal with Detroit), Mack once again dealt Moses. He sent the seven-year veteran to Chicago for outfielder Mike Kreevich and pitcher Jack Hallett on December 9, 1941. Fiery White Sox manager Jimmy Dykes, who had played third base for Mack, moved the 31-year-old Moses from center to right field and gave him the green light on the base paths. In his first season with the White Sox, Moses hit .270, with 28 doubles and 16 stolen bases. He also smacked seven home runs to lead the White Sox, who bopped a total of 25 — 11 fewer than Ted Williams slugged for the Red Sox that season.
A year later, Moses stunned the baseball world when he stole 56 bases — 40 more than he had ever stolen before in a full season, and 53 more than two years earlier under Mack. "Connie Mack wouldn't let me run," Moses remembered. "I stole a few bases my first year, but Connie Mack said, 'Wally, I don't want you to run. You got Cramer, Foxx, and Johnson behind you. They might hit one and you can walk around.' But when I went to Chicago with Dykes, he told me to run. 'We have to steal runs,' and I had speed. Joe Kuhel was my roommate and he'd steal on guys I'd get thrown out on. I asked him, 'What do you know that I don't know?' He started pointing out things pitchers did." On May 5, in the second game of a doubleheader at Cleveland, Moses swiped home in the top of the 11th inning in a 5-2 White Sox win, his second career steal of home in extra innings, to tie Tony Lazzeri's major league record. He would have had a third that season, but teammate Don Kolloway managed to get hit by the pitch. As a team, the White Sox stole a league-leading 173 bases and were dubbed the "Wild West Boys." Moses earned his own moniker — "Peep Sight" — because of his patience and keen batting eye, and though he finished second in the AL to Washington's George Case, who stole 61 bases, Moses tied the New York Yankees' Johnny Lindell for the league lead with 12 triples. By most other measures, the 1943 season was a disappointment. Moses hit a paltry .245, slugged just .337, and grounded into nine double plays, his worst total since that statistic had been tabulated, starting in 1939.
Like his 25 home runs in 1937, the 56 stolen bases in 1943 turned out to be an aberration. Moses did steal 21 bases — the second-highest total of his career — in 1944, bounced back to hit .280, and clubbed three of Chicago's team total of 23 home runs. He also suffered a pulled groin muscle that would bother him for several seasons. While Moses toiled on the home front, his brother Harry, a pilot in the Eighth Air Force, spent the summer in a German POW camp, interned for 20 months after his plane was shot down on a bombing mission. The war came to an end in 1945, but not before more than 500 major league baseball players had served in the military. It looked as though Moses might join them that summer. Until then, all professional baseball players had been automatically classified with a draft status of "PA." or "Professional Athlete," subject to the draft regardless of physical condition. Through the efforts of Illinois Representative C. Melvin Price and new Commissioner Happy Chandler, a former senator, that practice was changed and baseball players were evaluated on an individual basis. Moses, who had a bad shoulder, Senators pitcher Dutch Leonard, and Yankees pitcher Allie Reynolds were among those who were called up before the 1945 season, but received deferrals from service.
Moses batted .295 in 1945, sixth in the war-depleted AL, led the league with 35 doubles, and was second with 15 triples and 168 hits. The fleet-footed outfielder also managed 11 steals, the last time he posted double figures, and led the American League in putouts with 329. Because of wartime travel restrictions, major league owners canceled the 1945 All-Star Game, scheduled for Fenway Park. After the season, the Associated Press asked NL and AL managers to nominate standouts from the two leagues. With 13 of the 16 pilots voting, Moses was named to the AP's AL team.
Moses was also popular with other players. Ted Williams related an incident that occurred early in the 1946 campaign: "Now, Wally Moses was a nice quiet little guy, never raised his voice at anybody. He was traded to our club afterward and everybody liked Wally." Williams added that during a game between the White Sox and Red Sox, umpire Nicholas "Red" Jones cleared the Chicago bench, and Moses pleaded, "Red, I've been in the big leagues 11 years. This is my 11th year in the big leagues. [It was actually his 12th.] I've never been thrown out of a game in my life. Honest to Pete, I never said a word to you on the bench. I was way over in the corner. I never said a word." Williams remembered, "And old Red Jones, I'll never forget.… He said 'Wally I want to tell you. It's like this. It's just like a raid on a whorehouse. The good go with the bad.'"
Moses was back with the White Sox in 1946 when many of the players who had served in the military returned. But after Dykes was fired just 30 games into the season, new manager Ted Lyons moved Taffy Wright to right field and Moses became surplus. The White Sox waived him, and on July 23, league-leading Boston claimed him. "Words couldn't express my happiness," Moses said. "I'm glad to get my nose out of the mud." With Williams in left and Dom DiMaggio in center, the Red Sox needed a regular right fielder, having employed George Metkovich, Tom McBride, Leon Culberson, and Johnny Lazor. Though he hit just .206 with a pair of home runs, Moses led off, which allowed DiMaggio to bat third, was solid defensively, and played in 43 of Boston's remaining 63 games, as the Red Sox finished 12 games ahead of second-place Detroit. "Veteran though he is," manager Joe Cronin said, "Wally can still fly as a runner, as he proved. He is still a skillful sun fielder."
With lefty Howie Pollet on the mound for the Cardinals in the World Series opener, Moses sat until Cronin inserted him as a defensive replacement with one out in the 10th inning at Sportsman's Park in St. Louis. The fleet outfielder gloved a fly ball off the bat of Enos Slaughter to preserve a 3-2 Boston win. With lefty Harry Brecheen on the mound for the Cardinals, Moses did not appear in Game Two, a St. Louis win. Back in Boston, against righty Murry Dickson, Moses drew a walk in four plate appearances and flagged down a pair of fly balls in the Red Sox' Game Three win. Leading off against righty Red Munger in Game Four, Moses became the 23rd player to collect four hits in a World Series game, but the Cards pounded out 20 of their own and beat the Red Sox, 12-3. Moses flied to center in the first, singled to right in the third, singled to center in the fifth, singled to right in the seventh, and singled in the infield in the ninth. He was stranded each time and, despite the four safeties, was back on the bench against lefties for Game Five at Fenway, a 6-3 Boston win, and for Game Six, a 4-1 Cardinals win at Sportsman's Park.
Moses singled to center, his fifth straight hit, to lead off the decisive Game Seven in St. Louis, and scored the game's first run on DiMaggio's sacrifice fly. But he was retired his next three times up, and struck out with a pair of runners in scoring position in the top of the eighth. And after Slaughter scored the run that gave St. Louis the lead for good in the bottom of the inning, Moses was on deck when McBride grounded into a force play to end the Series.
Although the Red Sox lost the Series, Moses felt at home during his time in Boston and was popular with his teammates. "I remember Dom DiMaggio and Ted Williams coming to our house," daughter Judith Moses Latham, born in 1938, remembered. "Ted Williams was considered a very antisocial person, but he and my father had a very good relationship. There was a picture taken one afternoon where he and I were sitting at our piano bench playing 'Chopsticks' together."
Back with Boston in 1947, Moses hit .275, lost playing time to rookie Sam Mele, and the Red Sox slipped to third place. The next year, Mele and Moses shared time with off-season acquisition Stan Spence, a three-time American League All-Star, and all three struggled to hit for new manager Joe McCarthy. Moses batted just .259, with two homers in 78 games. Spence hit 12 home runs, but batted just .235 and Mele managed just a meager .233 average. Along the way, McCarthy grew frustrated with his team's injuries and chastised Moses when he found him on the training table with a stiff neck.
On November 15, 1948, the Red Sox issued the veteran outfielder his release. Two weeks later, Moses rejoined his old mentor, Connie Mack, in Philadelphia. After more than a decade at the bottom of the AL standings, the Athletics had posted winning records in 1947 and 1948 for the Tall Tactician. Moses appeared in 110 games and batted .276 as Mack's regular right fielder in 1949, alongside left fielder Elmer Valo and center fielder Sam Chapman. The Athletics finished 81-73, good for fifth in the AL. On July 26, Moses collected his 2,000th career hit, off Joe Ostrowski of the St. Louis Browns. The only other active hitter who had reached the milestone was former White Sox teammate Luke Appling; Joe DiMaggio joined the group the following year.
Moses was 40 in 1950, and other than the 43-year-old Appling, no AL player was older than him. He hit .264 in 88 games, but the Athletics floundered, and the 87-year old Mack released the reins after five decades as Philadelphia manager. "Earle Mack (Connie's son) contacted me and offered me the job of managing the A's when Connie Mack was going to retire," Moses told Macht. "I knew I couldn't do the job. I recommended Dykes." Dykes took over in 1951, and though Appling had retired, Moses was again the league's second-oldest player, behind St. Louis Browns pitcher Satchel Paige, who was thought to be 44. Moses, listed at 40, hit just .191, played his final game on September 30, 1951, and was released on January 21, 1952. "In 1948," Moses said later, "when Boston released me, Connie Mack asked me to come back and told me I would have a job with the A's as long as he was there." True to his word, Mack made Moses a coach. "He didn't want to be a manager," Moses' daughter remembered. "He didn't have the temperament for it. He regarded being a manager as political. He knew where his strongest area was, and he went for it."
In his final years as a player, Moses did indeed discover his strength. He tutored the A's hitters, including first baseman Ferris Fain, the 1951 AL batting champion and The Sporting News Player of the Year. With Moses in uniform as a coach in 1952, Fain, a pesky slap hitter, captured another batting title. After a disappointing 1953 season, Eddie Joost replaced Dykes as manager in 1954. It was a disaster. Moses was caught in the middle of hostility between Joost and outfielder Gus Zernial, the Athletics slid to 51-103, Joost was dismissed, and the franchise was sold and moved to Kansas City for the 1955 season.
Moses remained in Philadelphia, hopping to the National League to assist new Phillies manager Mayo Smith, another Mack protégé. While there, he told Time magazine why star pitcher Robin Roberts avoided intentional walks. "'Take a .333 hitter," says the Phillies' Coach Wally Moses. "Well, he's only going to get a hit once out of three times. Take Willie Mays: he comes up about 500 times a season, and he hits 50 homers. Hell, that's only one in ten. It'd be silly to walk him. Well, Roberts figures those are pretty good odds.' " Despite the words of wisdom about pitching, he spent more time with the batters, including Richie Ashburn, another slap hitter who won NL batting titles in 1955 and 1958, and 1957 NL Rookie of the Year Ed Bouchee. "I didn't speak much to Mayo Smith," Bouchee said. "But I talked a great deal to his hitting coach, Wally Moses. Smith was a so-so manager who was much too iffy if I had a problem. Smith would be helpful, but I talked more to Wally Moses than him."
On July 22, 1958, Smith was fired and replaced by Eddie Sawyer. Mayo moved to Cincinnati the next year, brought along Moses, and guided the Reds for 80 games before he was fired again in midseason, replaced by Fred Hutchinson at the All-Star Break. Moses stayed on under Hutchinson through the rest of the 1959 campaign and the 1960 season before Smith came calling once more.
This time Mayo was an assistant to new Yankees manager Ralph Houk, and Moses joined a coaching staff that also included Johnny Sain, Frankie Crosetti, and Jim Hegan. Among Moses' pupils that season were Roger Maris, who hit 61 home runs, and Mickey Mantle, who slugged 54. The Yankees won the American League pennant handily and rolled over Hutchinson's Reds in the World Series. In 1962, the Bronx Bombers again won the World Series, a 4-games-to-3 nail-biter over the San Francisco Giants. Moses served as a Yankees scout from 1963 to 1966, was a frequent visitor to Toots Shor's restaurant on West 51st Street, then returned to the dugout in 1966 when Houk was summoned from the front office 20 games into the season to fix the floundering franchise.
When the season ended, Smith took over the Tigers and Moses joined him. Detroit finished second to Boston in 1967 in a four-team race that wasn't resolved until the season's final day. The next year, the Tigers won the AL title and rallied from a 3-1 deficit to stun the Cardinals in the World Series. "Wally Moses was Mayo's top assistant and knew the game well," star pitcher Denny McLain later related. "Moses coached us on how to signal to each other when Mayo was asleep at the wheel." Smith, with Moses at his side, managed two more seasons before he was ousted in favor of fiery Billy Martin. Moses elected to retire, but the Phillies persuaded him to come back as a batting instructor. He hung up his spikes for good after the 1975 campaign, and he and Billie continued to reside in Philadelphia.
In retirement, Moses pursued lifelong hobbies. "He enjoyed hunting with bird dogs," daughter Judith remembered. "He made furniture. He had a need to know how things worked and understand how they were put together." In addition, "He was a very good ice skater. He read a lot and he played cards. He was a card shark. He had an almost photographic memory." Judith also recalled, "He had an absolutely glorious voice. He had a deep speaking voice and singing voice. I remember when I was three years old, we had an old style Victrola (record player). He played (Russian classical composer) Sergei Rachmaninoff and he sang beautifully."
Growing up, Judith enjoyed a close relationship with her father. "He was phenomenal with young people," she remembered. "He was someone who would listen to you talk. He was a fantastic listener." When home for the summer from boarding school, she attended a number of games, though girls weren't allowed in the dugout. "He was a tremendously positive person," she remembered. "He took part in my school activities and other activities, when he could."
"My father was an incredibly reliable person," Judith said. "He always gave 200 percent. Today he would be called a workaholic. And he was very generous. He had been poor after his parents separated and he was always happy to help someone else. He was also very hard-headed — that's a family trait. He had a terrible temper at times. One shouldn't cross him. But he was very fair with me. He did have some of the shortcomings of many people who come from the South, but that changed as he got older. He was not thrilled with Jackie Robinson, but that changed."
As time went on, Moses worked with a number of young hitters, black and white. "He wanted to help someone get better," Judith recalled. "He would help someone until they got it right. He would work with a batter to capture what he could do well. He had a tremendous ability to instill confidence in other people, especially young people." Although Moses didn't have a big ego, he was highly competitive. "He was never a self- important person," Judith said. "He didn't want the limelight. He just wanted to win. A good illustration of that was when I was a teenager. I said, 'Daddy, it was just a game.' He said to me, 'With that attitude you will never be very good.'"
Never a quitter on the ballfield, Moses, a two-pack-a-day smoker from his teens, gave up tobacco when he encountered health problems in 1978, though the damage was done. Afflicted by chronic lung problems through most of the 1980s, Moses developed cancer, had a lung removed, suffered from emphysema in the other, and relied on bottled oxygen in the final years of his life. His health deteriorated badly, he and Billie moved to Vidalia, and Wally entered a health care center. On October 10, 1990, two days after he celebrated his 80th birthday (it was actually his 81st), he died at the Meadows Regional Medical Center in Vidalia after he suffered a stroke. He was survived by his wife of 53 years, Billie Mae (Haines) Moses, a native of Houston, Texas. After Wally's death, Billie moved to Savannah, Georgia. She passed away in 2002, and is buried alongside him, near his parents and several family members, at Vidalia's Pine Crest Cemetery. Wally and Billie's daughter, Judith Moses Latham, of Arlington, Virginia, is an international radio broadcaster in the Public Affairs Unit of the Voice of America's English Language Division. Judith, who was born in 1938 while Moses was a member of the Athletics, is the host of International Press Club, a weekly program that captures reaction by media analysts to U.S. foreign policy, and was a regular contributor to the former documentary program Dateline. Judith's son, Ernest "Tiger" Hargraves Latham III, was Wally and Billie Mae's only grandchild, and was the recipient of Wally's World Series ring.
Before he died, Moses was selected to the Philadelphia Baseball Wall of Fame in 1988. From 1978 to 1993, one former Athletics player was selected each year, and a plaque hung in their honor at Veterans Stadium. After the Vet closed, the 25 plaques were relocated in March 2004 to the Philadelphia Athletics Historical Society in Hatboro, Pennsylvania. In 1989, Moses was inducted into the Georgia Sports Hall of Fame.
Sources
Armour, Mark L. and Daniel R. Levitt, Paths to Glory: How Great Baseball Teams Got That Way. Dulles, VA: Potomac Books, 2003.
Gillette, Gary, and Pete Palmer, The 2005 ESPN Baseball Encyclopedia. New York: Sterling, 2005.
Golenbock, Peter, Red Sox Nation: An Unexpurgated History of the Red Sox. Chicago: Triumph Books, 2005.
Halberstam, David, The Teammates: A Portrait of a Friendship. New York: Hyperion, 2003.
Halberstam, David, Summer of '49. New York: William Morrow & Company, 1991.
James, Bill, The New Bill James Historical Abstract. New York: The Free Press, 2001.
Keri, Jonah, ed. Baseball Between the Numbers: Why Everything You Know About the Game Is Wrong,, New York: Basic Books, 2006
Kuklick, Bruce, To Everything a Season: Shibe Park and Urban Philadelphia, 1909-1976. Princeton, N.J.: Princeton University Press, 1991.
Kuenster, John, The Best of Baseball Digest: The Greatest Players, the Greatest Games, the Greatest Writers From the Game's Most Exciting Years. Chicago: Ivan R. Dee, 2006.
Lee, Bill, The Baseball Necrology: The Post-Baseball Lives and Deaths of Over
7,600 Major League Players and Others. Jefferson, North Carolina: McFarland & Company, Inc.,
2003.
Lieb, Fred, Connie Mack. New York: Van Rees Press, 1945.
Lindberg, Richard C., Total White Sox: The Definitive Encyclopedia of the World Champion Franchise. Chicago: Triumph Books, 2006.
McLain, Denny and Eli Zaret, I Told You I Wasn't Perfect. Chicago: Triumph Books, 2007.
Maiorana, Sal, A Lifetime of Yankee Octobers. Chelsea, MI: Thomson Gale, 2002.
Mead, William B., Even the Browns: The Zany, True Story of Baseball in the Early Forties, Chicago: Contemporary Books, Inc., 1978.
Morris, Peter, A Game of Inches: The Stories Behind the Innovations That Shaped Baseball. Chicago: Ivan R. Dee, 2006.
Neft, David S., Richard Cohen and Michael Neft. The Sports Encyclopedia: Baseball 2004. 24th Edition. New York: St. Martin's Griffin, 2004.
Nowlin, Bill, Mr. Red Sox: The Johnny Pesky Story. Cambridge, MA: Rounder Books, 2004.
Nowlin, Bill, and Dan Desrochers, The 1967 Impossible Dream Red Sox: Pandemonium on the Field. Cambridge, MA: Rounder Books, 2007.
Peary, Danny, We Played the Game: Memories of Baseball's Greatest Era, New York: Black Dog and Leventhal Publishers, Inc., 1994
Peterson, Richard, The St. Louis Baseball Reader. Columbia, MO: University of Missouri Press, 2006.
Porter, David L. Biographical Dictionary of American Sports: Baseball, Revised and Expanded Edition, G-P. Westport, CT: Greenwood Press, 2000.
Sheed, Wilfred, My Life as a Fan: A Memoir. New York: Simon and Schuster, 1993.
Stout, Glenn, and Richard A. Johnson, Red Sox Century. Boston: Houghton Mifflin, 2000.
Sultans of Swat: The Four Great Sluggers of the New York Yankees. New York: New York Times Company, 2006.
"Wally Moses: He Was a Premier Leadoff Hitter," Norman Macht, Baseball Digest, February, 1991, pages 79-83.
Williams, Ted, and John Underwood. My Turn at Bat. New York: Pocket Books, Inc., 1970.
Time magazine, May 28, 1956.
Interview with Judith Moses Latham by Doug Skipper, August, 2007.
Special Thanks: Judith Moses Latham and Norman Macht
Note
This article originally appeared in two different books: Sock It To 'Em Tigers–The Incredible Story of the 1968 Detroit Tigers, published by Maple Street Press in 2008; and Spahn, Sain and Teddy Ballgame–Boston's Almost Perfect Baseball Summer of 1948 published by Rounder Books in 2008.
Photo Credit
The Topps Company
Born
October 8, 1910 at Uvalda, GA (USA)
Died
October 10, 1990 at Vidalia, GA (USA)
If you can help us improve this player's biography, contact us.
http://bioproj.sabr.org/bp_ftp/images3/MosesWally.jpg
600
800
admin
/wp-content/uploads/2020/02/sabr_logo.png
admin
2012-01-04 20:19:38
2021-09-24 17:15:00
Wally Moses