This Week in SABR: January 24, 2020

Welcome to "This Week in SABR!" Click here to view this week's newsletter on the web. Here's what we've been up to as of January 24, 2020:
---
You're not going to want to miss the 11th annual SABR Day on Saturday, January 25!
SABR Day is our annual Hot Stove gathering to celebrate the beginning of a new baseball season. It's always held on the weekend between the NFL championship games and the Super Bowl. On that day, SABR's regional chapters organize baseball events around the globe, and you're all invited to attend.
Here are some highlights for SABR Day 2020 this weekend:
The Casey Stengel Chapter in New York City will meet at the Scandinavia House on Park Avenue for a panel discussion on "The Babe — As You Never Knew Him" with New York Yankees historian Marty Appel, former Babe Ruth Birthplace and Museum Director Mike Gibbons and author Bill Jenkinson, plus a presentation by SABR Director and MLB executive Tyrone Brooks. To register, visit http://sabrnyc.org.
In Burlington, Vermont, the Gardner-Waterman Chapter will join the Vermont Lake Monsters for the second annual "Winter Warmer," which will feature ESPN's Buster Olney and Jon "Boog" Sciambi, and Los Angeles Dodgers Director of Player Personnel Galen Carr. Ticket proceeds will benefit the local SABR Vermont chapter. For further information or to purchase tickets, please visit https://www.vermontlakemonsters.com.
At the Louisville Slugger Museum in Kentucky, the Pee Wee Reese Chapter will hear from Louisville's own Tom Hallion, longtime major-league umpire who is famous for, among other things, his dynamic punch-out.
In Atlanta, the Magnolia Chapter will gather at the Sandy Springs Public Library for a commemoration of Ponce de Leon Ballpark, Atlanta's home for baseball for more than 50 years, with presentations from Paul Crater of the Atlanta History Center, Andrew Mearns of Georgia Tech, award-winning author Ken Fenster, and Sam Gazdziak of RIPbaseball.com.
In Philadelphia, the Connie Mack Chapter will meet at Temple University City Center and hear presentations on a variety of baseball topics from Mike Gimbel, Dan Joseph, Mitchell Nathanson, Brian Engelhart, Ted Knorr, Mark Kanter, Alex Cheremeteff, and Steven Glassman.
In Cooperstown, our SABR Day meeting at the Baseball Hall of Fame's Bullpen Theater will include presentations from Hall of Fame Librarian Jim Gates, Senior Curator Tom Shieber on 1912 baseball cards, and Collin Miller on Delaware County's 200-year-old baseball history.
At the Yogi Berra Museum in Little Falls, New Jersey, the Elysian Fields Chapter will be entertained by a panel discussion on the New York Mets
In Montreal, the Quebec Chapter will be treated to presentations from historians Patrick Carpentier and Marcel Dugas on the evolution of French baseball terms in the province.
In Nashville, the Rice-Russell Chapter will hear from Harriet Kimbro-Hamilton, daughter of Negro Leagues star Henry Kimbro, vintage baseball player Christopher Ryland, and sports gaming lobbyist Thomas Lee.
In Kansas City, the Monarchs Chapter will hear from author Todd Peterson on the 100th anniversary of the Negro National League.
In Indianapolis, the Oscar Charleston Chapter will hear from Indianapolis Indians broadcaster Howard Kellman; Dr. Alan Nathan on the MLB Home Run Committee's report; Tim Tassler on the history of black baseball teams in Northeast Indiana; and David Bohmer on Ford Frick, the Hoosier commissioner.
Our newest chapter in Starkville, Mississippi, will hold its inaugural meeting for SABR Day. The Cool Papa Bell Chapter will hear from John Cohen, athletic director and former head baseball coach at Mississippi State University.
Other guest speakers for SABR Day on Saturday are expected to include: former major-league players Broderick Perkins (San Diego), Rey Palacios (Rochester, NY), and Willie Banks (Little Rock); Nick Gandy of the Florida Sports Foundation (Tallahassee); broadcaster Tim Grubb (Kansas City); historians Dr. William Hardy (Knoxville), Dr. Michael Green (Las Vegas), and Richard Puerzer (Cherry Hill, NJ).
Some SABR chapters, such as Austin, Boston, Cincinnati, Harrisburg, New Orleans, Toledo, Victoria, and Virginia Beach will meet informally for lunch or just to talk baseball with friends. We hope you'll come check it out. All baseball fans are welcome on SABR Day; you don't have to be a SABR member to attend, although if you like what you see we hope you'll sign up.
SABR Day meetings are scheduled for Saturday, January 25 in the following cities:
Atlanta, GA (Magnolia Chapter)
Austin, TX (Rogers Hornsby Chapter)
Boston, MA (Boston Chapter)
Burlington, VT (Gardner-Waterman Vermont Chapter)
Cherry Hill, NJ (Goose Goslin Chapter)
Cincinnati, OH (Hoyt-Allen Chapter)
Columbus, OH (Hank Gowdy Chapter)
Cooperstown, NY (Cliff Kachline Chapter)
Denver, CO (Rocky Mountain Chapter)
Durham, NC (Carolina Chapter)
Harrisburg, PA (Central Pennsylvania Chapter)
Indianapolis, IN (Oscar Charleston Chapter)
Kansas City, MO (Monarchs Chapter)
Knoxville, TN (East Tennessee Chapter)
Las Vegas, NV (Maddux Bros.-Las Vegas Chapter)
Little Rock, AR (Robinson-Kell Chapter)
Louisville, KY (Pee Wee Reese Chapter)
Minneapolis, MN (Halsey Hall Chapter)
Montclair, NJ (Elysian Fields Chapter)
Montreal, QC (Quebec Chapter)
Nashville, TN (Rice-Russell Nashville Chapter)
New Orleans, LA (Schott-Pelican Chapter)
New York, NY (Casey Stengel Chapter)
Philadelphia, PA (Connie Mack Chapter)
Rochester, NY (Luke Easter Chapter)
San Diego, CA (Ted Williams Chapter)
Starkville, MS (Cool Papa Bell Chapter)
Tallahassee, FL (Buck O'Neil/North Florida Chapter)
Toledo, OH (Bresnahan-Mud Hens Chapter)
Toronto, ON (Hanlan's Point Chapter)
Victoria, BC (Northwest Chapter)
Virginia Beach, VA (Bud Metheney/VA Eastern Shore Chapter)
In addition, SABR Day meetings will be held on these days due to schedule or venue availability; click on a link below for complete details:
Visit SABR.org/sabrday to learn more about a SABR Day meeting near you.
---
We're pleased to announce the finalists for the 2020 SABR Analytics Conference Research Awards, which will recognize baseball researchers who have completed the best work of original analysis or commentary during the preceding calendar year.
Nominations were solicited by representatives from SABR, Baseball Prospectus, FanGraphs, The Hardball Times, and Beyond the Box Score. Here are the finalists for the 2020 SABR Analytics Conference Research Awards:
Contemporary Baseball Analysis
Contemporary Baseball Commentary
Historical Baseball Analysis/Commentary
Details and criteria for each category can be found here. Only one work per author was considered as a finalist.
Voting for the winners will be conducted online beginning next week at SABR.org, BaseballProspectus.com, FanGraphs.com, HardballTimes.com, and BeyondtheBoxScore.com, with results weighted equally at 20%.
Results will be announced and presented at the ninth annual SABR Analytics Conference, March 13-15, 2020, at the Renaissance Phoenix Downtown in Phoenix, Arizona. Learn more or register for the conference at SABR.org/analytics.
---
SABR and Baseball Info Solutions are pleased to announce the research presentations for the ninth annual SABR Analytics Conference, which will be held March 13-15, 2020, at the Renaissance Phoenix Downtown in Phoenix, Arizona. All baseball fans are welcome to attend; register now to join us!
Scott Brave, "Can an Across-the-Board Increase in Minor League Pay Reduce PED Use?"
Patrick Brennan, "Measuring the Impact of Pitch Location on a Player's Performance"
Alex Caravan, "Swing Adjustments"
Colton Cronin, "Scoring Reversals Revisited: The Mutability of MVP Voting"
Gregory Dvoroscik, "Using Clustering to Find Pitch Sub-types and Effective Pairings"
Russell Eassom, "Strength of Players Faced — A WAR Analysis"
Glenn Healey, "Modeling and Projecting Offensive Value Using Combined Hit-Tracking and Speed Measurements"
Bill Leisenring, "Using Pitching Mechanics Analytics to Predict Injury and Improve Performance"
Jeremy Losak, "What's Hanging? An Empirical Definition And Defining Attributes For The Hanging Pitch"
Michael McBride, "Introducing SRC and OSWC: Using Game Theory to Assign Credit for Offensive Outcomes"
Jason Themanson, "Examining Neural Activity to Pitches and Feedback at the Plate: Psychological and Performance Implications"
Meredith Wills, "The 2019 Baseball, and the Unanticipated Consequences of Change"
Please note: All speakers are subject to change depending on availability.
More information on presentation schedule and abstracts will be posted on this page soon.
For more information on the 2020 SABR Analytics Conference, visit SABR.org/analytics.
---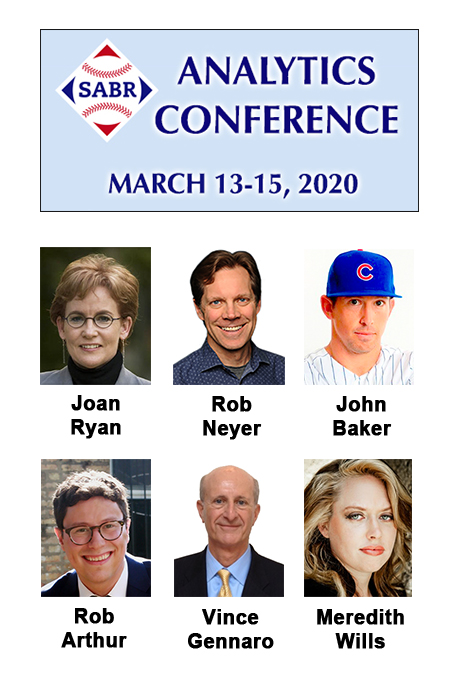 You still have time to register early for the ninth annual SABR Analytics Conference on March 13-15, 2020, at the Renaissance Phoenix Downtown in Arizona, where we'll bring together the top minds in the baseball analytics community to discuss, debate and share insightful ways to analyze and examine the great game of baseball. Regular registration is available until 11:59 p.m. MST on Friday, February 21, so register now to join us!
The Analytics Conference schedule consists of a combination of Guest Speakers, Panels, and Research Presentations — plus the unique Diamond Dollars Case Competition, in which undergraduate, graduate and law school students from across the country analyze and present a real baseball operations decision.
Programming will begin on the afternoon of Friday, March 13 and will run through Sunday afternoon on March 15. A large block of rooms for SABR Analytics Conference attendees is available on Friday, Saturday, and Sunday nights. Click here for highlights of the high-quality content from the 2019 conference.
Our featured speakers are expected to include: Rob Arthur of Baseball Prospectus; John Baker, Coordinator of the Chicago Cubs' Mental Skills Program and former major-league catcher; Vince Gennaro, former SABR Board President and host of Behind the Numbers: Baseball SABR Style on SiriusXM; Rob Neyer, host of SABRcast with Rob Neyer, and author of Power Ball: Anatomy of a Modern Baseball Game; Joan Ryan, award-winning journalist and author of Intangibles: Unlocking the Science and Soul of Team Chemistry; Meredith Wills, Sports Data Scientist for SportsMEDIA Technology (SMT) and a contributing writer for The Athletic.
Please note: All speakers are subject to change depending on availability.
SABR has a long and storied history with baseball statistical analysis, evidenced by the link between our name and sabermetrics. SABR's long history in this area of baseball research, coupled with our mission of advancing the understanding and knowledge of baseball, makes us the perfect choice to coordinate and host this ground-breaking event.
For more information on the 2020 SABR Analytics Conference, or to register, visit SABR.org/analytics.
---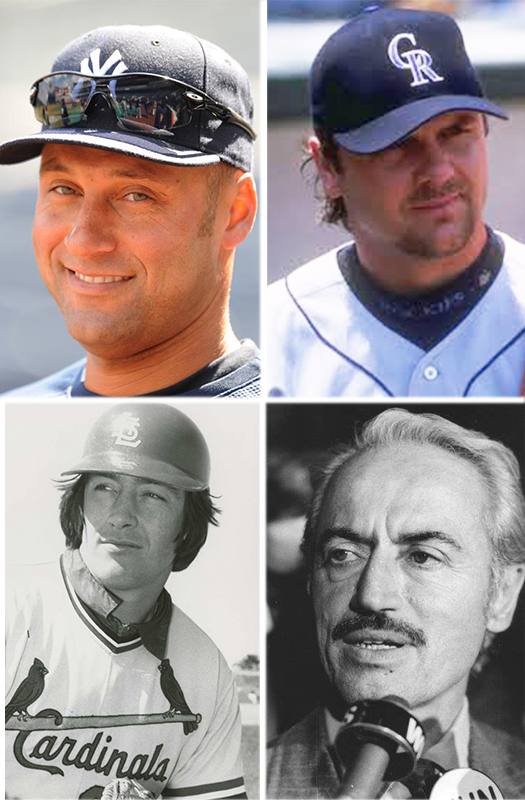 Derek Jeter and Larry Walker were elected to the National Baseball Hall of Fame in the Class of 2020 this week.
On Sunday, July 26, they will be inducted into the National Baseball Hall of Fame in Cooperstown, New York, along with former St. Louis Cardinals and Milwaukee Brewers catcher Ted Simmons and MLB Players Association executive director Marvin Miller, who were selected for induction to the Hall of Fame by the Modern Baseball Era Committee.
Jeter, the New York Yankees shortstop and captain who led the team to five World Series championships, received 396 of 397 possible votes (99.7 percent) from the Baseball Writers' Association of America, the second-highest voting percentage in baseball history behind his longtime teammate Mariano Rivera, who was elected unanimously in 2019. Click here to read Jeter's SABR biography by Alan Cohen.
Walker, the five-tool outfield star for the Montreal Expos, Colorado Rockies, and St. Louis Cardinals, was elected in his 10th and final year of eligibility on the writers' ballot, receiving 304 votes (76.6 percent). Walker is only the second Canadian-born player elected to the Hall after Ferguson Jenkins, who was inducted in 1991. Click here to read Walker's SABR biography by Alan Cohen.
Click here to read the full announcement at SABR.org.
---
The 11th annual Frederick Ivor-Campbell 19th Century Base Ball Conference will be held April 24-25, 2020, at the Baseball Hall of Fame in Cooperstown, New York.
Note: Space is extremely limited and some research presentations will be double-tracked. On the final page of your registration form, please indicate your preferred choice of Research Presentation for each of the six pairs that are double-tracked.
Registration: Click here to download the registration form (PDF). Registrations can be accepted by mail only: send BOTH completed 19th Century Base Ball Conference registration forms to: Peter Mancuso, 6970 Ely Road, New Hope, PA 18938. Enclose your personal check for the appropriate amount and make payable to "SABR," with "Fred 19cBB Conference" written on the check's memo line.
Cost: Conference registration is $65 per person, including the Saturday luncheon. Tickets for the optional Friday evening Welcoming Dinner ($45) at Templeton Hall and Saturday evening Post-Conference Gathering ($35) at the historic Otesaga Hotel can also be purchased in advance for you or a guest. Anyone who wishes to purchase an extra ticket for a guest to attend the Saturday luncheon only ($35) can also do so.
RSVP: Please mail your registration form no later than February 28. Registration is limited to the first 100 people to sign up, so please register early!
Contact: For questions, or if you miss the registration mailing deadline, contact Peter Mancuso at peterplus4@earthlink.net to see if space is still available.
The 2020 conference will be highlighted by a keynote address from Major League Baseball's Official Historian John Thorn, along with a panel discussion on National League president William Hulbert with Jack Bales, Richard Hershberger, Bill Lamb, and moderator Bill Ryczek; a special presentation by David Block on "Baseball's Origins: A Progress Report"; a Member Spotlight interview of Tom Gilbert by Bob Bailey; plus book signings, research presentations, and a welcome dinner.
For more information, or to register, visit SABR.org/ivor-campbell19c.
---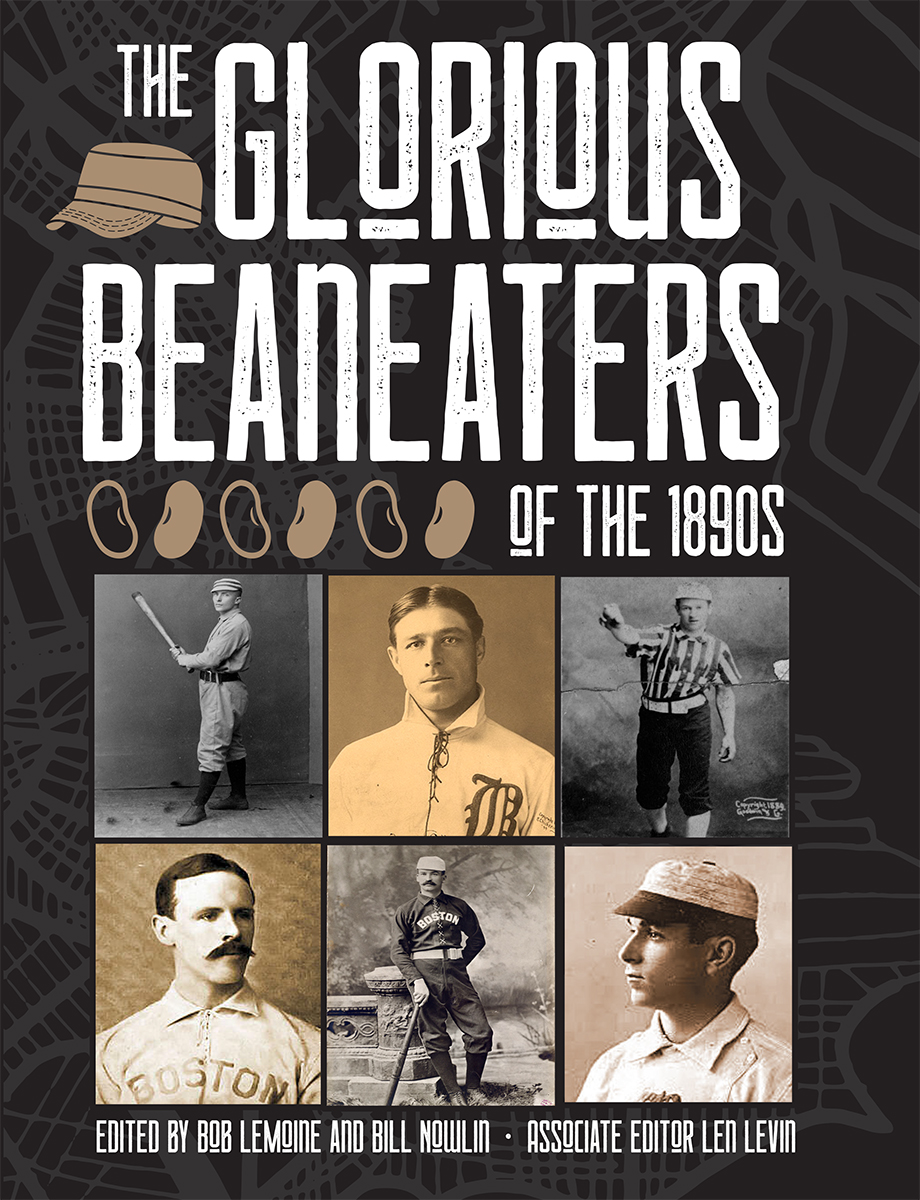 Add a championship book to your collection from the SABR Digital Library:
The Glorious Beaneaters of the 1890s
Edited by Bob LeMoine and Bill Nowlin
Associate Editor: Len Levin
ISBN (ebook): 978-1-9701-5918-9, $9.99
ISBN (paperback): 978-1-9701-5919-6, $29.99
8.5″ x 11″, 437 pages
Click here to read the full description of this book at SABR.org.
SABR members, get this e-book for FREE!
Having trouble downloading our e-books? To view PDF files on your computer, click here to download the free Adobe Reader software. Having trouble downloading e-books to your Kindle, Nook, Sony Reader or iPad? Click here for additional help.
---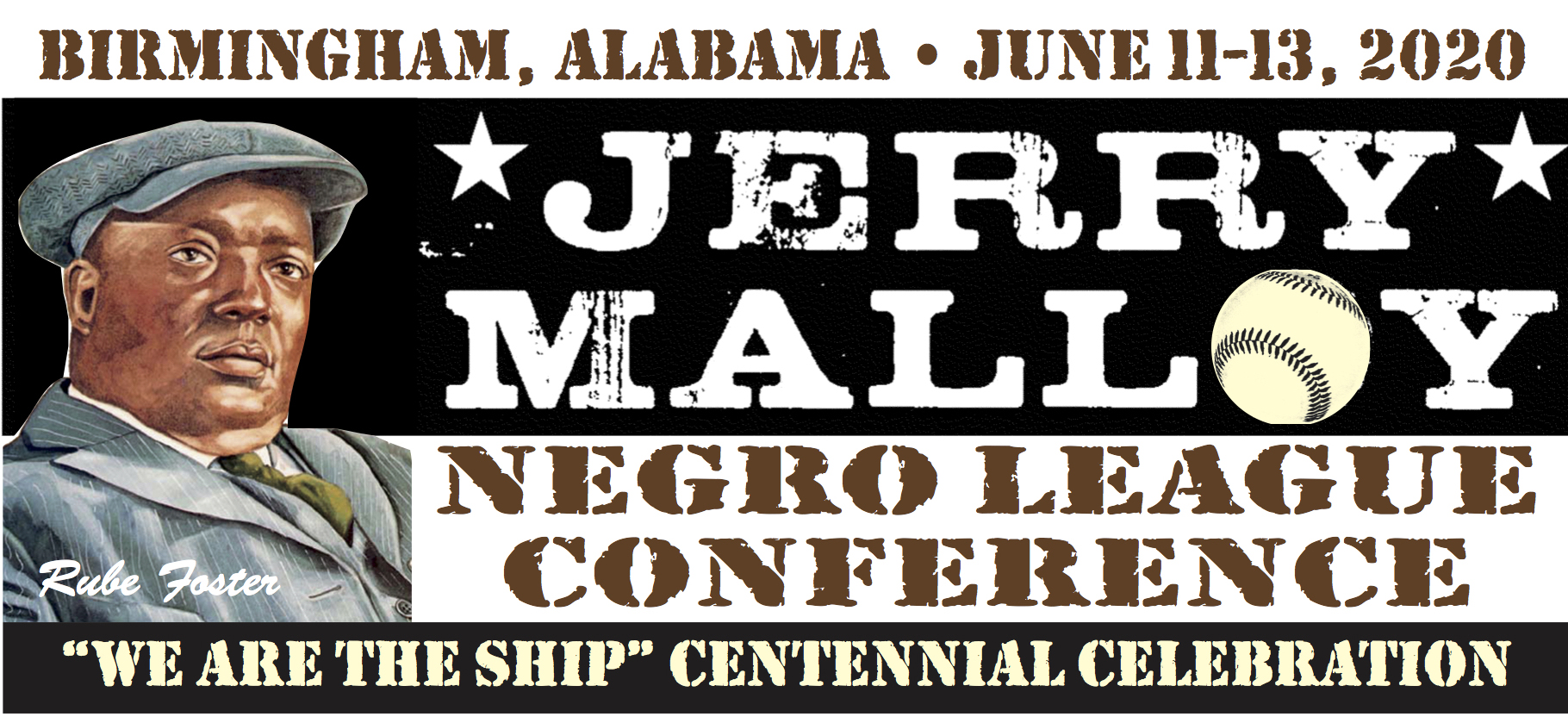 Registration is now open for the SABR Jerry Malloy Negro League Conference on June 11-13, 2020, at the Sheraton Birmingham Hotel in Birmingham, Alabama. All baseball fans are welcome to attend.
One hundred years ago, the Negro National League of Professional Base Ball Clubs (NNL) was established as a viable option for professional Black athletes barred from the all-White major leagues to showcase their talents. In 2020, SABR's Negro Leagues Research Committee will celebrate their pleasure, passion, and purpose-driven path to athletic glory and honor with a centennial celebration at the annual Malloy Conference in Birmingham.
To learn more, visit SABR.org/malloy.
---
Save the date! SABR will be returning to Baltimore for our 50th national convention on July 15-19, 2020, at the Hyatt Regency Inner Harbor hotel in downtown Baltimore, Maryland. Registration information for SABR 50 and our special hotel room block will be available at SABR.org/convention next week.
The Hyatt Regency hotel sits on the waterfront at the majestic Inner Harbor and is conveniently located within walking distance from Camden Yards, home of the Baltimore Orioles. Our host hotel is also close to many area museums, historic landmarks, and other attractions like the National Aquarium.
SABR's 2020 national convention will be our 50th annual gathering; the organization's founding in Cooperstown in 1971 is counted as the first.
For more information on the SABR convention, visit SABR.org/convention.
---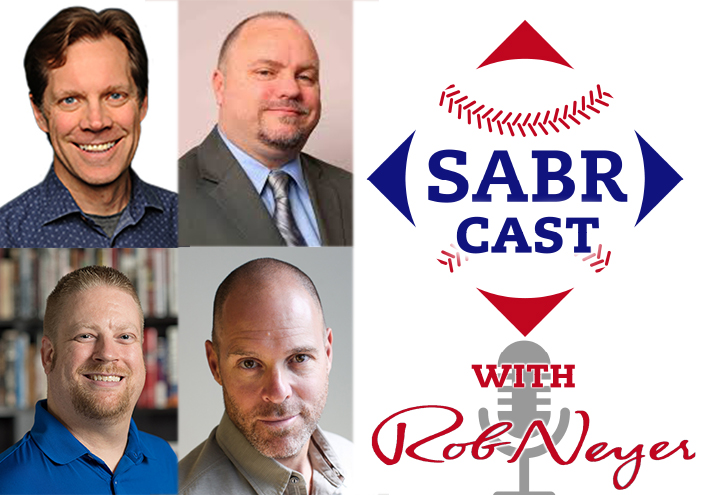 Listen to a new episode of SABRcast with Rob Neyer, a new weekly podcast hosted by award-winning author and longtime SABR member Rob Neyer — which is now available on your favorite podcast streaming services!
Visit SABR.org/sabrcast to listen to Episode #43 — this week, we have a roundtable discussion on baseball's ongoing sign-stealing scandal as Rob interviews three top writers on the use of technology in the game, the legacy of the Houston Astros, and baseball's historical relationship with cheating. Our guests are Joe Sheehan, a founding member of Baseball Prospectus and publisher of the popular daily subscription Joe Sheehan Baseball Newsletter; Jason Turbow, author of The Baseball Codes: Beanballs, Sign Stealing, and Bench-Clearing Brawls: The Unwritten Rules of America's Pastime; and Jacob Pomrenke, SABR's Black Sox Scandal Committee chair and editor of Scandal on the South Side: The 1919 Chicago White Sox.
Subscribe to SABRcast on your favorite podcast networks, including Apple Podcasts, Spotify, Stitcher, or Google Play, and listen to each episode as soon as it's released on Mondays. Every week, SABRcast will feature insights and analysis of what's happening in modern baseball on and off the field, plus compelling interviews with figures from around the game — and music from The Baseball Project.
To learn more, visit SABR.org/sabrcast.
---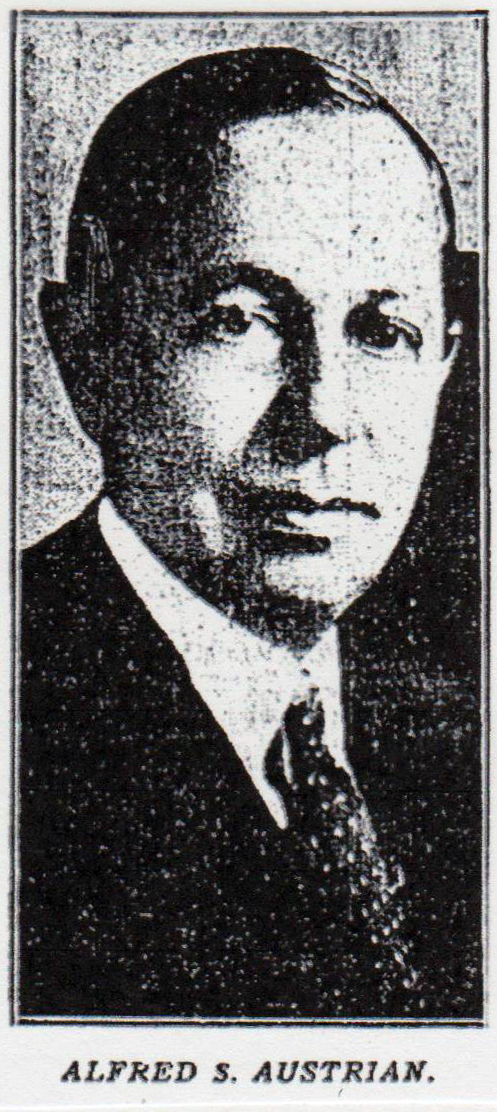 Two new biographies were posted this week as part of the SABR Baseball Biography Project, which brings us to a total of 5,075 published biographies. Here are the new bios published this week:
All new biographies can be found here: SABR.org/bioproj/recent
Search for any SABR biography: You can now visit sabr.org/bioproj_search to search for any player — or manager, executive, scout, spouse, broadcaster, or umpire — who appears in the SABR BioProject. You can also browse all of these BioProject categories and a lot more, including 300-game winners, Hall of Famers, 1960s All-Stars, or Negro Leaguers, at our Browse page: sabr.org/bioproj/browse.
---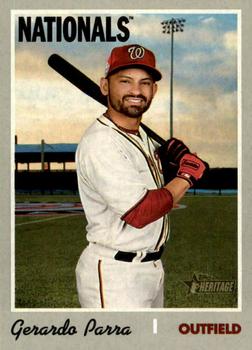 Six new game stories were posted this week as part of the SABR Games Project. Here are the new game stories:
New Games Project stories can be found at SABR.org/gamesproject/recent. Find all published Games Project articles at SABR.org/GamesProject.
Get involved: Have memories of a game you attended? Or a game you watched that caught your interest? Write about it! Writing for the Games Project is an easy way to get involved as a SABR member. Find out how by reading the Games Project FAQs section or checking out the Authors' Guidelines. We have editors and fact checkers who are willing to help you write your first article.
Read all stories from Wrigley Field greatest games book online: In Wrigley Field: The Friendly Confines at Clark and Addison, edited by Gregory H. Wolf and published in 2019, we delivered an ode to that storied ballpark, evoking its history through detailed retellings of 100 games played there, including not only historic triumphs and defeats of the Chicago Cubs (and the Federal League Whales), but also Negro Leagues matchups, youth championships, and even games by the All-American Girls Professional Baseball League. You can read all of the game stories from our Wrigley Field book online now at the SABR Games Project. Click here to download your free Wrigley Field e-book or get 50% off the paperback edition at SABR.org.
---
Behind the Numbers: Baseball SABR Style on SiriusXM, a radio show hosted by former SABR Board President Vince Gennaro, is back for the Hot Stove offseason at a new time! Listen to a new episode at 4:00-5:00 p.m. ET on Saturdays on MLB Network Radio.
You can also listen to archives of recent episodes on-demand on the SiriusXM Internet Radio app. Click here to learn more.
Behind the Numbers: Baseball SABR Style on SiriusXM focuses on examining and interpreting the statistical analysis that plays a critical role in baseball today. It airs weekly throughout the year on MLB Network Radio, available to subscribers nationwide on XM channel 89, Sirius channel 209, and on the SiriusXM Internet Radio App.
---
SABR Baseball Research Award, due 1/31/2020: The SABR Baseball Research Award (formerly the Sporting News-SABR Baseball Research Award) honors those whose outstanding research projects completed during the preceding calendar year have significantly expanded our knowledge or understanding of baseball. To submit a nomination for the 2020 awards, please contact Bill Felber at bfelber@att.net.
McFarland-SABR Baseball Research Award, due 2/15/2020: The McFarland-SABR Baseball Research Award honors the authors of the best articles on baseball history or biography completed or published during the preceding calendar year. To submit a nomination for the 2020 awards, please contact Len Levin at lenlevin5@hotmail.com.
Please note: Only ONE entry per nomination will be considered (do not submit multiple nominations for the same award). For more information on SABR Awards, click here.
---
We've heard your feedback: Some of you have said you look forward to "This Week in SABR" every Friday, but sometimes there are just too many compelling articles and announcements to read every week. We're not complaining — hey, keep up the great work! — but we know the feeling. So in an effort to make the length of this newsletter more manageable to read, we'll summarize some of the repeating/recurring announcements in a special "In Case You Missed It (ICYMI)" section of "This Week in SABR".
Here are some major headlines from recent weeks that we don't want you to miss:
All previous editions of This Week in SABR can be found here: https://sabr.org/content/this-week-in-sabr-archives.
---
We'd like to welcome all of our new SABR members who have joined this week. You can find all Members-Only resources at members.sabr.org and the Membership Handbook can be downloaded here.
Please give these new members a warm welcome and help them make the most of their membership by giving them the opportunity to get involved in their local chapter or a research committee.
You can find contact information for any SABR member in the online membership directory (SABR.org/directory).
| Name | Hometown |   |   | Name | Hometown |
| --- | --- | --- | --- | --- | --- |
| Pam Bard | Ponce Inlet, FL | | | Cullen McGowan | New York, NY |
| W. Ray Brafford | Winchester, VA | | | Max Montrey | Sammamish, WA |
| Tom Butler | Aiken, SC | | | Rodney Page | Austin, TX |
| Alex Dehmer | Lino Lakes, MN | | | Jeff Pearlman | Laguna Niguel, CA |
| Rich Dubroff | Baltimore, MD | | | Josafat Perez | Dallas, TX |
| Len Eddinger | University Place, WA | | | Edward Rogan | Barnegat, NJ |
| Bill Edmiston | Del Mar, CA | | | John Rosenfelder | Studio City, CA |
| Joseph Ferrise | Akron, OH | | | Jim Runkle | Lake Bluff, IL |
| Darren Gorr | Kenosha, WI | | | Tom Shaer | Chicago, IL |
| Darryl Gurney | Kendall Park, NJ | | | Ohm Sharma | Springfield, PA |
| Philip Heinrich | Phoenix, AZ | | | Jordan Smith | Oxford, MS |
| Shawn Herne | Baltimore, MD | | | Victor Son | Dedham, MA |
| Grady Hipley | Baltimore, MD | | | Timothy Szczesny | Binghamton, NY |
| Kara Jackman | Braintree, MA | | | Greg Tranter | Shrewsbury, MA |
| Brett Lessley | Birmingham, AL | | | Mike Uhl | Commerce Township, MI |
| Eric London | Bethesda, MD | | | Graham Zilm | Kelowna, BC |
---
Here are the new research committee updates this week:
Find all SABR research committee newsletters at SABR.org/research.
---
Here are the new regional chapter updates this week:
Visit SABR.org/chapters for more information on SABR regional chapters.
---
Here is a list of upcoming events on the SABR calendar:
All SABR meetings and events are open to the public. Feel free to bring a baseball-loving friend … and make many new ones! Check out the SABR Events Calendar at SABR.org/events.
---
Here are some recent articles published by and about SABR members:
Read these articles and more at SABR.org/latest.
---
This Week in SABR is compiled by Jacob Pomrenke. If you would like us to include an upcoming event, article or any other information in "This Week in SABR," e-mail jpomrenke@sabr.org.
Have trouble reading this e-mail? Click here to view this week's newsletter on the web.
Are you receiving our e-mails? "This Week in SABR" goes out by e-mail to all members on Friday afternoons. If they're not showing up, try adding "sabr.notes@sabr.org" to your contact list to ensure they show up in your inbox (and not the spam folder.)
---
Originally published: January 24, 2020. Last Updated: June 17, 2020.
https://sabr.org/wp-content/uploads/2020/06/SABR-LatestNews-TWIS-2016.jpg
250
847
admin
/wp-content/uploads/2020/02/sabr_logo.png
admin
2020-01-24 15:48:01
2020-06-17 23:23:18
This Week in SABR: January 24, 2020