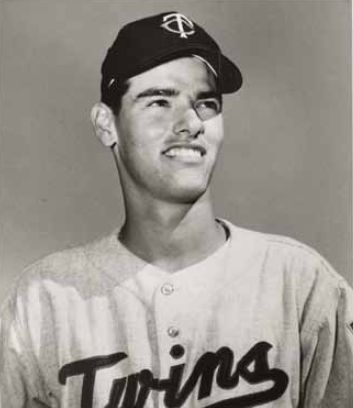 ---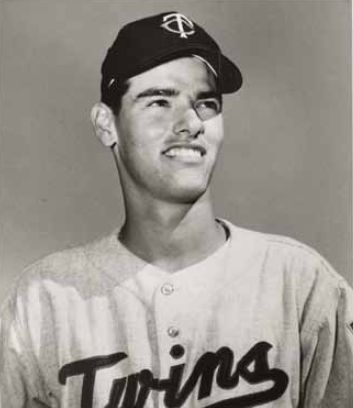 An All-Star and 20-game winner in 1970, Jim Merritt was a crafty southpaw who went 81-86 during an 11-year big-league career spent most notably with the Minnesota Twins and the Cincinnati Reds. "Aggressiveness," replied Merritt when asked about the key to his success. (He won 62 games over the four-year period 1967-70 before arm injuries derailed his career at the age of 31 in 1975.) "The first pitch is the most important one … get the hitters out."1 With impeccable control, Merritt kept hitters off balance with breaking balls, especially sliders and curves, and caught batters sleeping with a sneaky heater. "You're looking for the slow stuff," Henry Aaron once said about Merritt, "and you get the fastball in a good spot."2
James Joseph Merritt was born on December 9, 1943, at St. Luke's Hospital in Altadena, California, a few miles north of Pasadena in Los Angeles County.  His father was Ephraim Merritt, a World War II veteran originally from Colorado, who worked in Southern California as an engineer and draftsman. Jim's mother, Edna Lenora (McNulty) Merritt, was a native of Detroit. The couple married in 1939 and raised two children, Jim and Bruce, in a middle-class family in the San Gabriel Valley, about 20 miles east of LA.
Tall and lanky, Jim progressed through Little League and Babe Ruth baseball, and starred as a pitcher for West Covina High School and then for nearby Edgewood High School, where he reportedly went 14-2 as a junior in 1960.3 An unabashed Dodgers fan after the team relocated from Brooklyn, Jim fulfilled every boy's dream when the Dodgers hired him as batboy and clubhouse attendant. Though the job forced him to forgo his senior year of baseball, he enjoyed some added perks. "I used to listen [to pitchers] all I could when I worked for the Dodgers," Merritt told Minnesota sportswriter Max Nichols.4 He had up-close and personal conversations about pitching with hurlers like fellow lefties Sandy Koufax and Ron Perranoski, as well as Don Drysdale, each of whom was only about eight or nine years older than the big-league wannabe. Tutoring from the pros paid off. When Merritt graduated from high school in 1961, the Dodgers signed him on the recommendation of well-respected team scout Kenny Myers, for a reported bonus of $8,000.5
Before Merritt's career in the Dodgers' farm system got under way, he was chosen by the Minnesota Twins on November 27, 1961, in the first-year player draft. The Dodgers had not assigned the 17-year-old to a minor-league team after signing him. Rather, the southpaw had pitched for the Los Angeles Dodgers Rookies, who were instructed by coaches in the Dodgers organization and played exhibition games throughout Southern California.6
Merritt made a commanding debut in Organized Baseball in 1962 leading the Class D New York-Penn League in wins (19), innings (223), and strikeouts (249) as a member of the Erie Sailors. The 18-year-old turned heads with an overpowering 18-strikeout performance in June, and was named to the league's all-star team. Sent to the Florida Instructional League in the fall, the green hurler who "shows great promise" won eight more contests.7
Described by Twins beat reporter Arno Goethel as having an "outside chance" to make the big-league squad, Merritt was invited to the Twins' spring training in 1963. "He's not overpowering," said an impressed Joe Haynes, team VP, "but he changes speed well and has good control and poise."8 The youngster was bumped up to the Double-A Charlotte (North Carolina) Hornets in the South Atlantic League. He initially struggled against more seasoned competition, losing his first four decisions, and finished the season with a 9-12 record for a poor team (58-82). The Twins added him to the 40-man roster after another encouraging showing in the Florida Instructional League.
Merritt was once again a long shot to make the Twins club in spring training in 1964. Minnesota boasted two sturdy southpaw starters, Jim Kaat and Dick Stigman, as well as lefty Bill Pleis in the bullpen. The Californian was ultimately assigned to Triple-A Atlanta. Praised by Crackers beat writer Lee Walburn as the "hottes t pitcher in the Twins' farm system," Merritt was the shining star on the International League's worst club (55-93).9 Joining Richmond's Mel Stottlemyre (13-3, 1.42 ERA) on the league's all-star team, Merritt paced the circuit in innings pitched (200) and strikeouts (174) and won 13 games, but also tied for the league lead with 17 losses, despite a low ERA (2.74). Playing for bad teams had an upside, according to Merritt. "When you're with a club that does not score a lot of runs and makes a lot of errors, you learn how to pitch."10
The Twins' inconsistent pitching staff contributed to the club's disappointing sixth-place finish in 1964 (79-83). Manager Sam Mele hired pitching guru Johnny Sain, out of baseball since his resignation as New York Yankees pitching coach in 1963, to mold a young but promising staff. Considered a lock to land a spot, Merritt possessed five legitimate pitches (fastball, curve, slider, changeup, and screwball) as well as an excellent, quick pickoff move that Mele thought was as good as Whitey Ford's.11 It was a "surprise," confessed sportswriter Max Nichols, when Merritt was assigned to the Denver Bears of the PCL.12 Pitching for Cal Ermer, Merritt was named to his third all-star team in four years, won 13 of 21 decisions, and etched out a robust 3.13 ERA in 190 innings.
By the end of July 1965, the Twins were cruising to their first pennant since 1933, when they were called the Senators and played in Washington, D.C., but their pitching staff was in trouble. Righty Camilo Pascual, who had won 56 games the previous three seasons, landed on the disabled list after his outing on July 28; hard-throwing 20-year-old Dave Boswell, who had moved into the rotation in mid-May, had been out since early July with mono and then was involved in a car wreck. In need of a starter, the Twins recalled Merritt on July 31. Two days later, the 21-year-old made his big-league debut against the Baltimore Orioles at Metropolitan Stadium, located about 11 miles south of Minneapolis in Bloomington. Merritt cruised through eight innings, yielding just five hits and two runs (one earned), before surrendering three hits, including Dick Brown's two-out, three-run shot which tied the score, 5-5, in the ninth. Johnny Klippstein came on in relief and whiffed reliever Jim Palmer. Jimmie Hall, Minnesota's first batter in the ninth, probably wondered why skipper Hank Bauer had let 19-year-old rookie Palmer bat, but was glad he did. Hall clouted a walk-off game-winner off him. But it was a costly victory. In the sixth inning, slugger Harmon Killebrew injured his left arm in a collision at first base, and missed almost seven weeks.
Merritt picked up victories in his next two starts; the latter was his first complete game, with eight punchouts (but also 10 hits) at Yankee Stadium on August 12. "I started pitching with my arm higher, more overhand," replied Merritt when asked about the reason for his success. "Now my fastball is moving better and my curve is breaking."13 He posted a respectable 4-3 record and 3.55 ERA while averaging just over seven innings in his nine starts through September 6 before he was moved into the bullpen to accommodate Pascual's return. The young lefty proved his value as a fireman in the final month, posting a 1.35 ERA while striking out 17 over seven appearances and 13⅓ innings for the AL champions.
The Twins got off to a fast start in the 1965 World Series by taking the first two games from the Los Angeles Dodgers in front of roaring Midwestern fans at the Met. In Game Three, Merritt relieved starter Pascual to start the sixth inning, down 3-0. After Maury Wills smashed a two-out double to drive in Wes Parker, who had singled, Merritt demonstrated his deceptive pickoff move by catching the stolen-base champ sleeping at second. Merritt tossed a 1-2-3 seventh before he was removed for a pinch-hitter in the eighth inning of Claude Osteen's momentum-changing five-hit shutout. Merritt retired all four batters he faced in the decisive Game Seven, one of the most famous clinching games in World Series history, when Sandy Koufax tossed his second shutout on two days' rest to give the Dodgers their second title in three years. Despite his being with the team for just over two months, the players voted Merritt a two-thirds World Series share, worth $4,422.90.
Merritt endured a frustrating season in 1966. The Twins had a deep rotation with southpaw Kaat and righties Pascual, Boswell, Mudcat Grant, and Jim Perry. After pitching primarily out of the bullpen for the first 2½ months of the season, Merritt moved into the starting rotation in early July. On July 21 at Griffith Stadium in Washington, he tossed the first of his nine big-league shutouts, a nifty three-hitter against the Senators, during which he tied a then AL record with seven consecutive strikeouts and finished with 12. But Merritt was often the victim of poor run support (in his 11 losses as a starter, the Twins managed only 15 runs). He lost his first six decisions and boasted a dismal 2-12 record in mid-August despite a 3.65 ERA. Merritt took Sain's suggestion and began pitching from a full windup, instead of from the set position. "It gives more rhythm on my curve," said Merritt, "and more momentum on my fastball."14 The change paid dividends as Merritt won five of his final seven starts to conclude the season with a 7-14 record and a 3.38 ERA with 124 strikeouts in 144 innings for the second-place club.
Despite his success late in the previous season, Merritt began the 1967 campaign lost in the Twins bullpen and made only six appearances in the first five weeks of the campaign. But injuries and inconsistencies gave the 23-year-old another shot. On May 26 and May 30, he tossed consecutive shutouts, the latter a sparkling two-hitter with 11 strikeouts against the Yankees in New York.
Mired in sixth place with a 25-25 record, the Twins replaced Mele with Carl Ermer. Merritt proved to be the Twins' most consistent hurler all season. In the second game of a doubleheader on July 26, he tossed a career-high 13 innings at Yankee Stadium, but received a no-decision as the Twins beat the Yankees 3-2 in 18 innings. Minnesota clawed its way back into the pennant race by winning 24 of its first 36 games under Ermer. Affectionately called "Bones" by his teammates for his 6-foot-3 frame which carried at most 175 pounds, Merritt tossed a seven-hitter to defeat the Chicago White Sox at the Met on August 13 to move the club into first place for the first time all season. "This was the most important victory in my life," said an exuberant Merritt, who had issued just two walks (one was intentional) in his previous 68⅔ innings. "Merritt throws his curve and slider for strikes so efficiently," said batterymate Jerry Zimmerman, "that hitters can't get ready for his fastball."15
Poised to capture their second pennant in three years, the Twins lost four of their final five games. On the last day of the season, the Boston Red Sox defeated them, 5-3, at Fenway Park to complete the "Impossible Dream." By one modern metric (WAR), Merritt was the best pitcher in the AL.16 He finished with 13-7 record and a career-best 2.53 ERA in 227⅔ innings, including four shutouts and 11 complete games in 28 starts. His 1.2 walks per nine innings and 5.37 strikeouts per walk were the best marks in the major leagues. "I'm no junk pitcher," said Merritt, who also recorded 161 punchouts. "My strikeout pitch is a fastball about belly high."17 Merritt attributed much of his success to Sain, who helped him develop impeccable control of his breaking balls. "Sain showed me 10 variations of the slider," Merritt once said. "It's all a matter of how much you turn the ball over."18
Widely hailed as a possible 20-game winner in 1968, Merritt was described by Arno Goethel as a candidate for "flop of the year" toward the end of that season.19 However, that comment seems out of place, and may be more indicative of the entire team, which fell to seventh place. The Twins were consumed by infighting, and players openly challenged Ermer, who club owner Calvin Griffith admitted had lost the team. By the end of July Merritt's record was a dismal 6-12, but he won six of his last 10 decisions, including a masterful four-hitter with 11 strikeouts to beat the Yankees in the Bronx, 3-2, on August 10, and finished the season with a 12-16 record. Merritt also suffered from bad luck. The Twins scored three runs or fewer in 14 of his losses. His ERA rose to 3.25 in the "Year of the Pitcher," even though he set a career high in strikeouts (181 in 238⅓ innings) while his opponents' batting average and homers allowed were almost identical to the year before.
On November 21, 1968, the Cincinnati Reds acquired Merritt in a trade for veteran All-Star shortstop Leo Cárdenas. The slugging Reds already had the nucleus of what became known as the "Big Red Machine" (Johnny Bench, Tony Pérez, and Pete Rose, among others), but their young pitching staff was injury-plagued and finished dead last in the NL in ERA in '68 (3.56). Gary Nolan, a 20-year-old righty who had burst on the scene as a teenage rookie in 1967, winning 14 and striking out 206, had been limited to 22 starts; another fastballer, Jim Maloney, who had gone 105-55 and whiffed 1,273 in the previous six seasons, was battling arm and shoulder pain; and Tony Cloninger, who had won 24 games for the Braves in their last season in Milwaukee, had not fully recovered from elbow problems that bothered him the previous two seasons. Much was expected of Merritt. Cincinnati beat writers suggested he would lead the Reds to the division crown in the newly created NL West — as long as the staff remained healthy, which it did not.
Merritt had a reputation for attacking the strike zone, being willing to give up hits, and letting his defense do its job. "I try to throw nothing but strikes," he told Cincinnati sportswriter Earl Lawson in spring training.20 After acclimating himself to pitching in the cramped quarters of Crosley Field, Merritt won four consecutive decisions in May and emerged as the most consistent starter for Dave Bristol, in his fourth year as Reds pilot. On August 16 Merritt tossed a complete game to defeat the Pittsburgh Pirates. It was his third of six consecutive victories in the month, and more importantly gave the Reds a 1½-game lead in the standings. But the Reds played just a nick above .500 the rest of the way (25-23) to finish in third place (89-73). Despite losing four of five decisions in September, the 25-year-old Merritt won 17, and set career bests in starts (36), appearances (42), and innings (251), but also yielded a NL-high 33 homers, 122 earned runs, and 9.6 hits per nine innings. Merritt was not fazed by the long ball or by his high ERA (4.37). "The home runs I give up will go out of municipal airports," he said jokingly while pointing to his win total as a sign of his effectiveness.21 "When a team gets you some runs," said Merritt about the high-octane Reds offense, which led the NL with 798 runs, "you pitch differently than if you were in a close game."22
Merritt gave the Reds' brass a scare when he showed up in spring training with his left arm in a cast after supposedly injuring it when he fell attempting to retrieve his son's kite at their home in Southern California.23 He recovered in time to be named the starter on Opening Day, and tossed an impressive three-hitter to defeat the Montreal Expos in the NL's traditional first game of the season. By the end of May he owned a stellar 10-3 record as the Reds, under new skipper Sparky Anderson, got off to a torrid start, pulling away from the competition. On July 6 Merritt blanked the San Diego Padres on six hits to notch his NL-leading 14th victory.
Eight days later he appeared in his only All-Star Game, tossing two scoreless innings, yielding only a single to former teammate Killebrew in the NL's 5-4 victory.
Often hailed as a "thinking pitcher," Merritt rolled through August, winning five consecutive decisions, including an overpowering five-hit complete game with a career-best 13 strikeouts to defeat the New York Mets. That streak concluded with his 20th victory, as he became the first Reds left-hander to reach that coveted mark since Eppa Rixey in 1925. But while the Reds clobbered their opponents, Merritt was hurting. He had developed tendinitis in his elbow, and made only three disastrous starts in September, yielding eight earned runs in seven innings. Merritt finished the season with a 20-12 record and a 4.08 ERA in 234 innings and was named the left-handed starter on The Sporting News All-Star team. He placed fourth in voting for the Cy Young Award, and also picked up a handful of votes for the NL MVP Award (21st place). The Reds took the NL West crown with a league-best 102 victories, but entered the postseason with question marks surrounding Merritt and 21-year-old rookie Wayne Simpson, who had posted a 14-3 record in 26 starts, but had made just two starts since the end of July.
In a surprise move, Merritt started Game Two of the NLCS on October 4 against the Pirates. (The Reds had won Game One.) Merritt tossed 5⅓ innings, yielding just three hits and a run, to earn the win, 3-1. "It isn't the pain that bothers me," he said. "It's the swelling. When it's swollen I can't raise my arm to touch my shoulder."24 Merritt took the mound again 11 days later in the deciding Game Five of the World Series against the Baltimore Orioles. He was roughed up for three hits and four runs in 1⅔ innings and was saddled with the loss.
Offseason rest did not help Merritt's tendinitis, which quickly resurfaced in spring training in 1971. Ineffective, he remained in Florida as the Reds broke camp and flew to Cincinnati. Joining the club in the second week of the season, Merritt tossed four innings of scoreless ball on April 18 against the Expos in his first start of the season. Then his season took a disastrous turn. He lost his next seven starts and his spot in the rotation. "I don't know how [Anderson] can keep going with me," said a dejected Merritt. "I wouldn't if I were him."25 Unable to throw his fastball, Merritt could no longer keep hitters off balance. "Opposing batters are just sitting on his breaking stuff," said catcher Johnny Bench. Relegated to the bullpen and given an occasional spot start, Merritt's record dropped to 0-11 and his losing streak reached 13 games before he picked up a win in long relief. In light of his 1-11 record and limited to 107 innings, Merritt confided to sportswriter Earl Lawson that he did not anticipate being back with the Reds, who had fallen to 79-83.26
The Reds actively shopped Merritt in the offseason but found no takers. His tenure with Cincinnati came to an unceremonious close in May 1972 when he was optioned to the Triple-A Indianapolis Indians (American Association). "I can't believe I'm through at the age of 28," said a dejected Merritt upon learning that not one big-league team claimed him. Merritt had also served as the Reds' player representative during the strike at the beginning of the 1972 season, and had been booed badly during his few outings in the Queen City.27 Dividing his time among starts and relief appearances for Indianapolis, Merritt posted unspectacular numbers (4-8, 4.33). In the offseason the Reds sent him to the Texas Rangers in exchange for utilityman Jim Driscoll and backstop Hal King.
Merritt threatened retirement, but ultimately accepted the Rangers' offer to attend spring training as a nonroster player. He surprised manager Whitey Herzog by posting a stellar 2.46 ERA during camp and earning a spot of the staff.28 On a squad that lost 105 games, Merritt moved into the starting rotation in June and experienced a renaissance in July, completing five of his six starts and winning three of them. Merritt garnered national attention on August 26 when he tossed a glittering three-hit shutout to defeat Gaylord Perry and the Cleveland Indians, 9-0, in Ohio. After the game Merritt admitted in an interview that he threw 25 to 30 percent spitballs, which he called "Gaylord Perry fastballs."29 "Heck, there are a lot of guys around the league who are throwing them," said Merritt. "I'm going to continue until they stop it."30 Joe Cronin, AL president, subsequently fined and suspended the hurler. The brouhaha preceded an almost identical incident about a week later when Billy Martin, skipper of the Detroit Tigers, supposedly ordered pitchers Joe Coleman and Fred Scherman to throw spitballs in a game against Perry and the Indians. That episode led to Martin's dismissal as manager; in an ironic twist, the Rangers hired him just days later, on September 8, to pilot the club. Merritt finished the season with a 5-13 record, but logged 160 innings, second most on the club, and posted a 4.05 ERA.
Given the unglamorous role of mop-up man in 1974, Merritt was used sparingly by the Rangers, who surprised baseball by winning 84 games and finishing in second place. He appeared in 26 games and logged only 32⅔ innings. His big-league career came to a conclusion the next season when he was given his outright release in July after making only five appearances.
Over the course of 11 seasons in the major leagues, Merritt posted an 81-86 record, logged 1,483 innings, and carved out a 3.65 ERA. He enjoyed great success against Rick Monday (2-for-21, .095), Boog Powell (4-for-34, .118), and Elston Howard (4-for-30, .133), but had difficulties with Felipe Alou (10-for-21, .476), Al Kaline (12-for-26, .462), and Manny Mota (13-for-29, .448). As a member of the Reds, he was especially tough on the slugging Pirates (7-1, 3.52 ERA), yet was hit hard by the Detroit Tigers (2-10, 5.47) while hurling for the Twins and Rangers.
Merritt retired to the Los Angeles area with his wife, Jean (Daniel) Merritt, whom he met in high school and married in 1962 after his first year in Organized Baseball. They raised three boys, Randy, Ron, and Rod. During his playing career, Merritt had begun working for the Walton Publishing Company in LA, and was well prepared professionally and financially to embark on a business career away from baseball.
In 2011 he was inducted into the West Covina Walk of Fame, located at the Big League Dreams Sportsplex.31 In November 2013, Jean, his wife of 51 years, passed away. As of 2015, Merritt resided in Southern California.
Sources
In addition to the sources listed in the notes, the author consulted:
Jim Merritt player file at the National Baseball Hall of Fame, Cooperstown, New York
Ancestry.com
BaseballLibrary.com
Baseball-Reference.com
Retrosheet.com
SABR.org
The Sporting News
Johnson, Lloyd, and Miles Wolff, eds. The Encyclopedia of Minor League Baseball. 2nd edition. (Durham, North Carolina: Baseball America, 1997).
Notes
1 The Sporting News, June 20, 1970, 3.
2 Stu Camen (United Press International), "Jim Merritt Gets 13th Win," Bennington (Vermont) Banner Voice, July 3, 1970, 10.
3 UPI, "Dodgers Sign Bonus Players," Redlands (California) Daily Facts, June 23, 1961, 6.
4 The Sporting News, April 10, 1965, 24.
5 The Sporting News, June 20, 1970, 3.
6 "Aroused S.B. Braves Deadlock Dodgers Rookies in 7-7 Thriller," San Bernardino (California) County Sun, July 6, 1961, 3.
7 The Sporting News, October 13, 1962, 28, and December 1, 1965, 39.
8 The Sporting News, March 2, 1963, 9.
9 The Sporting News, September 19, 1964, 29.
10 The Sporting News, June 20, 1970, 3.
11 The Sporting News, May 7, 1965, 25.
12 The Sporting News, April 17, 1965, 26.
13 The Sporting News, August 21, 1965, 13.
14 The Sporting News, August 6, 1966, 13.
15 The Sporting News, August 26, 1967, 11.
16 WAR stands for "Wins Above Replacement" and attempts to assign a number to the wins the player added to the team above those of a replacement player. Merritt's 6.5 WAR led all AL pitchers.
17 The Sporting News, August 26, 1967, 11.
18 The Sporting News, June 20, 1970, 3.
19 The Sporting News, August 24, 1968, 21.
20 The Sporting News, March 22, 1969, 9.
21 Ibid.
22 The Sporting News, June 20, 1970, 3.
23 The Sporting News, March 7, 1970, 28.
24 The Sporting News, October 31, 1970, 39.
25 D. Byron Yake (Associated Press), "Clemente Homers, Bucs Bop Reds," Indiana (Pennsylvania) Gazette, May 28, 1971, 18. 
26 The Sporting News, October 2, 1971, 20.
27 Mark Stallard, ed., Echoes of Cincinnati Reds Baseball (Chicago: Triumph, 20007).
28 The Sporting News, April 21, 1973, 22.
29 The Sporting News, September 15, 1973, 8.
30 UPI, "Texas Pitcher Jim Merritt Threw 25-30% Spitter," Van Nuys (California) News, August 28, 1973, 32.
31 West Covina Big League Dreams. westcovina.org/home/showdocument?id=1317.
Born
December 9, 1943 at Altadena, CA (USA)
If you can help us improve this player's biography, contact us.
http://sabr.org/sites/default/files/JimMerritt.JPG
600
800
admin
/wp-content/uploads/2020/02/sabr_logo.png
admin
2012-01-04 20:35:43
2021-08-06 09:03:48
Jim Merritt