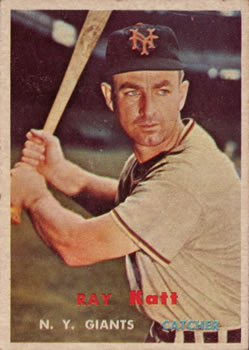 ---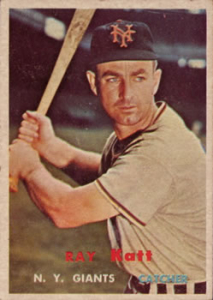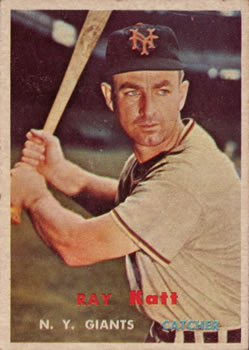 On February 27, 1999, Texas Lutheran University in Seguin, Texas, rededicated its baseball park Katt-Isbel Field in honor of Ray Katt, the Bulldogs' head baseball coach from 1971 until his 1992 retirement.1 For Katt it was a bookend event to a lifetime spent in baseball, including eight full or partial seasons (1952-1959) in the majors with the New York Giants and St. Louis Cardinals.
During his playing days Katt was a 6-foot-2, 190-pound catcher who batted and threw right-handed. He was stout and not particularly athletic. One newspaper from his playing days described him as "a hard-working, indestructible Teuton who will plod, but get there."2
Raymond Frederick Katt (pronounced "cot") was born on May 9, 1927, in New Braunfels, Texas. New Braunfels, just north of San Antonio, was a small town with strong German roots. His father, Erwin Katt, worked several jobs during Ray's youth. He was a farmer, a driller for a rock crushing company, and later a foreman at the local flour mill. Ray's mother, Ella Johanna (Georg) Katt, was a homemaker. By his fifth birthday, he had a younger sister, Virginia, and a brother, Gilbert. According to the 1930 census, Katt's paternal grandfather and maternal great-grandfather were born in Germany.
When the Minneapolis Millers of the Class AA American Association held spring training in New Braunfels in 1942, Katt worked in their clubhouse.3 The following summer he played for a local American Legion team. In September 1944 the Austin Statesman identified Katt, a lineman, as one of four lettermen returning to New Braunfels High School's bi-district championship football squad from the previous year.4 After turning professional Katt named New Braunfels' baseball and football coach, Weldon Bynum, as the person most responsible for his career.5
During Katt's senior year at New Braunfels High, he sliced the tip off the middle finger of his throwing hand during shop class. "Had to learn to throw all over again," he noted.6 By April 1945 he was a member of the baseball squad for the Agricultural and Mechanical College of Texas (officially Texas A&M University since 1963) in College Station. But Katt lost his scholarship after two seasons and served a one-year stint in the Merchant Marines.7
On July 3, 1947, Katt married Melba Kreitz, a former high school classmate and the daughter of a local carpenter. Together they enjoyed 52 years of marriage and had two children, Bruce and Sandra.
Less than two weeks after the ceremony, Katt commenced his professional baseball career. He had been signed by New York Giants' scout Bill Lacy out of a tryout camp in New Braunfels.8 Katt reported to the east Texas-based Jacksonville Jax of the Class C Lone Star League and hit .281 in 32 games, splitting his time between catching and left field.
In 1948 Katt played for the St. Cloud (Minnesota) Rox of the Class C Northern League. The team went 78-40 in the regular season before losing in the playoff semifinals. Katt was the primary catcher, though he shared time with Charlie Fox, who was also the club's manager. In 97 games Katt produced personal bests with a .319 batting average and six triples, and earned his first All-Star recognition as a professional.
Katt continued his gradual ascent in 1949, playing for both the Trenton (New Jersey) Giants of the Class B Interstate League, and the Sioux City (Iowa) Soos of the Class A Western League. Across 115 games, mainly as a catcher (he played 15 games in the outfield for the Soos), he batted .286 with 10 homers overall.
He returned to Sioux City for a full season in 1950 and helped them to a second-place finish in the Western League. In 134 games Katt hit .280 and knocked 25 doubles.
Katt spent 1951 with the team that had once employed him as a spring training clubhouse boy – the Minneapolis Millers, now rated as Triple-A in the American Association. His teammates included three future Hall of Famers: Hoyt Wilhelm, Ray Dandridge, and – for a portion of the season – Willie Mays. In 117 games Katt batted .308 with a team-high 27 doubles.
Next, Katt played in the Cuban winter league and helped the Havana Reds win the second of three consecutive championships. Prior to the start of the season, Havana manager Mike González commented, "Ray Katt, a youngster should give us a lot of life behind the plate."9
Hall of Famer Carl Hubbell, the Giants' minor-league director, believed Katt was ready for the majors in 1952 and called him the organization's top catching prospect in years.10 But Katt was one of the Giants' last cuts out of spring training in Phoenix, and was sent back to Minneapolis along with Clint Hartung, Ronald Samford, and Vinnie DiLorenzo.11 Katt enjoyed a strong sophomore campaign with the Millers, posting a .304 batting average, 15 homers and 68 RBIs. His efforts culminated in a late-season call-up to the Giants after the Millers were eliminated from the playoffs.
Giants' manager Leo Durocher noted that Katt's throwing had reportedly improved. "That was the thing that worried me about him last spring. I didn't think he got the ball away fast enough. His arm was strong, but he wasn't quick in getting his throw off. They tell me, though, that he has improved tremendously in this respect."12 The 25-year-old Katt debuted on September 16, replacing New York catcher Wes Westrum in the top of the fourth inning of a 9-0 Giants' loss to the Chicago Cubs at the Polo Grounds. Cubs pitcher Warren Hacker stymied New York's bats with a three-hit shutout. Entering the game with the Giants trailing 6-0, Katt, batting seventh, went 0-for-2 with two strikeouts. In the top of the seventh he was charged with a passed ball on a pitch from Monty Kennedy. Katt appeared in nine of the Giants' last 11 games and batted .222 (6-for-27). All of his hits were singles.
In 1953 the Giants optioned Katt to the Buffalo Bisons – a Detroit Tigers affiliate – to begin the season in the Triple-A International League, but he was transferred to Minneapolis on May 23. Between the two clubs, he batted .317 in 131 games, with career highs of 30 homers and 101 RBIs. In addition to being an American Association All-Star for the third straight year, Katt was voted the best defensive catcher by the circuit's managers.13 He gave particular credit to one of them. "Birdie Tebbetts, the Indianapolis manager, helped me. He got me to widen my stance a little and I find it helps me with my throwing."14
When Katt joined the fifth-place Giants in September, the club was on a 20-44 slide that caused them to finish with a losing record. Regarding Katt, one sportswriter opined, "They'll hand him the mitt and mask at Phoenix next spring and tell him the job is his to hold."15 The Giants also anticipated the return of Willie Mays, who had missed most of the 1952 season and the entire 1953 season due to military service. A reporter asked Durocher if the additions of Katt and Mays could provide the Giants with a necessary kick-start the following season. The skipper knew his team also needed better pitching, but he said presciently, "No two men, of course, can make up such a gap, no matter how good they are. But you mustn't forget either, that it doesn't take too much to make a contender out of an also-ran in the span of a year."16
In Katt's first at-bat that September, he produced his first major-league extra-base hit, a double off Cincinnati Redlegs pitcher Fred Baczewski. That winter he played in the Venezuelan league for the Magallanes club managed by Giants coach (and former catcher) Herman Franks. Katt was there for two reasons: to gain experience and slim down.
Sportswriter Arch Murray called Katt "the No. 1 man on the Giants' rookie totem pole" entering spring training 1954.17Durocher said, "Katt is my No. 1 man. If Wes Westrum can beat Ray out for the job, that's the way it can be, but right now I'm figuring on Katt as my man behind the plate. [Giants coach] Freddy Fitzsimmons is very high on Katt."18
Katt expressed confidence that he could handle the job and acknowledged his disappointment when he was farmed out the previous year. "I think I've improved in two ways. First of all, I'm a better thrower, more accurate than I used to be. Secondly, Herman Franks taught me something about the pitchout play. I wasn't calling that one enough," he said.19"[Westrum] has done everything possible to help me. Before each game he has taken me aside and we've gone over the hitters together. There's no rivalry as far as I'm concerned. We're both working for the same club."20
Before spring training was over, however, Katt suffered a minor injury to his left knee, and switch-hitting Ebba St. Clairebecame the Giants' Opening Day catcher.21 On May 25, in front of a small crowd of 7,206 at the Polo Grounds, Katt had a career offensive day, driving in five runs in a 21-4 victory over the Pittsburgh Pirates. Batting eighth, he went 3-for-5 with a single, a double, and a triple, and was the beneficiary of an intentional walk. Three days later he went 2-for-3 with three runs scored and four RBIs in a 17-6 drubbing of the Brooklyn Dodgers. He also walked twice during the game. The offensive output raised his batting average from .267 to .325.
Entering play on June 15 (the day St. Claire was sent to the minors), Katt and Westrum had each started 21 of New York's first 55 games. Westrum became the club's main backstop the rest of the way, though, despite batting just .187. In 86 appearances (56 starts), Katt hit .255 with nine homers and 33 RBIs in 200 at-bats. He also led major-league catchers with 12 passed balls – including a National League record-tying four in one inning on September 10 when knuckleballer Hoyt Wilhelm was on the mound.
"Those were scored right. Those were passed balls," Katt stated. "I got my glove on every one. Trouble was I had no idea where one was going until it hit me on the heel of the glove. This way, that way, up, down, it jumps and it drops and if you move one way it twists the other way – you ought to see that thing! When two of 'em went by, Conlan [umpire Jocko Conlan] said, 'Call for the fast ball', but I didn't. I was going to ride that darn thing."22
And he did, right to the record books.
The Giants won the NL pennant with a 97-57 record, but Katt did not play in the four-game World Series sweep of the American League champion Cleveland Indians. Westrum handled all the catching duties. "I didn't mind working in the bullpen all four games," Katt said that fall. "After all, I'm getting that nearly $12,000 Series check just like the others. Sure, I'd have given my left arm to get into a Series game but you don't tamper with a starting lineup that's winning."23
After returning home for the offseason, Katt was honored with a plaque at an October football game between New Braunfels High and rival Gonzales. When asked about the season, he said, "I was disappointed with my hitting, but it was just one of those things. I hope to be a better catcher – and hitter – next season."24
In 1955 Katt appeared in a career high 124 games (95 starts), but the Giants regressed, finishing 18½ games behind the Dodgers with an 80-74 record. Katt tied for the NL lead with 17 passed balls, but he also led all big-league catchers with a 59.2 percent caught stealing percentage. However, his .215 batting average was the lowest among Giants' regulars, and not much better than Westrum's .212. Katt's slugging percentage declined to .313 from .435 the previous year.
New manager Bill Rigney took over the reins of the Giants in 1956. When asked about his team's catching situation, Rigney noted, "We have three who are good catchers and all of them are going to get a full shot at the regular job."25 It was not a ringing endorsement of Katt like the one Durocher had bestowed upon him two years earlier when Katt was an up-and-comer.
During spring training, The Sporting News proclaimed Katt the 'Slowest Player Afoot' for the Giants.26 Katt did the bulk of the catching for New York early on and produced seven homers and a .475 slugging percentage in 37 appearances. But the club was 10 games under .500 on June 14, when he was traded along with Alvin Dark, Don Liddle, Whitey Lockman, and cash to the St. Louis Cardinals for Jackie Brandt, Dick Littlefield, Bill Sarni, Red Schoendienst, and two players to be named later (Bob Stephenson and Gordon Jones).
By the end of the season, Katt had appeared in 84 games between the two teams. He batted .247 and hammered a career-high 13 homers and 34 RBIs. During his personal major-league best 14-game hitting streak from August 19 through September 5, he had 20 hits in 55 at-bats, hit five home runs, and drove in 13.27 He also got to catch the knuckleball of Cardinals pitcher Murry Dickson. "After working with Wilhelm it's a cinch to catch anyone else," Katt noted.28
At the end of the season, Cardinals general manager Frank Lane told an interviewer, "The Katt part of the Giants deal is developing into an unexpected gold mine for the Cardinals… when Hal] Smith was hospitalized, he soon started to hit with frequency and power, besides handling the pitchers well."29
But Frank Lane was known as "Trader" Lane for good reason. On December 11, 1956, he shipped Katt to the Chicago Cubs, along with Jackie Collum, Tom Poholsky, and minor-leaguer Wally Lammers, for Jim Davis, Sam Jones, Hobie Landrith, and Eddie Miksis. Cubs' manager Bob Scheffing stated, "The best part of the deal, so far as we are concerned, is that we got a better catcher than anyone we had last season. Katt has more power than Landrith and he is a better workman behind the plate."30
However, Katt struggled mightily during spring training and was dealt back to the Giants on Opening Day 1957. Katt's third trade in less than a year brought him full circle, as he was shipped back to New York with Ray Jablonski for Bob Lennon and Dick Littlefield.
The move was precipitated by the heart attack suffered by Bill Sarni, the Giants' backup catcher, on the first day of spring training. Katt offered security at the position. He was "a steady, hard-working, experienced, albeit not brilliant receiver. But as No. 2 catchers go, he is a valuable property."31 Joe King of New York's World Telegram wrote of Katt, "He is the ideal sub for Wes Westrum."32
Katt was happy about the swap. "It's sure good to get back here. Ever since Bill Sarni had his heart attack, I'd been hearing rumors that I was going back to the Giants, I half-expected to get the word any day."33
In 72 games for the Giants in 1957, Katt struggled at the plate, slashing just .230/294/.297. Rookie Valmy Thomasbecame the club's primary catcher in the second half.
During spring training 1958 Katt was traded back to Cardinals, this time for outfielder Jim King. Cardinals manager Fred Hutchinson said, "Katt did a good job for us two years ago, but whether he'll be more than a third-string catcher with us remains to be seen."34 He was not. Katt appeared in just 19 games for St. Louis as he was slotted behind starter Hal Smith and his chief backup, Hobie Landrith. Katt struggled to the lowest batting average of his career (.171) and hit his final big-league homer – a ninth-inning solo shot off Ray Crone – in a 6-5 loss to the Giants (who had moved to San Francisco) on April 24.
Most of the 31-year-old Katt's playing time in 1958 came with the Cardinals' Triple-A International League affiliate, the Rochester Red Wings. He appeared in 83 games for Rochester, hitting .285 with 18 doubles and 11 homers. After the season, St. Louis released him.
However, prior to the start of the 1959 season, Katt signed a contract to rejoin the Cardinals as a bullpen coach. On June 3 he was re-activated as a player. In 15 games he batted .292 (7-for-24) with two doubles and two RBIs. Katt appeared in his last game on July 21, catching the final inning of an 8-2 loss to the Cubs without registering a plate appearance. St. Louis released him as a player on August 4 to make room for pitcher Bob Miller.
Katt returned to the coaching staff for the remainder of the season, but his major-league playing career was over at age 32. In 417 games he batted .232 with 32 homers, and threw out an impressive 55 percent of those who attempted to steal against him. Had Katt played in enough games to qualify, his caught stealing percentage would rank fourth all-time, behind only Roy Campanella, Gabby Hartnett, and Buddy Rosar.
Following the season, Katt played in the 1959-60 Cuban winter league for Havana. He also managed the American ballplayers in an 'all-star' game against Cuban ballplayers in honor of Cuba's "Day of Revolution."35 Proceeds of the game went to Cuba's revolutionary government headed by Fidel Castro.
Katt spent two more years as a player-coach for Cardinals' minor league affiliates at the behest of farm director Walter Shannon. He split the 1960 season between the Tulsa Oilers of the Double-A Texas League and Triple-A Rochester. Oilers manager Vern Benson lauded Katt's effort: "Ray has done a fine job with our young hurlers, and he has also been of tremendous help to Jim Schaffer, our young catcher."36
The 1961 season was Katt's last season as a professional player. He was both player and coach for the Portland Beavers of the Triple-A Pacific Coast League where he continued his tutelage of Schaffer. Benson began the year as Portland's skipper, but he moved up to the major-league Cardinals' coaching staff after Solly Hemus was fired. Katt took over the Beavers and won his managerial debut on July 6 against the Spokane Indians, 4-3, in 14 innings. Portland went 29-47 under Katt.
In October 1961 Katt was announced as the new manager of the Winnipeg Goldeyes of the Class C Northern League for 1962. However, he ended up taking a first-base coach position with the Cleveland Indians' major-league staff for one year. In between, he managed the Santurce Crabbers in the Puerto Rican winter league.
After professional baseball, Katt finished his undergraduate degree at Southwest Texas State University and coached his former high school team for five years. From 1971 to 1992 Katt served as the head baseball coach at Texas Lutheran College – then an NAIA (National Association of Intercollegiate Athletics) school, now NCAA Division III Texas Lutheran University – located in Seguin.37 Katt compiled a collegiate coaching record of 502-362-2 at the helm of the Bulldogs.
One highlight of Katt's time at Texas Lutheran was a 3-2 victory over the number-one ranked University of Texas Longhorns in 1983, on a 9th inning homer off of Texas' Roger Clemens.38 The Division I Longhorns went on to win the College World Series. Katt led the Bulldogs to another victory over Texas in 1989, by a score of 12-11.
Katt led Texas Lutheran to a 27-20 record in his last season, including a 9-8 victory in his final game, against the Texas Wesleyan Rams on April 26, 1992.
Prior to Katt's retirement, Texas Lutheran Athletic Director Kathy Yandell noted, "It will be difficult to replace Ray Katt. He is doing an outstanding job for TLC… I have always appreciated his personal integrity and high ethical standards."39
Katt led the Bulldogs to six Big State Conference championships and four NAIA District VI titles. He also served as the Director of Athletics and as an assistant coach for the football program that won back-to-back NAIA-II National Championships in 1974 and 1975 under head coach Jim Wacker. Katt was also an instructor in the kinesiology department.40
Ray Katt died of lymphoma at the age of 72 on October 19, 1999, in New Braunfels. He is buried at Guadalupe Valley Memorial Park next to his wife Melba (who died in 2008). Upon his death, then Texas Lutheran University head baseball coach Bill Miller noted, "He coached for all the right reasons – for the players."41 Former Grand Canyon University baseball coach Gil Stafford had offered a similar sentiment during the 1989 NAIA baseball playoffs, "Ray Katt is one of my most favorite people. I respect him more than any coach I've ever met. He always has good kids."42
Katt was posthumously inducted into the NAIA Hall of Fame in January of 2001.43
Acknowledgments
This biography was reviewed by Malcolm Allen and Rick Zucker and fact-checked by Paul Proia.
Sources
In addition to the sources cited in Notes, information was gathered from Katt's Hall of Fame clippings file, Baseball-Reference.com, Baseball-Almanac.com, TLUBulldogs.com, and Fangraphs.com.
Notes
1 Since 1992, the ballpark had been known as Isbel Field in honor of Mark Isbel, an outfielder who was the Pittsburgh Pirates' 18th-round draft choice in 1980 following his junior year at Texas Lutheran. Isbel returned to school for his senior season in 1981, and succumbed to cancer in 1983. "Katt-Isbell (sic) Baseball Field," https://scacsports.com/tournament/spring/baseball/16championships/index (last accessed October 30, 2022).
2 Joe King, "Trader Horace Scores Anew," New York World Telegram, April 17, 1957. [from Ray Katt's Hall of Fame Clippings File: 7].
3 Halsey Hall, "It's a Landslide—Voting for Katt to Make Majors," The Sporting News, November 18, 1953: 15.
4 Morris Williams, "Kickoff due at 8 P.M. for Maroons' Opener," Austin (Texas) Statesman, September 15, 1944: 17.
5 Ray Katt, American Baseball Bureau publicity questionnaire, August 27, 1947.
6 "Katt Top Dog as Giant Catcher," The Sporting News, April 7, 1954: 14.
7 Scott Baillie, "Katt Credits Success to Westrum's Help," Newsday (Long Island, New York), April 1, 1954: 99.
8 Hall, "It's a Landslide—Voting for Katt to Make Majors."
9 Pedro Galiana, "Herman's Club a Real Threat to Gonzalez' Reds," The Sporting News, October 10, 1951: 24.
10 Rud Rennie, "Giants Sign Katt, Tabbed by Hubbell as Great Catching Prospect, and Hartung," New York Herald Tribune, January 30, 1952: 25.
11 "Majors Drop 63 in Pulling Camp Stakes," The Sporting News, April 2, 1952: 21.
12 Arch Murray, "Lippy, Inked Again, Looks to Trades to Brace Giants in '53," The Sporting News, September 10, 1952: 8.
13 Hall, "It's a Landslide—Voting for Katt to Make Majors."
14 Hall, "It's a Landslide—Voting for Katt to Make Majors."
15 Arch Murray, "Lippy's Rebuilding Starts as Katt Lugs His Lumber to Dish," The Sporting News, September 23, 1953: 7.
16 Arch Murray, "Giants Reel, Stagger as Disappointed Lip Promises 'New Deal,'" The Sporting News, September 16, 1953: 6.
17 Arch Murray, "Katt Called Top Dog in Giants' Collection of Rookie Hopefuls," The Sporting News, January 13, 1954: 12.
18 Roscoe McGowen, "Katt Will Go into Giants' Training Camp as No. 1 Catcher, Durocher Says," New York Times, February 5, 1954: 25.
19 Jim McCulley, "Katt Confident He Can Fill No. 1 Catching Job," Daily News, February 25, 1954: 79.
20 Baillie, "Katt Credits Success to Westrum's Help."
21 Jim McCulley, "Giants Deal Koslo to Orioles for $20,000," Daily News, April 9, 1954: 72.
22 "Painful Record.: Katt's Passed Ball Mark Draws Much Sympathy," September 11, 1954. [from Ray Katt's Hall of Fame Clippings File: 6].
23 Kermit Westerholm, "Ray Katt Has Traveled Far – To the Top as a Giant," Austin Statesman, October 13, 1954: 28.
24 Gayle Hayes, "Katt Honored at New Braunfels, Tex.," The Sporting News, November 3, 1954: 13.
25 Ben Foote, "Rigney Sees New Vigor in Giants' Vets As Six Jump to Early Start," The Sporting News, February 29, 1956: 23.
26 "Rookies and Vets Rated for All Clubs in Training Season Performance Chart," The Sporting News, April 18, 1956: 21.
27 "Major Flashes: National League," The Sporting News, September 19, 1956: 31.
28 Joe King, "Rigney Returns Mueller to Leadoff Spot," The Sporting News, September 5, 1956: 9.
29 J. G. Taylor Spink, "Lane Offers 'No Alibis' for Trades," The Sporting News, September 12, 1956: 6.
30 John C. Hoffman, "Swap-Hungry Cubs Get Plateful from Lane," The Sporting News, December 19, 1956: 9.
31 Joe King, "Giants' Backstop Jitters Ended as Katt Comes Back," The Sporting News, April 24, 1957: 14.
32 King, "Trader Horace Scores Anew."
33 Arch Murray, "Katt Knew He'd Be Back with Giants," The Sporting News, May 1, 1957: 16.
34 "Jim King Shipped to Giants; Katt Back with Cardinals," The Sporting News, April 9, 1958: 28.
35 Maximo Sanchez, "Cuban All-Star Game Slated, Funds to Castro Government," The Sporting News, November 18, 1959: 20.
36 John Trowbridge, "Surging Oilers Led by Katt and Theim," The Sporting News, August 3, 1960: 36.
37 Texas Lutheran College became Texas Lutheran University in 1996.
38 Kirk Bohls, "Texas Lutheran's David slays 47-game Goliath," Austin American-Statesman, February 24, 1983: 73.
39 "TLC's Katt Will Retire," Austin American-Statesman, February 28, 1992: E3.
40 TLU Athletics, "Ray Katt," https://tlubulldogs.com/hall_of_fame/bios/Ray_Katt (last accessed October 27, 2022).
41 Associated Press, "Former Giants, Cards catcher Katt Dies," ESPN Baseball, October 20, 1999, http://a.espncdn.com/mlb/news/1999/1020/125077.html (last accessed October 27, 2022).
42 "Area II team scouting reports," Seguin (Texas) Gazette-Enterprise, May 17, 1989: 4.
43 National Association of Intercollegiate Athletics, "Hall of Fame: Ray Katt," n.d., https://www.naiahonors.com/hall-of-fame.
Born
May 9, 1927 at New Braunfels, TX (USA)
Died
October 19, 1999 at New Braunfels, TX (USA)
If you can help us improve this player's biography, contact us.
https://sabr.org/wp-content/uploads/2012/01/KattRay.jpg
350
249
admin
/wp-content/uploads/2020/02/sabr_logo.png
admin
2023-05-10 11:37:20
2023-05-11 11:37:56
Ray Katt