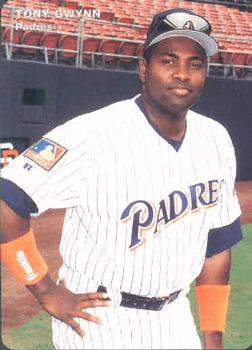 July 12, 1994: Alou's hit, Gwynn's slide lift NL to All-Star win as strike looms
---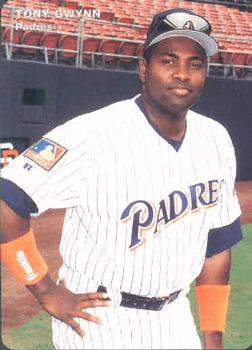 When baseball's stars convened in Pittsburgh for the 1994 All-Star Game, emerging pennant races and milestone quests shared headlines with labor-management discord. A strike shuttered the majors a month later, relegating the unfinished campaign to an ignominious place in the game's history, but the National League's 8-7 win over the American League in 10 innings at Three Rivers Stadium on July 12, climaxing with Fred McGriff's game-tying home run and Tony Gwynn's game-winning dash home on Moises Alou's double, left a bittersweet memento of a star-crossed season.
In March 1990 baseball ended a spring-training lockout with a four-year labor agreement, which expired on December 31, 1993.1 As 1994 proceeded without a new agreement — and also without a full-fledged commissioner, the owners having forced out Fay Vincent in September 19922 — the owners made a proposal, centered on a salary cap and revenue-sharing among the franchises, but the players were unreceptive.3 The stalemate continued on July 11, the eve of the All-Star Game, when statements by Donald Fehr, director of the Major League Baseball Players Association, and Richard Ravitch, the owners' negotiator, gave little hope of imminent — or amicable — resolution.4
An on-field buzz, however, defied the bargaining-table gloom. Sluggers like Ken Griffey Jr. and Frank Thomas bombarded Three Rivers Stadium in the home run derby; Griffey's derby-best seven homers vied with Thomas's stadium-record 519-foot blast for biggest splash.5 All-Stars Griffey, Thomas, and Matt Williams stalked Roger Maris's then-record home run pace.6 Thomas and Gwynn's twin .383 batting averages spurred memories of Ted Williams's .406 mark in 1941.7 In the first season of a divisional realignment, three games or fewer separated first-place teams from runners-up in all but one division.
A sellout crowd of 59,568 — as of 2021 the largest ever for a baseball game in Pittsburgh — turned out.8 Meat Loaf sang "The Star-Spangled Banner,"9 Pirates great Willie Stargell made the ceremonial first pitch, and Greg Maddux, destined for his third NL Cy Young Award in three years, took the mound, as the NL hoped to snap a six-game All-Star losing streak.
Wade Boggs started the first-inning AL attack by bouncing a one-out single to the left of second base. Griffey drove Maddux's next pitch to center, slicing away from Gywnn. The ball went to the wall; Boggs stopped at third, and Griffey had a double. Thomas singled to center, just out of Gwynn's reach, and Boggs scored the game's first run.
The NL struck back in its half of the first. Gregg Jefferies led off by ripping Jimmy Key's pitch to left for a double. Productive outs by two of the game's premier hitters — Gwynn's grounder to first and Barry Bonds' sacrifice fly to right — brought Jefferies home with the equalizer.
Both starters settled down after the first, but the NL revved up in the third against David Cone. Jeff Bagwell pinch-hit for Maddux and lined a one-out single to left.10 Jefferies followed with a popup near the dugout roof on the first-base side. Misjudging it, Ivan Rodriguez reached back, but the ball hit off his mitt for an error. Two pitches later, Cone clipped the jersey of his former Mets teammate, and the NL had two men on.
Gwynn pulled the ball into the right-field corner. Bagwell scored as Kirby Puckett chased the carom. Pittsburgh manager Jim Leyland, coaching third, waved Jefferies home. Roberto Alomar's relay beat Jefferies to the plate, but the St. Louis first baseman slid around Rodriguez's tag and touched home safely. Gwynn was in with a double.
Cone recovered to strike out Bonds, getting the winner of three of the past four NL MVP awards to swing and miss badly at two sliders, then offering a curve that threw Bonds so off-balance that his bat slipped from his grip. But Cone had less luck with a breaking ball to Mike Piazza, who reached out and dropped it into center. Gwynn scored for a 4-1 NL lead.
Ken Hill, whose Montreal Expos had the game's best record at the break, replaced Maddux in the fourth and pitched two scoreless innings, aided by outstanding catches by Bonds in left and Expos teammate Marquis Grissom in center, before Jim Fregosi turned the game over to Doug Drabek in the sixth.
Drabek's six-year tenure in Pittsburgh, prior to signing with the Houston Astros as a free agent in December 1992, included the 1990 NL Cy Young Award, but he was less effective in this return visit. Alomar led off by lining a breaking ball to center for a single. One out later, he stole second and scored on Griffey's single to center.
The NL's lead was down to two runs, but Griffey made the second out attempting to take second on the throw. Then Thomas singled. Joe Carter grounded to Williams, who tried for the force but threw the ball over a late-arriving Carlos Garcia's head and into right field.11 Thomas scored; Carter scooted to third. Puckett grounded Drabek's next pitch up the middle for a single, driving in Carter to tie the game, 4-4.
Wholesale changes came for the AL in the sixth — only Rodriguez and Cal Ripken Jr. remained from the starters, and Randy Johnson was the new pitcher. His second batter was Grissom, who worked the count full, fouled off a pitch, then hit an opposite-field drive to right. Off the bat it appeared headed foul — but it landed fair, in the seats overlooking the fence, for a home run. The NL had regained the lead, 5-4.
John Hudek had replaced Drabek and cleaned up the sixth for the NL. But the rookie encountered trouble of his own in the seventh when Rodriguez singled and pinch-hitter Mickey Tettleton walked.
Chuck Knoblauch hit a grounder between short and third. Ozzie Smith — a 39-year-old 13-time Gold Glove winner in his 12th All-Star game — took three steps to his right, reached out with his backhand, extended across the turf, and grabbed the ball. His flip to second beat a sliding Tettleton. The crowd cheered the spectacular play; the NL nursed its slim lead for another batter.
Lefty-swinging Scott Cooper was up with runners at the corners, and Fregosi replaced Hudek with left-hander Danny Jackson. Cooper drove Jackson's fastball off the left-field wall for a double. Bonds' quick throw held Knoblauch at third, but Rodriguez scored the tying run. Kenny Lofton grounded a single through the drawn-in infield; Knoblauch and Cooper came in for a 7-5 AL lead.
Both bullpens held the line, and the margin remained two runs heading to the bottom of the ninth. Cito Gaston called on veteran closer Lee Smith, then in his only season with the Baltimore Orioles. Grissom worked the count full, fouled off two high fastballs, then watched another high fastball for ball four.
Craig Biggio grounded sharply to third. Cooper got the force on Grissom, but Biggio hustled down the line to beat the relay, reaching the bag an instant before Knoblauch's throw hit Will Clark's mitt. McGriff batted for reliever Randy Myers.
Nearing the 30-homer mark for the seventh season in a row, McGriff took a big swing and fouled off Smith's first pitch, then swung through the second. Smith's next offering missed outside; McGriff fouled off another.
The fifth pitch of the at-bat was low and away. McGriff lifted it deep to center, his bat angled over his head after impact, a swing that earned him game MVP honors. Lofton tracked the ball, but it landed in the seats. The game was tied again, 7-7.
Smith got two outs to send the game to extra innings. Doug Jones allowed two singles in the 10th but stranded both runners.
Jason Bere was the AL's eighth pitcher of the night. Gwynn took his first two pitches for strikes. Reaching for the 0-and-2 offering, Gwynn bounced it over the mound and into center for a single.
Bere threw a ball to Alou. The Montreal right fielder swung at the next pitch and ripped it into the power alley in left center. The ball bounced off the turf and hit the fence.
Albert Belle picked it up as Gwynn neared third, heading for home. Ripken took the relay in short left and threw to the plate. It arrived on one hop, but Gwynn slid between Rodriguez's shin guards and under the tag. Home-plate umpire Paul Runge gave the safe sign. The NL's losing streak was over.
"It doesn't matter how close it was," Gwynn said about his game-winning run.12 "It's in the books. So, for one year at least, the American League can quit popping off about how good they are. A bunch of Punch-and-Judy hitters went out and beat them this year. I know I'm gonna take heat for saying that. But the bottom line is: 8-7. We win."13
Any celebration was brief. Six days later, on July 18, the players formally rejected the owners' proposal;14 they went on strike on August 12.15 The rest of the season and World Series was canceled,16 and it took federal court action in March 1995 to get everyone back on the field again.17
Gwynn's .394 average in 1994 and Montreal's majors-best 74-40 record were forever frozen in amber, artifacts of an incomplete season and perennial what-ifs. Maris's mark held for yet another year, safe from Williams's 43 homers through 112 games. McGriff lost more than 60 strike-canceled games from his power-hitting prime and retired with 493 home runs, tying Lou Gehrig for the closest miss of the 500-homer club.18 Their moment in the sun in 1994, truncated and unconsummated, sits awkwardly in baseball's annals. But Ozzie's dive and Biggio's hustle and McGriff's homer and Alou's double and Gwynn's slide and the rest of the 1994 All-Star Game show what the game had to offer that year, and what might have been.
Author's Note
I spent the summer of 1994 at my boyhood home in Pittsburgh, between semesters of college. While I did not get to attend the All-Star Game, I made the most of the week's celebration, going to the Home Run Derby with my brothers and volunteering at FanFest and a Pittsburgh hotel that hosted many media personalities. Memorable moments of the volunteer work included reminiscing with former Pirates manager Chuck Tanner, hailing a cab for broadcaster Chris Berman, and taking broadcaster Dave Campbell to a convenience store to purchase cigarettes.
Sources and acknowledgments
In addition to the Sources cited in the Notes, this article relied on the Baseball-Reference.com and Retrosheet.org websites for pertinent material and the box scores noted below. Source materials also included a recording of NBC's television broadcast, available at the YouTube link noted below.
https://www.baseball-reference.com/allstar/1994-allstar-game.shtml
https://www.retrosheet.org/boxesetc/1994/B07120NLS1994.htm
https://www.youtube.com/watch?v=X4d7Wo3Q4Ik
SABR member Gary Belleville provided insightful comments on an earlier version of this article.
Notes
1 Glen Macnow and Jayson Stark, "Baseball Lockout Is Over; 4-Year Agreement Reached," Philadelphia Inquirer, March 19, 1990: 1-A.
2 Sam Donnellon, "Foes Get the Best of Fay," Philadelphia Daily News, September 8, 1992: 94. Milwaukee Brewers owner Bud Selig, chairman of the Executive Council of Major League Baseball, had served as acting commissioner since Vincent's resignation.
3 Larry Whiteside, "Players' Union Not Ready to Play Ball with Owners," Boston Globe, June 15, 1994: 52.
4 "We don't have an agreement yet, and we'll have to work hard to find one in a very short time if we are going to avert another in a series of work stoppages," Fehr said at his press conference. "Baseball cannot and will not continue under the present system," Ravitch countered. "If we are at genuine impasse, I see no reason whatsoever that we should forgo any remedy available to us under the law." Peter Schmuck, "No Date for a Strike, but No Closer to a Deal: Players, Owners Firm on Salary Cap," Baltimore Sun, July 12, 1994: 1C.
5 Paul Meyer, "Star-Spangled Day: Griffey Unleashes HR Power," Pittsburgh Post-Gazette, July 12, 1994: B-1.
6 Jayson Stark, "Hitters Pursuing History: 4 All-Stars on Trail of Giant Feats," Philadelphia Inquirer, July 12, 1994: D1.
7 Stark.
8 Pittsburgh was awarded the game in April 1990 at the height of a franchise resurgence for the Pirates, including three consecutive NL East titles from 1990 to 1992 and record-setting home attendance. By 1994, however, stars Barry Bonds, Doug Drabek, and Bobby Bonilla had moved on; the Pirates were on their way to their second consecutive losing season in a streak eventually spanning 20 seasons. Scott Newman, "City to Host Baseball's 1994 All-Star Game," Pittsburgh Press, April 17, 1990: A1; "Notebook: Pirates Set Attendance Record," Pittsburgh Post-Gazette, October 7, 1991: 20.
9 Meat Loaf, born Marvin Lee Aday, released his debut album, Bat Out of Hell, in 1977. Bat, certified 14x Platinum by the Recording Industry of America as of 2021, spawned three Top 40 hits in Billboard's Hot 100 in 1977 and 1978, including "Paradise by the Dashboard Light," which used a baseball broadcast by Hall of Famer Phil Rizzuto as a metaphor for a teenage sexual encounter. In 1993 Meat Loaf reunited with Bat producer Jim Steinman for a sequel album, Bat Out of Hell II. Bat II reached Number One on the Billboard 200 in October 1993 and yielded three Top 40 hits in 1993 and 1994, including the Number One single, "I'd Do Anything for Love (But I Won't Do That)." The October 2020 episode of Slate's Hit Parade podcast provides a detailed overview of Meat Loaf's recording career. "Hit Parade: Turn Around Bright Eyes Edition," Slate.com, October 16, 2020, available at https://slate.com/podcasts/hit-parade/2020/10/jim-steinman-made-plethora-of-pompous-pop. Margo Timmons of the Canadian band Cowboy Junkies performed "O Canada." Chuck Finder and Paul Meyer, "Notebook: Alou, Bonds, Griffey, Alomar Follow in Dads' Footsteps," Pittsburgh Post-Gazette, July 13, 1994: C-6.
10 After the single, NBC's telecast showed Thomas holding Bagwell on at first. Broadcaster Bob Costas observed that both players — later members of the Baseball Hall of Fame — were born on the same day: May 27, 1968.
11 On the telecast, both Johnny Bench and Joe Morgan noted that Garcia appeared to be late covering second, possibly anticipating that Williams would throw to first.
12 Jayson Stark, "Nationals End Their All-Star Agony: Beat AL with Run in 10th," Philadelphia Inquirer, July 13, 1994: D1.
13 Stark.
14 Associated Press, "Baseball Players Reject Cap: Strike Date? Union's Exec Board to Meet by July 31," Daily News (New York), July 19, 1994: 61.
15 Associated Press, "Stee-rike! They're Out: Players Hit Bricks 'Resigned, Resentful,'" Gazette (Montreal), August 12, 1994: C1.
16 Jayson Stark and Bob Ford, "Baseball: The Season Is Over, the Series Out," Philadelphia Inquirer, September 15, 1994: A1.
17 Jayson Stark, "Strike Over, but Baseball in Limbo: Owners Could Vote for Lockout of Players," Philadelphia Inquirer, April 1, 1995: A1. Strike resolution required a ruling by US District Judge Sonia Sotomayor, later a Supreme Court justice, granting the National Labor Relations Board's request for an injunction against the owners on March 31, 1995, on the grounds that the owners had committed an unfair labor practice by unilaterally eliminating the free agency, salary arbitration, and anti-collusion provisions of the expired labor agreement. Sam Donnellon and Marcus Hayes, "Judge Sides with Players," Philadelphia Daily News, April 1, 1995: 50.
18 Craig Calcaterra, "Fred McGriff: Underrated Victim of the 1994-95 Strike," NBCSports.com, August 12, 2016, available at https://mlb.nbcsports.com/2016/08/12/fred-mcgriff-underrated-victim-of-the-1994-95-strike/.
Additional Stats
National League 8
American League 7
10 innings
---
Three Rivers Stadium
Pittsburgh, PA
Box Score + PBP:
Corrections? Additions?
If you can help us improve this game story, contact us.
Tags
https://sabr.org/sites/default/files/GwynnTony-1994.jpg
600
800
sabr
/wp-content/uploads/2020/02/sabr_logo.png
sabr
2021-07-07 00:22:56
2021-07-07 00:22:56
July 12, 1994: Alou's hit, Gwynn's slide lift NL to All-Star win as strike looms