This Week in SABR: February 2, 2018

Welcome to "This Week in SABR!" Click here to view this week's newsletter on the web. Here's what we've been up to as of February 2, 2018:
---
We're excited to announce more featured speakers and panelists, including a special MLB Advanced Media Statcast Presentation, at the 2018 SABR Analytics Conference.
The SABR Analytics Conference will be held Friday, March 9 to Sunday, March 11, 2018, at the Hyatt Regency Phoenix. The conference is open to all baseball fans, and early registration is now available online. Click here to register!
The MLB Statcast Presentation will include:
Tom Tango, Senior Data Architect, Stats at MLB Advanced Media and co-author of The Book: Playing the Percentages in Baseball.
Mike Petriello, Stats Analyst for MLB Advanced Media and host of the Statcast Podcast.
Daren Willman, Director of Baseball Research and Development for MLB Advanced Media and developer of the popular data websites BaseballSavant.com, MLBfarm.com, and NFLsavant.com.
In addition, we'll also be joined at the SABR Analytics Conference by these speakers and panelists:
Jeremy Booth, CEO of the New Balance Baseball Future Stars Series and the CEO/President of Program 15 Baseball Player Development.
Brett Kurland, professor of practice at the Walter Cronkite School of Journalism and Mass Communication at Arizona State University and founding director of the Phoenix Sports Bureau of Cronkite News.
Bill Squadron, Special Counsel for Genius Sports.
They will join Brian Kenny of MLB Network, ESPN's Jon "Boog" Sciambi and Eduardo Perez, Arizona Diamondbacks Sr. Vice President/Assistant GM Amiel Sawdaye, longtime major-league pitching coach Rick Peterson, San Francisco Giants executive David Bell, Chicago White Sox executive Chris Getz, Seattle Mariners executive Andy McKay, Monsterful VR CEO/founder Jarett Sims, baseball writer Eno Sarris, SABR President Vince Gennaro, and more as featured speakers and panelists at the 2018 SABR Analytics Conference.
Click here to read bios for all of our speakers and panelists. All speakers are subject to change based on availability.
Stay tuned as we announce more speakers and panelists! Click here to learn more.
---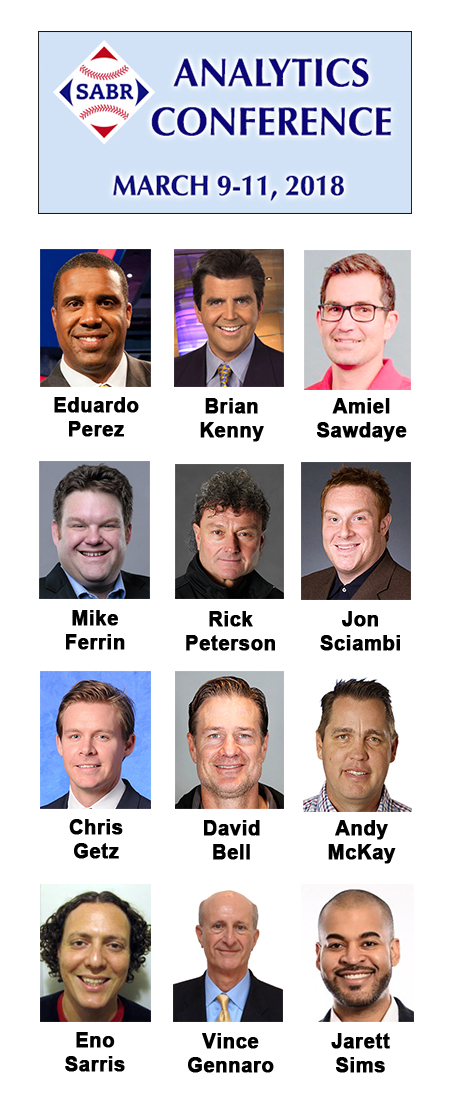 Early registration is still open for the seventh annual SABR Analytics Conference on Friday, March 9 to Sunday, March 11, 2018, at the Hyatt Regency Phoenix, but you should register before February 15 to take advantage of the early registration discounted rate. Our special group rate at the Hyatt Regency Phoenix also expires on February 15, 2018.
We hope you'll join us this spring in Arizona, where we'll bring together the top minds in the baseball analytics community to discuss, debate and share insightful ways to analyze and examine the great game of baseball. All baseball fans are welcome to attend. Click a link below for more information:
This year's conference will feature the high-quality content you've always enjoyed at the SABR Analytics Conference and the same number of featured panels and research presentations, but there will be a few changes to the usual schedule: We will begin programming early Friday afternoon on March 9 and will run through Sunday afternoon on March 11. The change in schedule is due to the availability at our host hotel this year. However, we have a large block of rooms for SABR Analytics Conference attendees on Friday, Saturday, and Sunday nights.
In addition, the Diamond Dollars Case Competition will start at 6:00 p.m. on Friday evening and the networking reception will be held on Saturday evening, March 10 at the Hyatt Regency Phoenix. Lunch, which is included in your conference registration, will be served at noon on Friday — before the regular programming begins — and also on Saturday between the morning and afternoon sessions.
Visit SABR.org/analytics to learn more or to sign up today.
---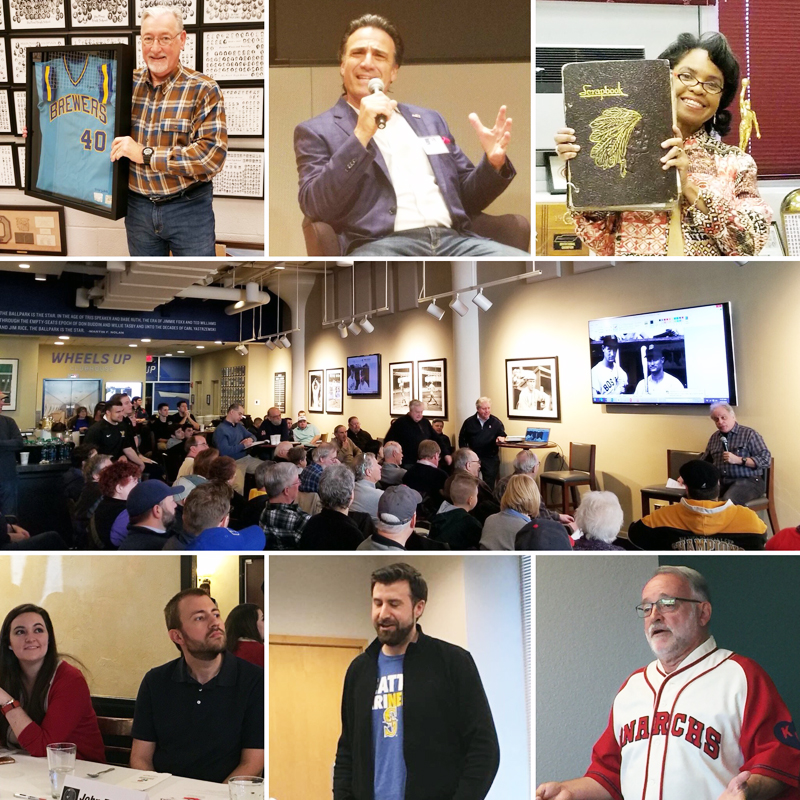 More than 50 SABR chapters participated in SABR Day events in 2018, setting a new record high. SABR Day events on Saturday, January 27 included some premier guest speakers, such as new Boston Red Sox manager Alex Cora, who spoke at the SABR Day event in Puerto Rico, and former Los Angeles Dodgers general manager and current Toronto Blue Jays scout Dan Evans, who spoke at the Rocky Mountain Chapter meeting in Denver.
More than 100 members and guests gathered at Fenway Park last weekend for the SABR Boston Chapter's special Winter Festival, hosted by Red Sox historian and SABR member Gordon Edes. Speakers included former Red Sox reliever and Yale University graduate Craig Breslow and presentations from historians Bill Nowlin, Bob Brady, and Saul Wisnia, along with the tale of a nomadic college team, the Wentworth Leopards; the Reviving Baseball in the Inner Cities program; and the amazing Boston Renegades and their Beep Baseball saga.
The Baltimore Babe Ruth Chapter's meeting at the historic Peabody Heights Brewery was highlighted by ESPN's Tim Kurkjian. Other speakers included SABR Vice President Leslie Heaphy; Ken Mars, who discussed his documentary "Baltimore Baseball Before the Orioles"; Bernard McKenna, who discussed his research about the Baltimore Black Sox for his upcoming book; and David Stinson, who discussed the history of our meeting site.
SABR's Casey Stengel Chapter in New York City, hosts of last summer's SABR 47 national convention, had a terrific SABR Day event at the New York Public Library, with guest speakers that included Tyler Kepner of the New York Times, major-league umpire Phil Cuzzi, "Talking Baseball" radio host Ed Randall, former New York Mets player Art Shamsky, baseball scout Tom Giordano, and NYPL Senior Rare Book Cataloger Virginia Bartow, who presented highlights from the library's collections.
Visit SABR.org/sabrday for highlights, stories, and photos from SABR Day events around the globe.
More SABR Day events tomorrow! Some chapters are holding their SABR Day meetings this weekend, due to venue or schedule availability. Don't miss the upcoming SABR chapter meetings in Cleveland, Detroit, and Little Rock on Saturday, February 3. In Cleveland, the Jack Graney Chapter will meet at 9:30 a.m. in the Media Room at Progressive Field, where they will hear from Keith Woolner, the Indians' Principle Data Scientist, Indians beat writer Zack Meisel of The Athletic, author and professor Dr. Jim Albert, former major-league pitcher Chuck Smith, and member Steve Johnson. Click here for more details. In Detroit, the Detroit Chapter will meet at 1:00 p.m. at the Detroit Public Library's main branch, where they will hear from Mike Neal, director of the documentary Bud Fowler and the Page Fence Giants; and Brian "Chip" Martin, author of The Detroit Wolverines: The Rise and Wreck of a National League Champion, 1881–1888. Click here for more details. And in Arkansas, the Robinson-Kell Chapter will meet from 12:00-4:30 p.m. at the First Southern Baptist Church on Reynolds Road in Bryant, where they'll hear from former St. Louis Cardinals pitcher Dick Hughes and his SABR biographer, Thomas Van Hyning, along with presentations from Fred Worth, Jim Yeager, and Terry Turner. Click here for more details. Hope to see you there!
---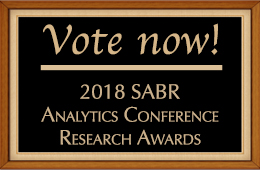 Here's your chance to vote for the 2018 SABR Analytics Conference Research Award winners.
The SABR Analytics Conference Research Awards will recognize baseball researchers who have completed the best work of original analysis or commentary during the preceding calendar year. Nominations were solicited by representatives from SABR, Baseball Prospectus, FanGraphs, The Hardball Times, and Beyond the Box Score. To read any of the finalists, click on the article link below.
Click here to vote on the 2018 award winners at SABR.org.
Contemporary Baseball Analysis
Contemporary Baseball Commentary
Historical Analysis/Commentary
Voting will be open through 11:59 p.m. MST on Monday, February 12. Details and criteria for each category can be found here. Only one work per author was considered as a finalist.
Results will be announced and presented at the seventh annual SABR Analytics Conference, March 9-11, 2018, at the Hyatt Regency Phoenix in Phoenix, Arizona. Learn more or register for the conference at SABR.org/analytics.
---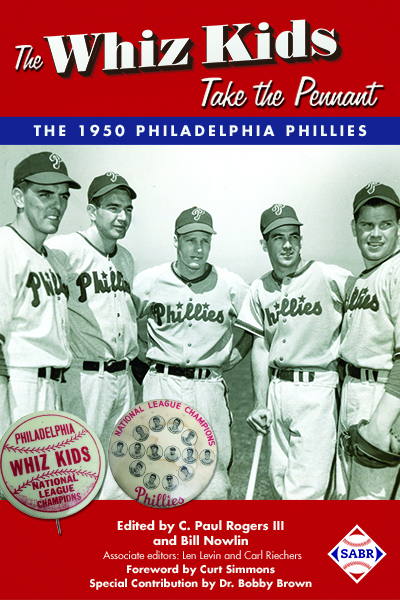 Add this new baseball book from the SABR Digital Library to your collection:
The Whiz Kids Take the Pennant: The 1950 Philadelphia Phillies
Edited by C. Paul Rogers III and Bill Nowlin
Associate editors: Len Levin and Carl Riechers
Foreword by Curt Simmons
Special Contribution by Dr. Bobby Brown
ISBN (paperback): 978-1-943816-31-6, $19.95
ISBN (e-book): 978-1-943816-30-9, $9.99
366 pages, 8.5″ x 11″
The 1950 Philadelphia Phillies ― the "Whiz Kids" ― threatened to run away with the pennant, but slumped badly in late summer before finally beating the Brooklyn Dodgers in a thrilling 10-inning game on the last day of the season. That day at Ebbets Field they won only the second pennant in Phillies history and their first in 35 years. Between the two pennants, the Phillies were mostly dreadful, finishing in the first division only once between 1917 and 1949, and dead last 16 times between 1919 and 1945, including five straight years from 1938 to 1942, once finishing 28½ games out of seventh.
This book tells the stories of those Whiz Kids, a team with one of the most memorable nicknames in baseball history. Not only does this volume recap how their run to the flag was marked by clutch hitting and pitching in close games, it contains biographies of every player who appeared, including Richie Ashburn, Robin Roberts, Willie "Puddin' Head" Jones, and Eddie Waitkus. Game stories and many other features about this unique team round out the volume. In addition to a foreword by Whiz Kid Curt Simmons, it even contains a "View From the Other Side" by Yankees third baseman and former American League President Dr. Bobby Brown.
This book is also the product of the dedicated, uncompensated work of 36 members of the Society for American Baseball Research, all of whom share a love of baseball and its rich history. Even for the most knowledgeable baseball fan, what follows is a treasure trove of fascinating anecdotes and facts about a bygone era of baseball when the uniforms were flannel, the players still left their gloves on the field between innings, and the games were played in two hours.
Contributors include: Ralph Berger, Dennis Brislen, Warren Corbett, Greg Erion, Charles F. Faber, Dan Fields, Jan Finkel, Eric Hanauer, Michael Huber, Bob Hurte, Seamus Kearney, Jimmy Keenan, Bob LeMoine, Len Levin, Jack V. Morris, Bill Nowlin, Gregg Omoth, Neal Poloncarz, James L. Ray, Carl Riechers, Paul Rogers, Steven D. Schmitt, Joe Schuster, David E. Skelton, Curt Smith, Ted D. Smith, Lyle Spatz, Mark S. Sternman, Andy Sturgill, Jim Sweetman, Clayton Trutor, Edward W. Veit, Cort Vitty, Steve West, John Wickline, and Gregory H. Wolf.
SABR members, get this e-book for FREE!
SABR members will get discounted rates for all Digital Library publications, including all e-books for free. To find past SABR Digital Library publications, visit SABR.org/ebooks.
Having trouble downloading our e-books? To view PDF files on your computer, click here to download the free Adobe Reader software. Having trouble downloading e-books to your Kindle, Nook, Sony Reader or iPad? Click here for additional help.
---
For those of you whose memberships expired recently, there's still a little time left to renew and be a part of the SABR community again in 2018. If you've already renewed, we thank you for your support and look forward to another exciting year ahead.
Renew now to receive the Spring 2018 edition of the Baseball Research Journal, plus discounts on registration to the 2018 SABR Analytics Conference and SABR 48 in Pittsburgh, and a lot more! Please note: We MUST receive your dues by February 28, 2018, in order for you to receive the upcoming BRJ.
Here's how to renew: You can renew your membership for 1 year or 3 years online at the SABR Store; by phone at (602) 496-1463; or by mailing this downloadable PDF form and your payment to the SABR office at Cronkite School at ASU, 555 N. Central Ave. #416, Phoenix, AZ 85004.
Dues are the same as they have been in recent years: $65 for an annual membership or $45 for anyone under 30 or over 65. Click here for a full list of SABR membership benefits.
---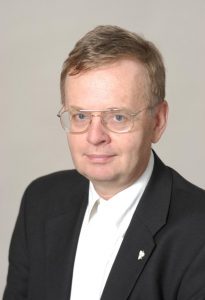 SABR member Bill Humber, Canada's premier baseball historian, will be inducted into the Canadian Baseball Hall of Fame in 2018 along with former Montreal Expos superstar Pedro Martinez and Toronto Blue Jays center fielder Lloyd Moseby. A ceremony will be held on June 16, 2018, at the Hall of Fame grounds in St. Marys, Ontario.
"Each of this year's inductees has had a tremendous influence on baseball in this country," said Scott Crawford, the Canadian Baseball Hall of Fame's director of operations. "Pedro Martinez and Lloyd Moseby are two of the most successful and beloved stars to have played for major league teams in Canada and Bill Humber's commitment to promoting the history of the game in this country has been unparalleled."
On top of the countless presentations about Canadian baseball history that he has done across North America, Humber has also authored several groundbreaking books on the topic, including Cheering for the Home Team (1983), Let's Play Ball: Inside the Perfect Game (1989), The Baseball Book and Trophy (1993) and Diamonds of the North: A Concise History of Baseball in Canada (1995).
The Bowmanville, Ontario, resident was also instrumental in the formation of SABR's Toronto-based Hanlan's Point Chapter and he played a central role in the organization of Toronto's first SABR Convention in 1981. He is also the only Canadian to have served on SABR's Board of Directors, having done so in 1982 and 1983 and then again in 1989.
In 1979, he founded a course called "Baseball Spring Training for Fans" at Seneca College which continues to this day. He has taught the course since its inception. In 1989, he was the driving force behind the "Let's Play Ball: Inside the Perfect Game" exhibit at the Royal Ontario Museum, which celebrated 150 years of Canadian baseball history.
Click here to read the full article at SABR.org.
---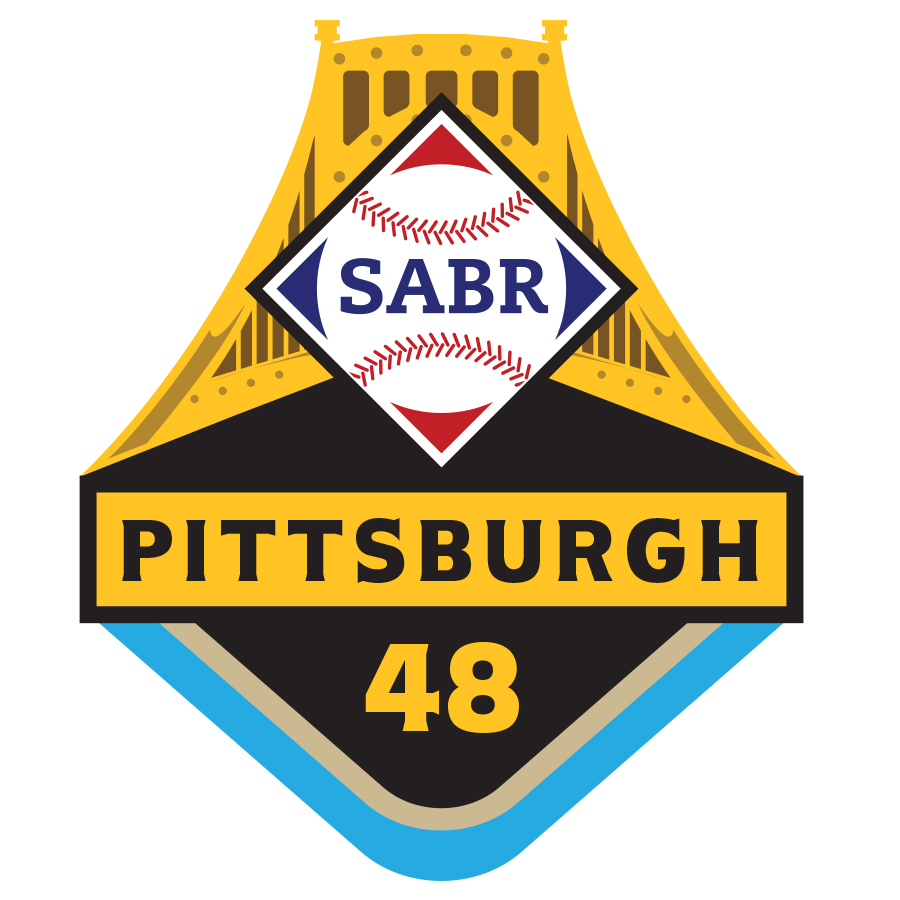 We hope you'll join us for what promises to be a spectacular SABR 48 convention on June 20-24, 2018, at the Wyndham Grand Pittsburgh in Pittsburgh, Pennsylvania.
Early registration is now available at SABR.org/convention; all baseball fans are welcome to attend. Click here for more information on SABR 48 registration rates, all-inclusive packages, and optional sessions. Or click here to register for SABR 48.
The Wyndham Grand Pittsburgh is conveniently located within walking distance from PNC Park and a light rail station, many downtown cultural amenities, and right across the street from the picturesque 36-acre Point State Park where the three rivers converge.
Click on a link below for more information about SABR 48.
Registration: We're again offering a special all-inclusive rate for the annual SABR convention. For $319, a savings of $30 off the regular rate, SABR members can get:
— Full registration to SABR 48 in Pittsburgh (early-bird: $249; regular rate: $279)
— 1 ticket in the Corner Box (LF) section to the Pirates vs. Diamondbacks game on Friday, June 22 — includes special "A Day at the Ballpark" pregame session at PNC Park ($40 value)
— 1 ticket to the Awards Luncheon on Friday, June 22 ($60 value)
Non-members can pay $394 for the all-inclusive rate. The deadline to register with the all-inclusive rate is Friday, May 18, 2018. Click here for complete information on SABR 48 registration rates, all-inclusive packages, and optional sessions. Or click here to register for SABR 48!
Hotel: The special SABR group rate at the Wyndham Grand Pittsburgh of $149/night (plus tax) is only available to registered convention attendees. After you register for the SABR 48 convention, you will receive an e-mail confirmation with details on how to book your hotel room at the SABR group rate. There are a limited number of rooms in our group block, so be sure to register for SABR 48 early! The Wyndham Grand Pittsburgh is located at 600 Commonwealth Place, Pittsburgh, PA 15222.
Awards Luncheon: SABR will host a special Awards Luncheon on Friday, June 22 at the Wyndham Grand Pittsburgh. The Awards Luncheon, which includes a full meal, will feature the announcement of SABR's annual awards — including the Bob Davids Award, our highest honor. One ticket to the Awards Luncheon is included in the all-inclusive package or guest tickets are available for $60 when you register for SABR 48.
A Day at the Ballpark: For the third year in a row and fourth time in five years, SABR will present "A Day at the Ballpark" before the Pittsburgh Pirates game against the Arizona Diamondbacks on Friday, June 22 at PNC Park. Special thanks to the Pirates for this great opportunity and for offering us a large block of tickets in the Corner Box (LF) section at an affordable price of $40 for SABR members ($45 for non-members). Purchase of SABR 48 conference registration AND a game ticket will be required to attend this special session. Guests and spouses can get in the ballpark early with purchase of a special SABR 48 Ballpark Session pass ($25) and a Pirates game ticket. Click here for more details.
Roberto Clemente Museum tours: The Roberto Clemente Museum in Pittsburgh has a special offer for SABR 48 attendees: The museum will host four tours (maximum of 20 people per tour) at $20 per person on Wednesday, June 20. Space is extremely limited, and reservations will only be made on a first-come, first-serve basis. Please call the museum at (412) 621-1268, Ext. 2, to reserve your space. No reservations can be made online; payment is due on-site when you arrive for the tour. Tours last about 1.5 hours and the start times on Wednesday, June 20 are as follows (subject to availability): 10:00 a.m., 12:15 p.m., 2:30 p.m., and 5:00 p.m. Click here for more details.
Research presentations: SABR invites all members to present their research findings to their colleagues attending SABR 48. The deadline to submit your abstract is Sunday, February 25, 2018. Click here for complete details and application form.
Yoseloff Scholarship: Students, click here to learn more about a Yoseloff Scholarship to attend SABR 48 in Pittsburgh. The deadline to apply is Friday, March 30, 2018.
All SABR 48 attendees will also receive a souvenir print edition of The National Pastime, our annual convention journal, focusing on baseball teams, players and events in the Pittsburgh area. All SABR members, whether you attend the convention or not, will receive the e-book edition of The National Pastime in their inboxes later this summer.
Stay tuned for more featured speakers and the complete schedule to be announced in the coming months. Visit SABR.org/convention to learn more.
We hope to see you this summer in Pittsburgh!
---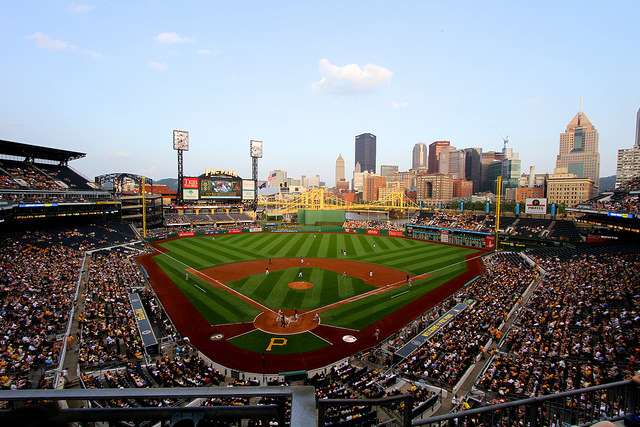 SABR invites all members to present their research findings to their colleagues attending SABR 48, which will be held June 20-24, 2018, at the Wyndham Grand Pittsburgh. Early registration is now available at SABR.org/convention.
Oral presentations are expected to last 20 minutes, followed by a five minute question-and-answer period. Posters will be presented, with the author on-hand to discuss the work, during a poster session of 60 minutes and they will remain on display throughout the convention. Through on-site judging, the most highly-regarded presentations will receive the Doug Pappas Award for best oral presentation and the SABR Convention Poster Presentation Award for best poster presentation.
The submission deadline for SABR 48 abstracts is midnight PST, Sunday, FEBRUARY 25, 2018. Click here for complete details and application form.
Please note: If your abstract is accepted and you intend to make a research presentation, you must register to attend the SABR 48 convention. Early registration details are now available at SABR.org/convention.
---
With generous funding from The Anthony A. Yoseloff Foundation, Inc., SABR will award up to four scholarships to high school or college students to attend SABR 48 on June 20-24, 2018, in Pittsburgh. This scholarship will pay for registration, transportation and lodging (double occupancy) up to a total value of $1,250.
The objective of this scholarship fund is to encourage high school and college-level student engagement with baseball research and to engender an active interest in baseball and SABR. The Yoseloff scholarship is to assist young researchers who want to attend SABR's annual convention and to introduce them to fellow SABR members. Through this fund, SABR hopes to inspire future baseball research, expose students to high-quality research and build the research capability of interested students.
All applications must be postmarked or e-mailed to Jeff Schatzki at jschatzki@sabr.org no later than FRIDAY, MARCH 30, 2018.
Click here for complete details and criteria.
---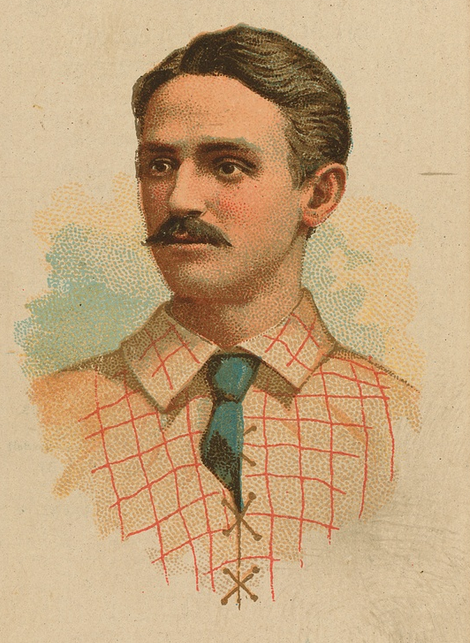 2018 is here and it's time to start the ball rolling as we choose our Overlooked 19th Century Baseball Legend of the year.
Last year, Bob Caruthers (pictured at right) joined previous winners Pete Browning (2009), Hall of Famer Deacon White (2010), Harry Stovey (2011), Bill Dahlen (2012), Ross Barnes (2013), Daniel Lucius "Doc" Adams (2014), Tony Mullane (2015), and Jack Glasscock (2016) as SABR's Overlooked 19th Century Baseball Legends.
The preliminary voting process, which we call the Overlooked Primary Election, will consist of each voter selecting 10 names from the list of 26 candidates. The top 10 will be presented to the SABR membership in May 2018, when all members will be able to vote in the final election. The winner will be announced at the SABR 48 convention this summer in Pittsburgh.
Below is a PDF with the 26 candidates for 2018 and a brief explanation of their baseball accomplishments and/or contributions to our national pastime. You can download the PDF by clicking on the link below:
http://bit.ly/2018-sabr-overlooked-19c-legend-prelim
The voting in the Overlooked Primary Election will end at 11:59 p.m. MST on Monday, February 12, 2018.
To vote in the Primary Election, you must be a member of the Nineteenth Century Committee. Click here to join the group and then you can request a copy of the ballot from Adam Darowski.
---
The SABR Nominating Committee seeks nominations for candidates for the Spring 2018 elections. All candidates for the Board of Directors must have been members of the Society for at least the preceding four years to be eligible for election. Deadline for nominations is February 28, 2018. Nominees must prepare a Candidate Statement Form following guidelines that will be available from any Nominating Committee member.
The Candidate Statement Form must be received by the Nominating Committee chair no later than March 16, 2018.
The offices to be filled:
Vice President (2-year term; currently Leslie Heaphy)
Secretary (3-year term; currently Todd Lebowitz)
Director (3-year term; currently Ty Waterman)
The Nominating Committee also seeks your input. Members are asked to submit office-specific questions for each of the offices open in this election. We also seek input on general questions for every nominee. Candidates will answer selected questions on the Candidate Statement Form. Regional Chapter leaders and Research Committee Chairs are especially encouraged to pass on this request to their respective members to better address member needs.
Self-nominations are welcome. If you would like to nominate yourself or another candidate or suggest a question for the candidates, contact Nominating Committee chair Neal Traven at beisbol@alumni.pitt.edu.
---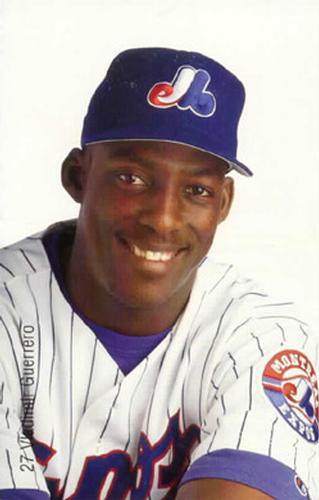 Twelve new biographies were posted this week as part of the SABR Baseball Biography Project, which — along with the publication of our new BioProject book on the 1950 Philadelphia Phillies — brings us to a total of 4,398 published biographies. Here are the new bios published this week:
All new biographies can be found here: SABR.org/bioproj/recent
Search for any SABR biography: You can now visit sabr.org/bioproj_search to search for any player — or manager, executive, scout, spouse, broadcaster, or umpire — who appears in the SABR BioProject. You can also browse all of these BioProject categories and a lot more, including 300-game winners, Hall of Famers, 1960s All-Stars, or Negro Leaguers, at our Browse page: sabr.org/bioproj/browse.
---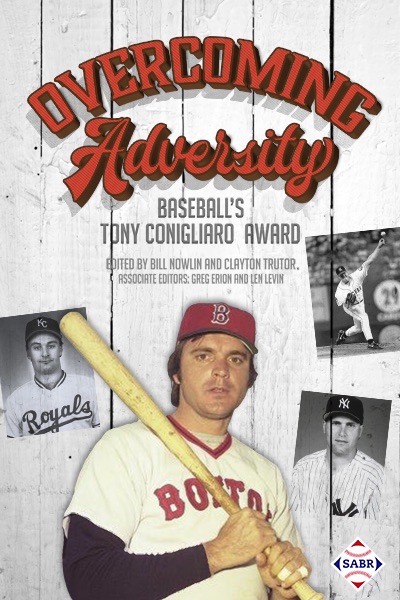 In SABR's Overcoming Adversity: Baseball's Tony Conigliaro Award, edited by Bill Nowlin and Clayton Trutor and published in 2017, we told the stories of MLB players who had overcome an obstacle and adversity through the attributes of spirit, determination, and courage that were trademarks of Tony Conigliaro, the Boston Red Sox slugger whose career was altered after he was hit by a pitch in the face.
Instituted in 1990 by the Red Sox to honor Conigliaro after his death, the award has been given to 29 players including Rocco Baldelli, Dickie Thon, Jim Abbott, Curtis Pride, and Mike Lowell.
All biographies of non-active players that appeared in Overcoming Adversity can now be read online at the SABR BioProject.
You can also download the e-book for free or purchase the paperback edition at 50% off by clicking here. SABR members can download all SABR Digital Library e-books for free at SABR.org/ebooks.
---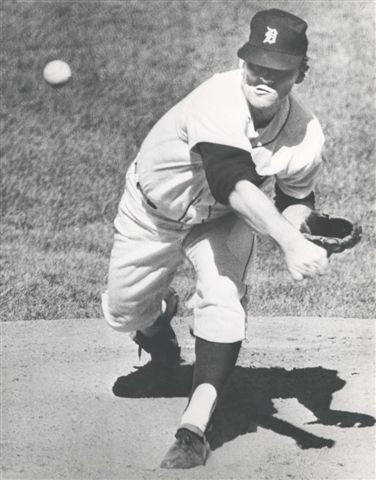 Seven new game stories were posted this week as part of the SABR Games Project. Here are the new game stories:
Most of these articles appeared in Tigers By The Tale: Great Games at Michigan and Trumbull (SABR, 2016), edited by Scott Ferkovich. To read more articles from this book at the SABR Games Project, click here.
New Games Project stories can be found at SABR.org/gamesproject/recent. Find all published Games Project articles at SABR.org/GamesProject.
If you have any questions about the Games Project, please contact Mike Huber. To request an assignment, please contact Steven C. Weiner. After the article has been completed in accordance with our Authors' Guidelines, please submit it to Len Levin, who will initiate the editing process and get your story started toward publication.
Get involved: Have memories of a game you attended? Or a game you watched that caught your interest? Write about it! Writing for the Games Project is an easy way to get involved as a SABR member. Find out how by reading the Games Project FAQs section or checking out the Authors' Guidelines. We have editors and fact checkers who are willing to help you write your first article.
---

SABR Baseball and the Media Committee chair Chuck Hildebrandt reports that a new Little League Home Run has been confirmed and added to our database at SABR.org: Charlie Mead of the New York Giants hit a LLHR on September 10, 1943, against the Boston Braves at the Polo Grounds. Play-by-play details were discovered in the New York Daily News by SABR member Cliff Blau; click here to read the article.
The SABR Little League Home Runs Database, an effort to compile a definitive list of one of baseball's most entertaining and memorable plays, is now updated with 359 confirmed Little League Home Runs through the 2017 season.
There is one other potential Little League Home Run play that still needs to be confirmed:
August 27, 1944: George (Pinky) Woods; Boston Red Sox vs. Philadelphia A's; 9th inning, Game 2 of DH; Play: ROE E6-throw, scored on E3.
– Sources already checked: Boston Globe; Boston Herald; Lowell (Mass.) Sun; Christian Science Monitor; Philadelphia Inquirer; Philadelphia Daily Bulletin; Philadelphia Public Ledger; Philadelphia Daily News; The Sporting News; Boston Record; Boston American; Boston Traveler
If you can uncover any evidence confirming or rejecting this play as being a Little League Home Run, or anything else related to this phenomenon, please contact Chuck at LittleLeagueHomeRuns@gmail.com.
---
Please note: Only ONE entry per nomination will be considered (do not submit multiple nominations for the same award). For more information on SABR Awards, click here.
---
SABR member Richard Malatzky, 61, of Bronx, New York, died on January 22, 2018. Richard joined SABR in 1975 and quickly became an unsung hero for the Biographical Research Committee, discovering and correcting vital stats for countless early major-league players whose records had been once lost to history. As John Thorn wrote in a tribute at Our Game this week, "Not only did he dispel mysteries of very long standing that had stumped others for decades, he corrected some of the 'compromise' errors made in earlier record books whereby, for example, two fairly inconsequential players with the same common last name (Smith, Jones, Miller, etc.) had their records mistakenly grouped under one individual." Historian Peter Morris added these remarks at Richard's memorial service last week at Shalom Jewish Funeral Home in the Bronx, "The results (of Richard's work) can be seen in a scoreboard of progress that Bill Carle includes in each Biographical Committee newsletter, which shows that the 498 players with unknown death information in 1993 has now been reduced to 173. Richard contributed substantially to the vast majority of those 'finds,' often doing much or all of the legwork himself. … Richard said far less about himself, either by email or on the few occasions I met him in person, but it soon became obvious that he was modest, generous, and caring. In addition to his zeal for baseball research, he loved to travel and had a particular passion for visiting art museums. Richard Malatzky's passing is a great loss to the baseball research community and an even bigger one to those who knew him." Read more tributes to Richard at Our Game.
---
Behind the Numbers: Baseball SABR Style on SiriusXM, a radio show hosted by SABR President Vince Gennaro, is back for the Hot Stove League offseason, at a new time: 4:00-5:00 p.m. ET on Sundays, on MLB Network Radio.
This week's guests are from the show archives with Emma Baccellieri of Deadspin and SABR member Joe Cox, author of Almost Perfect.
You can listen to archives of recent episodes on-demand on the SiriusXM Internet Radio App, and you can watch video highlights of Behind the Numbers: Baseball SABR Style on SiriusXM on MLB.com. Click here to watch more video highlights of Baseball SABR Style from MLB.com.
Behind the Numbers: Baseball SABR Style on SiriusXM focuses on examining and interpreting the statistical analysis that plays a critical role in baseball today. It airs weekly throughout the year on MLB Network Radio, available to subscribers nationwide on XM channel 89, Sirius channel 209, and on the SiriusXM Internet Radio App.
---
We've heard your feedback: Some of you have said you look forward to "This Week in SABR" every Friday, but sometimes there are just
too many compelling articles and announcements to read every week. We're not complaining — hey, keep up the great work! — but we know the feeling. So in an effort to make the length of this newsletter more manageable to read, we'll summarize some of the repeating/recurring announcements in a special "In Case You Missed It (ICYMI)" section of "This Week in SABR".
Here are some major headlines from recent weeks that we don't want you to miss:
All previous editions of This Week in SABR can be found here: http://sabr.org/content/this-week-in-sabr-archives.
For more information, click here.
---
We'd like to welcome all of our new SABR members who have joined this week. You can find all Members-Only resources at members.sabr.org and the Membership Handbook can be downloaded here.
Please give these new members a warm welcome and help them make the most of their membership by giving them the opportunity to get involved in their local chapter or a research committee.
You can find contact information for any SABR member in the online membership directory (SABR.org/directory).
| Name | Hometown | | | Name | Hometown |
| --- | --- | --- | --- | --- | --- |
| Al Anderson | Troy, OH | | | Craig Kornacki | Lancaster, NY |
| Paul Babie | Adelaide, AUS | | | Matt Koziol | Greeley, CO |
| Phil Bangayan | Porter Ranch, CA | | | John Lade | Oshawa, ON |
| Dean Brunt Jr. | West Haven, CT | | | Cameron LeBlanc | Tucson, AZ |
| Scott Byrne | Grand Rapids, MI | | | Michael Lombard | Houston, TX |
| Douglas Cannington | Acworth, GA | | | Scott Magnuson | St. Paul, MN |
| Jeff Dahl | St. Louis, MO | | | Ron Miller | Stillwater, OK |
| Rebecca Edwards | Rochester, NY | | | Andy Ozolnieks | Mesa, AZ |
| Stanley Enzweiler | Union City, NJ | | | Mark Richardson | Kent, WA |
| Chris Farwell | Cincinnati, OH | | | Alec Rogers | Bethesda, MD |
| Charlie Garland | New York, NY | | | Michael Rosciam | Tallahassee, FL |
| Brad Hartlaub | Westerville, OH | | | Chris Schreiner | East Aurora, NY |
| Jim Haught | Hamilton, OH | | | Peter Sonski | Higganum, CT |
| Jack Heffron | Cincinnati, OH | | | Christopher Stuart | Port Townsend, WA |
| Kevin Jebens | Charlotte, NC | | | Mark Williams | West Newton, MA |
| Becky Jenkins | Bowling Green, OH | | | Andrew Wilson | Fountain Valley, CA |
| Kevin Jones | St. Clair Shores, MI | | | Mark Woods | Wexford, PA |
| Bruce Kirkpatrick | Prescott, AZ | | | | |
---
Here are the new research committee updates this week:
Find all SABR research committee newsletters at SABR.org/research.
---
Here are the new regional chapter updates this week:
Dusty Baker-Sacramento Chapter: January 18 Hot Stove Dinner recap (Granite Bay, CA)
SABR Day highlights: Check out recaps and photos from 2018 SABR Day at SABR.org/sabrday.
Best Practices handbook: Chapter leaders, you can download the updated Chapter Leaders Best Practices Handbook on the Admin Tools page at admin.sabr.org. The handbook offers suggestions and guidelines for meetings, speakers, revitalizing a chapter, and getting publicity for SABR and chapter events.
Visit SABR.org/chapters for more information on SABR regional chapters.
---
Here is a list of upcoming events on the SABR calendar:
All SABR meetings and events are open to the public. Feel free to bring a baseball-loving friend … and make many new ones! Check out the SABR Events Calendar at SABR.org/events.
---
Here are some recent articles published by and about SABR members:
Read these articles and more at SABR.org/latest.
---
This Week in SABR is compiled by Jacob Pomrenke. If you would like us to include an upcoming event, article or any other information in "This Week in SABR," e-mail jpomrenke@sabr.org.
Have trouble reading this e-mail? Click here to view this week's newsletter on the web.
Are you receiving our e-mails? "This Week in SABR" goes out by e-mail to all members on Friday afternoons. If they're not showing up, try adding "sabr.notes@sabr.org" to your contact list to ensure they show up in your inbox (and not the spam folder.)
---
Originally published: February 2, 2018. Last Updated: April 3, 2020.
https://sabr.org/wp-content/uploads/2020/03/research-collection4_350x300.jpg
300
350
admin
/wp-content/uploads/2020/02/sabr_logo.png
admin
2018-02-02 15:00:00
2020-04-03 14:38:42
This Week in SABR: February 2, 2018