This Week in SABR: November 3, 2017

Welcome to "This Week in SABR!" Click here to view this week's newsletter on the web. Here's what we've been up to as of November 3, 2017:
---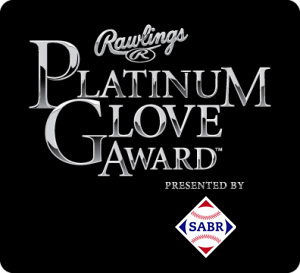 The 2017 Rawlings Gold Glove Award® winners will be unveiled during a one-hour, ESPN "Baseball Tonight" primetime special on Tuesday, November 7, beginning at 9:00 p.m. ET.
For the fifth consecutive season, the SABR Defensive Index™ will be used to help select the winners of the Rawlings Gold Glove Award and Rawlings Platinum Glove Award™, presented by SABR. The SABR Defensive Index accounts for approximately 25 percent of the Rawlings Gold Glove Award selection process that was added to the votes from the managers and coaches.
The latest SDI rankings can be found at SABR.org/SDI. The final SDI results will be released following the announcement of the Gold Glove winners on Tuesday night.
Following the ESPN announcement telecast, voting for the Rawlings Platinum Glove Award™ presented by SABR will begin at Rawlings.com, allowing the general public to weigh in as to who is "The Finest in the Field®" in both the American League and National League. Fans can only select one player among the 2017 Rawlings Gold Glove Award winners from each League. A combination of the international fan vote and the SABR Defensive Index will determine who takes home the honor of each League's top defensive player.
To learn more about the SABR Defensive Index, visit SABR.org/SDI.
---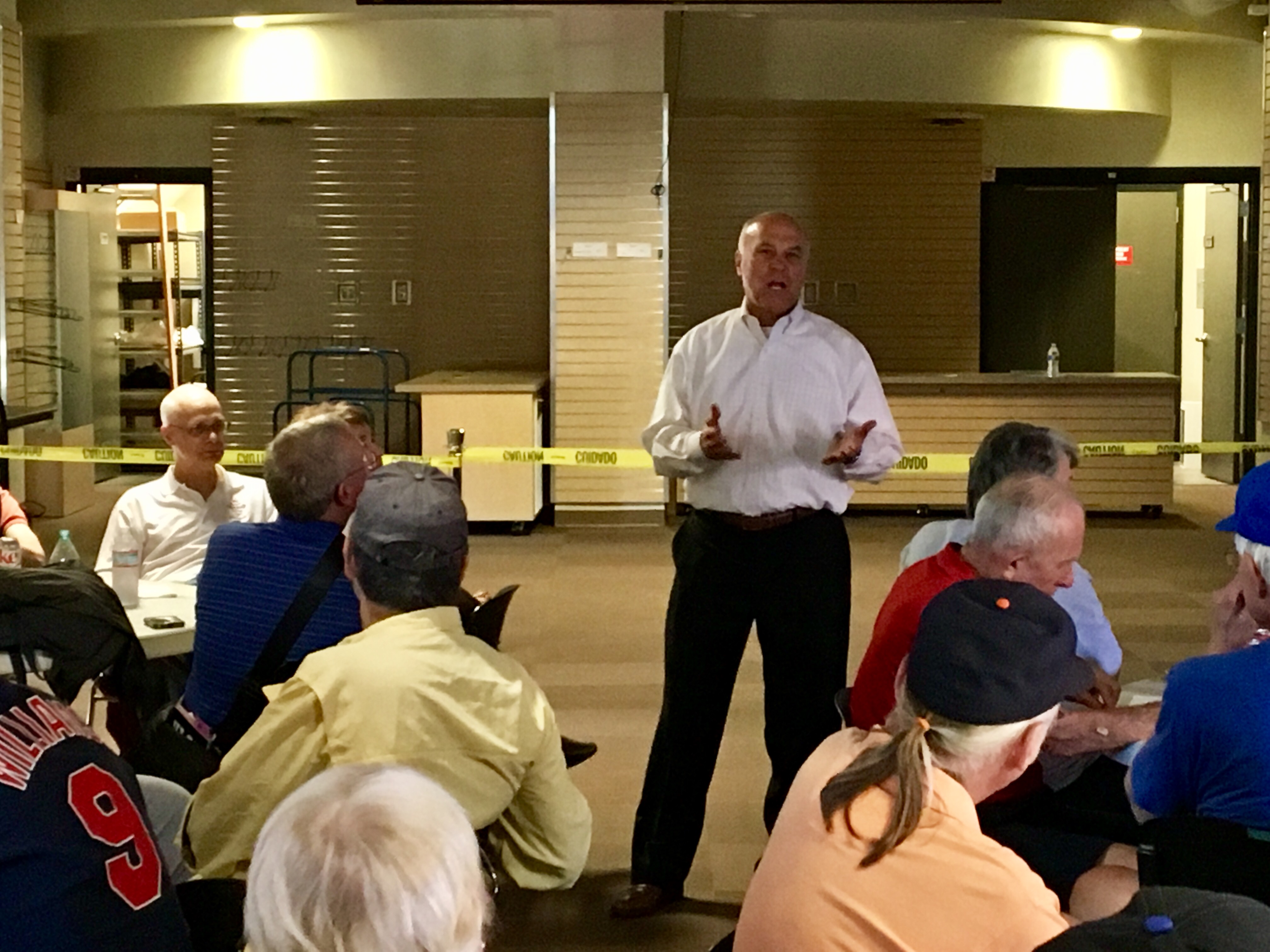 After the wrap-up of a thrilling World Series, the ninth annual SABR Arizona Fall League Experience kicked off this week. On Thursday night, we heard from AFL executive director Steve Cobb and former major-league player and scout Del Unser at a pregame dinner at Scottsdale Stadium.
Today, AFL Experience attendees will take in a game between the Mesa Solar Sox and Scottsdale Scorpions followed by a special dinner with guest John D'Acquisto, former MLB pitcher and author, at Don and Charlie's in Scottsdale, home of one of the top baseball memorabilia collections you'll ever see.
On Saturday morning, attendees will join members of SABR's Hemond-Delhi Arizona Chapter for their regional fall meeting, where we'll hear from MLB player agent and attorney Jeff Borris, former major-league catcher and Chicago Cubs scout Terry Kennedy, San Francisco Giants Senior Advisor Tony Siegle, MLB.com columnist and SABR chapter leader Barry Bloom, and baseball historian Charlie Vascellaro. Saturday night is always a highlight of the conference as the top prospects from every organization participate in the AFL Fall Stars Game at Talking Stick at Salt River Fields.
More photos and highlights will be posted online soon. For details and a complete schedule, visit SABR.org/AFL.
Note: Local or visiting SABR members can still purchase extra or optional tickets to the Friday night dinner at Don and Charlie's ($60) or the Fall Stars Game ($7) on Saturday night at Salt River Fields. Extra AFL Media Guides ($12) are also available for purchase while supplies last. Please contact Deb Jayne at djayne@sabr.org for details. Please note: All speakers are subject to change depending on availability.
Related links:

---
Back in 2014, Houston Astros president Reid Ryan talked about the team's bright future with upcoming prospects like José Altuve, George Springer, Carlos Correa, and Dallas Keuchel at SABR's 44th annual convention: "They have people believing there is talent in the system again. You look at the championships we're winning in the minor leagues. We have really restocked and we're positioned now."
Now, three years later, the Astros' efforts have paid off with the first World Series championship in the franchise's 56-year history. It's a colorful history that dates back to the Colt .45's expansion draft of 1961 to the building of the "Eighth Wonder of the World" with the Astrodome and iconic players from J.R. Richard and Jose Cruz to Hall of Famers Craig Biggio and Jeff Bagwell.
Led by a legendary MVP performance from George Springer — who set a fall classic record with 29 total bases and joined Reggie Jackson and Chase Utley as the only players with five home runs in a single Series — the Astros knocked off the Los Angeles Dodgers, 5-1, in Game Seven of the World Series on Wednesday night.
After three 100-loss seasons in a row from 2011-13, the Astros front office was heavily scrutinized for its commitment to sabermetric strategies in rebuilding their organization. You can listen to GM Jeff Luhnow and front-office executives Sig Mejdal and David Stearns (now the Milwaukee Brewers GM) talk more about the team's journey in the SABR 44 Decision Sciences Panel.
The journey culminated this week in a thrilling seven-game victory in the 2017 World Series. We hope Astros fans think it was worth the wait!
Related links:
---
We hope you'll join us for the seventh annual SABR Analytics Conference on Friday, March 9 to Sunday, March 11, 2018, at the Hyatt Regency Phoenix, where we'll bring together the top minds in the baseball analytics community to discuss, debate and share insightful ways to analyze and examine the great game of baseball. All baseball fans are welcome to attend.
Early registration is now open at SABR.org/analytics. Sign up today to join us!
This year's conference will feature the high-quality content you've always enjoyed at the SABR Analytics Conference and the same number of featured panels and research presentations, but there will be a few changes to the usual schedule: We will begin programming early Friday afternoon on March 9 and will run through Sunday afternoon on March 11. The change in schedule is due to the availability at our host hotel this year. However, we have a large block of rooms for SABR Analytics Conference attendees on Friday, Saturday, and Sunday nights.
In addition, the Diamond Dollars Case Competition will start at 6:00 p.m. on Friday evening and the networking reception will be held on Saturday evening, March 10 at the Hyatt Regency Phoenix. Lunch, which is included in your conference registration, will be served at noon on Friday — before the regular programming begins — and also on Saturday between the morning and afternoon sessions.
Visit SABR.org/analytics to learn more.
---
This has been a banner year for SABR, and your year-end charitable gift can help us bring 2017 to an even more successful close.
SABR continues to offer unparalleled opportunities for involvement and benefits for members around the world. We depend upon the volunteer work of members to mount our exciting events like the SABR Convention (in Pittsburgh next summer), the SABR Analytics Conference in Phoenix, and the Jerry Malloy Negro League Conference; to produce groundbreaking research through the SABR Digital Library e-book program (with 8-10 free e-books provided to members each year), the Baseball Research Journal, and The National Pastime; and to expand the online resources of the research committees, regional chapters, the BioProject, the Games Project, and much more. SABR continues to offer unparalleled opportunities for involvement and benefits for members around the world.
As a 501(c)3 organization, tax-deductible donations allow SABR to expand member opportunities and to become an even larger voice in the baseball community. Many members have already become donors, and you can join them right now by making your gift online at SABR.org/donate. Please help us reach our donation drive goal!
You can also send your donation by check to: SABR, Cronkite School at ASU, 555 N. Central Ave. #416, Phoenix, AZ 85004.
All of us at SABR appreciate your support of our great organization and the game we love.
To learn more, visit SABR.org/donate.
---
For those of you whose SABR memberships expire by December 31 — you can check your current membership status here — it's time for you to renew!
From the Baseball Research Journal and the SABR Digital Library to "This Week in SABR" and our extensive list of research resources — and, of course, all the memorable conferences, chapter meetings, and events — we hope you enjoyed the many benefits of SABR membership this past year.
We hope you please continue your support by renewing your SABR membership today.
Renew by mail: To pay by check or money order, mail this downloadable PDF form and your payment to the office at SABR, Cronkite School at ASU, 555 N. Central Ave. #416, Phoenix, AZ 85004.
Pay by phone: To process your credit-card payment over the phone, please call the SABR office at (602) 496-1463 during regular business hours. (We accept Visa, Mastercard, or Discover Card.)
Dues are the same as they have been in recent years: $65 for one year or $175 for three years, with discounts available to anyone under 30 or over the age of 65.
Please note: If you have had trouble logging in to the SABR website, please try resetting your password using this reset link. Then try logging in to renew at the link above.
Thank you for your support of SABR as we continue to strive to make SABR membership a great experience and a great value!
---
SABR and Baseball Info Solutions are excited to announce the call for presentations for the seventh annual SABR Analytics Conference, scheduled for Friday, March 9 to Sunday, March 11, 2018, at the Hyatt Phoenix Downtown.
The SABR Analytics Conference brings together the leading minds in baseball analytics to discuss and debate topics relevant to the quantitative analysis of the game of baseball, including aspects of innovation and technology. Past conferences have been attended by representatives from more than 25 MLB teams.
Abstracts of proposed research presentations should be no more than 500 words in length, and must include the abstract's title, review of previous work on the subject, a summary of the research methodology and anticipated results, and the expected contribution to the field of baseball analytics offered by this work. Please send all abstracts to this e-mail address: 2018-analytics-presentations@sabr.org.
The submission deadline for 2018 SABR Analytics Conference presentation abstracts is tonight — 11:59 p.m. MST, Friday, November 3, 2017. Please note: If your presentation abstract is accepted, you will be required to register for the conference in order to qualify for a presentation slot.
Click here for complete details and submission criteria.
---
The SABR Analytics Conference is pleased to host the unique Diamond Dollars Case Competition on Friday evening, March 9, 2018 at the Hyatt Regency Phoenix in Arizona.
In the Diamond Dollars Case Competition, undergraduate, graduate and professional school students from colleges and universities across the country compete against each other by preparing an analysis and presentation of a baseball operations decision — the type of decision a team's GM and his staff is faced with over the course of a season. The cases are developed by SABR President Vince Gennaro, author of Diamond Dollars: The Economics of Winning in Baseball, and consultant to MLB teams. The Diamond Dollars Case Competition is the first national competition to be based solely on baseball operations issues.
Four- to five-person student teams are asked to evaluate a baseball operations case problem. The student team presents their analysis and recommendations to a panel of judges that includes MLB front office executives.
More than 40 alumni from the 2012, 2013, 2014, 2015, 2016, and 2017 Diamond Dollars Case Competitions have secured internships or permanent positions within Major League Baseball.
For more information on entering the 2018 Diamond Dollars Case Competition, please contact SABR President Vince Gennaro or click here for rules and entry requirements.
---
With generous funding from The Anthony A. Yoseloff Foundation, Inc., SABR will award up to four scholarships to high school and college students who wish to attend the 2018 SABR Analytics Conference. This scholarship will pay for registration, air transportation and lodging (double occupancy) up to a total value of $1,250. All applications must be postmarked or e-mailed to Jeff Schatzki at jschatzki@sabr.org no later than December 31, 2017.
The Yoseloff scholarship is to assist young researchers who want to attend SABR's Analytics Conference and to introduce them to fellow SABR members and professionals within the baseball community. Through this fund, SABR hopes to inspire future baseball research, expose students to high-quality research and build the research capability of interested students.
Click here to learn more or to download the 2018 Yoseloff Scholarship application.
---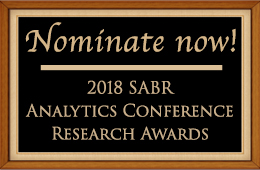 What are the best baseball analytics articles you've read in 2017?
We're seeking nominations for the 2018 SABR Analytics Conference Research Awards, which recognize baseball researchers who have completed the best work of original analysis or commentary during the preceding calendar year in the following categories:
Contemporary Baseball Analysis: Honoring the best analysis focusing on a subject related to the modern game(s), team(s) or player(s).
Contemporary Baseball Commentary: Honoring the best commentary focusing on a subject related to the modern game(s), team(s) or player(s).
Historical Baseball Analysis/Commentary: Honoring the best original analysis or commentary focusing on a subject related to a game(s), team(s) or player(s) throughout baseball history.
Please send all nominations via e-mail to this address: 2018-analytics-awards@sabr.org no later than January 5, 2018. Include author, title, date of publication and a URL link (if applicable). Click here for complete details and category criteria.
Voting for the winners will be conducted online in January-February 2018 at SABR.org, BaseballProspectus.com, FanGraphs.com, HardballTimes.com and BeyondtheBoxScore.com, with results weighted equally at 20%.
Results will be announced and presented at the seventh annual SABR Analytics Conference, March 9-11, 2018, at the Hyatt Regency Phoenix in Phoenix, Arizona. Learn more at SABR.org/analytics.
To view past award winners and finalists, click here.
---
Be a winner, and add this new baseball book from the SABR Digital Library to your collection:
20-Game Losers
Edited by Bill Nowlin and Emmet R. Nowlin
Associate Editors: Bob LeMoine, Len Levin, and Carl Riechers
ISBN (ebook): 978-1-943816-58-3, $9.99
ISBN (paperback): 978-1-943816-59-0, $21.95
8.5″ x 11″, 486 pages
Click here to read a full description of this book at SABR.org.
SABR members, get this e-book for FREE!
SABR members will get discounted rates for all Digital Library publications, including many for free. Visit SABR.org/ebooks to find all previously published books.
Having trouble downloading our e-books? To view PDF files on your computer, click here to download the free Adobe Reader software. Having trouble downloading e-books to your Kindle, Nook, Sony Reader or iPad? Click here for additional help.
---
The SABR Rocky Mountain Chapter is pleased to announce that our 20th Annual Chapter Banquet will be held on Saturday, November 11, 2017. For the third consecutive year it will be held at Coors Field, home of the Colorado Rockies. The banquet is open to all SABR members and baseball fans.
Rocky Mountain SABR welcomes several special guests to this year's event, including Keynote Speaker Patrick Saunders, Rockies beat writer for the Denver Post and current president of the Baseball Writers' Association of America (BBWAA); Featured Speaker Ryan Spilborghs, former Rockies player and Emmy Award-winning commentator for ROOT Sports, Rockies Vice President of Scouting Bill Schmidt, former Rockies GM Bob Gebhard, SABR Director Bill Nowlin, MLB.com columnist Barry Bloom, and our Master of Ceremonies for the evening, former Rockies pitcher Jason Hirsh.
As usual, we will conduct our Silent Auction of baseball memorabilia and artifacts. We will reprise last year's popular book sale and feature a special sale of Rockies baseball cards. Tickets for the banquet are $65 per person and can be purchased online by visiting RMSABR.org/banquet.html. You may also mail a check to RMSABR Banquet, 5803 Orchard Creek Lane, Boulder, CO 80301. Please make checks payable to "Rocky Mountain SABR."
For more information, visit RMSABR.org.
---
SABR member Tyrone Brooks and the Office of the Commissioner have recently launched the MLB Diversity Fellowship Program at MLB.com/fellowship. This distinct opportunity will place candidates in entry-level roles within one of the MLB Clubs and MLB's Central Office. The Club-based program will be an 18-to-24 month commitment in a front office or baseball operations role at one of the MLB Clubs around the country participating in the MLB Diversity Fellowship Program.
Additionally, Major League Baseball will offer three entry-level fellowships with a rotational, three-year phase opportunity to: (1) two years in Baseball Operations, focusing on International Operations & Scouting, Umpiring and On-field Rules & Regulations; and (2) one year working within the League Economics Department.
While all disciplines are eligible to apply, we strongly encourage candidates with degrees and/or knowledge in economics, analytics, computer science, law and business degrees, to submit applications. Apply now at MLB.com/fellowship. The application deadline is 5:00 p.m. ET on Friday, November 17.
---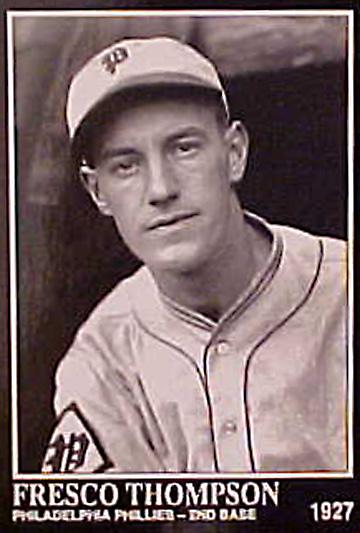 Three new biographies were posted this week as part of the SABR Baseball Biography Project, which brings us to a total of 4,302 published biographies. Here are the new bios published this week:
All new biographies can be found here: SABR.org/bioproj/recent
Search for any SABR biography: You can now visit sabr.org/bioproj_search to search for any player — or manager, executive, scout, spouse, broadcaster, or umpire — who appears in the SABR BioProject. You can also browse all of these BioProject categories and a lot more, including 300-game winners, Hall of Famers, 1960s All-Stars, or Negro Leaguers, at our Browse page: sabr.org/bioproj/browse.
---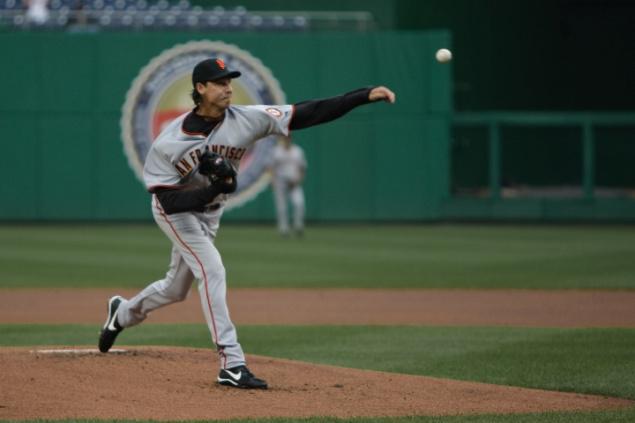 Seven new game stories were posted this week as part of the SABR Games Project. Here are the new game stories:
New Games Project stories can be found at SABR.org/gamesproject/recent. Find all published Games Project articles at SABR.org/GamesProject.
If you have any questions about the Games Project, please contact Greg Erion. If you want to know if a game is available to write about, please contact Bruce Slutsky. After the article has been completed in accordance with our Authors' Guidelines, please submit it to Len Levin, who will initiate the editing process and get your story started toward publication.
Get involved: Have memories of a game you attended? Or a game you watched that caught your interest? Write about it! Writing for the Games Project is an easy way to get involved as a SABR member. Find out how by reading the Games Project FAQs section or checking out the Authors' Guidelines. We have editors and fact checkers who are willing to help you write your first article.
Seeking volunteers to help enhance Games Project articles on website: Any volunteer who is willing to assist with linking player biographies in previously published Games Project stories on the SABR website, please contact Jacob Pomrenke. No experience necessary. Must be comfortable working in Drupal, WordPress or other standard content management systems.
---
Please note: Only ONE entry per nomination will be considered (do not submit multiple nominations for the same award). For more information on SABR Awards, click here.
---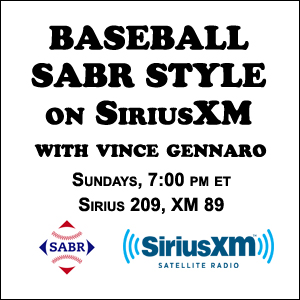 Behind the Numbers: Baseball SABR Style on SiriusXM, a radio show hosted by SABR President Vince Gennaro, will be on hiatus during the MLB postseason. After the World Series ends, the show will air again at its regular time, 7:00-8:00 p.m. ET on Sundays, on MLB Network Radio. But you can still listen to archives of recent episodes on-demand on the SiriusXM Internet Radio App.
You can also watch video highlights of Behind the Numbers: Baseball SABR Style on SiriusXM on MLB.com. Click here to watch more video highlights of Baseball SABR Style from MLB.com.
Behind the Numbers: Baseball SABR Style on SiriusXM focuses on examining and interpreting the statistical analysis that plays a critical role in baseball today. It airs weekly throughout the year on MLB Network Radio, available to subscribers nationwide on XM channel 89, Sirius channel 209, and on the SiriusXM Internet Radio App.
---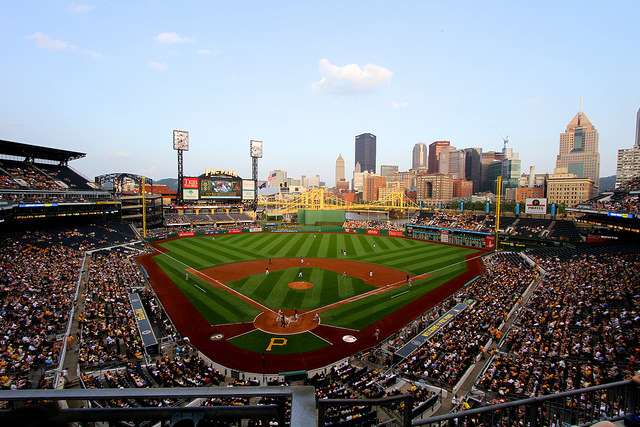 SABR will be returning to the Steel City for our 48th national convention on June 20-24, 2018, at the Wyndham Grand in downtown Pittsburgh, Pennsylvania. Registration information will be available at SABR.org/convention in early 2018. The Pirates are scheduled to play at home against the Arizona Diamondbacks that weekend.
The Wyndham Grand is conveniently located within walking distance from PNC Park and a light rail station, many downtown cultural amenities, and right across the street from the picturesque 36-acre Point State Park where the three rivers converge.
SABR 48 will be our second convention held in Pittsburgh and first since 1995. Our 25th annual convention that year featured a keynote speech from former Pirates manager Chuck Tanner and panel discussions commemorating the 1960 and 1971 World Series champions. Learn more about SABR's convention history by clicking here.
SABR's 2018 national convention will be our 48th annual gathering; the organization's founding in Cooperstown in 1971 is counted as the first.
For more information on the SABR convention, visit SABR.org/convention.
---
In Memoriam: Ray Robinson
Acclaimed author Ray Robinson, 96, died on November 1, 2017, in New York City. He was a SABR member since 1991 and the author of biographies on Lou Gehrig, Christy Mathewson, Knute Rockne, and many other sports figures. Born on December 4, 1920, in New York, Robinson attended Gehrig's alma mater, Columbia University, was in attendance at Yankee Stadium when the star first baseman gave his "Luckiest Man" speech, and graduated from college on the day the Iron Horse died in 1941. He became an editor for the annual Baseball Stars series; spearheaded magazines such as Good Housekeeping, Seventeen, and Pageant; and contributed columns to the New York Times and other publications for more than eight decades as a professional writer. He also served on the Board of Directors for the New York (Lou Gehrig) Chapter of the ALS Association. He was preceded in death by his beloved wife of nearly 68 years, Phyllis, and survived by his three children, Nancy (Lee) Miringoff, Steve (Elizabeth) Robinson, and Tad (Amy) Robinson, and four grandchildren. Donations in Ray's memory can be sent to Greater New York Chapter, ALS, at 42 Broadway, Suite 1724, NY, NY 10004; or the New York City Chapter, 60 East 42 St., #2240, NYC, 10165.
---
We've heard your feedback: Some of you have said you look forward to "This Week in SABR" every Friday, but sometimes there are just
too many compelling articles and announcements to read every week. We're not complaining — hey, keep up the great work! — but we know the feeling. So in an effort to make the length of this newsletter more manageable to read, we'll summarize some of the repeating/recurring announcements in a special "In Case You Missed It (ICYMI)" section of "This Week in SABR".
Here are some major headlines from recent weeks that we don't want you to miss:
All previous editions of This Week in SABR can be found here: http://sabr.org/content/this-week-in-sabr-archives.
For more information, click here.
---
We'd like to welcome all of our new SABR members who have joined this week. You can find all Members-Only resources at members.sabr.org and the Membership Handbook can be downloaded here.
Please give these new members a warm welcome and help them make the most of their membership by giving them the opportunity to get involved in their local chapter or a research committee.
You can find contact information for any SABR member in the online membership directory (SABR.org/directory).
| Name | Hometown | | | Name | Hometown |
| --- | --- | --- | --- | --- | --- |
| Steven Ascher | New Britain, PA | | | Joseph Fusco | Cleveland Heights, OH |
| William Barnette | Atlanta, GA | | | Thomas Harding | Broomfield, CO |
| Ray Baumil | Folly Beach, SC | | | Joseph Liotta | Stamford, CT |
| Josh Burk | Bethlehem, PA | | | Harrison Meyers | Potomac, MD |
| Joe Catanzaro | Williamsburg, VA | | | Warren Rogan | Winter Garden, FL |
| Yvette Coulter | Oakland, CA | | | Alan Swigonski | Erie, PA |
| Jeffrey Crespin | New York, NY | | | Jeffrey Thomason | Ridley Park, PA |
| James Dayboch | Wayne, ME | | | Mike Winstanley | Oakland, CA |
| Carl Evans | Naperville, IL | | | Chris Zantow | Madison, WI |
| Jim Fredlund | Olney, MD | | | John Zubek | Phoenix, AZ |
---
There are no new SABR research committee updates this week.
Find all SABR research committee newsletters at SABR.org/research.
---
Here are the new regional chapter updates this week:
Visit SABR.org/chapters for more information on SABR regional chapters.
---
Here is a list of upcoming events on the SABR calendar:
All SABR meetings and events are open to the public. Feel free to bring a baseball-loving friend … and make many new ones! Check out the SABR Events Calendar at SABR.org/events.
---
Here are some recent articles published by and about SABR members:
Read these articles and more at SABR.org/latest.
---
This Week in SABR is compiled by Jacob Pomrenke. If you would like us to include an upcoming event, article or any other information in "This Week in SABR," e-mail jpomrenke@sabr.org.
Have trouble reading this e-mail? Click here to view this week's newsletter on the web.
Are you receiving our e-mails? "This Week in SABR" goes out by e-mail to all members on Friday afternoons. If they're not showing up, try adding "sabr.notes@sabr.org" to your contact list to ensure they show up in your inbox (and not the spam folder.)
---
Originally published: November 3, 2017. Last Updated: April 3, 2020.
https://sabr.org/wp-content/uploads/2020/03/research-collection4_350x300.jpg
300
350
admin
/wp-content/uploads/2020/02/sabr_logo.png
admin
2017-11-03 15:00:00
2020-04-03 14:38:43
This Week in SABR: November 3, 2017