This Week in SABR: June 29, 2018

Welcome to "This Week in SABR!" Click here to view this week's newsletter on the web. Here's what we've been up to as of June 29, 2018:
---
Attendees at the SABR 48 convention in Pittsburgh had a special opportunity to visit PNC Park for an exclusive pregame ballpark session with Pittsburgh Pirates executives, broadcasters, and manager on Friday, June 22.
Before the Pirates' game against the Arizona Diamondbacks, special SABR 48 presentations took place at PNC Park with Pirates general manager Neal Huntington, manager Clint Hurdle, broadcaster Joe Block, and Thomas E. Kennedy, former project executive for the Sports & Exhibition Authority of Pittsburgh and Allegheny County. Click here to listen to highlights from the SABR 48 ballpark session at SABR.org.
Couldn't make it to Pittsburgh for SABR 48? Check out more stories, photos, and multimedia clips from the SABR 48 convention in Pittsburgh at SABR.org/convention:
Around the Web
Stay tuned for more coverage next week from SABR 48 in Pittsburgh!
---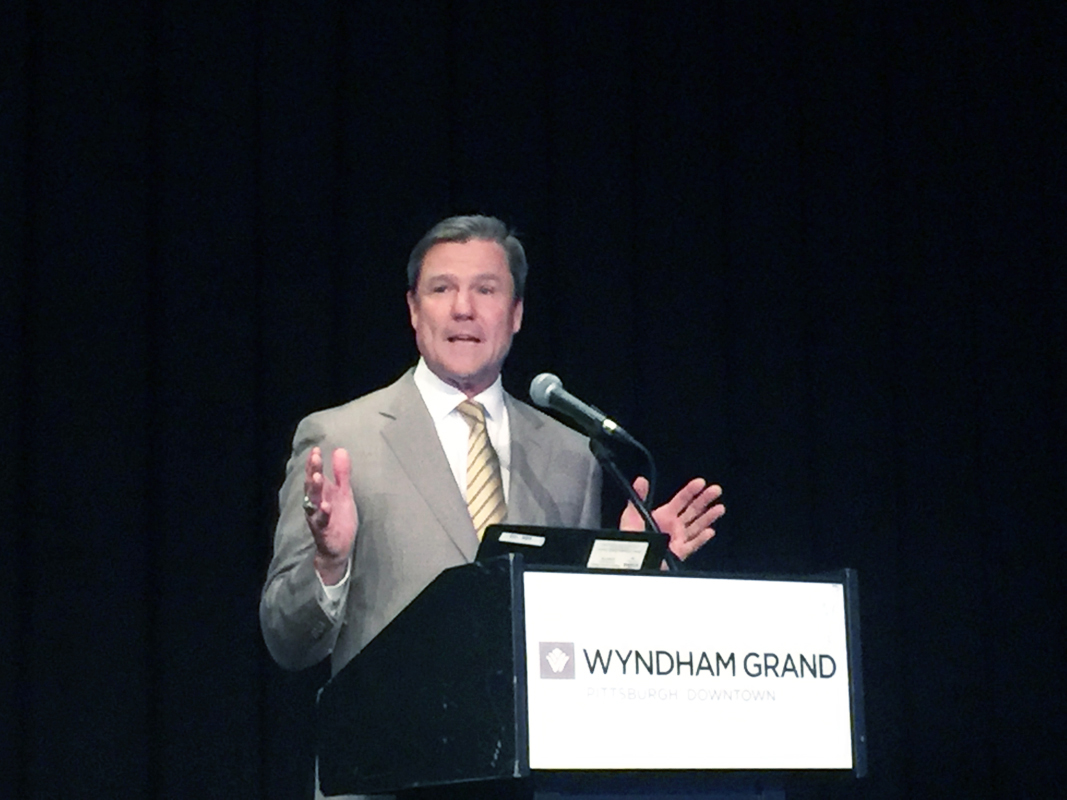 At SABR 48, Pittsburgh Pirates president Frank Coonelly delivered the opening remarks on Thursday, June 21 at the Wyndham Grand Downtown Pittsburgh, discussing his thoughts on such issues as the construction of PNC Park, the amateur draft, and his role on baseball's competition committee.
Coonelly is responsible for day-to-day operations of the Pirates. Prior to joining the team in 2007, he served for nearly a decade in the Commissioner's Office as Senior Vice President and General Counsel of Labor. He previously practiced labor and employment law as a partner with Morgan, Lewis & Bockius. He graduated with high distinction from Penn State University and earned his JD from Catholic University Law School in Washington, DC.
Click here to listen to highlights from Frank Coonelly's opening remarks at SABR.org.
---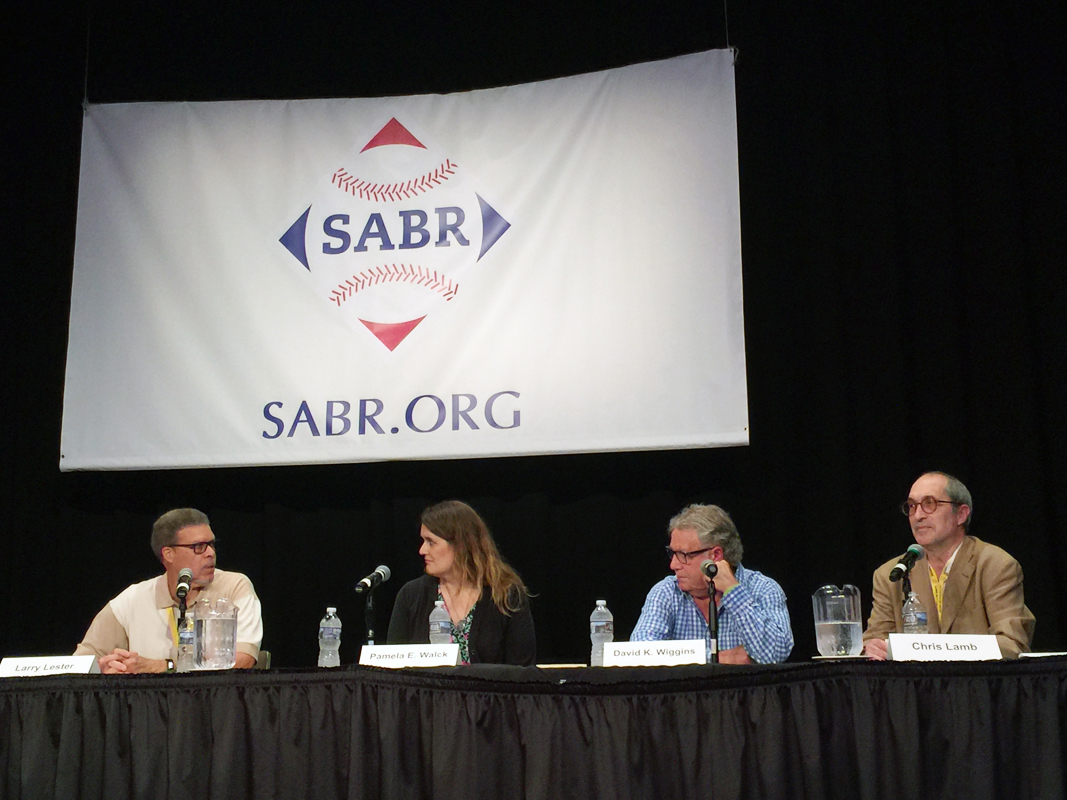 At SABR 48, our panel discussion on Wendell Smith of the Pittsburgh Courier: His Life and Legacy focused on the career of a pioneering African American sports writer on Thursday, June 21 at the Wyndham Grand Downtown Pittsburgh.
Our panelists included Chris Lamb, professor of journalism at Indiana University-Indianapolis and author of Conspiracy of Silence: Sportswriters and the Campaign to End Segregated Baseball; Larry Lester, chair of SABR's Negro Leagues Research Committee and author of nine books on baseball history; Pamela E. Walck, media professor at Duquesne University and author of an upcoming book on the Pittsburgh Courier; David K. Wiggins, professor at George Mason University and author of the upcoming book, More than a Game: A History of the African American Experience in Sport.
Click here to listen to highlights from the Wendell Smith panel at SABR.org.
---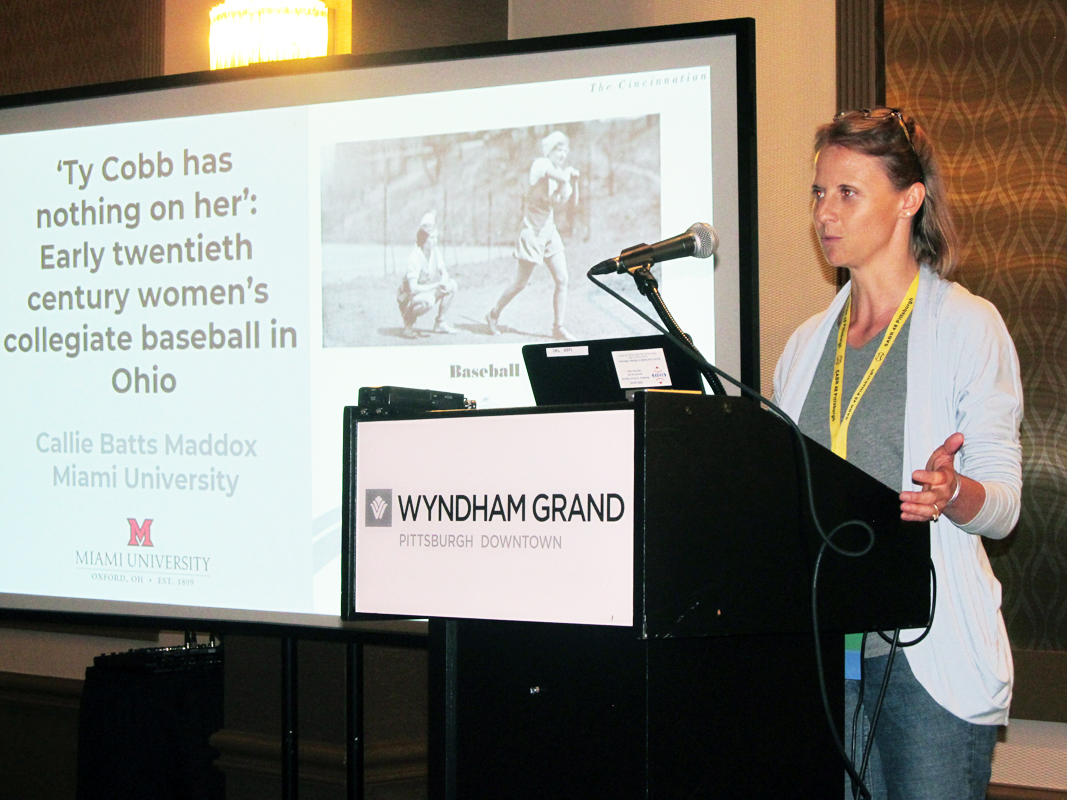 Callie Batts Maddox has won the 2018 Doug Pappas Award for the best oral research presentation and Diane Firstman has won the SABR Convention Poster Presentation Award for the best poster presentation at SABR 48 in Pittsburgh.
Maddox, an assistant professor in the Sport Leadership and Management Program at Miami University in Oxford, Ohio, won the Pappas Award for her presentation, " 'Ty Cobb has Nothing on Her': Early Twentieth Century Women's Collegiate Baseball in Ohio," which she delivered Saturday, June 23 during SABR 48 at the Wyndham Grand hotel in downtown Pittsburgh.
Firstman, a Data Analyst for the City of New York, won the SABR Convention Poster Presentation Award for her poster, "From Usenet Joke to Baseball Flashpoint: The Growth of "Three True Outcomes."
Honorable mentions for the oral presentation were:
Ed Edmonds, "Injuries in the Stands: MLB Responds with Extended Netting"
Alan Nathan, "The Humidor and the Predictive Power of Physics"
Eliza Richardson, "Will a 20-Second Pitch Clock Quicken the Pace of Play?"
David W. Smith, "Why Do Games Take So Long?"
Honorable mention for the poster presentations was:
Chuck Hildebrandt, "Isn't This Ever Going to End? Addressing Baseball's Perceived Time Problem"
For more coverage of SABR 48, visit SABR.org/convention.

---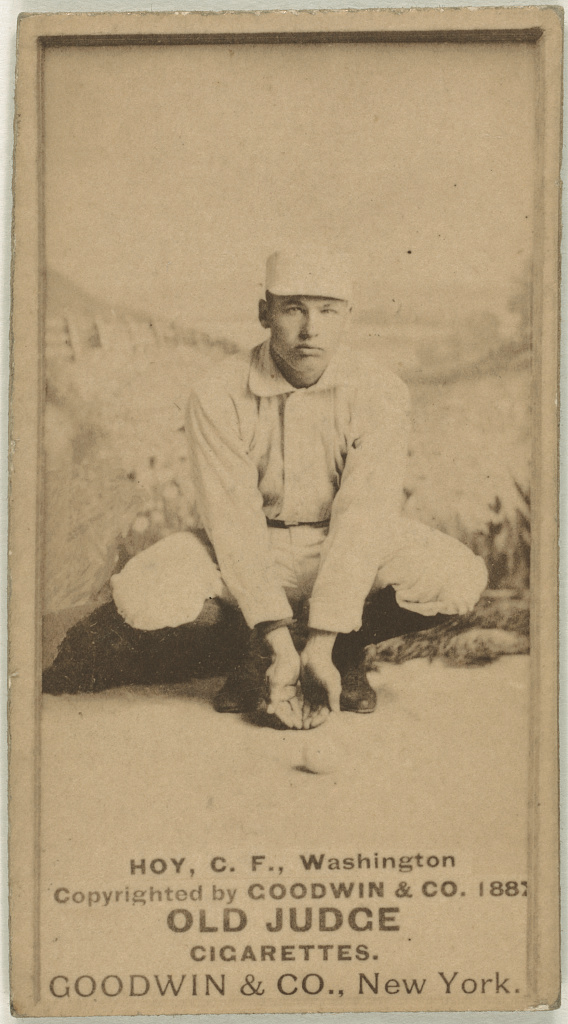 William Ellsworth "Dummy" Hoy has been selected as SABR's Overlooked 19th Century Baseball Legend for 2018. The announcement was made Saturday, June 23 at the Nineteenth Century Committee's annual business meeting held at SABR 48 in Pittsburgh, Pennsylvania.
In May, members of SABR submitted their votes for the 2018 Overlooked 19th Century Base Ball Legend — a 19th-century player, manager, executive or other baseball personality not yet inducted into the National Baseball Hall of Fame in Cooperstown, New York.
Previous Overlooked Legends were Pete Browning in 2009, Deacon White in 2010, Harry Stovey in 2011, Bill Dahlen in 2012, Ross Barnes in 2013, Doc Adams in 2014, Tony Mullane in 2015, Jack Glasscock in 2016, and Bob Caruthers last year. White became the first Overlooked Legend to be inducted into the Hall of Fame in 2013.
Click here to learn more about Dummy Hoy at SABR.org.

---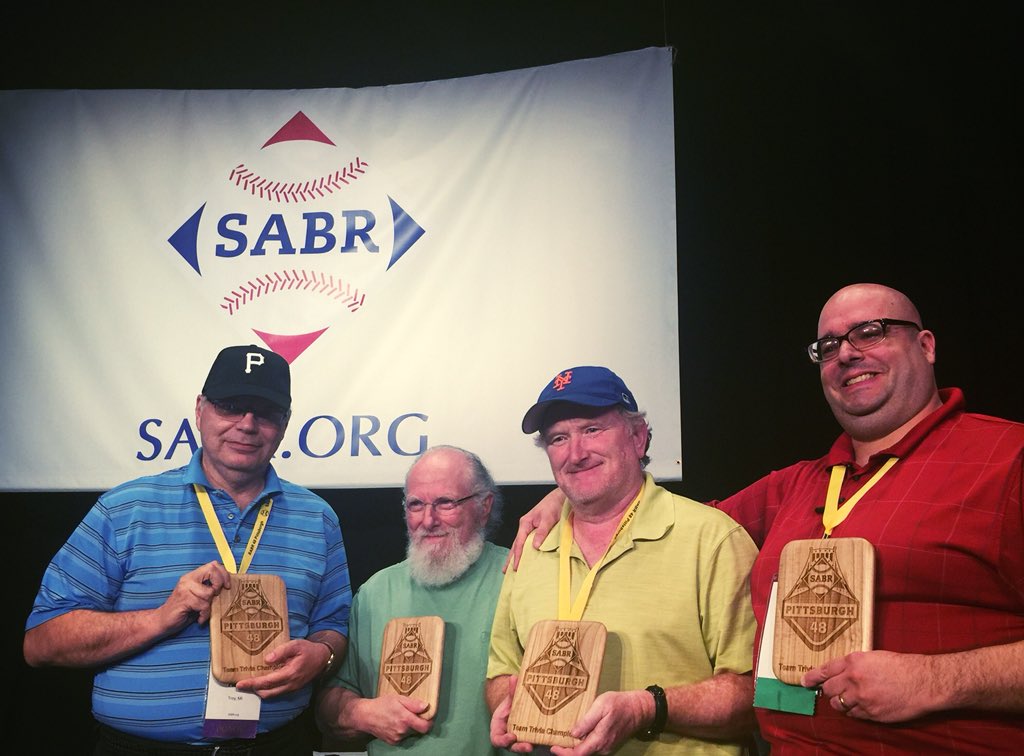 A team of "four total strangers" who met each other just a few days earlier captured the most unexpected SABR Trivia Contest championship in recent memory on Saturday night at SABR 48 in Pittsburgh. Meanwhile, defending champion Dan Massey of Lancaster, Pennsylvania, joined an elite group by capturing his third Trivia Contest title and second in a row in a rematch of the 2017 individual final against Rob Rafal of Douglaston, New York.
The Four Strangers team of David Fleitz (Troy, Michigan); Vince Guerrieri (Elyria, Ohio); Tom Nester (Dix Hills, New York); and Jamie Selko (Eugene, Oregon) held off a powerhouse group of ex-champions to win their first team title together. They formed their team on Thursday following the preliminary round after none of them qualified for the individual semifinals.
The runner-up team, who called themselves Kelly Stinnett and the Fab Forbes, of Mike Caragliano (Flushing, New York); Bill Carle (Lee's Summit, Missouri); Mark Kanter (Portsmouth, Rhode Island); and Rafal were attempting to defend their 2017 team title. The foursome has won a whopping total of 38 combined team and individual SABR Trivia Contest championships between them.
Massey became just the fourth three-time individual winner in SABR Trivia Contest history, joining Fleitz, Carle, and Caragliano.
Click here to read the full article at SABR.org.

---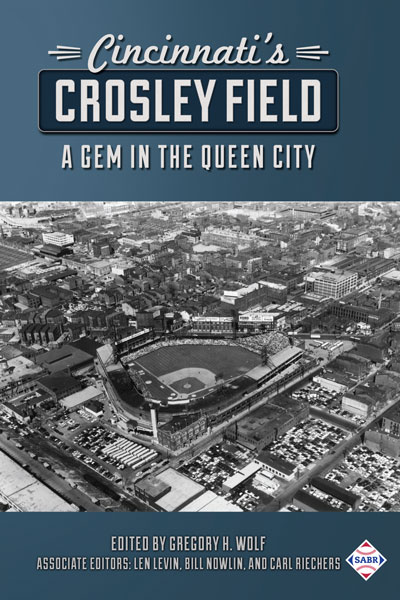 Add this new book from the SABR Digital Library to your collection, on one of baseball's classic crown jewels:
Cincinnati's Crosley Field: A Gem in the Queen City
Edited by Gregory H. Wolf
Associate Editors: Len Levin, Bill Nowlin, and Carl Riechers
ISBN (paperback): 978-1-943816-75-0, $19.95
ISBN (e-book): 978-1-943816-74-3, $9.99
311 pages, 8.5″ x 11″
April 11, 1912, marked a new era in the history of the Cincinnati Reds. On that day the team inaugurated the season by playing its first game at Redland Field, which was renamed Crosley Field in 1934 in honor of the team's owner, Powel Crosley. The new steel and concrete ballpark was located at the site of its predecessor, the outdated wooden Palace of the Fans at the intersection of Findlay Street and Western Avenue. For almost six decades, Crosley Field beckoned like a shining gem surrounded by warehouses and industrial complexes in the Queensgate neighborhood of the Queen City. The Reds closed the book on Crosley Field on June 24, 1970, and moved into Riverfront Stadium, a modern all-purpose sports venue that held almost twice as many spectators.
This book evokes memories of Crosley Field through detailed summaries of more than 85 historic and monumental games played there, and 10 insightful feature essays about the history of the ballpark. Former Reds players Johnny Edwards and Art Shamsky share their memories of the park in introductions.
Among the exciting contests recounted here are an Opening Day no-hitter in 1918, action from the infamous 1919 World Series, Negro Leagues games, Joe DiMaggio's 1939 World Series heroics, Johnny Vander Meer's incredible summer of two no-hitters, and no-hitters by Lon Warneke and Clyde Shoun. Hank Aaron's 3,000th hit took place at Crosley Field, as did indelible performances by Pete Rose, Roberto Clemente, and Frank Robinson.
This volume is a collaborative effort of more than three dozen members of the Society for American Baseball Research (SABR), including: John Bauer, Phillip Bolda, Leo Bradley, Bob Buege, Alan Cohen, Richard Cuicchi, Chad Dotson, Paul E. Doutrich, Chris Eckes, Johnny Edwards, Greg Erion, Doug Feldmann, Dan Fields, Lon L. Garber, Gordon J. Gattie, Michael Huber, Kirk C. Jenkins, Norm King, Russ Lake, Len Levin, Michael T. Lynch Jr., Luke Miller, Mark Miller, Kellen Nielson, Bill Nowlin, Tom Pardo, Jacob Pomrenke, Greg Rhodes, Carl Riechers, C. Paul Rogers III, Rick Schabowski, Bill Schneider, Joe Schuster, Art Shamsky, Mark S. Sternman, Joseph Wancho, Mike Whiteman, Gregory H. Wolf, and Brian P. Wood.
SABR members, get this e-book for FREE!
SABR members will get discounted rates for all Digital Library publications, including e-book editions for free. Visit SABR.org/ebooks for a list of all titles.
Having trouble downloading our e-books? To view PDF files on your computer, click here to download the free Adobe Reader software. Having trouble downloading e-books to your Kindle, Nook, Sony Reader or iPad? Click here for additional help.
---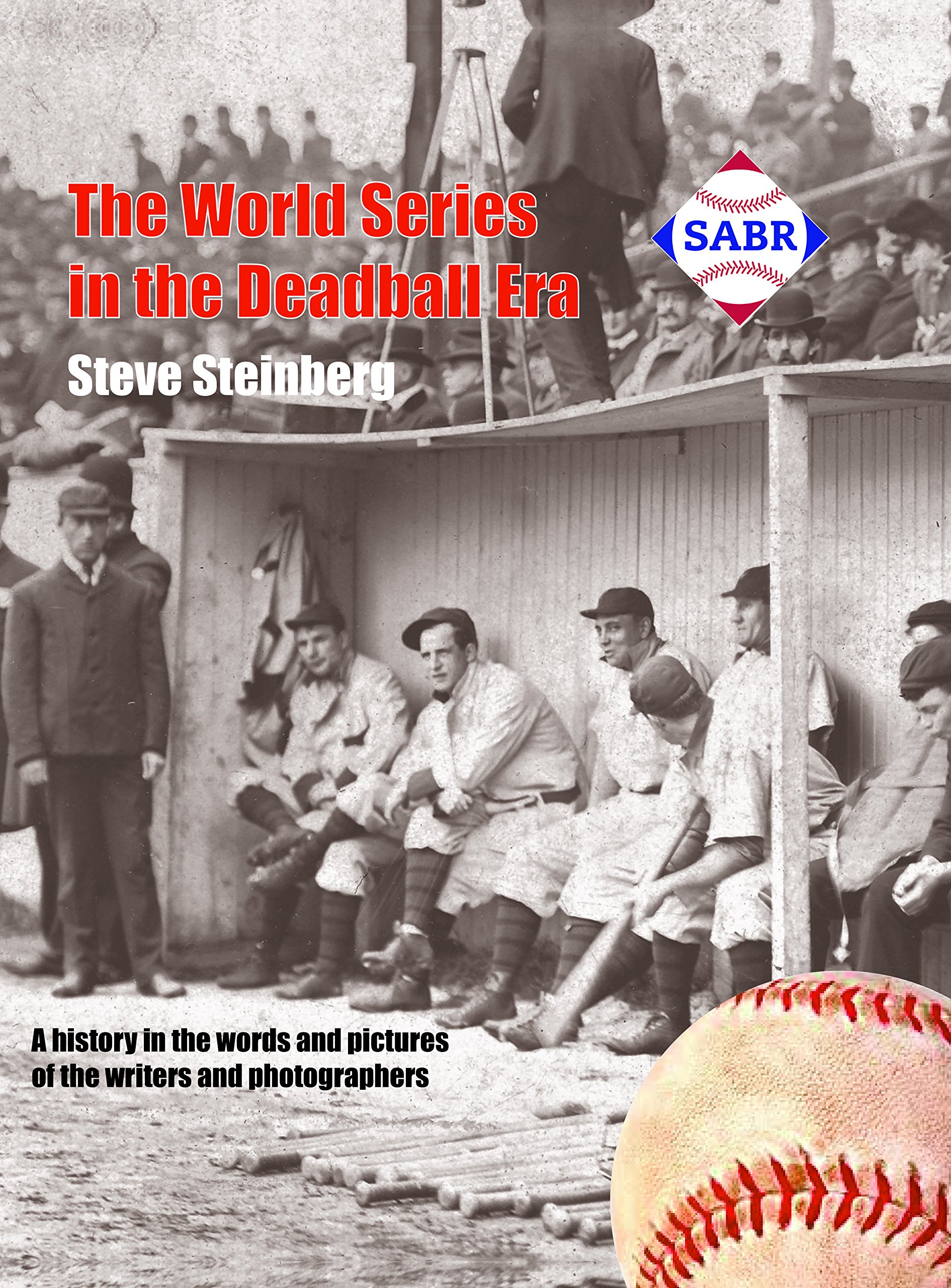 A special new publication produced by SABR's Deadball Era Research Committee vividly brings back the exploits of Ty Cobb, Christy Mathewson, Home Run Baker, and Babe Ruth to life with more than 250 rare photos:
The World Series in the Deadball Era: A History in the Words and Pictures of the Writers and Photographers
Edited by Steve Steinberg
Foreword by Dr. Charles Alexander
Published by St. Johann Press
ISBN (hardcover): 978-1-9379-4345-5, $45.00
306 pages, 8.5″ x 11″

Click here for a complete description of this book at SABR.org.
This book is available for purchase from Amazon.com, your local bookstore, or directly from the publisher at St. Johann Press.
Buy the book:

---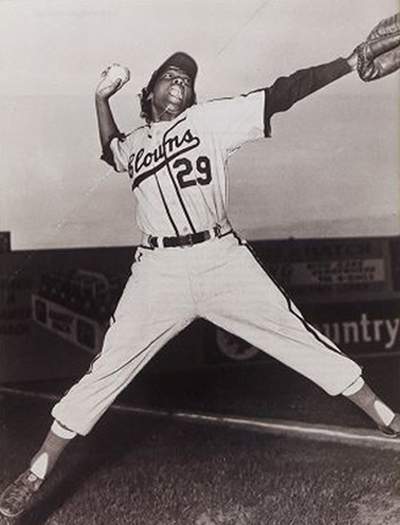 SABR's Women in Baseball Committee will award one $500 scholarship to a high school senior in its inaugural Women in Baseball Essay Contest in 2018.
Students must write an essay of 1,500 words or less addressing the following question: "Choose one person or event in women's baseball history that you believe has made a significant impact on the game and explain the importance."
Click here to download the 2018 SABR Women in Baseball Scholarship application and style guidelines (PDF)
All applications must be e-mailed or postmarked by August 13, 2018, and sent to Dr. Leslie Heaphy at Lheaphy@kent.edu.
Click here for complete details and submission criteria.
---
SABR's Elysian Fields Chapter is seeking nominations for the newly established Russell Gabay Award, which will honor the best scholarship published during the past calendar year about New Jersey baseball history.
Submissions may include, but are not limited to: book, SABR journal article, magazine article, online article, or chapter of an anthology.
Russell Gabay was a noted sports producer and a native of Springfield, New Jersey. He began his career in the late 1970s, producing for ESPN after graduating from University of Hartford. He later became a Production Manager at HBO, where he supervised several shows, including Inside the NFL, documentaries, and championship fights. Until his sudden death in 2016, Russell was a high-level producer at Major League Baseball Network for more than a decade. He was known throughout the sports industry as a gentleman and a true professional whose generosity knew no bounds, whether towards people trying to break into the business or veterans with several decades of experience.
Nominations for the 2019 Russell Gabay Award can be submitted to David Krell at david@davidkrell.com by December 31, 2018.

---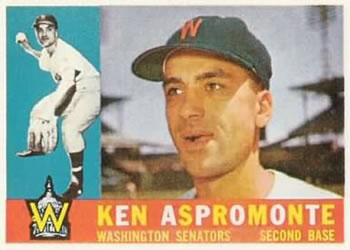 Nine new biographies were posted this week as part of the SABR Baseball Biography Project, which brings us to a total of 4,579 published biographies. Here are the new bios published this week:
All new biographies can be found here: SABR.org/bioproj/recent
Search for any SABR biography: You can now visit sabr.org/bioproj_search to search for any player — or manager, executive, scout, spouse, broadcaster, or umpire — who appears in the SABR BioProject. You can also browse all of these BioProject categories and a lot more, including 300-game winners, Hall of Famers, 1960s All-Stars, or Negro Leaguers, at our Browse page: sabr.org/bioproj/browse.
Read bios from SABR's No-Hitters book: In SABR's No-Hitters, edited by Bill Nowlin and published in 2017, we focused on pitchers who threw no-hitters and the no-hitters they threw. Naturally, we couldn't present biographies of everyone who ever threw a no-hitter nor could we present Games Project accounts of all of them. From around 300 no-hitters thrown in the majors (out of over 213,000 games), we have selected 59 no-hitters to include, along with the biographies of the men who threw them. All of the biographies — from Hall of Famers such as Bob Feller, Sandy Koufax, and Randy Johnson to more obscure pitchers such as Larry Corcoran, Charlie Robertson, and Dallas Braden — that appeared in No-Hitters can now be read online at the SABR BioProject. More game summaries from the No-Hitters book will be posted at the SABR Games Project soon. You can also download the No-Hitters e-book for free or purchase the paperback edition at 50% off by clicking here.
---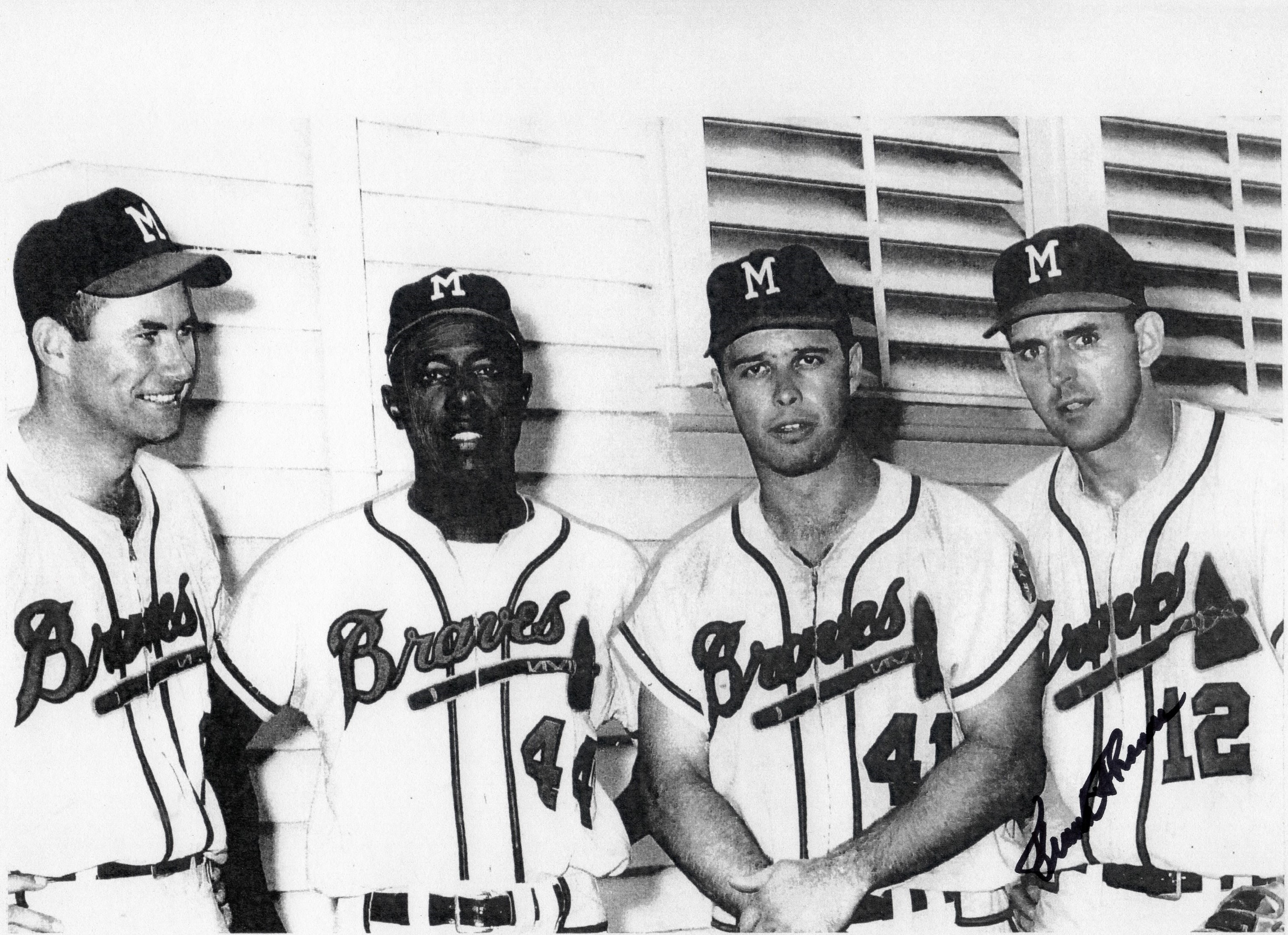 Five new game stories were posted this week as part of the SABR Games Project. Here are the new game stories:
New Games Project stories can be found at SABR.org/gamesproject/recent. Find all published Games Project articles at SABR.org/GamesProject.
If you have any questions about the Games Project, please contact Mike Huber. To request an assignment, please contact Steven C. Weiner. After the article has been completed in accordance with our Authors' Guidelines, please submit it to Len Levin, who will initiate the editing process and get your story started toward publication.
Get involved: Have memories of a game you attended? Or a game you watched that caught your interest? Write about it! Writing for the Games Project is an easy way to get involved as a SABR member. Find out how by reading the Games Project FAQs section or checking out the Authors' Guidelines. We have editors and fact checkers who are willing to help you write your first article.
Read all articles from SABR book on greatest games at Milwaukee's County Stadium: In SABR's From the Braves to the Brewers: Great Games and Exciting History at Milwaukee's County Stadium, edited by Gregory H. Wolf and published in 2016, we told the stories of memorable moments from the heart of the Badger State. All of the stories that appeared in this book are now available to be read online at the SABR Games Project by clicking here.
---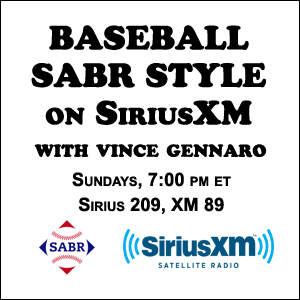 Behind the Numbers: Baseball SABR Style on SiriusXM, a radio show hosted by SABR President Vince Gennaro, is back for the 2018 season at its regular time: 7:00-8:00 p.m. ET on Sundays, on MLB Network Radio.
This week's guests are SABR member Rob Mains from Baseball Prospectus and Bradford Doolittle from ESPN.
You can listen to archives of recent episodes on-demand on the SiriusXM Internet Radio App. Click here to learn more.
Behind the Numbers: Baseball SABR Style on SiriusXM focuses on examining and interpreting the statistical analysis that plays a critical role in baseball today. It airs weekly throughout the year on MLB Network Radio, available to subscribers nationwide on XM channel 89, Sirius channel 209, and on the SiriusXM Internet Radio App.
---
In Memoriam
Royse "Crash" Parr, 82, of Tulsa, Oklahoma, died on April 8, 2018. He was a SABR member since 1997 and the author of two baseball books, Glory Days of Summer: The History of Baseball in Oklahoma and Allie Reynolds: Super Chief. He also wrote more than 50 baseball history articles for the SABR BioProject and other publications. A native Oklahoman, he was born September 11, 1935, in Elk City. He graduated from Oklahoma State University and served as a Captain in the U.S. Army's counterintelligence unit. While earning his Juris Doctorate of Law, he was co-founder of the Tulsa University Bar Journal and he became a corporate attorney for MAPCO. For 25 years he served as vice chairman of the Tulsa County Election Board. He was survived by Sheila, his wife of 57 years; two sons, Clint and Reagan; their wives, Jill and Hayden; and six grandchildren. A memorial service was held this spring in the Boston Avenue Methodist Church. Click here to read the full obituary.
James Drury, 66, of Staten Island, New York, died on June 23, 2018. He was a SABR member since 2000 and active in the Casey Stengel Chapter. He was born June 25, 1951, in Grymes Hill on Staten Island and graduated from Pace University and the New England School of Law before embarking on a long career as an attorney, including many years as an assistant district attorney on Staten Island and as assistant commissioner of the FDNY in the agency's legal department. He was present and assisting in operations at the World Trade Center site on September 11, 2001, when the Twin Towers fell. A former athlete and avid fan of all sports, he was an experienced collector of authenticated sports and other memorabilia. He was expert on the history of Staten Islanders in professional baseball and on prominent Staten Island sports figures. He counted among his friends the late Bobby Thomson of the New York Giants and would on occasion ferry him to autograph signings. Never married, he was "favorite uncle" to 15 nephews and nieces as well as six grand-nephews and grand-nieces, all of whom he showered with endless dry humor, unlimited affection and generosity. A Funeral Mass will be held at 10:00 a.m. on Saturday, June 30 at Sacred Heart Church, S.I., with burial at St. Peter's Cemetery to follow. Click here to read the full obituary.
---
We've heard your feedback: Some of you have said you look forward to "This Week in SABR" every Friday, but sometimes there are just too many compelling articles and announcements to read every week. We're not complaining — hey, keep up the great work! — but we know the feeling. So in an effort to make the length of this newsletter more manageable to read, we'll summarize some of the repeating/recurring announcements in a special "In Case You Missed It (ICYMI)" section of "This Week in SABR".
Here are some major headlines from recent weeks that we don't want you to miss:
All previous editions of This Week in SABR can be found here: https://sabr.org/content/this-week-in-sabr-archives.
---
We'd like to welcome all of our new SABR members who have joined this week. You can find all Members-Only resources at members.sabr.org and the Membership Handbook can be downloaded here.
Please give these new members a warm welcome and help them make the most of their membership by giving them the opportunity to get involved in their local chapter or a research committee.
You can find contact information for any SABR member in the online membership directory (SABR.org/directory).
| Name | Hometown | | | Name | Hometown |
| --- | --- | --- | --- | --- | --- |
| Robert Abbatomarco | Gilbert, AZ | | | Grant Jones | Pittsburgh, PA |
| Michael Ageno | San Francisco, CA | | | James Mooney | Garden City, NY |
| Kyle Anderson | Los Alamitos, CA | | | Mark Panuthos | Seminole, FL |
| Brian Carman | Seattle, WA | | | David Pegram | Phoenix, AZ |
| Benjamin Creasi | Fountain Inn, MA | | | Craig Schulman | Harrington Park, NJ |
| Thomas Curran | Zionsville, IN | | | John Serrapene | Pittsburgh, PA |
| Lincoln Ficek | Columbus, OH | | | Bill Shafer | West Chester, PA |
| Caleb Fox | W. Des Moines, IA | | | Ledra Slavik | Jacksonville, FL |
| Mike Gianella | Newtown, PA | | | Jay Wiley | Austin, TX |
| Grant Hutchins | Glendale, CA | | | Richard Wong | Stamford, CT |
---
Here are the new research committee updates this week:
Find all SABR research committee newsletters at SABR.org/research.
---
Here are the new regional chapter updates this week:
Visit SABR.org/chapters for more information on SABR regional chapters.
---
Here is a list of upcoming events on the SABR calendar:
All SABR meetings and events are open to the public. Feel free to bring a baseball-loving friend … and make many new ones! Check out the SABR Events Calendar at SABR.org/events.
---
Here are some recent articles published by and about SABR members:
Read these articles and more at SABR.org/latest.
---
This Week in SABR is compiled by Jacob Pomrenke. If you would like us to include an upcoming event, article or any other information in "This Week in SABR," e-mail jpomrenke@sabr.org.
Have trouble reading this e-mail? Click here to view this week's newsletter on the web.
Are you receiving our e-mails? "This Week in SABR" goes out by e-mail to all members on Friday afternoons. If they're not showing up, try adding "sabr.notes@sabr.org" to your contact list to ensure they show up in your inbox (and not the spam folder.)
---
Originally published: June 29, 2018. Last Updated: April 3, 2020.
https://h2j7w4j4.stackpathcdn.com/wp-content/uploads/2020/03/research-collection4_350x300.jpg
300
350
admin
/wp-content/uploads/2020/02/sabr_logo.png
admin
2018-06-29 15:00:00
2020-04-03 14:38:18
This Week in SABR: June 29, 2018