This Week in SABR: March 17, 2017

Welcome to "This Week in SABR!" Click here to view this week's newsletter on the web. Here's what we've been up to as of March 17, 2017:
---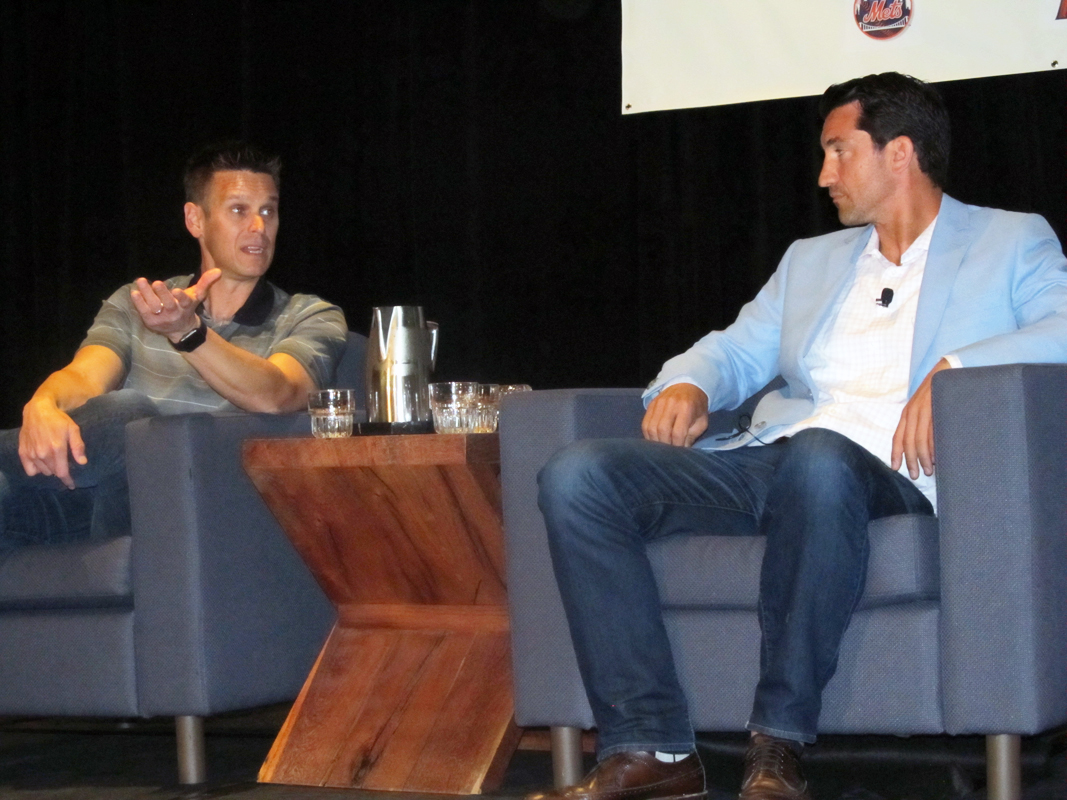 Couldn't make it to Arizona for the SABR Analytics Conference? Visit SABR.org/analytics for full coverage of this exciting event that brings together the top minds in the baseball analytics community in 2017. You'll feel like you're wandering through the Hyatt Regency Phoenix with stories and multimedia clips from the great panel discussions and research presentations on our schedule, photo galleries, and much more.
During the conference, you could follow along on Twitter by searching for the hashtag #SABRanalytics or by reading tweets from our account (@SABR) and from other conference attendees.
View our photo galleries from each day of the conference at SABR.org/analytics/photos.
Click a link below for more multimedia highlights from the 2017 SABR Analytics Conference:
Thursday, March 9
Friday, March 10
Saturday, March 11
---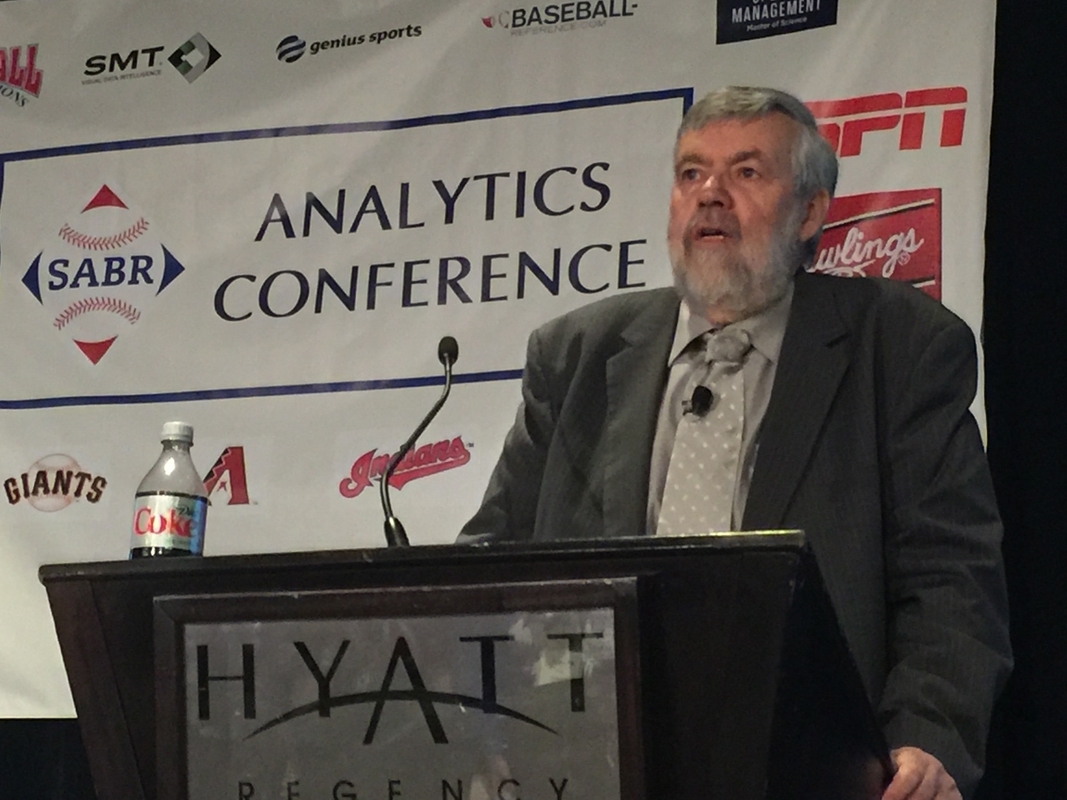 Sabermetric pioneer Bill James was honored with the inaugural SABR Analytics Conference Lifetime Achievement Award on Friday, March 10 in Phoenix, Arizona.
SABR President Vince Gennaro presented James with the award following his talk on the future of baseball analysis at the sixth annual SABR Analytics Conference.
"Bill is receiving this award because of his enormous contribution to the game of baseball," Gennaro said. "His writings have been provocative; they've encouraged us to think about baseball in new ways.
"Perhaps the greatest gift he has is his ability to frame a problem and ask the powerful question, the one no one else oftentimes is asking. He's inspired thousands of others to seek an answer [and] that ultimately leads to a much deeper understanding of the game for fans, for baseball operations departments, and for anyone who really wants to understand how the game works."
James accepted his award to a standing ovation from the capacity crowd at the Hyatt Regency Phoenix.
"I will treasure this and put it on my mantle so I can see it every day," he said.
Click here to read the full story at SABR.org.
---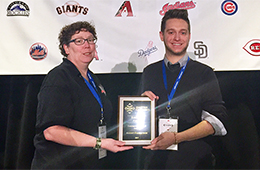 August Fagerstrom, Meg Rowley, and Mina Kimes were announced as the winners of 2017 SABR Analytics Conference Research Awards on Saturday, March 11 at the sixth annual SABR Analytics Conference in Phoenix, Arizona.
Fagerstrom was voted as the winner of the Contemporary Baseball Analysis Award for his article "The Game Plan: How the Indians Almost Won It All," which was published by FanGraphs on November 4, 2016. Fagerstrom is a former staff writer for FanGraphs who also covered the Cleveland Indians for MLB.com and Ohio.com. He is an alumnus of Kent State University. This was his final article for FanGraphs before taking a job in a major-league front office.
Rowley was voted as the winner of the Contemporary Baseball Commentary Award for her article "Let Ballparks Get Old," published by Baseball Prospectus on May 26, 2016. Rowley writes weekly columns for Baseball Prospectus. She serves as the Washington Engagement Officer with The Trust for Public Land nonprofit in Seattle and holds a master's degree in political science from the University of Wisconsin.

Kimes was voted as the winner of the Historical Baseball Analysis/Commentary Award for her article "The Art of Letting Go," published by ESPN The Magazine on October 4, 2016. Kimes joined ESPN The Magazine as a columnist and senior writer in 2014. This article focused on the history and evolution of "bat flipping" among baseball players in South Korea. Previously, she worked for Bloomberg News and Fortune Magazine, where she penned pieces on topics from arms exports to tainted drugs.
The SABR Analytics Conference Research Awards recognize baseball researchers who have completed the best work of original analysis or commentary during the preceding calendar year.
Voting for the winners was conducted online from January 27-February 13, 2017, at SABR.org, BaseballProspectus.com, FanGraphs.com, HardballTimes.com, and BeyondtheBoxScore.com, with results weighted equally at 20%.
---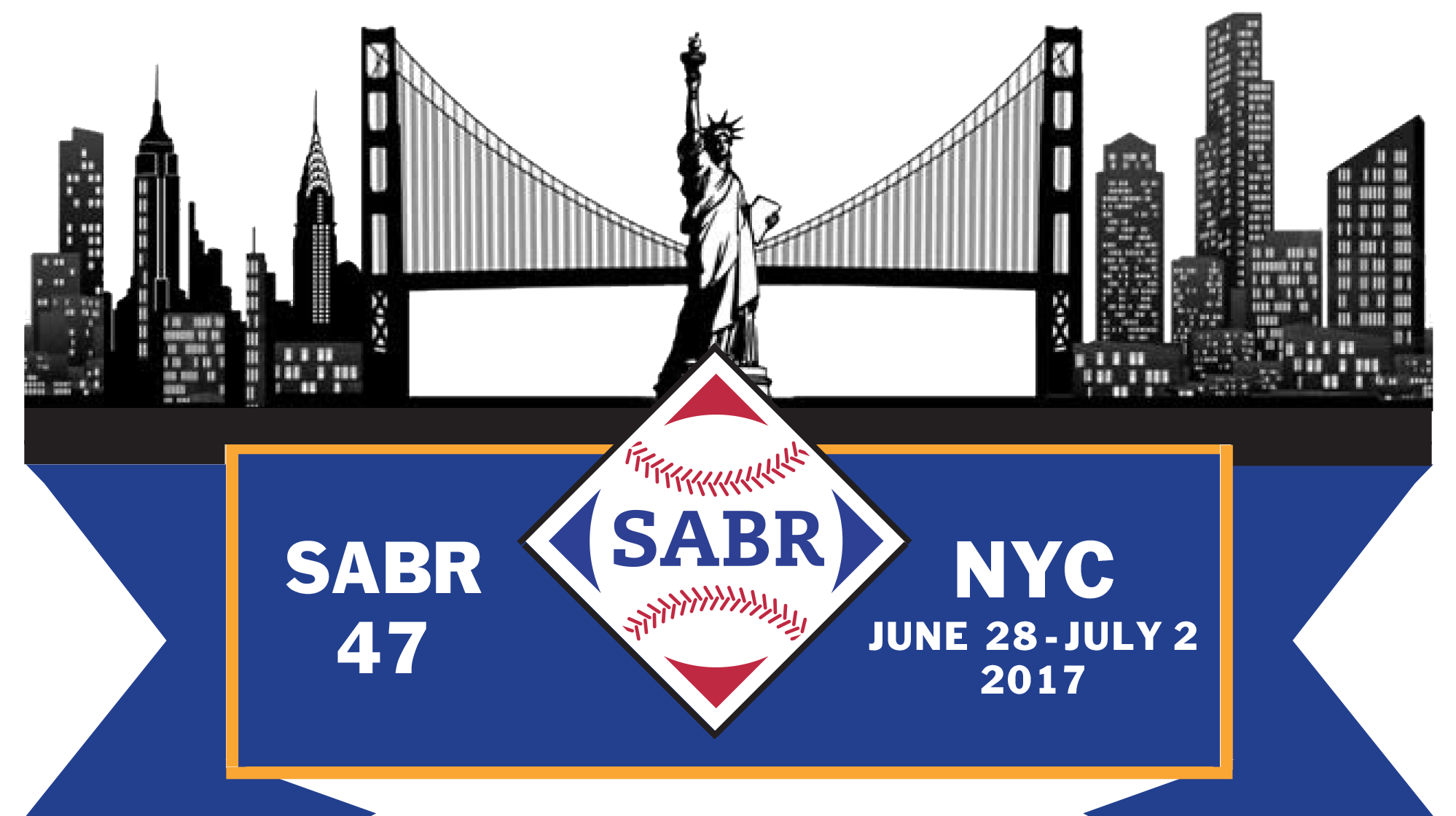 We hope you'll join us for what promises to be a spectacular SABR 47 convention, June 28-July 2, 2017, at the Grand Hyatt New York. Conference and hotel registration is now available. Click here for more information on SABR 47 registration rates, all-inclusive packages, and optional sessions. Or click here to register for SABR 47.
Please note: Our hotel room block at the Grand Hyatt is almost sold out, so be sure to register for SABR 47 soon! If you have already registered for SABR 47 and have trouble booking your room, please contact Deb Jayne at djayne@sabr.org.

This year's SABR National Convention will combine some familiar SABR traditions along with a number of new events. For the second year in a row and third time in four years, SABR will present "A Day at the Ballpark" before the New York Mets game on Friday, June 30 at Citi Field. Special thanks to the Mets staff for this great opportunity and for offering us a large block of tickets in the Big Apple Reserved section at an affordable price. A special ballpark session will be held at Citi Field on Friday afternoon, followed by the game that night between the Mets and the Phillies. More details on the guest speakers will be announced soon, but you can be sure we will have an All-Star lineup.
The Grand Hyatt New York, one of the city's most historic and luxurious hotels, is conveniently located in Midtown Manhattan just steps from Grand Central Terminal and within walking distance of many major attractions, including Times Square, the Empire State Building, and the New York Public Library.
Click on a link below for more information about SABR 47.
Registration: Click here for complete information on SABR 47 registration rates, all-inclusive packages, and optional sessions. Or click here to register for SABR 47! We're again offering a special all-inclusive rate for the annual SABR convention. For $319, a savings of $39 off the regular rate, SABR members can get:
— Full registration to SABR 47 in New York (regular rate: $269)
— 1 ticket in the Big Apple Reserved section to the Mets vs. Phillies game on Friday, June 30 — includes special "A Day at the Ballpark" pregame session at Citi Field and round-trip subway transportation ($50 value)
— 1 ticket to the Awards Reception on Thursday, June 29 ($69 value)
Non-members can pay $394 for the all-inclusive rate. The deadline to register with the all-inclusive rate is Monday, May 1, 2017.
Hotel: The special SABR group rate at the Grand Hyatt New York of $199/night (plus tax) is only available to registered convention attendees. After you register for the SABR 47 convention, you will receive an e-mail confirmation with details on how to book your hotel room at the SABR group rate. There are a limited number of rooms in our group block and it will be virtually impossible to find a comparable rate at a top NYC hotel in the Midtown area, so be sure to register for SABR 47 early!
Awards Reception: SABR will host a special Awards Reception in the early evening on Thursday, June 29 at the Grand Hyatt New York. The Awards Reception will feature the announcement of SABR's annual awards — including the Bob Davids Award, our highest honor — plus an array of hot and cold hors d'oeuvres and a cash bar. The reception will be held this year in place of the Awards Luncheon. One ticket to the Awards Reception is included in the all-inclusive package or guest tickets are available for $69 when you register for SABR 47.

Research presentations: SABR invites all members to present their research findings to their colleagues attending SABR 47. The deadline to submit your abstract is Sunday, February 26, 2017. Click here for complete details and application form.
We hope you'll join us this summer in New York City! Visit SABR.org/convention to learn more.
For a multimedia look at every SABR convention since 1971, click here.
---
With generous funding from The Anthony A. Yoseloff Foundation, Inc., SABR will award up to four scholarships to high school or college students to attend SABR 47 on June 28-July 2, 2017, in New York City. This scholarship will pay for registration, transportation and lodging (double occupancy) up to a total value of $1,250.
The objective of this scholarship fund is to encourage high school and college-level student engagement with baseball research and to engender an active interest in baseball and SABR. The Yoseloff scholarship is to assist young researchers who want to attend SABR's annual convention and to introduce them to fellow SABR members. Through this fund, SABR hopes to inspire future baseball research, expose students to high-quality research and build the research capability of interested students.
All applications must be postmarked or e-mailed to Jeff Schatzki at jschatzki@sabr.org no later than Saturday, April 1, 2017.
Click here for complete details and criteria.
---
Add an innovative book to your collection with the newest publication from SABR Digital Library:
Dome Sweet Dome: History and Highlights from 35 Years of the Houston Astrodome
Edited by Gregory H. Wolf
Associate Editors: Frederick C. Bush, James Forr, Len Levin, Bill Nowlin
Introductions by Tal Smith and Larry Dierker
ISBN (e-book): 978-1-9438-1632-3
ISBN (paperback): 978-1-9438-1633-0
8.5″ x 11″, 299 pages
This book — a collaborative effort by members of the Society for American Baseball Research (SABR) — evokes memories of the Astrodome. Heralded as the "Eighth Wonder of the World" when it opened in 1965, the Astrodome was the world's first domed stadium.
Readers are introduced to the stadium's history through detailed summaries of 70 games played there and nine insightful feature essays about the ballpark. Some of the games might be considered great, like Nolan Ryan's record-breaking fifth no-hitter, or historic, like the first regular-season game in the 'Dome. Other contests are remembered for outstanding or milestone accomplishments, such as Jim Wynn becoming the first player to hit three home runs in the Astrodome, or fantastic finishes like the Astros' 22-inning victory in 1989. Stories from 35 years of Astrodome history feature Hall of Famers like Ryan, Bagwell, Craig Biggio, and Randy Johnson, as well as stars from Larry Dierker and Mike Cuellar to José Cruz and Mike Scott, and lesser remembered or forgotten players, such as George Bjorkman. No volume would be complete without the Astros' heartbreaking losses in postseason games in the 1980s and 1990s.
Feature essays contextualize the stadium's history, with pieces on the Astrodome's engineering, the major movers and shakers in the early stages of the stadium's creation (including Roy Hofheinz, George Kirksey, and Craig Cullinan), the Astrodome as a home to non-baseball events, and of course, an in-depth historical review of the Astrodome itself. Astrodome icons, pitcher Larry Dierker and longtime team executive Tal Smith, wrote introductions for the volume.
Contributors include: Mark Armour, John Bauer, Frederick C. "Rick" Bush, Alan Cohen, Rory Costello, Richard Cuicchi, Larry Dierker, Greg Erion, Dan Fields, T.S. Flynn, James Forr, Gordon J. Gattie, Paul Geisler, Chip Greene, Matt Henshon, Brent Heutmaker, Michael Huber, Chuck Johnson, Norm King, Justin Krueger, Bob LeMoine, Len Levin, Bill McCurdy, Bill Nowlin, Chad Osborne, Thomas Rathkamp, Alan Reifman, Richard Riis, Rick Schabowski, Mark S. Sternman, Jim Sweetman, Joseph Thompson, Robert C. Trumpbour, Steve West, Tal Smith, Mike Whiteman, Gregory H. Wolf, and Kenneth Womack.
SABR members, get this e-book for FREE!
Having trouble downloading our e-books? To view PDF files on your computer, click here to download the free Adobe Reader software. Having trouble downloading e-books to your Kindle, Nook, Sony Reader or iPad? Click here for additional help.
SABR members will get discounted rates for all Digital Library publications, including many for free. To find all past titles, visit SABR.org/ebooks.
---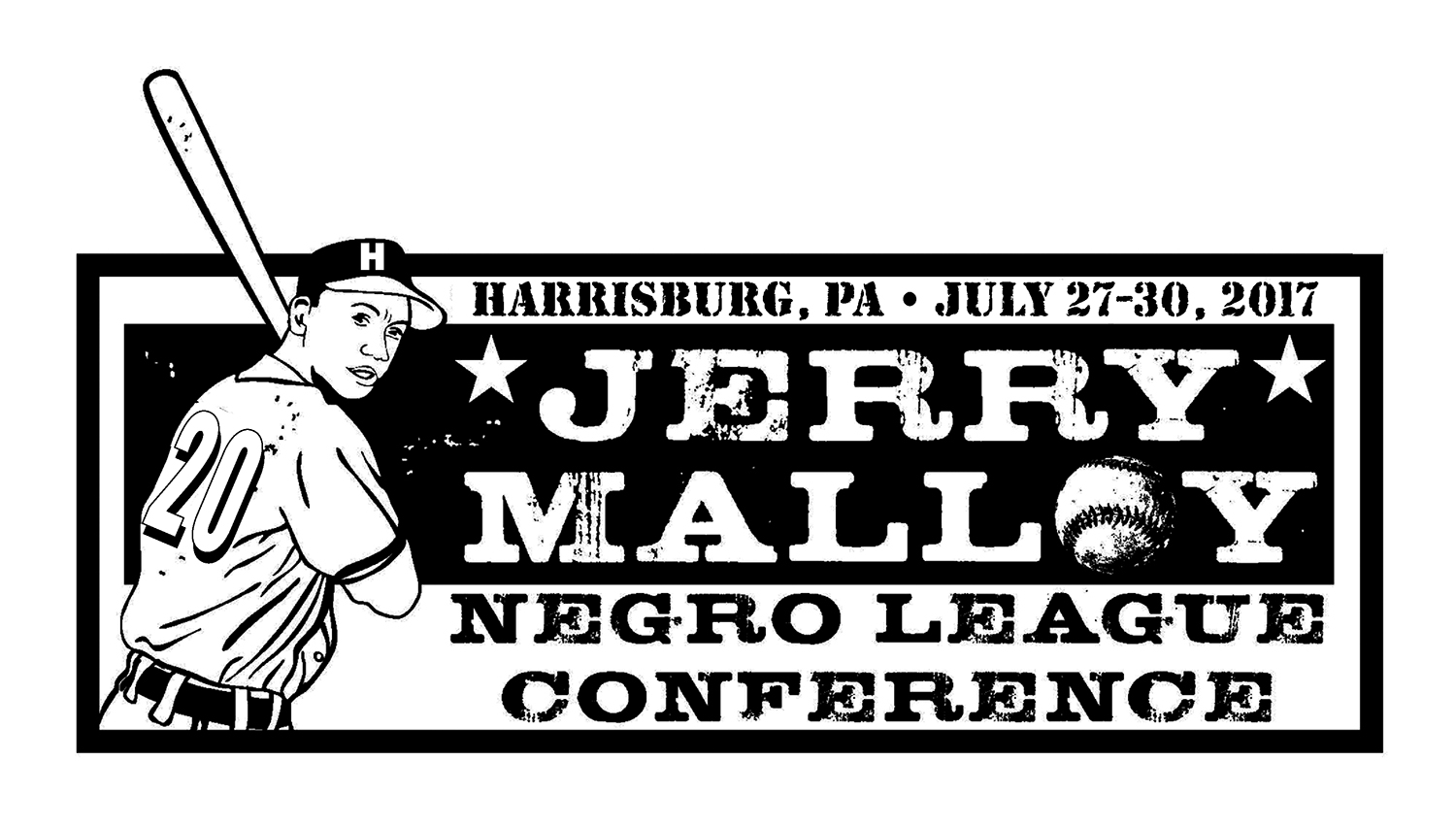 The 20th annual Jerry Malloy Negro League Conference, hosted by SABR's Negro Leagues Research Committee, will be returning to its roots on July 27-30, 2017, in Harrisburg, Pennsylvania, site of the first Negro League conference in 1998.
The Malloy Conference promotes activities to enhance scholarly, educational, and literary objectives. For the past 19 years, the event has been the only symposium dedicated exclusively to the examination and promotion of black baseball history. The conference is open to baseball and history fans of all ages. Each year, monies are targeted to donate books to schools or libraries; raise funds for the Negro Leagues Baseball Grave Marker Project; and award scholarships to high school seniors in a nationwide essay contest and a nationwide art contest.
Visit SABR.org/malloy to learn more about the 2017 Malloy Conference call for papers, essay contest and scholarships, art competition, and school library grants.
---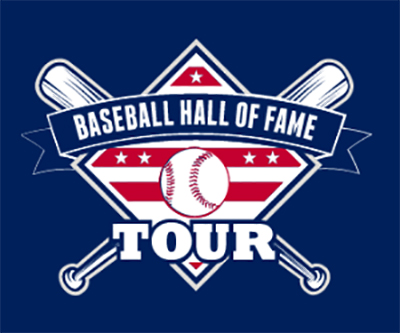 For two weeks in March 2017, fans in Scottsdale, Arizona during Spring Training will have the unique opportunity to expand their baseball experiences with a special visit to We Are Baseball — a cutting-edge collaboration of baseball and technology at Salt River Fields at Talking Stick. In delivering the game's past, present and future, We Are Baseball features virtual reality (VR), an original IMAX movie, and specially curated artifacts from The National Baseball Hall of Fame and Museum in Cooperstown, N.Y.
SABR members can take advantage of a special discount to the tour through our partnership with MLB Advanced Media. Use the code SABR17 for a $7 discount off a full-price adult ticket when you purchase online through HallofFameTour.com.
The We Are Baseball and the Hall of Fame Tour will be open daily at Salt River Fields at Talking Stick between March 11 and March 26, 2017.
Visit HallofFameTour.com to learn more about the exhibition.
---
Each year, SABR's Deadball Era Committee presents the Larry Ritter Book Award to recognize the best new baseball book primarily set in the Deadball Era that was published during the previous calendar year.
The following books were selected as finalists for the 2017 Larry Ritter Book Award:
Hal Bock, The Last Chicago Cubs Dynasty: Before the Curse (Rowman & Littlefield)
Tim Hornbaker, Fall from Grace: The Truth and Tragedy of "Shoeless Joe" Jackson (Sports Publishing)
Maury Klein, Stealing Games: How John McGraw Transformed Baseball with the 1911 New York Giants (Bloomsbury Press)
Glenn Stout, The Selling Of The Babe: The Deal That Changed Baseball and Created a Legend (Thomas Dunne Books)
Stephen Wong, Dave Grob, and Francesco Sapienza, Game Worn: Baseball Treasures from the Game's Greatest Heroes and Moments (Smithsonian Books)
Stay tuned for the announcement of the Larry Ritter Book Award winner in the spring of 2017.
The members of the Ritter Award selection committee are: Mark Dugo, David Fleitz, Ben Klein, Craig Lammers, John McMurray, Mark Pattison, and Doug Skipper.
---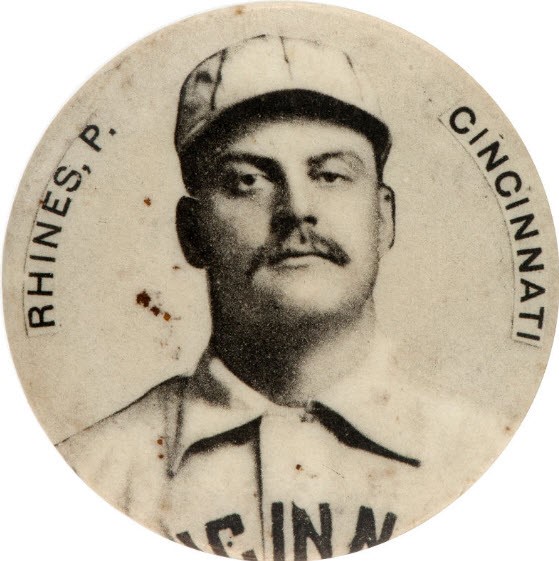 Four new biographies were posted this week as part of the SABR Baseball Biography Project, which brings us to a total of 4,021 published biographies. Here are the new bios published this week:
All new biographies can be found here: /bioproj/recent
Search for any SABR biography: You can now visit sabr.org/bioproj_search to search for any player — or manager, executive, scout, spouse, broadcaster, or umpire — who appears in the SABR BioProject. You can also browse all of these BioProject categories and a lot more, including 300-game winners, Hall of Famers, 1960s All-Stars, or Negro Leaguers, at our Browse page: sabr.org/bioproj/browse.
1947 Dodgers essays posted: Essays from SABR's The Team That Forever Changed Baseball and America: The 1947 Brooklyn Dodgers (University of Nebraska Press, 2012), edited by Lyle Spatz, were published last week at SABR.org. Click here to read articles from this book, including "The Suspension of Leo Durocher," by Jeffrey Marlett; "Jackie Robinson's First Game," by Lyle Spatz; and "Advertising and the Brooklyn Dodgers in 1947," by Roberta J. Newman. Or click here to read all player biographies that appeared in the 1947 Brooklyn Dodgers book at the SABR BioProject.
---
In SABR's The 1986 Boston Red Sox: There Was More Than Game Six, edited by Bill Nowlin and Leslie Heaphy and published in 2016, we paid tribute to a dominant Beantown team whose World Series championship remained just out of reach.
The 1986 Boston Red Sox includes biographies of every player, coach, broadcaster, and other important figures for the American League champions that year — from stars like Roger Clemens, Wade Boggs, Jim Rice, Dwight Evans, and Dave Henderson, to role players like Tom Seaver and Don Baylor, manager John McNamara, hitting guru Walt Hriniak, and of course — Bill Buckner, Bob Stanley, Calvin Schiraldi, and everyone who played an unforgettable role in the postseason.
This book on the 1986 season re-tells the story of that year's classic World Series between the Red Sox and the New York Mets. After four games, each team had won two away games and neither had won at home. Then the Red Sox won Game Five at Fenway, and were one game away from winning their first world championship in 86 years. It came to the point they were one pitch away from baseball Nirvana. And then …
Just about everyone knows what happened, but there are takes on it here you might not have read elsewhere. Mostly, this is the story of each of the players, coaches, managers, and broadcasters, their lives in baseball, and the way the 1986 season fit into their lives.
The SABR BioProject biographies that appeared in The 1986 Boston Red Sox can now be read online at: /category/completed-book-projects/1986-boston-red-sox
You can also purchase the book or download the e-book — along with its companion volume on the 1986 New York Mets — by clicking here. SABR members can download all SABR Digital Library e-books for free at SABR.org/ebooks.
---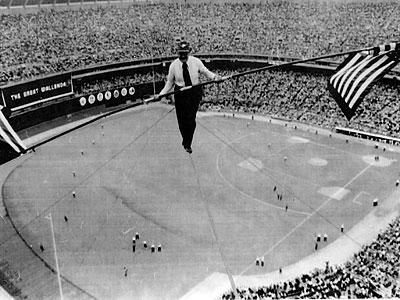 Four new game stories were posted this week as part of the SABR Games Project. Here are the new game stories:
New Games Project stories can be found at /gamesproject/recent. Find all published Games Project articles at SABR.org/GamesProject.
If you have any questions about the Games Project, please contact Greg Erion. If you want to know if a game is available to write about, please contact Bruce Slutsky. After the article has been completed in accordance with our Authors' Guidelines, please submit it to Len Levin, who will initiate the editing process and get your story ready for toward publication.
Get involved: Have memories of a game you attended? Or a game you watched that caught your interest? Write about it! Writing for the Games Project is an easy way to get involved as a SABR member. Find out how by reading the Games Project FAQs section or checking out the Authors' Guidelines. We have editors and fact checkers who are willing to help you write your first article.
Contributor Release Form: As of January 1, 2017, all writers publishing articles (biographies, essays, game pieces, etc.) are being asked to sign a Contributor Release Form which can be sent via email to jpomrenke@sabr.org or hard copy to SABR, 555 N. Central Ave., Suite #416, Phoenix, AZ 85004. The form only needs to be filed once for all future SABR publications. Click here to download the form.
---
Behind the Numbers: Baseball SABR Style on SiriusXM, a radio show hosted by SABR President Vince Gennaro is back for the Hot Stove League offseason, at a new time: 4:00-5:00 p.m. ET on Sundays, on MLB Network Radio.
This week's show will include highlights from the recent SABR Analytics Conference with clips from the Analytics of Hitting, Pitching, and Catching panel with ESPN's Jessica Mendoza, FanGraphs' Eno Sarris, SABR President Vince Gennaro, and moderator Dan Migala.
Scheduling note: If there is a World Baseball Classic tiebreaker game on Sunday evening, Behind the Numbers will only be available on-demand on the SiriusXM Internet Radio App.
You can also listen to archives of recent episodes on-demand on the SiriusXM Internet Radio App, and you can watch video highlights of Behind the Numbers: Baseball SABR Style on SiriusXM on MLB.com. Click here to watch more video highlights of Baseball SABR Style from MLB.com.
Behind the Numbers: Baseball SABR Style on SiriusXM focuses on examining and interpreting the statistical analysis that plays a critical role in baseball today. It airs weekly throughout the year on MLB Network Radio, available to subscribers nationwide on XM channel 89, Sirius channel 209, and on the SiriusXM Internet Radio App.
---
Minutes from the Board of Directors conference call on January 29, 2017, have now been posted on the SABR website.
You can view all past minutes of SABR Board meetings by going to the page below:
Or you can go to the Members' Info page and click on "Org. files", then "Board Minutes" to view the minutes.
---
We've heard your feedback: Some of you have said you look forward to "This Week in SABR" every Friday, but sometimes there are just too many compelling articles and announcements to read every week. We're not complaining — hey, keep up the great work! — but we know the feeling. So in an effort to make the length of this newsletter more manageable to read, we'll summarize some of the repeating/recurring announcements in a special "In Case You Missed It (ICYMI)" section of "This Week in SABR".
Here are some major headlines from recent weeks that we don't want you to miss:
All previous editions of This Week in SABR can be found here: /content/this-week-in-sabr-archives.
For more information, click here.
---
We'd like to welcome all of our new SABR members who have joined this week. You can find all Members-Only resources at members.sabr.org and the Membership Handbook can be downloaded here.
Please give these new members a warm welcome and help them make the most of their membership by giving them the opportunity to get involved in their local chapter or a research committee.
You can find contact information for any SABR member in the online membership directory (SABR.org/directory).
| Name | Hometown | | | Name | Hometown |
| --- | --- | --- | --- | --- | --- |
| Rohan Balakrishnan | Singapore, SGP | | | Robert Michaels | Niskayuna, NY |
| Charles Beauregard | Reading, MA | | | Jared Ortega | Glendale, AZ |
| Carole Camp | LaGrange, GA | | | Mike Phillips | Gilbert, AZ |
| Chris Conkell | Atlanta, GA | | | Jeff Ryan | Chapel Hill, NC |
| Charles Eubanks | Brooklyn, NY | | | L. Vincent Sawyer Jr. | Lynchburg, VA |
| Brad Furst | Gresham, OR | | | Zach Tirpak | Fort Worth, TX |
| Alan Jones | Sunrise, FL | | | Stephen Weinstein | New York, NY |
| Peter McCabe | Remsenburg, NY | | | | |
---
Here are the new SABR research committee updates this week:
Baseball and the Arts: The new SABR Journal of Baseball Arts is now accepting submissions. We will include contemporary works mixed with masterpieces from the past. We encourage submissions of art, poetry, fiction, memoir, and all musings about baseball. So if you are thinking about a short story, or have one in the works and are looking for a place to publish it, here's the place for you. The length of a story should be less than 5,000 words, and artwork should be original and baseball-related. Email your proposals, finished work, or any questions to artsjournal@sabr.org. Click here to learn more.
Negro Leagues: March 2017 newsletter
Find all SABR research committee newsletters at SABR.org/research.
---
Here are the new regional chapter updates this week:
Thanks to the generosity of the New York Yankees, the Connecticut Smoky Joe Wood Chapter is auctioning off a ticket voucher good for four (4) Field Level tickets to a 2017 Yankees home game. Any active SABR member, even those who live outside Connecticut, can bid until noon ET on Opening Day, Sunday, April 2. Some restrictions may apply. Click here to learn more.
Best Practices handbook: Chapter leaders, download the updated Chapter Leaders Best Practices Handbook on the Admin Tools page at admin.sabr.org. The handbook offers suggestions and guidelines for meetings, speakers, revitalizing a chapter, and getting publicity for SABR and chapter events.
Visit SABR.org/chapters for more information on SABR regional chapters.
---
Here is a list of upcoming SABR events:
All SABR meetings and events are open to the public. Feel free to bring a baseball-loving friend … and make many new ones! Check out the SABR Events Calendar at SABR.org/events.
---
Here are some recent articles published by and about SABR members:
Read these articles and more at SABR.org/latest.
---
This Week in SABR is compiled by Jacob Pomrenke. If you would like us to include an upcoming event, article or any other information in "This Week in SABR," e-mail jpomrenke@sabr.org.
Have trouble reading this e-mail? Click here to view this week's newsletter on the web.
Are you receiving our e-mails? "This Week in SABR" goes out by e-mail to all members on Friday afternoons. If they're not showing up, try adding "sabr.notes@sabr.org" to your contact list to ensure they show up in your inbox (and not the spam folder.)
---
Originally published: March 17, 2017. Last Updated: April 3, 2020.
https://h2j7w4j4.stackpathcdn.com/wp-content/uploads/2020/03/research-collection4_350x300.jpg
300
350
admin
/wp-content/uploads/2020/02/sabr_logo.png
admin
2017-03-17 15:00:00
2020-04-03 14:38:44
This Week in SABR: March 17, 2017