This Week in SABR: November 9, 2018

Welcome to "This Week in SABR!" Click here to view this week's newsletter on the web. Here's what we've been up to as of November 9, 2018:
---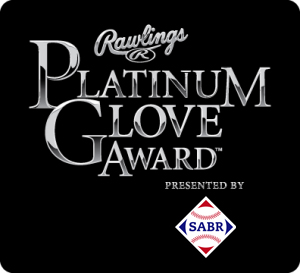 For the sixth consecutive season, the SABR Defensive Index™ was used to help select the winners of the Rawlings Gold Glove Award and Rawlings Platinum Glove Award™, presented by SABR. The SABR Defensive Index accounts for approximately 25 percent of the Rawlings Gold Glove Award selection process that was added to the votes from the managers and coaches.
The 2018 Gold Glove winners were announced on ESPN's "Baseball Tonight" on Sunday, November 4. Click here to view the winners.
The final SABR Defensive Index rankings for the 2018 season were also released this week. Click here to view the positional rankings.
Voting for the Rawlings Platinum Glove Award, presented by SABR, was conducted online at Rawlings.com this week and the winner will be announced tonight at the Rawlings Gold Glove Award Ceremony in New York.
To learn more about the SABR Defensive Index, visit SABR.org/SDI.
---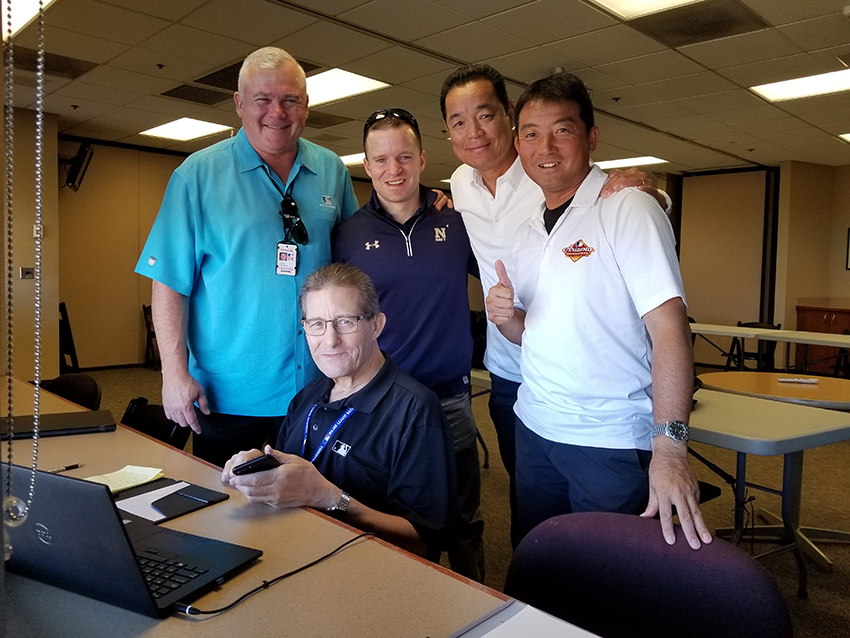 The 10th annual SABR Arizona Fall League Experience was held last weekend, November 1-3, 2018, at The Saguaro hotel in Scottsdale, Arizona.
The event featured four AFL games showcasing baseball's top prospects, including the nationally televised Fall Stars Game at Surprise Stadium, plus the Hemond-Delhi Arizona Chapter's meeting. Guest speakers at the conference included MLB Director of Umpire Development Rich Rieker; Takeshi Hirabayashi, Umpire Supervisor in Japan's Nippon Professional Baseball league; baseball scout and analyst Bernie Pleskoff; San Francisco Giants radio broadcaster Marty Lurie, and more.
Visit SABR.org/AFL to view more highlights and photos from the conference.
---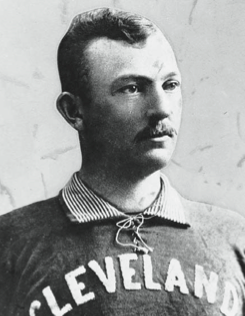 Join us for the SABR Cleveland 19th Century Baseball Interdisciplinary Symposium, which will take place on Saturday, November 10, 2018, from 9:00 a.m.-5:00 p.m. at the majestic Main Branch of the Cleveland Public Library in the heart of downtown Cleveland.
A keynote luncheon address by David Goldberg, Professor of History at Cleveland State University, will provide a look at late 19th-century Cleveland with a particular understanding of one of that city's most important and powerful forces, its transportation system.
Other speakers are expected to include John Thorn, MLB's Official Historian; John Skrtic, Director of Public Services, CPL; Jeremy Feador, Cleveland Indians, Historian & Curator; and four SABR researchers and authors with specific focus on elements of 19th-century Cleveland area baseball: David Fleitz, Joseph Wancho, Ken Krsolovic, and Bryan Fritz.
---
The National Baseball Hall of Fame announced this week the candidates on the Today's Game Era ballot to be reviewed and voted upon at the Baseball Winter Meetings next month in Las Vegas. The Today's Game Era is one of four Eras Committees, which provide an avenue for Hall of Fame consideration to managers, umpires and executives, as well as players retired for more than 15 seasons.
Harold Baines, Albert Belle, Joe Carter, Will Clark, Orel Hershiser, Davey Johnson, Charlie Manuel, Lou Piniella, Lee Smith, and George Steinbrenner are the candidates the Today's Game Era Committee will consider for Hall of Fame election for the Class of 2019.
Click here to read the full article at SABR.org.
---
This has been another outstanding year for SABR, with an entertaining, informative SABR 48 convention in Pittsburgh and a special day at the ballpark at PNC Park, innovative research and publishing projects, and outstanding involvement from volunteers. Your year-end charitable gift will help us close out 2018 and enable us to make 2019 even more successful.
Please help us reach this year's giving goal! As a 501(c)3 organization, tax-deductible donations allow SABR to expand member opportunities and to become an even larger voice in the baseball community. Many members have already become donors, and you can join them right now by making your gift online at SABR.org/donate. By doing so you help SABR fulfill its mission and increase the impact of our baseball analysis and historical study.
All of us at SABR appreciate your support of our great organization and the game we love. If you have questions regarding your gift, feel free to e-mail SABR CEO Scott Bush at sbush@sabr.org.
---
Join us for the eighth annual SABR Analytics Conference on Friday, March 8 to Sunday, March 10, 2019, at the Hyatt Regency Phoenix, where we'll bring together the top minds in the baseball analytics community to discuss, debate and share insightful ways to analyze and examine the great game of baseball. All baseball fans are welcome to attend. The early-bird registration discount ends on Monday, January 14, 2019, so register today to join us!
The Analytics Conference schedule consists of a combination of Guest Speakers, Panels, and Research Presentations — plus the unique Diamond Dollars Case Competition, in which undergraduate, graduate and law school students from across the country analyze and present a real baseball operations decision.
For more information on the 2019 SABR Analytics Conference, visit SABR.org/analytics.
---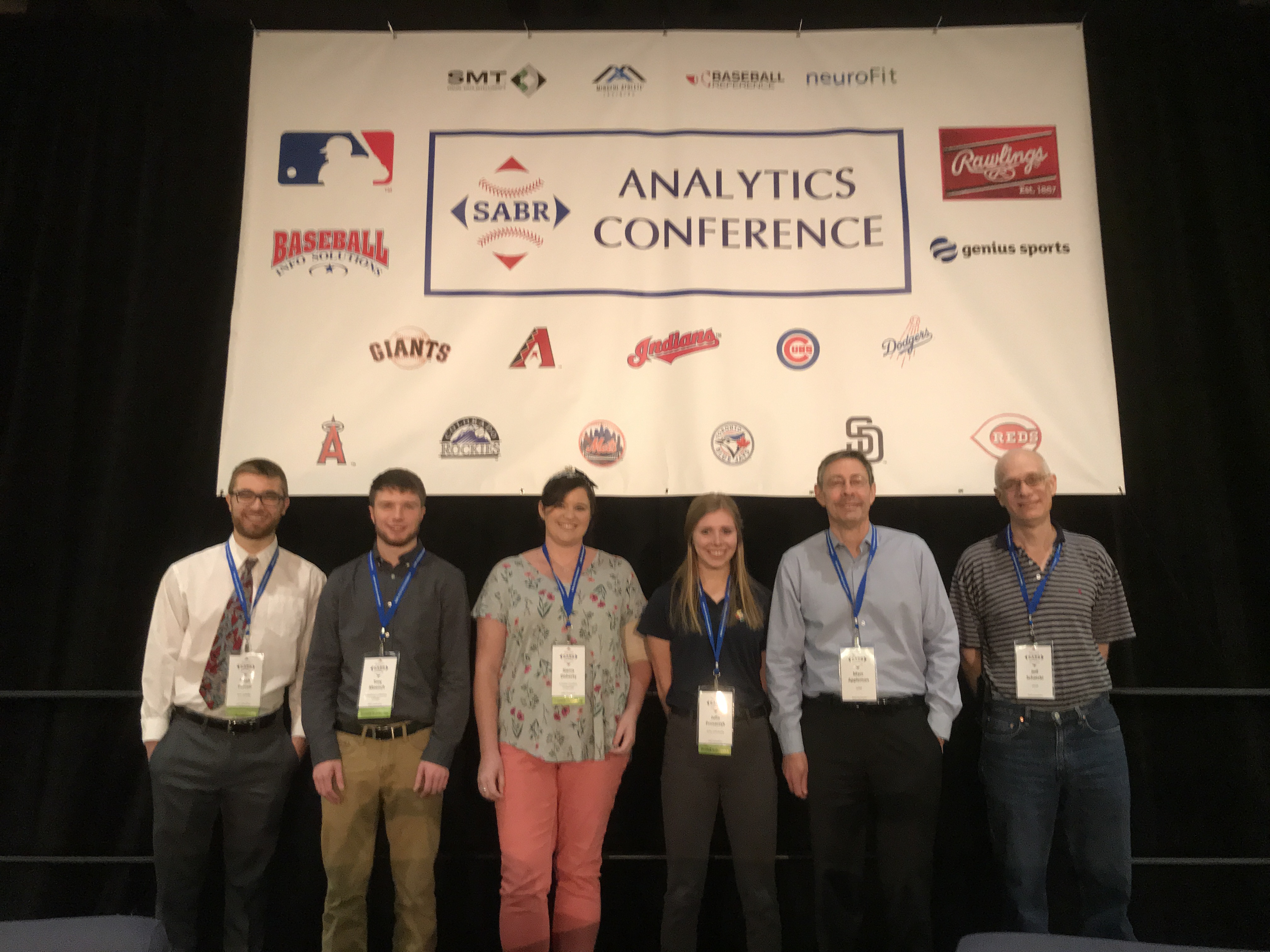 With generous funding from The Anthony A. Yoseloff Foundation, Inc., SABR will award up to four scholarships to high school and college students who wish to attend the 2019 SABR Analytics Conference. This scholarship will pay for registration, air transportation and lodging up to a total value of $1,250.
All applications must be postmarked or e-mailed to Leslie Heaphy at Lheaphy@kent.edu no later than December 31, 2018.
The objective of this scholarship fund is to encourage student engagement with baseball analytics, and to engender an active interest in baseball research and SABR.
Click here to download the 2019 Yoseloff Scholarship application.
---
For those of you whose SABR memberships expire by December 31 — you can check your current membership status here — it's time for you to renew!
From the Baseball Research Journal and the SABR Digital Library to "This Week in SABR" and our extensive list of research resources — and, of course, all the memorable conferences, chapter meetings, and events — we hope you enjoyed the many benefits of SABR membership this past year.
We hope you please continue your support by renewing your SABR membership today.
Dues are the same as they have been in recent years: $65 for one year or $175 for three years, with discounts available to anyone under 30 or over the age of 65. Please note: If you have had trouble logging in to the SABR website, please try resetting your password using this reset link. Then try logging in to renew at the link above.
Thank you for your support of SABR as we continue to strive to make SABR membership a great experience and a great value!
---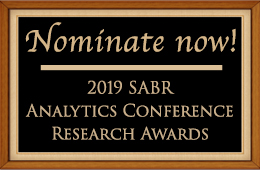 What are the best baseball analytics articles you've read in 2018?
The 2019 SABR Analytics Conference Research Awards recognize baseball researchers who have completed the best work of original analysis or commentary during the preceding calendar year. Click here to learn more or to submit a nomination.
Voting for the winners will be conducted online in January-February 2019 at SABR.org, BaseballProspectus.com, FanGraphs.com, HardballTimes.com and BeyondtheBoxScore.com, with results weighted equally at 20%. Results will be announced and presented at the eighth annual SABR Analytics Conference, March 8-10, 2018, at the Hyatt Regency Phoenix in Arizona.
---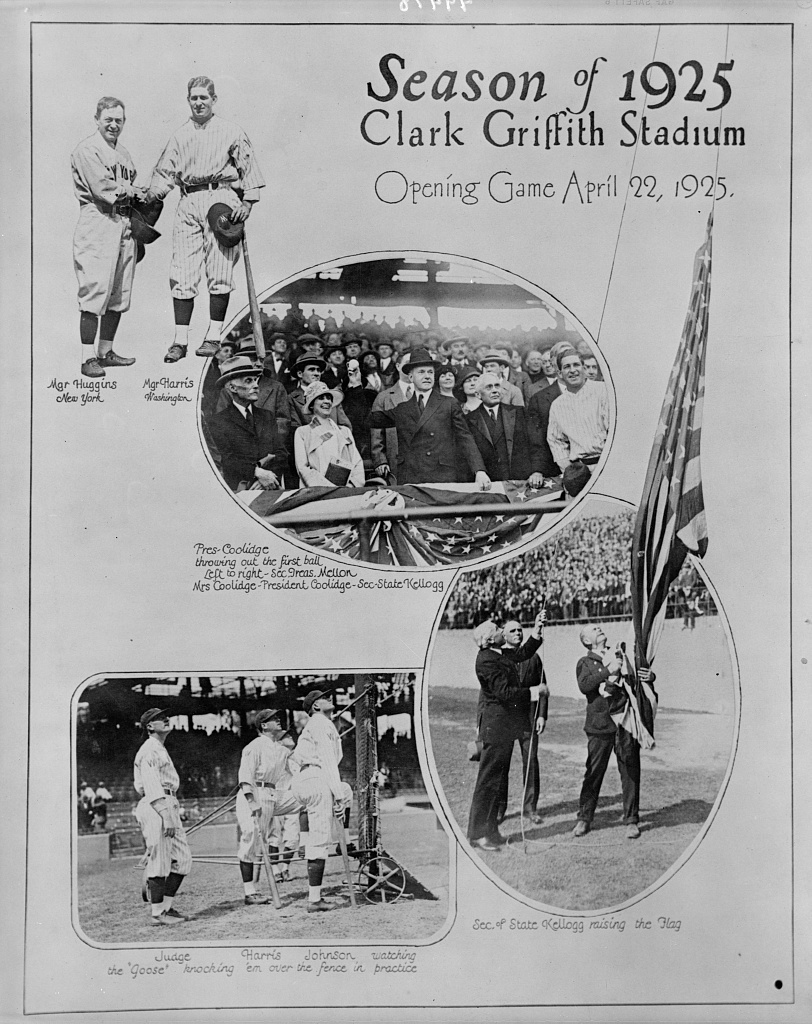 The new SABR Team Ownership Histories Project, which launched last year at SABR.org, is a joint effort of SABR's Business of Baseball Committee and the BioProject. The intention is to provide as much detail as possible about the organization and composition of ownership groups, franchise sales, relocations, stadiums, and other issues that provide the financial context for team success on the field. One new article was published this week:
Click here to read all other Team Ownership History articles published so far at SABR.org.
This project is a continuing effort. Some team articles have been assigned, but anyone who wishes to contribute is encouraged to contact Andy McCue at amccue@sabr.org. Thanks to Len Levin for his work in copy editing all of these essays.
To find out which essays still need authors, or to read author guidelines, click here.
---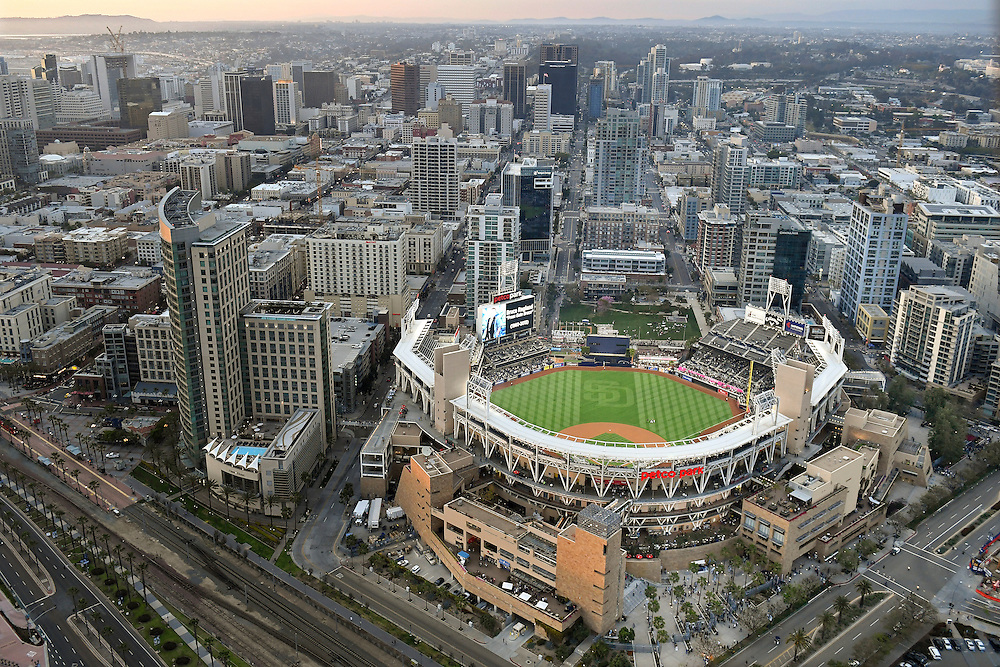 Save the date! SABR will be returning to San Diego for our 49th national convention on June 26-30, 2019, at the Manchester Grand Hyatt in downtown San Diego, California. Registration information and our special hotel room block will be available at SABR.org/convention in early 2019. The Padres are scheduled to play at home against the St. Louis Cardinals that weekend.
The Manchester Grand Hyatt is conveniently located within walking distance from Petco Park; our host hotel, a frequent host of baseball's Winter Meetings, features a spectacular waterfront resort-like setting with shopping, dining, and entertainment venues in abundance at the nearby Gaslamp Quarter. The San Diego Central Library's Sullivan Family Baseball Research Center, just a few blocks away, is home to the spectacular SABR Collection curated by our host chapter, the San Diego Ted Williams Chapter.
For more information on the SABR convention, visit SABR.org/convention.
---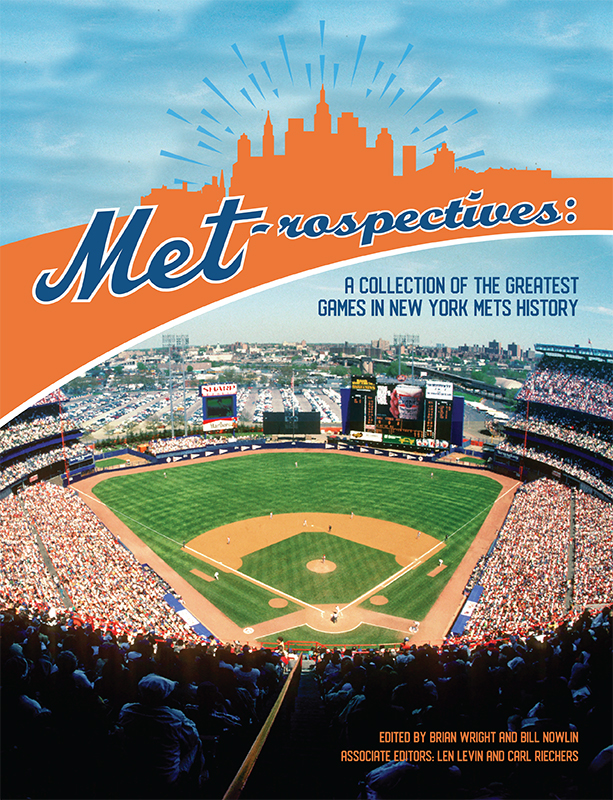 New York Mets fans can soak in some Amazin' memories with the newest book from the SABR Digital Library:
Met-rospectives: A Collection of the Greatest Games in New York Mets History
Edited by Brian Wright and Bill Nowlin
Associate Editors: Len Levin and Carl Riechers
ISBN (paperback): 978-1-943816-87-3, $14.95
ISBN (e-book): 978-1-943816-86-6, $9.99
139 pages, 8.5″ x 11″
Click here to read the full description at SABR.org.
SABR members, get this e-book for FREE!
SABR members will get discounted rates for all Digital Library publications, including many for free. Find all past titles in our collection at SABR.org/ebooks.
Having trouble downloading our e-books? To view PDF files on your computer, click here to download the free Adobe Reader software. Having trouble downloading e-books to your Kindle, Nook, Sony Reader or iPad? Click here for additional help.
---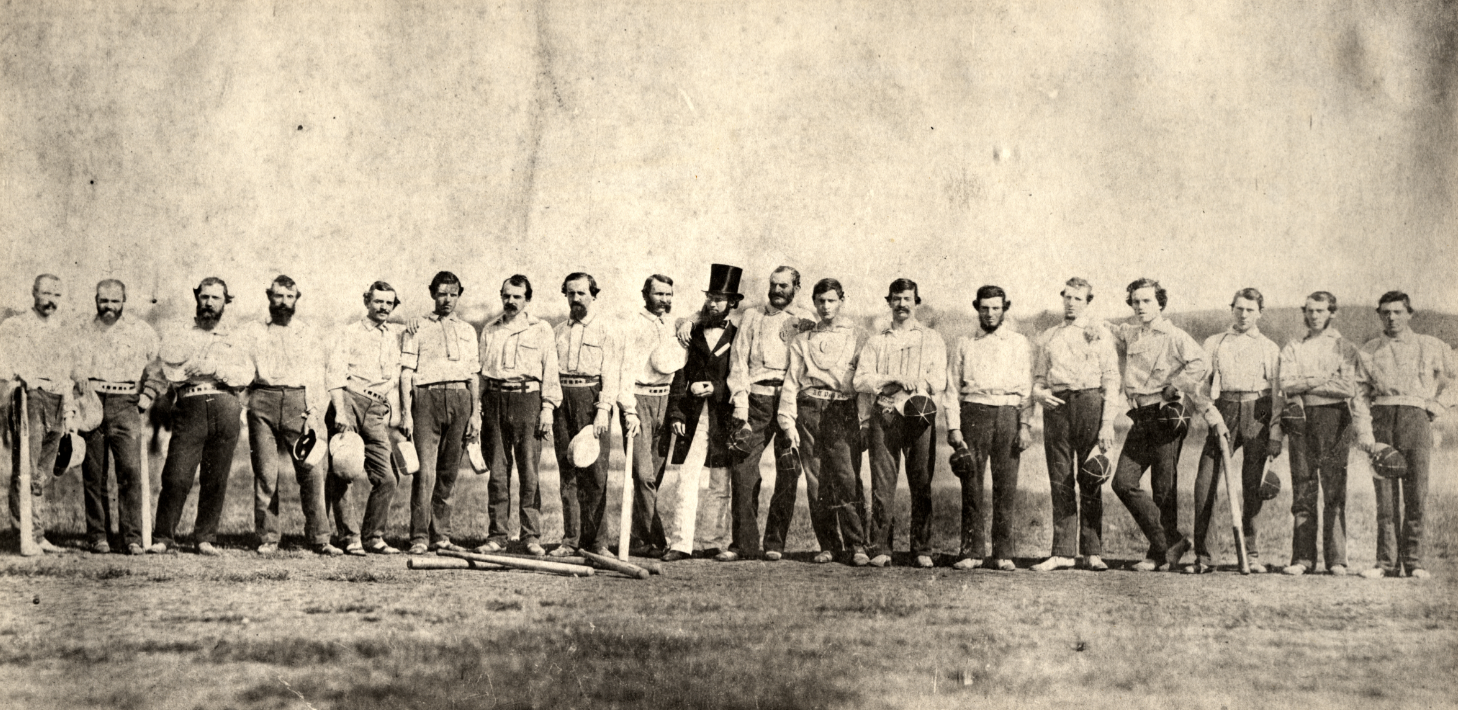 Our friends at Protoball.org are looking to hire a website developer/advisor with experience and expertise in the MediaWiki software to help out with general maintenance, organization of resources, helping to integrate new data that comes in (such as SABR member Bob Tholkes' repository of 5,000 pre-Civil War ballgames), and resolving any other technical issues or questions that pop up with their site from time to time.
The Protoball Project was established to help researchers and writers locate and refine primary data on the evolution and spread of ball play from ancient times to up to 1870, just before the first professional baseball league began.
This is a part-time remote position. If you are interested in applying, please contact Larry McCray at lmccray@mit.edu.
---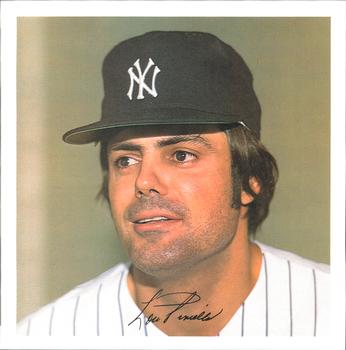 Eight new biographies were posted this week as part of the SABR Baseball Biography Project, which brings us to a total of 4,664 published biographies. Here are the new bios published this week:
All new biographies can be found here: SABR.org/bioproj/recent
---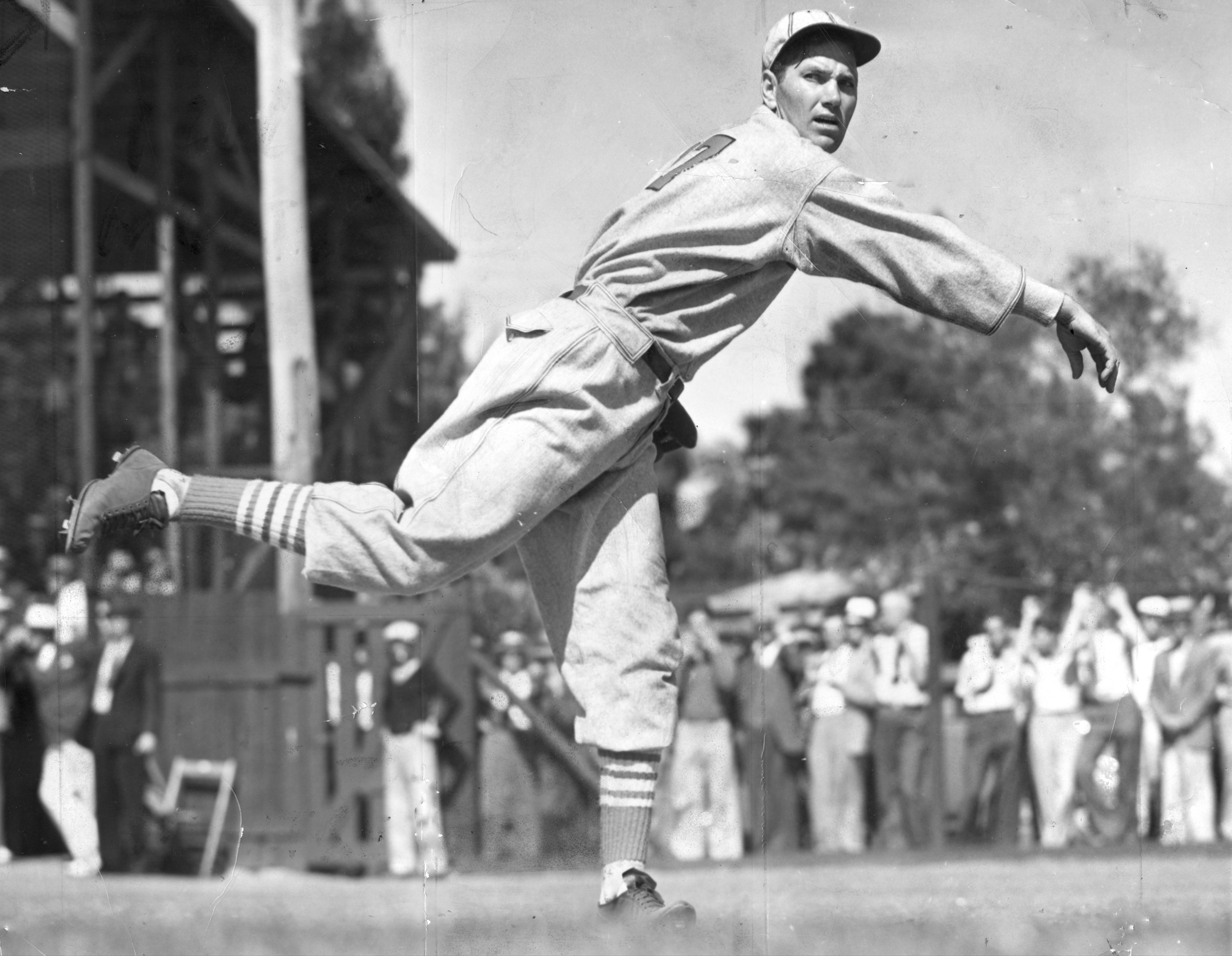 Twenty-six new game stories were posted this week as part of the SABR Games Project. Here are the new game stories:
These stories were all published in Sportsman's Park in St. Louis (SABR, 2017), edited by Gregory H. Wolf. To read more stories from this book online at the SABR Games Project, click here.
New Games Project stories can be found at SABR.org/gamesproject/recent. Find all published Games Project articles at SABR.org/GamesProject.
---
Behind the Numbers: Baseball SABR Style on SiriusXM, a radio show hosted by SABR President Vince Gennaro, is back for the Hot Stove League offseason at a new time, 4:00-5:00 p.m. ET on Sundays, on MLB Network Radio.
This week's guests are Dan Szymborski of FanGraphs and Kenny Kendrena of Inside Edge.
You can listen to archives of recent episodes on-demand on the SiriusXM Internet Radio App. Click here to learn more.
Behind the Numbers: Baseball SABR Style on SiriusXM focuses on examining and interpreting the statistical analysis that plays a critical role in baseball today. It airs weekly throughout the year on MLB Network Radio, available to subscribers nationwide on XM channel 89, Sirius channel 209, and on the SiriusXM Internet Radio App.
---
Please note: Only ONE entry per nomination will be considered (do not submit multiple nominations for the same award). For more information on SABR Awards, click here.
---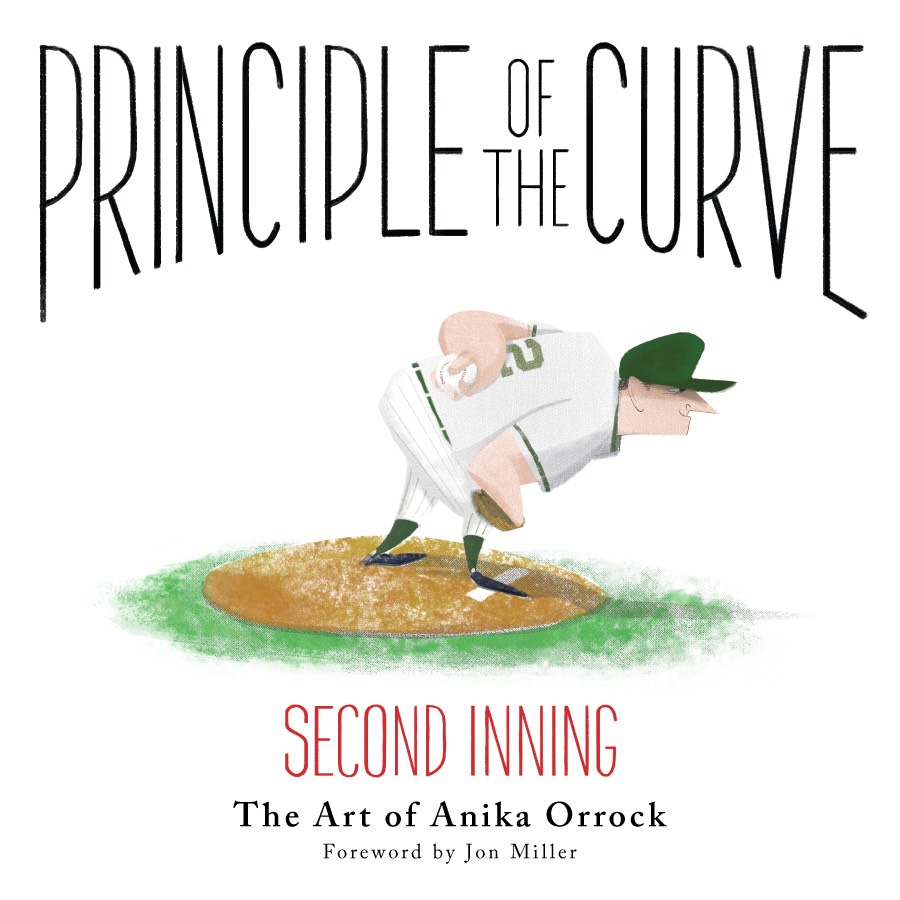 Author and illustrator Anika Orrock has a special offer for SABR members for her upcoming new book, Principle of the Curve, Second Inning: Pre-order the book at anikaorrock.com before 11:59 p.m. PST on Thursday, November 15 to receive free shipping using the coupon code SABRMEMBER at checkout.
The first 200 pre-orders will be signed by legendary San Francisco Giants broadcaster Jon Miller, who wrote the foreword to Principle of the Curve, Second Inning, which contains more than 100 pages of baseball art, writing, cartoons, quotes and comics, featuring columns by the popular and beloved columnist Ray Orrock and illustrations by Anika Orrock.
Click here for more details at SABR.org.
---
Minutes from the Board of Directors conference calls on October 14 and November 1, 2018, have now been posted on the SABR website.
You can view all past minutes of SABR Board meetings by going to the page below:
http://sabr.org/content/sabr-board-minutes
Or you can go to the Members' Info page and click on "Org. files", then "Board Minutes" to view the minutes.
---
We've heard your feedback: Some of you have said you look forward to "This Week in SABR" every Friday, but sometimes there are just too many compelling articles and announcements to read every week. We're not complaining — hey, keep up the great work! — but we know the feeling. So in an effort to make the length of this newsletter more manageable to read, we'll summarize some of the repeating/recurring announcements in a special "In Case You Missed It (ICYMI)" section of "This Week in SABR".
Here are some major headlines from recent weeks that we don't want you to miss:
All previous editions of This Week in SABR can be found here: https://sabr.org/content/this-week-in-sabr-archives.
---
We'd like to welcome all of our new SABR members who have joined this week. You can find all Members-Only resources at members.sabr.org and the Membership Handbook can be downloaded here.
Please give these new members a warm welcome and help them make the most of their membership by giving them the opportunity to get involved in their local chapter or a research committee.
You can find contact information for any SABR member in the online membership directory (SABR.org/directory).
| Name | Hometown | | | Name | Hometown |
| --- | --- | --- | --- | --- | --- |
| Richard Albersheim | Tustin, CA | | | Jeff Kabacinski | Wilmington, DE |
| Mike Blick | Weston, WI | | | Mary Knox | Arlington, VA |
| Luke Bradley | San Francisco, CA | | | Doug Lantsberg | Solon, OH |
| Joshua Buzbee | Auburn, AL | | | Tom Naylor | Jersey City, NJ |
| JJ Cheskin | Silver Spring, MD | | | Prisco Panza | Milford, CT |
| Doug Dinwiddie | Pinos Altos, NM | | | Patrick Porter | Scottsdale, AZ |
| Connelly Doan | San Mateo, CA | | | Charles Purczinsky | Sachse, TX |
| Mel Gadd | Cambridge, MA | | | Graham Tebbit | Mississauga, ON |
| Zachary Geroux | Germantown, MD | | | Diane Wells-MacLennan | Lomita, CA |
| Larry Grogan | San Leandro, CA | | | Eric Yager | Canton, MI |
---
Here are the new research committee updates this week:
Find all SABR research committee newsletters at SABR.org/research.
---
Here are the new regional chapter updates this week:
Visit SABR.org/chapters for more information on SABR regional chapters.
---
Here is a list of upcoming events on the SABR calendar:
All SABR meetings and events are open to the public. Feel free to bring a baseball-loving friend … and make many new ones! Check out the SABR Events Calendar at SABR.org/events.
---
Here are some recent articles published by and about SABR members:
Read these articles and more at SABR.org/latest.
---
This Week in SABR is compiled by Jacob Pomrenke. If you would like us to include an upcoming event, article or any other information in "This Week in SABR," e-mail jpomrenke@sabr.org.
Have trouble reading this e-mail? Click here to view this week's newsletter on the web.
Are you receiving our e-mails? "This Week in SABR" goes out by e-mail to all members on Friday afternoons. If they're not showing up, try adding "sabr.notes@sabr.org" to your contact list to ensure they show up in your inbox (and not the spam folder.)
---
Originally published: November 9, 2018. Last Updated: April 3, 2020.
https://sabr.org/wp-content/uploads/2020/03/research-collection4_350x300.jpg
300
350
admin
/wp-content/uploads/2020/02/sabr_logo.png
admin
2018-11-09 15:00:00
2020-04-03 14:38:17
This Week in SABR: November 9, 2018