---
"Some in the press and in the stands considered him too casual about his job, but that was a misperception. In fact, he was driven, not merely by a desire, but by a rage to succeed." David Halberstam, "October 1964"1
When the June 15 trading deadline rolled around in 1964, Cardinals general manager Bing Devine knew that his job was on the line. The Cardinals had played mostly flat and uninspiring baseball and had hovered around the .500 mark, clearly a disappointment to the St. Louis faithful and, more importantly, to team owner Gussie Busch.2 Devine had a gaping hole in left field after the retirement of Stan Musial and he was ready to trade a valuable commodity, a starting pitcher, to plug that gap.3 His target was a relative unknown, a man whose career so far could not be called mediocre as much as one of expectations unfulfilled. When he made the trade that day for Lou Brock there was much happiness, not so much in St. Louis but instead in that of the city's league rival 300 miles north, Chicago. For it was the Chicago Cubs which had moved an obviously talented but raw outfielder in exchange for a pitcher who had won 18 games in 1963; that was something to celebrate. The celebration, as it turned out, was misplaced because when Bing Devine made the trade, he not only got the solution to his left-field problem, he acquired the pennant.
Louis Clark Brock was born on June 18, 1939, in El Dorado, Arkansas, the son of Paralee and Maud Brock. For Paralee this was the second of her three marriages and Louis was one of nine children she bore. Shortly after Louis's arrival she moved to Collinston, Louisiana, a mixed-race town of 300 population. The area was very poor and the school Lou attended had only one teacher and no running water.4
Brock's childhood memories do not include his father, who left shortly after his birth but they do include the feeling of insecurity growing up poor and black in the South. It took him several years to overcome the shame of his skin color and having to bus several miles past white schools to the black school. Even at a young age he was very aware of his surroundings, the large number of unemployed and old, run-down homes, and would lie awake at night wondering how he would avoid a similar fate. 5 The answer, it would turn out, was baseball.
The introduction to baseball came in the form of punishment. Sent to the library in the fourth grade for throwing a spitball, and given the assignment of researching the careers of Joe DiMaggio, Stan Musial, Don Newcombe, and Jackie Robinson, young Brock was enlightened not only by the achievements of these great ballplayers but also by the money they earned.6 The numbers that followed the dollar signs on the players' salaries were so large that Lou had to ask the teacher what they were and this became his motivation to become a big-league ballplayer. Despite this inspiration it was still some time before he actually began to play ball. There was softball in gym class but it wasn't until the summer before high school that he joined a sandlot team. His lack of experience relegated him to being a backup outfielder, but it was not long before the coach saw the strong left-handed throwing arm of his neophyte outfielder that he was moved to the pitcher's mound. At first he was limited to throwing batting practice until he became comfortable on the mound, but Brock was soon pitching in real games. 7
Lou made the high-school team the following spring mainly because he could throw the ball farther than anyone else. During his high-school career he did more than just display a strong arm. He batted at least .350 every year, hitting .535 in his senior season and even occasionally turning around to bat from the right side.8 Despite his success on the diamond, there were no athletic scholarships awaiting him upon graduation. He did, however, receive an academic scholarship from all-black Southern University, where he studied math. 9 The transition to college was not easy for Lou, though, and he lost the scholarship as he did not keep his grades at an acceptable level. He did like school, and not wanting to go back home, he tried out for the baseball team with the hope of gaining an athletic scholarship.10 This too proved difficult in the beginning as he attended practice every day for four weeks and did little more than shag fly balls. Frustrated and determined to get noticed, one day he sprinted after every fly ball until he passed out. When he came to, the coaches let him hit five balls. He clouted every one over the right-field fence and secured his place on the team.11
Success was not immediate, as Brock batted just .140 as a freshman. His sophomore season was nothing less than spectacular, though, as he batted a lofty .545 with 80 hits and 13 home runs in only 27 games. Southern became the first black school to win the NAIA championship by defeating Omaha University, 10-2. Brock hit a tiebreaking home run, went 2-for-5 with three RBIs in the championship game, and was named to the all-tournament team. His outstanding season attracted major-league scouts, but he loved school and decided to return for his junior year. He batted .370 and that summer was invited to Chicago for tryouts with both the Cubs and the White Sox. He was offered contracts by both teams but signed with the Cubs because he felt they offered a better path to the big leagues. His contract included a $30,000 bonus. The Cubs sent him to the Instructional League, where he batted .387, but was seen as a raw talent still needing to develop the fundamentals. The Cubs did see enough that they invited him to the major-league spring training camp in 1961, and he did not disappoint, batting .400.
When spring training broke, Brock was sent to the Cubs' Northern League affiliate in St. Cloud, Minnesota. He made an immediate impression when he homered on the very first pitch that he saw and went on to win the batting title with a .361 average. He also led the league in runs scored with 117, doubles with 33, hits with 181, and putouts with 277. In addition, he stole 38 bases. He earned a September call-up to the Cubs, appearing in four games and managing just one hit in 11 at-bats.
Brock had undeniable ability. He showed power, smashing a 480-foot home run in spring training, and he had speed, running from home to first at 3.4 seconds and 3.1 on a drag bunt. But he was still a raw talent. When he made the big-league club in 1962, he did not know how to use sunglasses both because of inexperience and because he had played almost nothing but night games the previous year at St. Cloud.12 His defense was particularly bad, especially when it came to groundballs. Bob Smith of the Chicago Daily News wrote in April 1963 "…Lou Brock is the worst outfielder in baseball history. He really isn't but he hasn't done much to prove it." 13 Brock's development at the big-league level was further hampered by his extremely intense attitude; he seemed to press on every play. Teammate Larry Jackson recalled, "He'd break out in a big sweat just putting on his uniform."14 The Cubs' rotating system of coaches at the time, rather than a single manager, did not help his development. One coach stressed the importance of hitting the ball to the opposite field, while another told him to bunt more to take advantage of his speed, and yet another said to pull the ball more because he had shown power.15
That power was on full display on June 17, 1962, in the first game of a doubleheader at the Polo Grounds against the expansion New York Mets. With two outs in the first inning, Brock drove a slider from lefty Al Jackson to deep center. As he headed toward first base he could see center fielder Richie Ashburn racing back and was immediately thinking triple. As he neared second base, he saw umpire Stan Landes giving the home-run sign, but he thought he was signaling to Brock that he could make an inside-the-park home run so he continued to sprint around the bases. It was not until after he crossed home plate and was informed by a teammate that the ball had gone out of the park that he was aware of what he had just done. He had become only the third player to hit a ball out of the Polo Grounds to center field in a major-league game (Babe Ruth did it in 1921 before the stadium was remodeled and Joe Adcock repeated the feat in 1953, while Luke Easter had done so in a Negro League game in 1948; the next game after Brock's homer, Henry Aaron also hit one out to center, becoming the fourth major-leaguer to do so.)
Brock's 1963 was very similar to 1962. He played in 148 games and hit .258 with nine homers and 37 RBIs. In July 1963, during a 16-11 slugfest, he blasted two home runs and a triple to help the Cubs sweep the Cardinals in a doubleheader before a large Wrigley Field crowd. In 1962 Brock had batted .393 against the Cardinals; it is likely that performances like these put him on Devine's radar.
Brock began the 1964 season slowly, hitting .251 a third of the way through it and fielding erratically. Then on June 15 came the trade that turned out to be one of the most famously lopsided ones in history. Brock was sent to St. Louis along with pitchers Jack Spring and Paul Toth for pitchers Ernie Broglio and Bobby Shantz and outfielder Doug Clemens. Essentially, the trade was Brock for Broglio. At the time the Cubs were desperate for starting pitching and Broglio, still only 28 years old, had won 21 games in 1960 and 18 in 1963. Broglio was only 3-5 at the time of the trade and was nursing a sore arm, which he assured the Cubs would soon pass. The sore arm did not pass, and he compiled a 7-19 record with a 5.40 ERA during parts of three seasons as a Cub, retiring from professional baseball after spending the 1967 season in the minor leagues. Brock, meanwhile, went on to a Hall of Fame career and bated .334 against the Cubs during the next 16 seasons.
Brock thrived in St. Louis under manager Johnny Keane. Keane told Brock that he had the speed to steal bases and should do so when the time felt right; in Chicago he could run only when given the sign. Brock stole 33 bases for the Cardinals in 1964, batting .348 with his new team and helping to overtake Philadelphia and Cincinnati to win the National League pennant. St. Louis trailed Philadelphia by six games on September 15 but starting on September 21 the Phils lost ten in a row, the last three against the Cardinals. With Brock getting two hits and scoring twice, the Cardinals defeated the Mets on the final day of the regular season, claiming the right to face the New York Yankees in the World Series.
In his first World Series at-bat, Brock lined a single to right field off Whitey Ford after fouling off five consecutive pitches. The advance scouts had said that the Cardinals should be able to run on Mantle, who was playing right field to protect his aching knees. When Dick Groat singled to right, Brock raced to third without a throw and moments later he scored on Ken Boyer's sacrifice fly to Mantle. That first inning showed that the Cardinals were the quicker and more aggressive of the teams and foreshadowed more of the same to come. In the second inning he threw out Ford at the plate and St. Louis went on to win 9-5.
Brock went hitless in the next three games, two of which the Cardinals lost, but in Game Five he got two hits and St. Louis took a 3-2 Series lead, with Tim McCarver hitting a three-run homer off Pete Mikkelsen in the tenth inning to give the Cards a 5-2 victory. Despite three hits by Brock in Game Six, the Yankees evened the series on the strength of back-to-back homers by Roger Maris and Mantle and a grand slam by Joe Pepitone. In Game Seven, with St. Louis leading 3-0, Brock ignited a three-run fifth with a booming home run off Al Downing that cleared the right-field pavilion and landed on Grand Boulevard. The Cardinals went on to win, 7-5. For the Series Brock went 9-for-30 (.300), with two doubles, a home run, and five RBIs. It was quite a year for the young outfielder: He began the season as an underachiever for the Cubs and ended it as the catalyst for the World Series champion.
Besides being an intense competitor, Brock was also very cerebral. When he heard that Maury Wills kept a little black book in which he noted pitcher idiosyncrasies, he asked Wills if he would share some of his notes. Not surprisingly, Wills was not eager to share the information he had painstakingly recorded to a player from an opposing team. So Brock went out and bought an 8-mm camera in late 1964 and began to record the league's pitchers to study their pickoff moves. Dodgers pitcher Don Drysdale asked Brock one day what he was doing with the camera and he replied that he was taking home movies. "I don't want to be in your goddamn movies, Brock," Drysdale replied and true to his nature he threw at him the next time up.16
The results were immediate. Brock began to pick up pitchers' habits and twitches from watching his movies and improved his technique, becoming the premier base stealer in the league. Beginning in 1966 he led the National League in stolen bases for in of the next nine years. He got off to a hot start in 1965 and was batting .315 in May before his shoulder blade was broken by a Sandy Koufax pitch. He felt that Koufax was not adept at fielding bunts so in his first at-bat he dropped a bunt that he beat out and then stole two bases before scoring. Koufax drilled him in the back the next time up, causing the shoulder-blade injury. Once Brock recovered from the injury he struggled mightily, and his batting average shrank to .261. A large reason for his struggle was that he was jumping away from inside pitches – out of fear, he admitted years later. He overcame this fear by standing up to it. "I made myself do it. I even closed my eyes and stepped into a few. Then you hit a few and you realize you're over it."17 He finished the year strong, raising his average to .288. Around midseason, Brock was moved to the leadoff spot, where he remained for most of his career.
Brock had another fine season in 1966. He accumulated 183 hits, including 24 doubles, 12 triples, and 15 home runs, and batted .285. He had 74 stolen bases. This was followed up by an even better 1967 with career highs in hits (206), home runs (21), and RBIs (76). He made his first All-Star team and started in left field. The season concluded for Brock with another outstanding World Series performance and another Cardinals championship. The Cardinals won 101 games that year and won the pennant easily ahead of the San Francisco Giants. Their opponents in the World Series were the Boston Red Sox, the surprise winner of a wild four-team American League pennant race.
St. Louis won the opener at Fenway Park, 2-1, and Brock scored both runs. He led off the top of the third with a single to center field off Boston starter Jose Santiago and advanced to third on a double by Curt Flood, and scored on a groundout by Roger Maris. In the seventh inning he led off with another single off Santiago and stole second base. He moved to third on a groundball to first by Flood and scored on a groundball by Maris. He finished the game with four hits, a walk, two stolen bases, and two runs scored.
Brock went hitless in Game Two as Red Sox ace Jim Lonborg fired a one-hitter to even the series. In Game Three, in St. Louis, Brock led off the Cardinals' first with a triple to left-center and scored moments later on Flood's single. With St. Louis leading 3-1, he led off the bottom of the sixth by reaching on a bunt single, advanced to third on an errant pickoff throw and scored when Maris singled to right-center. The game ended in a 5-2 Cardinals victory in which Brock contributed two hits and two runs scored.
Brock sparked a four-run first inning in Game Four as he led off the game with an infield single and scored on a double by Maris. He finished the game with two more hits and a stolen base as St. Louis moved to within one victory of another championship behind the masterful pitching of Bob Gibson, winning 6-0. Lonborg again came to the Red Sox rescue as he beat the Cardinals for the second time, a three-hitter as Brock went hitless for the second time against the Boston ace. Back home in a delirious Fenway Park, the Red Sox forced the series to a seventh game as they pounded out 12 hits in an 8-4 win. Brock had another stellar performance with two hits, including a home run, and three RBIs. He tied the game at 1-1 in the third when he singled home Julian Javier, then stole second and scored when Flood singled to left. He came through again in the clutch in the top of the seventh against John Wyatt, belting a two-run home run to right-center that knotted the game at 4-4.
Brock capped his brilliant World Series with two more hits and three stolen bases as the Cardinals won the championship, 7-2, in Game Seven. He broke an 0-for-10 slump against Lonborg when he followed a Gibson home run in the fifth with a single. He stole both second and third and scored on a sacrifice fly by Maris. He added a double in the sixth and a walk and a stolen base in the ninth to finish the series with a .414 average (12 for 29), two doubles, a triple, one homer, three RBIs, seven stolen bases, and eight runs scored. Gibson, who won and completed all three of his starts, was named the Most Valuable Player in the World Series, but radio station KMOX gave Brock a Cadillac in recognition of his outstanding performance.
In 1968 Brock led the National League in stolen bases (62), doubles (46), and triples (14) while again playing a leading role in another Cardinal pennant. Gibson dominated the American League champion Detroit Tigers in Game One, striking out a World Series-record 17 batters en route to a 4-0 victory. Brock contributed a home run off Pat Dobson in the bottom of the seventh that capped off the Cardinal scoring. Mickey Lolich evened the Series the next day with a complete-game, nine-strikeout performance and held Brock to one single. Brock did steal two bases and scored the only St. Louis run.
He was back to his pesky self in Game Three. In the top of the fifth with Detroit leading 2-0, Brock, who already had a single, a walk, and two stolen bases, singled with one out. He stole second and scored the Cardinals' first run on a Flood double. By the time the inning was over the Cardinals had a 4-2 lead and went on to a 7-3 win. Brock had another big day in Game Four as St. Louis rolled over the Tigers, 10-1, to take a commanding three games to one lead. Brock hit the second pitch of the game into Tiger Stadium's right-center-field upper deck off 31-game-winner Denny McLain, added a triple in the fourth and a bases-clearing three-run double in the eighth. It now appeared that a third world championship in five seasons was imminent for St. Louis.
Lolich was back on the hill for Game Five and this time he was on the ropes early. Brock led off the game with a double down the left-field line, igniting a three-run rally. Detroit tallied two runs in the bottom of the fourth to slice the lead to 3-2 as St. Louis came to bat in the most pivotal inning of the 1968 World Series. With one out, Brock doubled again. Javier came to the plate, and most thought the Cardinals were about to deliver the knockout blow of the Series. Instead, what followed proved to be the turning point in a great Tigers comeback. Javier singled sharply to left and Brock wheeled around third heading to the plate. Tigers left fielder Willie Horton, not known for a strong throwing arm, fielded the ball on one bounce and gunned the ball home. Brock could see Detroit catcher Bill Freehan blocking his path so he felt he would not be able to get to the plate if he slid, and therefore decided to come in standing up, attempting to catch the plate with his left foot. The ball arrived at the same time and Freehan applied the tag before Brock could touch the plate. Brock said he was safe even though the replay seems to show that he never touched home. No matter, he was called out and the Tigers rallied for three runs in the bottom of the seventh to win the game, 5-3, and send the series back to St. Louis.
In Game Six the Tigers shocked the Cards with a ten-run third inning en route to a 13-1 rout, and for the third time Brock and his teammates were in a Game Seven. This time Lolich, not Gibson, was the World Series hero as he outdueled the Cardinals ace, 4-1, to complete the comeback. Brock's only hit came leading off the sixth inning in a game that was scoreless at the time, but he was picked off. The Tigers followed that with three runs in the seventh, and Lolich held on to nail down the Series. Despite the pickoff and the nonslide at home in the fifth game, Brock again put up stellar postseason numbers. He banged out 13 hits in 28 at-bats for a .464 average, hit three doubles, a triple, two home runs, drove in five runs, scored six, and stole seven bases. This would be the last World Series Brock would play but his reputation as an outstanding player in the clutch was solidified forever. In 21 games in three World Series, he batted .391 with 34 hits. He had seven doubles, two triples, four home runs, 13 RBIs, 16 runs scored, and 14 stolen bases – among the best postseason numbers in baseball history.
The next season was disappointing for St. Louis as the Cardinals slipped to fourth place in the newly formed National League Eastern Division. Of the many reasons that led to the Cardinals' fall, one of them was not their left fielder; Brock had another strong year, batting .298 with 33 doubles, 10 triples, 12 home runs, 97 runs scored, and a league-leading 53 stolen bases. His average climbed over .300 in 1970 at .304. His streak of leading the league in stolen bases ended at four as his total of 51 was good only for second behind former teammate Bobby Tolan, now with Cincinnati, who topped the circuit with 57. Brock scored 114 runs and had 202 hits.
He began another run of four consecutive seasons of leading the league in stolen bases in 1971 when he tallied 64. He led the major leagues with a career-high 126 runs scored and batted .313 with 37 doubles and seven triples among his 200 hits. It was more of the same in 1972 as he batted .311, led the league with 63 steals, scored 81 runs, had 26 doubles, and knocked eight triples. There was some talk in 1973 that Brock was losing a step as he got off to a slow start stealing bases. He picked up the pace as the year went on, though, and finished with 70, his highest total since 1966. His average dipped under .300, to .297, and he scored 110 runs.
Brock was 34 years old as the 1974 season got under way, but there were no signs that he was slowing down. He had 56 steals by mid-July and was ahead of Maury Wills' pace when he set the record of 104 steals in 1962. It seemed as if the baseball world was tuned in to see if Brock could break the record. On September 10, in a game against the Phillies, Brock singled in the first inning and stole second to tie Wills' record. He singled again in the seventh inning. With the St. Louis crowd wild with anticipation, Brock stole second to break the record. The game was delayed as players from teams offered their congratulations. Besides his record-setting 118 stolen bases, he batted .306 on the strength of 194 hits, scored 105 runs and finished second in the National League MVP voting. When the award went to Steve Garvey of the pennant-winning Dodgers, he could not hide his disappointment. "I'm not bitter," he said, "I just think I deserved it. I earned it."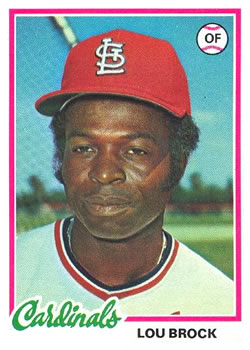 Brock headed into the twilight of his career still a productive and consistent player. He hit .309 in 1975 but his stolen-base total fell to 56, still pretty good for a player who finished the year at 36 years old. He stole another 56 bases in 1976 and batted .301. His average slipped to .272 in 1977 year with 35 stolen bases, his lowest since 1963. However, on August 29, in San Diego, Brock stole his 893rd base, surpassing Ty Cobb as the all time leader. (Rickey Henderson broke Brock's record in 1991 and finished his career with 1,406 stolen bases.) In 1978 injuries and age limited Brock to 92 games and he batted only .221 with 17 steals.
When the 1979 season got under way Brock was 100 hits shy of 3,000 for his career. On August 13 he was two hits from the historic number. Taking on the Cubs in St. Louis before a crowd of 44,457, he singled to left field off Dennis Lamp in the first inning for hit 2,999. In the fourth, after being low-bridged by a 1-and-2 fastball he smashed a line drive off Lamp's hand, literally knocking the Cubs hurler out of the game and becoming the 14th major-leaguer to join the 3,000-hit club. He finished the year with a .304 average in 120 games, and retired after the season. On September 9, 1979, the Cardinals honored him with Lou Brock Day at Busch Stadium. A crowd of more than 47,000, including his 80-year-old mother saw Brock receive a 33-foot cabin cruiser from August Busch, Jr., and a new car from KMOX radio among many gifts. In the first inning, Brock and stole second base. He finished his career with a .293 average, 3,023 hits, 1,610 runs scored and 938 stolen bases.
Brock's number 20 was retired by the Cardinals in 1979. He was elected to the Louisiana Sports Hall of Fame in 1983, and he was a first-ballot selection for the Baseball Hall of Fame in 1985. He became involved with several successful business ventures, including the Brockabrella hat, for which he owns the patent. He was a Cardinals broadcaster from 1981 to 1984 and in 1995 became a special instructor in spring training for the team. Brock and his wife, Jacqueline, were ordained as ministers at Abundant Life Fellowship Church and became active in several charitable causes in the St. Louis area.
Brock died at the age of 81 on September 6, 2020.
An earlier version of this biography was included in the book "Drama and Pride in the Gateway City: The 1964 St. Louis Cardinals" (University of Nebraska Press, 2013), edited by John Harry Stahl and Bill Nowlin.

Notes
Born
June 18, 1939 at El Dorado, AR (US)
Died
September 6, 2020 at St. Louis, MO (USA)
If you can help us improve this player's biography, contact us.
http://dev.sabr.org/wp-content/uploads/2012/01/BrockLou.jpg
600
800
admin
/wp-content/uploads/2020/02/sabr_logo.png
admin
2012-01-04 20:42:04
2022-04-04 13:52:07
Lou Brock