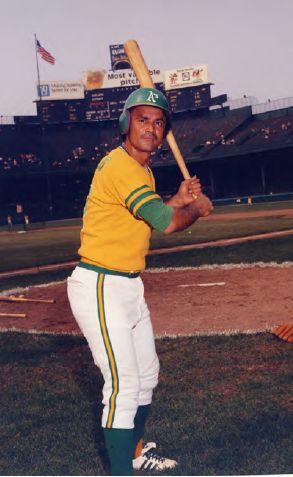 ---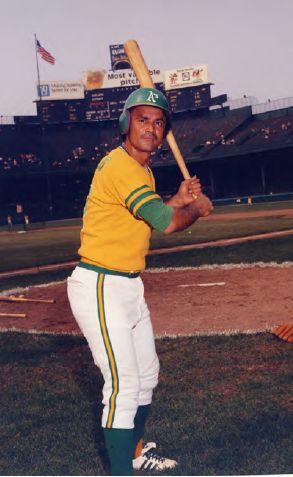 The Los Angeles Dodgers had a pair of antique dueling pistols in the late '70s. Yet despite their age, Vic Davalillo and Manny Mota were in great condition – and the fire of these small arms was often deadly. Davalillo's big-league career had seemingly ended in 1974, but after more than three years in the Mexican League, the wiry little outfielder (5-feet-7 and 150 pounds) returned at the age of 41 in 1977. He remained active in the US through 1980 and continued to play winter ball in his native Venezuela until the remarkable age of 50.
Davalillo – known as "Vítico" at home and in other Spanish-speaking lands – was a good major-league player. Although he became a semi-regular or reserve after 1968, his sixth season in the majors, he was a valuable journeyman. He won World Series rings with the Pittsburgh Pirates in 1971 and the Oakland A's in 1973. The lefty never had much power, but he made contact, batting .279 lifetime and striking out in less than 10% of his plate appearances. He was a fine pinch-hitter; he was long credited with 24 pinch-hits in 1970, and even his true total of 23 that year remains high on the list of single-season bests. Vic's 1967 Topps baseball card called him "one of the league's toughest men to get out because of his ability to go with the pitch."
This skill was really on display in the Venezuelan League, where Davalillo as of 2013 was the all-time leader in batting average at .325. He hit .400 or better three times at home and won four batting titles. He was also the lifetime leader in various other categories, including games played (1,249), base hits (1,505), and RBIs (483). In a place with a passion for baseball, Vítico is a national legend.
When Ichiro Suzuki came to the US, his slap-and-run style brought Davalillo to mind. They had other things in common. Davalillo was also very fast, a deft bunter, and a Gold Glove center fielder in 1964. His arm was another plus – in fact, Vic was a pitcher for his first four years in the pros. He continued to take occasional turns on the mound at various points during his career.
Víctor José Davalillo Romero was born on July 31, 1936. As with many ballplayers, he was long billed as being several years younger. Up through 1974, his baseball cards showed 1939 or even 1940 as his year of birth. This was finally corrected after Vic's comeback in 1977 – even though he stuck by 1939 at that time, saying, "I don't care what anyone says."1 Also, many baseball references – both at home and in the US – show Davalillo's birthplace as Cabimas, a town in Venezuela's northwestern state of Zulia, on the shores of Lake Maracaibo. In 2006, however, he told Asdrúbal Fuenmayor, who has written several pocket biographies of Venezuelan stars, that he was actually born in Churuguara, in the neighboring state of Falcón.2
Víctor was the fifth of Martireño Davalillo and Angelina Romero's six children, all boys. The family moved to Cabimas a few days after he was born – and this was why the baby's birth was registered there. Martireño was a laborer, helping truck drivers to load and unload their vehicles in the oil businesses of the Maracaibo region.3 He died around 1944.4
All the Davalillo brothers enjoyed baseball, but the only other one who wanted to be a pro was Pompeyo Davalillo.5 The shortstop, who was even more diminutive than Vítico at 5-feet-3 and 140 pounds, played from 1952 through 1964 in the US, Cuba, Mexico, Nicaragua, and of course Venezuela, coming back for two final games in the winter of 1966-67. "Yo-yo" (his nickname in the US) got into 19 games for the Washington Senators in 1953 but never made it back to the majors. He suffered a broken ankle and kneecap playing at home late that year and missed the entire 1954 summer season.6 He later became a successful manager in Mexico and at home.
Vítico started playing ball at the age of 8 with his older brothers. The lads would play numerous games a day. He was a first baseman to start with, but turned to pitching in the sixth grade; his teacher gave him a chance when the regular pitcher didn't show up.7
In 1956 Vítico had a chance to turn pro, but his family said no because he was too young (or so he said in 1965). He was then also studying to be a mechanic.8 In October 1957, though, he joined the Caracas Leones of the Venezuelan League (Liga Venezolana del Béisbol Profesional, or LVBP). Brother Pompeyo had already been with the Leones for five seasons. The younger Davalillo would spend the next 16 of his record 30 Venezuelan winter seasons with this club, but he got into just nine games that season, including 17 innings in six relief-pitching appearances. He also experimented with switch-hitting, but gave it up when he realized he was losing a step running down the line to first base. The records didn't show it, Vítico said in 2007, because news reports focused only on his pitching and the fact that he was Pompeyo's brother. His batting was an afterthought then.9
The Cincinnati Redlegs (as they were then still known) signed Davalillo in 1958. A year before, Pompeyo Davalillo had become the shortstop for the Havana Sugar Kings of the International League, the Reds' top farm club. As he had done in Caracas, Pompeyo opened the door for his jockey-sized kid brother – and, as they told Asdrúbal Fuenmayor, at this time he altered the birthdate on Vítico's documents. "Looking more like Pompeyo's son than his brother … Vic, who hardly weighed more than 120 pounds … dogged his brother's footsteps into the Havana training camp. Following his introduction to O[rganized] B[aseball] by his big brother … the olive-skinned kid was immediately shipped out to California – Visalia – as a pitcher."10
From 1958 through 1961, Davalillo remained primarily on the mound. Yet despite his small stature, he was not a finesse artist in the Bobby Shantz mold. With Palatka of the Florida State League (Class D) in 1959, Vic struck out 150 batters in 147 innings. His all-around ability was also attracting attention, though. In 1959, he pitched in 53 games but appeared in 73 altogether. In 1960 he pitched 52 times in 90 total games; in 1961 his mound appearances dipped to 38 in 81 games. The latter two years featured brief stints at Triple-A with Havana and (after the Sugar Kings finally left Cuba) Jersey City. Pompeyo Davalillo was still with the club.
On February 25, 1961, Davalillo was married to Luisa Ramona Barrera. She was from the city of Valera, which is about 100 miles southeast of Cabimas. For many years, though, he has been with the woman who became his second wife, Zoraida Caravallo. He fathered three children.11
The International League dropped Jersey City as a location in October 1961. The owner, Cuban baseball man Bobby Maduro, held onto the franchise in its new home, Jacksonville, Florida. He established a new working agreement with the Cleveland Indians, who purchased Vic Davalillo's contract. Maduro had signed Vic to the US minors back in Havana in 1958.12 Since he was his own general manager in Jacksonville, he almost certainly was responsible for this deal too.
In the winter of 1961-62, Davalillo batted over .400 in the Venezuelan League, becoming the first man to do so for a complete season. He was 56-for-138 (.406) in 43 games – but since he fell eight plate appearances short of the required 158, the batting title went to fellow Lion Tony Curry at .346.13 That season was also Vítico's busiest and most successful as a pitcher at home. He was 10-4 with a 2.46 ERA in the regular season, and though he lost a game in the semifinals, he had a complete-game win in the seventh game of the finals. Caracas, thanks also to two wins from playoff reinforcement Bo Belinsky, defeated Oriente.14 The Leones then went on to represent Venezuela in the second Inter-American Series.
That was Davalillo's second Venezuelan championship; the previous year he had joined Valencia as a playoff reinforcement. Caracas made the finals six times in eight years from 1961-62 through 1968-69, winning four titles. All told, Vítico was a member of seven champion teams during his 30 winter seasons.15 Perhaps his only regret as a player is that he never was on a team that won the Caribbean Series.16 The tournament was on hiatus from 1961 through 1969, which deprived him of five chances.
Under manager Ben Geraghty, Davalillo made the transition to full-time outfielder with Jacksonville in 1962. He still pitched in six games, though, one reason being the International League's 20-man roster limit, which put a premium on versatility.17 Harry Fanok, who led the International League in strikeouts that year with the Atlanta Crackers, remembered his opponent well. "Vic Davalillo had to be the first Ichiro!" Harry said in 2010. "The guy used a big ole bat, ran like the wind, had an excellent batting eye and had a good arm.
"I remember one day [September 2] we had a doubleheader with Jacksonville. They had Vic pitch – against me! I got the win, and we were fortunate to come away with it." Davalillo had entered in the first inning of the opening game after Tommy John failed to retire a batter. He pitched seven scoreless innings and tripled in a run to help even the score at 2-2. He took the loss, though, as the Crackers scored two in the eighth. "The dude could pitch, as the score would indicate," Fanok added. "However, his calling had to be his play in the outfield and at the dish."18
Davalillo won the International League batting title with an average of .346, hitting 11 homers and collecting 69 RBIs. He showed speed and surprising extra-base pop, and worked to add a drag bunt to his adept push bunting and all-fields hitting.19 The Suns finished first in the IL, then lost to Atlanta in the seventh game of the playoff finals. Fanok remembered the pennant race. "Late in the '62 season, it was going down to the wire. In a late series with them, down in Jax, I recall something that I had never seen before. Every time Vic came out on the on-deck circle, the fans would give him a standing ovation. He could have run for mayor down there and won! He was one hell of a ball player, that's for sure." 20
During the season, Bobby Maduro turned down attractive offers from several big-league clubs for Vic.21 Yet even though the Indians were on their way to a mediocre sixth-place finish, Cleveland general manager Gabe Paul did not want to call the hot prospect up. Paul, an old friend of Maduro's, said, "You know now why I didn't want to take Davalillo away from him when his team was doing so well. Hadn't Castro taken enough from him already?"22
Instead, under the terms of the working agreement with the Suns, the Indians claimed Davalillo for $15,000 at the end of the season.23 Coming off a winter in which he hit .400 on the nose for Caracas – this time he got enough plate appearances to win the batting crown – Vic became Cleveland's starting center fielder in 1963. He was the eighth Venezuelan to make it to the majors. As early as May 29, the Associated Press wrote that he and Ron Hunt of the Mets "probably would win hands down if the 1963 Rookie of the Year poll were to be taken now." But just a couple of weeks later, on June 12, lefty Hank Aguirre of the Detroit Tigers broke Vic's forearm with a pitch. He missed nearly two months, and by various accounts, he was never quite the same hitter.24 He had a tendency to step in the bucket or even bail out.
Umpire Pam Postema, who grew up in Ohio, wrote in her book, "Whenever Vic Davalillo would come up to the plate, we'd start yelling, 'Chicken! Chicken!' Davalillo would always back away from any pitch that came within a yard of him. He was so afraid of getting hit."25
In 1965 Bob Sudyk of the Cleveland Press wrote about "Davalillo's Fight Against Fear." Vic himself said, "Everybody talk about it and I begin to worry. I lose my confidence last year and I swing at everything. Then I really afraid, you know?" Birdie Tebbetts, who had also backed Davalillo as Rookie of the Year in 1963 even after the injury, returned as Indians manager in July 1964 (he had suffered a heart attack near the end of spring training). He worked closely with Vic on trying to overcome "one of the most trying times in a baseball player's life." Tebbetts talked about how Vic had lost his knack of setting up a pitcher because he was pressing. He also observed that Vic had a natural fallaway batting style against righties as well as lefties.26 Davalillo's other notable trait at the plate was "an exaggeratedly high leg kick, perhaps the most noted since Giants great Mel Ott."27
The 1965 season was a successful one, as Davalillo finished third in the American League in hitting at .301 behind Tony Oliva and Carl Yastrzemski. He might have placed higher if he could have managed more than .248 against lefties. Vic was also the AL's starting center fielder in the All-Star Game, going 1-for-2. That was his only appearance in the midsummer classic, though; from 1966 onward, he was largely a platoon player. At least in the majors, Davalillo faced righties in just about 80% of his plate appearances.
It's quite likely that Vítico was more comfortable playing at home. He won his second and third Venezuelan batting titles at .351 in 1963-64 and .395 in 1967-68. He might have become the only man to win three straight in the LVBP, but his .389 mark in 1964-65 was only good enough for third that winter.28
Davalillo was always intensely patriotic. In June 1965 he spoke of how he wanted to win a US batting championship mainly to inspire the young boys growing up playing ball in his homeland. It seems remarkable today, but at that time there were only two Venezuelans active in the majors: Luis Aparicio and Vic.29
On June 15, 1968, the Indians traded Davalillo to the California Angels even-up for Jimmie Hall. He hit well for the Angels: .298, raising his average to .277 overall in the Year of the Pitcher. A quote that July summed up his approach well: "You can't get base hits if you don't swing."30
Vic started poorly in 1969, though – perhaps he was still getting back in form after suffering a nervous breakdown while playing in Caracas. Brother Pompeyo denied the breakdown story, though, saying that it was acute gastroenteritis.31 Near the end of May, California dealt Vic to St. Louis for Jim Hicks. In his first at-bat for the Cards, he hit a three-run homer to ice an 11-3 win, but his .265 average with St. Louis was only enough to lift his 1969 mark to .219. He also made his only two big-league pitching appearances that year, both in the span of a week in June and July as the Amazin' Mets blew out St. Louis. Vic failed to retire any of the four batters he faced and allowed one earned run, which left him with an ERA of infinity.
In 1970 Davalillo started just 23 games while pinch-hitting in 74. Some sources still show him with 24 pinch hits that year, which ostensibly tied Dave Philley's single-season record from 1961. However, in later years the record was re-examined, and the correct total proved to be 23 – two separate scoring nuances clouded the original count.32 At the time, Vic said, "The record isn't that important to me."33
In the winter of 1970-71, Davalillo won his fourth and final Venezuelan batting title at .379. While he was down there, he got the news that he had been traded on January 29 to the Pittsburgh Pirates, along with Nelson Briles, for Matty Alou and George Brunet. Alou had a very good year for St. Louis in 1971, but Brunet pitched only seven more games in the majors (though he would pitch well into his 50s in Mexico). The deal turned out very well for the Pirates, as Briles gave them three good years and Davalillo became a key reserve. He hit .285 for the world champions, even starting 14 games at first base. However, he was just 1-for-5 in his first taste of postseason play.
Vic enjoyed one of his best years in 1972 with Pittsburgh, hitting .318 in 403 at-bats and even leading the club in stolen bases. He did not fare well in 1973, though: .181 in just 83 at-bats. The Pirates brought up rookie Dave Parker to stay in July, and so Davalillo's action became even more limited.
The Oakland A's purchased Vic's contract on July 31, picking him up along with Jesús Alou and Mike Andrews for the stretch run. Although he hit just .188 in 67 plate appearances during the rest of the regular season, he saw extensive postseason action after Bill North was injured. Davalillo got into four games in the AL playoffs against Baltimore, starting two, and went 5-for-8 with a key triple in the decisive Game Five. He then played in six of seven games against the Mets in the World Series, again starting twice, though he got just one hit in 11 at-bats. After the A's won their second of three straight championships, they voted Vic a one-third Series share.
One of Davalillo's teammates in Oakland that year was José "Shady" Morales, who also became known as a pinch-hitter deluxe. Morales broke the single-season pinch-hit mark with 25 in 1976, and two years later Vic remarked (likely tongue-in-cheek), "I played one year with Morales. I taught him everything. And look what he does. He breaks my record."34
Davalillo remained with the A's to start the 1974 season, but owner Charles O. Finley released him on May 3 with a .174 batting average (4-for-23). There was more to the story, though; in August 1975, A's star Reggie Jackson told about it in a guest column for the Los Angeles Times. The team was flying home after a tough loss to the Yankees at Shea Stadium on May 1.
"The flight back to Oakland was a busy one and came to a bad end. Vic Davalillo is a good guy who goes bad when he drinks. He doesn't drink much but when he does he can't handle it. The guys tend to drink a little on the long air rides. The guy who handles the charter flights for United came to me on this flight and said Vic had had too much to drink and maybe I might do something to settle him down. … Today when we got to the ballpark, we heard that Finley had found out and had released Vic."35
At the time, Davalillo was actually more displeased with manager Alvin Dark (though he was by no means alone on the club).36 Just how much Vic liked to imbibe, though, may have been more than Reggie thought. Pirates coach Don Leppert told a story – which is subject to confirmation – about how Vic went in to pinch-hit once for the Cardinals after a heavy night out. He went into his high leg kick and landed on his backside; manager Red Schoendienst had to send in another batter.37 In later years Dodgers manager Tommy Lasorda said, "You know, I never knew that he drank until I saw him sober."38
At any rate, Vítico then joined the Córdoba Cafeteros in the Mexican League. He hit very well for the remainder of 1974: .329-4-27 in 71 games. Another fine season followed with Córdoba in 1975 (.355-9-70 in 114 games) and a third with Puebla in 1976 (.333-8-63 in 123 games). Moving on to Aguascalientes for the 1977 season – brother Pompeyo was skipper – Davalillo was hitting at a tremendous clip again. He was at .384 (198-for-516) with 6 homers and 78 RBIs when he got his ticket back to the majors. Veteran baseball man Charlie Metro, then a scout for the Dodgers, told the story in his book:
"Al [Campanis, the Dodgers' general manager] said, 'Charlie, we need a left-handed pinch hitter.' Somebody said something about Davalillo down in the Mexican League. Al said, 'Go down there and take a look at him.'" Although Metro had reservations when he saw "wine bottles all over" Vic's room, he still went out and saw "Davalillo put on one of the darnedest exhibitions I'd ever seen." Metro proceeded to make "a heck of a recommendation on him. I called Campanis and said, 'Al, this guy can help us.' "39
Indeed, Vic – who also served as a stopgap center fielder – went 15-for-48 (.313) down the stretch for the Dodgers. The at-bat that had lasting significance, though, was his only one in the playoffs against the Phillies. In the top of the ninth inning of Game Three, reliever Gene Garber had retired the first two men to face him. Davalillo, whose speed was still intact, saw that the right side of the infield was playing deep. He "recognized that he was being given a gift … decided to take what was being given him … and dragged a perfect bunt past the mound."40 Manny Mota followed with a fly ball to left that a lurching Greg Luzinski couldn't catch; it became a double. A game-winning three-run rally ensued, propelling LA into the World Series.
Although the Dodgers lost the Series to the Yankees, Vic went 1-for-3 with an RBI in three pinch-hitting appearances. He did the same in the 1978 World Series, following a .312 performance (24-for-77) in the regular season. In its issue of June 24, 1978, The Sporting News pictured Davalillo (looking rather like a Venezuelan Keith Richards) and Mota on its cover, arms around each other's shoulders. "I don't care how old those two guys are," Tommy Lasorda said of his lefty-righty tandem. "They can still hit." Vic even still pinch-ran on several occasions. After one of those appearances, Dusty Baker (who had come out with a pulled muscle) said, "That's when you know you're getting old."41
Davalillo remained on Lasorda's squad to start the 1979 season, but in mid-June, having gone just 3-for-17 off the bench, he showed the good grace to return to Triple-A ball for the first time in 17 years. He hit .317 in 51 games for the Albuquerque Dukes, also pitching three times in relief. He then went 4-for-10 as he returned to the big club in September.
After the 1979 season the Dodgers released Davalillo. That winter, the ageless Vítico established another Venezuelan mark: he was the first to record 100 hits in a season. He batted .339 in his fourth season with Tigres de Aragua. (His long association with Caracas had come to an end after the 1974-75 season. The Leones then merged with Tiburones de La Guaira for one season to form a club called "Tibuleones" de Portuguesa.)
Vítico returned to Aguascalientes in 1980. He flirted with .400, posting a batting line of .394-6-50 in 94 games. Al Campanis reached out for Davalillo again that summer, and he reported once more to Albuquerque (.287 in 36 games, including three more mound appearances). Facing a tight race with the Houston Astros in the NL West, LA recalled the 44-year-old vet, and he got his last six big-league at-bats in September and October. His last base hit came on September 22 as he legged out an infield hit to second. The opposing pitcher was Gene Garber.
Vítico's Mexican League sojourns concluded in 1981, as he went .307-2-14 in 40 final games with Aguascalientes. For his career in that league, he finished with a batting average of .357 (782-for-2190), with 35 homers and 302 RBIs in 577 games.
His career south of the border continued, however, in the little-known Liga Nacional. This circuit was started in 1981 by ANABE (Asociación Nacional de Beisbolistas), a Mexican players' association. Founded in the wake of a strike, ANABE was described by Mexican baseball historian Jesús Alberto Rubio as "a great social movement." It faced strong opposition from the entrenched Liga Mexicana and folded during the 1986 season.42 Davalillo was with two clubs: Lechugueros (Lettuce Growers) de León and Tuzos (Gophers) de Zacatecas.43 If ANABE's records still exist, they would be extremely difficult to find.
Davalillo also played on at home. In 2009 he said, "It's true that before ballplayers didn't make as much in the big leagues and they supplemented their earnings in Venezuela, but the principal reason that I always came was because I loved to play here."44 He surpassed the .400 mark once again in 1981-82, going 43-for-104 (.413) for Aragua. As late as 1983-84, he still hit .306.
After ten seasons with the Tigres, Vítico returned to the Caracas Leones. At the end of the 1986-87 season, he said, "Now's the time to retire, there are so many good kids. I'm just getting old. My legs are not the same, and I'm losing my eyes already. My bat is getting slow." Even so, he finished with a respectable performance for a man of 50: 21-for-92 (.228) in 41 games. Caracas manager Bill Plummer said, "He can still bunt for a base hit, and I've used him in the outfield some. He can still catch the ball. He's not a one-dimensional ballplayer. Plummer added of his unofficial coach, "He's a pleasure to have on the team. He's a true professional. He just goes about his business and gets the job done."45
Davalillo went out on a high note as the Leones won the league championship that winter. His final action as a player came in the 1987 Caribbean Series, held in Hermosillo, Mexico. That year the ballpark in Cabimas was renamed Estadio Víctor Davalillo; Churuguara's facility did the same at some point.46 The Most Valuable Player award in the LVBP is also named for this man, who entered his nation's Sporting Hall of Fame in 1991. When Venezuela established its Baseball Hall of Fame in 2003, Vítico was part of the inaugural class in 2003.
Back in August 1980, Davalillo had said, "When I retire as a player, I don't want to get into another profession. I will become a coach. And then, after I get some experience coaching, I might become a manager. I will always be in baseball."47 For a time after his playing career ended, he directed an amateur team in Venezuela, but he then retired fully, drawing his pension.48 Vítico (who had made Caracas his residence several decades before) stayed active by giving baseball clinics to the young people of his homeland. In his 70s, as wiry as ever, he was still doing so. He said in 2008, "I do it with great love and passion for Venezuela."49
Last revised: July 8, 2016
This article appeared in "Mustaches and Mayhem: Charlie O's Three Time Champions: The Oakland Athletics: 1972-74″ (SABR, 2015), edited by Chip Greene.
Acknowledgments
Special thanks to Asdrúbal Fuenmayor (founder of Radio Deporte 1590 AM, a Venezuelan sports radio station) and to Marcos Grunfeld of beisbolvenezolano.net for confirming biographical details. Continued thanks to Harry Fanok for his memories and to Jesús Rubio in Mexico for his input on ANABE and La Liga Nacional.
Sources
retrosheet.org
baseball-reference.com
purapelota.com (Venezuelan statistics)
museodelbeisbol.org (Venezuelan Baseball Hall of Fame)
Peter C. Bjarkman. Diamonds Around the Globe: The Encyclopedia of International Baseball (Westport, Connecticut: Greenwood Press, 2005).
Pedro Treto Cisneros, ed., Enciclopedia del Béisbol Mexicano (Mexico City: Revistas Deportivas, S.A. de C.V., 1998).
Notes
Full Name
Victor José Davalillo Romero
Born
July 31, 1936 at Churuguara, Falcon (Venezuela)
If you can help us improve this player's biography, contact us.
http://sabr.org/sites/default/files/VicDavalillo.JPG
600
800
admin
/wp-content/uploads/2020/02/sabr_logo.png
admin
2012-01-04 20:34:19
2020-10-17 06:19:43
Vic Davalillo