This Week in SABR: July 13, 2018

Welcome to "This Week in SABR!" Click here to view this week's newsletter on the web. Here's what we've been up to as of July 13, 2018:
---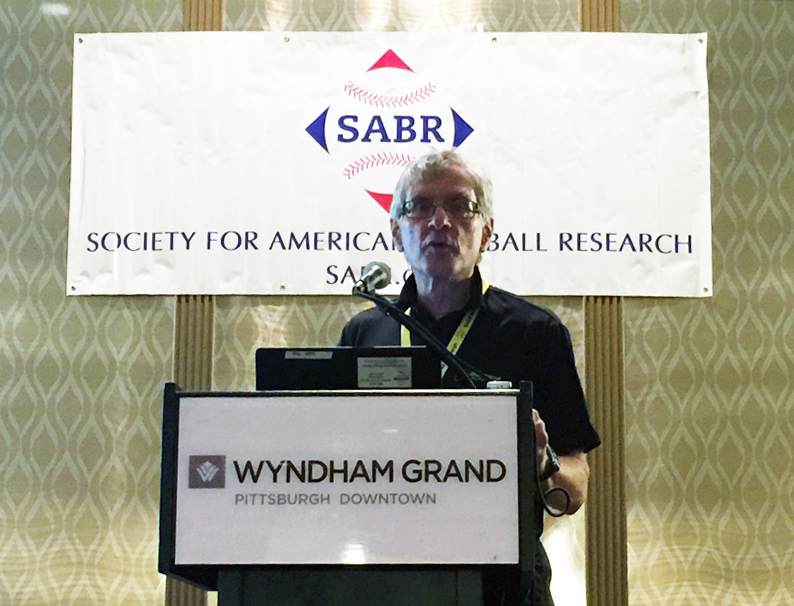 From the Nineteenth Century to modern Statistical Analysis, SABR's nearly three dozen research committees reflect the diverse interests of our membership, and the committees' annual meetings at this summer's SABR 48 convention in Pittsburgh also had a variety of interesting guest speakers.
Click here to listen to highlights of our guest speakers at SABR 48 committee meetings at SABR.org
Our committee meeting speakers at SABR 48 included physics professor and expert Alan Nathan at the Science and Baseball Committee meeting, where he spoke about the recent MLB report on the surge in home runs around the game. At the Statistical Analysis Committee meeting, Sean Forman of Baseball-Reference.com explained how their site calculates Wins Above Replacement (WAR).
Other committee speakers included: former major-league pitcher and author Dick Bosman (Business of Baseball); Pittsburgh Pirates official scorers Bob Webb and Evan Pattak (Official Scoring); National Baseball Hall of Fame Library senior curator Tom Shieber (Baseball Cards); screenwriter Mary Darling (Black Sox Scandal); authors Anne Keene (Oral History), Dennis and Jeanne Burke DeValeria (Deadball Era), and Herm Krabbenhoft (Baseball Records); Cuban tour operator Clem Axel Paredes (Negro Leagues); and SABR founding member Tom Hufford (Oral History).

More highlights from SABR 48 committee meetings will be posted online soon, so stay tuned!
---
Couldn't make it to Pittsburgh for SABR 48? Check out more stories, photos, and multimedia clips from the SABR 48 convention, held June 20-24, 2018, at the Wyndham Grand Downtown Pittsburgh, at SABR.org/convention.
You can find stories, photos, and multimedia clips from SABR 48 in Pittsburgh, including our panels on the lives and legacies of Pittsburgh Pirates great Roberto Clemente, pioneering sports writer Wendell Smith, and Hall of Fame executive Branch Rickey; the 1979 Pirates Player Panel with John Candelaria and Grant Jackson, the Media Panel with Pirates broadcasters Steve Blass, Lanny Frattare, Greg Brown, and Joe Block; the SABR 48 Ballpark Session at PNC Park, and much more.
---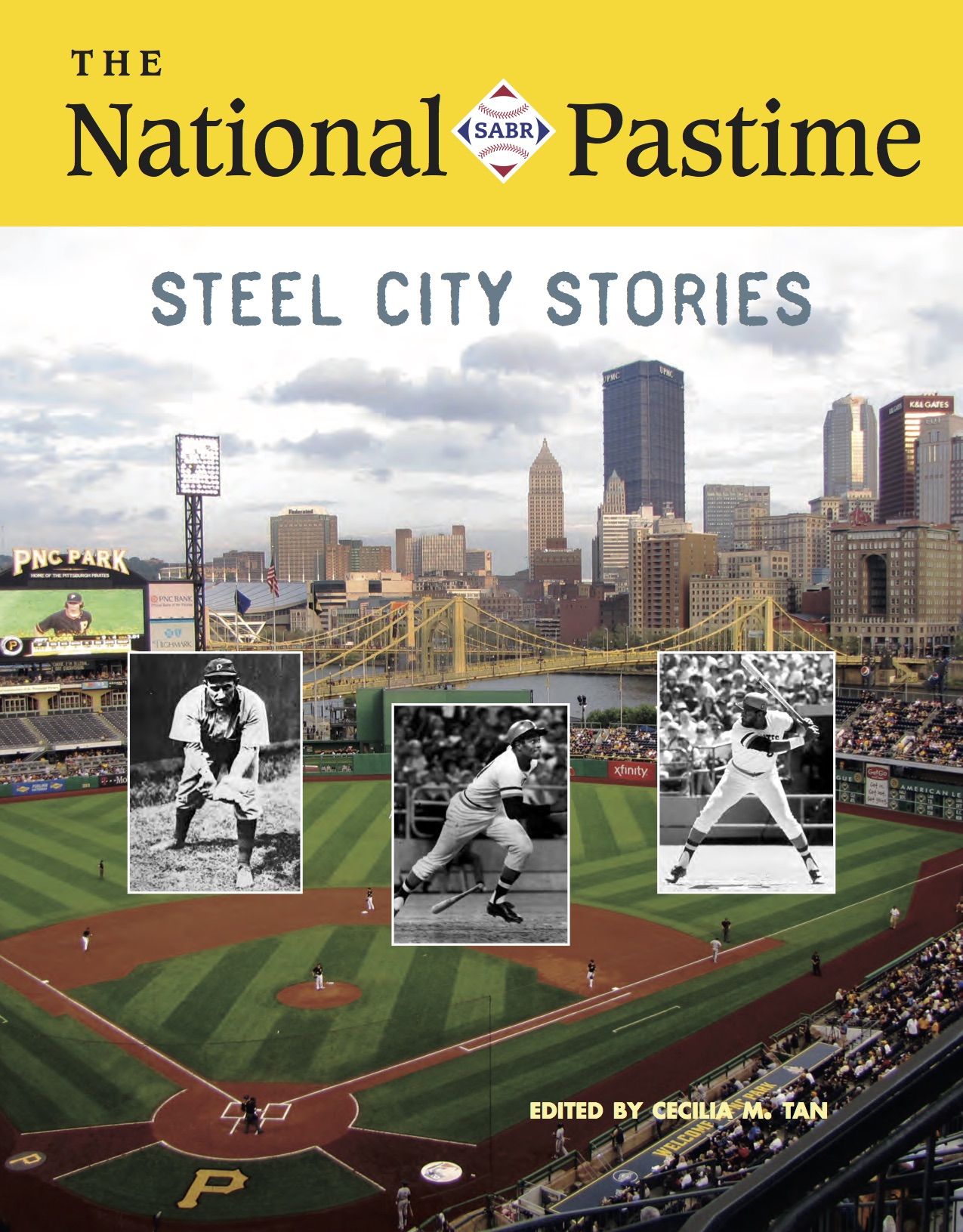 Since 2009, The National Pastime has served as SABR's convention-focused publication. Published annually, this research journal provides in-depth articles focused on the respective geographic region where the national convention is taking place in a given year. All SABR members receive a free e-book copy of The National Pastime as part of their membership benefits, while attendees of the national convention also receive a souvenir print edition in their goody bags.
Click a link below to download the e-book edition of the 2018 convention journal, The National Pastime: Steel City Stories.
Please note: All articles from The National Pastime: Steel City Stories will be available to read online at SABR.org soon.
If you weren't able to attend the convention in Pittsburgh, please enjoy this issue of The National Pastime as your virtual trip to the Steel City. Happy reading!
To learn more about contributing to a future SABR publication, click here.
— Cecilia M. Tan, Publications Director
---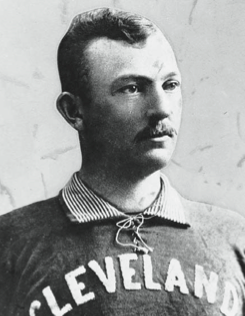 Join us for the SABR Cleveland 19th Century Baseball Interdisciplinary Symposium, which will take place on Saturday, November 10, 2018, from 9:00 a.m.-5:00 p.m. at the majestic Main Branch of the Cleveland Public Library in the heart of downtown Cleveland.
The day-long Saturday symposium will be devoted to 19th-century baseball as it was played and evolved in Cleveland and its greater region of northeastern Ohio. A keynote luncheon address of interdisciplinary history by David Goldberg, Professor of History at Cleveland State University, will provide a look at late 19th-century Cleveland with a particular understanding of one of that city's most important and powerful forces, its transportation system. In addition to the on-site luncheon, there will be both an early morning and mid-afternoon coffee and refreshments service.
Other speakers are expected to include John Thorn, MLB's Official Historian; John Skrtic, Director of Public Services, CPL; Jeremy Feador, Cleveland Indians, Historian & Curator; and four SABR researchers and authors with specific focus on elements of 19th-century Cleveland area baseball: David Fleitz, Joseph Wancho, Ken Krsolovic, and Bryan Fritz. Click here to download a complete schedule (PDF).
We hope to see you there!
---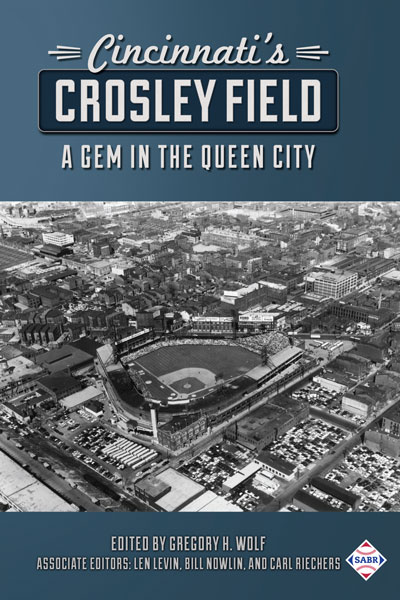 Add this new book from the SABR Digital Library to your collection, on one of baseball's classic crown jewels:
Cincinnati's Crosley Field: A Gem in the Queen City
Edited by Gregory H. Wolf
Associate Editors: Len Levin, Bill Nowlin, and Carl Riechers
ISBN (paperback): 978-1-943816-75-0, $19.95
ISBN (e-book): 978-1-943816-74-3, $9.99
311 pages, 8.5″ x 11″
Click here to read the full description of this book at SABR.org.
SABR members, get this e-book for FREE!
SABR members will get discounted rates for all Digital Library publications, including e-book editions for free. Visit SABR.org/ebooks for a list of all titles.
Having trouble downloading our e-books? To view PDF files on your computer, click here to download the free Adobe Reader software. Having trouble downloading e-books to your Kindle, Nook, Sony Reader or iPad? Click here for additional help.
---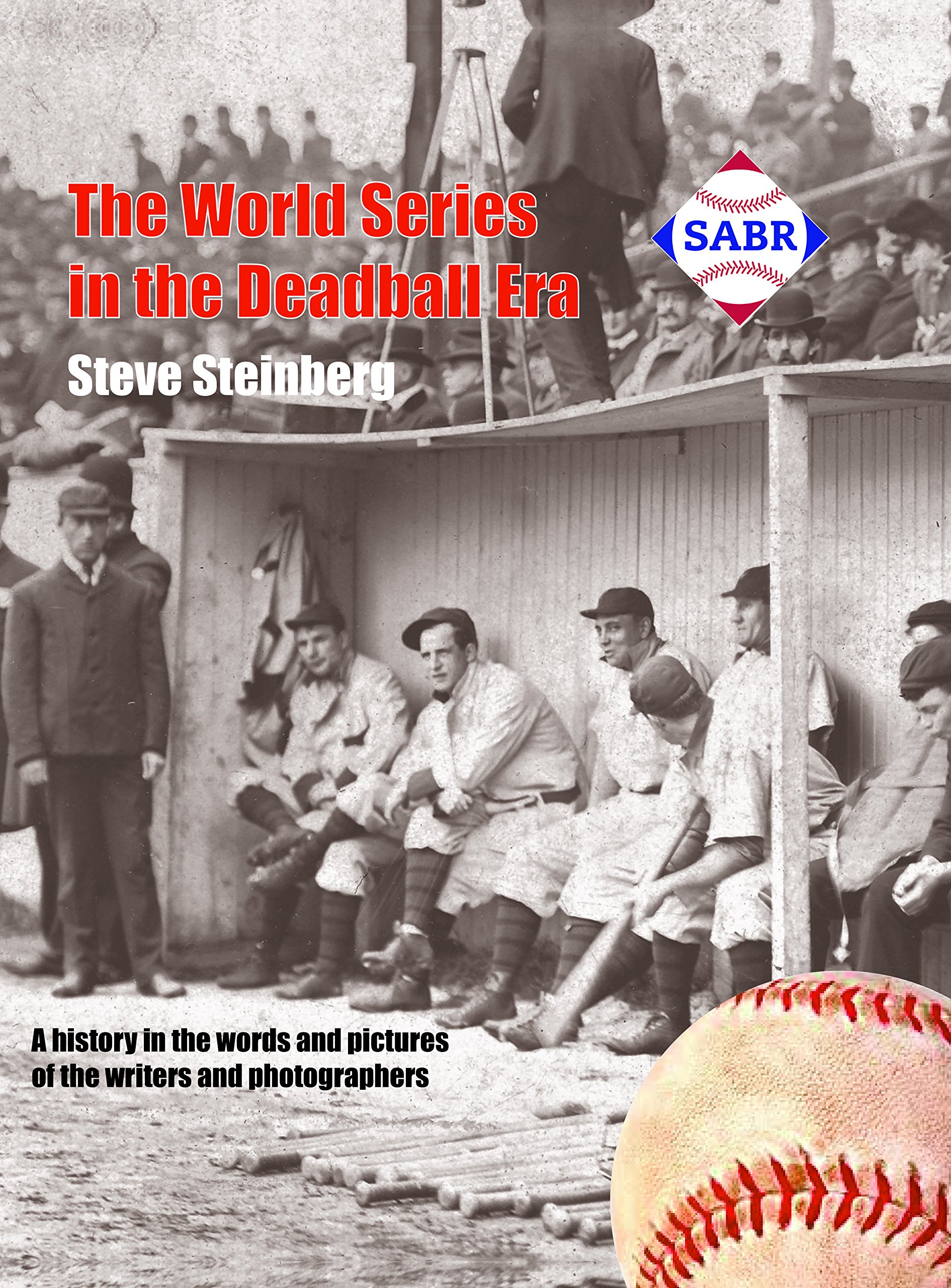 A special new publication produced by SABR's Deadball Era Research Committee vividly brings back the exploits of Ty Cobb, Christy Mathewson, Home Run Baker, and Babe Ruth to life with more than 250 rare photos:
The World Series in the Deadball Era: A History in the Words and Pictures of the Writers and Photographers
Edited by Steve Steinberg
Foreword by Dr. Charles Alexander
Published by St. Johann Press
ISBN (hardcover): 978-1-9379-4345-5, $45.00
306 pages, 8.5″ x 11″

Click here for a complete description of this book at SABR.org.
This book is available for purchase from Amazon.com, your local bookstore, or directly from the publisher at St. Johann Press.
Buy the book:

---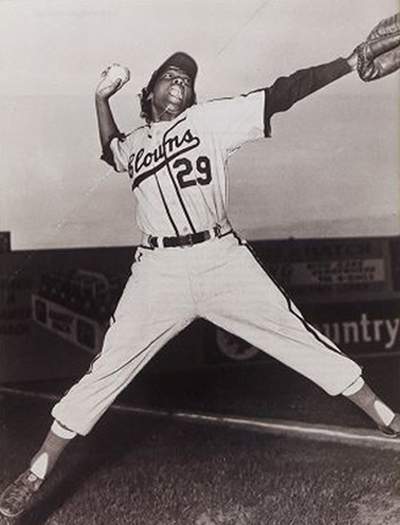 SABR's Women in Baseball Committee will award one $500 scholarship to a high school senior in its inaugural Women in Baseball Essay Contest in 2018.
Students must write an essay of 1,500 words or less addressing the following question: "Choose one person or event in women's baseball history that you believe has made a significant impact on the game and explain the importance."
Click here to download the 2018 SABR Women in Baseball Scholarship application and style guidelines (PDF)
All applications must be e-mailed or postmarked by August 13, 2018, and sent to Dr. Leslie Heaphy at Lheaphy@kent.edu.
Click here for complete details and submission criteria.
---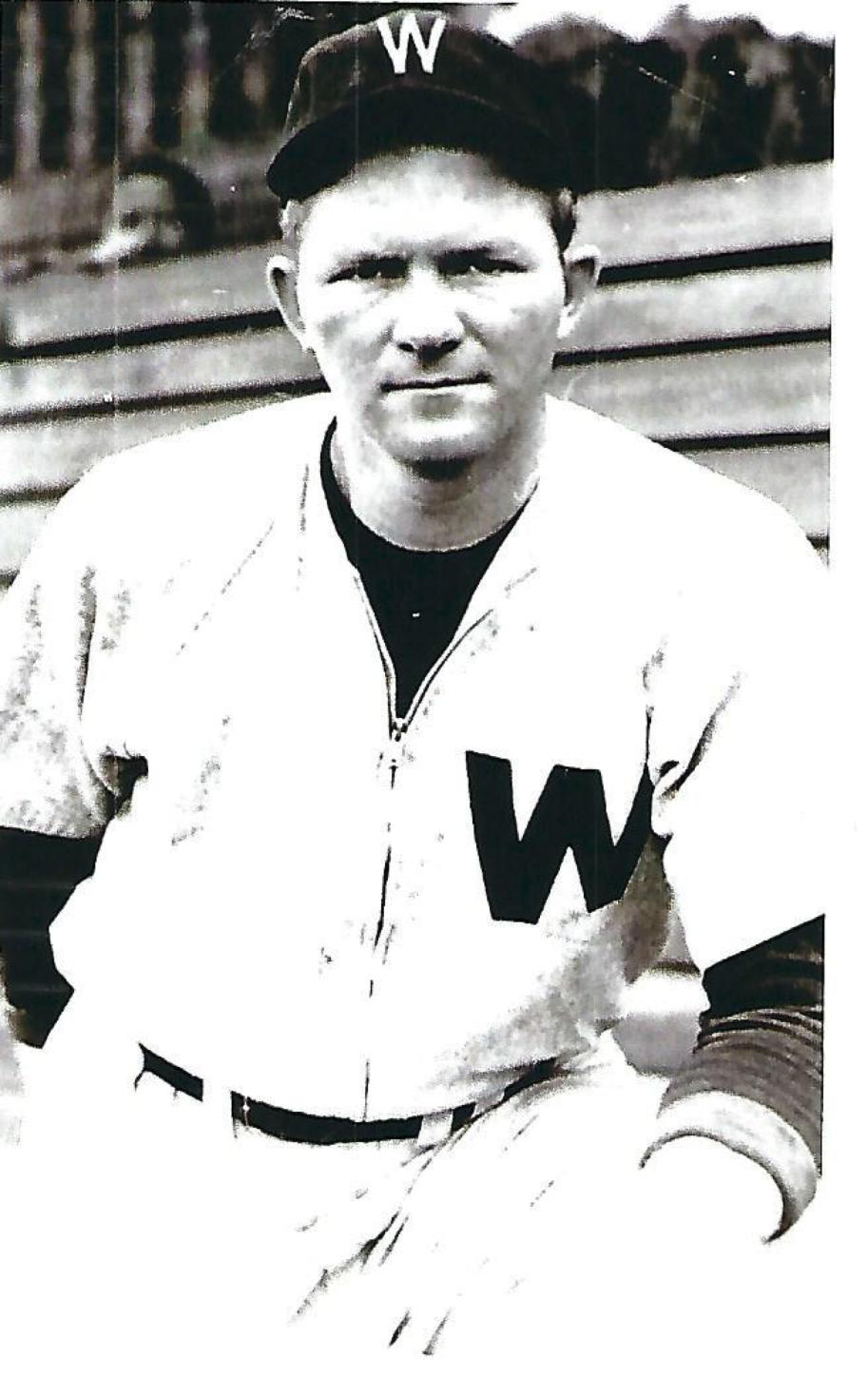 Three new biographies were posted this week as part of the SABR Baseball Biography Project, which brings us to a total of 4,585 published biographies. Here are the new bios published this week:
All new biographies can be found here: SABR.org/bioproj/recent
---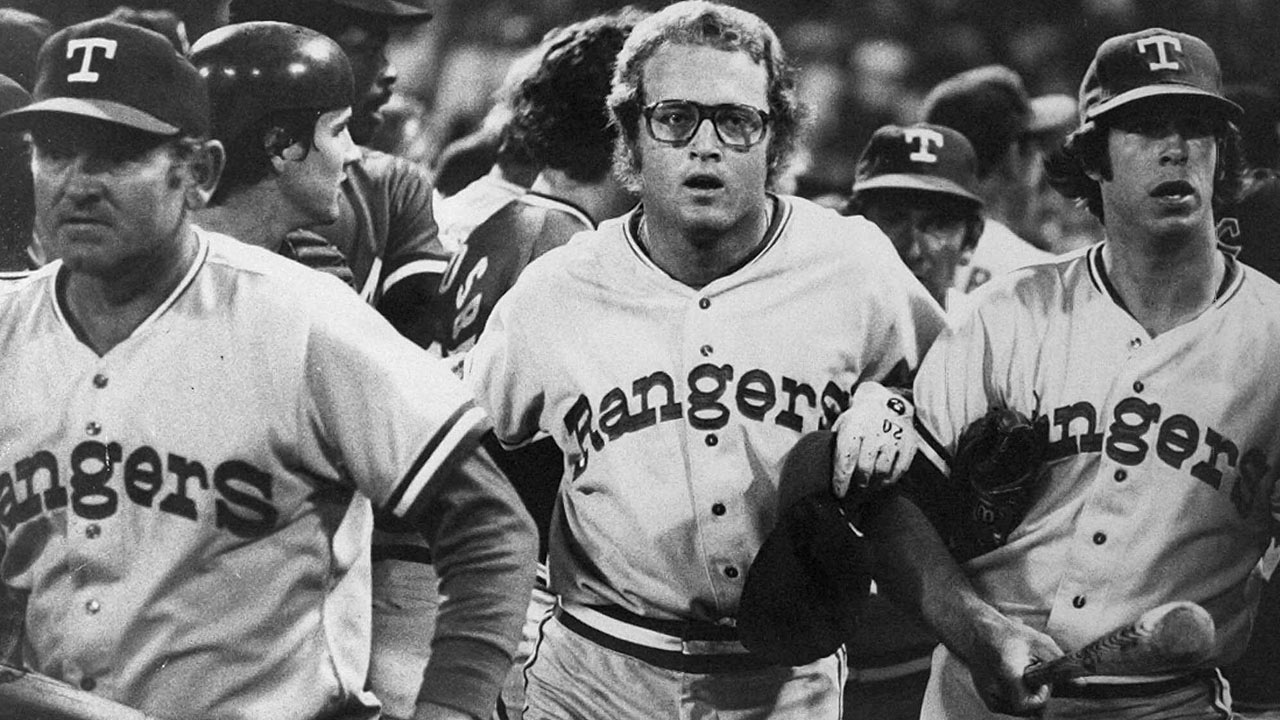 Six new game stories were posted this week as part of the SABR Games Project. Here are the new game stories:
New Games Project stories can be found at SABR.org/gamesproject/recent. Find all published Games Project articles at SABR.org/GamesProject.
If you have any questions about the Games Project, please contact Mike Huber. To request an assignment, please contact Steven C. Weiner. After the article has been completed in accordance with our Authors' Guidelines, please submit it to Len Levin, who will initiate the editing process and get your story started toward publication.
---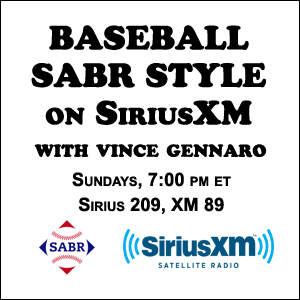 Behind the Numbers: Baseball SABR Style on SiriusXM, a radio show hosted by SABR President Vince Gennaro, is back for the 2018 season at its regular time: 7:00-8:00 p.m. ET on Sundays, on MLB Network Radio.
This week's guests are Zach Crizer from Baseball Prospectus and Travis Sawchik from FanGraphs.
You can listen to archives of recent episodes on-demand on the SiriusXM Internet Radio App. Click here to learn more.
Behind the Numbers: Baseball SABR Style on SiriusXM focuses on examining and interpreting the statistical analysis that plays a critical role in baseball today. It airs weekly throughout the year on MLB Network Radio, available to subscribers nationwide on XM channel 89, Sirius channel 209, and on the SiriusXM Internet Radio App.
---
Two of the most outstanding college baseball student-athletes nationally have been named as the 26th annual Howard Green SABR Metroplex Collegiate Player of the Year Award recipient and the seventh annual SABR Metroplex Carroll Beringer Award College Division Player of the Year Award by the Ernie Banks-Bobby Bragan DFW Chapter of the Society of American Baseball Research in 2018.
Devlin Granberg, the 14th player from Dallas Baptist to snare the Howard Green Award since its initiation in 1993, has been lauded with the DI Player of the Year Award while Texas Wesleyan's Kiki Menendez is the Texas Wesleyan Rams third standout in the last five seasons to nab the College Division Beringer Award.
Granberg, a 6-3, 224-pound senior outfielder from Hudson, Colorado, earned consensus All-America honors in 2018 and also captured the prestigious Bobby Bragan Collegiate Slugger Award as the top slugger from the state of Texas or playing for a Texas college/university.
Click here to read the full article at SABR.org.
---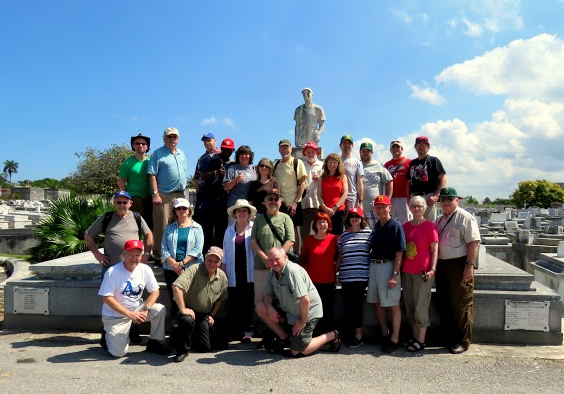 SABR member Kit Krieger of Cubaball Tours is pleased to announce that the 19th annual baseball tour of Cuba will be conducted from September 23-30, 2018.
Highlights of the tour include five games of the 58th National Series in five different ballparks; meetings with current and veteran players, including Luis Zayas, the last surviving member of the fabled Havana Sugar Kings living in Cuba, and Sigfredo Barros, the baseball beat writer for Granma, the national newspaper of Cuba; a visit to the monuments erected in Colon Cemetery, including the gravesites of Adolfo Luque and Hall of Famer Jose Mendez Caridad; seminars on contemporary Cuba, including US-Cuban relations, and more.
The tour, which is limited to 25 people, is licensed by the Treasury Department's Office of Foreign Asset Control and complies with US requirements for travel to Cuba. Click here for complete details.
Contact Kit Krieger (ejkrieger@shaw.ca) to register.
---
We've heard your feedback: Some of you have said you look forward to "This Week in SABR" every Friday, but sometimes there are just too many compelling articles and announcements to read every week. We're not complaining — hey, keep up the great work! — but we know the feeling. So in an effort to make the length of this newsletter more manageable to read, we'll summarize some of the repeating/recurring announcements in a special "In Case You Missed It (ICYMI)" section of "This Week in SABR".
Here are some major headlines from recent weeks that we don't want you to miss:
All previous editions of This Week in SABR can be found here: https://sabr.org/content/this-week-in-sabr-archives.
---
We'd like to welcome all of our new SABR members who have joined this week. You can find all Members-Only resources at members.sabr.org and the Membership Handbook can be downloaded here.
Please give these new members a warm welcome and help them make the most of their membership by giving them the opportunity to get involved in their local chapter or a research committee.
You can find contact information for any SABR member in the online membership directory (SABR.org/directory).
| Name | Hometown | | | Name | Hometown |
| --- | --- | --- | --- | --- | --- |
| Bob Bayley | Longwood, FL | | | Nick Holroyd | Regina, SK |
| James Bernard | Alpharetta, GA | | | Tae Gi Kim | Goyang, KOR |
| Robert Black | Conway, SC | | | Phil King | Concord, NH |
| Mike Fazioli | Dexter, MI | | | Will Negron | Moseley, VA |
| John Flanagan | Bowie, MD | | | Michael Pawlush | Mechanicsburg, PA |
| Brian Ford | Pittsburgh, PA | | | Duane Radmore | Frisco, TX |
| James Greenfield | Villanova, PA | | | Mike Rainey | South Jordan, UT |
| Geoff Griffin | Salt Lake City, UT | | | Luke Smith | Hattiesburg, MS |
| Don Groves | Oregon City, OR | | | Philip Watson | Ironwood, MI |
| John Paul Hill | Aiken, SC | | | | |
---
Here are the new research committee updates this week:
Find all SABR research committee newsletters at SABR.org/research.
---
Here are the new regional chapter updates this week:
Visit SABR.org/chapters for more information on SABR regional chapters.
---
Here is a list of upcoming events on the SABR calendar:
All SABR meetings and events are open to the public. Feel free to bring a baseball-loving friend … and make many new ones! Check out the SABR Events Calendar at SABR.org/events.
---
Here are some recent articles published by and about SABR members:
Read these articles and more at SABR.org/latest.
---
This Week in SABR is compiled by Jacob Pomrenke. If you would like us to include an upcoming event, article or any other information in "This Week in SABR," e-mail jpomrenke@sabr.org.
Have trouble reading this e-mail? Click here to view this week's newsletter on the web.
Are you receiving our e-mails? "This Week in SABR" goes out by e-mail to all members on Friday afternoons. If they're not showing up, try adding "sabr.notes@sabr.org" to your contact list to ensure they show up in your inbox (and not the spam folder.)
---
Originally published: July 13, 2018. Last Updated: April 3, 2020.
https://sabr.org/wp-content/uploads/2020/03/research-collection4_350x300.jpg
300
350
admin
/wp-content/uploads/2020/02/sabr_logo.png
admin
2018-07-13 15:00:00
2020-04-03 14:38:18
This Week in SABR: July 13, 2018