This Week in SABR: July 6, 2018

Welcome to "This Week in SABR!" Click here to view this week's newsletter on the web. Here's what we've been up to as of July 6, 2018:
---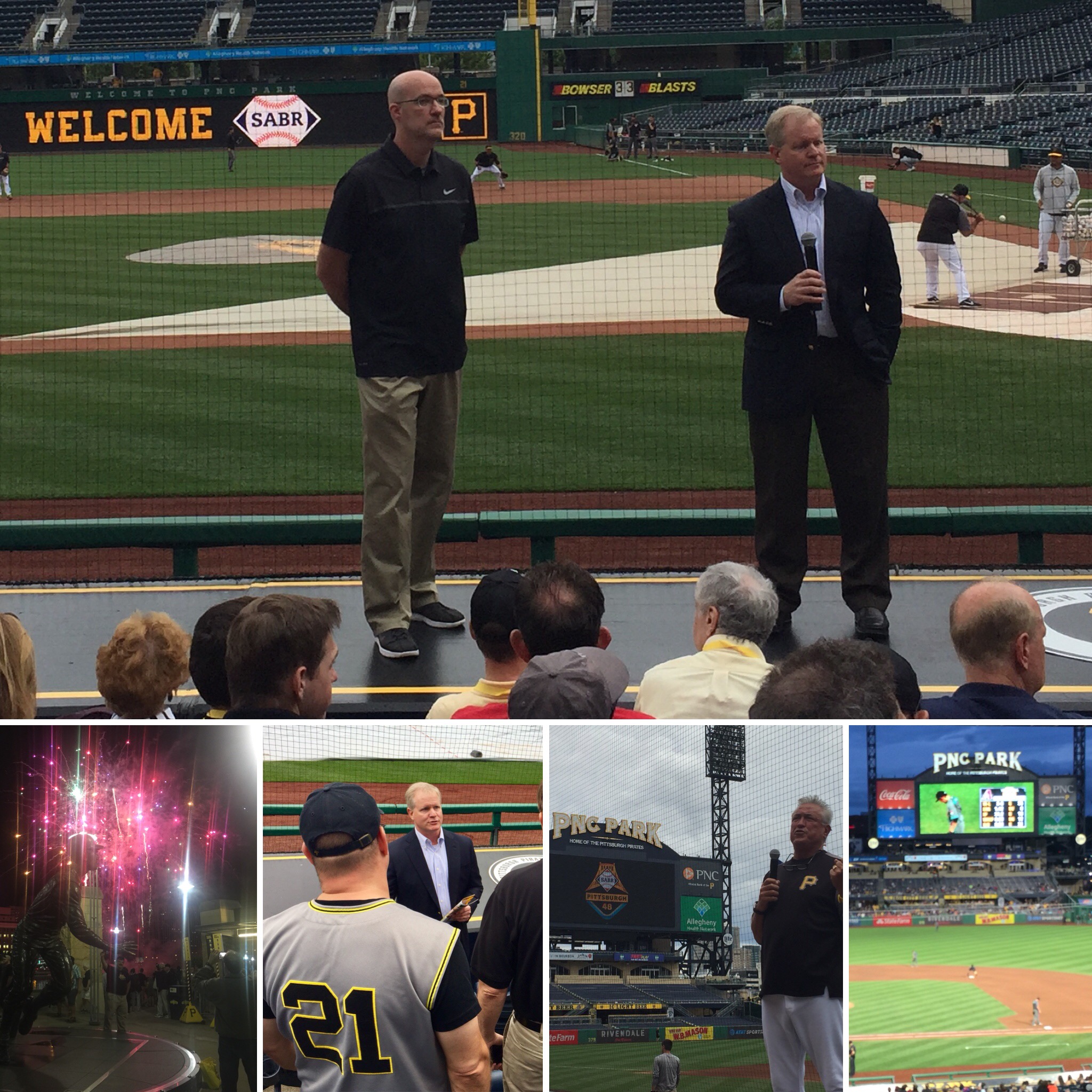 Couldn't make it to Pittsburgh for SABR 48? Check out more stories, photos, and multimedia clips from the SABR 48 convention, held June 20-24, 2018, at the Wyndham Grand Downtown Pittsburgh, at SABR.org/convention.
Check out stories, photos, and multimedia clips from the SABR 48 convention in Pittsburgh below:
Around the Web
Stay tuned for more coverage next week from SABR 48 in Pittsburgh!
---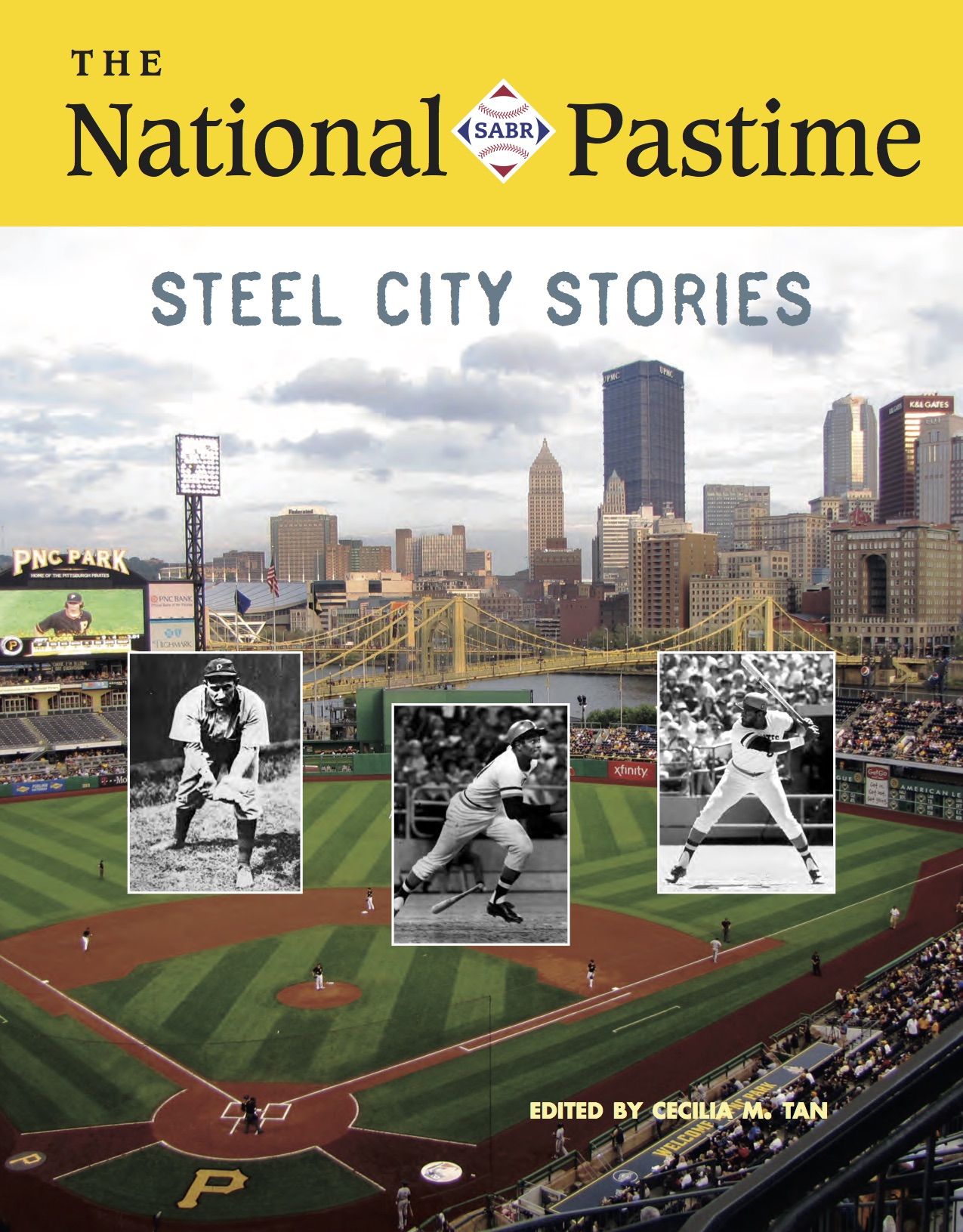 Since 2009, The National Pastime has served as SABR's convention-focused publication. Published annually, this research journal provides in-depth articles focused on the respective geographic region where the national convention is taking place in a given year. All SABR members receive a free e-book copy of The National Pastime as part of their membership benefits, while attendees of the national convention also receive a souvenir print edition in their goody bags.
Click a link below to download the e-book edition of the 2018 convention journal, The National Pastime: Steel City Stories.
Please note: All articles from The National Pastime: Steel City Stories will be available to read online at SABR.org soon.
If you weren't able to attend the convention in Pittsburgh, please enjoy this issue of The National Pastime as your virtual trip to the Steel City. Happy reading!
To learn more about contributing to a future SABR publication, click here.
— Cecilia M. Tan, Publications Director
---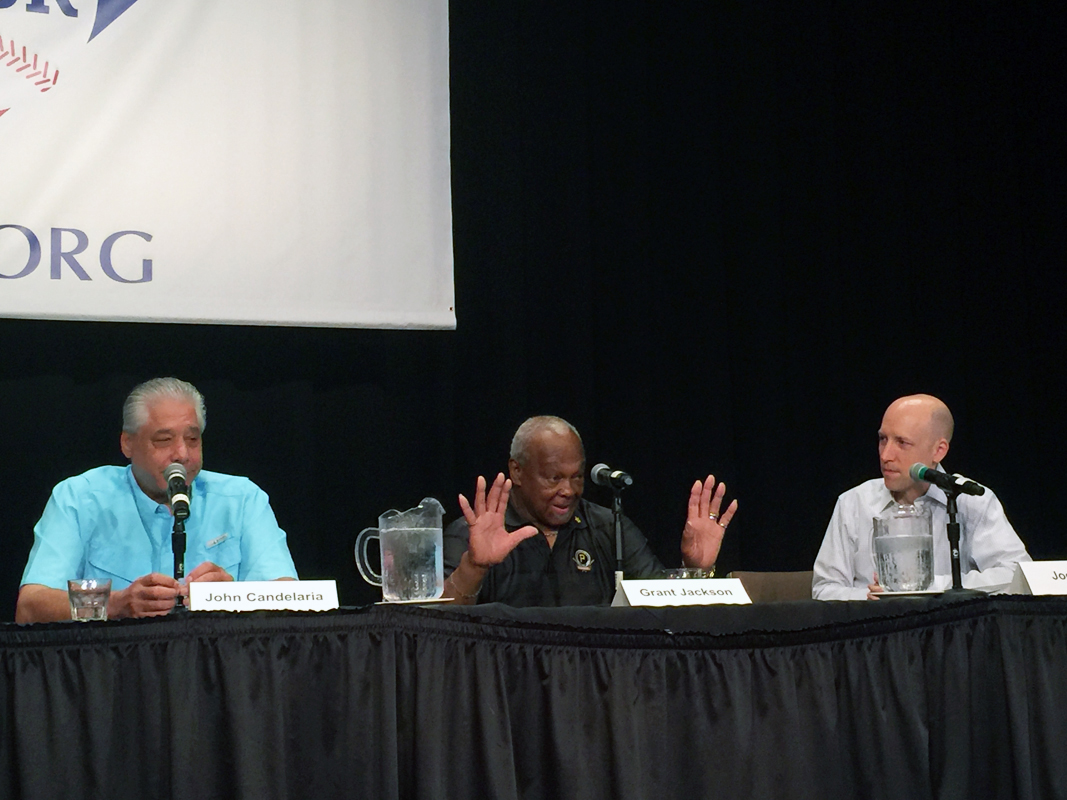 At SABR 48 on Saturday, June 23, the Pirates Player Panel included two pitchers from the Pittsburgh Pirates' 1979 World Series championship team. They discussed the team's famous "We Are Family" atmosphere, their comeback in the fall classic against the Baltimore Orioles, and life in the major leagues.
The panel, moderated by Pirates broadcaster Joe Block, included John Candelaria, who spent 19 seasons as a pitcher in the major leagues, winning 177 games and helping the Pittsburgh Pirates capture the 1979 World Series championship. A fan favorite in Pittsburgh known as the "Candy Man," he threw a no-hitter at Three Rivers Stadium in 1976, made the National League All-Star team with a league-leading 2.34 ERA in 1977, and pitched six shutout innings in Game Six of the 1979 World Series to help the Pirates rally from a 3-1 deficit and defeat the Baltimore Orioles. The panel also included Grant Jackson, a valuable reliever for three pennant-winning clubs during his 18 seasons in the major leagues. He made four scoreless appearances in the 1979 World Series, helping the Pittsburgh Pirates win their most recent championship, and also pitched for the Baltimore Orioles in the 1971 fall classic and the New York Yankees in 1976.
Click here to listen to audio highlights from this panel and view more photos at SABR.org.
---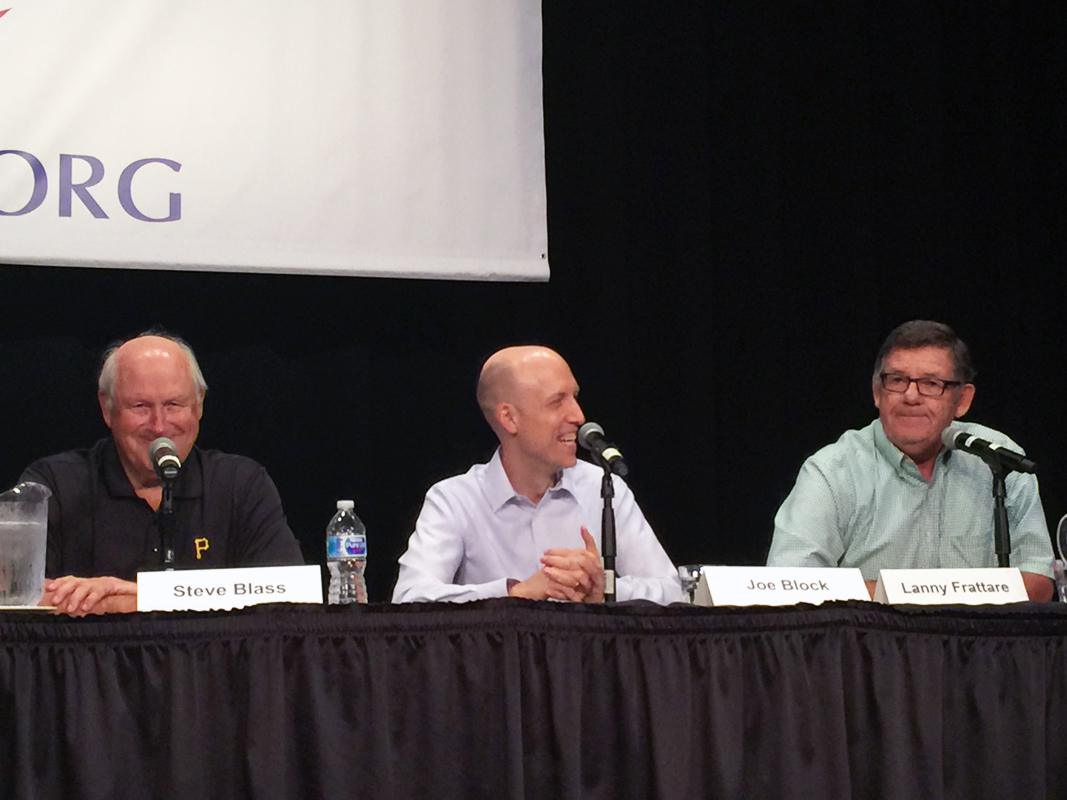 At SABR 48, our Media Panel of Pittsburgh Pirates broadcasters discussed some of the most memorable moments in Bucs baseball history over the past half-century.
The SABR 48 Media Panel on Friday, June 22 included Steve Blass, Pittsburgh Pirates color commentator and former major-league pitcher; Joe Block, Pittsburgh Pirates play-by-play announcer; Greg Brown, Pittsburgh Pirates play-by-play announcer; and Lanny Frattare, the longest-tenured broadcaster in Pittsburgh Pirates history. It was moderated by Curt Smith, author and baseball broadcasting historian. The introduction was delivered by SABR Media Committee chair Chuck Hildebrandt.
Click here to listen to audio highlights from this panel and view more photos at SABR.org.
---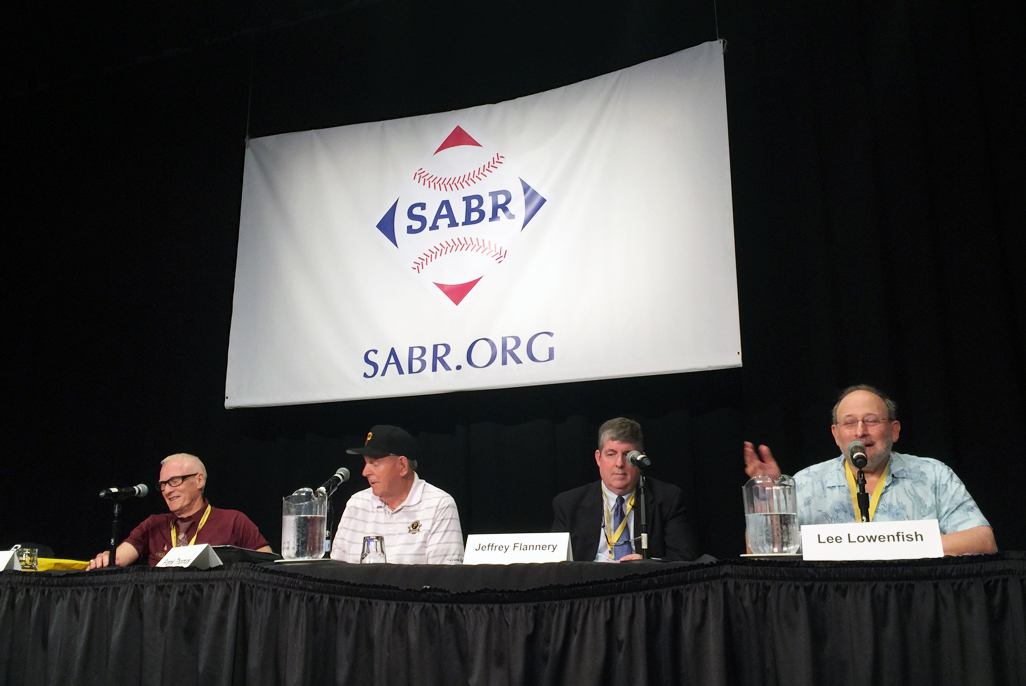 At SABR 48 on Saturday, June 23, our Branch Rickey: The Pittsburgh Pirates Years panel discussed the legendary Hall of Fame executive's tenure with the Pirates in the 1950s.
The panel, moderated by author and historian Lee Lowenfish, included Frank Thomas, All-Star outfielder who played for the Pirates from 1951-58; Jeffrey Flannery, who oversees the Branch Rickey Papers at the Library of Congress; and Jack Bowen, son of legendary Pirates scout Rex Bowen. (Thomas was pinch-hitting for Dick Groat, who fell ill just before the SABR convention began.)
Click here to listen to audio highlights from this panel and view more photos at SABR.org.
---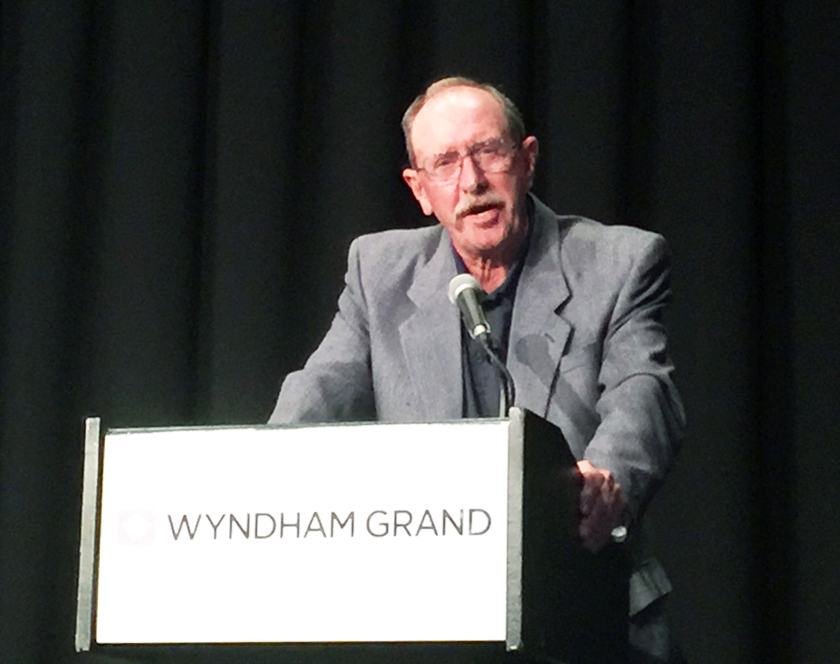 At SABR 48, the Business of Baseball Research Committee welcomed former major-league pitcher Dick Bosman to speak at its annual meeting. Bosman is the co-author, with SABR member Ted Leavengood, of the new book, Dick Bosman on Pitching: Lessons from the Life of a Major League Ballplayer and Pitching Coach. Listen to highlights from Bosman's session at SABR 48 by clicking here.
The Official Scoring Committee also hosted a session with Pittsburgh Pirates official scorers Bob Webb and Evan Pattak. Audio highlights from that session are now available at SABR.org/convention, as well.
More highlights from SABR 48 committee meetings will be posted online soon, so stay tuned!
---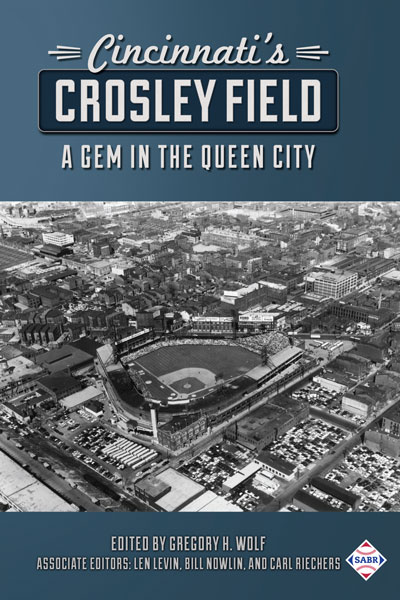 Add this new book from the SABR Digital Library to your collection, on one of baseball's classic crown jewels:
Cincinnati's Crosley Field: A Gem in the Queen City
Edited by Gregory H. Wolf
Associate Editors: Len Levin, Bill Nowlin, and Carl Riechers
ISBN (paperback): 978-1-943816-75-0, $19.95
ISBN (e-book): 978-1-943816-74-3, $9.99
311 pages, 8.5″ x 11″
April 11, 1912, marked a new era in the history of the Cincinnati Reds. On that day the team inaugurated the season by playing its first game at Redland Field, which was renamed Crosley Field in 1934 in honor of the team's owner, Powel Crosley. The new steel and concrete ballpark was located at the site of its predecessor, the outdated wooden Palace of the Fans at the intersection of Findlay Street and Western Avenue. For almost six decades, Crosley Field beckoned like a shining gem surrounded by warehouses and industrial complexes in the Queensgate neighborhood of the Queen City. The Reds closed the book on Crosley Field on June 24, 1970, and moved into Riverfront Stadium, a modern all-purpose sports venue that held almost twice as many spectators.
This book evokes memories of Crosley Field through detailed summaries of more than 85 historic and monumental games played there, and 10 insightful feature essays about the history of the ballpark. Former Reds players Johnny Edwards and Art Shamsky share their memories of the park in introductions.
Among the exciting contests recounted here are an Opening Day no-hitter in 1918, action from the infamous 1919 World Series, Negro Leagues games, Joe DiMaggio's 1939 World Series heroics, Johnny Vander Meer's incredible summer of two no-hitters, and no-hitters by Lon Warneke and Clyde Shoun. Hank Aaron's 3,000th hit took place at Crosley Field, as did indelible performances by Pete Rose, Roberto Clemente, and Frank Robinson.
This volume is a collaborative effort of more than three dozen members of the Society for American Baseball Research (SABR), including: John Bauer, Phillip Bolda, Leo Bradley, Bob Buege, Alan Cohen, Richard Cuicchi, Chad Dotson, Paul E. Doutrich, Chris Eckes, Johnny Edwards, Greg Erion, Doug Feldmann, Dan Fields, Lon L. Garber, Gordon J. Gattie, Michael Huber, Kirk C. Jenkins, Norm King, Russ Lake, Len Levin, Michael T. Lynch Jr., Luke Miller, Mark Miller, Kellen Nielson, Bill Nowlin, Tom Pardo, Jacob Pomrenke, Greg Rhodes, Carl Riechers, C. Paul Rogers III, Rick Schabowski, Bill Schneider, Joe Schuster, Art Shamsky, Mark S. Sternman, Joseph Wancho, Mike Whiteman, Gregory H. Wolf, and Brian P. Wood.
SABR members, get this e-book for FREE!
SABR members will get discounted rates for all Digital Library publications, including e-book editions for free. Visit SABR.org/ebooks for a list of all titles.
Having trouble downloading our e-books? To view PDF files on your computer, click here to download the free Adobe Reader software. Having trouble downloading e-books to your Kindle, Nook, Sony Reader or iPad? Click here for additional help.
---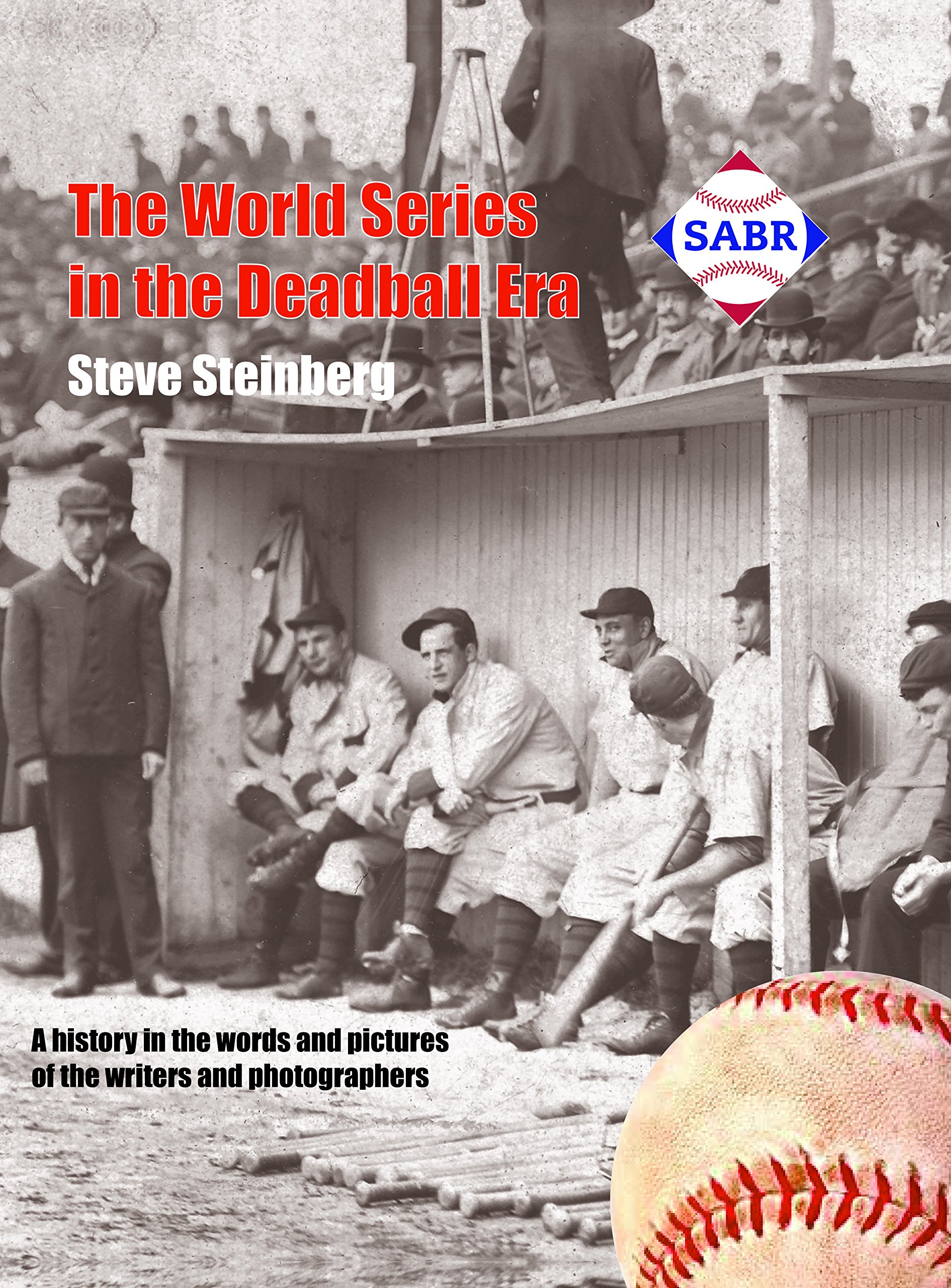 A special new publication produced by SABR's Deadball Era Research Committee vividly brings back the exploits of Ty Cobb, Christy Mathewson, Home Run Baker, and Babe Ruth to life with more than 250 rare photos:
The World Series in the Deadball Era: A History in the Words and Pictures of the Writers and Photographers
Edited by Steve Steinberg
Foreword by Dr. Charles Alexander
Published by St. Johann Press
ISBN (hardcover): 978-1-9379-4345-5, $45.00
306 pages, 8.5″ x 11″

Click here for a complete description of this book at SABR.org.
This book is available for purchase from Amazon.com, your local bookstore, or directly from the publisher at St. Johann Press.
Buy the book:

---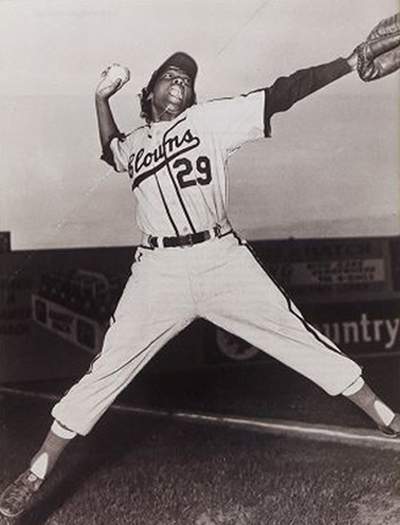 SABR's Women in Baseball Committee will award one $500 scholarship to a high school senior in its inaugural Women in Baseball Essay Contest in 2018.
Students must write an essay of 1,500 words or less addressing the following question: "Choose one person or event in women's baseball history that you believe has made a significant impact on the game and explain the importance."
Click here to download the 2018 SABR Women in Baseball Scholarship application and style guidelines (PDF)
All applications must be e-mailed or postmarked by August 13, 2018, and sent to Dr. Leslie Heaphy at Lheaphy@kent.edu.
Click here for complete details and submission criteria.
---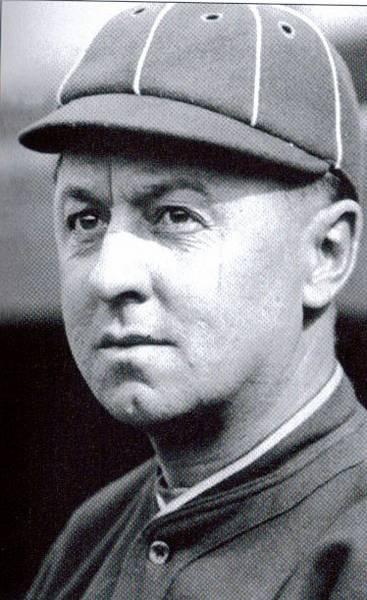 Three new biographies were posted this week as part of the SABR Baseball Biography Project, which brings us to a total of 4,582 published biographies. Here are the new bios published this week:
All new biographies can be found here: SABR.org/bioproj/recent
---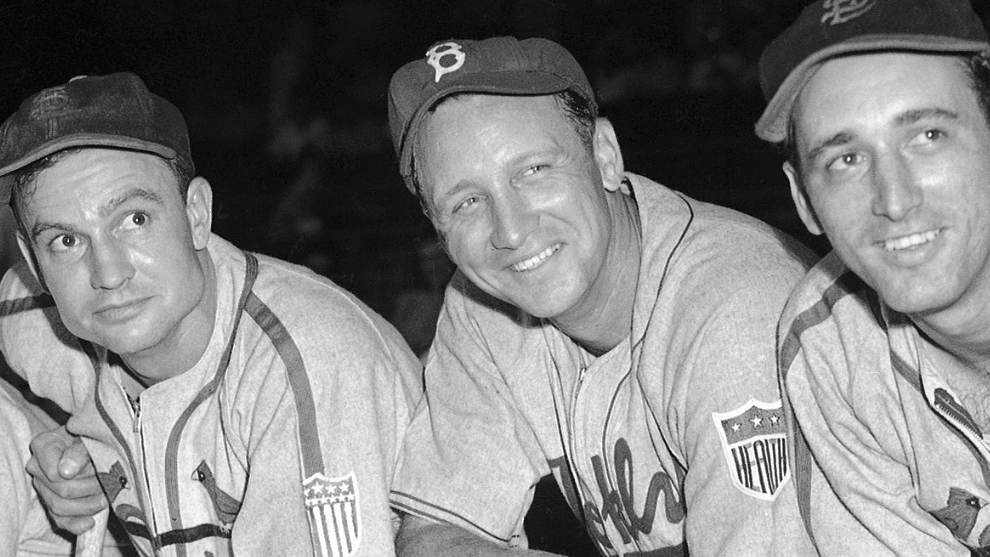 Four new game stories were posted this week as part of the SABR Games Project. Here are the new game stories:
These articles originally appeared in Who's on First: Replacement Players in World War II (SABR, 2015), edited by Marc Z. Aaron and Bill Nowlin.
New Games Project stories can be found at SABR.org/gamesproject/recent. Find all published Games Project articles at SABR.org/GamesProject.
If you have any questions about the Games Project, please contact Mike Huber. To request an assignment, please contact Steven C. Weiner. After the article has been completed in accordance with our Authors' Guidelines, please submit it to Len Levin, who will initiate the editing process and get your story started toward publication.
---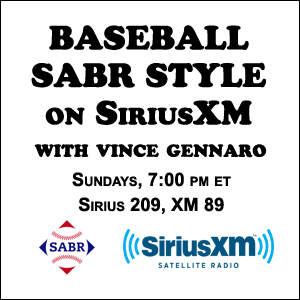 Behind the Numbers: Baseball SABR Style on SiriusXM, a radio show hosted by SABR President Vince Gennaro, is back for the 2018 season at its regular time: 7:00-8:00 p.m. ET on Sundays, on MLB Network Radio.
This week's guests are Ben Reiter of Sports Illustrated and Scott Miller of Bleacher Report.
You can listen to archives of recent episodes on-demand on the SiriusXM Internet Radio App. Click here to learn more.
Behind the Numbers: Baseball SABR Style on SiriusXM focuses on examining and interpreting the statistical analysis that plays a critical role in baseball today. It airs weekly throughout the year on MLB Network Radio, available to subscribers nationwide on XM channel 89, Sirius channel 209, and on the SiriusXM Internet Radio App.
---
We've heard your feedback: Some of you have said you look forward to "This Week in SABR" every Friday, but sometimes there are just too many compelling articles and announcements to read every week. We're not complaining — hey, keep up the great work! — but we know the feeling. So in an effort to make the length of this newsletter more manageable to read, we'll summarize some of the repeating/recurring announcements in a special "In Case You Missed It (ICYMI)" section of "This Week in SABR".
Here are some major headlines from recent weeks that we don't want you to miss:
All previous editions of This Week in SABR can be found here: /content/this-week-in-sabr-archives.
---
We'd like to welcome all of our new SABR members who have joined this week. You can find all Members-Only resources at members.sabr.org and the Membership Handbook can be downloaded here.
Please give these new members a warm welcome and help them make the most of their membership by giving them the opportunity to get involved in their local chapter or a research committee.
You can find contact information for any SABR member in the online membership directory (SABR.org/directory).
| Name | Hometown | | | Name | Hometown |
| --- | --- | --- | --- | --- | --- |
| Rafael Carrasquillo | San Juan, PRI | | | Adolfo Lopez | Toa Baja, PRI |
| Don Geiszler | Wash. Crossing, PA | | | Frank Marcos | Meridian, ID |
| Patrick Gibbons | San Bruno, CA | | | Jenny Meyer | Ottawa, OH |
| Richard Gomez | Perry, GA | | | Jeff Miller | Brownsburg, IN |
| Taylor Gordon | Savannah, GA | | | Elena North | St Mary's, ON |
| Ronald Graves | Kernersville, NC | | | Cassady Palmer | Columbia, MO |
| Robert Harmon | Toluca Lake, CA | | | Frank Papp | The Villages, FL |
| Bill Helm | Camp Verde, AZ | | | John Phillips | Bradenton, FL |
| Rich Libero | Treasure Island, FL | | | Deepak Rao | Hinsdale, IL |
| Eddy Locker | Lancaster, KY | | | | |
---
Here are the new research committee updates this week:
Find all SABR research committee newsletters at SABR.org/research.
---
Here are the new regional chapter updates this week:
Visit SABR.org/chapters for more information on SABR regional chapters.
---
Here is a list of upcoming events on the SABR calendar:
All SABR meetings and events are open to the public. Feel free to bring a baseball-loving friend … and make many new ones! Check out the SABR Events Calendar at SABR.org/events.
---
Here are some recent articles published by and about SABR members:
Read these articles and more at SABR.org/latest.
---
This Week in SABR is compiled by Jacob Pomrenke. If you would like us to include an upcoming event, article or any other information in "This Week in SABR," e-mail jpomrenke@sabr.org.
Have trouble reading this e-mail? Click here to view this week's newsletter on the web.
Are you receiving our e-mails? "This Week in SABR" goes out by e-mail to all members on Friday afternoons. If they're not showing up, try adding "sabr.notes@sabr.org" to your contact list to ensure they show up in your inbox (and not the spam folder.)
---
Originally published: July 6, 2018. Last Updated: April 3, 2020.
https://h2j7w4j4.stackpathcdn.com/wp-content/uploads/2020/03/research-collection4_350x300.jpg
300
350
admin
/wp-content/uploads/2020/02/sabr_logo.png
admin
2018-07-06 15:00:00
2020-04-03 14:38:18
This Week in SABR: July 6, 2018