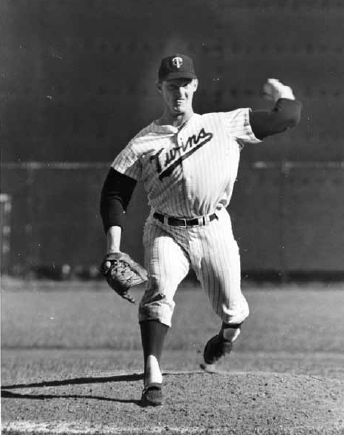 ---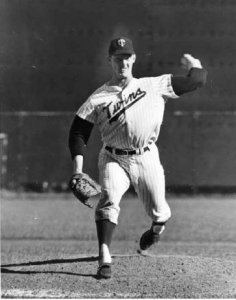 The minds and memories of casual baseball fans often recall the names and exploits of pitchers who have performed brilliantly during a career peak or even a single shining season. Hall of Fame careers have been built around a few great years in succession and the awards and buzz that accompany these successes. At the other end of the spectrum are those pitchers whose consistency, longevity, and less than perfect timing leave many observers to forget too quickly how effective they were over their careers. Jim Kaat may epitomize the consistent, underappreciated hurler.  According to Bill James, Kaat might be a Hall of Famer if only his best years had come closer together.1
Jim Kaat was born on November 7, 1938, and grew up in Zeeland, Michigan, a small Dutch community in the western part of the state. His father, Hans, known to locals as John, was a shopkeeper. John Kaat was a baseball fanatic who passed his love of the game and his passion for the Philadelphia Athletics on to his youngest son.2 Always a good athlete, Jim starred in baseball and basketball in high school, although he would say that he wanted to be a pitcher from the age of 8.3   
In high school Kaat was small enough to earn the nickname Little Jimmy, but learned early how to retire hitters without throwing hard.4 By his senior year he was still only 5-feet-10, 170 pounds, and unable to secure an athletic scholarship for college.  As a result, he enrolled at Hope College in nearby Holland, Michigan.
After high school, Jim began to grow quickly, ultimately reaching 6-feet-4 and filling out to more than 200 pounds.5 During his year at Hope, Kaat was invited to work out for the Washington Senators before a game in Chicago. The Senators were impressed and offered him a $4,000 signing bonus. Later, the White Sox offered Kaat $25,000, but Jim's father advised him to turn down the larger offer, which would make him a "bonus baby" and require him to start his career on a major-league roster.6 He signed with the Senators in June 1957 and spent the summer at Superior in the Class D Nebraska State League. In 1958 Kaat was assigned to the Class B Fox City Foxes, but was convinced by player-manager Jack McKeon to pitch for the Class C Missoula Timberjacks (Pioneer League) instead. McKeon was a catcher and convinced Kaat that he would take a special interest in making him a better pitcher.7 Kaat had a very strong season in Missoula, going 16-9 with a 2.99 ERA in 223 innings as a 19-year-old lefty. Based on his strong showing, he jumped to the Double-A Chattanooga Lookouts (Southern Association) as a 20-year-old.8
Kaat spent most of 1959 pitching for Chattanooga. His 8-8 record as the youngest player on the team earned him three major-league appearances with the Senators that season. His first major-league start was, in a word, inauspicious. On August 2 Kaat started for the last-place Senators in the second game of a road doubleheader against the AL-leading White Sox. Heading into the game, Chicago was riding a five-game winning streak while Washington was enduring a 15-game losing streak. Kaat surrendered just one earned run in 2⅓ innings, but the Senators bullpen allowed six runs to assure that his first decision was a loss.9 In three appearances that season, Kaat went 0-2 with a 12.60 ERA in just five innings.
In 1960, Kaat moved up to Triple-A Charleston, where he went 7-10 with a 3.82 ERA, again as the youngest member of the pitching staff. He was rewarded with nine major-league starts and four relief appearances, going 1-5 with a 5.58 ERA in 50 innings. His 48 hits allowed was respectable, especially for a 21-year-old, but 31 walks and five hit batters did not help him. Kaat never pitched in the minors again, nor did he pitch again for the Senators, who left Washington to become the Minnesota Twins in 1961.
The 1961 Twins were a promising young team that led the American League through much of April. Kaat began his career in Minnesota with a solid 7⅓-inning win at Boston to get the club to a 5-1 start. The Twins fell to the middle of the pack by the end of May, and a 13-game losing streak dropped them to last place by June 7. They went 51-58 the rest of the way and finished seventh, with Kaat going 9-17, 3.90 in 200⅔ innings as the club's youngest starter. 
In June of 1961 the Twins fired manager Cookie Lavagetto and replaced him with Sam Mele, who would lead the young club's ascension to prominence. Jim Kaat was a centerpiece of the 1960s Twins. A big, solid left-hander with bright red hair and outstanding athletic ability, Kaat was one of the fastest workers in the game. Firing each pitch just seconds after getting the ball back from the catcher, he confounded umpires and angered opposing hitters, but kept his defense on its toes.10 
In 1962 the Twins emerged as one of the best teams in the American League for the next decade. Minnesota registered just two losing seasons from 1962 through 1970 with Kaat winning 146 games during those years. The 1962 Twins finished a strong second with a 91-71 record, just five games behind the Yankees. Kaat was a big part of their emergence, finishing 18-14 with a 3.14 ERA in 269 innings. He was named to his first All-Star Game in 1962 and finished among the league's top 10 pitchers in wins, ERA, WHIP (walks and hits per inning pitched), strikeouts, complete games, and strikeout/walk ratio, and he tied for the league lead with five shutouts while logging more innings than anyone but the Yankees' Ralph Terry. He also earned his first Gold Glove, as writers voted him the best fielding pitcher in the American League.
Kaat's fielding prowess was recognized annually for the next 16 years, the longest streak ever by a pitcher. By his retirement he and third baseman Brooks Robinson were tied as the all-time leaders in Gold Glove awards, each winning 16 in succession. While Hall of Famer Greg Maddux holds the record (as of 2014) for total Gold Gloves during his career (18), Kaat and Robinson remain the all-time leaders in consecutive Gold Gloves.
In 1963 the Twins again won 91 games but finished a distant third in the AL. With 767 runs scored and only 602 allowed, the Twins' 91-70 record was well below what it might have been. For Kaat, 1963 was also a tough year. He started 31 games in 1963, managing only 178⅓ innings, a 10-10 record, and a 4.19 ERA, worst among Twins starters. The next season, 1964, was a season of underachievement for the Twins, who finished 79-83. For Kaat, however, it was a return to form as he went 17-11 with a solid 3.22 ERA in 243 innings. 
Heading into 1965, New York had won five consecutive American League pennants and 15 of 18 flags since 1947. But with the Yankees aging, a changing of the guard was inevitable. The Orioles, White Sox, Tigers, and Twins all had reason to believe they might overcome the Yankees. In their difficult 1964 campaign, the Twins had led the American League in runs scored but struggled on the mound and on defense. However, with the bats of Harmon Killebrew, Tony Oliva, and Bob Allison and the arms of Camilo Pascual, Jim "Mudcat" Grant, and Jim Kaat, there was a solid foundation set for a return to contention.
By 1965 Kaat had emerged as one of the faces of the Minnesota franchise. His teammates described him in glowing terms. They heralded him as smart, outgoing, a "wonderful guy," and a natural leader who "could do anything."11 He and his teammates had rather quickly transformed a hapless franchise into one of the best teams in the league after the move from Washington. 
The fall of the Yankees was much more dramatic than imagined. In 1965 New York went 77-85 and finished sixth. The Twins battled the White Sox, Indians, and Orioles through the first half. By the end of July their lead was six games. Leading by 4½ games on September 6, they won seven in a row and never looked back. Kaat won two of those seven, including the second of a two-game sweep at Chicago. After pitching near .500 through mid-August, he won six of his last seven decisions to finish 18-11 (third in the AL in wins) with a 2.83 ERA and 154 strikeouts in 264⅓ innings.
The Twins faced the Los Angeles Dodgers in the World Series. Minnesota was led by powerful Harmon Killebrew, All-Star right fielder Tony Oliva, center fielder Jimmie Hall, and AL MVP shortstop Zoilo Versalles. On the mound, Kaat joined 21-game-winner Mudcat Grant and Jim Perry at the top of the rotation while aging relievers Al Worthington and Johnny Klippstein both logged sub-2.25 ERAs. Los Angeles had a no-name offense led by Jim Gilliam and Ron Fairly but had one of the game's most feared rotations anchored by three-time Cy Young Award winner Sandy Koufax and fireballer Don Drysdale.
The Twins opened the Series in spectacular fashion. Grant pitched a complete game in the Twins' 8-2 win in Game One at Metropolitan Stadium. Kaat started Game Two, battling Koufax through five scoreless innings. The Twins took a 2-0 lead in the sixth, chasing Koufax. Kaat surrendered a run in the seventh but his offense added three runs for a 5-1 win and a 2-0 Series lead. In his first postseason game, Kaat had notched a complete-game victory over Koufax, the best pitcher in the game.
In Los Angeles, the Dodgers were a different team, winning Games Three and Four in convincing fashion and setting up a rematch of lefties Koufax and Kaat in Game Five. This time Koufax was at his best. Kaat struggled from the outset, allowing two runs in the first with one coming in on an error by second baseman Frank Quilici. Trailing 2-0 in the third, he surrendered three more hits and two more runs and was relieved by Dave Boswell, trailing 4-0. With Koufax on his game, the rest of the game was academic as the Dodgers won 7-0 and took a 3-2 Series lead.
The Series returned to Minnesota for its conclusion. Grant bested Claude Osteen, 5-1, in Game Six, setting up a deciding seventh game. Kaat and Koufax battled for a third time, each on just two days of rest. For three innings, both Kaat and Koufax held the opponent scoreless, each allowing three baserunners. In the fourth inning left fielder Lou Johnson homered to give the Dodgers a 1-0 lead. A double by Fairly and a single by Wes Parker made it 2-0 and Kaat was relieved by Worthington. Four Twins pitchers held the Dodgers the rest of the way but Koufax was brilliant, allowing just three hits and three walks while striking out 10. Koufax's masterpiece propelled the Dodgers to their second title in three years. The Twins' first World Series appearance was spoiled by an all-time pitching performance but Kaat remained part of a core that believed it would be back.
The 1966 Twins came out of the gate slowly and never contended with the powerful Orioles. The Twins fell as low as seventh place and as many as 19 games back but finished strongly enough to take second place to the Orioles with a record of 89-73. While the team struggled, Kaat had an exceptional season, finishing 25-13 with a 2.75 ERA and 205 strikeouts. With five more wins than any other AL hurler, league bests in innings pitched, complete games, and walks per nine innings, and a second-place finish in strikeouts, Kaat was clearly the best pitcher in the AL. However, in 1966 there was just one Cy Young given for the major leagues and Sandy Koufax won the award unanimously.
During 1966, manager Mele became embroiled in tensions with outspoken pitching coach Johnny Sain that led to Sain's firing. During the management struggle, Kaat sided publicly with Sain, the former major-league pitcher, against Mele, the former outfielder. After Sain was fired, Kaat penned a letter in support of him to the Minneapolis Star. His letter did not sit well with Mele or coach Billy Martin.12
Kaat's Twins were involved in one of the most storied pennant races ever in 1967. Assumed by many to be the favorite for a second pennant in three seasons, the Twins stumbled out to a 25-25 start that led to Mele's firing. A 12-3 run into the All-Star break vaulted the Twins into a four-team race that remained unsettled until the season's final day. As fate would have it, the Twins faced the Red Sox at Fenway Park in the final two games of the season with Minnesota leading by one game. Even a split would net the Twins the pennant. 
Kaat started the first game. After an awful 1-7 start, he had won seven straight games, stood 16-13, and was the Twins' best pitcher as the season wound down. Leading 1-0 in the third inning, Kaat felt "something pop" in his left arm.13 He was pulled from the game and later diagnosed with a torn muscle. Twins relievers allowed six runs, four of which were driven in by Carl Yastrzemski, resulting in a Boston win and a final-day showdown in which Yastrzemski drove in two more and scored another run as Boston's "Impossible Dream" spoiled the Twins' hopes of returning to the World Series.
In 1968 the Twins fall hard, finishing seventh with a 79-83 mark. Pitching for a team that was out of contention by early June, Kaat posted a respectable 14-12 record, with a 2.94 ERA, and won his seventh consecutive Gold Glove.
In addition to his abilities as a fielder, Kaat was considered one of the best hitting pitchers of his generation. Over the course of his 25 seasons, Kaat recorded a .185 batting average, a .227 on-base percentage, and a .267 slugging percentage as a left-handed hitter, recording 65 extra-base hits, including 16 home runs. In 1972, his best season at the plate, Kaat batted .289/.304/.489 with five extra-base hits, including two home runs, in 47 plate appearances. Over his career, he scored 117 runs and drove in 106. Few pitchers have done as much in the field and at the plate to advance their chances of winning ballgames.
Twins ownership attempted to inject some fire into the talented team in 1969 by promoting Billy Martin to manager. Martin, Minnesota's third-base coach from 1965 to 1968, had most notably been a member of the 1950s Yankee dynasty and was well known as someone who liked to have fun off the field and who had a temper. Martin was known to be fiercely loyal to "his guys" and to hold grudges against anyone who he perceived had slighted him. Although Kaat was an established clubhouse leader for the Twins, Martin kept the lefty at arm's length as Kaat had sided with Johnny Sain in his feud with Mele. Martin, who had been loyal to Mele, felt Kaat was partly to blame for Mele's firing in 1968.14
The 1969 Twins were an offensive powerhouse, leading the league in runs scored. Killebrew was named the AL's Most Valuable Player as he enjoyed the finest season of his Hall of Fame career. Oliva, first baseman Rich Reese, and second baseman Rod Carew all had outstanding seasons and hit over .300. Jim Perry and Dave Boswell each won 20 games and bullpen ace Ron Perranoski was outstanding. For his part, Kaat was solid, finishing 14-13/3.49 in 242 innings. He completed 10 games and was clearly the team's third best starter.
The Twins took possession of first place after 11 games and battled the young Oakland Athletics through early June. A sweep of the A's at Metropolitan Stadium in July gave them a lead that they would not relinquish. After a series win at Oakland in early September expanded their lead to 8½ games, they cruised to a nine-game divisional win. The 97-65 Twins met the powerful Baltimore Orioles (109-53) in the first American League Championship series.
The first two games were tightly contested, but the Orioles won both of their home games in extra innings. Heading into Game Three, Twins owner Calvin Griffith directed Martin to start Kaat at home. Based on his mistrust of Kaat, Martin started swingman Bob Miller instead. Miller lasted only 1⅔ innings. Martin used six relievers, including starters Dean Chance and Tom Hall, but did not use Kaat, his best remaining arm. The Orioles battered the Twins' bullpen and clinched the AL pennant with an 11-2 win. Martin was fired after one season. Despite his off-field issues, including a fistfight with pitcher Dave Boswell, Twins owner Calvin Griffith said that Martin's dismissal was a result of his unwillingness to follow instructions from above.15  
After the 1969 playoff disaster, the Twins made a number of changes heading into 1970. The two most significant moves were an overhaul to the on-field management and a major trade aimed at improving the starting pitching. Martin was replaced with the calmer Bill Rigney, who had managed the Angels throughout the 1960s. In addition, the Twins dealt Chance, Miller, center fielder Ted Uhlaender, and utilityman Graig Nettles to Cleveland for 20-game-winner Luis Tiant and reliever Stan Williams.
The 1970 Twins rotation looked formidable heading into the season, but did not perform close to expectations. While Jim Perry won 24 games and the AL Cy Young Award, Tiant and Boswell were beset with injuries. For his part, Kaat was inconsistent, starting 34 times, going 14-10 with a mediocre 3.56 ERA. Offensively, the 1970 Twins also faced challenges, most notably a season-ending injury to defending batting champion Rod Carew in June. Despite the struggles of some key players, the 1970 Twins won the American League West by nine games over Oakland. After several rough patches, a 21-10 September locked up a second AL West title and the desired rematch with Baltimore. 
Kaat's 1970 performance was streaky, but saw him peak as the season wound down. Through May Kaat was 5-1, but he went just 5-9 from June 4 through August 28. However, his 4-0 record in September saw him rounding into form as the playoffs loomed. Pitching both as a starter and reliever, Kaat saw his ERA creep to 4.01 on July 5, but he pitched well enough to bring it to 3.56 by season's end.
For the Twins, the 1970 ALCS was even worse than the 1969 sweep. Baltimore's Game Three blowout in 1969 came only after two one-run victories. In 1970 the three Orioles wins lacked any drama or real hope for the West Division Champs.  In the first two games at Met Stadium, visiting Baltimore took early leads and coasted to 10-6 and 11-3 wins.
Unlike 1969, Kaat was called upon to start Game Three in 1970. Facing Jim Palmer, he would need to be strong to get the Twins back into the series. Palmer was brilliant in Game Three, scattering seven hits over nine innings, striking out 12, and surrendering just one run. Kaat was no match for Palmer, giving up a scratch run in the first, an unearned run in the second, and two hits to open the third inning. Bert Blyleven entered the game in relief and allowed both runners to score before giving up a run of his own. The Orioles led 5-0 after three innings and completed their second consecutive ALCS sweep over Minnesota with a 6-1 win. They went on to win the 1970 World Series in five games over Cincinnati.
After several years in the upper echelon of the American League, the 1971 Twins began the club's decline into more than a decade of mediocrity. Kaat's 1971 season was statistically similar to his 1970 campaign. He finished with a 13-14 record and a respectable 3.32 ERA. Unlike 1970, the 1971 Twins finished 74-86, dropping to fifth place in the AL West.
In 1972 Kaat had a fantastic half-season but had his outstanding campaign cut short by injury. Through July 2 he started 15 games, compiling a 10-2 record with a 2.06 ERA and surrendering two or fewer runs in each of his first seven outings.  In the midst of perhaps his finest season, the 33-year-old lefty broke a bone in his pitching hand while sliding at Comiskey Park and was done for the season.16 Just days after Kaat's injury, Rigney was fired and replaced with former utility infielder Frank Quilici in an attempt to breathe fire into the team, but the Twins played nearly .500 baseball under each. Perhaps robbed of a chance for a Cy Young Award, Kaat settled for his 11th straight Gold Glove.
As in 1972, the 1973 Twins were a .500 team, finishing 81-81. After his outstanding season in 1972, Kaat had used his leverage to push penny-pinching owner Calvin Griffith to raise his salary back to its previous high of $60,000. The negotiations were drawn out and acrimonious but eventually the pitcher prevailed.17 In early August the Twins lost seven straight games and fell to 10 games behind the AL West-leading Royals. Griffith took the opportunity to get the last word and placed Kaat on waivers. Claimed by the White Sox, Kaat went 4-1 for Chicago to finish 15-13 and avoid his second losing season since 1961.
Kaat's two seasons in Chicago saw him return to the upper echelon of American League pitchers. As a 35-year-old in 1974, he logged 277⅓ innings, going 21-13 with a 2.92 ERA and 15 complete games. With only six starters getting Cy Young votes, Kaat was one of three 20-game winners left off all ballots. In 1975 Kaat went 20-14 with a 3.11 ERA in 303⅔ innings and finished fourth in the Cy Young voting. He was selected for the 1975 All-Star Game and added two more Gold Gloves while in Chicago. While the White Sox were never contenders while Kaat was with them, his performance was a bright spot for otherwise forgettable teams.
In December of 1975 the White Sox dealt Kaat to Philadelphia. Kaat spent three seasons with the Phillies, which may have felt like the same story repeating itself. The Phillies won three straight NL East titles from 1976-1978. The core of those teams included Hall of Famers Mike Schmidt and Steve Carlton, Gold Glove center fielder Garry Maddox, and All-Stars Bob Boone, Larry Bowa, and Tug McGraw. However, Philadelphia's postseason results were little better than the two ALCS defeats Kaat endured in Minnesota. The Phillies were swept 3-0 by the Reds in 1976 and lost back-to-back series to the Dodgers in the 1977 and '78 NLCS, both ending three games to one.
Kaat's role declined over his three seasons in Philadelphia. In 1976 he started 35 games, going 12-14 with a 3.48 ERA.  As in 1970, he started Game Three of the League Championship Series for a team that had lost the first two games at home. After six scoreless innings, he allowed the first two men in the seventh to reach safely. He left with the lead, but the Phillies bullpen collapsed in a 7-6 walk-off defeat. Kaat started 27 games in 1977 but performed well below expectations. He rebounded in 1978, going 8-5, 4.10 in 24 starts, but was not used in either the 1977 or 1978 NLCS.
Kaat was sold to the Yankees early in 1979 and proved to be a solid left-handed bullpen arm. He was granted free agency after 1979 but re-signed with the Yankees for $150,000, a healthy contract for a 40-year-old at the time. Less than a month into the 1980 season the Yankees sold him to St. Louis.
The 1980 season was the last in which Kaat started more than two games. He was 41. As a swingman he started 14 times and made 49 total appearances. In strike-shortened 1981 he threw 53 innings in 41 games, starting just once. 
After second-place finishes in both halves of 1981, St. Louis rose to the top in 1982. The Cardinals were managed by Whitey Herzog and led offensively by first baseman Keith Hernandez, speedy outfielder Lonnie Smith, catcher Darrell Porter, and Hall of Fame shortstop Ozzie Smith. The pitching staff, though lacking star power, used spacious Busch Stadium to allow the fewest runs per game in the National League. Kaat was used as a left-handed bullpen arm and appeared in 62 games at the age of 43.
The 1982 NL East was a tight, if not overly dramatic race. The Cardinals took over first place on April 15 and remained there through early July. They fell behind the Phillies several times but took over the division lead for good in early September, ultimately winning the division by three games.
St. Louis swept the NL West champion Atlanta Braves 3-0 in the NLCS. Kaat did not pitch in an NLCS in which the Cardinals needed only one relief inning by a pitcher other than closer Bruce Sutter. 
The 1982 World Series pitted the Cardinals against the Milwaukee Brewers, who were led by future Hall of Famers Robin Yount, Paul Molitor, and closer Rollie Fingers. The Brewers were known as Harvey's Wallbangers in honor of manager Harvey Kuenn and a lineup loaded with productive bats. The Brewers boasted the American League's most potent offense, scoring nearly 5½ runs per game.
Unlike in the NLCS, Kaat was used regularly in the World Series. In Game One, he pitched 1⅓ scoreless innings in a 10-0 Brewer blowout. In Game Two Herzog brought him on to relieve starter John Stuper, who left in the fifth inning trailing 3-2. Kaat surrendered an RBI single to Cecil Cooper that increased the Brewers' lead to 4-2 but retired the next two hitters before exiting. The Cardinals battled back for a 5-4 win to tie the Series. In Game Three Kaat entered with a 5-0 lead and retired one of two batters, as St. Louis took the Series lead with a 6-2 victory. He appeared in a fourth straight World Series game in Game Four but gave up an RBI single to Cooper and delivered a wild pitch before exiting. In four appearances, he allowed four hits and one earned run in 2⅓ innings, for an ERA of 3.86.
The Brewers and Cardinals traded victories in Games Five and Six before St. Louis won the deciding game, 6-3, behind Joaquín Andújar and Bruce Sutter. Although the results over his four appearances were mixed, the 43-year-old Kaat called the Series win the greatest moment of his career.
In 1983 Kaat made 24 appearances out of the bullpen with a 3.89 ERA for the fourth-place Cardinals. He was released by the Cardinals on July 6. Kaat felt that an adversary in the Cardinals' front office had been behind the decision but was hurt that he received no personal communication from Herzog.18 After speaking to a few clubs that fall and going to spring training with the Pirates in 1984, Kaat found himself without a pitching job for the first time in a quarter-century. In August 1984 Kaat joined the Cincinnati Reds as their pitching coach. The Reds were then managed by Pete Rose, a teammate of Kaat's in Philadelphia. During his one full season as a pitching coach, the Reds staff improved its ERA from 4.16 to 3.71 but Kaat chose not to return to coaching in 1986.
After his brief coaching tenure, Kaat turned to broadcasting and became one of the most respected analysts in the game. His move into the booth was no surprise as he had held various broadcasting positions dating back to his playing days in Minnesota. His most notable broadcasting job was as a television announcer for the Yankees. In between two stints as a Yankees broadcaster (1986 and 1995-2006), Kaat was a member of the Minnesota Twins broadcast team from 1988 to 1993.
Kaat was considered a knowledgeable and candid baseball analyst and was highly sought after for baseball assignments beyond his team duties. In addition to his years with the Yankees' and Twins' broadcast teams, he provided play-by-play, analysis, and on-field reporting for virtually every television baseball outlet. Between 1986 and 2009, Kaat worked baseball broadcasts for CBS, NBC, ESPN, ABC, the MLB Network, and TBS. In addition to regular major-league telecasts, he worked the American League Championship Series, the World Series, the College World Series, the 1988 Summer Olympics, and the 2009 World Baseball Classic. He provided baseball analysis for ABC's Good Morning America for two seasons. He won seven Emmy Awards for sports broadcasting from 1996 through 2005 for baseball commentary, announcing, and feature presentations. 
Kaat's candor was an enduring element of his analysis. His willingness to assess baseball strategy and player abilities ran afoul of several high-profile players, including Wade Boggs and Rickey Henderson. However, he was always willing to face players and explain his comments and clear the air. His preference for objectivity contributed to his not taking an announcing job with the Chicago Cubs after his first stint in New York. When the Cubs asked him if he could root for the team during broadcasts, Kaat told them that he could not.19
In 2012 Kaat received coverage for an open letter he wrote to pitching phenom Stephen Strasburg. In the letter Kaat noted that his greatest moments had been his appearances in the World Series and urged the young pitcher to take an active role in deciding whether he agreed with the Nationals' decision to "shut down" his arm during the final weeks of the season. A known fitness buff, Kaat decried the notion that it was more important to rest than play for a chance at ultimate victory.20 This position seemed to sum up a career that spanned a quarter-century and saw his teams come close many times before he earned a World Series ring.
In his 70s Kaat remained active in baseball and in life. Married four times, he had two children with his first wife (Jim, Jr. and Jill) and six grandchildren. His daughter, Jill, died of cancer in March 2021. He maintained low handicaps as both a right-handed and left-handed golfer. In 2013 Golf Digest noted that he had played full rounds in fewer strokes than his age as both a righty and as a lefty, perhaps the first player to have done so.21 He also maintained an active blog at mlb.com entitled Kaat's Korner.22
Kaat received 87 votes (19 percent) for the Hall of Fame in his first year on the writers' ballot, 1989.23 He was among the top 10 candidates in nearly all of his years on the BBWAA ballot, peaking at 29 percent in 1993. His candidacy moved to the Veterans Committee and then the Golden Era Committee, for which voting is conducted by current Hall of Famers. In 2012 Kaat was the second leading vote-getter among Golden Era candidates, falling just two votes shy of election. Former teammate Rod Carew has openly offered to join the committee and is an open supporter of both Kaat and Tony Oliva as worthy additions to the Hall of Fame. 
Last revised: November 8, 2021 (zp)
Notes
1 Bill James, The Politics of Glory.  How Baseball's Hall of Fame Really Works (New York: Macmillan Publishing Company, 1994), 335.
2 Jim Kaat, Still Pitching, Musings From the Mound and the Microphone (Chicago, Triumph Books, 2003), 10-12.
3 Jim Kaat open letter to Stephen Strasburg, 2012.  jimkaat.mlblogs.com/2012/09/08/if-i-could-have-a-conversation-with-stephen-strasburg/.
4 Kaat, 16.
5 Wayne Anderson, Harmon Killebrew, Baseball's Superstar (Salt Lake City: Deseret Book Company, 1971), 315.
6 Kaat, 18-23.
7 Kaat, 30-33.
8 All season statistics from the minor leagues are from BaseballReference.com, baseball.reference.com/minors/.
9 All statistics from individual games are from BaseballReference.com, baseballreference.com.
10 Kaat, 196.
11 Quotes from Johnny Klippstein and Vic Power included in Danny Peary, ed., We Played the Game. Memories of Baseball's Greatest Era (New York: Black Dog and Leventhal, 1994).
12 Kaat, 54-55.
13 The Sporting News Baseball Guide, 1968 (St. Louis: The Sporting News, 1968).
14 Peter Golenbock, Wild, High and Tight: The Life and Death of Billy Martin (New York: St. Martin's Press, 1994), 173.
15 Anderson, 315, 319.
16 The Sporting News Baseball Guide, 1973 (St. Louis: The Sporting News, 1973).
17 Kaat, 98-99.
18 Kaat, 95-96.
19 Kaat, 150-155.
20 Kaat letter to Strasburg.
21 Is Jim Kaat the first golfer to shoot his age as a switch-hitter?, golfdigest.com/blogs/the-loop/2013/12/is-jim-kaat-the-first-golfer-to-shoot-his-age-as-a-switch-hi.html.
23 Hall of Fame vote totals are from Baseball-Reference.com.
Born
November 7, 1938 at Zeeland, MI (USA)
If you can help us improve this player's biography, contact us.
http://sabr.org/sites/default/files/JimKaat.JPG
600
800
admin
/wp-content/uploads/2020/02/sabr_logo.png
admin
2012-01-04 20:44:59
2022-11-07 11:50:50
Jim Kaat