This Week in SABR: July 5, 2019

Welcome to "This Week in SABR!" Click here to view this week's newsletter on the web. Here's what we've been up to as of July 5, 2019:
---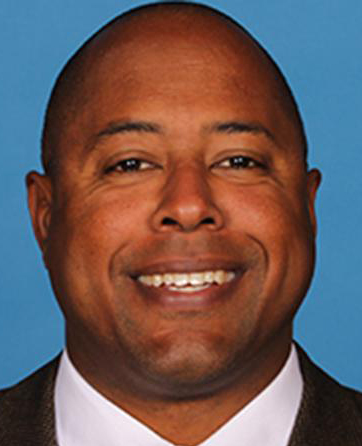 The SABR Board of Directors has appointed Tyrone Brooks to fill the vacant Director's seat following Mark Armour's election as President this spring.
The SABR By-Laws provide that an open Director's seat may be filled by the remaining Board members within 60 days by a 2/3 majority vote (in this case, 5 of 7 votes), or the Board must call a special election. Brooks's term expires at the end of the Annual Business Meeting at the 2021 SABR convention.
Brooks is the Senior Director of MLB's Front Office & Field Staff Diversity Pipeline Program, which was established to identify, develop and grow the pool of qualified minority and female candidates for on-field and baseball operations positions throughout the industry.
Click here to read the full announcement at SABR.org.
---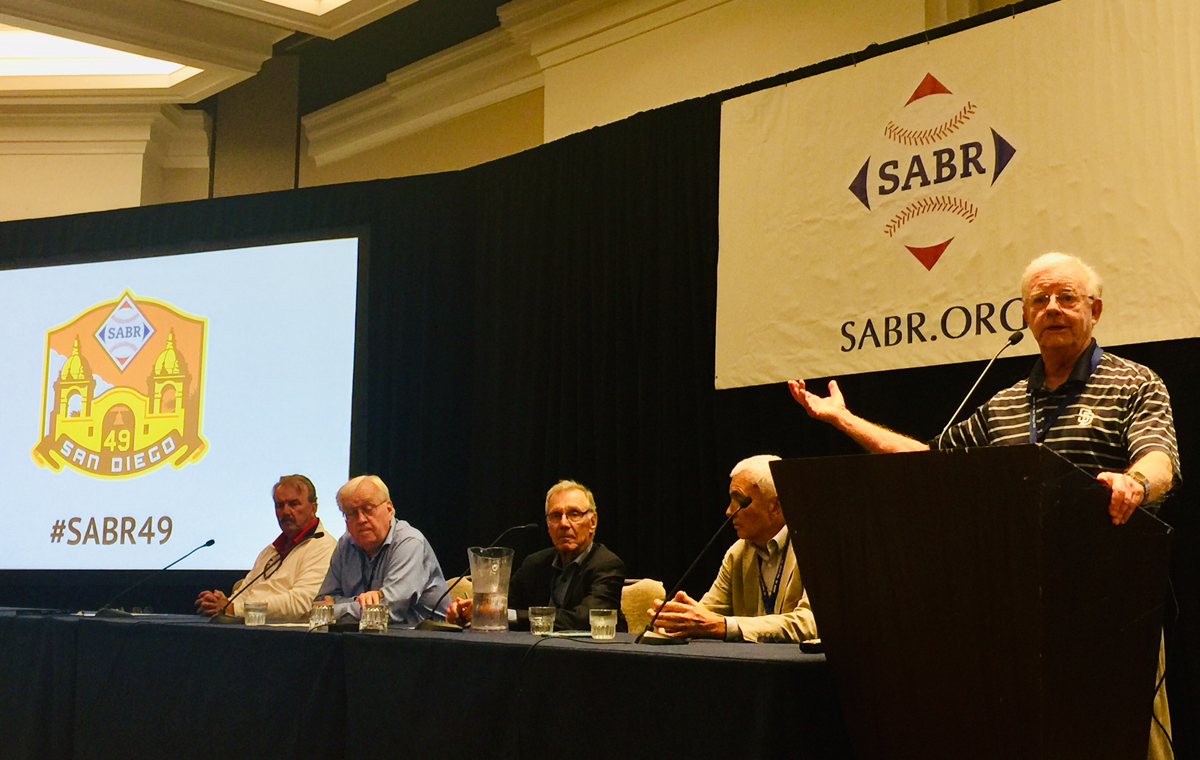 At SABR 49 on Thursday, June 27, our 1984 San Diego Padres Panel discussed San Diego's first National League championship team, the memorable moments from that season, and the World Series against the Detroit Tigers.
The panel included Kurt Bevacqua, San Diego Padres infielder and 1984 World Series hero; Ron Rapoport, sports columnist and author; Ballard Smith, President of the San Diego Padres from 1979 to 1987; Bill Center, San Diego Union-Tribune sports columnist; and moderator Bob Chandler, San Diego Padres broadcaster from 1970-2003.
Click here to listen to highlights from this panel at SABR.org.
---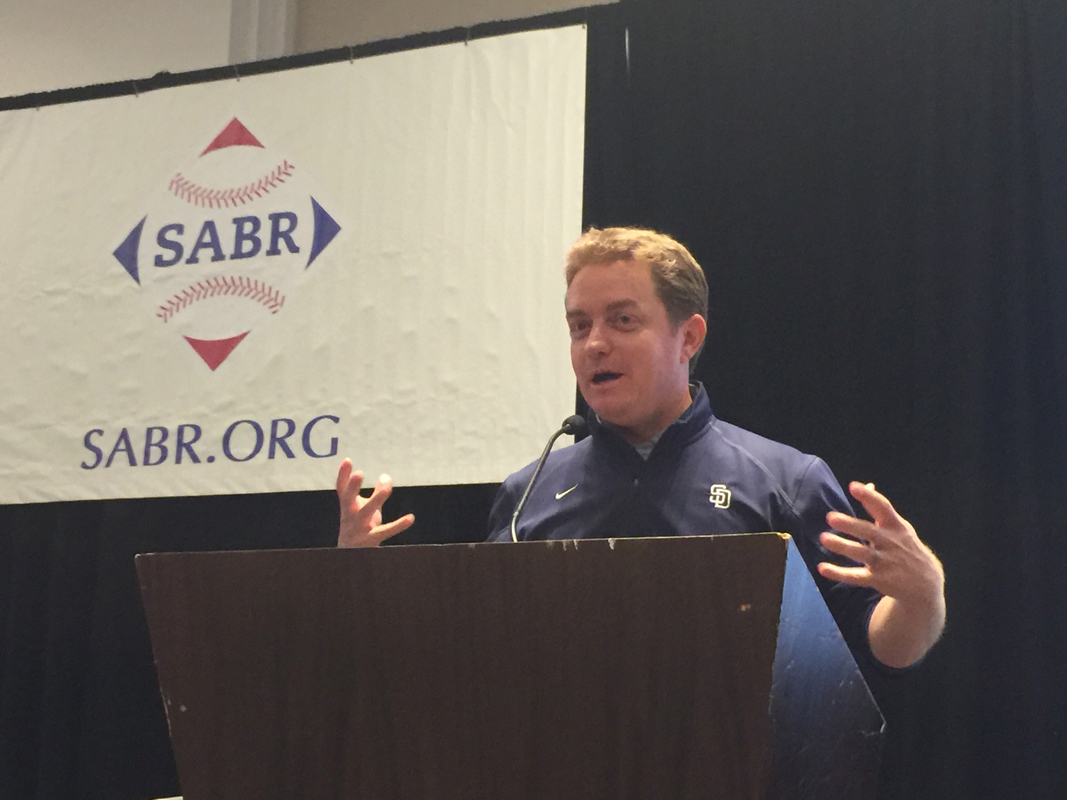 At SABR 49, San Diego Padres Assistant General Manager Josh Stein delivered the welcoming remarks at our 2019 national convention on Thursday, June 27 at the Manchester Grand Hyatt in downtown San Diego.
Stein is in his sixth season as the San Diego Padres' Assistant General Manager, where he assists in all player acquisitions as well as roster, payroll and budget management. He is involved in all contract negotiations, including coordinating the club's salary arbitration efforts, while also managing the Padres' statistical analysis and video scouting systems.
Click here to listen to highlights from this session at SABR.org.
---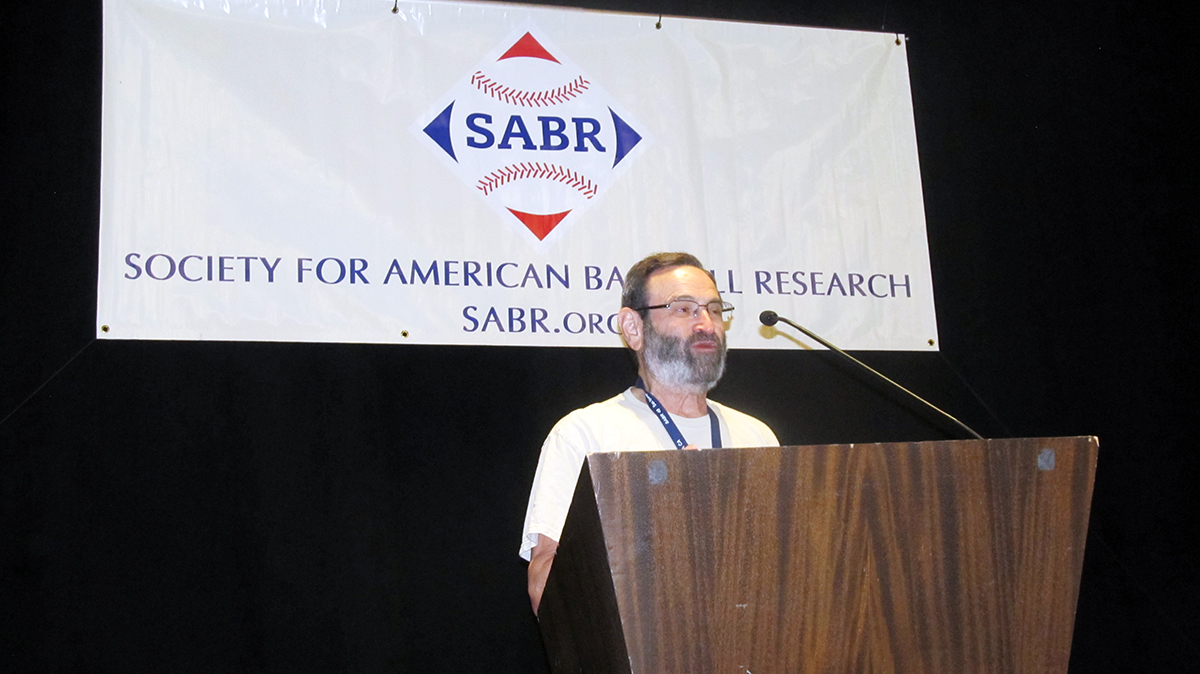 Mark Pankin has won the 2019 Doug Pappas Award for the best oral research presentation and Zachary Rewolinski has won the SABR Convention Poster Presentation Award for the best poster presentation at SABR 49 in San Diego.
Pankin, the Retrosheet.org webmaster and and a retired investment advisor from Alexandria, Virginia, won the Pappas Award for his presentation, "Baseball's Most Confounding Rule," which he delivered Friday, June 28 during SABR 49 at the Manchester Grand Hyatt hotel in San Diego.
Rewolinski, a recent Scripps Ranch High School graduate from San Diego who will be attending Rice University, won the SABR Convention Poster Presentation Award for his poster, "An Analysis of the Relationship Between Pitcher Size and UCL Tears."
An earlier version of Rewolinski's presentation was published in an article at FanGraphs.com earlier this spring.
Click here to read the full announcement at SABR.org.
---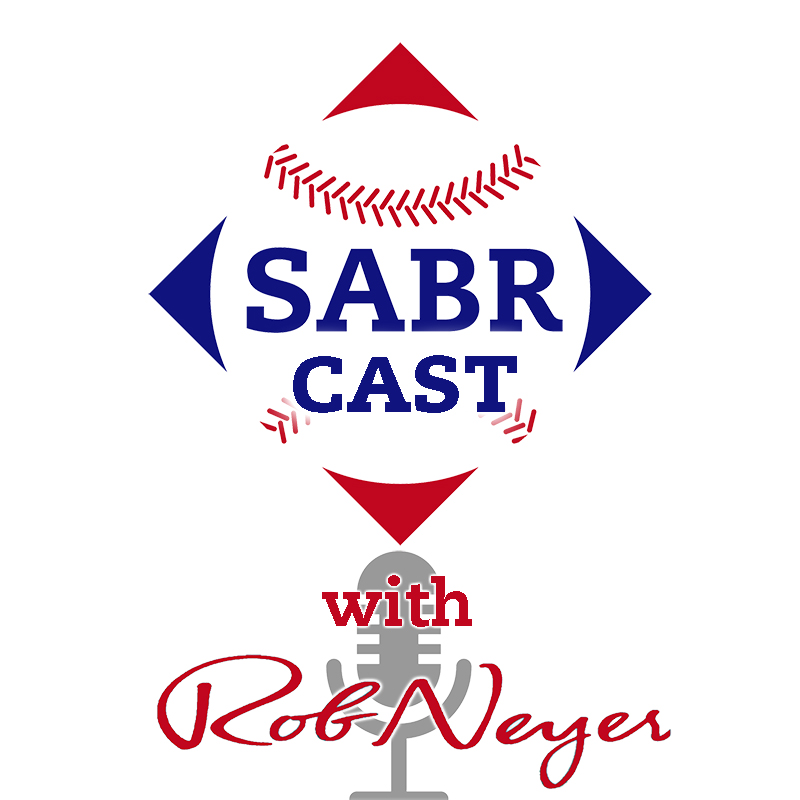 Listen to a new episode of SABRcast with Rob Neyer, a new weekly podcast hosted by award-winning author and longtime SABR member Rob Neyer — which is now available on your favorite podcast streaming services! Subscribe to SABRcast on your favorite podcast networks, including Apple Podcasts, Spotify, Stitcher, or Google Play, and listen to each episode as soon as it's released on Mondays.
Visit SABR.org/sabrcast to listen to Episode #14 — featuring highlights from the Padres Player Panel with Randy Jones and Mark Sweeney at last week's SABR 49 convention in San Diego. Jones is a charter member of the San Diego Padres Hall of Fame, the 1976 National League Cy Young Award winner, and the owner of Randy Jones BBQ at Petco Park. Sweeney played 14 seasons in the major leagues as a outfielder, first baseman, and pinch-hitter extraordinaire from 1995 to 2008; he is now a TV analyst on Fox Sports San Diego. The panel was moderated by Rob Neyer and the original audio recording was mixed by Tracy Greer.
Every week, SABRcast will feature insights and analysis of what's happening in modern baseball on and off the field, plus compelling interviews with figures from around the game — and music from The Baseball Project.
To learn more, visit SABR.org/sabrcast.
---
Trivia giant Bill Carle pulled off the "daily double" to win both the individual and, with Jamie Selko, the team contests at the SABR Trivia Contest on Saturday, June 29 at SABR 49 in San Diego.
Carle, of Lee's Summit, Missouri, became the third SABR trivia champion to win both contests in the same year, joining Mike Caragliano in 2012 (Minneapolis) and Rob Rafal in 2016 (Miami). Carle tied Caragliano for the all-time SABR record with four career wins in the individual trivia contest. He also won his seventh team contest, for 11 overall trivia championships, second only to Mark Kanter in SABR convention history.
Selko, of Eugene, Oregon, won his fifth career team trivia title and second in a row. He and Carle were also part of winning teams in 1985, 1986, and 1993 — the last time the SABR convention was held in San Diego.
Click here to read the full announcement at SABR.org.
---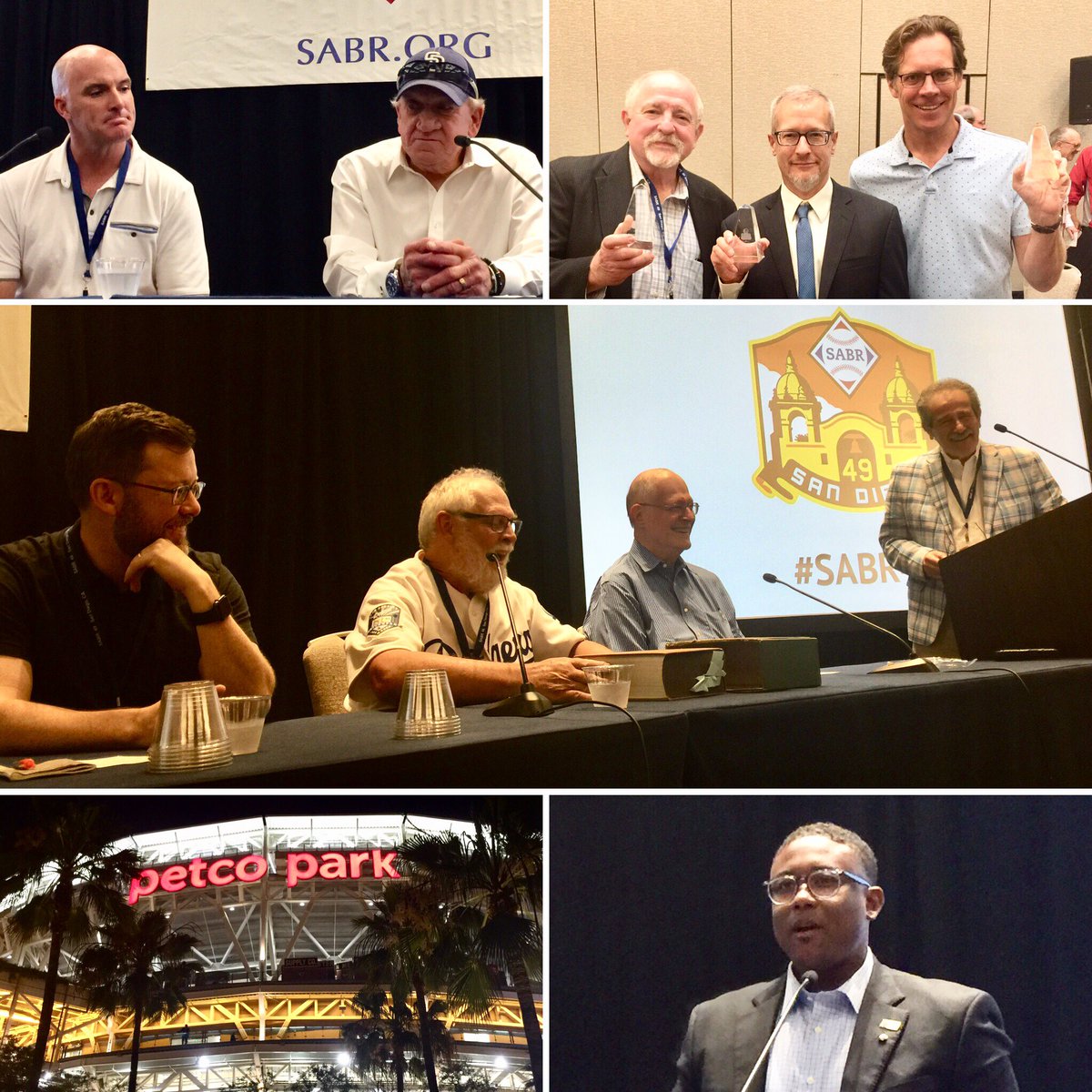 Couldn't make it to San Diego for SABR 49? Check out more coverage of our 2019 national convention from the Manchester Grand Hyatt online:
For more coverage of SABR 49, visit SABR.org/convention.
---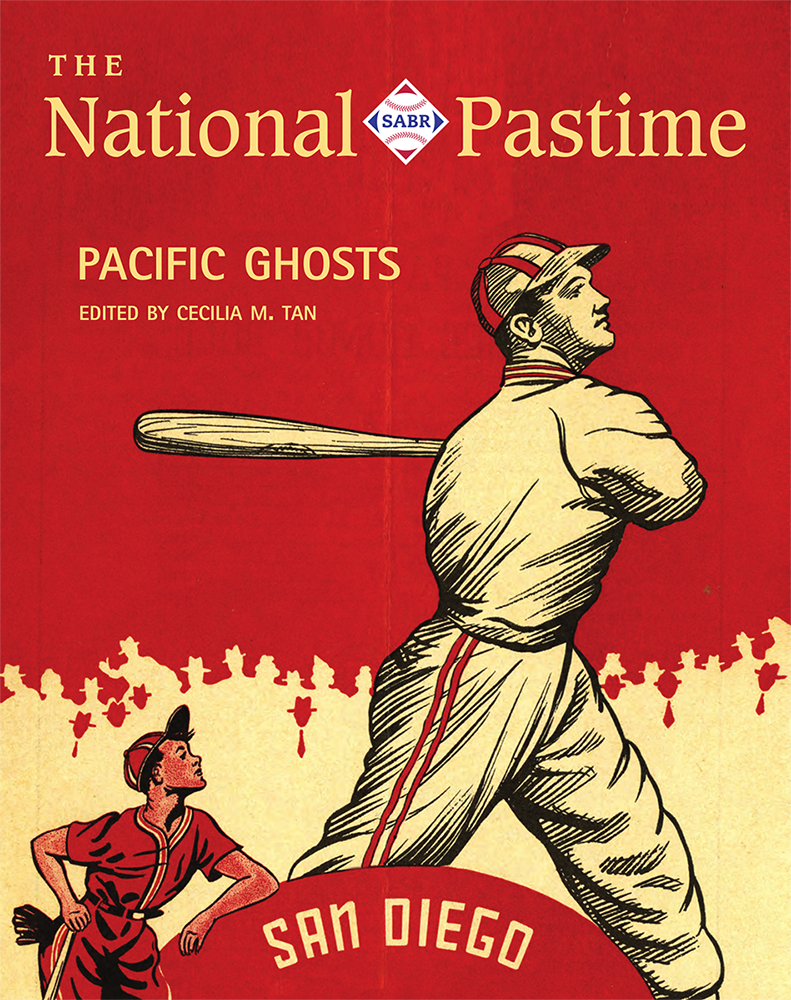 The National Pastime serves as SABR's convention-focused publication. Published annually, this research journal provides in-depth articles focused on the respective geographic region where the national convention is taking place in a given year.
The SABR 49 convention took place last week in San Diego, and we have dedicated the theme of The National Pastime to baseball on the Pacific Coast. All SABR members receive a free e-book copy of The National Pastime as part of their membership benefits, while attendees of the national convention also received a souvenir print edition in their goody bags.
Click a link below to download the e-book edition or purchase a paperback edition of the 2019 convention journal, The National Pastime: Pacific Ghosts.
Please note: All articles from The National Pastime: Pacific Ghosts will be available to read online at SABR.org soon.
---
Save the date! SABR will be returning to Baltimore for our 50th national convention on July 15-19, 2020, at the Hyatt Regency Inner Harbor hotel in downtown Baltimore, Maryland. Registration information and our special hotel room block will be available at SABR.org/convention in early 2020.
The Hyatt Regency hotel sits on the waterfront at the majestic Inner Harbor and is conveniently located within walking distance from Camden Yards, home of the Baltimore Orioles. Our host hotel is also close to many area museums, historic landmarks, and other attractions like the National Aquarium.
For more information on the SABR convention, visit SABR.org/convention.
---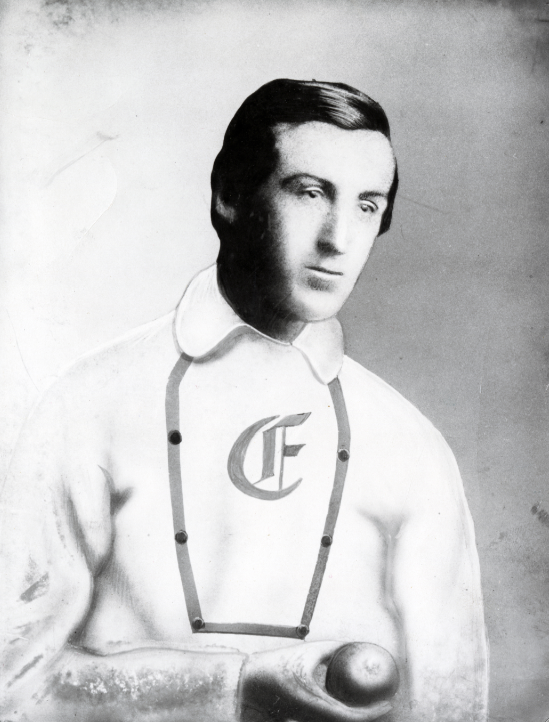 James "Jim" Creighton has been selected as SABR's Overlooked 19th Century Baseball Legend for 2019. The announcement was made on June 29, 2019, at the Nineteenth Century Committee's annual business meeting held at SABR 49 in San Diego.
In May, members of SABR submitted their votes for the 2019 Overlooked 19th Century Base Ball Legend — a 19th-century player, manager, executive or other baseball personality not yet inducted into the National Baseball Hall of Fame in Cooperstown, New York.
Creighton was baseball's first superstar and possibly its first professional. His life came to a tragic end just six months after his 21st birthday, making the young ballplayer a baseball legend and fueling the lore that makes baseball our national pastime.
Click here to read the full announcement at SABR.org.
---
SABR's Board of Directors has approved the formation of a new chapter.
The Central Pennsylvania Chapter serves members in the Harrisburg region; the chapter leader is R.J. Lesch.
SABR's 76 regional chapters cover 38 U.S. states, Puerto Rico, and Washington, D.C.; plus international chapters in Canada (Quebec, Ontario, British Columbia), Japan, South Korea, Taiwan, Australia, Latin America (Venezuela, Dominican Republic), the United Kingdom, Europe (Netherlands), and Italy. For a list of all SABR chapters, visit SABR.org/chapters. A calendar of upcoming SABR meetings can be found at SABR.org/events.
To sign up for chapter email announcements and receive instant notification of upcoming SABR events in your area, click here to select from the list of chapters, then click "Join Group" at the top of the chapter page. All SABR members are eligible to sign up for announcements from any chapter or committee.
---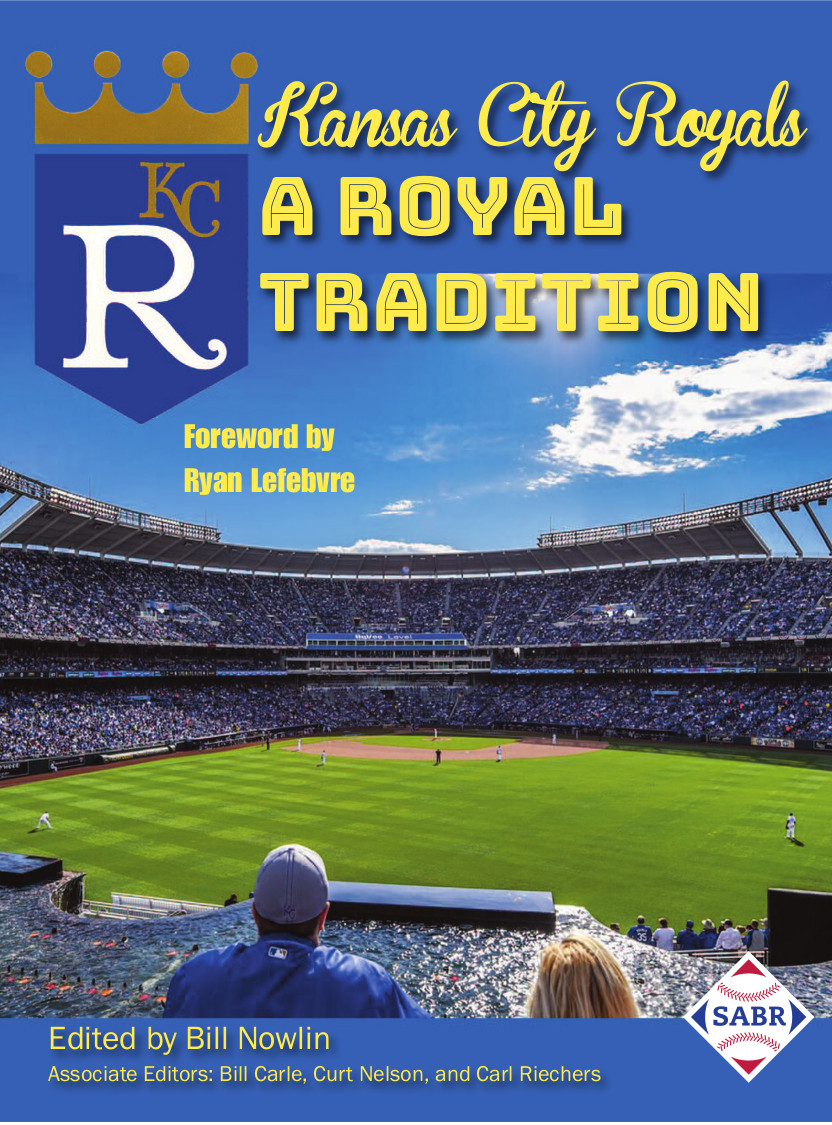 Add a championship crown to your baseball collection with our newest book from the SABR Digital Library:
Kansas City Royals: A Royal Tradition
Edited by Bill Nowlin
Associate Editors: Bill Carle, Len Levin, Curt Nelson, and Carl Riechers
Foreword by Ryan Lefebvre
ISBN (e-book): 978-1-9701-5902-8, $9.99
ISBN (paperback): 978-1-9701-5903-5, $29.99
8.5″ x 11″, 350 pages
Click here to read the full description of this book at SABR.org.
SABR members, get this e-book for FREE!
Having trouble downloading our e-books? To view PDF files on your computer, click here to download the free Adobe Reader software. Having trouble downloading e-books to your Kindle, Nook, Sony Reader or iPad? Click here for additional help.
All SABR members can download our SABR Digital Library e-books for free or get 50% off the paperback editions. To find a full list of titles, visit SABR.org/ebooks.
---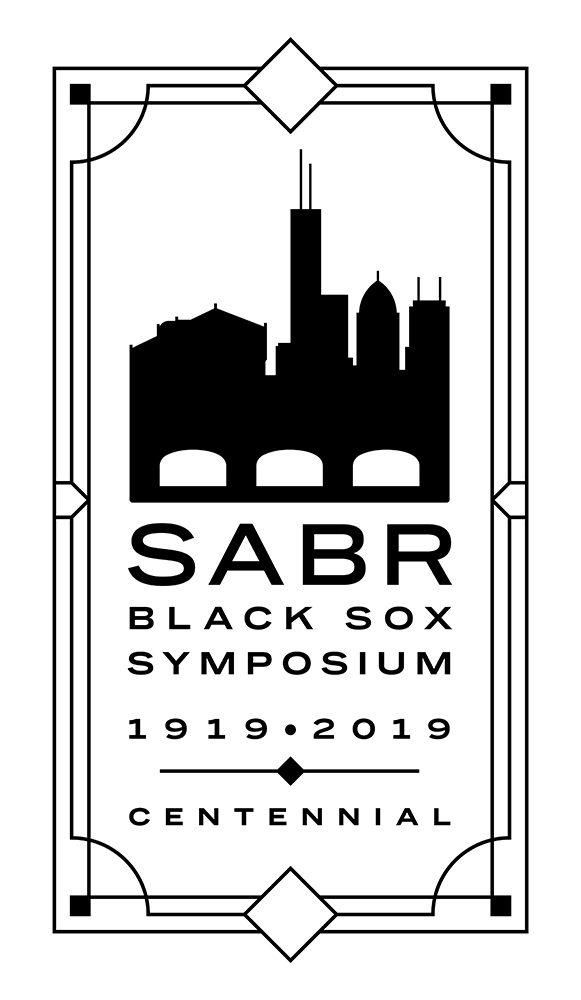 Register now to join us for the SABR Black Sox Scandal Centennial Symposium on September 27-29, 2019, in Chicago. The SABR Black Sox Scandal Research Committee will host this once-in-a-century event to commemorate the 100th anniversary of the 1919 World Series.
The event — which is open to all baseball fans — will be highlighted by a research symposium on Saturday, September 28 at the Chicago History Museum. The museum is home to an extensive collection of Black Sox artifacts and documents, and we'll gather in the beautiful Morse Genius Chicago Room event space to discuss the continued relevance of the 1919 World Series and its aftermath. A book signing with SABR authors, including our own Scandal on the South Side: The 1919 Chicago White Sox, will follow. More details on panels and presentations will be announced soon.
Our special All-Inclusive Package ($45 for SABR members, $60 for non-members) includes admission to the Black Sox Scandal symposium at the Chicago History Museum; a ticket to the Chicago White Sox game on Friday, September 27; and a guided walking tour of downtown Chicago baseball history sites.
Following the symposium, from 8:00-10:00 p.m. on Saturday evening, we will also gather for a reception at the historic Nisei Lounge near Wrigley Field. The reception is included in your symposium registration.
Click here to read the full announcement at SABR.org.
---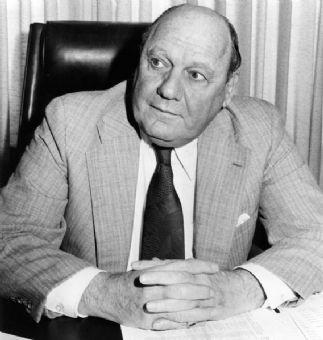 Three new biographies were posted this week as part of the SABR Baseball Biography Project, which brings us to a total of 4,899 published biographies. Here are the new bios published this week:
All new biographies can be found here: SABR.org/bioproj/recent
---
Five new game stories were posted this week as part of the SABR Games Project. Here are the new game stories:
New Games Project stories can be found at SABR.org/gamesproject/recent. Find all published Games Project articles at SABR.org/GamesProject.
---
Behind the Numbers: Baseball SABR Style on SiriusXM, a radio show hosted by SABR President Vince Gennaro, will air this season at a new time. Listen in from 8:00-9:00 p.m. ET on Saturdays on MLB Network Radio.
This week's show is on hiatus due to the All-Star Game festivities, but you can listen to archives of recent episodes on-demand on the SiriusXM Internet Radio App. Click here to learn more.
Behind the Numbers: Baseball SABR Style on SiriusXM focuses on examining and interpreting the statistical analysis that plays a critical role in baseball today. It airs weekly throughout the year on MLB Network Radio, available to subscribers nationwide on XM channel 89, Sirius channel 209, and on the SiriusXM Internet Radio App.
---
Limited tickets remain for Sabermetrics, Scouting, and the Science of Baseball, a weekend seminar for the benefit of the Angioma Alliance. Saberseminar puts you up close with some of baseball's top coaches, statisticians, scouts, doctors, and scientists. The seminar will take place on August 10-11, 2019, in Boston, Massachusetts.
During this event, you will grasp how science is blended with advanced baseball statistics and traditional scouting assessments to produce outstanding results for teams. Don't miss this special opportunity to learn about the deeper game of baseball from insiders and pros, meet people who love the game, and support a wonderful charity: every penny earned during this baseball weekend will go directly to the Angioma Alliance.
Regular admission costs just $185, with special pricing for students at just $85. Both types of ticket are a 100% charitable donation to a 501(c)(3). For more details and to purchase tickets, visit saberseminar.com.
---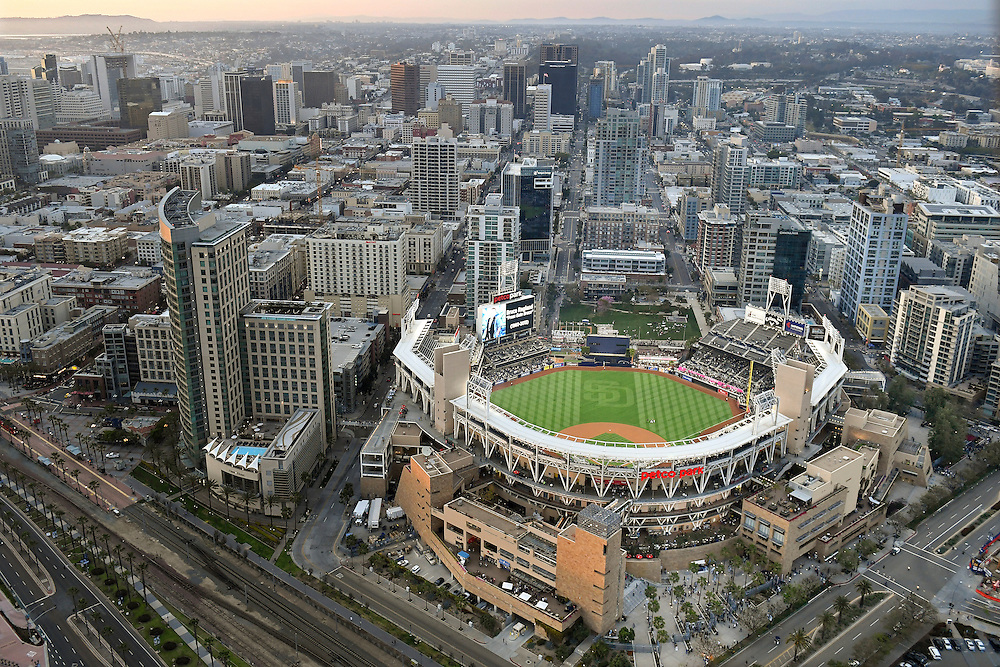 Now that the SABR convention is over, perhaps several more people will be inspired to select a biography to write up for a future SABR book. These projects have very generous deadlines — you have until the end of the year to complete a draft. Here are the assignments currently available:
If you would like to see the full list of players and baseball figures needing bios, please email Bill Nowlin at Bill.Nowlin@rounder.com.
---
Are you a SABR member with book design experience? As our Publications Program grows, so does our need for folks who can handle book layout and ebook creation duties. QuarkXPress or InDesign preferred.
If you'd like more information or to throw your hat into the ring, please email your resume and book design samples to Cecilia Tan at PubDir@sabr.org.
---
We've heard your feedback: Some of you have said you look forward to "This Week in SABR" every Friday, but sometimes there are just too many compelling articles and announcements to read every week. We're not complaining — hey, keep up the great work! — but we know the feeling. So in an effort to make the length of this newsletter more manageable to read, we'll summarize some of the repeating/recurring announcements in a special "In Case You Missed It (ICYMI)" section of "This Week in SABR".
Here are some major headlines from recent weeks that we don't want you to miss:
All previous editions of This Week in SABR can be found here: https://sabr.org/content/this-week-in-sabr-archives.
---
We'd like to welcome all of our new SABR members who have joined this week. You can find all Members-Only resources at members.sabr.org and the Membership Handbook can be downloaded here.
Please give these new members a warm welcome and help them make the most of their membership by giving them the opportunity to get involved in their local chapter or a research committee.
You can find contact information for any SABR member in the online membership directory (SABR.org/directory).
| Name | Hometown | | | Name | Hometown |
| --- | --- | --- | --- | --- | --- |
| Fred Barall | Simpsonville, MD | | | Ron Lehmann | Merrick, NY |
| William Bishop | Clarkston, MI | | | Preston Lockhart | Virginia Beach, VA |
| Jonathan Bohall | Quincy, MA | | | Andrew Logemann | Oakland, CA |
| Stan Britton | Eagan, MN | | | Jim Mercer | Livermore, CA |
| Chris Classie | Austin, TX | | | Ryan Palencer | Clayton, IN |
| Max Corso | Naperville, IL | | | Michael Sarafin | Mokena, IL |
| Roger Drake | Syosset, NY | | | Michael Turner | Leavenworth, KS |
| Jeff Frost | Gilbertville, IA | | | Chris Weikel | Long Beach, CA |
| John Henson | Centennial, CO | | | Terrance Williams | Marysville, CA |
| Lisa Kanta | La Jolla, CA | | | | |
---
There were the new research committee updates this week:
Find all SABR research committee newsletters at SABR.org/research.
---
Here are the new regional chapter updates this week:
Visit SABR.org/chapters for more information on SABR regional chapters.
---
Here is a list of upcoming events on the SABR calendar:
All SABR meetings and events are open to the public. Feel free to bring a baseball-loving friend … and make many new ones! Check out the SABR Events Calendar at SABR.org/events.
---
Here are some recent articles published by and about SABR members:
Read these articles and more at SABR.org/latest.
---
This Week in SABR is compiled by Jacob Pomrenke. If you would like us to include an upcoming event, article or any other information in "This Week in SABR," e-mail jpomrenke@sabr.org.
Have trouble reading this e-mail? Click here to view this week's newsletter on the web.
Are you receiving our e-mails? "This Week in SABR" goes out by e-mail to all members on Friday afternoons. If they're not showing up, try adding "sabr.notes@sabr.org" to your contact list to ensure they show up in your inbox (and not the spam folder.)
---
Originally published: July 5, 2019. Last Updated: April 3, 2020.
https://h2j7w4j4.stackpathcdn.com/wp-content/uploads/2020/03/research-collection4_350x300.jpg
300
350
admin
/wp-content/uploads/2020/02/sabr_logo.png
admin
2019-07-05 15:02:07
2020-04-03 14:38:16
This Week in SABR: July 5, 2019