This Week in SABR: September 7, 2018

Welcome to "This Week in SABR!" Click here to view this week's newsletter on the web. Here's what we've been up to as of September 7, 2018:
---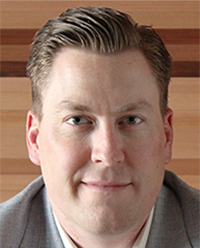 The SABR Board of Directors is pleased to announce the hiring of Scott Bush as the organization's Chief Executive Officer. Bush comes to SABR after serving as the Senior Vice President for Business Development with the Goldklang Group, a premier baseball ownership group that operates both independent clubs and MLB affiliates.
Since graduating from the University of Minnesota, Bush has held positions with increasing responsibilities in both sports and media, including a five-year stint as Assistant General Manager for the St. Paul Saints, where he played a key role in establishing CHS Field in St. Paul, Minnesota. His demonstrated commitment to creativity and his established track record of generating revenue, cultivating new markets, and collaborating with a wide range of stakeholders make Bush an ideal fit for the next stage of SABR's evolution within the baseball ecosystem.
"I'm excited to build on SABR's great foundation, expand its relationships within the baseball industry, and explore new media channels for the great content produced by our devoted group of baseball lovers," Bush said. "I will also look for ways that regional chapters can engage their local communities to help cultivate new baseball fans and, ultimately, new members. Having been fortunate enough to build a career around the game of baseball, I am honored to be responsible for the direction of SABR."
Bush will begin in his role on October 1 and be based at the SABR headquarters in Phoenix, Arizona.
---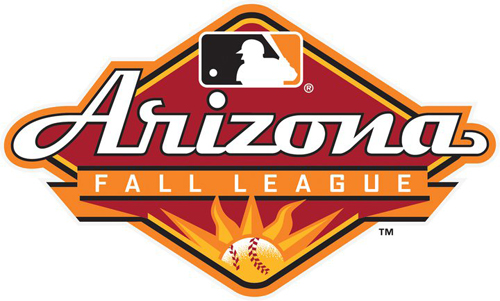 We hope you'll join us for the 10th annual SABR Arizona Fall League Experience, which will be held Thursday, November 1 to Saturday, November 3, 2018.
The event will feature four AFL games showcasing baseball's top prospects. On Friday night, we'll come together for a special poolside taco bar dinner at our host hotel, The Saguaro, just steps away from Scottsdale Stadium and many Old Town Scottsdale attractions. On Saturday morning after our conference breakfast, attendees will join members of SABR's Hemond-Delhi Arizona Chapter for their regional fall meeting with research presentations and guest speakers. We'll conclude the conference with the nationally televised Fall Stars Game on Saturday evening at Surprise Stadium. All of this is included in one low registration price.
Register now by clicking here! Registration is $199 for all SABR members and guests before October 12, 2018; $239 afterward.
Host hotel: SABR's recommended hotel is The Saguaro (4000 North Drinkwater Blvd., Scottsdale, AZ 85251) in Old Town Scottsdale. Click here to book your room online or call the hotel at (480) 470-8247 and mention "SABR" to book your room at our special group rate of $129/night (plus tax).
Schedule: Visit SABR.org/AFL for the detailed schedule
Your registration fee includes four game tickets; an AFL Media Guide; the poolside taco bar dinner on Friday and the conference breakfast on Saturday; and transportation to and from all events.
Note: Local or visiting SABR members can purchase extra or optional tickets to the Friday evening poolside taco bar dinner ($45) at The Saguaro, the Saturday morning breakfast at The Saguaro ($25), or any of the ballgames, including the Fall Stars Game at Surprise Stadium ($7 apiece). Extra AFL Media Guides ($12) are also available for purchase while supplies last. Please contact Deb Jayne at djayne@sabr.org for details.
The 2018 team rosters were released last week and MLB's No. 1 prospect, Vladimir Guerrero Jr. of the Toronto Blue Jays, leads a star-studded cast this season in the AFL.
The annual conference, hosted by SABR's Arizona Hemond-Delhi Chapter, is held in conjunction with the Arizona Fall League (mlbfallball.com), baseball's premier player development league. In the first nine years of the conference, attendees have been treated to sneak peeks at MLB stars like Mike Trout, Bryce Harper, Buster Posey, Stephen Strasburg, Nolan Arenado, Gerrit Cole, Gary Sanchez, and Ronald Acuña Jr. before they hit the big leagues.
All baseball fans are welcome to attend the SABR Arizona Fall League Experience. Visit SABR.org/AFL for photos and highlights from past conferences.
---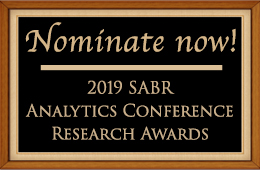 What are the best baseball analytics articles you've read in 2018?
We're now seeking nominations for the 2019 SABR Analytics Conference Research Awards, which recognize baseball researchers who have completed the best work of original analysis or commentary during the preceding calendar year.
Please send all nominations via e-mail to this address: 2019-analytics-awards@sabr.org no later than December 31, 2018. Include author, title, date of publication and a URL link (if applicable).
Voting for the winners will be conducted online in January-February 2019 at SABR.org, BaseballProspectus.com, FanGraphs.com, HardballTimes.com and BeyondtheBoxScore.com, with results weighted equally at 20%.
Results will be announced and presented at the eighth annual SABR Analytics Conference, March 8-10, 2019, at the Hyatt Regency Phoenix in Phoenix, Arizona. Learn more at SABR.org/analytics.
---
All SABR members are invited and encouraged to submit a Research Presentation Proposal Abstract on any topic of 19th-century baseball for the 2019 Frederick Ivor-Campbell 19th Century Base Ball Conference at the Baseball Hall of Fame in Cooperstown, New York. The 11th annual Ivor-Campbell Conference is scheduled for April 26-27, 2019.
The deadline for proposal Abstracts is October 31, 2018. Your abstract must be between 200-400 words for a 20- to 25-minute presentation. Please include name, title, and contact information and send your proposal as a Microsoft Word or PDF attachment to Peter Mancuso at peterplus4@earthlink.net.
Click here for complete details and submission criteria at SABR.org.
To learn more about the Ivor-Campbell Conference, visit SABR.org/ivor-campbell19c.
---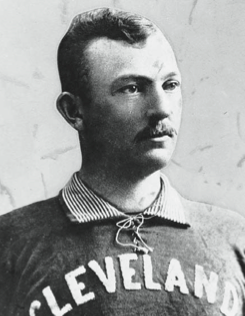 Join us for the SABR Cleveland 19th Century Baseball Interdisciplinary Symposium, which will take place on Saturday, November 10, 2018, from 9:00 a.m.-5:00 p.m. at the majestic Main Branch of the Cleveland Public Library in the heart of downtown Cleveland.
The day-long Saturday symposium will be devoted to 19th-century baseball as it was played and evolved in Cleveland and its greater region of northeastern Ohio. A keynote luncheon address of interdisciplinary history by David Goldberg, Professor of History at Cleveland State University, will provide a look at late 19th-century Cleveland with a particular understanding of one of that city's most important and powerful forces, its transportation system. In addition to the on-site luncheon, there will be both an early morning and mid-afternoon coffee and refreshments service.
Other speakers are expected to include John Thorn, MLB's Official Historian; John Skrtic, Director of Public Services, CPL; Jeremy Feador, Cleveland Indians, Historian & Curator; and four SABR researchers and authors with specific focus on elements of 19th-century Cleveland area baseball: David Fleitz, Joseph Wancho, Ken Krsolovic, and Bryan Fritz. Click here to download a complete schedule (PDF).
We hope to see you there!
---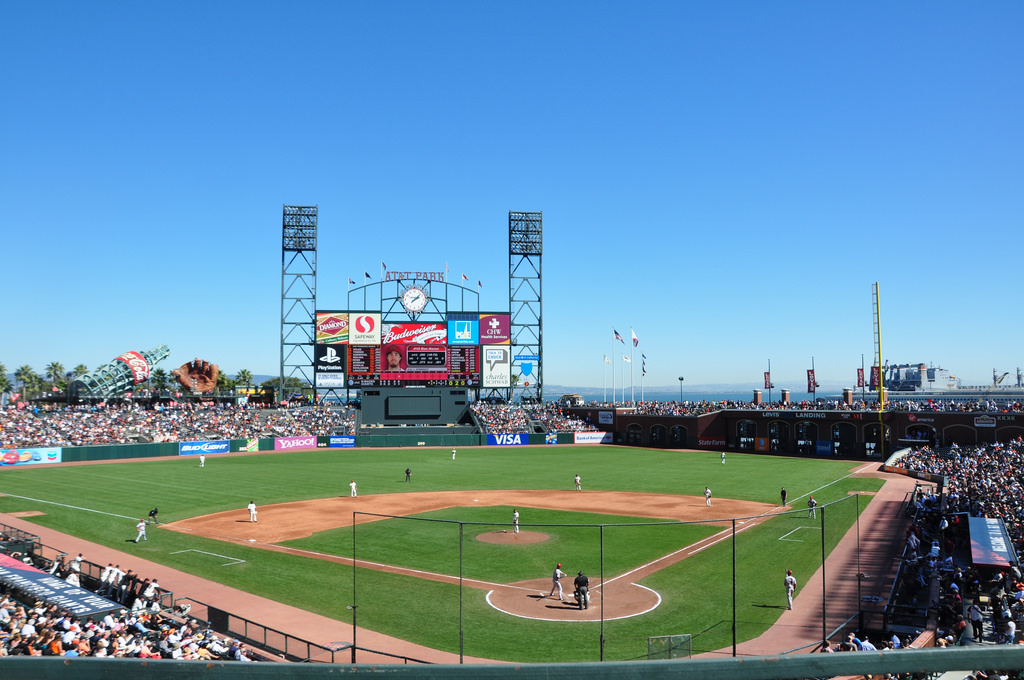 The new SABR Team Ownership Histories Project, which launched last year at SABR.org, is a joint effort of SABR's Business of Baseball Committee and the BioProject. The intention is to provide as much detail as possible about the organization and composition of ownership groups, franchise sales, relocations, stadiums, and other issues that provide the financial context for team success on the field. One new article was published this week:
Click on a link below to read other Team Ownership History articles published recently:
This project is a continuing effort. Some team articles have been assigned, but anyone who wishes to contribute is encouraged to contact Andy McCue at amccue@sabr.org. Thanks to Len Levin for his work in copy editing all of these essays.
To find out which essays still need authors, or to read author guidelines, click here.
---
As everyone gets ready for the start of the new school year, we hope all of our teachers and professors will consider signing up their classes or a group of students for a SABR Student Group Affiliate Membership, which will provide students with access to many of the electronic benefits that SABR members enjoy, including "This Week in SABR," e-book editions of the Baseball Research Journal and The National Pastime, free SABR e-books, and access to the members-only section of SABR.org. This membership will not include any printed publications or voting rights.
In order to make the Student Group Affiliate Membership affordable for groups to join, here are the options we offer:
College/University groups/classes: For an annual fee of $250, a group of up to 25 students can receive a one-year electronic SABR affiliate membership.
High School/Middle School groups/classes: For an annual fee of $100, a group of up to 20 students can receive a one-year electronic SABR affiliate membership.
Any educational class or student group at the middle school, high school or college/university level is eligible for a SABR affiliate membership, as long as a faculty member, teacher, or adviser is an active SABR member (or registers to join.) The teacher/adviser will be listed as the group contact on the SABR website. Click here to learn more at SABR.org.
If you have any questions about how a Student Group Affiliate Membership might work for your group or class, please contact SABR Vice President Dr. Leslie Heaphy at Lheaphy@kent.edu.
---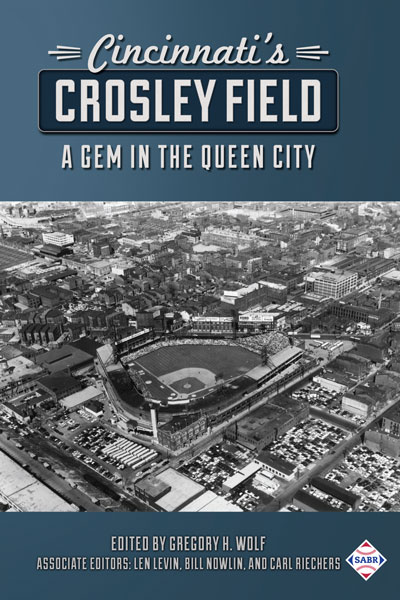 Add this new book from the SABR Digital Library to your collection, on one of baseball's classic crown jewels:
Cincinnati's Crosley Field: A Gem in the Queen City
Edited by Gregory H. Wolf
Associate Editors: Len Levin, Bill Nowlin, and Carl Riechers
ISBN (paperback): 978-1-943816-75-0, $19.95
ISBN (e-book): 978-1-943816-74-3, $9.99
311 pages, 8.5″ x 11″
Click here to read the full description of this book at SABR.org.
SABR members, get this e-book for FREE!
SABR members will get discounted rates for all Digital Library publications, including e-book editions for free. Visit SABR.org/ebooks for a list of all titles.
Having trouble downloading our e-books? To view PDF files on your computer, click here to download the free Adobe Reader software. Having trouble downloading e-books to your Kindle, Nook, Sony Reader or iPad? Click here for additional help.
---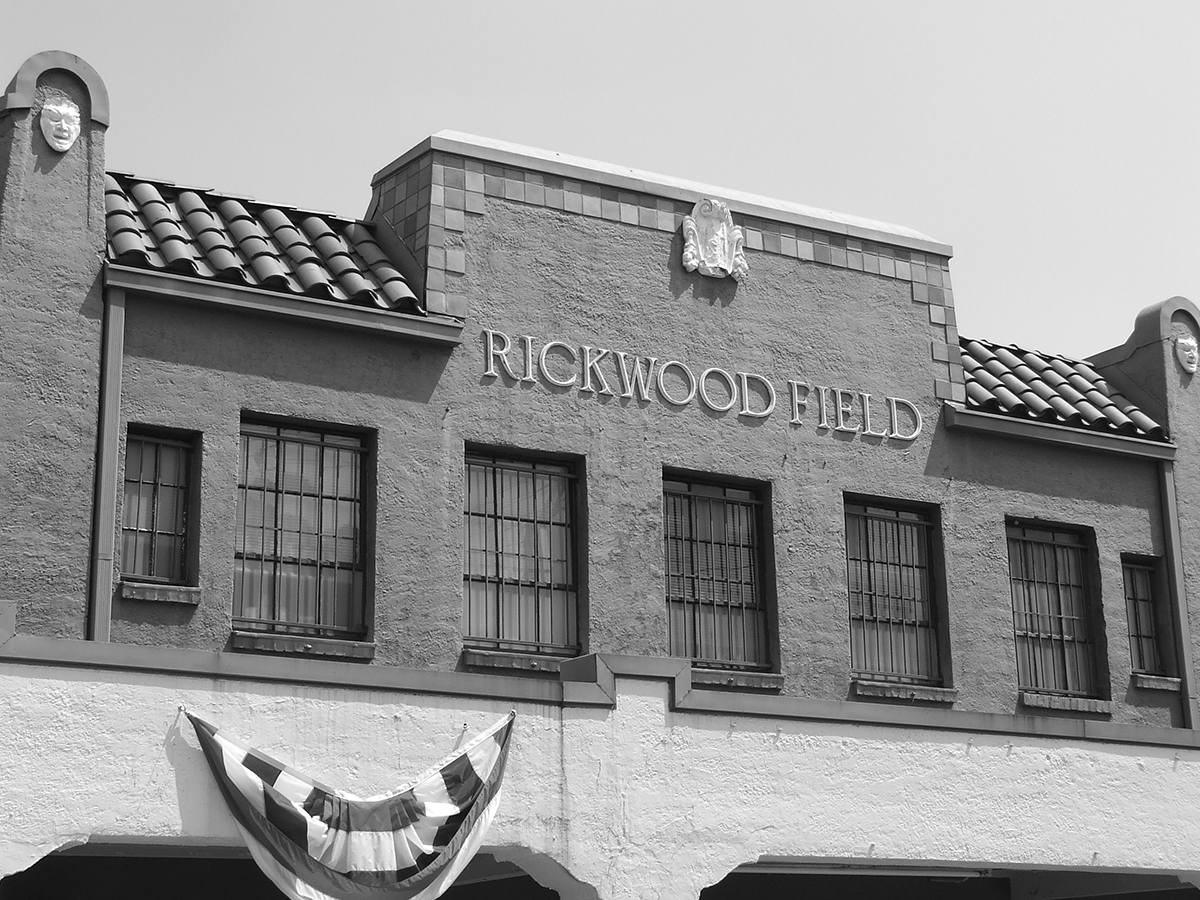 SABR's Rickwood Field Chapter is joining with the Center for Negro Baseball Research, the Southern Negro League Baseball Museum, and Friends of Rickwood to host the inaugural Southern Negro League Baseball Conference on October 4-6, 2018, at Rickwood Field in Birmingham, Alabama.
This conference is dedicated to the preservation of the history of Southern Negro League Baseball, and the history of Negro Leagues players from the South. Download the registration form for full details and schedule.
This year's conference's theme will be the final Negro League World Series in 1948, including a visit with Rev. Bill Greason, who played for the Birmingham Black Barons in that series 70 years ago. Please consider attending and sharing your commitment to keeping alive the rich history of Southern Negro League Baseball.
Click here to read the full announcement at SABR.org.
---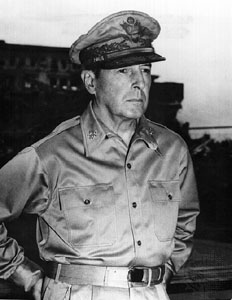 Three new biographies were posted this week as part of the SABR Baseball Biography Project, which brings us to a total of 4,624 published biographies. Here are the new bios published this week:
All new biographies can be found here: SABR.org/bioproj/recent
Search for any SABR biography: You can now visit sabr.org/bioproj_search to search for any player — or manager, executive, scout, spouse, broadcaster, or umpire — who appears in the SABR BioProject. You can also browse all of these BioProject categories and a lot more, including 300-game winners, Hall of Famers, 1960s All-Stars, or Negro Leaguers, at our Browse page: sabr.org/bioproj/browse.
Check out new BioProject page on famous figures outside of baseball: The SABR Baseball Biography Project includes thousands of biographies on major-league players, managers, scouts, and umpires. But we also like to tell stories of people who had a notable impact on the world outside of the game we love, too — including politicians, business owners, lawyers, activists, actors, writers, and star athletes in other sports. Click here to read more bios on these figures at the SABR BioProject.
---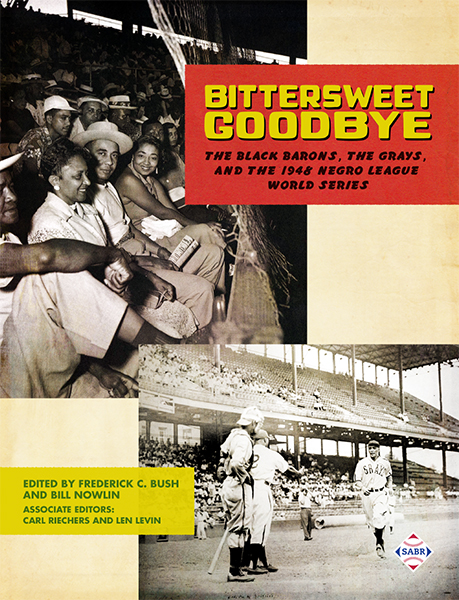 In Bittersweet Goodbye: The Black Barons, the Grays, and the 1948 Negro League World Series (SABR, 2017), edited by Frederick C. "Rick" Bush and Bill Nowlin, we focused on the end of an era in black baseball.
All of the biographies that appeared in Bittersweet Goodbye are now available to read online at the SABR BioProject:
SABR.org/category/completed-book-projects/1948-negro-league-world-series
This book was inspired by the last Negro League World Series ever played and presents biographies of the players on the two contending teams in 1948 — including Piper Davis, Nat Pollard, and Artie Wilson of the Birmingham Black Barons and Buck Leonard, Luke Easter, and Sam Bankhead of the Homestead Grays — as well as the managers, owners (including Tom Hayes of the Black Barons and Hall of Famer Cumberland Posey of the Grays), and articles on the ballparks the teams called home, Rickwood Field and Griffith Stadium.
Also included are articles that recap the season's two East-West All-Star Games, the Negro National League and Negro American League playoff series, and the World Series itself. Additional context is provided in essays about the effects of Organized Baseball's integration on the Negro Leagues, the exodus of Negro League players to Canada, and the signing away of top Negro League players — specifically Willie Mays of the Black Barons.
SABR members, click here to download the e-book edition for free or get a 50% discount off the paperback edition.
---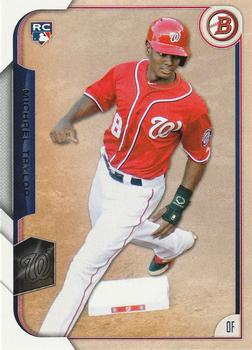 Three new game stories were posted this week as part of the SABR Games Project. Here are the new game stories:
New Games Project stories can be found at SABR.org/gamesproject/recent. Find all published Games Project articles at SABR.org/GamesProject.
If you have any questions about the Games Project, please contact Mike Huber. To request an assignment, please contact Steven C. Weiner. After the article has been completed in accordance with our Authors' Guidelines, please submit it to Len Levin, who will initiate the editing process and get your story started toward publication.
Get involved: Have memories of a game you attended? Or a game you watched that caught your interest? Write about it! Writing for the Games Project is an easy way to get involved as a SABR member. Find out how by reading the Games Project FAQs section or checking out the Authors' Guidelines. We have editors and fact checkers who are willing to help you write your first article.
---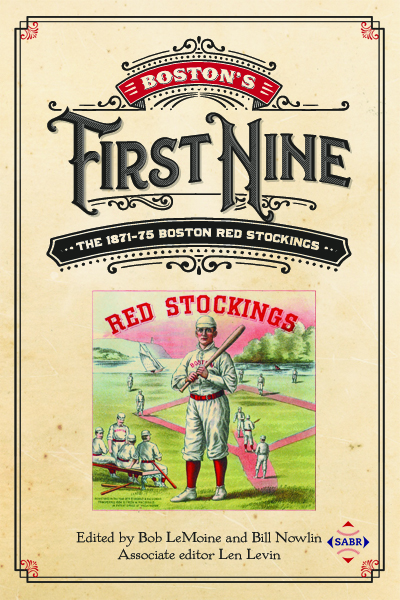 In Boston's First Nine: The 1871-75 Boston Red Stockings (SABR, 2016), edited by Bob LeMoine and Bill Nowlin, we looked at the most dominant team in the old National Association, considered by many to be baseball's first major league. In this five-year period, the Red Stockings won four pennants and were led by five future Hall of Famers, including player-manager Harry Wright, his talented brother and shortstop George Wright, pitcher Albert Spalding, barehanded catcher James "Deacon" White, and first baseman "Orator" Jim O'Rourke.
You can now read about the Red Stockings' most memorable moments on the field with new stories at the SABR Games Project. Here are the new game stories posted this week:
SABR members can click here to download the e-book edition of Boston's First Nine for free or get 50% off the paperback at SABR.org.
---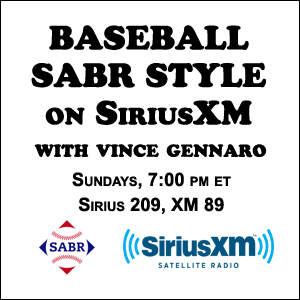 Behind the Numbers: Baseball SABR Style on SiriusXM, a radio show hosted by SABR President Vince Gennaro, is back for the 2018 season at its regular time: 7:00-8:00 p.m. ET on Sundays, on MLB Network Radio.
This week's guests are SABR members Jay Jaffe of FanGraphs and Ben Lindbergh of The Ringer.
You can listen to archives of recent episodes on-demand on the SiriusXM Internet Radio App. Click here to learn more.
Behind the Numbers: Baseball SABR Style on SiriusXM focuses on examining and interpreting the statistical analysis that plays a critical role in baseball today. It airs weekly throughout the year on MLB Network Radio, available to subscribers nationwide on XM channel 89, Sirius channel 209, and on the SiriusXM Internet Radio App.
---
In Memoriam
William C. "Bill" Gilbert, 82, of Austin, Texas, died on Wednesday, September 5, 2018, after a long illness. Bill joined SABR in 1984 and was instrumental in the formation of the Larry Dierker Chapter in Houston and the Rogers Hornsby Chapter in Austin. He helped organize the 2014 SABR convention in Houston and was a prolific researcher who contributed to the Baseball Research Journal and The National Pastime, and was a presenter at many SABR local meetings and national conventions. He also worked closely with Tal Smith Enterprises for nearly two decades, helping the former Houston Astros president on salary arbitration cases. Bill was born November 15, 1935, and grew up in Denver as a fan of the minor-league Denver Bears. He graduated from the University of Colorado with a degree in chemical engineering and spent two years as an officer in the US Navy before embarking on a three-decade career with ExxonMobil. He was active in Little League Baseball as a coach and administrator and played senior-league softball in retirement. He is survived by his wife Evelyn, four children, and their grandchildren. Services are pending.

---
We've heard your feedback: Some of you have said you look forward to "This Week in SABR" every Friday, but sometimes there are just too many compelling articles and announcements to read every week. We're not complaining — hey, keep up the great work! — but we know the feeling. So in an effort to make the length of this newsletter more manageable to read, we'll summarize some of the repeating/recurring announcements in a special "In Case You Missed It (ICYMI)" section of "This Week in SABR".
Here are some major headlines from recent weeks that we don't want you to miss:
All previous editions of This Week in SABR can be found here: https://sabr.org/content/this-week-in-sabr-archives.
---
We'd like to welcome all of our new SABR members who have joined this week. You can find all Members-Only resources at members.sabr.org and the Membership Handbook can be downloaded here.
Please give these new members a warm welcome and help them make the most of their membership by giving them the opportunity to get involved in their local chapter or a research committee.
You can find contact information for any SABR member in the online membership directory (SABR.org/directory).
Name
Hometown
Name
Hometown
Peter Adler
Thornton, CO
Brandon Luther
Norwood, OH
Lee Cohen
Hialeah, FL
Michael McGerr
Bloomington, IN
Reilly Cotter
New York, NY
Sven Muencheberg
München, GER
Niles Dion
Lowell, MA
Erick Reinikka
Minneapolis, MN
Martin Healy Jr.
Hamilton, ON
George Vranau
Simi Valley, CA
David Hyland
Cincinnati, OH
Broderick Zerpa
Miramar, FL
Micah Jona
Wilmette, IL
---
Here are the new research committee updates this week:
Find all SABR research committee newsletters at SABR.org/research.
---
Here are the new regional chapter updates this week:
Visit SABR.org/chapters for more information on SABR regional chapters.
---
Here is a list of upcoming events on the SABR calendar:
All SABR meetings and events are open to the public. Feel free to bring a baseball-loving friend … and make many new ones! Check out the SABR Events Calendar at SABR.org/events.
---
Here are some recent articles published by and about SABR members:
Read these articles and more at SABR.org/latest.
---
This Week in SABR is compiled by Jacob Pomrenke. If you would like us to include an upcoming event, article or any other information in "This Week in SABR," e-mail jpomrenke@sabr.org.
Have trouble reading this e-mail? Click here to view this week's newsletter on the web.
Are you receiving our e-mails? "This Week in SABR" goes out by e-mail to all members on Friday afternoons. If they're not showing up, try adding "sabr.notes@sabr.org" to your contact list to ensure they show up in your inbox (and not the spam folder.)
---
Originally published: September 7, 2018. Last Updated: April 3, 2020.
https://sabr.org/wp-content/uploads/2020/03/research-collection4_350x300.jpg
300
350
admin
/wp-content/uploads/2020/02/sabr_logo.png
admin
2018-09-07 13:49:49
2020-04-03 14:38:18
This Week in SABR: September 7, 2018