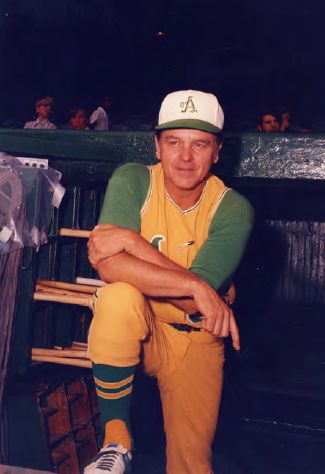 September 19, 1972: Oakland A's use record 30 players in one game
---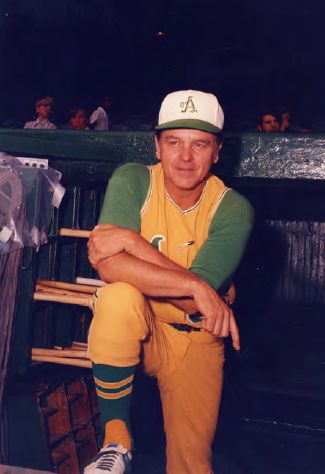 In September 1972, the Oakland A's were attempting to nail down their second straight American League West title. On September 19, the second-place Chicago White Sox arrived in town for a two-game set. The A's led the White Sox by five games, with 13 to play, so the White Sox would have to sweep the games to have any realistic chance of catching up. They did indeed win the series opener, but not for lack of Oakland effort. Oakland manager Dick Williams shuttled his entire active roster of 30 players into the contest — setting a record for most players used in a game that still stood in 2020 (since tied) and, with recent restrictions on September roster expansion, may stand forever.
The 1972 A's featured a potent lineup (Bert Campaneris, Reggie Jackson, Sal Bando) and finished second in the American League in runs scored. They enjoyed a deep pitching staff anchored by Cy Young Award candidate Catfish Hunter and reliever Rollie Fingers. Their only weakness was second base. Dick Green started the season at second, but went down with a herniated disk in April. He returned on a part-time basis in August and September. Ted Kubiak and Tim Cullen were backups.
In the last week in August, the A's acquired veteran Dal Maxvill from the St. Louis Cardinals for reinforcement. Manager Williams then looked at his four good-glove, no-hit second basemen, and his deep bench, and decided that he would use revolving second basemen. Any time a second baseman came up leading off an inning, or with a chance to score a run, Williams would use a pinch-hitter.
"Of course I want to play every game, every inning," Maxvill said after his acquisition. "But (Williams) told me before he started this rotation of second basemen that he had some pretty good left-handed pinch-hitters and wanted to use them."1
The White Sox, for their part, were enjoying a resurgence after four straight losing seasons, sparked by Dick Allen who was leading the American League with 36 home runs and 108 RBIs. They had led the West Division in August, but weakened in September.
On September 19 the White Sox jumped out to a 3-0 lead in the first inning on RBI singles by Mike Andrews, Ed Spiezio, and Ed Herrmann. In the bottom of the second, the A's placed runners on first and third with two outs, so Williams made his first player move of the night, sending Don Mincher up to bat for second baseman Maxvill. Mincher struck out. Kubiak took over at second.
The White Sox extended their lead to 4-0 in the fourth on a home run by Herrmann. In the home fifth, Williams went to his bench again. Gonzalo Marquez batted for Kubiak and singled, and Mike Hegan batted for starting pitcher Blue Moon Odom. Hegan popped out, but the A's scored three times on Campaneris's single, Joe Rudi's two-run double, and Matty Alou's single. In the sixth, Green took over at second and Bob Locker came in to pitch.
Locker gave way to Darold Knowles in the top of the sixth, and the A's kept the game close when Reggie Jackson made a strong throw to the plate to nail Ed Spiezio, who was attempting to score on a fly ball. Spiezio bowled over catcher Gene Tenace, but Tenace held onto the throw to complete the double play.
In the bottom of the sixth, Green came to bat with two out and nobody on, but again Williams couldn't abide a second baseman batting, and called on Angel Mangual to pinch-hit. He grounded out. Tim Cullen took over at second. In the seventh, George Hendrick pinch-hit for Knowles, and Rollie Fingers came on to pitch.
With two outs in the bottom of the eighth, and the White Sox still leading 4-3, Mike Epstein walked. Williams called on Allan Lewis, the "Panamanian Express," to pinch-run. Lewis failed to advance, and Williams then did something unusual. With his bench already depleted, he allowed Lewis to remain in the game in the ninth inning, playing right field. In a major-league career spanning 156 games, Lewis would take the field only 10 times.
In the top of the ninth, light-hitting Chicago shortstop Luis Alvarado hit a surprise home run, extending the White Sox' lead to 5-3. In the bottom half, with a man on, Dave Duncan batted for Cullen and struck out and Brant Alyea batted for Fingers and walked. Alyea represented the tying run, and was slow of foot. With no fast position players left on his bench, Williams sent in pitcher Vida Blue to pinch-run.
With runners on first and second and one out, Bert Campaneris grounded to first baseman Dick Allen. Allen chose to go to second for the force out. One writer suggested that he might have had better luck stepping on the base and throwing to second for a tag play on Blue.2 As it happened, Campaneris reached first on the fielder's choice, stole second, and scored on Joe Rudi's two-out, two-run, game-tying single.
The 5-5 game went into extra innings, with Dave Hamilton on the hill for Oakland. Williams was out of infielders, so Duncan remained in the game to catch and catcher Gene Tenace moved to second base. Tenace to this point had only played one inning at second base in his career.
In the bottom of the 10th, Reggie Jackson led off with a double, whereupon Williams was burned by the presence of Allan Lewis in his lineup. Lewis struck out attempting to sacrifice, and Jackson died at second. In the top of the 12th, it was the White Sox' turn to threaten; they loaded the bases, prompting Williams to switch to reliever Joe Horlen as his 26th player, and Horlen got out of the jam. In the 13th, the A's weren't as fortunate. Gene Tenace, struggling at second base, failed to cover first on a bunt, and Ed Spiezio beat it out with Jorge Orta taking two bases on the play. The White Sox went on to score twice on a single by Luis Alvarado. But Dave Duncan hit a two-run homer to tie the game, 7-7, in the bottom of the inning.
In the 14th inning, Williams's maneuvering took a turn for the surreal. Reggie Jackson reached base on an error. Noting Lewis's earlier failure, Williams called on pitcher Catfish Hunter as a pinch-bunter — a rare case of a pitcher batting for a position player. Hunter not only advanced Jackson but beat out his bunt. Gene Tenace sacrificed, and Sal Bando was intentionally walked, bringing up Duncan. Despite Duncan's prior home run, Williams called for a suicide squeeze. Hard-throwing White Sox reliever Goose Gossage fired a low and outside fastball, Duncan failed to get the bat on it, and Jackson was hung out to dry and eventually tagged out back at third base. With first base open, the Sox intentionally walked Duncan to get to Horlen.
Dick Williams played his next-to-last card, sending up his last position player, third-string catcher Larry Haney, to bat for Horlen. Haney was the 28th player used by the A's, breaking the previous record of 27 set in 1969 and tied in 1970.3 Haney grounded to first.
Gary Waslewski, the last available Oakland relief pitcher, took the mound in the top of the 15th, with Haney taking over at second base (for the first and only time in his career) and Gene Tenace replacing the departed Lewis in right field. Rookie Jorge Orta hit the second home run of his career to put the White Sox ahead for the third time, 8-7.
This time, the lead would hold — but not before Williams made one last move. The A's placed runners on first and second with two outs in the bottom of the inning, bringing up Waslewski, a career 4-for-88 (.045) hitter. Williams sent up Ken Holtzman, the next night's starting pitcher and a career .158 hitter, to pinch-hit. "There were a number of reasons I used Holtzman," Williams said after the game. "To begin with, he was the last player I had."4 (It would be interesting to know what the other reasons were, but if Williams gave them, no reporter wrote them.) If the A's tied the game, Holtzman would have had to stay in and pitch.
Gossage struck out Holtzman on three pitches, bringing the five-hour marathon to an end. "If we win tomorrow, we're going to win the pennant!" White Sox manager Chuck Tanner gushed.5 His prediction was not tested. The A's won the next night, effectively ending the pennant race, and clinched the division eight days later.
The total of 30 players used by Oakland has been tied (by Colorado on September 15, 2015), but never surpassed. The 51 players used by the two teams was also a record at the time, since broken. The six second basemen used by Oakland set a record for the most players to play any position other than pitcher, and that record also has since been tied but not broken.
Sources
retrosheet.org/boxesetc/1972/B09190OAK1972.htm
baseball-reference.com/boxes/OAK/OAK197209190.shtml
Notes
1 Ron Bergman, "Maxie's Glove Boosts A's, and His Bat Is Potent Too," The Sporting News, October 14, 1972: 12.
2 Richard Dozer, "Sox, A's in Extra Innings," Chicago Tribune, September 20, 1972: 63.
3 Baseball Record Book, The Sporting News, 1972, 298.
4 Glenn Schwarz, "Dramatic Victory Lifts White Sox," San Francisco Examiner, September 20, 1972: 61.
5 Schwarz: 66.
Additional Stats
Chicago White Sox 8
Oakland A's 7
15 innings
---
Oakland Coliseum
Oakland, CA
Box Score + PBP:
Corrections? Additions?
If you can help us improve this game story, contact us.
Tags
http://sabr.org/sites/default/files/DickWilliams.JPG
600
800
sabr
/wp-content/uploads/2020/02/sabr_logo.png
sabr
2020-09-15 02:06:30
2020-09-15 02:06:30
September 19, 1972: Oakland A's use record 30 players in one game