This Week in SABR: July 12, 2019

Welcome to "This Week in SABR!" Click here to view this week's newsletter on the web. Here's what we've been up to as of July 12, 2019:
---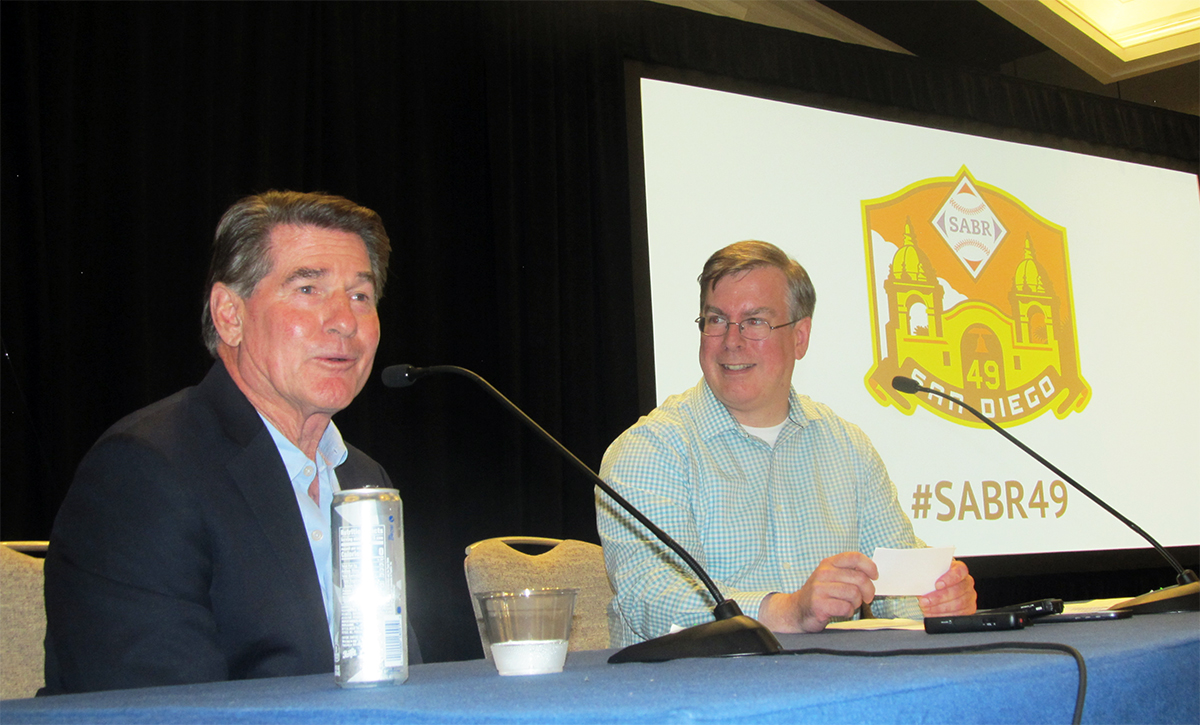 At SABR 49, we were excited to welcome Steve Garvey, one of the most popular players in San Diego Padres history, for a live SABR Oral History interview on Saturday, June 29 at the Manchester Grand Hyatt in San Diego.
Garvey played 19 seasons in Major League Baseball and his game-winning blast off Hall of Fame closer Lee Smith to win Game Four of the 1984 NLCS helped propel the Padres to their first World Series. He won MVP honors in the NLCS and his No. 6 was the first ever retired in franchise history.
He also helped lead the Los Angeles Dodgers to four World Series and he was selected as the MVP for the National League in 1974. He made 10 All-Star teams, won four Gold Glove awards at first base, and his streak of 1,207 consecutive games played is still the most ever in National League history. He was interviewed at SABR 49 by John McMurray, chair of SABR's Oral History Committee.
Click here to listen to highlights from this session at SABR.org.
---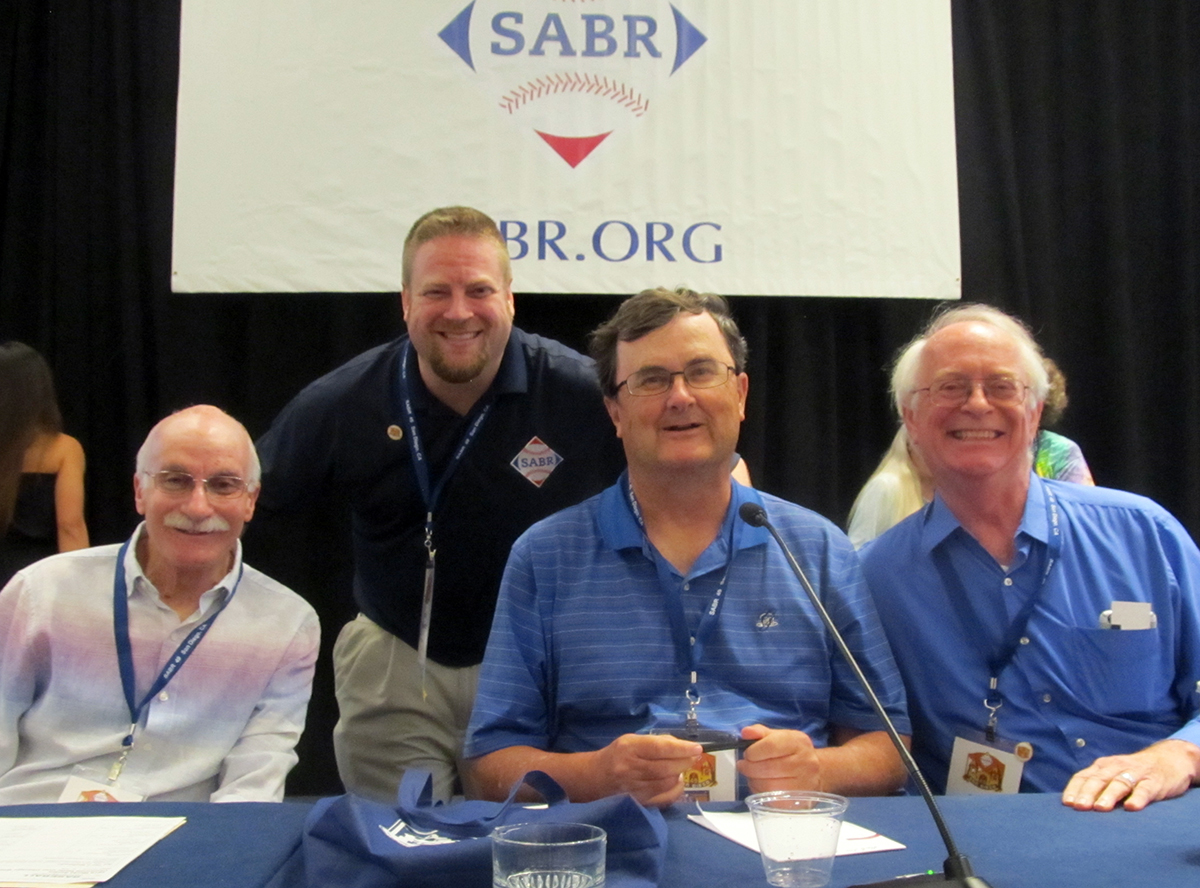 From the Nineteenth Century to modern Statistical Analysis, SABR's nearly three dozen research committees reflect the diverse interests of our membership, and the committees' annual meetings at the SABR 49 convention in San Diego also had a variety of interesting guest speakers.
The Black Sox Scandal Research Committee hosted a special 100th anniversary "Eight Myths Out" panel discussion with authors Bruce Allardice, Rick Huhn, Bill Felber, and Jacob Pomrenke. Other guest speakers included award-winning authors and historians Rob Fitts (Baseball Cards), Roberta J. Newman (Business of Baseball), Herm Krabbenhoft (Baseball Records), Norman Macht (Deadball Era), John Carvalho (Asian Baseball), and Steve Klein (Baseball and the Media). Convention attendees never lack for fun stories and insight from our guest speakers at SABR 49!
Click here to listen to highlights from the SABR 49 committee meetings at SABR.org.
---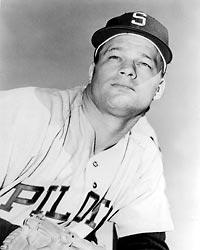 "You spend a good piece of your life gripping a baseball and in the end it turns out that it was the other way around all the time."
Jim Bouton's final line in Ball Four, his landmark first-person diary of the 1969 season that changed the landscape of baseball books forever, is one of the most poignant ever written about the sport.
"A best-seller at the time of its publication, the book fundamentally changed sports literature and journalism, and the way we view our sports heroes," Mark Armour wrote at the SABR BioProject. In 1995, the New York Public Library honored Ball Four as one of the greatest books published in the preceding century, alongside such works as Anne Frank's Diary of a Young Girl, F. Scott Fitzgerald's The Great Gatsby, and Dr. Seuss's The Cat in the Hat.
Bouton died at the age of 80 on Wednesday, July 10 at home with his wife, Paula Kurman, after battling a brain disease linked to dementia for several years.
"In many ways, [Bouton] was one of us, he was the first real baseball fan to put on the uniform and went out on the field," said Marty Appel, the longtime Yankees public-relations director, at a 2017 SABR convention panel celebrating Bouton's life in baseball. "He was so different from his teammates in many ways, but in that way in particular. … I loved everything in the book. It forever changed baseball writing. … I have met so many fans who said, Ball Four made me fall in love with baseball.' What a great tribute that is to such an important book."
Click here to read the full announcement at SABR.org.
Related links:

---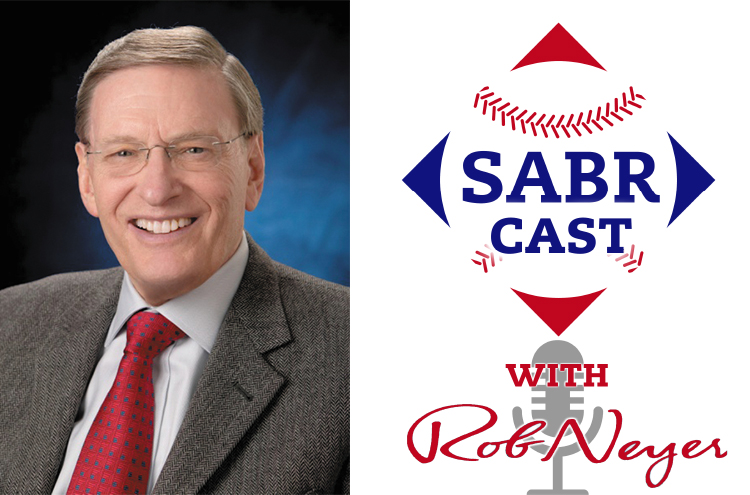 Listen to a new episode of SABRcast with Rob Neyer, a new weekly podcast hosted by award-winning author and longtime SABR member Rob Neyer — which is now available on your favorite podcast streaming services! Subscribe to SABRcast on your favorite podcast networks, including Apple Podcasts, Spotify, Stitcher, or Google Play, and listen to each episode as soon as it's released on Mondays.
Visit SABR.org/sabrcast to listen to Episode #15 — our guest this week is Bud Selig, MLB Commissioner Emeritus and the author of For the Good of the Game: The Inside Story of the Surprising and Dramatic Transformation of Major League Baseball. Selig served as MLB's ninth commissioner from 1992 to 2015, ushering in some of the most important and controversial changes in the game's history, from postseason expansion to interleague play to instant replay review. The 2017 Baseball Hall of Fame inductee also presided over the performance-enhancing drug scandal that threatened the game's integrity. He joined baseball's ownership ranks with the Milwaukee Braves in the 1960s and then led a group that purchased the Seattle Pilots from bankruptcy in 1970 and moved the team to his hometown as the Milwaukee Brewers.
Every week, SABRcast will feature insights and analysis of what's happening in modern baseball on and off the field, plus compelling interviews with figures from around the game — and music from The Baseball Project.
To learn more, visit SABR.org/sabrcast.
---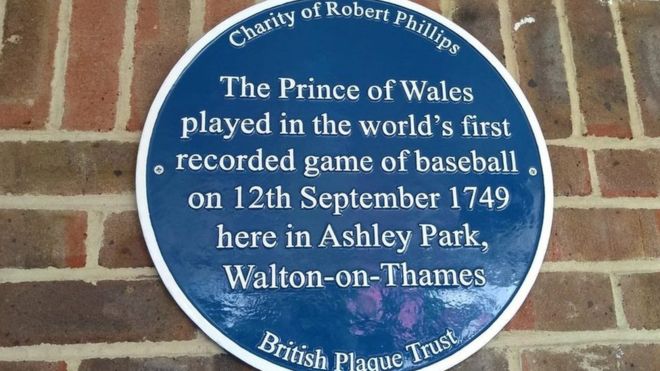 A historic plaque was unveiled on Sunday, July 7 in Surrey, England, to mark the world's first recorded baseball game.
The first documented game was played in 1749, in Ashley Park, Walton-on-Thames, on the estate belonging to the wife of Charles Sackville, Earl of Middlesex. The Earl played in the match along with his friend, Frederick, Prince of Wales, who was the son of George II. A demonstration baseball game marked the unveiling of the plaque at the Walton Cricket Club in Ashley Park.
SABR member David Block, who originally discovered the game in 2013 and is the author of the new book Pastime Lost: The Humble, Original, and Now Completely Forgotten Game of English Baseball, spoke at the dedication ceremony last weekend.
Click here to read the full announcement at SABR.org.
---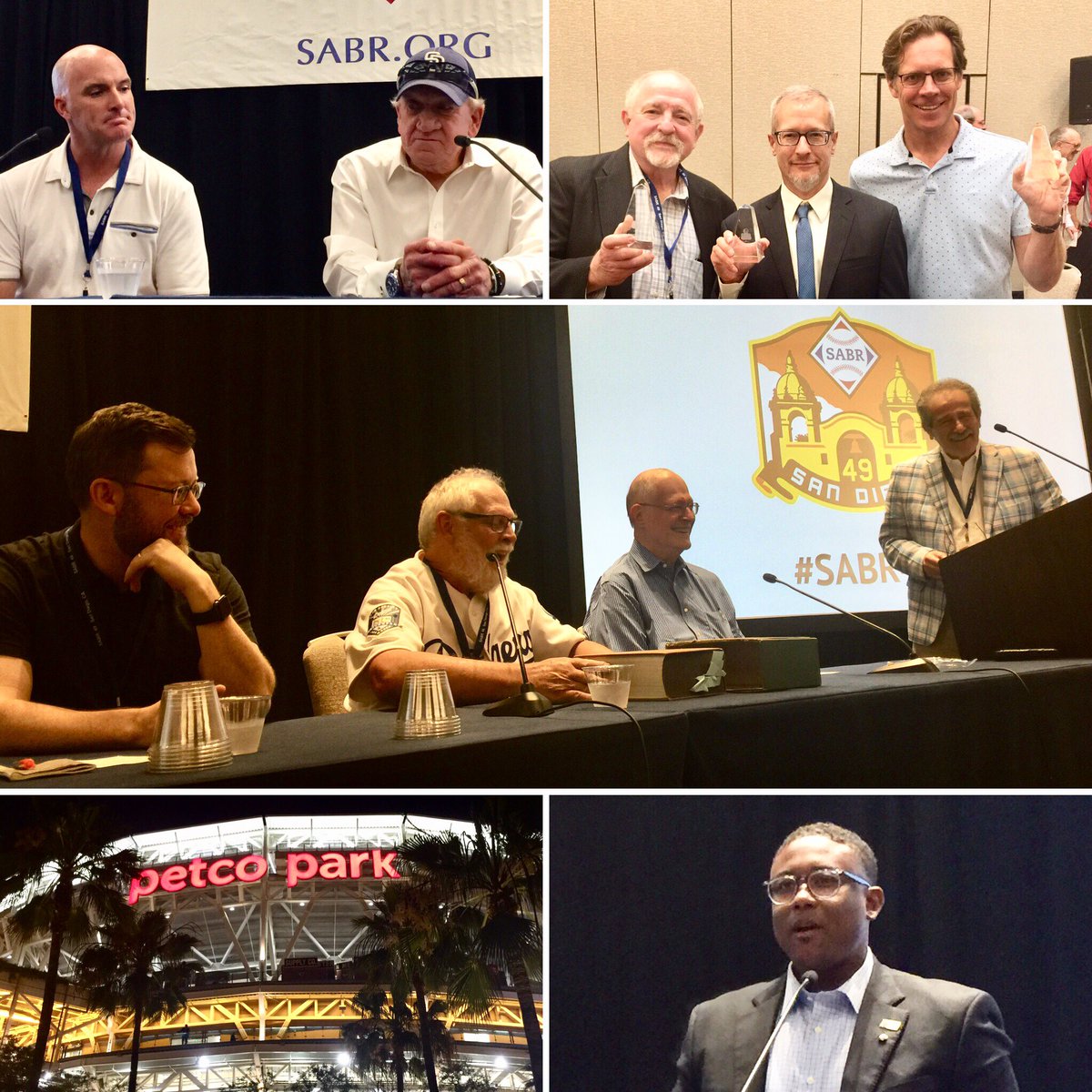 Couldn't make it to San Diego for SABR 49? Check out more coverage of our 2019 national convention from the Manchester Grand Hyatt online:
For more coverage of SABR 49, visit SABR.org/convention.
---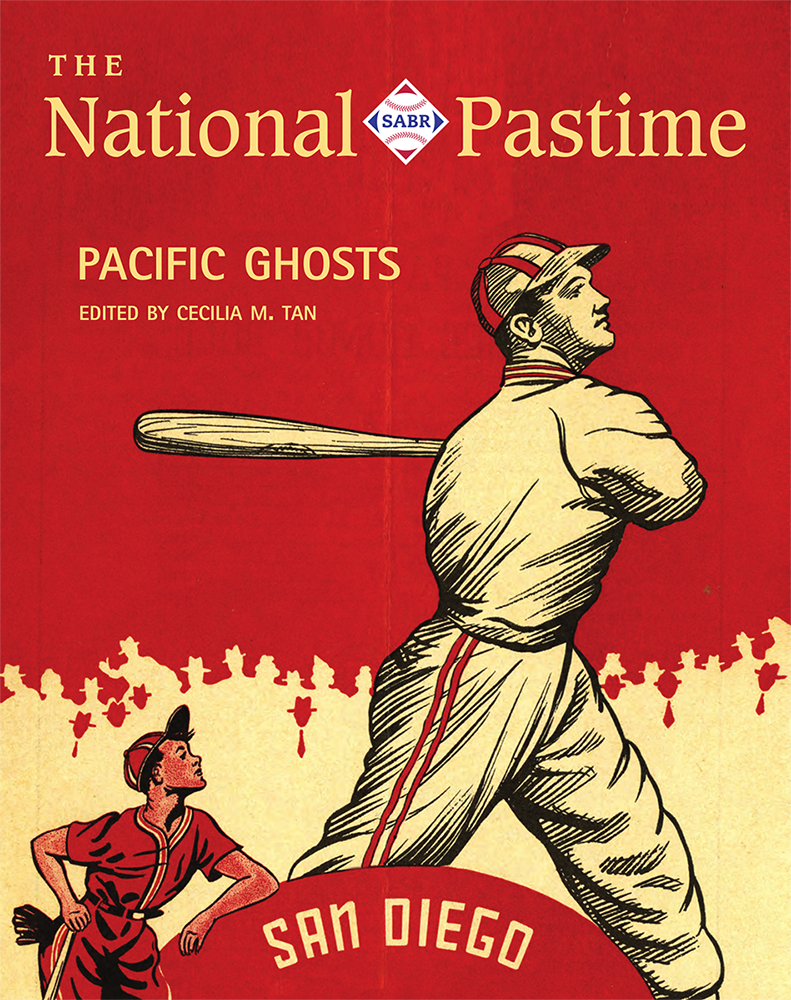 The National Pastime serves as SABR's convention-focused publication. Published annually, this research journal provides in-depth articles focused on the respective geographic region where the national convention is taking place in a given year.
The SABR 49 convention took place last week in San Diego, and we have dedicated the theme of The National Pastime to baseball on the Pacific Coast. All SABR members receive a free e-book copy of The National Pastime as part of their membership benefits, while attendees of the national convention also received a souvenir print edition in their goody bags.
Click a link below to download the e-book edition or purchase a paperback edition of the 2019 convention journal, The National Pastime: Pacific Ghosts.
Please note: All articles from The National Pastime: Pacific Ghosts will be available to read online at SABR.org soon.
---
Save the date! SABR will be returning to Baltimore for our 50th national convention on July 15-19, 2020, at the Hyatt Regency Inner Harbor hotel in downtown Baltimore, Maryland. Registration information and our special hotel room block will be available at SABR.org/convention in early 2020.
The Hyatt Regency hotel sits on the waterfront at the majestic Inner Harbor and is conveniently located within walking distance from Camden Yards, home of the Baltimore Orioles. Our host hotel is also close to many area museums, historic landmarks, and other attractions like the National Aquarium.
For more information on the SABR convention, visit SABR.org/convention.
---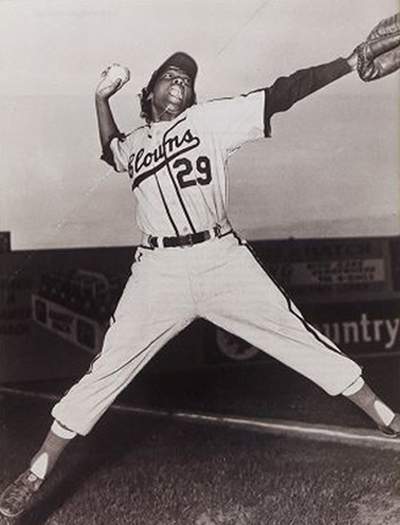 SABR's Women in Baseball Committee will award one $500 scholarship to a high school senior in its inaugural Women in Baseball Essay Contest in 2019.
Students must write an essay of 1,500 words or less addressing the following question: "Choose one person or event in women's baseball history that you believe has made a significant impact on the game and explain the importance."
All applications must be e-mailed or postmarked by August 16, 2019, and sent to Dr. Leslie Heaphy at Lheaphy@kent.edu.
Click here to read the full announcement at SABR.org.
---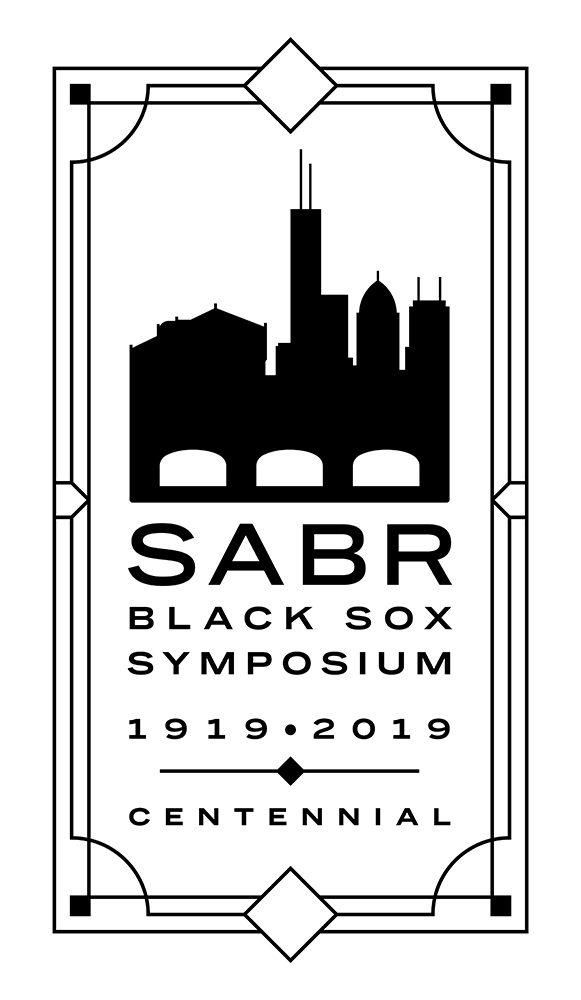 Register now to join us for the SABR Black Sox Scandal Centennial Symposium on September 27-29, 2019, in Chicago. The SABR Black Sox Scandal Research Committee will host this once-in-a-century event to commemorate the 100th anniversary of the 1919 World Series.
The event — which is open to all baseball fans — will be highlighted by a research symposium on Saturday, September 28 at the Chicago History Museum. The museum is home to an extensive collection of Black Sox artifacts and documents, and we'll gather in the beautiful Morse Genius Chicago Room event space to discuss the continued relevance of the 1919 World Series and its aftermath. A book signing with SABR authors, including our own Scandal on the South Side: The 1919 Chicago White Sox, will follow. More details on panels and presentations will be announced soon.
Our special All-Inclusive Package ($45 for SABR members, $60 for non-members) includes admission to the Black Sox Scandal symposium at the Chicago History Museum; a ticket to the Chicago White Sox game on Friday, September 27; and a guided walking tour of downtown Chicago baseball history sites.
Following the symposium, from 8:00-10:00 p.m. on Saturday evening, we will also gather for a reception at the historic Nisei Lounge near Wrigley Field. The reception is included in your symposium registration.
Click here to read the full announcement at SABR.org.
---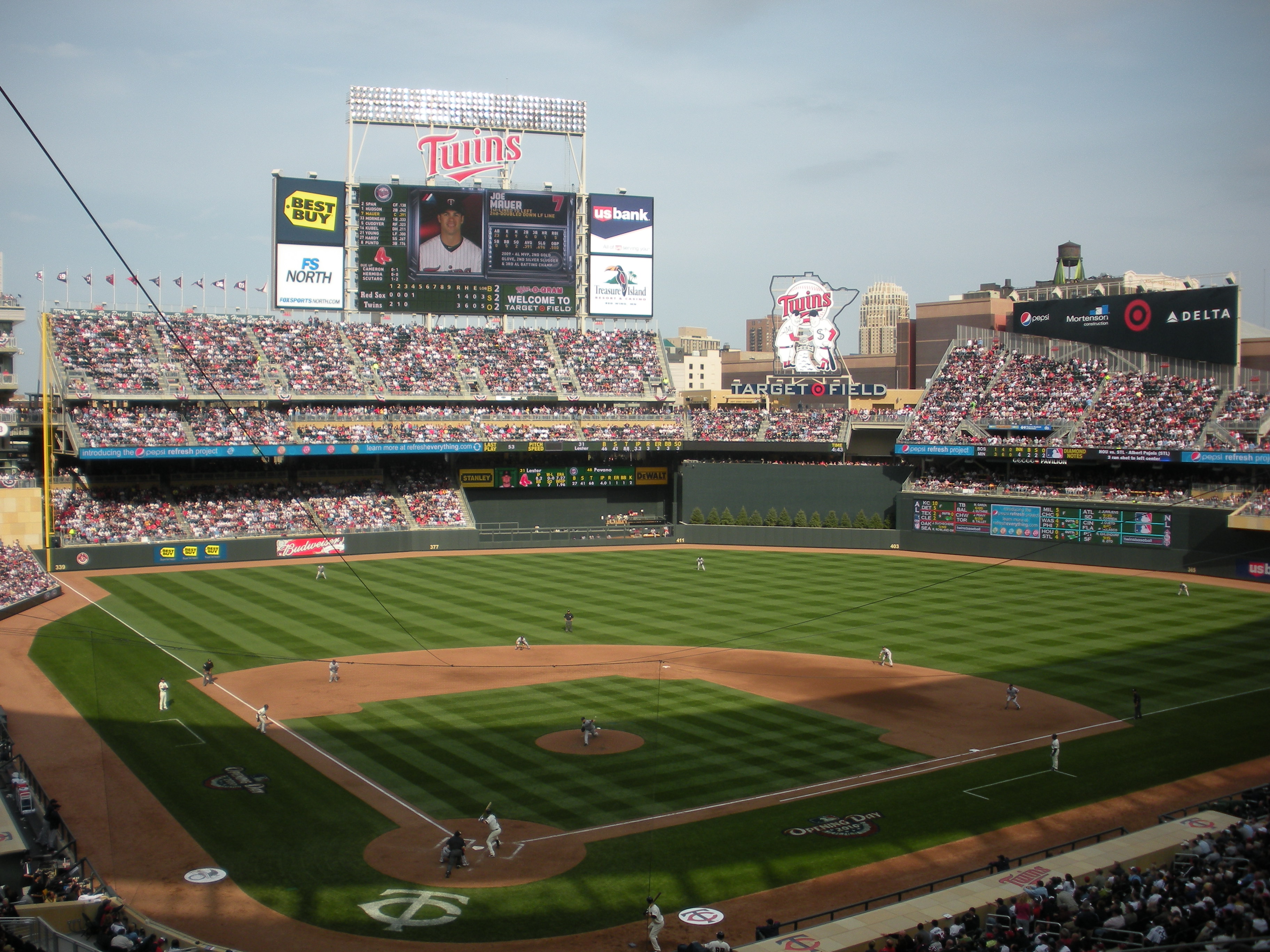 The SABR Team Ownership Histories Project is a joint effort of SABR's Business of Baseball Committee and the BioProject. The intention is to keep its essays up-to-date and to provide as much detail as possible about the organization and composition of ownership groups, franchise sales, relocations, stadiums, and other issues that provide the financial context for team success on the field.
One new article was published this week:
Click here to read all published team ownership histories at SABR.org.
The project has been expanded to include teams from the Negro Leagues, Federal League, AAGPBL, Players League, American Association, Union Association and defunct, 19th Century National League teams, an expansion pioneered by Charlie Bevis. Find those stories by clicking on the Defunct Franchises tab here.
Some team articles have been assigned, but anyone who wishes to contribute is encouraged to contact Andy McCue at amccue@sabr.org. Thanks to Len Levin for his work in copy editing all of these essays. To learn more or to read the author guidelines, click here.
---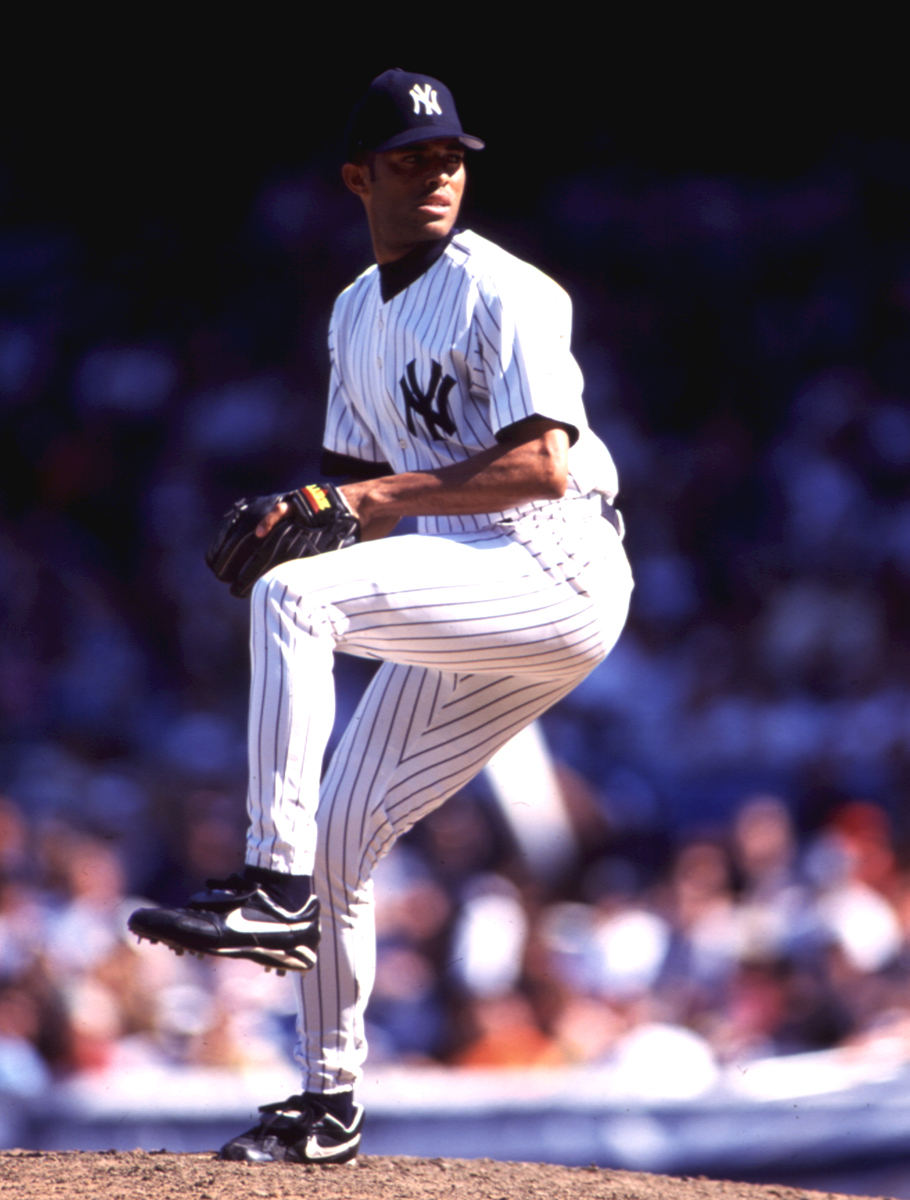 Seven new biographies were posted this week as part of the SABR Baseball Biography Project, which brings us to a total of 4,906 published biographies. Here are the new bios published this week:
All new biographies can be found here: SABR.org/bioproj/recent
---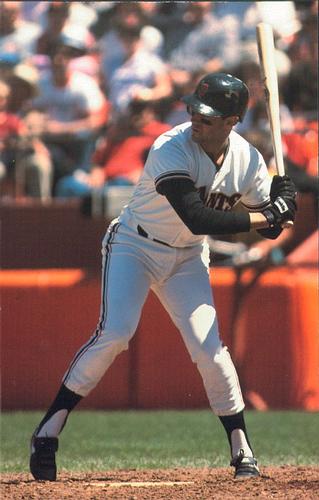 Four new game stories were posted this week as part of the SABR Games Project. Here are the new game stories:
New Games Project stories can be found at SABR.org/gamesproject/recent. Find all published Games Project articles at SABR.org/GamesProject.
---
SABR's Board of Directors has approved the formation of a new chapter.
The Central Pennsylvania Chapter serves members in the Harrisburg region; the chapter leader is R.J. Lesch.
SABR's 76 regional chapters cover 38 U.S. states, Puerto Rico, and Washington, D.C.; plus international chapters in Canada (Quebec, Ontario, British Columbia), Japan, South Korea, Taiwan, Australia, Latin America (Venezuela, Dominican Republic), the United Kingdom, Europe (Netherlands), and Italy. For a list of all SABR chapters, visit SABR.org/chapters. A calendar of upcoming SABR meetings can be found at SABR.org/events.
To sign up for chapter email announcements and receive instant notification of upcoming SABR events in your area, click here to select from the list of chapters, then click "Join Group" at the top of the chapter page. All SABR members are eligible to sign up for announcements from any chapter or committee.
---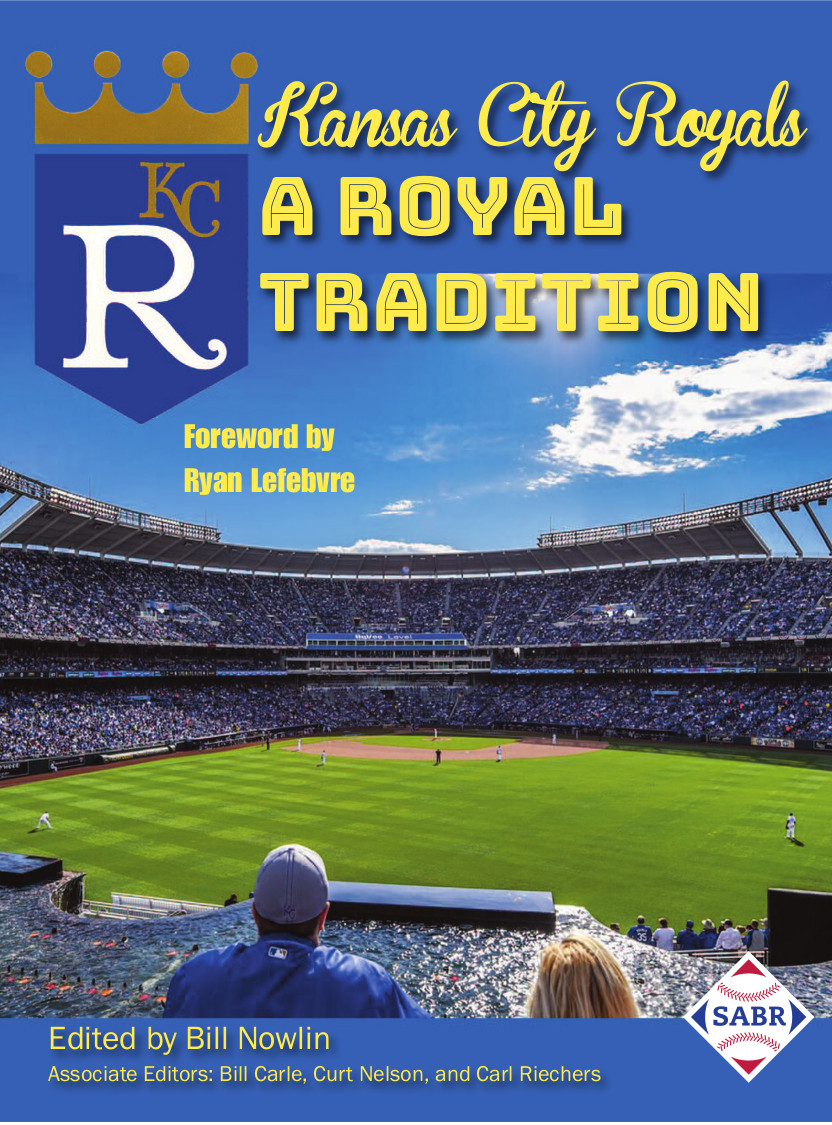 Add a championship crown to your baseball collection with our newest book from the SABR Digital Library:
Kansas City Royals: A Royal Tradition
Edited by Bill Nowlin
Associate Editors: Bill Carle, Len Levin, Curt Nelson, and Carl Riechers
Foreword by Ryan Lefebvre
ISBN (e-book): 978-1-9701-5902-8, $9.99
ISBN (paperback): 978-1-9701-5903-5, $29.99
8.5″ x 11″, 350 pages
Click here to read the full description of this book at SABR.org.
SABR members, get this e-book for FREE!
Having trouble downloading our e-books? To view PDF files on your computer, click here to download the free Adobe Reader software. Having trouble downloading e-books to your Kindle, Nook, Sony Reader or iPad? Click here for additional help.
All SABR members can download our SABR Digital Library e-books for free or get 50% off the paperback editions. To find a full list of titles, visit SABR.org/ebooks.
---
Behind the Numbers: Baseball SABR Style on SiriusXM, a radio show hosted by SABR President Vince Gennaro, will air this season at a new time. Listen in from 8:00-9:00 p.m. ET on Saturdays on MLB Network Radio.
This week's guests are Joe Lemire of SportsTechie and Neil Irwin of the New York Times.
You can also listen to archives of recent episodes on-demand on the SiriusXM Internet Radio App. Click here to learn more.
Behind the Numbers: Baseball SABR Style on SiriusXM focuses on examining and interpreting the statistical analysis that plays a critical role in baseball today. It airs weekly throughout the year on MLB Network Radio, available to subscribers nationwide on XM channel 89, Sirius channel 209, and on the SiriusXM Internet Radio App.
---
Limited tickets remain for Sabermetrics, Scouting, and the Science of Baseball, a weekend seminar for the benefit of the Angioma Alliance. Saberseminar puts you up close with some of baseball's top coaches, statisticians, scouts, doctors, and scientists. The seminar will take place on August 10-11, 2019, in Boston, Massachusetts.
During this event, you will grasp how science is blended with advanced baseball statistics and traditional scouting assessments to produce outstanding results for teams. Don't miss this special opportunity to learn about the deeper game of baseball from insiders and pros, meet people who love the game, and support a wonderful charity: every penny earned during this baseball weekend will go directly to the Angioma Alliance.
Regular admission costs just $185, with special pricing for students at just $85. Both types of ticket are a 100% charitable donation to a 501(c)(3). For more details and to purchase tickets, visit saberseminar.com.
---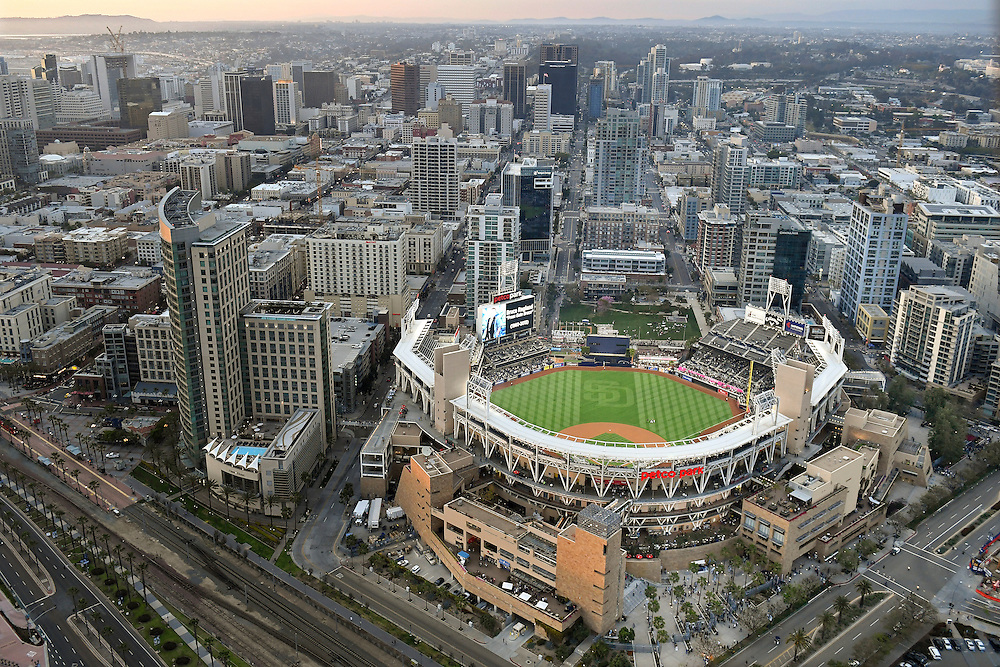 Now that the SABR convention is over, perhaps several more people will be inspired to select a biography to write up for a future SABR book. These projects have very generous deadlines — you have until the end of the year to complete a draft. Here are the assignments currently available:
If you would like to see the full list of players and baseball figures needing bios, please email Bill Nowlin at Bill.Nowlin@rounder.com.
---
Are you a SABR member with book design experience? As our Publications Program grows, so does our need for folks who can handle book layout and ebook creation duties. QuarkXPress or InDesign preferred.
If you'd like more information or to throw your hat into the ring, please email your resume and book design samples to Cecilia Tan at PubDir@sabr.org.
---
We've heard your feedback: Some of you have said you look forward to "This Week in SABR" every Friday, but sometimes there are just too many compelling articles and announcements to read every week. We're not complaining — hey, keep up the great work! — but we know the feeling. So in an effort to make the length of this newsletter more manageable to read, we'll summarize some of the repeating/recurring announcements in a special "In Case You Missed It (ICYMI)" section of "This Week in SABR".
Here are some major headlines from recent weeks that we don't want you to miss:
All previous editions of This Week in SABR can be found here: https://sabr.org/content/this-week-in-sabr-archives.
---
We'd like to welcome all of our new SABR members who have joined this week. You can find all Members-Only resources at members.sabr.org and the Membership Handbook can be downloaded here.
Please give these new members a warm welcome and help them make the most of their membership by giving them the opportunity to get involved in their local chapter or a research committee.
You can find contact information for any SABR member in the online membership directory (SABR.org/directory).
| Name | Hometown | | | Name | Hometown |
| --- | --- | --- | --- | --- | --- |
| Rosalind Bennett | Washington, DC | | | Dennis Greeno | Nashville, TN |
| Jerome Blanchard | Northwood, NH | | | Al Kyle | Dallas, TX |
| James Byrne | Palos Heights, IL | | | Bill Morton | Sun City Ctr, FL |
| Rogelio Castillo | Dearborn Heights, MI | | | Tad Richardson | Kirkland, WA |
| Kevin Cincotta | Falls Church, VA | | | Kelly Sites | Federal Way, WA |
| Frank De Santis | Cypress, CA | | | Joel Smith | Villa Hills, KY |
| Cynthia De Silva | Stockton, CA | | | Hayden Trubitt | San Diego, CA |
| Randy Ford | Dallas, TX | | | Michael Wentworth | Albany, CA |
| David Gabrielson | Williamsburg, MA | | | | |
---
There were the new research committee updates this week:
Find all SABR research committee newsletters at SABR.org/research.
---
Here are the new regional chapter updates this week:
Visit SABR.org/chapters for more information on SABR regional chapters.
---
Here is a list of upcoming events on the SABR calendar:
All SABR meetings and events are open to the public. Feel free to bring a baseball-loving friend … and make many new ones! Check out the SABR Events Calendar at SABR.org/events.
---
Here are some recent articles published by and about SABR members:
Read these articles and more at SABR.org/latest.
---
This Week in SABR is compiled by Jacob Pomrenke. If you would like us to include an upcoming event, article or any other information in "This Week in SABR," e-mail jpomrenke@sabr.org.
Have trouble reading this e-mail? Click here to view this week's newsletter on the web.
Are you receiving our e-mails? "This Week in SABR" goes out by e-mail to all members on Friday afternoons. If they're not showing up, try adding "sabr.notes@sabr.org" to your contact list to ensure they show up in your inbox (and not the spam folder.)
---
Originally published: July 12, 2019. Last Updated: April 3, 2020.
https://h2j7w4j4.stackpathcdn.com/wp-content/uploads/2020/03/research-collection4_350x300.jpg
300
350
admin
/wp-content/uploads/2020/02/sabr_logo.png
admin
2019-07-12 15:06:49
2020-04-03 14:38:16
This Week in SABR: July 12, 2019