This Week in SABR: July 17, 2020
Welcome to "This Week in SABR!" Click here to view this week's newsletter on the web. Here's what we've been up to as of July 17, 2020:
---
Peter Mancuso, the chair and driving force behind SABR's Nineteenth Century Research Committee, was announced as the winner of the Bob Davids Award during SABR's Annual Business Meeting on Saturday, July 11.
Click here to watch a replay of the online award presentation on YouTube.
The award — which is the Society's highest honor — honors SABR members whose contributions to SABR and baseball reflect the ingenuity, integrity, and self-sacrifice of the founder and past president of SABR, L. Robert "Bob" Davids.
"I am honored and humbled by this tremendous honor," Mancuso said. "When you look at this trophy, you don't see your reflection. You see the reflection of scores and scores of SABR members and friends. It's unfair to love history and baseball so much, and find an organization that allows you to combine all of that."
Since joining SABR more than two decades ago, Mancuso has made a significant impact in helping to recognize baseball's earliest stars. After taking over as the chair of the Nineteenth Century Committee in 2007, he spearheaded two initiatives that have raised the profile of the sport's pioneers: an annual conference at the National Baseball Hall of Fame in Cooperstown, New York, which routinely attracts the top historians in the country; and the Overlooked Legends project, which played a key role in the election of Deacon White to the Hall of Fame in 2013.
Click here to read the full announcement at SABR.org.
---
SABR Virtual returns this weekend with more online presentations, chats, and panel discussions with authors, scholars, and figures from around baseball. Visit SABR.org/virtual-meetings to register now for our free online Zoom events through July 26.
The second SABR Virtual weekend kicked off Thursday, July 16 with presentations by Mark Armour, Perry Barber, and Roberta J. Newman, along with a one-on-one conversation on civil rights and baseball with Dr. Louis Moore and Emily Hawks. Click here to watch the replay of Day 5 on YouTube. You can watch a replay of all SABR Virtual sessions with our YouTube playlist.
This weekend, we'll also have a special panel discussion, "Baseball Then and Now: Arnold Hano's 94 Years in the Bleachers," with Jon Leonoudakis, Mark Armour, and Jean Ardell; along with presentations by Todd Peterson, Bernard McKenna, Brian Engelhardt, Greg Gajus, Mitchell Nathanson, Karen DeLuca Stephens, David Paulson, Curt Smith, Rob Fitts, Alan Cohen, and Keith Spalding Robbins.
Visit SABR.org/virtual-meetings to find the full schedule and register for each session.
---
Enter the SABR Virtual Raffle for a chance to win a lineup card autographed by Tony Gwynn and other baseball memorabilia prizes!
Winners will be announced during a SABR Virtual session on July 26. Each raffle ticket entitles the participant to a chance to win one individual memorabilia item, which will be drawn at random.
The prizes include: Tony Gwynn Autographed Lineup Card; Bill James Bobblehead and SABR Thumb Drive; Hank Aaron Hartland Vintage Figurine; Lou Gehrig Montage First Edition Print; Bud Selig Autographed Baseball; Old Yankee Stadium Framed Print; 1957 MIlwaukee Braves World Series Mounted Team Photo. Click here to learn more.
The raffle is open to all SABR members. You do not have to be registered for a SABR Virtual session in order to win. Winners will be notified by e-mail after the random drawing on July 26, 2020, and prizes will be shipped via US Mail following the conference.
---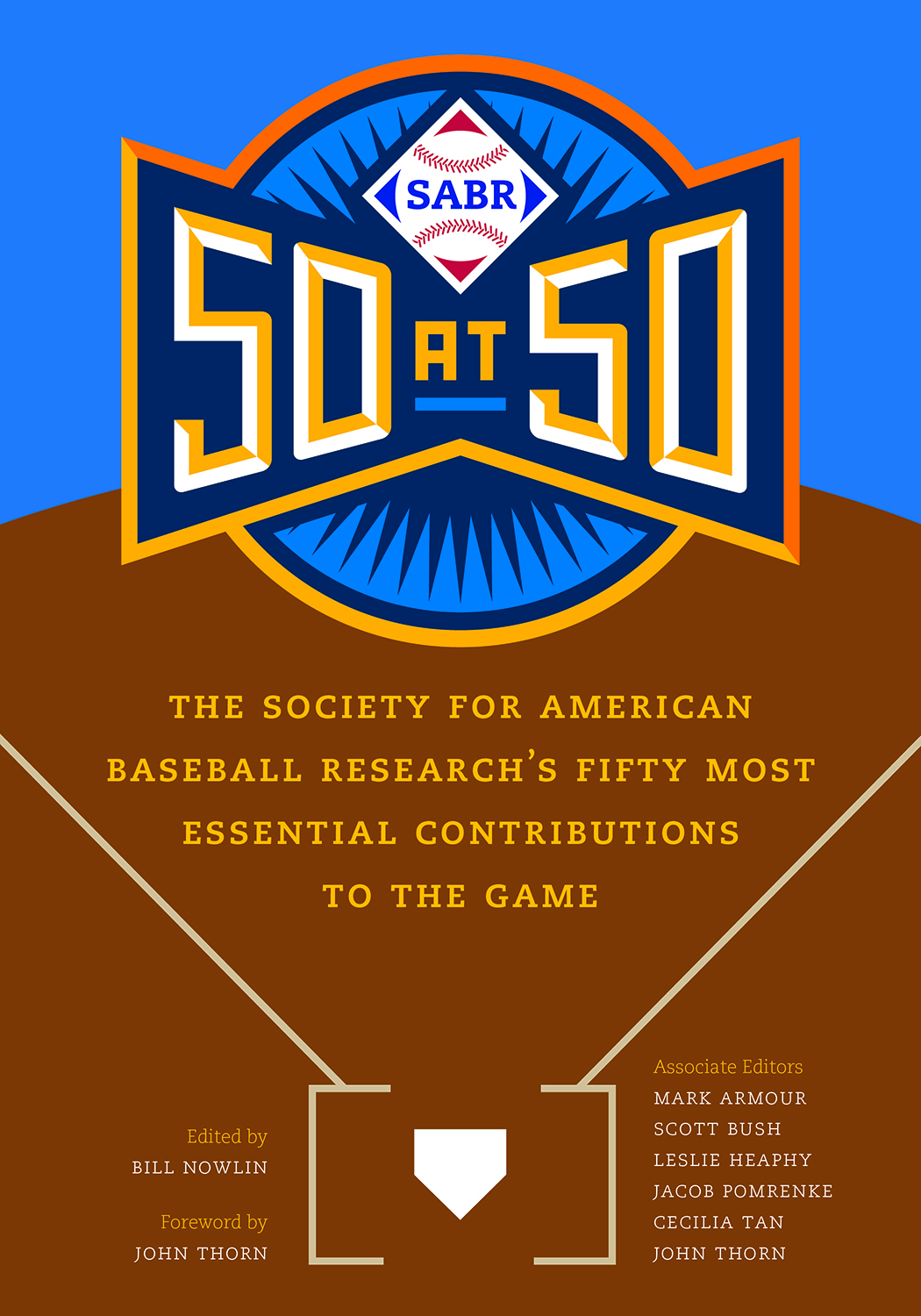 During SABR Virtual, the University of Nebraska Press is offering its usual convention discount of 40% off and free shipping through August 15, 2020, including SABR's upcoming 50th anniversary anthology.
To save 40%, enter the code 6ASAB2 in the promotion code field of your shopping cart and click "Add Promotion Code." Offer is good for US and Canadian shipments only.
Baseball has seen many changes in the last 50 years, and SABR's upcoming 50th anniversary provides an opportunity to highlight the most memorable players, teams, and events from the game's glorious past. SABR 50 at 50: The Society for American Baseball Research's Fifty Most Essential Contributions to the Game, edited by Bill Nowlin and now available for pre-order from the University of Nebraska Press, celebrates and highlights SABR's wide-ranging contributions to baseball history. Click here to learn more about this book.
---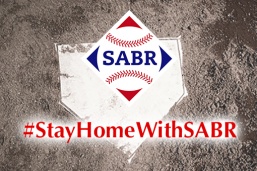 SABR chapters and committees are encouraged to set up virtual meetings to stay engaged with our members throughout the world at SABR.org, as part of our Stay Home With SABR initiative to assist in limiting the spread of the COVID-19 coronavirus pandemic.
This week, we heard from Working a 'Perfect Game' author Bill Nowlin, SABR Baseball Cards Committee award winner Mike Aronstein, Roadside Baseball author Chris Epting, and Now Taking the Field author Thomas Stone.
Here are some more upcoming virtual events you can attend online:
July 17: SABR Virtual: Day 6 with Todd Peterson, Bernard McKenna, Brian Engelhardt, Greg Gajus (7:00 p.m. EDT)
July 18: Rogers Hornsby (TX) Chapter meeting (11:00 a.m. CDT)
July 18: SABR Virtual: Day 7 with Mitchell Nathanson, Karen DeLuca Stephens, David Paulson; plus Baseball Then and Now with Jon Leonoudakis, Mark Armour, Jean Ardell (3:00 p.m. EDT)
July 19: SABR Virtual: Day 8 with Curt Smith, Rob Fitts, Alan Cohen, Keith Spalding Robbins (3:00 p.m. EDT)
July 20: Bud Metheny (VA) Chapter book club (7:30 p.m. EDT)
July 20: Banks-Bragan DFW Chapter meeting with author Jaime Aron (7:00 p.m. CDT)
July 20: Larry Dierker/Houston Chapter meeting with author D.B. Firstman (8:00 p.m. CDT)
July 21: Ken Keltner (WI) Chapter meeting with High School Baseball Coaches panel (7:00 p.m. CDT)
July 22: Pacific Northwest Chapter meeting with Hillsboro Hops president/GM K.L. Wombacher (4:00 p.m. PDT)
July 22: Tampa Bay Chapter meeting (7:00 p.m. EDT)
July 22: Juan Marichal (D.R.) Chapter meeting (8:00 p.m. EDT)
July 22: Jack Graney (Cleveland) Chapter meeting with The Athletic's Zack Meisel (8:15 p.m. EDT)
July 23: Latino Baseball Committee meeting (2:00 p.m. PDT)
July 23: SABR Virtual: Day 9 with Chuck Hildebrandt, Steve Treder, Nick Elam, Christina Knoedler (7:00 p.m. EDT)
July 24: Rocky Mountain Chapter meeting with former MLB All-Star pitcher Brad Lidge (12:00 p.m. MDT)
July 24: SABR Virtual: Day 10 with Gordon Gattie, F.X. Flinn, Jeff J. Snider, and MLB Diversity Initiatives and Social Justice Resources with Tyrone Brooks and Corey Smith (7:00 p.m. EDT)
July 25: Central Florida Chapter meeting with author Jeremy Beer (10:00 a.m. EDT)
July 25: Schott-Pelican (New Orleans) Chapter meeting (10:00 a.m. CDT)
July 25: SABR Virtual: Day 11 with Dan Levitt, Rob Garratt, R.J. Lesch, Edward Scahill (3:00 p.m. EDT)
July 26: SABR Virtual: Day 12 with Jim Case, Rob Mains, and Evaluating Baseball Art: Storytelling in a Digital Age with Graig Kreindler, Anika Orrock, Dick Perez, Anthony Salazar (3:00 p.m. EDT)
July 26: Detroit Chapter open baseball forum (7:00 p.m. EDT)
Find more upcoming virtual meetings and watch replays of past events on our SABR Virtual Calendar page.
---
Add a new baseball book to your collection from the SABR Digital Library:
Pride of Smoketown: The 1935 Pittsburgh Crawfords
Edited by Frederick C. Bush and Bill Nowlin
Associate editors Len Levin and Carl Riechers
ISBN (paperback): 978-1-970159-25-7, $34.95
ISBN (e-book): 978-1-970159-24-0, $9.99
8.5" x 11", 349 pages

The 1935 Pittsburgh Crawfords team, one of the dominant teams in Negro League history, is often compared to the legendary 1927 "Murderer's Row" New York Yankees. The squad from "Smoketown" — a nickname that the Pittsburgh Courier often applied to the metropolis better-known as "Steel City" — boasted four Hall of Fame players in outfielder James "Cool Papa" Bell, first baseman/manager Oscar Charleston, catcher Josh Gibson, and third baseman William "Judy" Johnson. The team also included such stalwarts as Sam Bankhead, William Bell, Jimmie Crutchfield, Andrew "Pat" Patterson, Leroy Matlock, and Sam Streeter. With a roster full of such illustrious stars, it is easy to see why the Crawfords were dominant. Nonethless, the team unexpectedly had to scratch and claw its way to the Negro National League pennant by defeating the New York Cubans in a thrilling seven-game championship series.
This book includes articles on the players from the 1935 squad, as well as one who was absent. The Crawfords might have dispatched the Cubans more easily had they retained the services of pitcher Satchel Paige, a fifth Hall of Famer who had been a member of their 1934 squad. However, Paige and Crawfords owner Gus Greenlee were at odds and Paige shunned the Crawfords in 1935, although his shadow still loomed large over the Pittsburgh franchise. In light of Paige's prominence and the fact that he had been expected to pitch for the Crawfords, a feature article about his accomplishments in 1935 and a story about his failure to appear for a game at Yankee Stadium in September also are included here.
This volume contains exhaustively researched articles about the players, front office personnel, Greenlee Field, and the exciting games and history of the team that were written and edited by 25 SABR members. The inclusion of historical photos about every subject in the book helps to shine a spotlight on the 1935 Pittsburgh Crawfords, who truly were the Pride of Smoketown.
Contributors include: Jeremy Beer, Mark Blaeuer, Richard Bogovich, Frederick "Rick" Bush, Matt Clever, Alan Cohen, Duke Goldman, Peggy Gripshover, Leslie Heaphy, Jon Henson, Paul Hofmann, Jay Hurd, Bill Johnson, Thomas E. Kern, Kevin Larkin, Bob LeMoine, Len Levin, Brian McKenna, Bill Nowlin, Tim Odzer, Richard J. Puerzer, Carl Riechers, Wes Singletary, Mark S. Sternman, Jeb Stewart, and Dave Wilkie.
SABR members, get this e-book for FREE!
SABR members can download all Digital Library e-books for free or save 50% off the paperback editions. To find all titles, visit SABR.org/ebooks.
Having trouble downloading our e-books? To view PDF files on your computer, click here to download the free Adobe Reader software. Having trouble downloading e-books to your Kindle, Nook, Sony Reader or iPad? Click here for additional help.
---
SABR's Board of Directors has approved the formation of a new chapter in Florida and a new research committee.
The Tampa Bay Chapter serves members in the Tampa/St. Petersburg region. The chpater will hold its first virtual Zoom meeting at 7:00 p.m. on Wednesday, July 22. All SABR members are invited to attend. For more information, or to RSVP, contact chapter leader Mark Drucker.
The Century Research Committee, led by Sharon Hamilton, provides a research hub for SABR research and activities to memorialize the anniversaries of important milestones in baseball history. Although the Century Committee is designed to primarily focus on 100th anniversary events, its work will encompass other significant anniversaries — e.g. 25th, 50th, 75th — as well.
SABR's 80 regional chapters cover 39 U.S. states, Puerto Rico, and Washington, D.C.; plus international chapters in Canada (Quebec, Ontario, British Columbia), Japan, South Korea, Taiwan, Australia, Latin America (Venezuela, Dominican Republic), the United Kingdom, Europe (Netherlands), and Italy. For a list of all SABR chapters, visit SABR.org/chapters. A calendar of upcoming SABR meetings can be found at SABR.org/events.
SABR's 32 research committees showcase the diverse interests of our members, such as the Deadball Era, Latino Baseball, Negro Leagues, Statistical Analysis, and Women in Baseball.
To sign up for email announcements and receive instant notification of upcoming SABR events in your area, click here to select from the list of chapters and committees, then click "Join Group" at the top of any group page. All SABR members are eligible to sign up for announcements from any chapter or committee.
---
Good news! The Spring 2020 edition of the Baseball Research Journal is now available to read online:
Click here to read the Spring 2020 Baseball Research Journal at SABR.org
Those of you who receive the print edition should find your BRJ arriving in the next few weeks. For digital subscribers, the e-book edition was delivered to your inboxes on June 24.
To read more articles from the BRJ archives, our flagship publication for nearly the past half-century, click here.
To learn more about contributing to a future SABR publication, click here.
We hope you enjoy reading the Spring 2020 Baseball Research Journal!
---
At the Seamheads Negro Leagues Database, we have recently added:
1) Fielding statistics, full pitching statistics, and batters' hit by pitch for the 1924 Negro National League, along with games involving one new independent team, Charlie Mills's St. Louis Giants;
2) 1921 games between Black teams and a very good white semiprofessional team, Jeff Tesreau's New York Bears. Playing their home games in Harlem's Dyckman Oval, the Bears featured a number of former or future major leaguers (Tesreau himself, Larry Doyle, Manuel Cueto, Herb Kelly, Curtis Fullerton, Paddy Smith), minor leaguers (Bobby Crowell, Tommy Taguer, Paul Dietz) and well-known New York-area semipros (the brothers Willie & Frank Kelleher, George "Shorty" Page, Cy Curran). The Bears, probably the equivalent of a good minor league team, went 20-17-4 against Black teams in 1921.
Coming up: 1924 ECL fielding & complete pitching stats, 1939 NNL & NAL fielding & complete pitching stats, more games between Negro league teams and white majors & minors, more Mexican League & Cuban League seasons.
To view the award-winning Seamheads Negro Leagues Database, visit Seamheads.com/NegroLgs/index.php
— Gary Ashwill
---
One of Retrosheet's greatest contributions has been the construction and publication of box score files. These files provide uniformity and reliability that has been groundbreaking. With the new Summer 2020 release, we now have complete MLB box scores back to 1901, meaning that we now cover the past 119 seasons.
This huge effort has been led for many years by Retrosheet Vice-President Tom Ruane, who is quick to acknowledge the help of several people in checking out RBI data among other things: Dave Lamoureaux, Jonathan Frankel, Javier Anderson, Mike Grahek, Tom Bradley, Bill Nowlin, Tom Stillman, Gary Pearce, Rob Wood, J.G. Preston, Pete Palmer, Herm Krabbenhoft, Don Zminda, Charlie O'Reilly, Paul Wendt, Sheldon Miller, Bob Boehme, Chuck Hildebrandt, Mark Armour, Ron Weaver, Bob LeMoine, Ian Orr, Terry Small, Dave Newman and Dixie Tourangeau.
Deduced games have been completed for four more seasons, 1928 to 1931. This essential work, which can be very challenging, results from the continued great work of Tom Thress, Rob Wood, Dick Cramer, Jim Herdman, Cliff Blau, and Mark Pankin.
Click here to read the full announcement at SABR.org.
— David W. Smith
---
Minutes from the Board of Directors conference call on July 6, 2020, have now been posted on the SABR website.
You can view all past minutes of SABR Board meetings by going to the page below:
profile.sabr.org/board-minutes
---
The SABR office, housed at Arizona State University's Walter Cronkite School of Journalism and Mass Communication in Phoenix, Arizona, has been closed indefinitely due to the ongoing coronavirus (COVID-19) situation. Staff members will work remotely until it is advisable to resume normal operations on-site.
Please contact a member of the SABR staff by email or phone with any questions.
---
Baseball fans, tune in this season to SABRcast with Rob Neyer, a weekly podcast hosted by award-winning author and longtime SABR member Rob Neyer.
Episode #68 on Monday, July 13 featured Rob Fitts, the author of Issei Baseball: The Story of the First Japanese American Ballplayers and founder of SABR's Asian Baseball Research Committee. His other baseball books include Mashi: The Unfulfilled Baseball Dreams of Masanori Murakami, the First Japanese Major Leaguer; Banzai Babe Ruth, which won the 2013 SABR Seymour Medal; Wally Yonamine: The Man Who Changed Japanese Baseball; and Remembering Japanese Baseball: An Oral History of the Game. Fitts is a former archaeologist with a Ph.D. from Brown University who left academics behind to follow his passion for Japanese baseball.
Visit SABR.org/sabrcast to listen to the full episode.
Subscribe to SABRcast on your favorite podcast networks, including Apple Podcasts, Spotify, Stitcher, or Google Play, and listen to each episode as soon as it's released on Mondays. To learn more, visit SABR.org/sabrcast.
---
Eight new biographies were posted this week as part of the SABR Baseball Biography Project. Here are the new bios published this week:
All new biographies can be found here: SABR.org/bioproject
Find any SABR biography: You can visit sabr.org/bioproject to search for any player — or manager, executive, scout, spouse, broadcaster, or umpire — who appears in the SABR BioProject. In addition, we have pages for Ballparks, Broadcasters, Executives, Games, Managers, Scouts, Spouses, Umpires, Writers, people who were Famous Outside Baseball, and a lot more.
---
Seven new game stories were posted this week as part of the SABR Games Project. Here are the new game stories:
New Games Project stories can be found at SABR.org/gamesproject.
Get involved: Have memories of a game you attended? Or a game you watched that caught your interest? Write about it! Writing for the Games Project is an easy way to get involved as a SABR member. Find out how by reading the Games Project FAQs section or checking out the Authors' Guidelines. We have editors and fact checkers who are willing to help you write your first article.
---
Behind the Numbers: Baseball SABR Style on SiriusXM, a radio show hosted by former SABR Board President Vince Gennaro, is back at a new time. Listen to new episodes at 4:00-5:00 p.m. ET on Saturdays on MLB Network Radio.
You can also listen to archives of recent episodes on-demand on the SiriusXM Internet Radio app. Click here to learn more.
Behind the Numbers: Baseball SABR Style on SiriusXM focuses on examining and interpreting the statistical analysis that plays a critical role in baseball today. It airs weekly throughout the year on MLB Network Radio, available to subscribers nationwide on XM channel 89, Sirius channel 209, and on the SiriusXM Internet Radio App.
---
We've heard your feedback: Some of you have said you look forward to "This Week in SABR" every Friday, but sometimes there are just too many compelling articles and announcements to read every week. We're not complaining — hey, keep up the great work! — but we know the feeling. So in an effort to make the length of this newsletter more manageable to read, we'll summarize some of the repeating/recurring announcements in a special "In Case You Missed It (ICYMI)" section of "This Week in SABR".
Here are some major headlines from recent weeks that we don't want you to miss:
All previous editions of This Week in SABR can be found here: https://sabr.org/content/this-week-in-sabr-archives.
---
We'd like to welcome all of our new SABR members who have joined this week. You can find all Members-Only resources at members.sabr.org and the Membership Handbook can be downloaded here.
Please give these new members a warm welcome and help them make the most of their membership by giving them the opportunity to get involved in their local chapter or a research committee.
You can find contact information for any SABR member in the online Membership Directory.
| Name | Hometown |   |   | Name | Hometown |
| --- | --- | --- | --- | --- | --- |
| Shannon Blair | Denver, CO | | | Frank Jakovich | Eureka, MO |
| Dan Boyce | Wickliffe, OH | | | Adam Jones | Allison Park, PA |
| Dan Brook | St Johns, MI | | | Alex Kelter | Carmichael, CA |
| Robert Brown | Lansdale, PA | | | Jim Klann | Arlington Heights, IL |
| Michael DeCicco | Northfield, NJ | | | Bill Mateja | Dallas, TX |
| Dominick Ferrara | Taunton, MA | | | Tripp Norton | Sarasota, FL |
| Robert Fitzpatrick | Chevy Chase, MD | | | Josh Patterson | Athens, GA |
| Tyler Flores | Spring Valley, CA | | | John Siko | Dubai, UAE |
| Pete Goetschel | Brookfield, WI | | | Noah Stafford | Madison, WI |
| Benjamin Halligan | Nutley, NJ | | | Roger Taft | Laguna Beach, CA |
| Chase Honeycutt | Southaven, MS | | | Ethan Witte | Sewell, NJ |
| Bill Hughes | Monessen, PA | | | | |
---
Here are the new research committee updates this week:
Find all SABR research committee newsletters at SABR.org/research/committees.
---
Here are the new regional chapter updates this week:
Visit SABR.org/chapters for more information on SABR regional chapters.
---
Scroll up to the top of this page to learn more about all of the upcoming virtual events on the SABR calendar.
Find more virtual meetings on our SABR Virtual Events Calendar page.
---
Here are some recent articles published by and about SABR members:
Please note: Some articles may require a separate subscription to view online. SABR does not endorse, and is not responsible or liable for, any content that appears on a third-party website.
---
This Week in SABR is compiled by Jacob Pomrenke. If you would like us to include an upcoming event, article or any other information in "This Week in SABR," e-mail jpomrenke@sabr.org.
Have trouble reading this e-mail? Click here to view this week's newsletter on the web.
Are you receiving our e-mails? "This Week in SABR" goes out by e-mail to all members on Friday afternoons. If they're not showing up, try adding "sabr.notes@sabr.org" to your contact list to ensure they show up in your inbox (and not the spam folder.)
---
Originally published: July 17, 2020. Last Updated: July 18, 2020.
https://sabr.org/wp-content/uploads/2020/06/SABR-LatestNews-TWIS-2016.jpg
250
847
sabr
/wp-content/uploads/2020/02/sabr_logo.png
sabr
2020-07-17 13:11:33
2020-07-18 00:07:02
This Week in SABR: July 17, 2020