This Week in SABR: June 22, 2018

Live from SABR 48 in Pittsburgh, welcome to "This Week in SABR!" Click here to view this week's newsletter on the web. Here's what we've been up to as of June 22, 2018:
---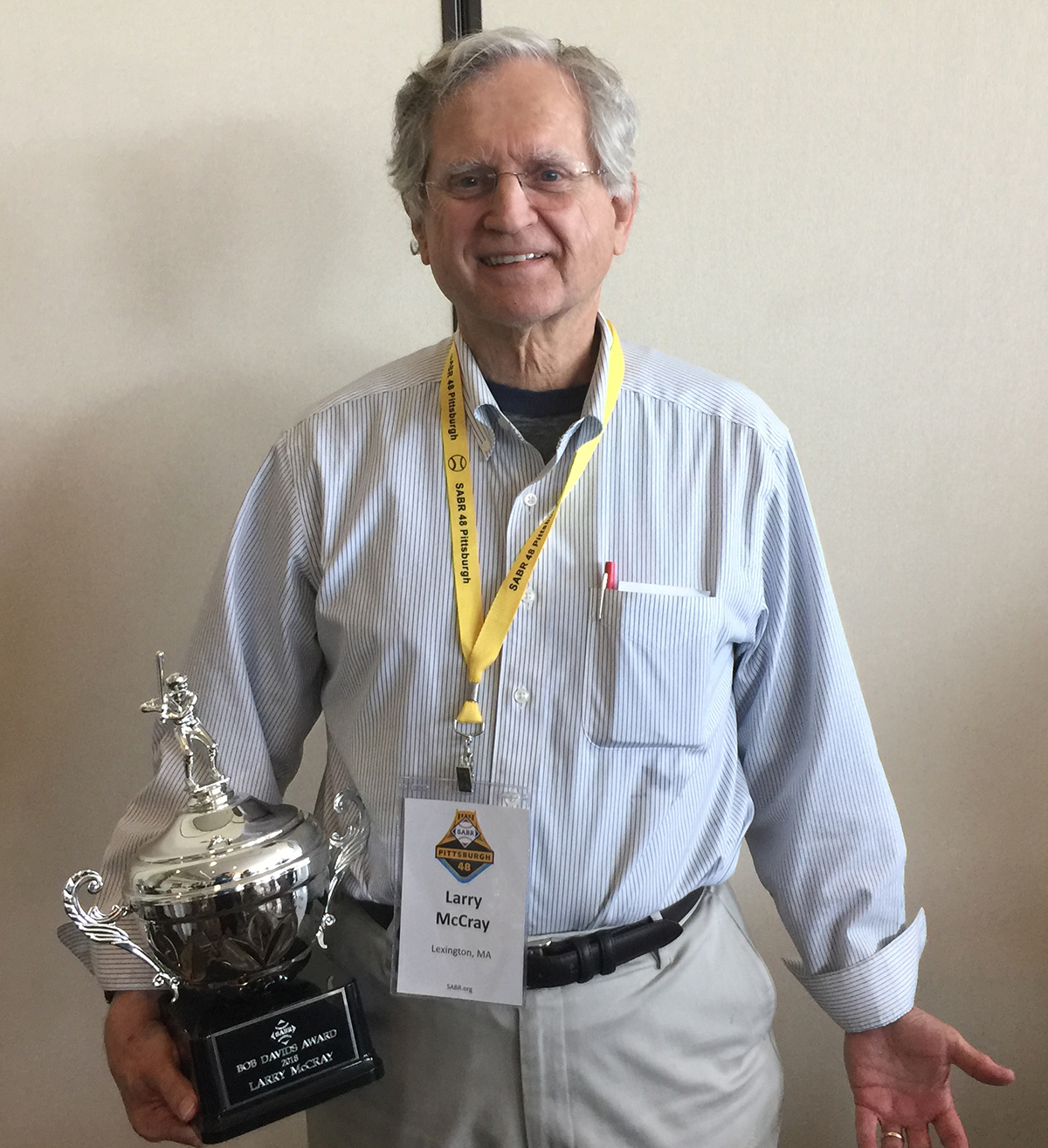 Larry McCray, one of the foremost historians of baseball's early origins, was announced as the winner of the Bob Davids Award during the SABR 48 Awards Reception on Friday, June 22, 2018, in Pittsburgh.
The award — which is the Society's highest honor — honors SABR members whose contributions to SABR and baseball reflect the ingenuity, integrity, and self-sacrifice of the founder and past president of SABR, L. Robert "Bob" Davids.
"Thank you very much. I couldn't be more surprised, nor more (humbled)," said McCray, who was a recipient of the Henry Chadwick Award in 2017.
McCray created the vast and invaluable Protoball Project, to help researchers and writers locate and refine primary data on the evolution and spread of ball play from ancient times to up to 1870, just before the first professional baseball league began. Enlisting the efforts of 100 other "diggers," as they are termed on the site, McCray is the man most responsible for the new public understanding of baseball's predecessor games. He served as Guest Editor of the special Protoball issue of Base Ball: A Journal of the Early Game, featuring more than thirty articles on this long neglected and little understood area.
McCray was named to MLB's Special Origins Committee in 2011 and he also chaired SABR's Origins Research Committee for many years, attracting new diggers as well as interested readers in the subject of baseball's earliest days.
His life outside of baseball is also exemplary. After graduating from Union College with a BA and BEE (1965) and being awarded a Fulbright scholarship for 1967–68 in India, he received his Ph.D from the Massachusetts Institute of Technology in 1974. His dissertation, "The Politics of Regulation," was awarded the APSA's E.E. Schattschneider Prize as the best dissertation in American government and politics for 1974. He now helps teach a graduate course in science policy at MIT.
Previous Bob Davids Award winners in attendance Friday at the SABR 48 Awards Luncheon were: Len Levin (1997), Lyle Spatz (2000), Larry Gerlach (2001), David W. Smith (2005), John Thorn (2006), Andy McCue (2007), Mark Armour (2008), Tom Ruane (2009), Bill Nowlin (2011), Jan Finkel (2012), Leslie Heaphy (2014), Dan Levitt (2015), and Larry Lester (2017).
The Bob Davids Award was established by the Board of Directors in 1985, and is awarded each year at the annual convention. Click here to view previous winners.
---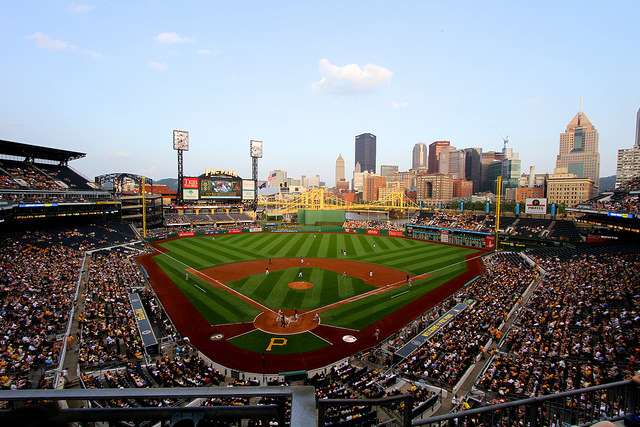 For the third year in a row and fourth time in five years, SABR will present "A Day at the Ballpark" before the Pittsburgh Pirates game on Friday, June 22 at PNC Park. Full registration and single-day rates are available for purchase on-site at SABR 48 and all baseball fans are welcome to attend.
The pregame ballpark session will be held from 2:30-4:30 p.m. this afternoon at PNC Park, followed by the game that night between the Pirates and the Diamondbacks. Our guest speakers are expected to include:
Purchase of SABR 48 conference registration (full or single-day rates) AND a game ticket will be required to attend this special session. Guests and spouses can get in the ballpark early with purchase of a special SABR 48 Ballpark Session pass ($25) and a Pirates game ticket. Click here for more details.
Please note: Our block of Pirates game tickets is no longer available. You can purchase a game ticket on your own by visiting Pirates.com/tickets.
For more coverage of SABR 48, visit SABR.org/convention.
---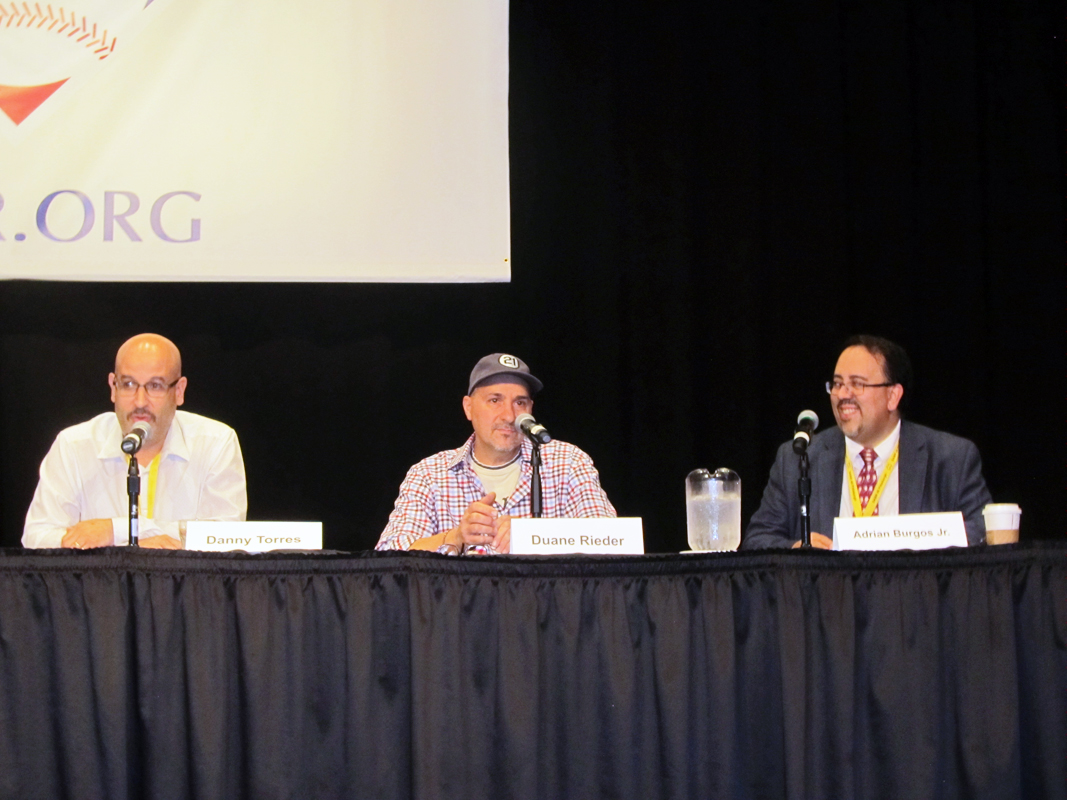 Our SABR 48 panel discussion, The Great One: The Life and Legacy of Roberto Clemente, on Thursday, June 21 at the Wyndham Grand Pittsburgh Downtown, focused on the life and legacy of Puerto Rican and Pittsburgh Pirates icon Roberto Clemente.
Our panelists included Duane Rieder, Executive Director and Curator of the Roberto Clemente Museum; Danny Torres, LatinoSports.com and LaVidaBaseball.com writer; and moderator Adrian Burgos Jr., Editor-in-Chief of La Vida Baseball and author of Playing America's Game: Baseball, Latinos, and the Color Line.
Click here to listen to audio highlights from this panel at SABR.org.
---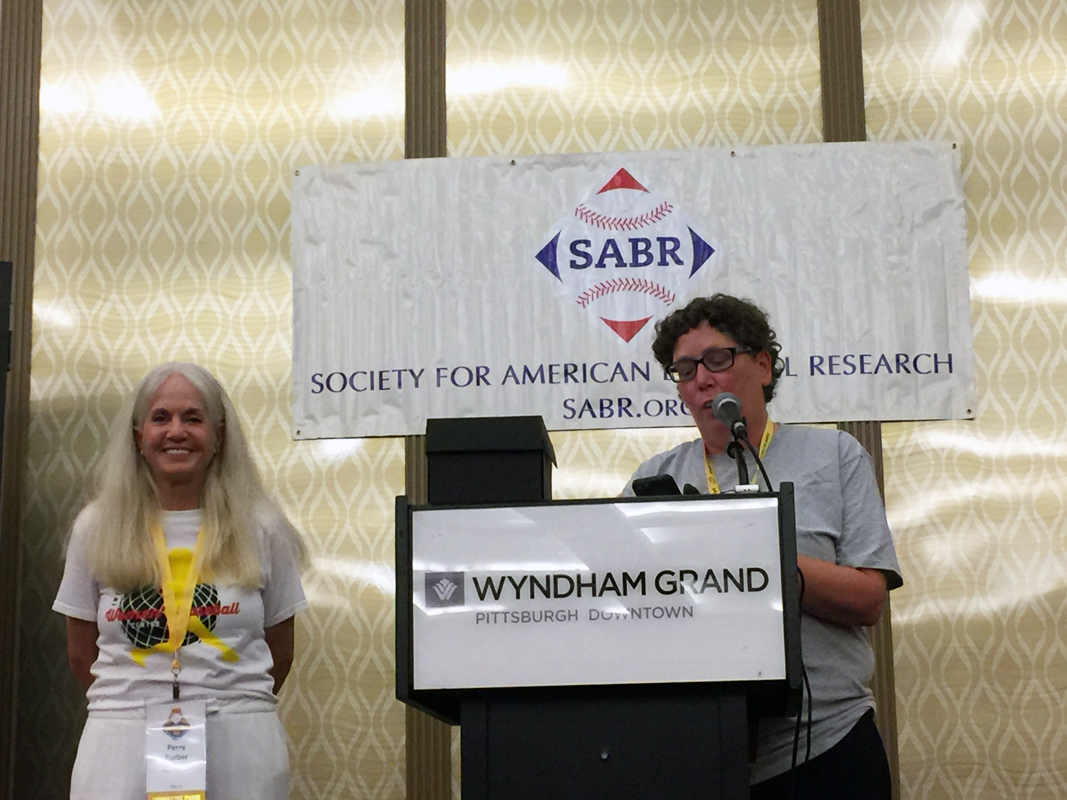 Perry Barber, a longtime professional umpire, author, and promoter of women in baseball, was honored at SABR 48 on Thursday, June 21 with the inaugural Dorothy Seymour Mills Lifetime Achievement Award at the annual Women in Baseball committee meeting in Pittsburgh.
Continuing a tradition of female umpires that stretches back to Amanda Clement in the early 1900s, Barber has umpired around the world at every level of the game. No matter where she is, she is a constant champion of women and their participation in America's National Pastime.
SABR's Women in Baseball Committee established the Dorothy Seymour Mills Lifetime Achievement Award — "The Dorothy" — named in honor of Dorothy Seymour Mills and her lifetime of contributions to promoting women's baseball.
---
Here are a few late schedule updates for SABR 48 this weekend in Pittsburgh:
For more information on SABR 48, visit SABR.org/convention.
---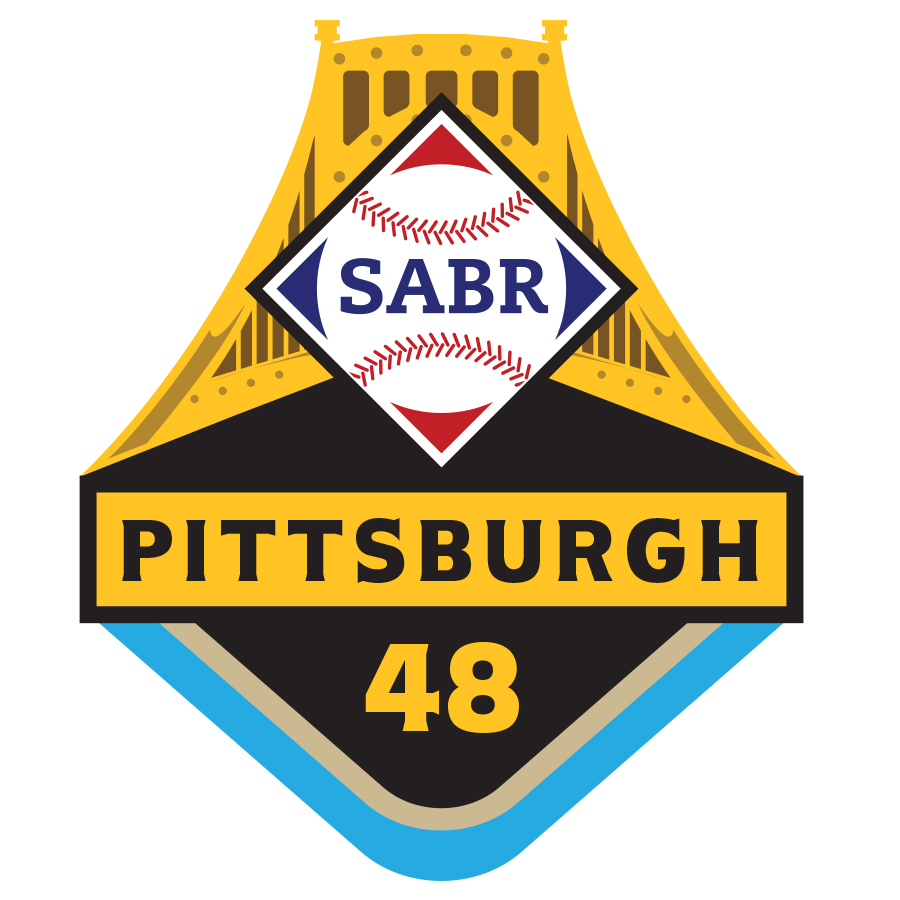 We steadfastly maintain that there is nothing trivial about baseball trivia. The world-famous SABR Trivia Contest finals will be taking place Saturday night at SABR 48 in Pittsburgh, and it's always an entertaining and competitive battle to crown the individual and team champions.
We invite you to follow along with us live on Twitter beginning at 7:30 p.m. EDT on Saturday, June 23 by visiting Twitter.com and searching for the hashtag #SABR48. We'll be live-tweeting questions (and answers if everyone gets stumped!), and you'll have your chance to test your knowledge online with other SABR members and friends.
The SABR Trivia Contest is moderated by D. Bruce Brown, co-chair of Horsehide Trivia with T. Scott Brandon and president of the Baltimore Babe Ruth Chapter. The questions are written and edited by Brown and Brandon, who also assembles the game boards, illustration and animation of the semifinal and final rounds.
The questions are presented in ascending difficulty. The early-round questions will be at a relatively easy starting point, while the late-round questions, though more difficult, will still interest casual fans.
You can view all past Trivia Contest winners by clicking here.
For more coverage of SABR 48, visit SABR.org/convention.
---
Single-day registration for SABR 48 can still be purchased on-site at the Wyndham Grand hotel in downtown Pittsburgh during convention registration hours this weekend.
The single-day rate of $149 — which is available for Saturday, June 23 — includes admission to all convention panels, research presentations, and committee meetings at the Wyndham Grand hotel. It can be purchased on-site via cash, check, or credit card (sorry, no American Express accepted.)
Please note: Admission to the Donors Breakfast on Saturday is not included.
Click here for complete details on SABR 48 registration rates.
---
Can't make it to Pittsburgh for SABR 48? Check out more early coverage from the 2018 convention festivities by visiting SABR.org/convention.
Stay tuned for more coverage next week from SABR 48 at the Wyndham Grand hotel in downtown Pittsburgh!
---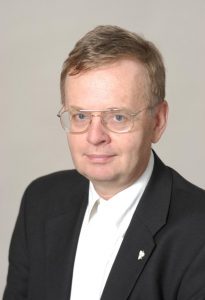 SABR member Bill Humber, Canada's premier baseball historian, was inducted into the Canadian Baseball Hall of Fame last weekend along with former Montreal Expos superstar Pedro Martinez and Toronto Blue Jays center fielder Lloyd Moseby. A ceremony was held on Saturday, June 16 at the Hall of Fame grounds in St. Marys, Ontario.
"Each of this year's inductees has had a tremendous influence on baseball in this country," said Scott Crawford, the Canadian Baseball Hall of Fame's director of operations. "Pedro Martinez and Lloyd Moseby are two of the most successful and beloved stars to have played for major league teams in Canada and Bill Humber's commitment to promoting the history of the game in this country has been unparalleled."
Click here to read the full article at SABR.org.
---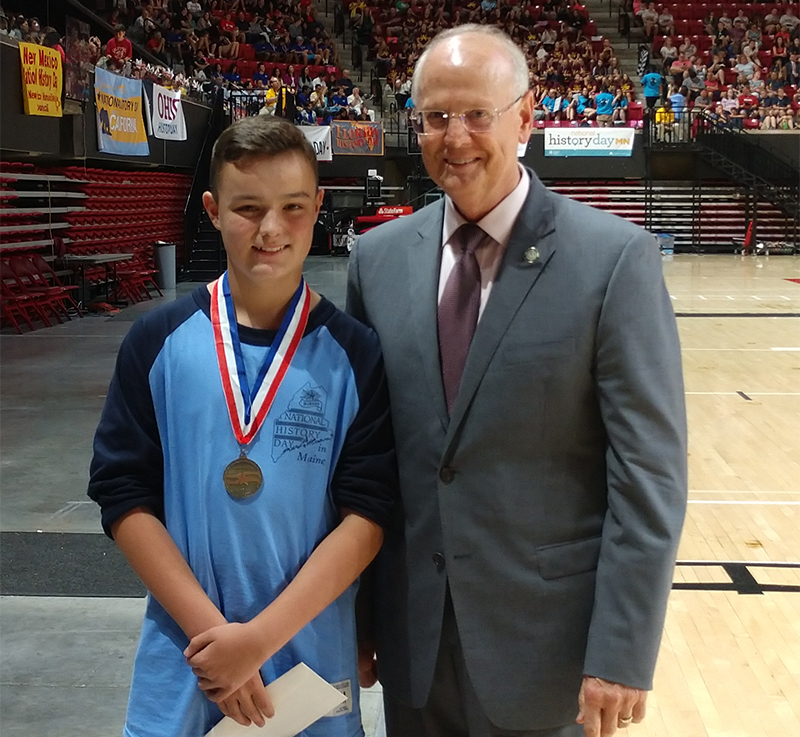 SABR is pleased to announce the winner of the Lee Allen History of Baseball Award for 2018.
Connor Albert of North Yarmouth, Maine, won the Lee Allen History of Baseball Award for his paper, "To Enrich the Future, Not to Avenge the Past: How Jackie Robinson's Compromise With Branch Rickey in Major League Baseball Led to Robinson Joining the Conflict of the Civil Rights Movement."
Since 1996, SABR has honored the best baseball research project at the National History Day competition, an annual event in which students compete on a regional basis, followed by state competition, and then national finals at the University of Maryland.
The award is named in honor of Lee Allen, the historian at the National Baseball Hall of Fame and Museum from 1950 to 1969. To view a list of past winners, click here.
For more information on National History Day, visit http://www.nhd.org/SpecialPrizeinfo.htm.
---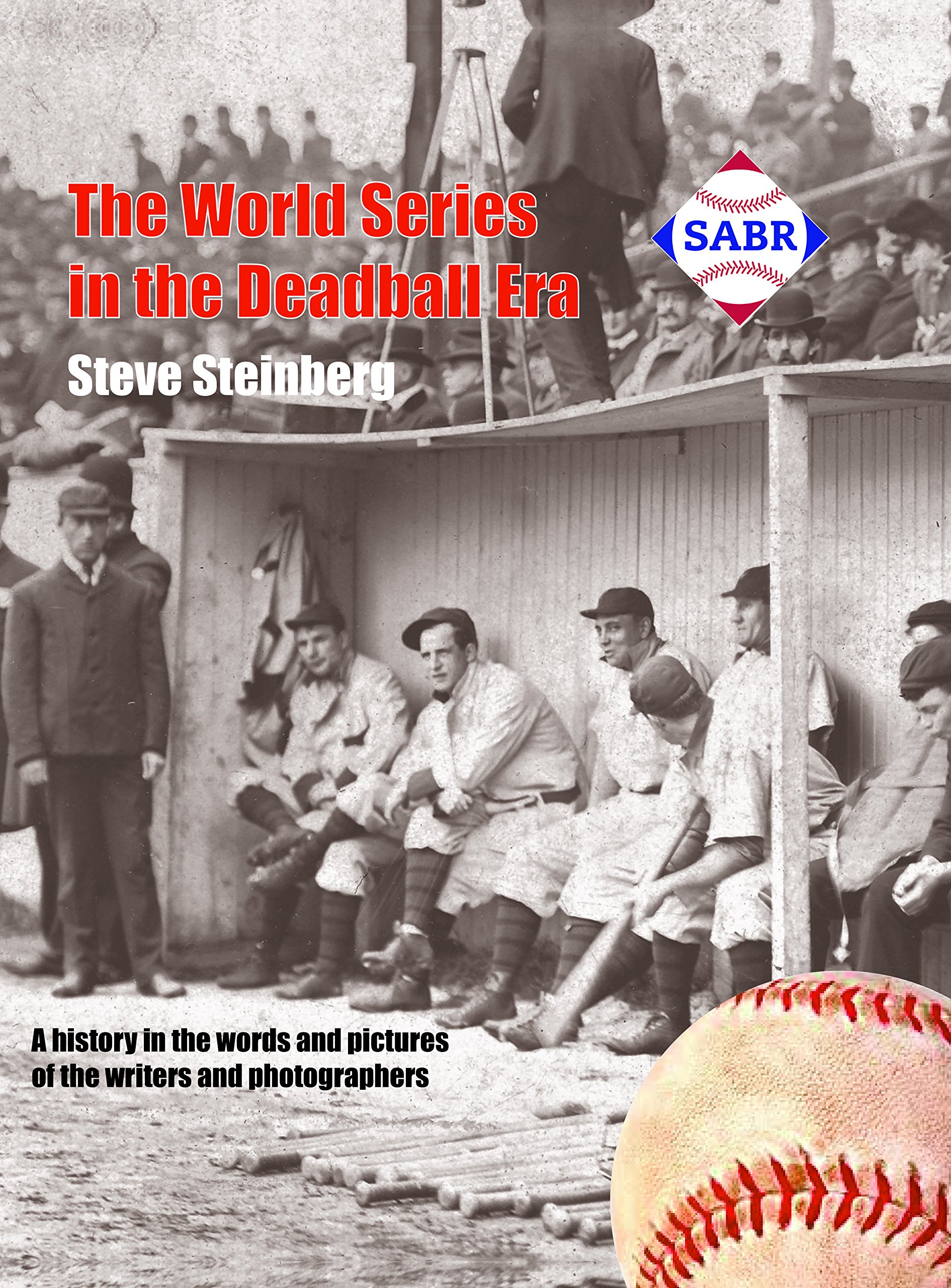 A special new publication produced by SABR's Deadball Era Research Committee vividly brings back the exploits of Ty Cobb, Christy Mathewson, Home Run Baker, and Babe Ruth to life with more than 250 rare photos:
The World Series in the Deadball Era: A History in the Words and Pictures of the Writers and Photographers
Edited by Steve Steinberg
Foreword by Dr. Charles Alexander
Published by St. Johann Press
ISBN (hardcover): 978-1-9379-4345-5, $45.00
306 pages, 8.5″ x 11″

Click here for a complete description of this book at SABR.org.
This book is available for purchase from Amazon.com, your local bookstore, or directly from the publisher at St. Johann Press.
Buy the book:

---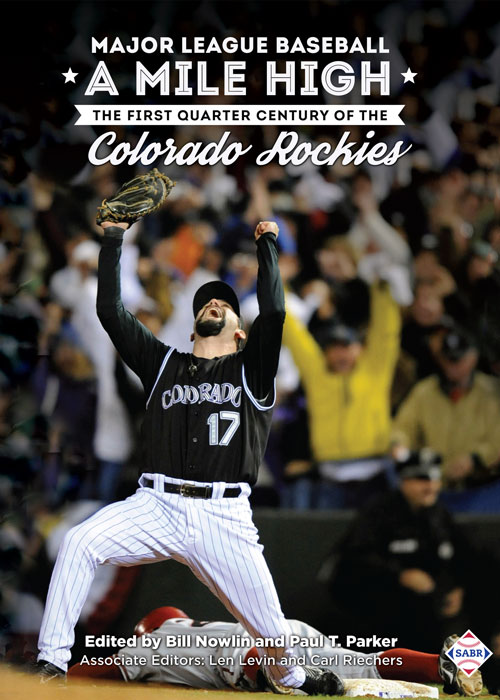 Take a seat in the "purple row" and add this new baseball book from the SABR Digital Library to your collection:
Major League Baseball A Mile High: The First Quarter Century of the Colorado Rockies
Edited by Bill Nowlin and Paul T. Parker
Associate Editors: Len Levin and Carl Riechers
ISBN (paperback): 978-1-9438-1677-4, $19.95
ISBN (e-book): 978-1-9438-1676-7, $9.99
8.5″ x 11″, 265 pages
Click here for a complete description of this book at SABR.org.
SABR members, get this e-book for FREE!
Having trouble downloading our e-books? To view PDF files on your computer, click here to download the free Adobe Reader software. Having trouble downloading e-books to your Kindle, Nook, Sony Reader or iPad? Click here for additional help.
SABR members will get discounted rates for all Digital Library publications, including many for free. Visit SABR.org/ebooks for information on all SABR Digital Library books.
---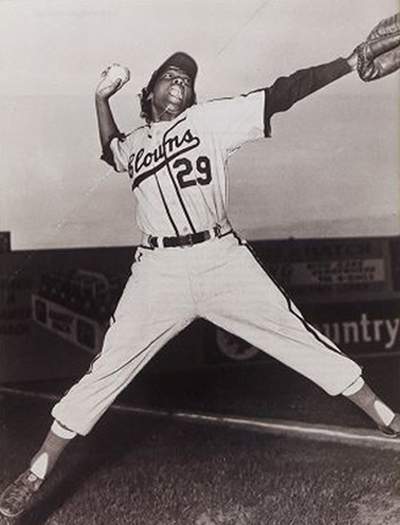 SABR's Women in Baseball Committee will award one $500 scholarship to a high school senior in its inaugural Women in Baseball Essay Contest in 2018.
Students must write an essay of 1,500 words or less addressing the following question: "Choose one person or event in women's baseball history that you believe has made a significant impact on the game and explain the importance."
Click here to download the 2018 SABR Women in Baseball Scholarship application and style guidelines (PDF)
All applications must be e-mailed or postmarked by August 13, 2018, and sent to Dr. Leslie Heaphy at Lheaphy@kent.edu.
Click here for complete details and submission criteria.
---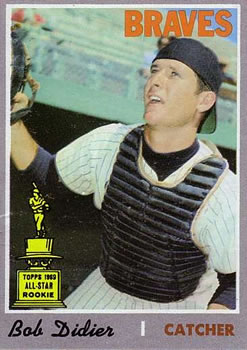 Two new biographies were posted this week as part of the SABR Baseball Biography Project, which brings us to a total of 4,570 published biographies. Here are the new bios published this week:
All new biographies can be found here: SABR.org/bioproj/recent
---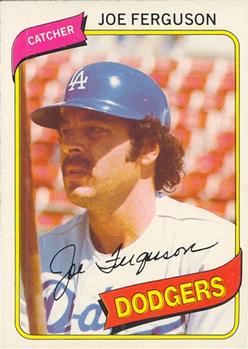 Two new game stories were posted this week as part of the SABR Games Project. Here are the new game stories:
New Games Project stories can be found at SABR.org/gamesproject/recent. Find all published Games Project articles at SABR.org/GamesProject.
If you have any questions about the Games Project, please contact Mike Huber. To request an assignment, please contact Steven C. Weiner. After the article has been completed in accordance with our Authors' Guidelines, please submit it to Len Levin, who will initiate the editing process and get your story started toward publication.
---

I am very happy to announce the semiannual update to the Retrosheet.org website. We have many additions to our site and I am proud of out accomplishments since last November.
Box scores for the 1907 season have been completed and proofed. Tom Ruane led this effort as usual along with help from Jonathan Frankel and Dave Lamoureaux. Thanks to the efforts of this crew, we now have full box scores for the last 111 seasons.
The "deduction project" in which we construct play-by-play accounts of missing games by careful use of newspapers, especially the detailed games stories that were once so common. This time we release 1939 and 1940, adding to the front of our contiguous block of play by play as usual so that we now have full play by play of every game for the last 79 seasons.
We have also completed the proofing of play-by-play files from 1923, 1924, and the 1921 AL (the NL was done previously). Although these seasons are still missing some games which will eventually be deduced, I think it is valuable to get the information we have available as soon as possible. These new releases cover over 80% of the games back through 1921. We now provide play-by-play data for the last 97 seasons.
Thanks to the many visitors to our site who have submitted suggestions for changes and corrections. The Retrocommunity is a dedicated group which makes all of our work possible.
Click here to read the full announcement at SABR.org.
— David W. Smith
---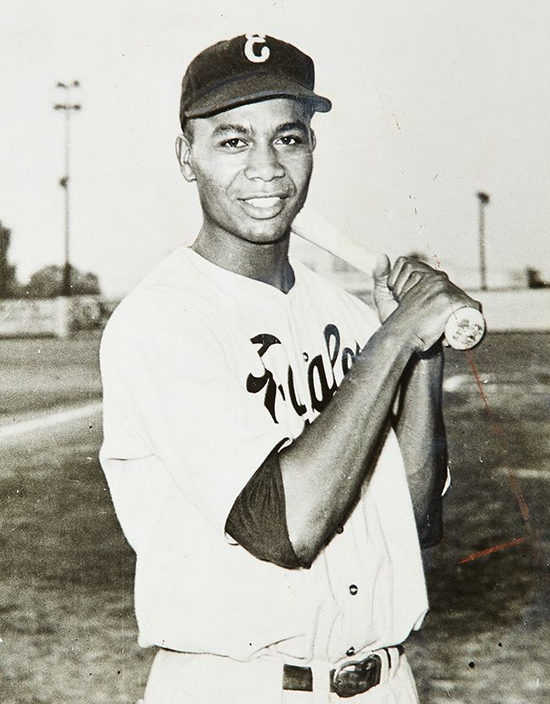 We are pleased to pass along the following update from SABR member Gary Ashwill at Seamheads.com on June 18:
We're pleased to announce the addition of the 1947 Negro leagues to the DB. In that year history continued to bear down on the NNL & NAL. Josh Gibson tragically died in January. Jackie Robinson debuted for the Dodgers in April, and by mid-season other big league clubs were sniffing around the Negro leagues for more bargains. The two defending league champions, the Kansas City Monarchs and Newark Eagles, were the most inviting targets.
In July the Cleveland Indians signed Newark's best player, Larry Doby. Then the St. Louis Browns followed by taking Willard Brown and Hank Thompson from the Monarchs. The latter two were back in Kansas City within a month, as the St. Louis Browns, at this point a pretty awful organization, offered them little support in the face of hostility from their teammates. Both the Monarchs and the Eagles wound up in second place.
In the NAL it was the Cleveland Buckeyes who finished on top, winning their second pennant in three years due to the sterling work of center fielder Sam Jethroe, veteran pitchers Doc Bracken and Chet Brewer, and player-manager Quincy Trouppe, in addition to a pair of teenagers—the shortstop Al Smith and Panamanian southpaw Vibert Clarke.
To view the award-winning Seamheads Negro Leagues Database, visit http://www.seamheads.com/NegroLgs/index.php
---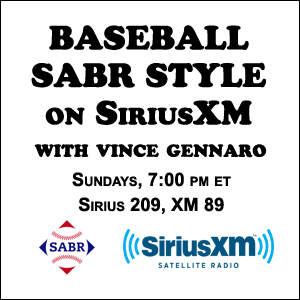 Behind the Numbers: Baseball SABR Style on SiriusXM, a radio show hosted by SABR President Vince Gennaro, is back for the 2018 season at its regular time: 7:00-8:00 p.m. ET on Sundays, on MLB Network Radio.
This week's show features SABR member Eno Sarris of The Athletic.
You can listen to archives of recent episodes on-demand on the SiriusXM Internet Radio App. Click here to learn more.
Behind the Numbers: Baseball SABR Style on SiriusXM focuses on examining and interpreting the statistical analysis that plays a critical role in baseball today. It airs weekly throughout the year on MLB Network Radio, available to subscribers nationwide on XM channel 89, Sirius channel 209, and on the SiriusXM Internet Radio App.
---
We've heard your feedback: Some of you have said you look forward to "This Week in SABR" every Friday, but sometimes there are just too many compelling articles and announcements to read every week. We're not complaining — hey, keep up the great work! — but we know the feeling. So in an effort to make the length of this newsletter more manageable to read, we'll summarize some of the repeating/recurring announcements in a special "In Case You Missed It (ICYMI)" section of "This Week in SABR".
Here are some major headlines from recent weeks that we don't want you to miss:
All previous editions of This Week in SABR can be found here: https://sabr.org/content/this-week-in-sabr-archives.
For more information, click here.
---
We'd like to welcome all of our new SABR members who have joined this week. You can find all Members-Only resources at members.sabr.org and the Membership Handbook can be downloaded here.
Please give these new members a warm welcome and help them make the most of their membership by giving them the opportunity to get involved in their local chapter or a research committee.
You can find contact information for any SABR member in the online membership directory (SABR.org/directory).
| Name | Hometown | | | Name | Hometown |
| --- | --- | --- | --- | --- | --- |
| Mac Ambler | Williamsburg, VA | | | Michael McVerry | Vienna, VA |
| Brady Banse | La Crosse, WI | | | James McVerry | Vienna, VA |
| Christopher Coffey | New York, NY | | | Tom Melecki | Austin, TX |
| Amado Daylo | Bellevue, WA | | | Matt Polka | N. Versailles, PA |
| Anthony Escobedo | Springfield, VA | | | Steve Rorabaugh | Loveland, CO |
| Jon Ferlise | Phoenix, AZ | | | Ron Rossie | Saratoga, CA |
| Steve Fugaro | Mill Valley, CA | | | Kishore Warrier | Shaker Hts, OH |
| Ed Lynch | Scottsdale, AZ | | | | |
---
Here are the new research committee updates this week:
Find all SABR research committee newsletters at SABR.org/research.
---
Here are the new regional chapter updates this week:
Visit SABR.org/chapters for more information on SABR regional chapters.
---
Here is a list of upcoming events on the SABR calendar:
All SABR meetings and events are open to the public. Feel free to bring a baseball-loving friend … and make many new ones! Check out the SABR Events Calendar at SABR.org/events.
---
Here are some recent articles published by and about SABR members:
Read these articles and more at SABR.org/latest.
---
This Week in SABR is compiled by Jacob Pomrenke. If you would like us to include an upcoming event, article or any other information in "This Week in SABR," e-mail jpomrenke@sabr.org.
Have trouble reading this e-mail? Click here to view this week's newsletter on the web.
Are you receiving our e-mails? "This Week in SABR" goes out by e-mail to all members on Friday afternoons. If they're not showing up, try adding "sabr.notes@sabr.org" to your contact list to ensure they show up in your inbox (and not the spam folder.)
---
Originally published: June 22, 2018. Last Updated: April 3, 2020.
https://h2j7w4j4.stackpathcdn.com/wp-content/uploads/2020/03/research-collection4_350x300.jpg
300
350
admin
/wp-content/uploads/2020/02/sabr_logo.png
admin
2018-06-22 15:00:00
2020-04-03 14:38:18
This Week in SABR: June 22, 2018