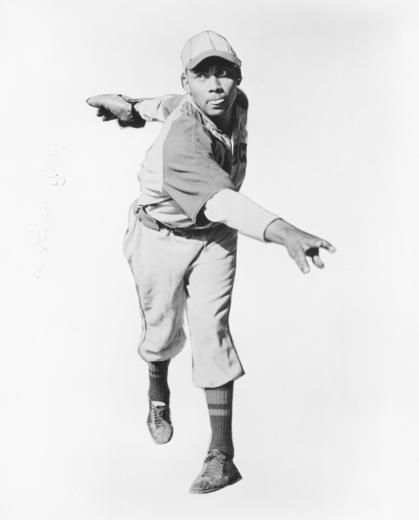 ---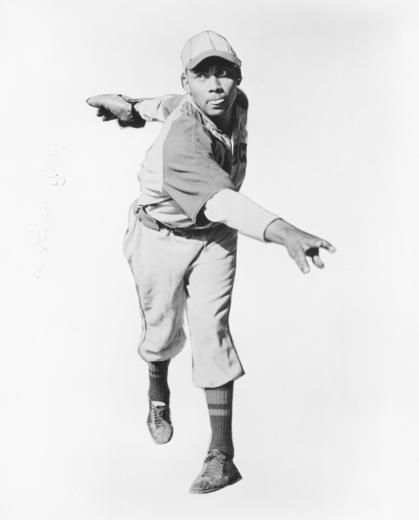 "I was born in 1912 [sic] in Giddings, Texas, a little town between Austin and Houston. Rube Foster came from about twenty-five miles from my house, a little town right above me." — Hilton Smith 1
Something must have been in the air as the state of Texas produced eight Negro League Hall of Famers2 including Hilton Smith, whose early local prominence as a lights-out pitcher helped to springboard him to an accomplished career in the Negro Leagues that led to his induction into Cooperstown's shrine.
Although Smith told historian John Holway that he was born in 1912, official records confirm that he was born on February 27, 1907.3 When asked about it, Hilton's son, DeMorris Smith, said that "as the oldest of six, Hilton helped raise his siblings. He did not get out of Giddings until later and his career in baseball got delayed." Smith put his age back to enhance his career prospects, his son also said, and did so after he left Prairie View A&M College in the late 1920s.4
Hilton Smith's reminiscences offer important insights to his youth and his pathway to baseball.
I patterned myself after my uncles. I had two uncles that my mother would let me play with. They were powerful good ballplayers. I guess I inherited my ability from them. They were good, but they played out in the country there, played for fun. I just loved it, and that was what started me off. I just made myself, didn't have a teacher. I kept picking up and looking and learning as I went up.5
He continued:
I started out playing with my dad, who was a schoolteacher. I played for my dad's team when I was in the tenth grade. I guess I was about fifteen. During the summertime I played with older boys — they were all grown men. I pitched against the town high school team and shut them out 2-0.6
Smith attended Prairie View State Normal and Industrial College in 1928 and 1929.7 According to the school's records, he received academic honors both years and was on the dean's list as well. "Smith was an Agricultural Science major … and played in the outfield during 1928 and as pitcher in 1929." Prairie View inducted Smith into its sports hall of fame in 2011.8
After attending Prairie View, Smith turned full time to baseball. He told Holway:
Austin had a team, the Austin Senators, a semipro team that played Houston and all the towns down there. They had a pitcher named Willie Owens who had played with Birmingham in the Negro League. In 1931, I was nineteen [sic; he was actually 24], I went down and pitched against him one Saturday and beat 'em, I just beat 'em good. He went back to Austin and said, "My goodness, there's a little kid there, he's something else." So when the Chicago American Giants came down to play Austin the next weekend, Austin came down and got me to pitch for them. I beat 'em [the American Giants] 5-4 in eleven innings.9
His audition won Smith a spot in the rotation of the Austin Black Senators, a Texas Negro League team considered part of the feeder system for the Negro Southern League. Fast-forward to 1932 and Smith's career clicked up a notch to the Monroe Monarchs of the Negro Southern League.
Monroe [Louisiana] had a really good Negro team then. They were champions of the southern conference [NSL], had beaten everybody. … They came to Austin and played us two games. They were talking about they heard of this little schoolboy up there and said, "Well, we came up here to work him over." But we had a great big ballpark and I beat 'em 2-1. They couldn't believe it. They said, "Well, this big old park, no wonder you won. When you come to Monroe" — Monroe had a small park — "we'll hit so many home runs off you. …" So I went to Monroe the following Sunday and beat 'em 4-2.10
The Monroe Morning World described Smith's first performance in what was styled the Negro Dixie League Series this way: "A young pitcher named Hilton Smith gave up 11 hits, but only one earned run to tie the series at two games apiece."11 Monroe won the series 4 games to 2.
As was the norm in Negro League ball, ballplayers, managers, owners all would scout the opposition looking for talent to stock their own teams. There was no better sign of talent than an opponent who could beat you. Smith continued, "Monroe picked me up to play with them and carried me to Pittsburgh. … I played with Monroe for the next three years. I had a great year in '32, won thirty-one games, didn't lose a ball game."12
Not only did Hilton Smith find momentum for his baseball career in Monroe, but he also met and then married Louise Smith, a native of Monroe, in 1934. They had two sons — Hillton (yes, that is the correct spelling), born in 1935 and DeMorris, in 1938.13
Smith's sojourn with Monroe lasted into 1935, when a pivotal moment in his career took place:
I went to Bismarck, North Dakota, in 1935. The League broke up down South and Monroe went on a tour around the Midwest. We weren't making any money, just touring around, but we were playing good ball, beating just everybody we met. I didn't know what it was to lose a ballgame. I hadn't lost a ballgame. We got into Bismarck the fifth of July — I will never forget that. A guy named Churchill was mayor of the city and had a ball club. … Satchel Paige was pitching for them. … They were getting ready to go to this Wichita semipro tournament and they needed another pitcher. Churchill asked me about staying and I said I didn't know. … How about $150?" I told him okay.14
The Bismarck Churchills were one of baseball's most iconic semipro teams. In his biography of Ted Radcliffe, a teammate of Smith's in Bismarck, Kyle McNary wrote:
It was a common occurrence from the beginning of small-town baseball to hire "ringers" to bolster teams for important games on which big money was bet. Usually the ringers were ex-minor or major-leaguers, but as small town baseball became more competitive, teams … moved to the last remaining pool of untapped talent … the Negro Leagues, and towns in Minnesota and North Dakota were the first to hire black pitchers and catchers for big games, and eventually for entire seasons.15
Neil Churchill of Bismarck, North Dakota, epitomized this obsession to sign pro talent to enhance a local team's competitiveness. Baseball was a big deal in the American breadbasket and Churchill, a local auto dealer with a love for baseball, played for and later managed the Bismarck team. He "could not abide Bismarck playing second baseball fiddle to Jamestown [Bismarck's in-state competition]." To him, it was obvious what he needed to do to strengthen his new team: sign Black players." Churchill worked with Abe Saperstein in Chicago (a booking agent) to provide a pipeline for Negro League talent.16
Churchill's signing of Negro Leaguers, led by Satchel Paige, was central to achieving his purpose of winning the first National Semipro Championship tournament, defeating the Duncan (Halliburton) Cementers of Oklahoma, 5-2, in the championship game. The 1935 tournament, held in Wichita, Kansas, included 32 teams from 16 states. Bismarck ran the table, winning seven games for the championship. Satchel Paige pitched in five games, winning four and striking out 60. This fully integrated team had at its core five white and six black players. The Negro Leaguers were Satchel Paige, Hilton Smith, Ted Radcliffe, Quincy Trouppe, Barney Morris, and Red Haley.17
Smith did not pitch much for Bismarck in 1935 — Paige was the star. Paige first played for Bismarck in 1933 and came back in 1935 after Pittsburgh Crawfords owner Gus Greenlee refused to give him a raise for the 1935 season. According to Smith himself, "I didn't lose a ball game with Bismarck the whole year, but I didn't pitch much. I played right field on that club most of the time and batted third or fourth."18 But Smith played the outfield and in the final, he batted cleanup and went 2-for-4, driving in one run and scoring one in the victory.19
According to Smith, "The next year [1936] when I went back to Bismarck, Satchel had gone east, so I did all the pitching down there in Wichita [in the Tournament]. I won four games and all four of them were shutouts [tournament records indicate not all the games were shutouts]."20
And while now led by Hilton Smith, who admirably filled Paige's pitching void by winning those four games in the tournament (he was being held out of Game Six, the semifinal, to pitch the final), Bismarck lost 6-2 in the semis to the team it had defeated the year before, the Cementers.
Smith's Bismarck tenure ended up linking him to the team with which he spent his remaining career, the Kansas City Monarchs. It has been noted that the key to Monarchs owner J.L. Wilkinson's success was his keen eye for talent: "While barnstorming, Wilkinson continued to evaluate opposing players. He signed Hilton Smith after seeing him pitch for the Bismarck, North Dakota, team."21 Smith confirmed that "Wilkinson called him during the 1936 season, while he was playing for the Bismarck semipro team and asked him if he would be willing to finish the season with the Monarchs. Smith agreed and was paid $175 a month."22
The Wichita tournament ended on August 28 with Bismarck's loss to the Cementers, and Smith traveled to Kansas City to begin his 13-year career with the Monarchs. He pitched in one game for the Monarchs that year at the end of the season, but he likely played in more over the course of the ambitious independent schedule that Kansas City engaged in throughout the Midwest.
Smith joined a franchise that was considered by many to be the gold standard for Negro League teams. Owner J.L. Wilkinson had formed the Monarchs in 1920 as an inaugural member of the Negro National League from players of the All Nations touring team he had previously assembled. Under his ownership (1920-1948), the Monarchs thrived in every league or independent setting. They played in the first two Negro World Series between the NNL and the Eastern Colored League, winning in 1924 against Hilldale but losing to them in 1925. Kansas City was always competitive, winning the NNL twice more before it disbanded in 1932. The Monarchs then played as an independent team for several years until Wilkinson made the franchise a member of the Negro American League in 1937.
The Monarchs had a stellar reputation throughout the country:
For black youngsters in the Midwest and Southwest, the Monarchs were the tops. "It was the ambition of every black boy to be a Monarch, just as it was for every white boy to become a Yankee," contended Monarchs shortstop Jesse Williams. "That was the tradition back then. You didn't play ball until you became a Monarch." And in segregated America, ace pitcher Hilton Smith knew that "when you got with the Monarchs, you were as high as you could go."23
Smith was glad to be with the Monarchs, but he was the first person to admit that, despite his early acclaim, he had room for growth. He recalled, "Actually, I didn't really learn how to pitch until I came to the Monarchs that fall. I just had natural stuff before that. I learned from having such guys for teachers as Frank Duncan, Bullet Rogan, and Andy Cooper."24
Thanks to the two future Hall of Famers Rogan and Cooper, Smith's development hastened and helped polish him into the premier talent he became. As Smith explained:
I'd be pitching and right after the ball game [Rogan would] come out and he'd tell me, "You've got a lot of stuff, but why'd you do such-and-such a thing?" I'd say, "Well, I don't know." He'd say, "Well, from now on, you know." I'd answer, "Okay, I'll do it." Next time … I got in the ball game, he'd say, "Uh-huh, I see you're picking up."

Andy Cooper was a smart manager, and he was a great teacher, great teacher! A student of baseball. He would take me aside and just sit there and talk to me, and I'd watch how he'd pitch. And my owner, Wilkinson, would talk to me. He was a doll, that guy. He had played a little semi-pro ball himself and he really knew baseball. He said, "Look, you've got everything, but use your wrist a little more, see if you can't get a little more hop on your ball." I took him at his word, and sure enough, it worked.25
In 1937 Smith had as good a season as the Monarchs could have asked for. He started the season with a no-hitter, went 11-4 in NAL play (starting 16 games and completing nine), was selected for his first All-Star Game, and helped the Monarchs defeat the Chicago American Giants for the pennant. Smith recalled his first full season in Kansas City fondly, saying:
The first game I pitched in this park out here in Kansas City was a no-hitter. I beat the Chicago American Giants 4-0. Nobody got on first base –I mean a perfect game. The giants had Sug Cornelius pitching, Larry Brown catching, Alex Radcliff. They were hard to beat. I didn't lose too many games that year. I probably lost three the whole season.26
Hilton played in seven consecutive East-West Classics (1937, 1938, both 1939 games, 1940, 1941, and 1942) and posted an all-star game record of 1-1, an ERA of 4.26, and 16 strikeouts. His victory came in 1938, thanks to four innings of solid relief. Famously, he started the 1942 All-Star Game when Paige, who was supposed to take the first turn on the mound for the West team, was late getting to the ballpark. Smith and Dave Barnhill engaged in a pitchers' duel and, with the score tied at 2-2 after six, Paige finally showed up and was brought in to relieve Smith, only to lose the game to the East.27
At the end of his first full season with Kansas City, Smith journeyed to Cuba to play for Martin Dihigo's Marianao team. This was not Smith's first foray south of the border. According to author Donn Rogosin, "In 1933 the Austin Black Senators with Hilton Smith barnstormed to Mexico City and back. … American black ball players found a haven in Mexico after 1930."28 It was Mexican fans who first gave Smith's Curve Ball the name El Diablo — the devil.29
The Cuban Winter League season ran from October 1937 to February 1938 and Smith served as one of three primary starters for Dihigo's squad, alongside Barney Brown and Dihigo himself. Records compiled by Jorge Figueredo in his book on Cuban baseball show Smith appearing in 14 games, starting seven, and finishing with a 6-3 record for a team that finished 35-28 in third place, behind Santa Clara and Almendares.30 Smith played one more winter in Cuba in 1939-40, teaming up with a Santa Clara team that finished under .500.31
In 1938 Smith became the premier starter for the Monarchs. It has been observed that "the real strength of the 1938 Monarchs was pitching. The ace was … Hilton Smith, who had an outstanding control, a fast ball that moved, and an unrivaled curve ball."32 The Monarchs finished 1938 with the best overall record in the NAL, but they were bested in both halves by the Memphis Red Sox and Atlanta Black Crackers respectively, keeping them out of the NAL championship series that the Red Sox won.
In 1939 the Monarchs were first-half champions, and they defeated the second-half winners, the St. Louis Stars, for the NAL championship. Smith looked back on those early years with the Monarchs and recalled:
In '37, '38, and '39 I had tremendous years. I could pitch and hit, both. Andy Cooper'd pinch-hit me for his fourth-place hitters as quick. Several years I hit over .400 pinch-hitting, outfield, first base and pitching.33

I was pitching about four times a week, because we were playing six or seven games a week, and we only carried about four pitchers. Maybe sometimes we'd have five, that was the most. We didn't know what it was to relieve. When you went out there, you didn't look at the bull pen, you were expected to go the whole route.

They knew I wasn't wild; they knew I threw strikes. We didn't hardly walk anyone. The curve, we'd just slice it off, pfffft. And everybody threw hard. Good curve balls, and that live fast ball moved. … We had to have two curve balls, a big one and a small one. Now they call it a slider, but those guys were throwing it years back. It kind of darted over the corner like that. Good control.34
It was also in 1938 that a player named Buck O'Neil came to Kansas City. O'Neill was Smith's roommate for the next 10 years. Buck believed, "[f]rom 1940 to 1946 Hilton Smith might have been the best pitcher in the world."35
Statistically, Hilton leveled off in 1940 but still helped lead the Monarchs to the NAL championship, besting the second-place Memphis Red Sox by 7½ games. The 1940 Monarchs blended the experience of Turkey Stearnes, Jack Matchett, and Newt Allen with the relative youth of O'Neil, Joe Greene, and Jesse Williams to lead the league.
Two years earlier, in 1939, J.L. Wilkinson had transformed the image of the Monarchs with the signing of Satchel Paige who, alongside Josh Gibson, was the face of the Negro Leagues. Paige had been playing for the Monarchs' traveling B team, but his signing was now about to pay dividends. Paige's career had been at its low point due to a sore arm, but at the beginning of 1941, he miraculously recovered. According to Negro League historian Mark Ribowsky, "Wilkinson believed the time was right for Paige to don the Monarchs uniform."36 Kansas City's attendance increased dramatically and Wilkinson's vision of the Monarchs as a national attraction was realized.
The implications for the team, however, were complicated. The addition of Paige and players like Willard Brown helped build a squad that won the NAL in the two seasons after Paige's arrival. It also led to the 1942 Monarchs' storied victory over the Negro National League's Homestead Grays in the Negro League World Series. However, all that winning came with a price: team chemistry.37
Paige biographer Larry Tye wrote that Hilton Smith "had issues with Satchel, telling one interviewer … Satchel's miraculous recovery from arm troubles [was] 'the worst break I got.'"38 That said, Tye still noted that "Hilton Smith was master of the curveball and, in the minds of many, the best black pitcher of his age."39
Smith himself reflected on that time, saying:
I played twelve years with the Kansas City Monarchs, 1937-48, and I won twenty games or more every year. Not counting exhibitions, I won 161 league games and lost 22, but most people have never heard of me. They've only heard of Satchel Paige. That's because I was Satchel Paige's relief.

Every Sunday I'd start, then Monday night come on in relief, start Wednesday, and maybe Friday, according to how Satchel was feeling. It was my turn to relieve him on all big games. He'd go two or three innings; if there was a big crowd and we had to win it, I'd go in there and save it. I just took my baseball serious; I just went out there to do a job. But Satchel was an attraction, he could produce, and he'd clown a lot. I guess it really hurt me. I tried to get away, but there wasn't anything I could do about it.40
He also claimed, "I actually hit my peak, too, in '41. I was to a place then that I could do just do anything, I felt that good."41 His 1941 statistics included a 13-6 record with nine complete games and a 2.53 ERA. The Monarchs won the NAL pennant, besting the Birmingham Black Barons.
From Buck O'Neil's perspective, Hilton just got on with it: "I was Hilton's roommate for ten years, and I can tell you he never brooded about [pitching in Paige's shadow] then. He was playing for a salary, just like everyone else, and this was his job. Satchel was pitching in a ballgame just about every night to draw a crowd, and someone had to pick him up. Hilton wasn't the only man pitching behind Satchel Paige; everybody who pitched did that."42 Putting it another way, O'Neil said, "Hilton felt he was as good a pitcher as Satchel, but he had to understand that he wasn't the one drawing the crowds."43
Smith's son said that when it came down to it, his father "did not complain one way or another." In fact, "Satchel and his dad remained fishing buddies and friends."44 Years later, Hilton Smith was an honorary pallbearer at Paige's funeral.45
In spite of Smith's later consternation with pitching in Paige's shadow, his connection with Satchel also had its benefits. As one of Paige's teammates, it dealt him ample opportunity to play in exhibition games against White major leaguers that Satchel's fame and reputation made possible, In a 1937 series between Satchel and Rogers Hornsby's All-Stars, Smith pitched in three games and was not scored on. One of those games was a 10-0 Monarchs win with Smith pitching a complete-game shutout.46 In October 1941, a matchup between Paige and Bob Feller took place at Sportsman's Park in St. Louis. Paige gave up four runs and lost the game, 4-1, but Smith entered the game in the fifth inning and held the major leaguers scoreless on four hits. The St. Louis Globe Democrat wrote, "Smith, showing the best speed and sharpest curve of the quartet [Paige, Feller, and Ken Heintzelman, who was Feller's reliever], fanned six and walked only one."47 Buck O'Neil played in the 1941 exhibitions and noted another game in the series in which Paige pitched the first three innings against Feller and was followed once again by Smith. According to O'Neil, "[Stan] Musial hit a home run on Satchel on the roof of that stadium. But Musial and John Mize said they'd never seen a curve ball like Hilton's curve ball."48
Smith continued to pitch in further Paige-Feller exhibition games, most notably in 1946 after the Monarchs lost the Negro World Series to the Newark Eagles. Smith noted, "That fall I went with Satchel to play against Bob Feller's big-league all-stars. … We played fifteen or sixteen games, and I relieved in two and pitched two complete games. I broke even with them."49 In his two complete games, both against Bob Feller, he won one (3-2) and lost the second (6-3).50
Prior to those later exhibitions, however, came the 1942 season, which was one for the ages for the Monarchs. Kansas City won an epic exhibition game on Sunday, May 24, 1942, against a lineup of current and former major leaguers for the Navy Relief Fund. The game marked the first time a Black team played at Wrigley Field. The significance of the exhibition, five years before Jackie Robinson broke the color line, was not lost on Frank A. Young, the Chicago Defender's sports editor, who wrote, "[H]ere was Satchel Paige, Hilton Smith, and the Monarchs performing in big league style but denied the right to play in the big leagues because of their color."51 The Pittsburgh Courier's headline also underscored Hilton Smith's contribution: "29,000 See Satch and Company Defeat Dizzy Dean's All-Stars: Hilton Smith Stars in Relief Role as Monarchs Win, 3-1."52
Smith recalled about the game:
One of my greatest thrills was beating Dizzy Dean in Wrigley Field, Chicago, in 1942. … Satchel pitched the first five [six] innings for us and came out with the score 1-1' … [I came in in the seventh and] I struck out three, walked one, and gave up two hits and no runs." Hilton continued, "Big Joe Greene, our catcher, got a hit with two men on around the seventh, and I held 'em. In the ninth, Cecil] Travis came up with one on. Barney Serrell, our shortstop, said, "[M]ake him hit it on the ground," and that's just what it was, a double play, and the ball game was over.53
Reflecting on the entire 1942 season, Smith added:
We had a tremendous ball club that year. … We had Joe Greene catching, John [Buck] O'Neil first base, Jesse Williams short, Newt Allen second. Outfield we had Ted Strong, Willard Brown and a boy named Bill Simms. … Ted Strong was just as good a ballplayer as there was in baseball. … We also had a tremendous pitching staff in '42. We had Satchel, Jack Matchett, a boy named Connie Johnson who played in the majors. And Lefty LaMarque and a boy named Booker McDaniel. Nobody hardly beat us. That particular year, '42, I don't think I lost maybe one or two ball games the entire year.54
The Monarchs' season climaxed with a World Series sweep of the Homestead Grays in September. Smith pitched five innings and won Game Two, but the Series belonged to Paige. Satchel started Games One and Three and relieved and finished Games Two and Four. He famously said to Smith in Game Two, "You've been relieving me all year. Let me relieve you."55 He did just that and earned the save while also striking out Josh Gibson with the bases loaded and two outs in the seventh.
From 1943 to 1945, the Monarchs hit a lull in NAL play. The Birmingham Black Barons won the pennant in 1943 and 1944, advancing to the Negro League World Series but losing both years to Homestead. In 1945 Kansas City finished third behind the Cleveland Buckeyes, who went on to defeat the Grays in the Series. It didn't help the Monarchs that Smith got hurt. He remembered, "My arm went dead in 1943. I hurt it, and I played first base and outfield for two years. In '44 I began working back into shape, so I went out on the Coast that fall and played baseball against Bob Lemon."56
This was Smith's only foray to the California Winter League, as he had opted for Mexico, Cuba, and Venezuela when it came to winter ball. In October 1944, after a disappointing fourth-place NAL finish, Smith and several teammates helped form the Kansas City Royals, one of four teams to play in the California Winter League. The standings showed the Royals with more wins than first-place Birmingham, but a lower winning percentage due to a different number of games played. Three Hall of Famers played on the Royals — Smith, Willie Wells, and Ray Dandridge — along with Chet Brewer and Sam Jethroe.57
The World War II years were tough on the Monarchs. Like most Negro League teams, the franchise fielded a squad that was depleted of players who were drafted into military service. Smith, too, was called up; however, due to his age, he served stateside rather than overseas.58 Eventually, Smith noted, "My arm came back in 1945 or '46, and in '46 we played Newark for the Negro world championship."59 The Monarchs won both halves of the NAL and were back in the World Series against the NNL champions after a three-year hiatus.
The competition was tough — the Newark Eagles had numerous future Hall of Famers, including Larry Doby, Monte Irvin, Leon Day, and Biz Mackey. Newark defeated Kansas City, four games to three, but Smith pitched admirably in his last postseason. He pitched into the sixth in Game One, leading 1-0, but walked Larry Doby and was then relieved by Satchel Paige; the Monarchs won the game, 2-1. The Monarchs lost two of the next three, but Smith pitched a complete-game 5-1 victory in Game Five, giving up 10 hits and striking out eight. Game Five marked the Monarchs' high-water mark as they lost Games Six and Seven, with the final game being notable due to an AWOL Satchel Paige.60
With the breaking of the color barrier in 1947, Negro League attendance suffered as Black baseball fans shifted their interest to the slowly integrating White major leagues and their emerging African American stars. Box-office receipts were down, so Negro League team owners altered their financial model to the sale of contracts of promising players to the White major-league teams. It would not be enough and, in any event, the vision of one league for all was the endgame for a society struggling with its separate-but-equal legacy.
Smith's final winter league pitching was in 1947-48, with the Ponce Lions, in Puerto Rico. His won-lost mark was 0-4, with a 6.75 ERA. In 20 innings, he fanned five and walked seven.
In failing health, Wilkinson sold the Monarchs to his business partner, Tom Baird, in early 1948, which was Hilton's last year with the team. Player salaries were dropping due to the struggles of the Negro League franchises, and Smith, who was believed to be 37 but was actually 41, saw fit to step away from the game.61
Before his playing career ended after the 1948 season, Smith was one of several Negro League players who were considered for the White majors, or at least to play in the minors as a way of auditioning for the parent club. Smith acknowledged, "I got a feeler from the big leagues in 1946. But my age was against me."62
Smith recalled in detail:
[Roy] Campanella came down to the Polo Grounds one night when we were playing Newark in the World Series and asked me what did I think about playing for the Dodgers. He said the front office had told him to talk to me' … I figured I was too old … and we were afraid to go down to the minors [with the Dodgers] and take a pay cut. … Had it been opened up — had there been some other team beside the Dodgers — I probably would have taken a chance. I knew the Dodgers were pretty loaded and I'd have to sit around in the minors and they'd be slow about bringing me up, and at my age, that would be too much.63
Like many Negro League ballplayers, Smith was often asked how felt about not playing in the White majors. In his view, "Had I been three or four years younger, I probably would have been the first Negro signed in Organized Baseball."64 "I pitched against enough major leaguers to see if I was on the level. … I played against them enough, and they never hit me. So I feel that had I had the chance, I could have pitched in the major leagues."65
Although Smith himself would never play in the White majors, he was part of the Jackie Robinson story. As the tale goes, "Hilton Smith claimed he first met Jackie Robinson in 1942 when a team of black stars — including Robinson — played an exhibition game against a service team of White major leaguers. According to one account, Smith contacted J.L. Wilkinson after the encounter and urged him to sign Robinson right away."66 Later, after Robinson's discharge from the military in 1944, he wrote to the Monarchs for a tryout, which Wilkinson agreed to. Robinson would play for the Monarchs in 1945, only to be signed secretly by Branch Rickey to a Dodgers contract in August and then later made official in October of that year.67 Smith reflected later regarding Robinson's elevation to the Dodgers in 1947, "Even if we were playing here in Kansas City, everybody wanted to go over to St. Louis to see Jackie. So our league really began to go down, down, down."68
In 1947 Kansas City finished second to the Cleveland Buckeyes, and at the age of 40, Smith carried less of the pitching load. Late that season, he was offered the chance to manage the Monarchs after Frank Duncan was fired, but he demurred. Although he was no longer at the top of his game, that year still provided him satisfaction. In early 1947, the spring of his next to last campaign with the Monarchs, Smith went to Venezuela to play winter league ball on the famous Vargas team alongside Bill Cash, Hank Thompson, Luis Aparicio Sr., Parnell Woods, and Ray Dandridge. Smith recounted his game against the Yankees, who had traveled to Venezuela as part of their spring training:
I guess one of my greatest thrills was pitching against the New York Yankees in 1947 — March 17 — in Caracas, Venezuela. That was the first time I pitched against a whole major league ball club. And they had quite a club, too, believe you me. … I pitched six innings, didn't give up any runs and gave up one hit, to Rizzuto. We won 4-3.69
Smith went 8-5 in the 1946-1947 winter season; alongside his success against the Yankees, it made for a fitting ending to his exhibition and winter league career.70
In 1948 the Monarchs were first-half champions in the NAL but lost to second-half champion Birmingham for the right to play in what turned out to be the last Negro League World Series. It was also Smith's last year with Kansas City, though it would not be the end of his baseball career.
In early 1949 he was recruited to play for a semipro team in Fulda, Minnesota. The Fulda Giants sought talent to increase attendance and to help them gain membership in the First Night league in southwestern Minnesota. Smith was paid approximately $1,000 a month for his sojourn with Fulda. His presence, although he mostly played the outfield, helped to ensure a successful season and enough money for Fulda to install lights and be accepted into the league the following year.71 Hilton's son DeMorris, who had been a batboy for the Monarchs in the 1940s and went with his father to Fulda, reflected that Hilton was so well liked by the locals that they invited him back the following year.72
Smith later reminisced about the state of Negro League baseball which, according to him
… looked like it was dead, so I played in Fulda, Minnesota, in '49 and in '50 out to Armco-Sheffield Steel here in Kansas City. They had a ball club and they wanted me to manage it. … I could have pitched a little more. But I'd seen so many ballplayers that just kept a-hanging around when they were over the hill, so I'd always made up my mind when I got to the place where I was going down, I'd just give up. I am a supervisor at Armco now. I'm lucky, I got a real job.73
DeMorris spoke about his father's many commitments to the Kansas City community. He was a trustee, usher, and board president at St. Stephen Baptist Church and occasionally coached semipro and amateur teams, offering guidance to young players, some of whom made it to the major leagues.74 Frank White, a longtime star for the Kansas City Royals and one of a number of players that Smith coached who made it to the majors, epitomized what DeMorris called his father's wish: for his legacy to be one of giving back to the game and to those who came after him.
At the time of Smith's posthumous induction into the Hall of Fame, White said, "Hilton coached me … when I was 18 or 19. He not only taught me the game, he got you to love the game. He had this real soothing approach and emphasized that you had to understand baseball before you could fully appreciate it. He had a big influence on my career and on my life."75
In his later years, Smith talked about the game's grind as well as his ultimate satisfaction:
It was a rough life — ride, ride, ride, and ride. I remember many a day, ride a bus, get out and get you a little bit to eat, go to the ballpark, go out there and pitch nine innings, play a doubleheader, play outfield the second game. But I enjoyed baseball, I really did. It was spoiling me. I loved it, and it was sweet. We had some great moments. I enjoyed every bit of it."76… "Honestly true, if I had to live my life over, I'd live it the same. No regrets.77
Not only did Smith enjoy himself, he also left a great impression on his teammates. Joe Greene, his Monarchs catcher, observed, "He had a real fast curve ball. It wasn't a big one, but he had good control. The manager would call him in sometimes to make just one pitch. And he did a lot of pinch hitting, too. He was a long ball hitter. He couldn't run, but he could really hit."78
Fellow Monarch Connie Johnson said, "If I had to get a pitcher to put out there and say, 'Get this man out,' I'd send Hilton Smith. He was better than anybody I ever seen. … Bob Feller had a great curve ball, but Hilton's was a little better. And he could hit as good as anybody on the team. … He was a hitter! Three hits wasn't nothing for him."79 Another teammate, Lefty Bryant, remarked, "Hilton never got the credit he deserved. We never told him, but Hilton was the best pitcher we had, including Satchel."80
Smith's love for the game never diminished, and even in his 70s, he remained involved in baseball by scouting players for major-league teams. Buck O'Neil remembered, "When he died in 1983, we were both scouting for the Chicago Cubs."81
Hilton Smith knew he was Hall of Fame-worthy, but he did not live to see his induction. The first 11 Negro Leaguers entered Cooperstown's Hall between 1971 and 1987, after which the Veterans Committee was given a mandate to elect more players. Smith was inducted in 2001 as the 18th Negro League player to enter the Hall. His widow, sister, and two sons attended the induction ceremony.
DeMorris remembered his father as being low-key; he never argued and was a silent leader. Hilton Smith's life is well defined by his membership in three halls of fame (Prairie View A&M, the Texas Black Hall of Fame, and Cooperstown). It is worth noting, also, that Hilton's hometown, Giddings, Texas, named a baseball field after him — the Hilton Lee Smith Field — and assembled a baseball memorabilia collection of Smith that is displayed at the Giddings Library and Cultural Center.82
Smith's wife, Louise, summed him up best when she remarked, "Hilton loved baseball and gave his life to baseball. … My husband just let his performance do the talking."83
Sources
Thanks to Thomas Van Hyning and Jorge Colón Delgado, historians of baseball in Puerto Rico, for providing Smith's 1947-48 winter ball stats. Unless otherwise noted, Seamheads.com was used as the database of record for all player statistics and team records.
Notes
1 John B. Holway, Blackball Stars: Negro League Pioneers (Westport, Connecticut: Meckler Books, 1988), 284. Giddings is about 20 miles north of La Grange (where Foster was born), so it was "below" him rather than "above."
2 Alongside Hilton in the Hall are fellow Texan Negro Leaguers Andy Cooper, Rube Foster, Bill Foster, Biz Mackey, Louis Santop, Willie Wells, and Smoky Joe Williams.
3 Untitled document, Hilton Smith player file at the National Baseball Hall of Fame, 1.
4 Interview with DeMorris Smith, July 24, 2020.
5 Holway, Blackball Stars, 284.
6 Holway, Blackball Stars, 284. The 1930 US Federal Census identifies Hilton's father, John H. Smith; as a farmer. The 1940 Census listed him as a schoolteacher.
7 The institution is now Prairie View A&M University. It is about 29 miles west of Houston.
8 "Hilton Lee Smith Inducted into the Prairie View Sports Hall of Fame," Prairie View A&M National Alumni Association, pvualumni.org/2011/01/07/hilton-lee-smith-inducted-into-the-prairie-view-am-sports-hall-of-fame/, January 7, 2011.
9 Holway, Blackball Stars, 284.
10 Holway, Blackball Stars, 285.
11 William J. Plott, The Negro Southern League: A Baseball History, 1920-1951 (Jefferson, North Carolina: McFarland & Company, 2015), 101.
12 Holway, Blackball Stars, 285. Seamheads lists Monroe with a 34-14 record in the NSL and a 42-20-1 record overall for 1932. Smith's reflection may not be accurate, or include exhibitions not otherwise captured in records that have been documented.
13 DeMorris Smith interview.
14 Holway, Blackball Stars, 286.
15 Kyle P. McNary, Ted "Double Duty" Radcliffe: 36 Years of Pitching and Catching in Baseball's Negro Leagues (Minneapolis: McNary Publishing, 1994), 78.
16 McNary, 79.
17Tom Dunkel, Color Blind: The Forgotten Team That Broke Baseball's Color Line (New York: Atlantic Monthly Press, 2013), 198.
18 Holway, Blackball Stars, 286-7.
19"All Hail Bismarck's First National Championship Team," Bismarck Tribune, August 28, 1935: 6.
20 Holway, Blackball Stars, 287.
21 Janet Bruce, The Kansas City Monarchs: Champions of Black Baseball (Lawrence: University Press of Kansas, 1985), 25.
22 William A. Young, J.L. Wilkinson and the Kansas City Monarchs: Trailblazers in Black Baseball (Jefferson, North Carolina: McFarland & Company, 2016), 96.
23 Bruce, 40.
24 Holway, Blackball Stars, 287.
25 Holway, Blackball Stars, 287.
26 Holway, Blackball Stars, 288.
27 Larry Lester, Black Baseball's National Showcase: The East-West All-Star Game, 1933-1953 (Lincoln: University of Nebraska Press, 2001), 104.
28 Donn Rogosin, Invisible Men: Life in Baseball's Negro Leagues (New York: Atheneum, 1985), 47.
29 Timothy M. Gay, Satch, Dizzy & Rapid Robert: The Wild Saga of Interracial Baseball Before Jackie Robinson (New York: Simon & Schuster, 2010), 68.
30 Jorge S Figueredo, Cuban Baseball: A Statistical History, 1878-1961 (Jefferson, North Carolina: McFarland & Company, 2003), 220-221.
31 Figueredo, 232.
32 Young, 103.
33 Holway, Blackball Stars, 289.
34 Holway, Blackball Stars, 289.
35 Bruce, 95.
36 Mark Ribowsky, A Complete History of the Negro Leagues: 1884-1955 (New York: Carol Publishing Group, 1995), 237.
37 Ribowsky, 237.
38 Larry Tye, Satchel: The Life and Times of an American Legend (New York: Random House, 2009), 157.
39 Tye, 102.
40 Holway, Blackball Stars, 281-2.
41 Holway, Blackball Stars, 282.
42 Buck O'Neil, with David Wulf and David Conrads, I was Right on Time (New York: Simon & Schuster, 1996), 89.
43 Buck O'Neil, 117.
44 DeMorris Smith interview.
45 Tye, 297.
46 Young, 101.
47 Robert L. Burnes, "Feller and Paige Look Good, but Others Look Better," St. Louis Globe Democrat, October 6, 1941: 13.
48 John B. Holway, Black Diamonds: Life in the Negro Leagues from the Men Who Lived It (New York: Stadium Books, 1991), 96.
49 Holway, Blackball Stars, 292-3.
50 McNeil, Black Baseball, 105.
51 Ribowsky, 247-248
52 R.S. Simmons, "29,000 See Satch and Company Defeat Dizzy Dean's All-Stars: Hilton Smith Stars in Relief Role as Monarchs Win, 3-1," Pittsburgh Courier, May 30, 1942: 16.
53 Holway, Blackball Stars, 281.
54 Holway, Blackball Stars, 281
55 Brad Snyder, Beyond the Shadow of the Senators: The Untold Story of the Homestead Grays and the Integration of Baseball (New York: Contemporary Books, 2003), 160.
56 Holway, Blackball Stars, 291.
57 William F. McNeil, The California Winter League: America's First Integrated Professional Baseball League (Jefferson, North Carolina: McFarland & Co, Inc., 2002), 217.
58 Timothy M. Gay, Satch, Dizzy & Rapid Robert: The Wild Saga of Interracial Baseball before Jackie Robinson (New York: Simon and & Schuster, 2010), 16.
59 Holway, Blackball Stars, 291.
60 Frederick C. Bush and Bill Nowlin, eds., The Newark Eagles Take Flight: The Story of the 1946 Negro League Champions (Phoenix: SABR, 2019), 212-215.
61 Young, 167.
62 John Holway, Hilton Smith interview manuscript, Hilton Smith player file at the National Baseball Hall of Fame, p.29.
63 Holway, Blackball Stars, 292.
64 Bruce, 113.
65 Holway, Blackball Stars, 293.
66 Young, Wilkinson, 142.
67 Young, Wilkinson, 142-150.
68 Holway, Blackball Stars, 294.
69 Holway, Blackball Stars, 294.
70 McNeil, Black Baseball, 219.
71 Patrick Reusse," Fulda to Have Its Own Hall of Famer," Minneapolis Star Tribune, August 4, 2001.
72 DeMorris Smith interview.
73 Holway, Blackball Stars, 294-5.
74 Larry Lester and Sammy J. Miller, Black Baseball in Kansas City (Chicago: Arcadia Publishing, 2000), 127.
75 Robert Falkoff, "Humble Hilton: Negro Leagues Hurler Hilton Smith Shined in Satchel Paige's Shadow with the Great K.C. Monarchs," MLB.com, 2001.
76 Holway, Blackball Stars, 295.
77 Bruce, 131.
78 Thom Loverro, The Encyclopedia of Negro League Baseball (New York: Facts on File, 2003), 273.
79 Kelley, 120.
80 Bruce, 95.
81 McNeil, Black Baseball, 90.
82 Hilton Lee Smith Collection, City of Giddings, Texas, giddings.net/index.asp?SEC=7B423286-5333-4194-806C-C4D42ACAE15F&Type=B_BASIC.
83 Falkoff, MLB.com.
Born
February 27, 1907 at Giddings, TX (US)
Died
November 18, 1983 at Kansas City, MO (US)
If you can help us improve this player's biography, contact us.
http://sabr.org/sites/default/files/SmithHilton-HOF.jpg
600
800
admin
/wp-content/uploads/2020/02/sabr_logo.png
admin
2021-01-25 00:43:49
2021-09-17 01:14:32
Hilton Smith