This Week in SABR: July 24, 2020
Happy Opening Day and welcome to "This Week in SABR!" Click here to view this week's newsletter on the web. Here's what we've been up to as of July 24, 2020:
SABR is pleased to announce a trade — between the Jerry Malloy Negro League Conference and the 50th annual National Convention.
Two of SABR's signature events will switch dates in the summer of 2021 to enhance the experience for everyone involved. The SABR 50 convention will now take place on June 16-20, 2021, at the Hyatt Regency Inner Harbor in Baltimore, Maryland. The Malloy Conference will be held on July 29-31, 2021, at the Sheraton Birmingham Hotel in Birmingham, Alabama.
"The Jerry Malloy Negro League Committee has decided to trade conference dates with SABR's 50th National Convention in Baltimore next season," said Larry Lester, chair of SABR's Negro League Committee. "The trade will provide us with more time to develop incoming rookies as the Malloy Conference reboots after a three-year hiatus. We promise to put a solid team of presenters at the podium en route to another championship season."
The switch also ensures SABR 50 attendees will be able to attend a Baltimore Orioles game at Camden Yards. The Orioles are scheduled to play the Toronto Blue Jays in a weekend series at home on June 18-20, 2021.
"I didn't expect SABR to make a trade before Jerry Dipoto this summer, but we're receiving tremendous value from the Malloy Conference in the month of June," SABR CEO Scott Bush said. "We are excited for the return of our National Convention in 2021!"
Stay tuned for more information on registration and hotel availability for SABR 50 and the Malloy Conference in early 2021 at SABR.org/events.
---
As we welcome Opening Day in 2020, SABR invites all baseball fans to check out our First Games Back project, edited by Bill Nowlin and Alan Cohen, a look at how baseball has returned to play following all the unusual delays that have kept leagues, teams, and players off the field: wars, natural disasters, terrorist attacks, injuries, illnesses, franchise relocations, and more.
This collection of 32 articles highlights the breadth and depth of SABR research, showcasing a variety of stories from the earliest days of baseball history into the 21st century.
As Cohen writes in his introduction to the project:
After the tragic events of September 11, 2001, baseball games were canceled as America collectively mourned the loss of life. Games began on September 17 and the first games back in New York City produced a blend of exhilaration and remembrance. Another act of terror in Boston in 2013 showed the resilience of that city's fanbase.

There were pauses in play for natural disasters, including a World Series earthquake in the Bay Area and a devastating hurricane in Houston. There were returns after work stoppages in 1981 and 1994-95. Civil disturbances in the 1960s also impacted the baseball schedule. In 1919, the start of the season was delayed while an influenza pandemic ravaged the entire world.

Cities that had been without major-league baseball for decades saw the game return and fans turned out to welcome new teams.

Baseball is a game for a resilient and perpetually optimistic fanbase, and it is to those fans that these stories are dedicated.
More stories will be added to the First Games Back project soon, including articles on the Opening Day games in 2020. Play ball!
---
SABR Virtual concludes this weekend with a final round of online presentations, chats, and panel discussions with authors, scholars, and figures from around baseball. Visit SABR.org/virtual-meetings to register now for our free online Zoom events through Sunday, July 26.
The final SABR Virtual weekend kicked off Thursday, July 23 with presentations by Chuck Hildebrandt, Steve Treder, Nick Elam, and Christina Knoedler. Click here to watch the replay of Day 9 on YouTube. You can watch a replay of all SABR Virtual sessions with our YouTube playlist.
This weekend, we'll have a special presentation by Tyrone Brooks and Corey Smith on MLB Diversity Initiatives and Social Justice Resources; a panel discussion on Evaluating Baseball Art: Storytelling in a Digital Age with Graig Kreindler, Anika Orrock, Dick Perez, and Anthony Salazar; along with presentations by Gordon Gattie, F.X. Flinn, Jeff J. Snider, Dan Levitt, Rob Garratt, R.J. Lesch, Edward Scahill, Jim Case, and Rob Mains.
Visit SABR.org/virtual-meetings to find the full schedule and register for each session.
---
Enter the SABR Virtual Raffle for a chance to win a lineup card autographed by Tony Gwynn and other baseball memorabilia prizes! The deadline to purchase your raffle ticket is tonight — 11:59 p.m. MST on Friday, July 24.
Winners will be announced during the final SABR Virtual session on Sunday, July 26. Each $5 raffle ticket entitles the participant to a chance to win one individual memorabilia item, which will be drawn at random.
The prizes include: Tony Gwynn Autographed Lineup Card; Bill James Bobblehead and SABR Thumb Drive; Hank Aaron Hartland Vintage Figurine; Lou Gehrig Montage First Edition Print; Bud Selig Autographed Baseball; Old Yankee Stadium Framed Print; 1957 MIlwaukee Braves World Series Mounted Team Photo. Click here to learn more.
The raffle is open to all SABR members. You do not have to be registered for a SABR Virtual session in order to win. Winners will be notified by e-mail after the random drawing on July 26, 2020, and prizes will be shipped via US Mail following the conference.
---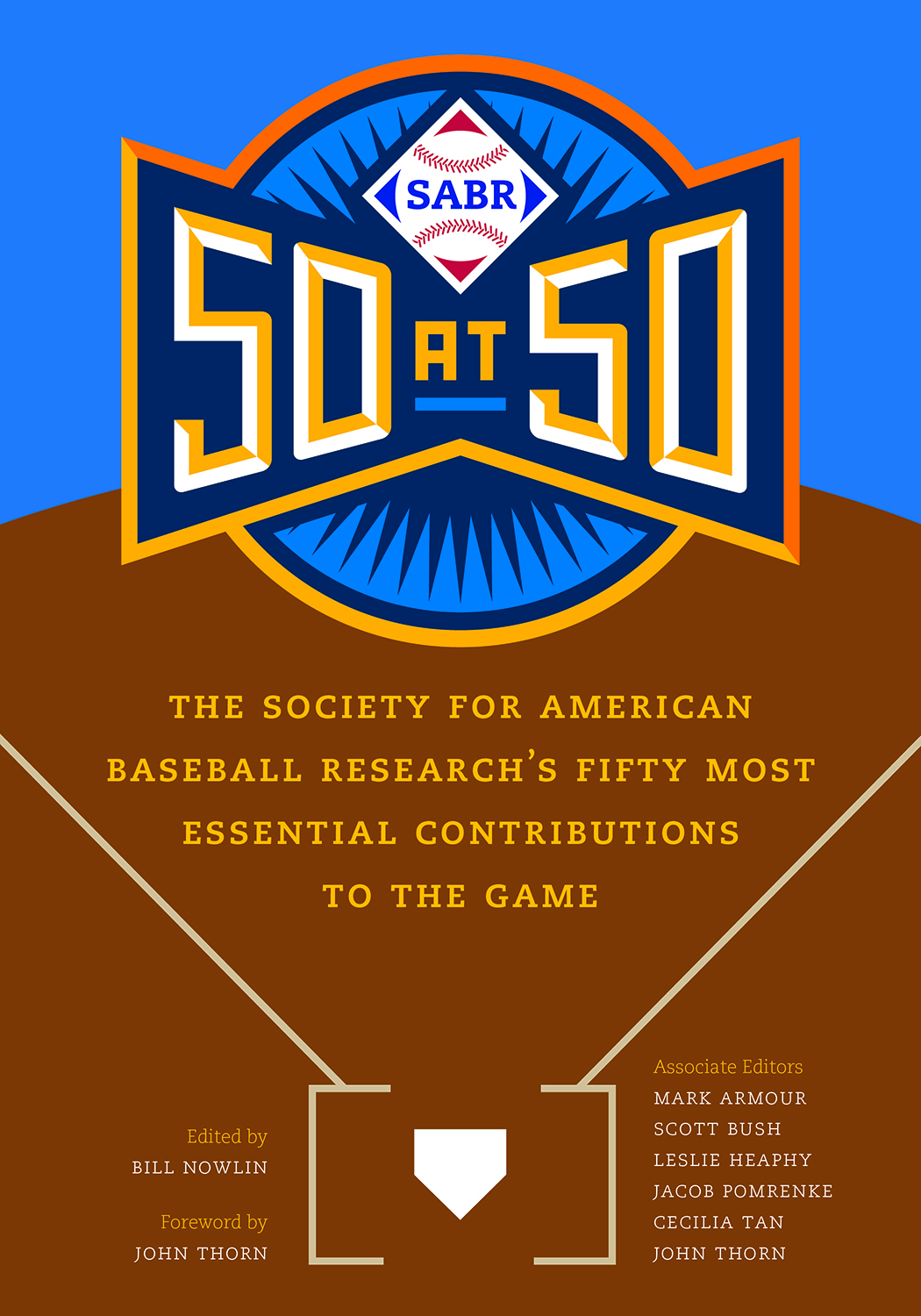 During SABR Virtual, the University of Nebraska Press is offering its usual convention discount of 40% off and free shipping through August 15, 2020, including SABR's upcoming 50th anniversary anthology.
To save 40%, enter the code 6ASAB2 in the promotion code field of your shopping cart and click "Add Promotion Code." Offer is good for US and Canadian shipments only.
Baseball has seen many changes in the last 50 years, and SABR's upcoming 50th anniversary provides an opportunity to highlight the most memorable players, teams, and events from the game's glorious past. SABR 50 at 50: The Society for American Baseball Research's Fifty Most Essential Contributions to the Game, edited by Bill Nowlin and now available for pre-order from the University of Nebraska Press, celebrates and highlights SABR's wide-ranging contributions to baseball history. Click here to learn more about this book.
---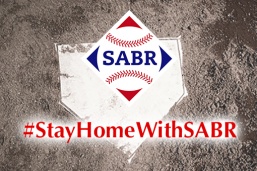 SABR chapters and committees are encouraged to set up virtual meetings to stay engaged with our members throughout the world at SABR.org, as part of our Stay Home With SABR initiative to assist in limiting the spread of the COVID-19 coronavirus pandemic.
This week, we heard from Cleveland Indians beat reporter Zack Meisel of The Athletic, Hillsboro Hops President/CEO K.L. Wombacher, and a Wisconsin High School Baseball Coaches Panel with Tom O'Connell, Ron Kading, and John Strohbusch.
Here are some more upcoming virtual events you can attend online:
July 24: Rocky Mountain Chapter meeting with former MLB All-Star pitcher Brad Lidge (12:00 p.m. MDT)
July 24: SABR Virtual: Day 10 with Gordon Gattie, F.X. Flinn, Jeff J. Snider, and MLB Diversity Initiatives and Social Justice Resources with Tyrone Brooks and Corey Smith (7:00 p.m. EDT)
July 25: Central Florida Chapter meeting with author Jeremy Beer (10:00 a.m. EDT)
July 25: Schott-Pelican (New Orleans) Chapter meeting (10:00 a.m. CDT)
July 25: SABR Virtual: Day 11 with Dan Levitt, Rob Garratt, R.J. Lesch, Edward Scahill (3:00 p.m. EDT)
July 26: SABR Virtual: Day 12 with Jim Case, Rob Mains, and Evaluating Baseball Art: Storytelling in a Digital Age with Graig Kreindler, Anika Orrock, Dick Perez, Anthony Salazar (3:00 p.m. EDT)
July 26: Detroit Chapter open baseball forum (7:00 p.m. EDT)
July 27: Dusty Baker-Sacramento Chapter meeting (7:00 p.m. PDT)
July 29: Luke Easter (N.Y.) Chapter book club meeting with author Brad Balukjian (7:30 p.m. EDT)
July 29: Nineteenth Century Committee meeting (8:00 p.m. EDT)
July 30: 1995 Atlanta Braves panel discussion with authors Peter M. Gordon, Tom Hufford, and Jacob Pomrenke (7:00 p.m. EDT)
July 30: Larry Doby (S.C.) Chapter meeting with Cardinals scout Charles Peterson and Brewers intern Kendall Couch (7:00 p.m. EDT)
August 1: Talkin' Baseball: Rick Huhn (9:00 a.m. EDT)
August 1: Hemond-Delhi Arizona Chapter meeting (1:00 p.m. MST)
Find more upcoming virtual meetings and watch replays of past events on our SABR Virtual Calendar page.
---
Add a new baseball book to your collection from the SABR Digital Library:
Pride of Smoketown: The 1935 Pittsburgh Crawfords
Edited by Frederick C. Bush and Bill Nowlin
Associate editors Len Levin and Carl Riechers
ISBN (paperback): 978-1-970159-25-7, $34.95
ISBN (e-book): 978-1-970159-24-0, $9.99
8.5" x 11", 349 pages

Click here to read the full description of this book at SABR.org.
SABR members, get this e-book for FREE!
SABR members can download all Digital Library e-books for free or save 50% off the paperback editions. To find all titles, visit SABR.org/ebooks.
Having trouble downloading our e-books? To view PDF files on your computer, click here to download the free Adobe Reader software. Having trouble downloading e-books to your Kindle, Nook, Sony Reader or iPad? Click here for additional help.
---
Good news! The Spring 2020 edition of the Baseball Research Journal is now available to read online:
Click here to read the Spring 2020 Baseball Research Journal at SABR.org
Those of you who receive the print edition should find your BRJ arriving in the next few weeks. For digital subscribers, the e-book edition was delivered to your inboxes on June 24.
To read more articles from the BRJ archives, our flagship publication for nearly the past half-century, click here.
To learn more about contributing to a future SABR publication, click here.
We hope you enjoy reading the Spring 2020 Baseball Research Journal!
---
The SABR office, housed at Arizona State University's Walter Cronkite School of Journalism and Mass Communication in Phoenix, Arizona, has been closed indefinitely due to the ongoing coronavirus (COVID-19) situation. Staff members will work remotely until it is advisable to resume normal operations on-site.
Please contact a member of the SABR staff by email or phone with any questions.
---
Baseball fans, tune in this season to SABRcast with Rob Neyer, a weekly podcast hosted by award-winning author and longtime SABR member Rob Neyer.
Episode #69 on Monday, July 20 featured Steve Goody of Pocket Radar and Seth Daniels of Rapsodo to discuss using new technology in an old game. Goody is the CEO and co-founder of Pocket Radar, which designs, engineers and manufactures speed tracking technology to help enhance the training of amateur and professional baseball players. Daniels is the Director of Sales and Marketing for Rapsodo, where he focuses on building data-driven technologies to provide players and coaches with real-time tracking solutions and helps develop market strategies for the North American market..
Visit SABR.org/sabrcast to listen to the full episode.
Subscribe to SABRcast on your favorite podcast networks, including Apple Podcasts, Spotify, Stitcher, or Google Play, and listen to each episode as soon as it's released on Mondays. To learn more, visit SABR.org/sabrcast.
---
The SABR Team Ownership Histories Project, a joint effort of SABR's Business of Baseball Committee and the BioProject, announces its first essay on the ownership history of a Negro Leagues club:
Mike Haupert's portrait of the Hilldale team and its dynamic owner, Ed Bolden, is a great edition to this project. It also opens a new field for Negro Leagues researchers as other Black teams are worthy of similar investigation. An essay on the Newark Eagles ownership is in the works, but all other teams are available. If interested, contact Andy McCue at amccue@sabr.org.
Click here to read all published team ownership histories at SABR.org.
We are also interested in publishing more articles on National and American League teams, plus defunct major-league franchises from the National Association, American Association, Union Association, Players League, and Federal League, as well.
---
Five new biographies were posted this week as part of the SABR Baseball Biography Project. Here are the new bios published this week:
All new biographies can be found here: SABR.org/bioproject
Find any SABR biography: You can visit sabr.org/bioproject to search for any player — or manager, executive, scout, spouse, broadcaster, or umpire — who appears in the SABR BioProject. In addition, we have pages for Ballparks, Broadcasters, Executives, Games, Managers, Scouts, Spouses, Umpires, Writers, people who were Famous Outside Baseball, and a lot more.
---
Behind the Numbers: Baseball SABR Style on SiriusXM, a radio show hosted by former SABR Board President Vince Gennaro, is back at a new time. Listen to new episodes at 4:00-5:00 p.m. ET on Saturdays on MLB Network Radio.
You can also listen to archives of recent episodes on-demand on the SiriusXM Internet Radio app. Click here to learn more.
Behind the Numbers: Baseball SABR Style on SiriusXM focuses on examining and interpreting the statistical analysis that plays a critical role in baseball today. It airs weekly throughout the year on MLB Network Radio, available to subscribers nationwide on XM channel 89, Sirius channel 209, and on the SiriusXM Internet Radio App.
---
We've heard your feedback: Some of you have said you look forward to "This Week in SABR" every Friday, but sometimes there are just too many compelling articles and announcements to read every week. We're not complaining — hey, keep up the great work! — but we know the feeling. So in an effort to make the length of this newsletter more manageable to read, we'll summarize some of the repeating/recurring announcements in a special "In Case You Missed It (ICYMI)" section of "This Week in SABR".
Here are some major headlines from recent weeks that we don't want you to miss:
All previous editions of This Week in SABR can be found here: https://sabr.org/content/this-week-in-sabr-archives.
---
We'd like to welcome all of our new SABR members who have joined this week. You can find all Members-Only resources at members.sabr.org and the Membership Handbook can be downloaded here.
Please give these new members a warm welcome and help them make the most of their membership by giving them the opportunity to get involved in their local chapter or a research committee.
You can find contact information for any SABR member in the online Membership Directory.
| Name | Hometown |   |   | Name | Hometown |
| --- | --- | --- | --- | --- | --- |
| Akane Bansho | Tokyo, JPN | | | James McCann | Cheltenham, PA |
| Michael Berger | Macungie, PA | | | Stuart McComish | Brampton, ON |
| Stephen Bronack | Charlotte, NC | | | Dave McGowan | Marlboro, NY |
| Carol Bucher | Columbia, MO | | | Cameron McGuire | Hendersonville, NC |
| Benjamin Burnley | Arlington, VA | | | Jarrett Meyer | Placentia, CA |
| Paul Canavan | Ashfield, CT | | | Paul Miller | Binghamton, NY |
| Charles Daschbach | Phoenix, AZ | | | Larry Nakanishi | Fremont, CA |
| Mark Gross | Falls Church, VA | | | Matthew Niemerski | Takoma Park, MD |
| Brandon Hoffman | Seattle, WA | | | Mike O'Bryan | Indianapolis, IN |
| Mark Holm | Harwood Heights, IL | | | Steve Peeler | Morganton, NC |
| Barry Hyman | Seattle, WA | | | Humberto Rego | Fall River, MA |
| Daniel Ingellis | Staten Island, NY | | | Jaime Rupert | Hillsborough, CA |
| Dave Jackson | Irving, TX | | | Owen Stairs | Moncton, NB |
| Griffin Klemick | Pittsburgh, PA | | | Mark Steinbrecher | Naperville, IL |
| Christian Larsen | Gjerlev J, DEN | | | Yoichi Ueda | Tokyo, JPN |
| Jenny Lyon | Atlanta, GA | | | Angela Whitford | Norwalk, CT |
| Thomas Macfarlane | Vitry-sur-Seine, FRA | | | Scotty Young | Riverview, FL |
---
Here are the new research committee updates this week:
Find all SABR research committee newsletters at SABR.org/research/committees.
---
Here are the new regional chapter updates this week:
Visit SABR.org/chapters for more information on SABR regional chapters.
---
Scroll up to the top of this newsletter to learn more about the upcoming virtual events on the SABR calendar. In addition, the following in-person meetings are scheduled on our Events Calendar:
July 25: Oscar Charleston Chapter meeting (Indianapolis, IN)
August 1: Halsey Hall Chapter Book Club meeting (St. Paul, MN)
August 10: Halsey Hall Chapter Research Committee meeting (St. Paul, MN)
We strongly recommend that all SABR chapters follow CDC public health guidelines and your local/state government regulations when scheduling any in-person meetings and events.
Find details on all upcoming meetings on our SABR Events Calendar page.
---
Here are some recent articles published by and about SABR members:
Please note: Some articles may require a separate subscription to view online. SABR does not endorse, and is not responsible or liable for, any content that appears on a third-party website.
---
This Week in SABR is compiled by Jacob Pomrenke. If you would like us to include an upcoming event, article or any other information in "This Week in SABR," e-mail jpomrenke@sabr.org.
Have trouble reading this e-mail? Click here to view this week's newsletter on the web.
Are you receiving our e-mails? "This Week in SABR" goes out by e-mail to all members on Friday afternoons. If they're not showing up, try adding "sabr.notes@sabr.org" to your contact list to ensure they show up in your inbox (and not the spam folder.)
---
Originally published: July 24, 2020. Last Updated: July 24, 2020.
https://sabr.org/wp-content/uploads/2020/06/SABR-LatestNews-TWIS-2016.jpg
250
847
sabr
/wp-content/uploads/2020/02/sabr_logo.png
sabr
2020-07-24 14:02:23
2020-07-24 14:14:27
This Week in SABR: July 24, 2020