This Week in SABR: May 31, 2019

Welcome to "This Week in SABR!" Click here to view this week's newsletter on the web. Here's what we've been up to as of May 31, 2019:
---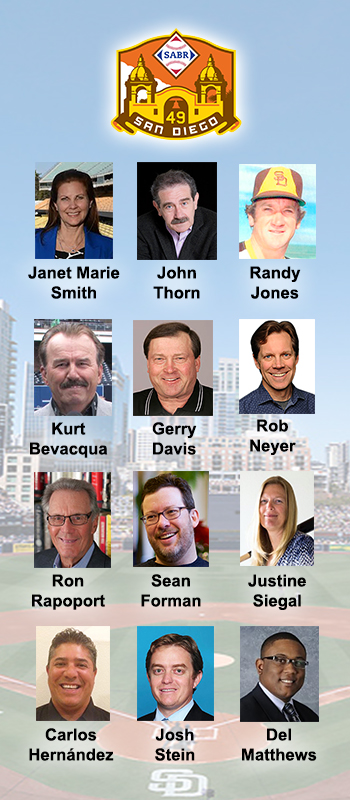 We're less than one month away frompa SABR's 49th annual convention on June 26-30, 2019, at the Manchester Grand Hyatt in San Diego. All baseball fans are welcome to attend. Click here to register for SABR 49 and join us!
SABR 49 will be highlighted by these innovative and interesting featured panels:
Opening Remarks: Josh Stein: San Diego Padres Assistant GM Josh Stein will be on hand to deliver the opening remarks at SABR 49. 9:30 a.m., Thursday, June 27
1984 San Diego Padres Panel: Panelists include Kurt Bevacqua, former Padres infielder and fan favorite; longtime Padres president Ballard Smith; sports columnists Ron Rapoport and Bill Center; and moderator Bob Chandler, Padres broadcaster from 1970-2003. 10:35 a.m., Thursday, June 27
Women in Baseball Panel: Panelists include Perry Barber, professional baseball umpire for more than 30 years and 2018 recipient of SABR's Dorothy Seymour Mills Lifetime Achievement Award; Jewel Greenberg, producer of Girls of Summer: Big Diamond Dreams documentary film; Justine Siegal, founder of Baseball For All and the first female coach in Major League Baseball; Janet Marie Smith, Senior Vice President of Planning and Development for the Los Angeles Dodgers; and moderator Jean Ardell, author of Breaking into Baseball: Women and the National Pastime and co-author with Ila Borders of Making My Pitch: A Woman's Baseball Odyssey. 2:15 p.m., Thursday, June 27
Increasing Diversity in Youth Participation: Guest speaker is Del Matthews, Vice President of Baseball Development at Major League Baseball. 10:30 a.m., Friday, June 28
Padres Player Panel: Panelists include Randy Jones, 1976 National League Cy Young Award winner; Carlos Hernández, a key contributor on the Padres' 1998 World Series team and now an analyst on Fox Deportes; Mark Sweeney, pinch-hitter extraordinaire from 1995 to 2008 and an analyst on Fox Sports San Diego; and moderator Rob Neyer, award-winning author and host of the weekly baseball podcast, SABRcast with Rob Neyer.11:00 a.m., Friday, June 28
The Baseball Encyclopedia 50th Anniversary Panel: Panelists include Sean Forman, founder of Baseball-Reference.com; David S. Neft, the driving force behind The Baseball Encyclopedia in 1969; David W. Smith, president and founder of Retrosheet.org; and moderatorJohn Thorn, MLB's Official Historian. 3:15 p.m., Friday, June 28
MLB Umpires Panel: Panelists include Gerry Davis, MLB umpire crew chief who has called more postseason games than any umpire in baseball history; Greg Gibson, MLB umpire who called the 2011 World Series and was behind the plate for Randy Johnson's 2004 perfect game and Clayton Kershaw's 2014 no-hitter; Mike Port, MLB Vice President of Umpiring from 2005 to 2011; and moderator Fred Rodgers of SABR's Ted Williams Chapter. 9:15 a.m., Saturday, June 29
Early California Baseball History Panel: Panelists include Carlos Bauer, a prolific baseball historian whose specialties include early California baseball and the minor leagues; Angus Macfarlane, a San Francisco-based "baseball treasure hunter" who focuses on baseball's pre-history in the Bay Area; and moderator Bill Swank, author of numerous books and articles on San Diego baseball history. 1:00 p.m., Saturday, June 29
We'll also have some special guest speakers at our research committee meetings. The Black Sox Scandal Research Committee will host a special 100th anniversary "Eight Myths Out" panel discussion with authors Bruce Allardice, Rick Huhn, Bill Felber, and Jacob Pomrenke. Other guest speakers are expected to include Padres official scorer Bill Zavestoski, award-winning authors and historians Rob Fitts, Roberta J. Newman, Herm Krabbenhoft, Norman Macht, and more.
Attendees also have the opportunity to catch a San Diego Padres game at Petco Park; tour the San Diego Central Library's Sullivan Family Baseball Research Center, home of the SABR Collection; and view a film screening of the new documentary film Moe Berg: The Spy Behind Home Plate, with filmmaker Aviva Kempner on hand.
There will also be 32 groundbreaking research presentations — including studies of all aspects of baseball past and present, such as future stars Ted Williams and Minnie Miñoso with the minor-league San Diego Padres of the Pacific Coast League, the 50th anniversary of the expansion Padres entering MLB, modern pace-of-play concerns and rules changes, and much more.
As always, there's the highly competitive and entertaining SABR Trivia Contest finals on Saturday night, not to mention informed and opinionated baseball talk all week long. A full rundown on the schedule, bios of speakers and panelists, and summaries of research presentations can be found at sabr.org/convention.
We hope to see you all next month in San Diego!
---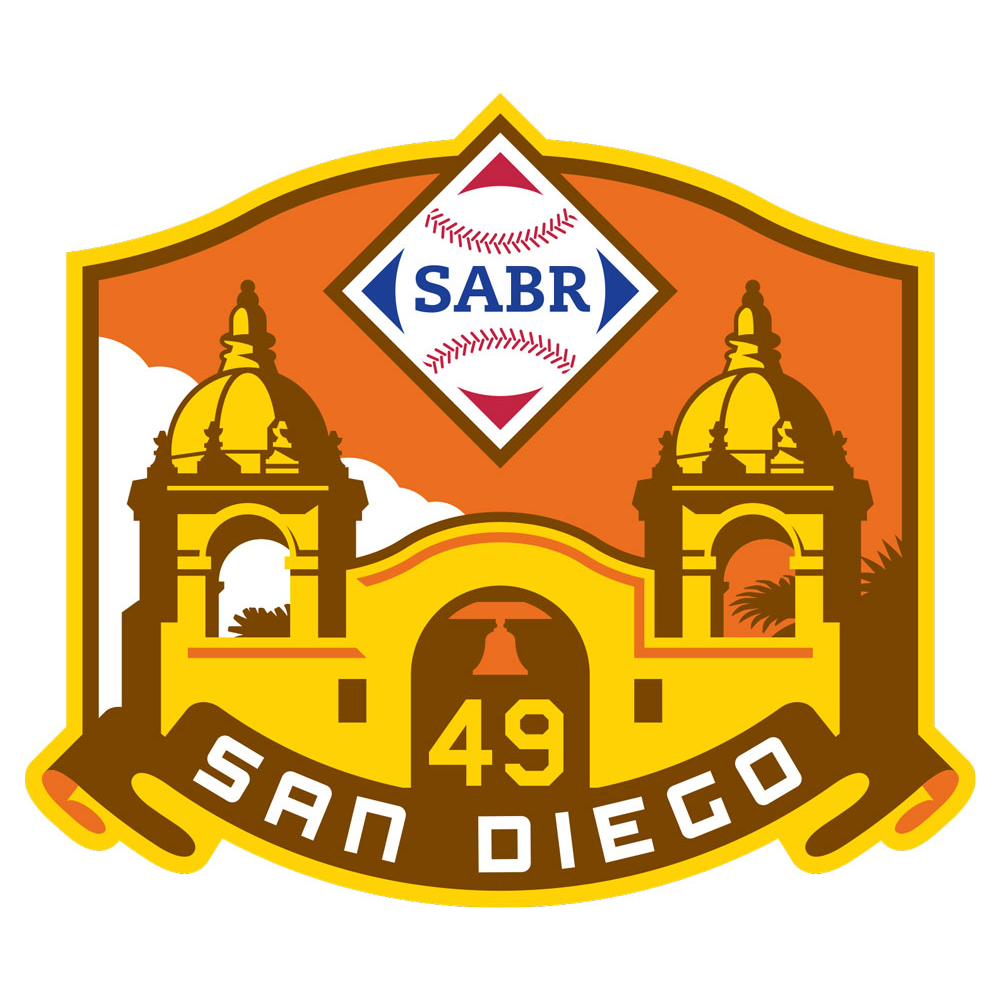 Single-day registration for SABR 49 can be purchased online by clicking here or on-site during convention registration hours. The single-day rate is:
Thursday, June 27: $179 for SABR members, $209 non-members
Friday, June 28: $179 for SABR members, $209 non-members
Saturday, June 29: $179 for SABR members, $209 non-members
The single-day registration includes admission to all convention panels, research presentations, and committee meetings at the Manchester Grand Hyatt. It can be purchased on-site via cash, check, or credit card (sorry, no American Express accepted.) Please note: Admission to the SABR 49 Awards Luncheon, the Friends of SABR Breakfast, and the Padres game are not included.
Registration: Click here for complete information on the SABR 49 Regular and Single-Day Registration, and optional sessions. Or click here to register for SABR 49! Regular registration is $319 for SABR members or $350 for non-members. Single-day registration is also available online or on-site at $179/day for the days of Thursday, June 27 to Saturday, June 29. Click here for more information.
Hotel: Please note: Our special SABR room block of $224/night (plus tax) at the Manchester Grand Hyatt is no longer available. To find other hotels nearby, visit www.sandiego.org for more information.
Awards Luncheon: SABR will host a special Awards Luncheon on Friday, June 28 at the Manchester Grand Hyatt in San Diego. The Awards Luncheon, which includes a meal, will feature the announcement of SABR's annual awards — including the Bob Davids Award, our highest honor. One ticket to the Awards Luncheon is included in the all-inclusive package or guest tickets are available for $70 when you register for SABR 49.
Special film screening of Moe Berg documentary: We are pleased to host a special screening of the new documentary film, Moe Berg: The Spy Behind Home Plate, on Thursday, June 27 during SABR 49 in San Diego with filmmaker Aviva Kempner. The event will be open to all SABR convention attendees. In this first ever feature-length documentary about the enigmatic Berg, Kempner focuses her camera on a little-known Jewish hero. learn more about the film or to view a trailer, visit spybehindhomeplate.org.
Research presentations: Click here to view the research presentations to be delivered at SABR 49.
Poster presentations: Click here to view the full list of poster presentations on display at SABR 49.
Committee meetings: Click here to view the research committee meeting schedule at SABR 49.
Vendors Room: Click here to learn more about our vendors at SABR 49.
Visit SABR.org/convention to learn more or to register for the SABR 49 convention.
---
Members of the host Ted Williams Chapter have compiled a list of transportation tips to help visitors and convention attendees enjoy their stay in San Diego. If you have any questions during your stay, please don't hesitate to ask a friendly SABR 49 volunteer for assistance.
Click here to view the SABR 49 Transportation Tips page
If you have any questions during your stay, please don't hesitate to ask a friendly SABR 49 volunteer for assistance.
For more information on San Diego's award-winning restaurants, upcoming events, and other area attractions, visit SanDiego.org.
---

Attendees at this summer's SABR 49 convention in San Diego will have a chance to enter the SABR 49 Raffle for a chance to win a 1953 Topps Mickey Mantle card and other cool prizes.
Other raffle items include a 1953 Topps Yogi Berra card, vintage Hall of Fame inductee postcards, Negro Leagues Centennial Team Bobbleheads, a Ty Cobb commemorative plate, vintage team mini-pennants, and much more. Raffle winners will be announced on Saturday, June 29 before the SABR 49 Umpires Panel at the Manchester Grand Hyatt.
Raffle tickets are $20 each or six for $100, and can be purchased at the Friends of SABR table near the SABR registration area at the Grand Hyatt during the convention. For more information, contact Ben Rose at brose@sabr.org.
---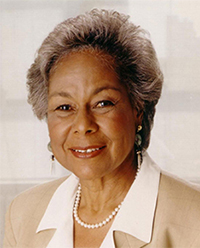 We are pleased to announce Rachel Robinson as the 2019 winner of the Dorothy Seymour Mills Lifetime Achievement Award. SABR's Women in Baseball Committee established the Dorothy Seymour Mills Lifetime Achievement Award — "The Dorothy" — in honor of Dorothy Seymour Mills and her lifetime of contributions to promoting women's baseball.
Rachel Robinson is best known to many as the widow of Jackie Robinson, the man who integrated Major League Baseball when he debuted for the Brooklyn Dodgers in 1947, but her importance is so much greater. When Branch Rickey was scouting for a player to integrate baseball, he wanted someone with a family who could support and be his rock, and that family started with Rachel Isum Robinson. Many of Robinson's accomplishments involve work for civil rights and education. While Jackie was still alive, they hosted jazz fundraisers at their home to help out jailed civil rights activists. She worked for many years as a nurse after earning her master's degree in the field. She was the founder and served as President of the Board for the Jackie Robinson Foundation until 1996, and she is the author of Jackie Robinson: An Intimate Portrait.
Click here to read the full announcement at SABR.org.
---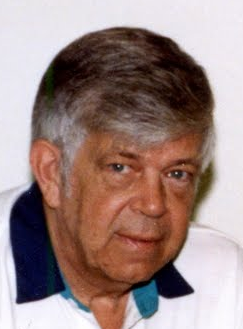 Much of what we know about the history of baseball uniforms we owe to Marc Okkonen, a giant in the baseball research community. A public relations consultant, freelance artist and writer professionally, Okkonen exhaustively cataloged major league uniforms dating back to 1900, research he turned into a groundbreaking book, Baseball Uniforms of the 20th Century: The Official Major League Baseball Guide. Okkonen also produced a series of books titled Baseball Memories using a distinctive collection of photographs and illustrations to capture various decades in the twentieth century.
Okkonen, who died at the age of 85 on Monday, May 27, was a recipient of SABR's Henry Chadwick Award for his efforts.
"Marc was an inspiration to me with the pictorial books he had produced. Without Marc's lead, I would never have thought it possible to be able to track down photos of so many obscure major-league players," said Bill Hickman, longtime chair of SABR's Pictorial History Committee. "But even beyond that, he became a personal friend who was unbelievably helpful in providing guidance on how to conduct certain aspects of baseball research. Marc was filled with ideas on what he wanted to research, and it was a pleasure to have a chance to get a glimpse of him at his craft. We have lost one of the great ones."
Click here to read the full article at SABR.org.
Related links:
---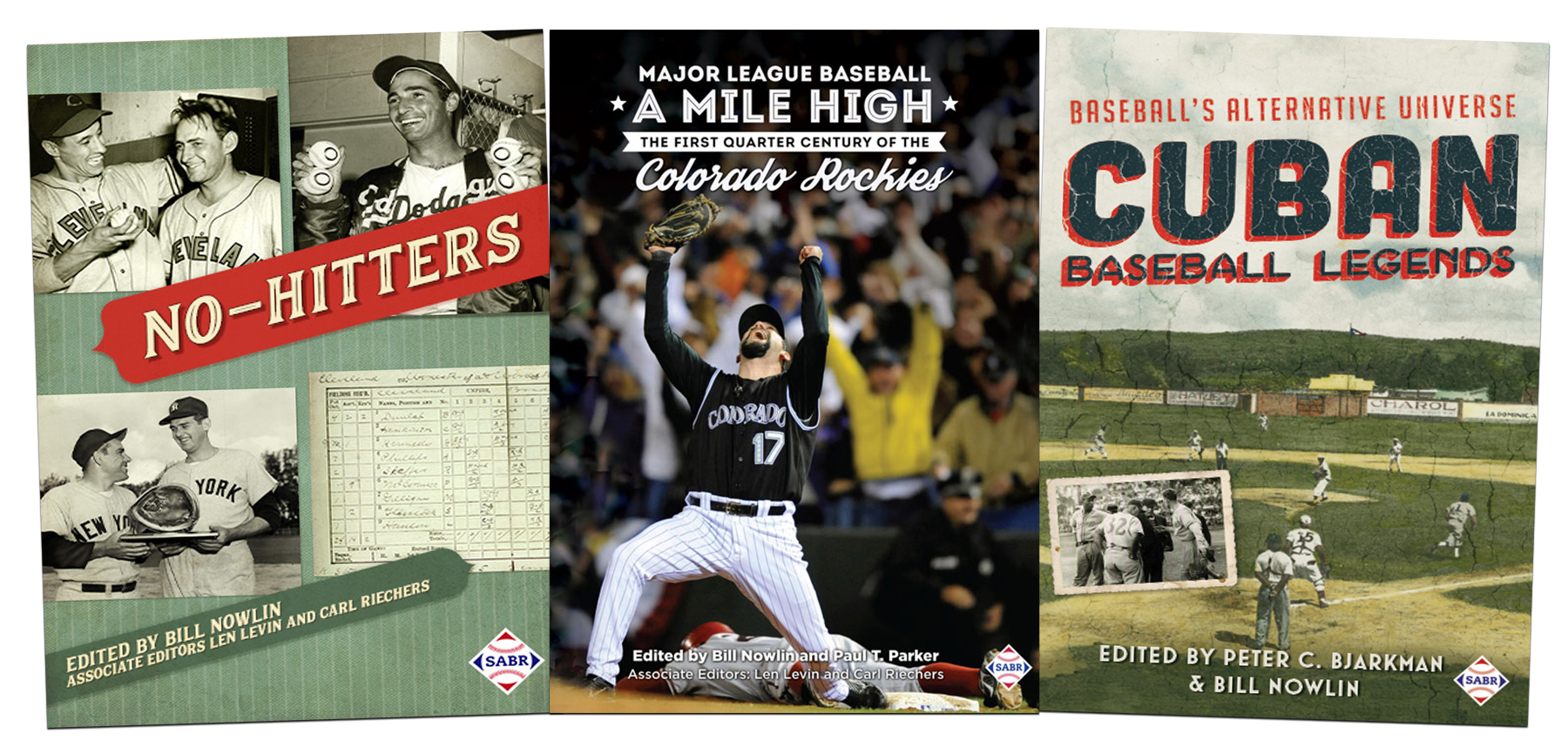 If you have considered becoming a SABR Publications Patron, now is the time as your gift will count DOUBLE through SABR Director Bill Nowlin's generous matching gift. Join the growing list of Publications Patrons in this philanthropic effort, and help us reach our goal of $50,000. We're just $3,000 away from reaching our goal!
To date, we have raised the resources to donate 222 books to libraries, schools, and nonprofit organizations. In just four weeks, 73 Publications Patrons have contributed $44,000!
Donate today and join the list of new Publications Patrons below:
| | | |
| --- | --- | --- |
| Debbi Dagavarian-Bonar | | Christopher Moyer |
| Rick Dempsey | | Andrew North |
| Mark Dugo | | Gary Olson |
| Jack Flynn | | Mike Romano |
| Martin Jatlow | | Jeff Schwartz |
| Robert Kenney | | Lynda Singer |
| Ira Levine | | Mark Yecies |
---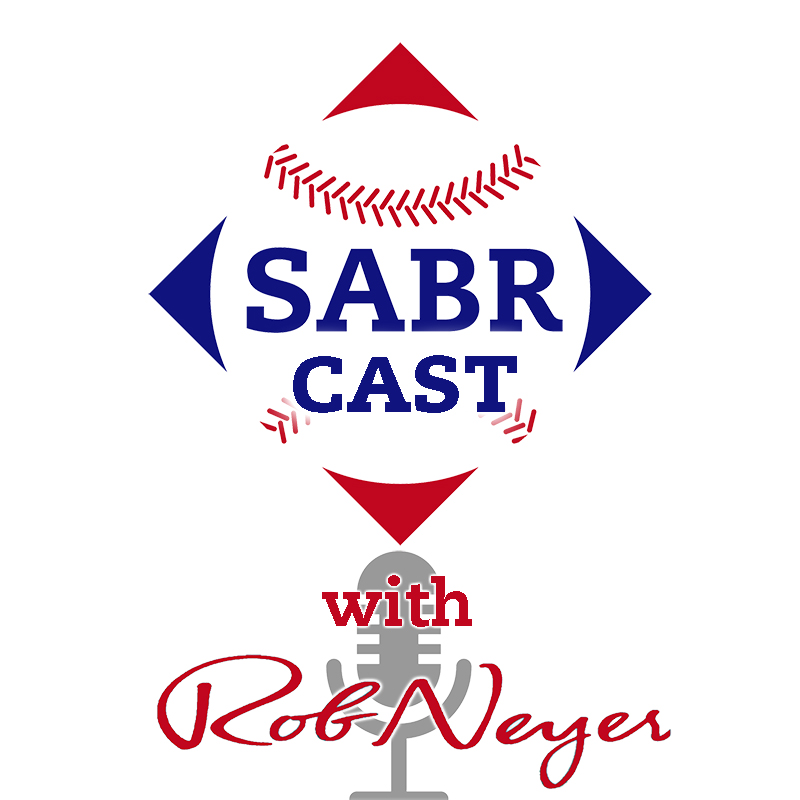 Listen to a new episode of SABRcast with Rob Neyer, a new weekly podcast hosted by award-winning author and longtime SABR member Rob Neyer — which is now available on your favorite podcast streaming services! Subscribe to SABRcast on your favorite podcast networks, including Apple Podcasts, Spotify, Stitcher, or Google Play, and listen to each episode as soon as it's released on Mondays.
Visit SABR.org/sabrcast to listen to Episode #9 which features an interview with Ben Lindbergh, co-author of The MVP Machine: How Baseball's New Nonconformists Are Using Data to Build Better Players (with Travis Sawchik) and staff writer for The Ringer. Ben was the recipient of a 2019 SABR Analytics Conference Research Award for his story on baseball pioneer Sherri Nichols, "The Sabermetric Movement's Forgotten Foremother." He is also the co-author (with Sam Miller) of The Only Rule Is It Has to Work: Our Wild Experiment Building a New Kind of Baseball Team, on the Sonoma Stompers.
Every week, SABRcast will feature insights and analysis of what's happening in modern baseball on and off the field, plus compelling interviews with figures from around the game — and music from The Baseball Project.
To learn more, visit SABR.org/sabrcast.
---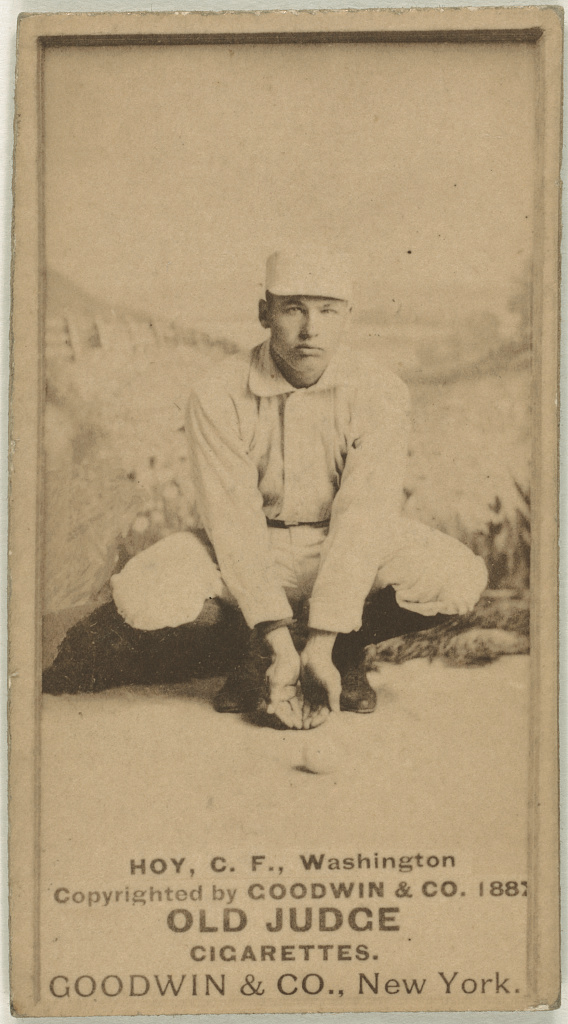 Each year, SABR's Nineteenth Century Research Committee selects its Overlooked 19th Century Base Ball Legend — a 19th century player, manager, executive or other baseball personality not yet inducted into the National Baseball Hall of Fame in Cooperstown, New York.
Committee members vote to narrow down the ballot to 10 finalists, then all SABR members are eligible to cast a vote for the winner. The winner is announced at the Nineteenth Century Committee's annual meeting at the SABR convention.
2019 finalists: Earlier this year, members of the Nineteenth Century Research Committee selected the finalists for the 2019 Overlooked 19th Century Baseball Legend. Click here to download a PDF with the finalists' bios, compiled by project co-chairs Adam Darowski and Joe Williams. Voting in the final election will run until June 10, and will be open to all SABR members.
Vote now! Click here to access the 2019 ballot. All SABR members are eligible to vote in the election for this year's Overlooked 19th Century Legend. You *MUST* select five candidates — ranking them from first choice to fifth choice — from among the candidates presented. You are only allowed to vote once. You are on the honor system to submit only one ballot. ALL BALLOTS MUST BE CAST PRIOR TO 11:59 p.m. PDT on Monday, June 10, 2019.
Click here for a list of past winners.
---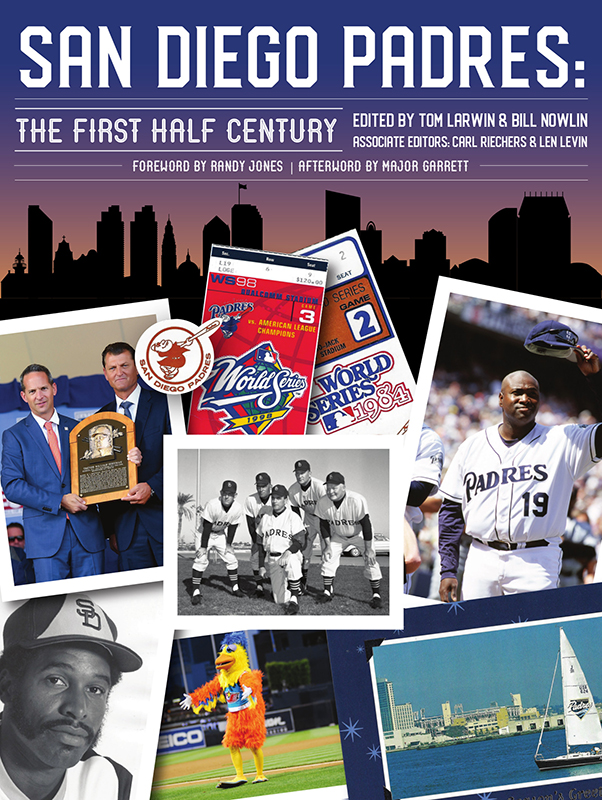 As we get set for SABR 49 this summer, take in some memorable moments from the Old Mission with our newest book from the SABR Digital Library:
San Diego Padres: The First Half Century
Edited by Tom Larwin and Bill Nowlin
Associate Editors: Carl Riechers and Len Levin
Foreword by Randy Jones | Afterword by Major Garrett
ISBN (paperback): 978-1-9701-5905-9, $29.95
ISBN (e-book): 978-1-9701-5904-2, $9.99
358 pages, 8.5″ x 11″
Click here to read the full description of this book at SABR.org.
SABR members, get this e-book for FREE!
Having trouble downloading our e-books? To view PDF files on your computer, click here to download the free Adobe Reader software. Having trouble downloading e-books to your Kindle, Nook, Sony Reader or iPad? Click here for additional help.
SABR members will get discounted rates for all Digital Library publications, including many for free. To find the complete list of books, visit SABR.org/ebooks.
---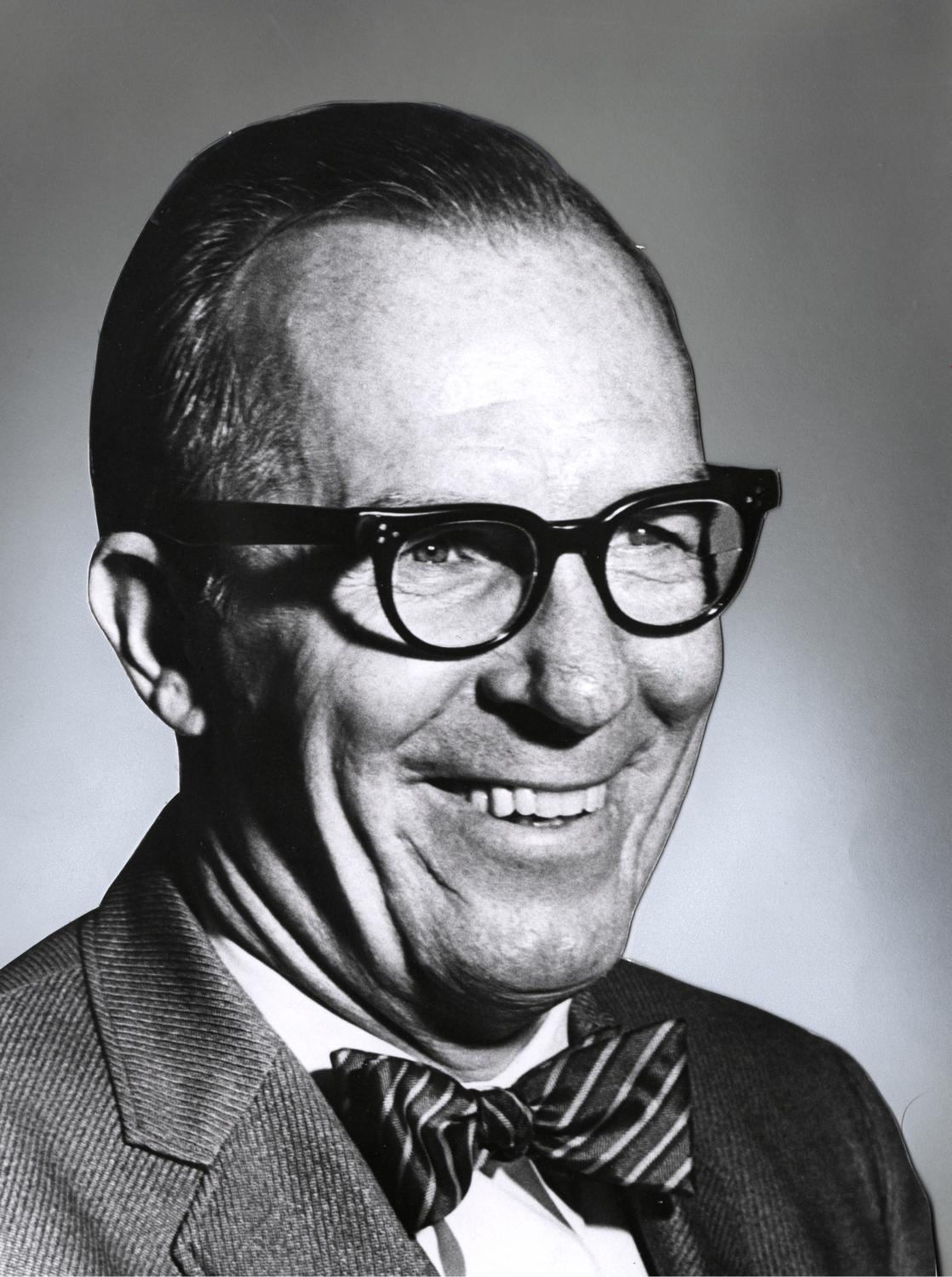 Two new biographies were posted this week as part of the SABR Baseball Biography Project, which brings us to a total of 4,891 published biographies. Here are the new bios published this week:
All new biographies can be found here: SABR.org/bioproj/recent
Search for any SABR biography: You can now visit sabr.org/bioproj_search to search for any player — or manager, executive, scout, spouse, broadcaster, or umpire — who appears in the SABR BioProject. You can also browse all of these BioProject categories and a lot more, including 300-game winners, Hall of Famers, 1960s All-Stars, or Negro Leaguers, at our Browse page: sabr.org/bioproj/browse.
---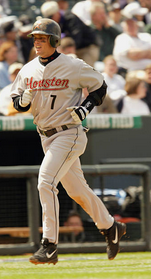 Seven new game stories were posted this week as part of the SABR Games Project. Here are the new game stories:
New Games Project stories can be found at SABR.org/gamesproject/recent. Find all published Games Project articles at SABR.org/GamesProject.
Get involved: Have memories of a game you attended? Or a game you watched that caught your interest? Write about it! Writing for the Games Project is an easy way to get involved as a SABR member. Find out how by reading the Games Project FAQs section or checking out the Authors' Guidelines. We have editors and fact checkers who are willing to help you write your first article.
Read all game stories from our new Colorado Rockies book at the SABR Games Project: In Major League Baseball A Mile High: The First Quarter Century of the Colorado Rockies, published by SABR in 2018 and edited by Bill Nowlin and Paul T. Parker, we told the story of the first 25 years of the major-league baseball team in Denver. All game stories that appeared in the Colorado Rockies book can now be read online at the SABR Games Project. All of the biographies in Major League Baseball A Mile High are also available to be read online at the SABR BioProject. Click here to download a free e-book edition or get 50% off the paperback edition of Major League Baseball A Mile High.
---
Behind the Numbers: Baseball SABR Style on SiriusXM, a radio show hosted by SABR President Vince Gennaro, will air in May at a new time. Listen in from 8:00-9:00 p.m. ET on Saturday, June 1 on MLB Network Radio.
You can also listen to archives of recent episodes on-demand on the SiriusXM Internet Radio App. Click here to learn more.
Behind the Numbers: Baseball SABR Style on SiriusXM focuses on examining and interpreting the statistical analysis that plays a critical role in baseball today. It airs weekly throughout the year on MLB Network Radio, available to subscribers nationwide on XM channel 89, Sirius channel 209, and on the SiriusXM Internet Radio App.
---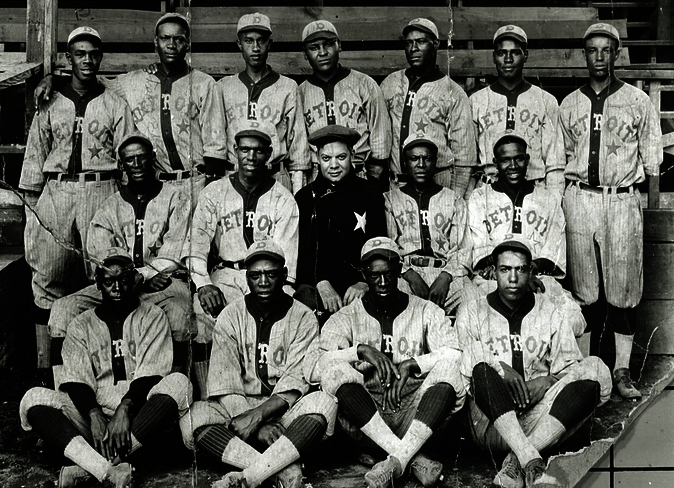 To honor the 100-year anniversary of the Negro League's Detroit Stars, the Friends of Historic Hamtramck Stadium and Wayne State University's Department of African American Studies invite original unpublished papers for the Detroit Stars Centennial Conference on August 8-10, 2019. The event is co-sponsored by SABR's Detroit Chapter.
Abstracts can cover all aspects of baseball, with emphasis on the Detroit Stars, black baseball, Michigan baseball, and/or baseball history. Abstracts only, not to exceed 300 words, should be submitted by June 15, 2019 to Lisa Alexander at lisa.alexander@wayne.edu. For complete details and criteria, click here.
The conference registration is $125. The conference fee covers all events, including a bus tour of Detroit and tickets to a Detroit Tigers game. You can register for the conference at detroitstars.org.
For more information, visit detroitstars.org or contact HamtramckStadium@gmail.com.
---
We've heard your feedback: Some of you have said you look forward to "This Week in SABR" every Friday, but sometimes there are just too many compelling articles and announcements to read every week. We're not complaining — hey, keep up the great work! — but we know the feeling. So in an effort to make the length of this newsletter more manageable to read, we'll summarize some of the repeating/recurring announcements in a special "In Case You Missed It (ICYMI)" section of "This Week in SABR".
Here are some major headlines from recent weeks that we don't want you to miss:
All previous editions of This Week in SABR can be found here: https://sabr.org/content/this-week-in-sabr-archives.
---
We'd like to welcome all of our new SABR members who have joined this week. You can find all Members-Only resources at members.sabr.org and the Membership Handbook can be downloaded here.
Please give these new members a warm welcome and help them make the most of their membership by giving them the opportunity to get involved in their local chapter or a research committee.
You can find contact information for any SABR member in the online membership directory (SABR.org/directory).
| Name | Hometown | | | Name | Hometown |
| --- | --- | --- | --- | --- | --- |
| Randal Bjerke | Boulder, CO | | | Ray Landis | Harrisburg, PA |
| Gregory Castanias | Oakton, VA | | | Hal McCauley | Visalia, CA |
| Anthony Constantino | Fort Myers, FL | | | James McDonald | Lafayette, LA |
| Daniel Dill | Washington, DC | | | Michael Soinski | Broadview Hts., OH |
| William Haines | Philadelphia, PA | | | Christopher Starr | Amarillo, TX |
| Mark Hoyle | Norton, MA | | | Michio Takeuchi | Nagoya, JPN |
| Steve Klein | London, ENG | | | | |
---
Here are the new research committee updates this week:

Find all SABR research committee newsletters at SABR.org/research.
---
Here are the new regional chapter updates this week:
Visit SABR.org/chapters for more information on SABR regional chapters.
---
Here is a list of upcoming events on the SABR calendar:
All SABR meetings and events are open to the public. Feel free to bring a baseball-loving friend … and make many new ones! Check out the SABR Events Calendar at SABR.org/events.
---
Here are some recent articles published by and about SABR members:
Read these articles and more at SABR.org/latest.
---
This Week in SABR is compiled by Jacob Pomrenke. If you would like us to include an upcoming event, article or any other information in "This Week in SABR," e-mail jpomrenke@sabr.org.
Have trouble reading this e-mail? Click here to view this week's newsletter on the web.
Are you receiving our e-mails? "This Week in SABR" goes out by e-mail to all members on Friday afternoons. If they're not showing up, try adding "sabr.notes@sabr.org" to your contact list to ensure they show up in your inbox (and not the spam folder.)
---
Originally published: May 31, 2019. Last Updated: April 3, 2020.
https://sabr.org/wp-content/uploads/2020/03/research-collection4_350x300.jpg
300
350
admin
/wp-content/uploads/2020/02/sabr_logo.png
admin
2019-05-31 15:00:00
2020-04-03 14:38:16
This Week in SABR: May 31, 2019