This Week in SABR: February 4, 2022
Welcome to "This Week in SABR!" Click here to view this week's newsletter on the web. Here's what we've been up to as of February 4, 2022:
---
Forty Years a Giant: The Life of Horace Stoneham, written by Steven Treder and published by the University of Nebraska Press, is the winner of the 2022 Dr. Harold and Dorothy Seymour Medal, which honors the best book of baseball history or biography published during the preceding calendar year.
Treder, a SABR member since 1985 who has written for NINE, The Hardball Times, The National Pastime, and other publications, will receive his award during the 29th annual NINE Spring Training Conference on Saturday, March 5, 2022, in Tempe, Arizona. To register for the NINE conference, visit nineconference.com.
The other finalists for the 2022 Seymour Medal were:
The Best Team Over There: The Untold Story of Grover Cleveland Alexander and the Great War, by Jim Leeke (University of Nebraska Press)
Comeback Pitchers: The Remarkable Careers of Howard Ehmke & Jack Quinn, by Lyle Spatz and Steve Steinberg (University of Nebraska Press)
To see a list of previous Seymour Medal winners, click here.
---
Early registration is only open through 11:59 p.m. MST on Friday, February 4 for the SABR Virtual Analytics Conference, which will be held over four days in online sessions from March 17-20, 2022. We'll bring together the top minds in the baseball analytics community to discuss, debate, and share insightful ways to analyze and examine the great game of baseball. Register today to join us!
The Virtual Analytics Conference schedule consists of research presentations and guest speakers from throughout the baseball analytics community, career development sessions led by experienced sports professionals, and industry networking opportunities — all available online for any aspiring front office executive or baseball fan to attend from the comfort of home. Students will have opportunities for skill acquisition and development, including sessions on how to work with baseball-related data sets as well as databasing and SQL.
Registration: Click here to register for the 2022 SABR Virtual Analytics Conference. Early-bird registration is $75 for SABR members, $100 for non-members, and $50 for currently enrolled high school or college students (includes one-year SABR membership).

Student Registration: Students should email Scott Carter with a photo of their student ID to receive a special link to register at a discounted rate.
Stay tuned for more information on speakers, panelists, and presenters soon! Visit SABR.org/analytics to learn more.
---
Join us on Saturday, February 5 for our annual SABR Day celebration! SABR Day is a way for all baseball fans to come together, regardless of where they live, and talk about the game we all love.
Our All-Star lineup of guest speakers for SABR Day includes a celebration of Frick Award-winning broadcaster Jack Graney in Cleveland, a star-studded event with ESPN Deportes analysts and broadcasters in the Dominican Republic, a tour of historic baseball sites in Atlanta, Reds manager of baseball operations Mark Edwards in Cincinnati, Yankee Stadium historian Tony Morante in Cooperstown, Rockies official scorer Jillian Geib and "Batting Stance Guy" Gar Ryness in Denver, Hall of Fame librarian Cassidy Lent in New Jersey, Dodgers broadcaster Tim Neverett in Los Angeles, Twins third base coach Tommy Watkins in Rochester (NY), former Dodgers GM and SABR Director Dan Evans in Mississippi, and many award-winning authors and presenters elsewhere.
Click here to view full meeting details for each SABR Day meeting in our Events Calendar:
Atlanta, GA (Magnolia Chapter)
*Austin, TX (Rogers Hornsby Chapter)
Cincinnati, OH (Hoyt-Allen Chapter)
Guest speakers: Mark Edwards, Dave Hyland, Clayton Trutor, John Kiesewetter, Paul Debono
*Cleveland, OH (Jack Graney Chapter)
Guest speakers: Curt Smith, Scott Crawford, Barbara Gregorich, Perry Mudd Smith, Jeremy Feador
*Columbus, OH (Hank Gowdy Chapter)
Cooperstown, NY (Cliff Kachline Chapter)
Guest speakers: Tony Morante, Greg Kleine, Rene LeRoux, Jeff Katz
*Denver, CO (Rocky Mountain Chapter)
Guest speakers: Jillian Geib, Gar Ryness
*Detroit, MI (Southern Michigan Chapter)
Guest speakers: Dan D'Addona, Gary Gillette
*Harrisburg, PA (Mathewson-Plank Chapter)
Houston, TX (Larry Dierker Chapter)
*Jersey City, NJ (Elysian Fields Chapter)
Guest speakers: Cassidy Lent, Russ McIver, Eve Mandel, Rolando Llanes, Jacob Pomrenke, Dave Jordan
*Lexington, KY (Sweet Lou Johnson Chapter)
Los Angeles, CA (Allan Roth Chapter)
Guest speakers: Tim Neverett, Jack Bales, Dan Joseph, Noel Hynd
Middletown, CT (Smoky Joe Wood Chapter)
Minneapolis, MN (Halsey Hall Chapter)
*Nashville/Knoxville, TN (Rice-Russell and East Tennessee Chapters)
Guest speakers: Brian Purvis, Skip Nipper, Mark Aubrey
Pittsburgh, PA (Forbes Field Chapter)
Guest speakers: Ron Backer, Brian Engelhardt, Craig Britcher
*Rochester, NY (Luke Easter Chapter)
Guest speaker: Tommy Watkins
Santo Domingo, DOM (Juan Marichal Chapter and Luis Castro Chapters)
Guest speakers: Enrique Rojas, Dionisio Soldevila, Carlos José Lugo, Kevin Cabral, Natacha Peña, Leonte Landino
*Starkville, MS (Cool Papa Bell Chapter)
Guest speaker: Dan Evans
Tallahassee, FL (Buck O'Neil Chapter)
Guest speakers: Josh Weaver, Rick Swaine, Kent Putnam
*Toronto, ON (Hanlan's Point Chapter)
Guest speakers: Allen Tait, Andrew North, Adrian Fung
* indicates a virtual/Zoom meeting
In addition, these chapters have also scheduled SABR Day meetings in the coming weeks; all baseball fans are invited to attend:
February 6: Tulsa, OK (Oklahoma Chapter)
February 6: Fort Lauderdale, FL (South Florida Chapter)
February 6: Des Moines, IA (Field of Dreams Chapter)
February 7: Little Rock, AR (Robinson-Kell Chapter)
February 19: Philadelphia, PA (Connie Mack-Dick Allen Chapter)
February 19: Chicago, IL/Milwaukee, WI (Emil Rothe/Ken Keltner Chapters)
February 19: Kansas City, MO (Monarchs Chapter)
February 26: Louisville, KY (Pee Wee Reese Chapter)
Visit SABR.org/sabrday for more details.
---
It's time to get SABR Certified! The first course in the new SABR Analytics Certification program — Conversational Analytics and Critical Thinking in Baseball — is available online now.
The SABR Analytics Certification program is an online, on-demand curriculum offering professional development and learning opportunities for those interested in elevating their skills and knowledge relating to baseball analytics. The curriculum was developed by current baseball professionals, including employees of Major League Baseball and its clubs.
SABR members get a significant discount on this Analytics Certification course registration, saving $55 off the regular price.
Visit SABR.org/analytics/certification to sign up today or learn more.
---
Voting is now open to select the 2022 SABR Analytics Conference Research Awards winners.
The SABR Analytics Conference Research Awards will recognize baseball researchers who have completed the best work of original analysis or commentary during the preceding calendar year. Nominations were solicited by representatives from SABR, Baseball Prospectus, FanGraphs, and the Internet Baseball Writers Association of America.
Voting for the winners will be conducted online through Friday, February 11 at SABR.org, BaseballProspectus.com, FanGraphs.com, and IBWAA.com, with results weighted equally at 25%.
---
SABR invites all members to present their research findings to their colleagues attending SABR 50, the 2022 annual convention in Baltimore.
Click here to submit abstracts for SABR 50: http://bit.ly/sabr50-submissions
The submission deadline for SABR 50 abstracts is midnight PST on Friday, MARCH 4, 2022.
SABR 50 is scheduled to be held August 17-21, 2022, at the Hyatt Regency Inner Harbor in Baltimore. Early registration rates and hotel information will be available soon at SABR.org/convention.
Click here to read the full announcement at SABR.org.
---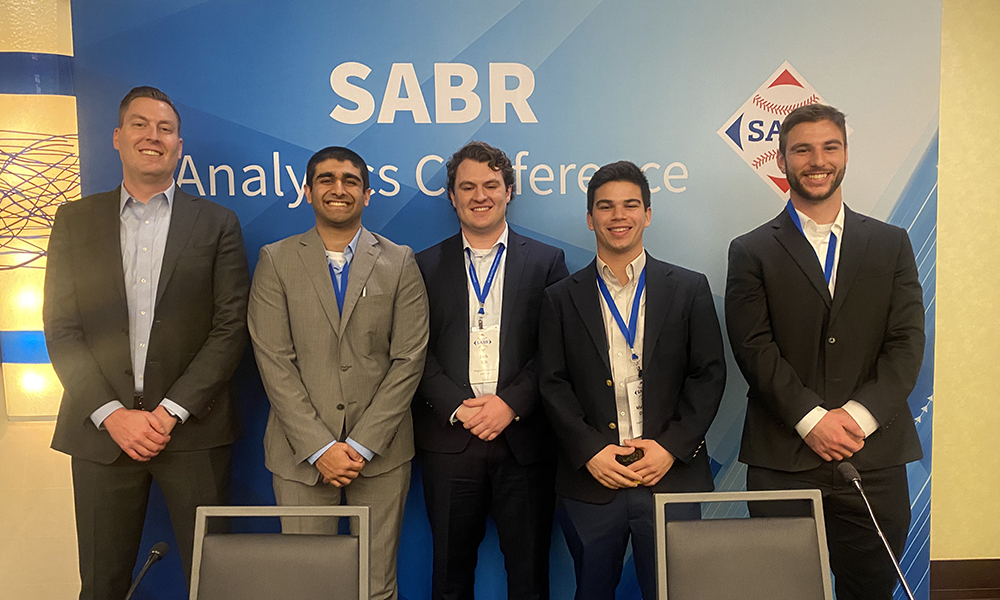 The 2022 Diamond Dollars Case Competition will be held online beginning at 11:30 a.m. ET on Friday, March 18, 2022, as part of the SABR Virtual Analytics Conference. Four- to five-person student teams are asked to evaluate a baseball operations case problem. The student team presents their analysis and recommendations to a panel of judges that includes MLB front office executives.
Visit SABR.org/analytics/case to learn more.
---
We hope you enjoy this significant collection of essays on the Negro Leagues, produced by SABR and Sports Reference:
The Negro Leagues are Major Leagues: Essays and Research for Overdue Recognition
Edited by Sean Forman and Cecilia M. Tan
Associate Editors: Scott Bush, Adam Darowski, Caitlin Moyer, Jacob Pomrenke
ISBN (ebook): 978-1-970159-62-2, $9.99
ISBN (paperback): 978-1-970159-63-9, $19.99
8.5″ x 11″, 176 pages
Click here to read the full description of this book at SABR.org.
SABR members, get this e-book for FREE!
Having trouble downloading our e-books? To view PDF files on your computer, click here to download the free Adobe Reader software. Having trouble downloading e-books to your Kindle, Nook, Sony Reader or iPad? Click here for additional help.
---
Registration is now open for the 13th annual SABR Frederick Ivor-Campbell 19th Century Base Ball Conference, which will be held on April 29-30, 2022, at the Baseball Hall of Fame in Cooperstown, New York. All baseball fans are welcome to register for this special event.
The 2022 conference will be highlighted by a keynote address from author Thomas Gilbert, along with a panel discussion on owner Chris Von Der Ahe with John Thorn, Tom Hetrick, Dennis Thiessen, and moderator Bill Ryczek; a special presentation by Jonathan Popovich on "A Game of Ball: Reconstructing The Elysian Fields, 1845-1865"; a Member Spotlight interview of Dixie Tourangeau by Bob Bailey; plus research presentations.
Registration: Click here to download the registration form (PDF). Registrations can be accepted by mail only.
Cost: Conference registration is $75 per person, including the Saturday luncheon. Tickets for the optional Friday evening Welcoming Dinner ($50) and Saturday's Post-Conference Gathering ($40) at the historic Otesaga Hotel can also be purchased in advance for you or a guest.
RSVP: Please mail your registration form no later than February 28. Registration is limited to the first 100 people to sign up, so please register early!
Contact: For questions, contact Peter Mancuso at peterplus4@earthlink.net.
To learn more about the conference, visit SABR.org/ivor-campbell19c.
---
SABR chapters and committees are encouraged to set up virtual meetings to stay engaged with our members throughout the world at SABR.org, as part of our Stay Home With SABR initiative to assist in limiting the spread of the COVID-19 coronavirus pandemic.
Here are some more upcoming virtual events you can attend online; check the Events Calendar for complete details:
February 5: SABR Day
February 6: Field of Dreams (IA) Chapter meeting (2:00 p.m. CST)
February 6: Oklahoma Chapter meeting (2:00 p.m. CST)
February 6: South Florida Chapter meeting with Jack Bales (7:00 p.m. EST)
February 7: Robinson-Kell (AR) Chapter meeting with David Jerome (7:00 p.m. CST)
February 8: SABR 19th Century Speaker Series with Monica Nucciarone (8:00 p.m. EST)
February 10: Boston (MA) Chapter meeting with Andy Andres (8:00 p.m. EST)
February 12: Hank Gowdy Columbus (OH) Chapter book club meeting with Jeremy Beer (9:00 a.m. EST)
In addition, the following events will be held in person:
Find more upcoming SABR meetings on our Events Calendar page.
---
Baseball fans, tune in this season to SABRcast with Rob Neyer, a weekly podcast hosted by award-winning author and longtime SABR member Rob Neyer.
Episode #147 on Monday, January 31 featured Jake Stone, Director of Operations & Player Development at Penn State University. He is the instructor for the first course in SABR's new Analytics Certification program, an online, on-demand curriculum offering professional development and learning opportunities. Stone has worked for the Baltimore Orioles and previously served as the head student manager at the University of Iowa. He is also the creator of the popular website and YouTube channel Simple Sabermetrics.
Visit SABR.org/sabrcast to listen to the full episode.
Subscribe to SABRcast on your favorite podcast networks, including Apple Podcasts, Amazon Music, Spotify, or Stitcher, and listen to each episode as soon as it's released on Mondays. To learn more, visit SABR.org/sabrcast.
---
One new interview was posted this week at the SABR Oral History Collection website. Here is the new interview:
Stew Thornley, Minnesota baseball historian, MLB official scorer, and 2016 Bob Davids Award winner
Recorded January 29, 2022, by Dan Levitt

The SABR Oral History Collection now includes more than 650 audio files of interviews conducted with ballplayers (Major Leagues, Minor Leagues, Negro Leagues, AAGPBL), executives, scouts, authors, writers, broadcasters, and other figures of historical baseball significance. These interviews, some of which date back nearly 60 years, were conducted by members of SABR's Oral History Research Committee; many of these recordings were digitized through a collaboration with the National Baseball Hall of Fame Library.
You can now find links to most SABR Oral History interviews on each player's page at the SABR BioProject and also by searching the Research Collection.
If you are interested in contributing to SABR's Oral History Collection, the committee offers guidelines for conducting effective oral history interviews or contact Jacob Pomrenke to learn more about donating your own audio recordings.
---
Three new game stories were posted this week as part of the SABR Games Project. Here are the new game stories:
New Games Project stories can be found at SABR.org/gamesproject.
Get involved: Have memories of a game you attended? Or a game you watched that caught your interest? Write about it! Writing for the Games Project is an easy way to get involved as a SABR member. Find out how by reading the Games Project FAQs section or checking out the Authors' Guidelines. We have editors and fact checkers who are willing to help you write your first article.
---
Behind the Numbers: Baseball SABR Style on SiriusXM, a radio show hosted by former SABR Board President Vince Gennaro, is back at a new time. Listen to new episodes at 4:00-5:00 p.m. ET on Saturdays on MLB Network Radio.
You can also listen to archives of recent episodes on-demand on the SiriusXM Internet Radio app.
Behind the Numbers: Baseball SABR Style on SiriusXM focuses on examining and interpreting the statistical analysis that plays a critical role in baseball today. It airs weekly throughout the year on MLB Network Radio, available to subscribers nationwide on XM channel 89, Sirius channel 209, and on the SiriusXM Internet Radio App.
---
Here is a list of SABR supporters for the month of January 2022:
| NAME |   | NAME |
| --- | --- | --- |
| Benjamin Baschinsky | | Peter Mancuso |
| Jeremy Beer | | Sheldon Miller |
| Paul Bennett | | Bill Nowlin |
| D. Bruce Brown | | Gene Oppenheim |
| John Burbridge III | | Gregg Pericich |
| Ken Carrano | | John Rall |
| Scott Carter | | John Rosenfelder |
| Karl Cicitto | | Michael Rosenwasser |
| Jim Cox | | Charles Roussel |
| John Cullinane | | Bob Russon |
| Steven Elsberry | | Jason Scheller |
| Dan Evans | | Douglas Schoppert |
| David Firstman | | Steve Shaiman |
| Kenneth Fischer | | Rob Sheinkopf |
| Adam Foldes | | Mike Sparks |
| Andrew Freeman | | Thomas Stone |
| Robert Godwin | | Wesley Story |
| Jeff Hauer | | Joseph Thompson |
| Leslie Heaphy | | John Thorn |
| Robert Hebden | | Neal Traven |
| Tim Herlich | | Jeffrey Watson |
| Rockwell Hoffman | | Steve West |
| David Hughes | | J. R. Wildridge |
| Donald Jensen | | Robert Wilson |
| Robert Kenney | | Beach Wires |
| Jamin Layton | | Jeffrey Wood |
| Henry Levy | | Adam Wright |
| John Liepa | | Don Zminda |
Want to become a Friend of SABR? Click here to make a recurring monthly contribution or click here to learn more about our Giving Circles to make a one-time contribution.
---
Please note: Only ONE entry per nomination will be considered (do not submit multiple nominations for the same award). For more information on SABR Awards, click here.
---
Here are some major headlines from recent weeks that we don't want you to miss:
All previous editions of This Week in SABR can be found here: SABR.org/this-week-in-sabr-archives.
---
We'd like to welcome all of our new SABR members who have joined this week. You can find all Members-Only resources at members.sabr.org and the Membership Handbook can be downloaded here.
Please give these new members a warm welcome and help them make the most of their membership by giving them the opportunity to get involved in their local chapter or a research committee.
You can find contact information for any SABR member in the online Membership Directory.
| Name | Hometown |   |   | Name | Hometown |
| --- | --- | --- | --- | --- | --- |
| Joe Adona | Denver, CO | | | Joseph Moynahan | Cinnaminson, NJ |
| Benjamin Botham | Seminole, FL | | | David Mugmon | San Mateo, CA |
| Shawn Brinsfield | Seattle, WA | | | Rex Naylor Jr. | Lewistown, PA |
| Brian Brown | Manasquan, NJ | | | Chris Parilo | Sacramento, CA |
| John Buckeye | Minneapolis, MN | | | Robert Parsons | Ottawa, ON |
| Jake Chambliss | Gulfport, MS | | | Brett Penkul | Lynn, MA |
| Aaron Cumming | White Lake, MI | | | Jamie Quinn | Tallahassee, FL |
| Craig Estlinbaum | Bay City, TX | | | Clark Reamer | Dwight, IL |
| Mike Franco | Tacoma, WA | | | Melissa Rich | Indianapolis, IN |
| Greg Galiette | Louisville, KY | | | Matthew Riggs | Medicine Hat, AB |
| Mark Garner | Temecula, CA | | | Jonathan Rubin | Leominster, MA |
| Kathy Gregory | Ames, IA | | | Ray Salomone | Jersey City, NJ |
| Scott Hodges | Villa Rica, GA | | | Albert Smith | Gaithersburg, MD |
| Matthew Jones | North Canton, OH | | | Tom Steele | Sussex, WI |
| Benjamin Lee | Seattle, WA | | | James Sweeney | Olympia, WA |
| Bailey Mazik | Louisville, KY | | | Dee Thompson | Atlanta, GA |
| Mason Michlitsch | Lafayette, CA | | | Ryan Van Der Karr | Dwight, IL |
| Gary Mintz | Huntington Station, NY | | | Mark Vanney | Saint Paul, MN |
| Dan Morley | Pleasanton, CA | | | | |
---
Here are the new research committee updates this week:
Find all SABR research committee newsletters at SABR.org/research/committees.
---
Here are the new regional chapter and chartered community updates this week:
Visit SABR.org/chapters for more information on SABR regional chapters.
---
Here are some recent articles published by and about SABR members:
Please note: Some articles may require a separate subscription to view online. SABR does not endorse, and is not responsible or liable for, any content that appears on a third-party website.
---
This Week in SABR is compiled by Jacob Pomrenke. If you would like us to include an upcoming event, article or any other information in "This Week in SABR," e-mail jpomrenke@sabr.org.
Have trouble reading this e-mail? Click here to view this week's newsletter on the web.
Are you receiving our e-mails? "This Week in SABR" goes out by e-mail to all members on Friday afternoons. If they're not showing up, try adding "sabr.notes@sabr.org" to your contact list to ensure they show up in your inbox (and not the spam folder.)
---
Originally published: February 4, 2022. Last Updated: February 4, 2022.
https://sabr.org/wp-content/uploads/2020/06/SABR-LatestNews-TWIS-2016.jpg
250
847
sabr
/wp-content/uploads/2020/02/sabr_logo.png
sabr
2022-02-04 15:17:26
2022-02-04 15:33:02
This Week in SABR: February 4, 2022