This Week in SABR: January 28, 2022
Welcome to "This Week in SABR!" Click here to view this week's newsletter on the web. Here's what we've been up to as of January 28, 2022:
---
It's time to get SABR Certified! The first course in the new SABR Analytics Certification program — Conversational Analytics and Critical Thinking in Baseball — is available online now.
The SABR Analytics Certification program is an online, on-demand curriculum offering professional development and learning opportunities for those interested in elevating their skills and knowledge relating to baseball analytics. The curriculum was developed by current baseball professionals, including employees of Major League Baseball and its clubs.
SABR members get a significant discount on this Analytics Certification course registration, saving $55 off the regular price.
Visit SABR.org/analytics/certification to sign up today or learn more.
---
We're pleased to announce the finalists for the 2022 SABR Analytics Conference Research Awards, which will recognize baseball researchers who have completed the best work of original analysis or commentary during the preceding calendar year.
Nominations were solicited by representatives from SABR, Baseball Prospectus, FanGraphs, and the Internet Baseball Writers Association of America. Here are the finalists for the 2022 SABR Analytics Conference Research Awards:
Contemporary Baseball Analysis
Contemporary Baseball Commentary
Historical Baseball Analysis/Commentary
Details and criteria for each category can be found here. Only one work per author was considered as a finalist.
Voting for the winners will be conducted online beginning next week at SABR.org, BaseballProspectus.com, FanGraphs.com, and IBWAA.com, with results weighted equally at 25%.
---
SABR is excited to announce the launch of a new virtual event, Ballpark Figures, a monthly interview series hosted by award-winning writer Shakeia Taylor. The first live Zoom show — free for all baseball fans to attend — kicks off SABR Day festivities at 8:00 p.m. EST on Thursday, February 3.
Taylor is a Chicago-based baseball historian and freelance writer whose work has appeared at SB Nation, FanGraphs, Baseball Prospectus, MLB.com, Yahoo! Sports, and other outlets. She was a recipient of the 2021 SABR Analytics Conference Research Award for historical baseball analysis/commentary.
The first guest on Ballpark Figures is Roger Cador, who won more than 900 games and two HBCU national championships as the baseball coach for 33 years at Southern University. He was inducted in 2021 to the American Baseball Coaches Association Hall of Fame and in 2019 to the Louisiana Sports Hall of Fame.
Ballpark Figures will be held on the first Thursday of each month; beginning in March, registration will be free and open to any active SABR member.
---
Early registration is only open for one more week — through Friday, February 4 — for the SABR Virtual Analytics Conference, which will be held over four days in online sessions from March 17-20, 2022. We'll bring together the top minds in the baseball analytics community to discuss, debate, and share insightful ways to analyze and examine the great game of baseball. Register today to join us!
The Virtual Analytics Conference schedule consists of research presentations and guest speakers from throughout the baseball analytics community, career development sessions led by experienced sports professionals, and industry networking opportunities — all available online for any aspiring front office executive or baseball fan to attend from the comfort of home. Students will have opportunities for skill acquisition and development, including sessions on how to work with baseball-related data sets as well as databasing and SQL.
Registration: Click here to register for the 2022 SABR Virtual Analytics Conference. Early-bird registration is $75 for SABR members, $100 for non-members, and $50 for currently enrolled high school or college students (includes one-year SABR membership).

Student Registration: Students should email Scott Carter with a photo of their student ID to receive a special link to register at a discounted rate.
Stay tuned for more information on speakers, panelists, and presenters soon! Visit SABR.org/analytics to learn more.
---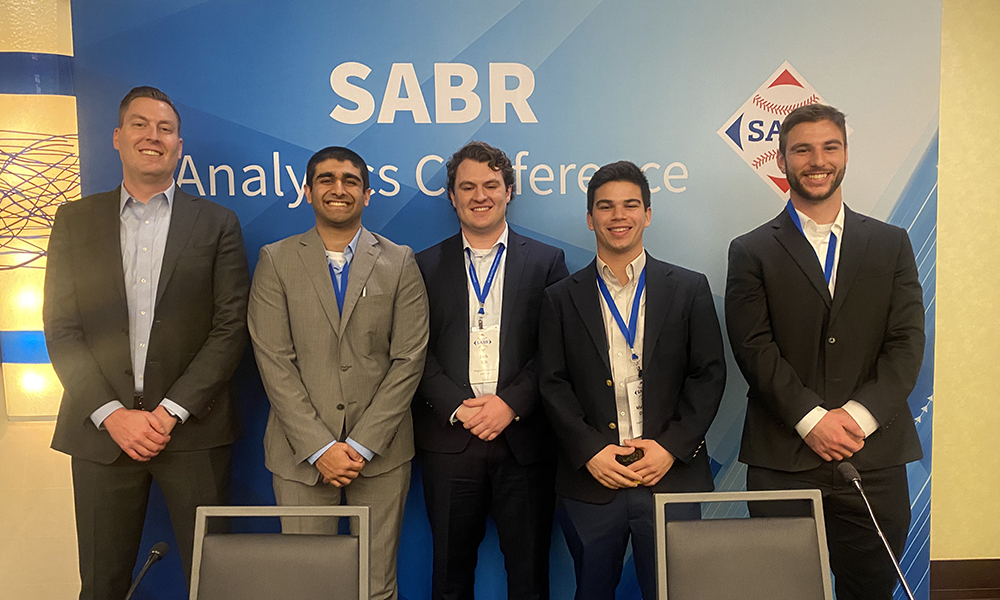 The 2022 Diamond Dollars Case Competition will be held online beginning at 11:30 a.m. ET on Friday, March 18, 2022, as part of the SABR Virtual Analytics Conference. Four- to five-person student teams are asked to evaluate a baseball operations case problem. The student team presents their analysis and recommendations to a panel of judges that includes MLB front office executives.
Visit SABR.org/analytics/case to learn more.
---
Tal Smith, a SABR member since 1982 and longtime Houston Astros executive, has been elected to the team's Hall of Fame and will be honored this summer before a game at Minute Maid Park, along with former outfielder Terry Puhl.
Smith spent 54 years working in Major League Baseball front offices. In three separate stints with the Houston Colt .45s and Astros that spanned a total of 35 years, he held positions as the franchise's Farm System Director, Vice-President of Player Personnel, General Manager, and President of Baseball Operations. As an assistant to Judge Roy Hofheinz, president of the Houston Sports Association, Smith helped to oversee the construction of the Astrodome and later was responsible for finding the stadium's synthetic playing surface that came to be known as AstroTurf.
Smith and Puhl will be inducted before the Astros' game on August 13 against the Oakland A's in Houston.
---
While we continue to celebrate SABR's 50th anniversary this year, we are keeping a keen eye on our organization's future and have so many exciting projects on deck. In 2022, we will deliver the SABR Local Grants program. This initiative will provide an opportunity for chapters, research committees, and chartered communities to apply for funding for their projects under SABR's Four Pillars: Research, Scholarship, Preservation, and Future of the Game. In total, $10,000 in SABR Local Grants will be awarded in 2022!
All SABR chapters, chartered communities, and research committees are now eligible to apply, until January 30, 2022. Individual SABR members and non-SABR groups are not eligible, so if you have an individual idea for a program grant, please follow up with your local chapter leadership or appropriate research committee to discuss an application.
Click here to read the full announcement at SABR.org.
---
The Society for American Baseball Research is seeking remote interns to work during the Spring 2022 semester. An internship with SABR will involve responsibilities across a variety of disciplines, possibly including:
Working with the Director of Editorial Content or Publications Director to help publish and/or produce content for our website at SABR.org
Working during an online SABR event
Working with other SABR staff members on organizational duties, membership renewal drives, customer service
The internship is an educational opportunity that may count toward college credit, covering 15-20 hours per week with a flexible schedule. The internship will be for a fixed period of time and is designed to provide the intern with skills and training that may be applicable to working in a nonprofit research environment or in other research-based organizations.
Please send a resume and cover letter in PDF form to jpomrenke@sabr.org by 5:00 p.m. MST Monday, January 31, 2022.
Visit SABR.org/internships to learn more.
---
Please mark your calendars for Saturday, February 5, when we will hold our annual SABR Day celebration! SABR Day is a way for all baseball fans to come together, regardless of where they live, and talk about the game we all love.
Regional chapters are also encouraged to plan their own SABR Day events (virtually or in person, where it's safe to do so) throughout the months of January or February to celebrate the start of a new baseball season.
We now have SABR Day events scheduled on Saturday, February 5 for the following chapters; click here to view full meeting details in our Events Calendar:
Atlanta, GA (Magnolia Chapter)
*Austin, TX (Rogers Hornsby Chapter)
Cincinnati, OH (Hoyt-Allen Chapter)
*Cleveland, OH (Jack Graney Chapter)
*Columbus, OH (Hank Gowdy Chapter)
Cooperstown, NY (Cliff Kachline Chapter)
*Denver, CO (Rocky Mountain Chapter)
*Detroit, MI (Southern Michigan Chapter)
*Harrisburg, PA (Mathewson-Plank Chapter)
*Jersey City, NJ (Elysian Fields Chapter)
*Lexington, KY (Sweet Lou Johnson Chapter)
Los Angeles, CA (Allan Roth Chapter)
Middletown, CT (Smoky Joe Wood Chapter)
Minneapolis, MN (Halsey Hall Chapter)
Pittsburgh, PA (Forbes Field Chapter)
*Rochester, NY (Luke Easter Chapter)
*Starkville, MS (Cool Papa Bell Chapter)
Tallahassee, FL (Buck O'Neil Chapter)
*Toronto, ON (Hanlan's Point Chapter)
* indicates a virtual/Zoom meeting
In addition, these chapters have also scheduled SABR Day meetings on other days; all baseball fans are invited to attend:
January 29: Fort Wayne, IN (Kekionga Chapter)
January 29: Indianapolis, IN (Oscar Charleston Chapter)
January 29: St. Louis, MO (Bob Broeg Chapter)
January 29: Washington, DC (Bob Davids Chapter)
January 29: Williamsport, PA (Sebring-Stovey Chapter)
February 1: Seattle, WA (Pacific Northwest Chapter)
February 6: Tulsa, OK (Oklahoma Chapter)
February 6: Fort Lauderdale, FL (South Florida Chapter)
February 6: Des Moines, IA (Field of Dreams Chapter)
February 7: Little Rock, AR (Robinson-Kell Chapter)
February 19: Philadelphia, PA (Connie Mack-Dick Allen Chapter)
February 19: Chicago, IL/Milwaukee, WI (Emil Rothe/Ken Keltner Chapters)
February 26: Louisville, KY (Pee Wee Reese Chapter)
Chapter leaders, please email Jacob Pomrenke as you finalize your SABR Day plans so we can update our schedule of events.
---
SABR invites all members to present their research findings to their colleagues attending SABR 50, the 2022 annual convention in Baltimore.
Click here to submit abstracts for SABR 50: http://bit.ly/sabr50-submissions
The submission deadline for SABR 50 abstracts is midnight PST on Friday, MARCH 4, 2022.
SABR 50 is scheduled to be held August 17-21, 2022, at the Hyatt Regency Inner Harbor in Baltimore. Early registration rates and hotel information will be available soon at SABR.org/convention.
Click here to read the full announcement at SABR.org.
---
We hope you enjoy this significant collection of essays on the Negro Leagues, produced by SABR and Sports Reference:
The Negro Leagues are Major Leagues: Essays and Research for Overdue Recognition
Edited by Sean Forman and Cecilia M. Tan
Associate Editors: Scott Bush, Adam Darowski, Caitlin Moyer, Jacob Pomrenke
ISBN (ebook): 978-1-970159-62-2, $9.99
ISBN (paperback): 978-1-970159-63-9, $19.99
8.5″ x 11″, 176 pages
Click here to read the full description of this book at SABR.org.
SABR members, get this e-book for FREE!
Having trouble downloading our e-books? To view PDF files on your computer, click here to download the free Adobe Reader software. Having trouble downloading e-books to your Kindle, Nook, Sony Reader or iPad? Click here for additional help.
---
Many baseball fans are drawn to out-of-the-way places to spy an old ballpark, visit a historical marker, or pay their respects at the grave of a late ballplayer. SABR's Baseball Landmarks Committee is seeking volunteers to help us document the staggering array of baseball-related sites located across North America.
With the help of SABR membership, our goal is to curate a comprehensive list or map of interesting baseball attractions. If you are interested in contributing to this project, please contact committee co-chair John Racanelli.
To sign up for email announcements from the Baseball Landmarks Committee, click here and then select Join Group (

). All SABR members are eligible to sign up for announcements from any committee.
Click here to read the full announcement at SABR.org.
---
Registration is now open for the 13th annual SABR Frederick Ivor-Campbell 19th Century Base Ball Conference, which will be held on April 29-30, 2022, at the Baseball Hall of Fame in Cooperstown, New York. All baseball fans are welcome to register for this special event.
The 2022 conference will be highlighted by a keynote address from author Thomas Gilbert, along with a panel discussion on owner Chris Von Der Ahe with John Thorn, Tom Hetrick, Dennis Thiessen, and moderator Bill Ryczek; a special presentation by Jonathan Popovich on "A Game of Ball: Reconstructing The Elysian Fields, 1845-1865"; a Member Spotlight interview of Dixie Tourangeau by Bob Bailey; plus research presentations.
Registration: Click here to download the registration form (PDF). Registrations can be accepted by mail only.
Cost: Conference registration is $75 per person, including the Saturday luncheon. Tickets for the optional Friday evening Welcoming Dinner ($50) and Saturday's Post-Conference Gathering ($40) at the historic Otesaga Hotel can also be purchased in advance for you or a guest.
RSVP: Please mail your registration form no later than February 28. Registration is limited to the first 100 people to sign up, so please register early!
Contact: For questions, contact Peter Mancuso at peterplus4@earthlink.net.
To learn more about the conference, visit SABR.org/ivor-campbell19c.
---
SABR chapters and committees are encouraged to set up virtual meetings to stay engaged with our members throughout the world at SABR.org, as part of our Stay Home With SABR initiative to assist in limiting the spread of the COVID-19 coronavirus pandemic.
Can't-Miss Event: The Bob Davids SABR Chapter invites all baseball fans to a day of baseball presentations at the chapter's Zoom-based SABR Day annual meeting on Saturday, January 29, starting at 9:30 a.m. EST. We'll hear from Washington Senators great Frank Howard, former Washington Nationals All-Star closer Chad Cordero, MLB Official Historian John Thorn, presidential historian Craig Fehrman, authors Sydney Bergman and Jarrett Seidler of Baseball Prospectus, and Retrosheet president David W. Smith. Find the detailed schedule on SABR's Events Calendar. The meeting is free, but you must first RSVP. Click here to register in advance for this Zoom meeting.

Video Replays: This week, we heard from Houston Astros broadcaster Robert Ford and author Jack Bales (The Chicago Cub Shot for Love). Click here to view more video replays of virtual SABR events.
Here are some more upcoming virtual events you can attend online; check the Events Calendar for complete details:
January 29: Bob Davids (DC) Chapter Annual Meeting with Frank Howard, Chad Cordero, John Thorn, Craig Fehrman, David W. Smith, Sydney Bergman, and Jarrett Seidler (9:30 a.m. EST)
January 31: Baseball Landmarks Committee meeting (6:30 p.m. CST)
February 1: Pee Wee Reese (KY) Chapter meeting with Sam McDowell (5:30 p.m. EST)
February 1: Pacific Northwest Chapter meeting with Barry Hyman and Rob Bauer (6:30 p.m. PST)
February 2: Baltimore Babe Ruth Chapter meeting with Roger Snell (7:00 p.m. EST)
February 3: Ballpark Figures with Shakeia Taylor (8:00 p.m. EST)
February 5: SABR Day
In addition, the following events will be held in person:
January 29: Williamsport Chapter meeting (Williamsport, PA)
January 29: Kekionga Chapter meeting (Fort Wayne, IN)
January 29: Bob Broeg St. Louis Chapter banquet (St. Louis, MO)
January 29: Oscar Charleston Chapter meeting (Indianapolis, IN)
February 2: Bob Broeg St. Louis Chapter fellowship meeting (St. Louis, MO)
February 5: SABR Day
Find more upcoming SABR meetings on our Events Calendar page.
---
Baseball fans, tune in this season to SABRcast with Rob Neyer, a weekly podcast hosted by award-winning author and longtime SABR member Rob Neyer.
Episode #146 on Monday, January 24 featured Terry Pluto, a sports columnist for The Plain Dealer and Cleveland.com and author of more than 30 books, including The Curse of Rocky Colavito, Our Tribe, and Glory Days in Tribe Town (with Tom Hamilton). He was named Best Sports Columnist in the National Headliner Awards in 2020 and has been Ohio Sportswriter of the Year 11 times.
Visit SABR.org/sabrcast to listen to the full episode.
Subscribe to SABRcast on your favorite podcast networks, including Apple Podcasts, Amazon Music, Spotify, or Stitcher, and listen to each episode as soon as it's released on Mondays. To learn more, visit SABR.org/sabrcast.
---
Nine new biographies were posted this week as part of the SABR Baseball Biography Project. Here are the new bios published this week:
All new biographies can be found here: SABR.org/bioproject
Find any SABR biography: You can visit sabr.org/bioproject to search for any player — or manager, executive, scout, spouse, broadcaster, or umpire — who appears in the SABR BioProject. In addition, we have pages for Ballparks, Broadcasters, Executives, Games, Managers, Scouts, Spouses, Umpires, Writers, people who were Famous Outside Baseball, and a lot more.
---
Ten new game stories were posted this week as part of the SABR Games Project. Here are the new game stories:
New Games Project stories can be found at SABR.org/gamesproject.
Get involved: Have memories of a game you attended? Or a game you watched that caught your interest? Write about it! Writing for the Games Project is an easy way to get involved as a SABR member. Find out how by reading the Games Project FAQs section or checking out the Authors' Guidelines. We have editors and fact checkers who are willing to help you write your first article.
---
Behind the Numbers: Baseball SABR Style on SiriusXM, a radio show hosted by former SABR Board President Vince Gennaro, is back at a new time. Listen to new episodes at 4:00-5:00 p.m. ET on Saturdays on MLB Network Radio.
You can also listen to archives of recent episodes on-demand on the SiriusXM Internet Radio app.
Behind the Numbers: Baseball SABR Style on SiriusXM focuses on examining and interpreting the statistical analysis that plays a critical role in baseball today. It airs weekly throughout the year on MLB Network Radio, available to subscribers nationwide on XM channel 89, Sirius channel 209, and on the SiriusXM Internet Radio App.
---
A new SABR book project, Native American Ballplayers, co-edited by Rob Daugherty and Bill Nowlin, is seeking articles and essays on various aspects of Native American and Indigenous Peoples experience with baseball. We already have a full complement of player biographies, either previously written or currently under way. We welcome new essay ideas, such as one for Baseball and the Arts regarding the imagery used to depict Native Americans in baseball over the years, from logos to mascots and more. We are also looking for articles about boarding schools such as Haskell and Carlisle. This book will look at all of baseball history, from the 19th century to the present. To get involved or learn more, please contact Bill Nowlin.

We are seeking a new author for a planned essay on

The Court Martial of Jackie Robinson

film for an upcoming SABR publication on Jackie Robinson's portrayals in pop culture. If you are interested in contributing — or if you have an extra copy of the film that you might be willing to lend to another SABR member — please contact

Ralph Carhart

.
---
Please note: Only ONE entry per nomination will be considered (do not submit multiple nominations for the same award). For more information on SABR Awards, click here.
---
Here are some major headlines from recent weeks that we don't want you to miss:
All previous editions of This Week in SABR can be found here: SABR.org/this-week-in-sabr-archives.
---
We'd like to welcome all of our new SABR members who have joined this week. You can find all Members-Only resources at members.sabr.org and the Membership Handbook can be downloaded here.
Please give these new members a warm welcome and help them make the most of their membership by giving them the opportunity to get involved in their local chapter or a research committee.
You can find contact information for any SABR member in the online Membership Directory.
| Name | Hometown |   |   | Name | Hometown |
| --- | --- | --- | --- | --- | --- |
| Don Allison | Horseheads, NY | | | George Jensen | Arlington, TX |
| Justin Apodaca | Lubbock, TX | | | Spencer Kahley | Milroy, PA |
| John Barnes | Brecksville, OH | | | Josh Kaye | Astoria, NY |
| Kenneth Barnhart | Mogadpre, OH | | | Susan Keiser | Philadelphia, PA |
| Ethan Beanes | Montclair, CA | | | John Kleeb | Reston, VA |
| Jake Bell | Santa Fe, NM | | | Kelly Klima | Derby, KS |
| Robert Bradley | Phoenix, AZ | | | Erik Lagunas | Chicago, IL |
| Geoff Braine | South Orange, NJ | | | Steven Lambert | Loami, IL |
| Elliott Brandon | Sycamore, IL | | | Arlene Langer | Brookhaven, GA |
| Jeff Bridgeman | Carmi, IL | | | Dalton Lankford | Bradenton, FL |
| Kevin Burke | Prattville, AL | | | Kevin Litchfield | Roswell, GA |
| Jenny Butler | Columbus, OH | | | Victoria Lovinggood | Celina, TX |
| Steve Callitsis | Twinsburg, OH | | | Edmund Lyons | London, ENG |
| Rich Campbell | Santa Rosa, CA | | | Rich Magnanti | Macedon, NY |
| Zachary Carr | Collegeville, PA | | | Brendan Malone | Chicago, IL |
| David Cieslinski | East Rochester, NY | | | Howard Marks | Delray Beach, FL |
| Vivian Clark | Columbia, MD | | | Tom McLaughlin | Fort Washington, PA |
| Dave Collison | Firestone, CO | | | Bob McLaurine | Goodlettsville, TN |
| VIncent Cooke | Alameda, CA | | | Anthony Meeks | Indianapolis, IN |
| Chloe Cordova | Bradford, PA | | | Trevor Misfeldt | Corvallis, OR |
| Mike Corson | Missoula, MT | | | Andrew Misura | Milltown, NJ |
| Joseph Costa | Mount Airy, MD | | | Michael Myers | Norwalk, CT |
| Corey Cowell | Fishers, IN | | | Clayton Nelson | Edmond, OK |
| Mary Critchfield | Clearwater, FL | | | Mark Neuenschwander | Cincinnati, OH |
| Anthony DiCola | Wesley Chapel, FL | | | Enoc Nieves | Santa Isabel, PRI |
| David Dionisio | Somerville, MA | | | Johnny O'Brien | Tampa, FL |
| William Dotson | Duluth, GA | | | Matias Ochoa | Buenos Aires, ARG |
| Kevin Doyle | Fort Myers, FL | | | Manley Olson | Minneapolis, MN |
| Eric Eager | Lebanon, OH | | | Jay Paster | Delray Beach, FL |
| Corey Elmer | Skippack, PA | | | William Paz | North Canton, OH |
| Gregory Emmons | Scottsdale, AZ | | | German Rodriguez | San Francisco, CA |
| Matt Ennis | Los Alamitos, CA | | | Jasmin Perez | Corona, CA |
| Timothy Feng | Plainsboro, NJ | | | Wayne Pricer | Farmington Hills, MI |
| Mark Fenske | Kitchener, ON | | | Charlie Protasio | Williamsport, PA |
| Joel Fenton | Urbandale, IA | | | Robert Pyle | Boulder, CO |
| Joshua Finnell | Hamilton, NY | | | Alexander Reardon | Brooklyn, NY |
| Bill Flanigen | Washington, DC | | | Chris Reischel | Midland, MI |
| Elliott Fullmer | Richmond, VA | | | JD Richey | Alpharetta, GA |
| Nick Gazerro | Norwood, MA | | | Miguel Rivera | Caguas, PRI |
| Derrick Goold | St. Louis, MO | | | Weston Robertson | San Diego, CA |
| David Grabbs | Lawrence, KS | | | Weston Rosenau | Gillette, WY |
| Matt Gregory | Tampa, FL | | | Brendan Schuster | Bethel Park, PA |
| Anne Gregory | Stafford, VA | | | Jack Sherbacow | Bethesda, MD |
| Asim Handy | Bloomfield Hills, MI | | | Sam Starosciak | Granite Bay, CA |
| Mark Harnischfeger | Rochester, NY | | | Trent Thomas | Seattle, WA |
| Ryan Hebdon | Granada Hills, CA | | | Mitchell Thompson | Carleton Place, ON |
| Shanif Hirani | New York, NY | | | Jonas Thoms | Morgantown, WV |
| Paul Hunter | Norwalk, CT | | | William Vesely | Sun City West, AZ |
| Austin Hymes | New York, NY | | | Brien Walther | Jackson, NJ |
| Chi Ibekwe | Bentonville, AR | | | Benjamin Weiner | East Greenwich, RI |
| Sonia Jaffe Robbins | New York, NY | | | Yeajoon Yoo | Lynchburg, VA |
| James Jensen | Long Valley, NJ | | | Anthony Zurke | Milford, MI |
---
Here are the new research committee updates this week:
Find all SABR research committee newsletters at SABR.org/research/committees.
---
Here are the new regional chapter and chartered community updates this week:
Visit SABR.org/chapters for more information on SABR regional chapters.
---
Here are some recent articles published by and about SABR members:
Please note: Some articles may require a separate subscription to view online. SABR does not endorse, and is not responsible or liable for, any content that appears on a third-party website.
---
This Week in SABR is compiled by Jacob Pomrenke. If you would like us to include an upcoming event, article or any other information in "This Week in SABR," e-mail jpomrenke@sabr.org.
Have trouble reading this e-mail? Click here to view this week's newsletter on the web.
Are you receiving our e-mails? "This Week in SABR" goes out by e-mail to all members on Friday afternoons. If they're not showing up, try adding "sabr.notes@sabr.org" to your contact list to ensure they show up in your inbox (and not the spam folder.)
---
Originally published: January 28, 2022. Last Updated: January 28, 2022.
https://sabr.org/wp-content/uploads/2020/06/SABR-LatestNews-TWIS-2016.jpg
250
847
sabr
/wp-content/uploads/2020/02/sabr_logo.png
sabr
2022-01-28 15:24:06
2022-01-28 15:25:55
This Week in SABR: January 28, 2022