This Week in SABR: September 23, 2022
Welcome to "This Week in SABR!" Click here to view this week's newsletter on the web. Here's what we've been up to as of September 23, 2022:
---
The fourth annual SABR/IWBC Women in Baseball Conference, co-sponsored by SABR and the International Women's Baseball Center and hosted by Rockford University, took place virtually on September 16-18, 2022.
The conference was highlighted by a keynote panel discussion with Justine Siegal, Maybelle Blair and Sarah Domin; a Baseball Journalism panel with Claire Smith, Shakeia Taylor, Jen McCaffrey, and Melissa Isaacson; an Umpires Panel with Perry Barber, Alessia Cicconi, and Sophiyah Liu; a 21st Century Research panel with Allison R. Levin, Roberta J. Newman, Laura Furman, and Catherine Forslund; research presentations; a pylon unveiling; and the announcement of the Dorothy Seymour Mills Lifetime Achievement Award.
This year's conference theme was "Title IX and Women's Baseball: Where We've Been and Where We are Headed."
Visit SABR.org/women-in-baseball-conference to learn more.
---
Justine Siegal, the founder of Baseball for All, was honored on Saturday, September 17 with the Dorothy Seymour Mills Lifetime Achievement Award during the SABR/IWBC Women in Baseball Conference.
SABR's Women in Baseball Committee established the Dorothy Seymour Mills Lifetime Achievement Award — "The Dorothy" — named in honor of Dorothy Seymour Mills and her lifetime of contributions to promoting women's baseball.
In addition to Siegal, the other finalists for the 2022 award were Penny Marshall, director of the 1992 film A League of Their Own; Janet Marie Smith, Los Angeles Dodgers' Executive Vice President of Planning and Development and acclaimed ballpark design director; Toni Stone, one of only three women to play in the Negro Leagues; and Suzyn Waldman, New York Yankees broadcaster for the past 35 years and the first woman to serve as a full-time MLB announcer.
Click here to read the full announcement at SABR.org.
---
With the support of the City of Daytona Beach and the Volusia County-Daytona Beach Branch of the NAACP, SABR's Central Florida Chapter will install a commemorative marker at the site of Kelly Field, where Jackie Robinson and John Wright integrated spring training with the Montreal Royals in 1946, in Daytona Beach, Florida.
Kelly Field's role in the integration of baseball has long been overlooked and ignored. Located in the midst of one of the two predominantly African American sections of Daytona Beach, Kelly Field was the centerpiece of the Black community. Now an empty lot encompassing a retention pond, the site where the Royals practiced and an entire community gathered to watch and play baseball is currently unmarked and nearly lost to history.
Thanks to a Local Grant from SABR, the plaque will be unveiled for the first time as part of a ceremony on October 23 honoring the event.
2:00 p.m., Sunday, October 23, 2022
Midtown Cultural Center
925 George W. Engram Blvd
Daytona Beach, FL
All baseball fans are invited to attend. There will be some great presentations and SABR CEO Scott Bush will join us.
For more information about the historical marker, contact Jim Bard.
---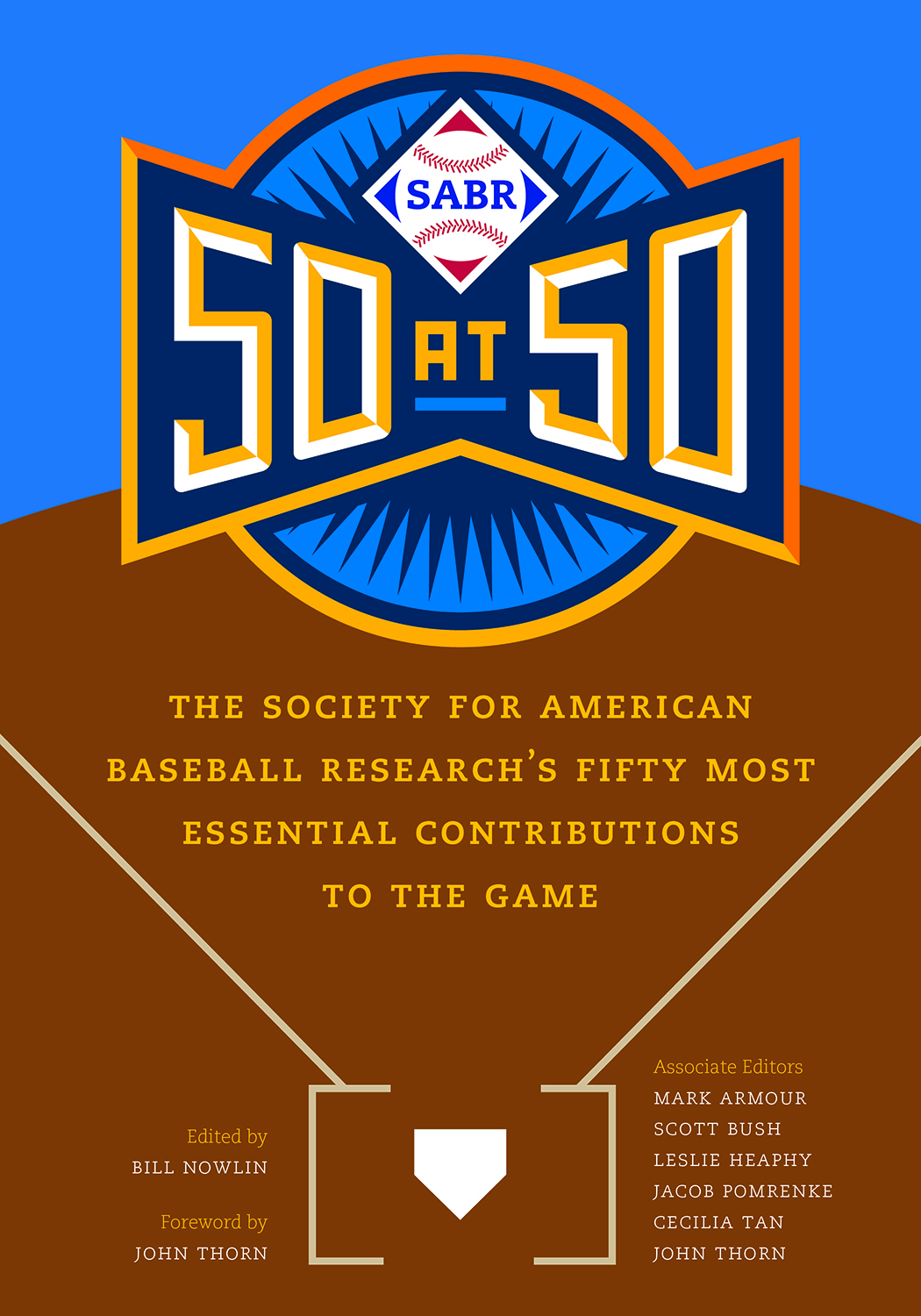 Baseball has seen many changes in the last 50 years, and SABR's 50th anniversary provides an opportunity to highlight the most memorable players, teams, and events from the game's glorious past.
SABR 50 at 50: The Society for American Baseball Research's Fifty Most Essential Contributions to the Game, edited by Bill Nowlin and published in 2020 by the University of Nebraska Press, celebrates SABR's wide-ranging contributions to baseball history.
The diversity of SABR members' interests is reflected in this fiftieth-anniversary volume — from baseball and the arts to statistical analysis to the Deadball Era to women in baseball. SABR 50 at 50 includes the most important and influential research published by members across a multitude of topics, including the sabermetric work of Dick Cramer, Pete Palmer, and Bill James, along with Jerry Malloy on the Negro Leagues, Keith Olbermann on why the shortstop position is number 6, John Thorn and Jules Tygiel on the untold story behind Jackie Robinson's signing with the Dodgers, and Gai Berlage on the Colorado Silver Bullets women's team in the 1990s.
Click here to read the full announcement at SABR.org.
---
It's time to get SABR Certified! The first course in the new SABR Analytics Certification program — Conversational Analytics and Critical Thinking in Baseball — is available online now.
The SABR Analytics Certification program is an online, on-demand curriculum offering professional development and learning opportunities for those interested in elevating their skills and knowledge relating to baseball analytics. The curriculum was developed by current baseball professionals, including employees of Major League Baseball and its clubs.
SABR members get a significant discount on this Analytics Certification course registration, saving $55 off the regular price.
Visit SABR.org/analytics/certification to sign up today or learn more.
---
Join us each month for SABR's Ballpark Figures, a new interview series hosted by Shakeia Taylor. The virtual Zoom event is free and open to all active SABR members.
On Thursday, October 6, our guest will be Perry Barber, a longtime professional umpire, author, and promoter of women in baseball.
Barber was the inaugural winner of the SABR Dorothy Seymour Mills Lifetime Achievement Award in 2018 and was recently inducted into the New York State Baseball Hall of Fame. She has umpired at all levels of the game, including Major League Baseball's spring training and around the world to places such as Japan, Guam, Hong Kong, and the Caribbean. She is also a Jeopardy! champion, accomplished musician, and author. She also conducts umpire clinics, speaks about umpiring and women's baseball, and serves as a board member for the International Women's Baseball Center and an advisor for Baseball for All.
Visit SABR.org/ballpark-figures to learn more or watch replays from previous events.
---
Add a new baseball book to your collection from the SABR Digital Library:
We Are, We Can, We Will: The 1992 World Champion Toronto Blue Jays
Edited by Adrian Fung and Bill Nowlin
Associate Editors: Len Levin and Carl Riechers
Forewords by Buck Martinez and Dave Winfield
ISBN (ebook): 978-1-970159-83-7, $9.99
ISBN (paperback): 978-1-970159-84-4, $34.95 US / $41.95 CDN
8.5″ x 11″, 394 pages
Click here to read the full description of this book at SABR.org.
SABR members, get this e-book for FREE!
Having trouble downloading our e-books? To view PDF files on your computer, click here to download the free Adobe Reader software. Having trouble downloading e-books to your Kindle, Nook, Sony Reader or iPad? Click here for additional help.
Note for Kindle users: Beginning in August 2022, Amazon will no longer allow Kindle users to send new MOBI files to their Kindle library. EPUB files are now a compatible format for your Kindle library. Click here to learn more.
---
SABR's The Baseball Index now enables faster and more flexible searching to start your baseball research.
TBI, which can be accessed at BaseballIndex.org, is an ongoing SABR project to catalog the entirety of baseball literature, from the earliest references to the present day. The index is designed to help baseball researchers find materials that advance their work. The new search features allow simultaneous searches of multiple fields, including names, topics, publishing dates, and authors for nearly 270,000 total sources in the TBI database — including books, articles, and many other research materials. The number of entries with URLs has also increased substantially.
If you have questions or would like to help with this project, contact tbi@sabr.org.
---
SABR chapters and committees are encouraged to set up virtual meetings to stay engaged with our members throughout the world at SABR.org, as part of our Stay Home With SABR initiative to assist in limiting the spread of the COVID-19 coronavirus pandemic.
Can't-Miss Event: The organizers of the NINE Spring Training Conference announce the inaugural 9 ONLINE Virtual Baseball Conference on September 29-30, 2022. Like our annual spring meeting, this interdisciplinary conference will feature presentations on a wide range of baseball topics, conveniently brought to you online. This conference is an opportunity for researchers, especially graduate students, to present and receive feedback on works-in-progress. We hope you join us! Registration is $40; student registration is $25. Visit nineconference.com/9-online to learn more or to register.
Video Replays: This week, we heard from Andy McCue ("The First Ball Four Saga: The Seattle Pilots' Journey to Bankruptcy"). Click here to view video replays of virtual SABR events.
Here are some more upcoming virtual events you can attend online; check the Events Calendar for complete details:
September 25: Baltimore Babe Ruth Chapter meeting with Sam Zygner (7:00 p.m. EDT)
September 29-30: 9 Online Virtual Conference
October 1: Talkin' Baseball: Michael Ortman (9:00 a.m. EDT)
October 2: South Florida Chapter meeting (7:00 p.m. EDT)
In addition, the following events will be held in person:
September 24: Bob Broeg St. Louis Chapter Research Conference (Webster Groves, MO)
September 24: Rogers Hornsby Chapter meeting (Round Rock, TX)
September 27: Goose Goslin Chapter meeting (Cherry Hill, NJ)
Find more upcoming SABR meetings on our Events Calendar page.
---
Three new biographies were posted this week as part of the SABR Baseball Biography Project:
All new biographies can be found here: SABR.org/bioproject
Find any SABR biography: You can visit sabr.org/bioproject to search for any player — or manager, executive, scout, spouse, broadcaster, or umpire — who appears in the SABR BioProject. In addition, we have pages for Ballparks, Broadcasters, Executives, Games, Managers, Scouts, Spouses, Umpires, Writers, people who were Famous Outside Baseball, and a lot more.
---
Seven new game stories were posted this week as part of the SABR Games Project:
New Games Project stories can be found at SABR.org/gamesproject.
Read game stories from Baltimore Baseball: In 2021, Baltimore Baseball, edited by Bill Nowlin, was published at the SABR Digital Library. The book focused on the rich history of baseball in the Baltimore area, through recounts of 84 games from the major-league Orioles to the minor-league Orioles to the Negro Leagues. Click here to read all game stories from Baltimore Baseball online at the SABR Games Project.
Get involved: Have memories of a game you attended? Or a game you watched that caught your interest? Write about it! Writing for the Games Project is an easy way to get involved as a SABR member. Find out how by reading the Games Project FAQs section or checking out the Authors' Guidelines. We have editors and fact checkers who are willing to help you write your first article.
---
Baseball fans, tune in this season to SABRcast with Rob Neyer, a weekly podcast hosted by award-winning author and longtime SABR member Rob Neyer.
Episode #180 on Monday, September 19 featured Rob Nelson, a baseball original. He is most famous for co-inventing Big League Chew bubble gum with Jim Bouton when they were teammates with the minor-league Portland Mavericks (of Battered Bastards of Baseball fame) in the 1970s. Nelson is a graduate of Cornell University, where he pitched for the varsity baseball team and majored in philosophy. He spent parts of three seasons pitching — "briefly and ineffectively," he says — for the Mavericks before turning his attention to bubble gum. He still travels the world promoting his timeless invention. He was a guest on SABRcast #49 in March 2020.
Visit SABR.org/sabrcast to listen to the full episode.
Subscribe to SABRcast on your favorite podcast networks, including Apple Podcasts, Amazon Music, Spotify, or Stitcher, and listen to each episode as soon as it's released on Mondays. To learn more, visit SABR.org/sabrcast.
---
Behind the Numbers: Baseball SABR Style on SiriusXM, a radio show hosted by former SABR Board President Vince Gennaro, is back at a new time for the regular season. Listen to new episodes at 8:00-9:00 p.m. ET on Saturdays on MLB Network Radio.
You can also listen to archives of recent episodes on-demand on the SiriusXM Internet Radio app.
Behind the Numbers: Baseball SABR Style on SiriusXM focuses on examining and interpreting the statistical analysis that plays a critical role in baseball today. It airs weekly throughout the year on MLB Network Radio, available to subscribers nationwide on XM channel 89, Sirius channel 209, and on the SiriusXM Internet Radio App.
---
Save the date! SABR will be returning to Chicago for our 51st annual convention on July 5-9, 2023, at the Palmer House Hilton hotel in downtown Chicago, Illinois. Registration information for SABR 51 and our special hotel room block will be available at SABR.org/convention in early 2023.
This will be SABR's fifth convention held in the Windy City, and the first since SABR 45 in 2015.
Learn more about SABR's convention history by clicking here.
---
Here are some major headlines from recent weeks that we don't want you to miss:
All previous editions of This Week in SABR can be found here: SABR.org/this-week-in-sabr-archives.
---
We'd like to welcome all of our new SABR members who have joined this week. You can find all Members-Only resources at members.sabr.org and the Membership Handbook can be downloaded here.
Please give these new members a warm welcome and help them make the most of their membership by giving them the opportunity to get involved in their local chapter or a research committee.
You can find contact information for any SABR member in the online Membership Directory.
| Name | Hometown |   |   | Name | Hometown |
| --- | --- | --- | --- | --- | --- |
| Danny Barrera | Englewood, CO | | | Michael Moore | Charlotte, NC |
| Ben Bartram | Barberton, OH | | | Joseph Natalicchio | Silver Spring, MD |
| John Haynes II | Irvine, KY | | | Matt Overton | Fulshear, TX |
| Robyn Jensen | Indian Head, SK | | | James Remkus | Shavano Park, TX |
| Andrew Lipsett | Woburn, MA | | | Peter Schilling | Ann Arbor, MI |
| Justin Loy | Hopkinton, MA | | | | |
---
Here are the new research committee updates this week:
Find all SABR research committee newsletters at SABR.org/research/committees.
---
Here are the new regional chapter and chartered community updates this week:
Click here for more information on SABR regional chapters. Click here to learn more about SABR chartered communities.

---
Here are some recent articles published by and about SABR members:
Please note: Some articles may require a separate subscription to view online. SABR does not endorse, and is not responsible or liable for, any content that appears on a third-party website.
---
This Week in SABR is compiled by Jacob Pomrenke. If you would like us to include an upcoming event, article or any other information in "This Week in SABR," e-mail jpomrenke@sabr.org.
Have trouble reading this e-mail? Click here to view this week's newsletter on the web.
Are you receiving our e-mails? "This Week in SABR" goes out by e-mail to all members on Friday afternoons. If they're not showing up, try adding "sabr.notes@sabr.org" to your contact list to ensure they show up in your inbox (and not the spam folder.)
---
Originally published: September 23, 2022. Last Updated: September 23, 2022.
https://h2j7w4j4.stackpathcdn.com/wp-content/uploads/2020/06/SABR-LatestNews-TWIS-2016.jpg
250
847
sabr
/wp-content/uploads/2020/02/sabr_logo.png
sabr
2022-09-23 12:14:31
2022-09-23 12:14:54
This Week in SABR: September 23, 2022