This Week in SABR: January 15, 2021
Welcome to "This Week in SABR!" Click here to view this week's newsletter on the web. Here's what we've been up to as of January 15, 2021:
---
As part of the SABR 50 at 50 project to commemorate the organization's fiftieth anniversary, we present 50 of the most memorable baseball-related moments in films and television for the past 50 years.
In compiling this list we considered feature films, documentary films, documentary shorts, scenes from films, television series, scenes or skits from television series, and television commercials.
There were hundreds of nominations, and the quantity and quality of filmed baseball content keeps increasing. There is likely a great baseball documentary being made as you read this.
Visit SABR.org/50at50/films to read the list and the short description for each of the shows, along with selected video clips for each entry.
— Mark Armour
---
SABR commemorates its 50th anniversary in 2021 and will launch its year-long celebration with SABR Day on Saturday, January 30. SABR Day will be hosted virtually around the globe for the first time, giving baseball fans a chance to come together — wherever they live — to share their love of the game.
The program will include conversations with broadcasting legend Bob Costas of MLB Network, with moderator Marty Appel, and National Baseball Hall of Fame and Museum President Tim Mead, with moderator Bruce Markusen.
Q&A: Visit SABR.org/sabrday to submit your questions of Bob and Tim in advance, and we will make every effort to have them answer as many as possible during their SABR Day sessions.
"We are honored and thrilled to have Bob Costas and Tim Mead join us for the first-ever virtual SABR Day," SABR CEO Scott Bush said. "There is not a better way to lead off our Golden Anniversary and we excitedly look forward to sharing SABR with the entire baseball community."
SABR Day registration will be free for SABR members. A $10 donation will be requested of non-members. Click here to register online. The virtual SABR Day program will run from 2:00-4:00 p.m. EST on January 30.
---
Early registration is open only through January 31 for the SABR Virtual Analytics Conference, which will be held over four days in online sessions from March 11-14, 2021. We'll bring together the top minds in the baseball analytics community to discuss, debate, and share insightful ways to analyze and examine the great game of baseball. Register today to join us!
Programming will run on Thursday and Friday evening from 6:30-9:00 p.m. Eastern, all day Saturday from 12:00-8:00 p.m. Eastern, and Sunday afternoon from 1:00-5:00 p.m. EDT.
Stay tuned for more details on guest speakers, panelists, and presenters! Visit SABR.org/analytics to learn more.
---
Kazuo Sayama, a prolific baseball historian and SABR member, was elected to the Japanese Baseball Hall of Fame, along with Katsuji Kawashima, who managed Japan's national team to a silver medal during the 1996 Summer Olympics in Atlanta.
Sayama, who joined SABR in 1983, is the author of numerous articles and dozens of acclaimed books on Japanese baseball history, including Gentle Black Giants: A History of Negro Leaguers in Japan (1986); The Mystery of "Jap Mikado": First Japanese in American Professional Baseball (1996); and An Inside History of US-Japan Baseball (2005). He also appeared in a 2006 PBS documentary film about Japan's iconic Koshien high school baseball tournament.
Gentle Black Giants was translated into English and re-published in 2019 by Bill Staples Jr., chair of SABR's Asian Baseball Committee. Sayama traveled more than 6,000 miles to attend the 1983 SABR convention in Milwaukee, Wisconsin, where he met Negro Leagues historian John Holway and began his pioneering research into the Philadelphia Royal Giants' tours of Japan between 1927 and 1934. Sayama later contributed an article, "'Their Throws Were Like Arrows': How a Black Team Spurred Pro Ball in Japan," for SABR's Baseball Research Journal in 1987.
Click here to read the full announcement at SABR.org.
---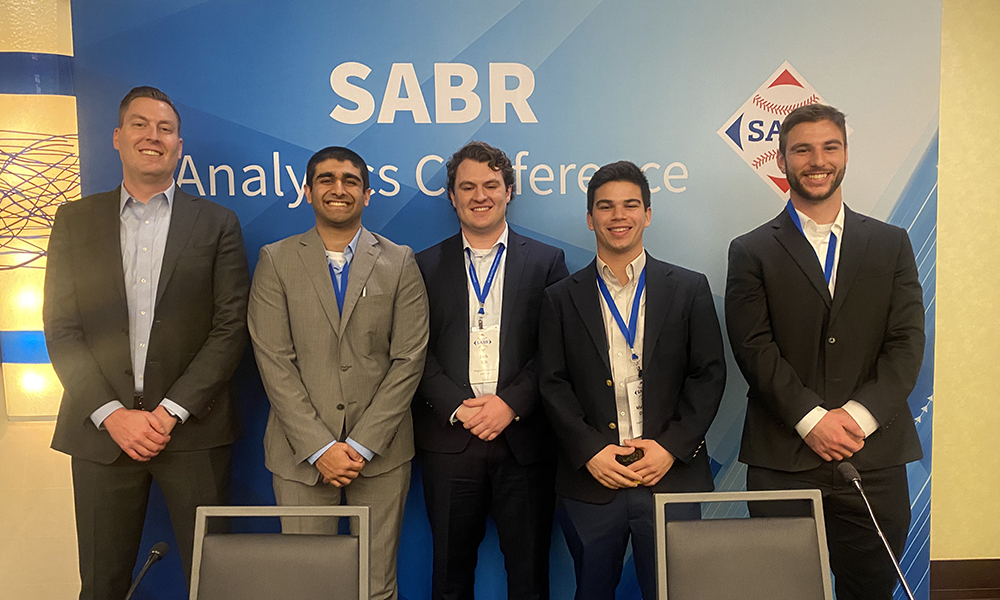 The 2021 Diamond Dollars Virtual Case Competition will be held online from 11:00 a.m.-3:00 p.m. EST on Friday, March 12, 2021, as part of the SABR Virtual Analytics Conference.
Visit SABR.org/analytics/case to learn more.
---
The National Pastime is SABR's annual summer journal, which since 2009 has been themed to the location of the SABR national convention. Last year's theme was Baltimore, but the 2020 convention was pushed forward to 2021 due to the global pandemic — meaning that in 2021 we were free to explore a new thematic direction. We are taking advantage of this unique opportunity to expand and challenge our thinking and become Baseball Futurists.
The 2021 issue of The National Pastime will focus on the future through the lens of baseball. Just as baseball and its history is a reflection of the culture and society of the past and present, it can also serve as input, context, and/or predictor of plausible futures for sports in the United States and other countries. Tentatively subtitled The Future According to Baseball, this issue of The National Pastime will collect thought-provoking articles from a variety of disciplines.
This issue of The National Pastime will be co-edited by Marty Resnick and Cecilia Tan. Marty will be taking queries and abstracts until January 15, 2021, and will make assignments no later than January 30. First drafts of articles will be due no later than March 8 and rewrites (if needed) will be due by April 15. To query, send an email to marty@teamresnick.com with the subject line "TNP Query" and a key word or two on your subject.
Click here to read the full announcement at SABR.org.
---
SABR chapters and committees are encouraged to set up virtual meetings to stay engaged with our members throughout the world at SABR.org, as part of our Stay Home With SABR initiative to assist in limiting the spread of the COVID-19 coronavirus pandemic.
Can't-Miss Event: On Saturday, January 16 from 1:00-3:00 p.m. EST, the Jack Graney Chapter in Cleveland will host a virtual meeting with three great speakers to kick off our baseball year: Ken Rosenthal and Zack Meisel of The Athletic and Clint Longenecker of the Cleveland Indians front office. Click here to register online for this free Zoom meeting.
Live Transcripts in Zoom meetings: To enhance the accessibility of SABR's virtual events, attendees for all online meetings that use SABR's Zoom account now have access to live closed-caption transcripts through Rev.com. Just click on the Live Transcript button in the Zoom control panel at the bottom of your screen and choose between on-screen subtitles or a full transcript window. After you turn on the closed captioning, a text file with the transcript will automatically download to your computer after you exit the Zoom meeting. Closed-caption transcripts for selected video recordings will be available on request from the SABR office.
This week, we heard from Tom Shieber as part of the SABR Nineteenth Century Committee's monthly Speaker Series.
Here are some more upcoming virtual events you can attend online; check the Events Calendar for complete details:
January 16: Babe 'n' Bob (Md.) Chapter Breakfast (9:00 a.m. EST)
January 16: Hank Gowdy (Ohio) Chapter meeting with Randy Mobley (9:30 a.m. EST)
January 16: Jack Graney (Ohio) Chapter meeting with Ken Rosenthal, Zack Meisel, and Clint Longenecker (1:00 p.m. EST)
January 16: Emil Rothe Chicago Chapter meeting with Ralph Carhart (3:00 p.m. EST)
January 18: Boston Chapter meeting with Curt Smith (8:00 p.m. EST)
January 18: Larry Dierker Chapter meeting with James Click, Scott Bush, and Mike Acosta (7:00 p.m. CST)
January 19: Bob Broeg St. Louis Chapter meeting with Eno Sarris (6:30 p.m. CST)
January 19: IBWAA: Up Next with Ben Chase (9:00 p.m. EST)
January 21: Rocky Mountain Chapter meeting (12:00 p.m. MST)
January 21: Magnolia Chapter meeting with Graig Kreindler (7:30 p.m. EST)
January 21: Ken Keltner Badger State Chapter meeting with Kyle Cody, J.P. Feyereisen, Jonathan Stiever, and Daulton Varsho (7:00 p.m. CST)
January 23: NW Ohio Chapter meeting (9:00 a.m. EST)
January 23: Bob Davids Chapter meeting with Eddie Robinson, Bob Carpenter, Fred Valentine, Brad Snyder, and Jerry Brewer (9:30 a.m. EST)
January 23: Josh Gibson Foundation speaker series with Ted Knorr (10:00 a.m. EST)
January 23: Schott-Pelican (New Orleans) Chapter meeting (10:00 a.m. CST)
Find more upcoming virtual meetings on our SABR Events Calendar page.
Click here to view replays of hundreds of recorded SABR virtual events.
---
Registration is now open for the 11th annual SABR Frederick Ivor-Campbell 19th Century Base Ball Conference, which will be held virtually on April 22-24, 2021. All baseball fans are welcome to register for this special online event.
The 2021 virtual conference will be highlighted by a keynote address from Major League Baseball's Official Historian John Thorn, along with a panel discussion on National League president William Hulbert with Jack Bales, Richard Hershberger, Bill Lamb, and moderator Bill Ryczek; a special presentation by Jim Gates on the "Penny Marshall Sheet Music Collection" at the Baseball Hall of Fame; a Member Spotlight interview of Tom Gilbert by Bob Bailey; plus research presentations.
For questions, please contact Peter Mancuso at peterplus4@earthlink.net.
To learn more about the conference, visit SABR.org/ivor-campbell19c.
---
SABR's Detroit Chapter hosted a special Hank Greenberg 110th Birthday Virtual Symposium on Saturday, January 9, to celebrate the pioneering Jewish superstar and prolific Detroit Tigers slugger.
The Zoom symposium, hosted by Nathan Bierma, included a presentation by Herm Krabbenhoft on "Correcting the Record: Revising the Runs & RBI Totals of Hank Greenberg and his Tigers Teammates" and a panel discussion on "Hank Greenberg's Life and Legacy" with Steve Greenberg, filmmaker Aviva Kempner, and author John Rosengren.
Click here to watch the symposium online at SABR.org.
---
Good news! The Fall 2020 edition of the Baseball Research Journal was recently mailed out to all SABR members. This issue includes a special illustrated cover of Hall of Fame catcher and Negro Leagues legend Josh Gibson by SABR member Gary Cieradkowski. Click here to learn more about Gary's design for the new BRJ cover.
Those of you who receive the print edition should find your BRJ arriving in the next two to four weeks. For digital subscribers, the e-book edition was delivered on December 21.
We hope you enjoy reading the Fall 2020 Baseball Research Journal!
---
SABR is excited to announce a new research project focused on the history, evolution, and future of baseball tickets. Led by Sacramento-Dusty Baker Chapter member Tony Oliver, the project will weave an investigation on how and when each ticket element originated, analysis on design changes throughout the eras of the sport, and how industry advances drove adoption of technology.
Tony is seeking volunteers to help with the research, writing, and editing, as well as anyone wishing to share stories about their ticket collections and the meaning behind the tickets they've saved.
Interested in helping out? Contact Tony Oliver for more details.
---
Baseball fans, tune in this season to SABRcast with Rob Neyer, a weekly podcast hosted by award-winning author and longtime SABR member Rob Neyer.
Episode #93 on Monday, January 11 featured Jason Turbow on the life and legacy of Hall of Fame manager Tommy Lasorda, the celebrity skipper of the Los Angeles Dodgers for 21 years. Turbow is the best-selling author of three baseball books, They Bled Blue on the 1981 Los Angeles Dodgers; Dynastic, Bombastic, Fantastic on the 1970s Oakland A's; and The Baseball Codes on the game's unwritten rules.
Visit SABR.org/sabrcast to listen to the full episode.
Subscribe to SABRcast on your favorite podcast networks, including Apple Podcasts, Spotify, or Stitcher, and listen to each episode as soon as it's released on Mondays. To learn more, visit SABR.org/sabrcast.
---
Seven new biographies were posted this week as part of the SABR Baseball Biography Project. Here are the new bios published this week:
All new biographies can be found here: SABR.org/bioproject
Find any SABR biography: You can visit sabr.org/bioproject to search for any player — or manager, executive, scout, spouse, broadcaster, or umpire — who appears in the SABR BioProject. In addition, we have pages for Ballparks, Broadcasters, Executives, Games, Managers, Scouts, Spouses, Umpires, Writers, people who were Famous Outside Baseball, and a lot more.
Seeking authors for 2021 Hall of Fame candidates: As part of our BioProject Hall of Fame Ballot initiative, we are still seeking authors for all of the first-time players on this year's ballot, including Tim Hudson, A.J. Burnett, Nick Swisher, and Shane Victorino. Please contact bioassign@sabr.org if you are interested in writing about one of these players.
---
Six new game stories were posted this week as part of the SABR Games Project. Here are the new game stories:
New Games Project stories can be found at SABR.org/gamesproject.
Get involved: Have memories of a game you attended? Or a game you watched that caught your interest? Write about it! Writing for the Games Project is an easy way to get involved as a SABR member. Find out how by reading the Games Project FAQs section or checking out the Authors' Guidelines. We have editors and fact checkers who are willing to help you write your first article.
Social media: Follow the SABR Games Project on Twitter or Facebook to keep up with new stories and updates.
Read all stories from Babe Ruth greatest games book: Click here to read all stories from The Babe (SABR, 2019), edited by Bill Nowlin and Glen Sparks, online at the SABR Games Project.
---
Behind the Numbers: Baseball SABR Style on SiriusXM, a radio show hosted by former SABR Board President Vince Gennaro, is back at a new time. Listen to new episodes at 4:00-5:00 p.m. ET on Saturdays on MLB Network Radio.
You can also listen to archives of recent episodes on-demand on the SiriusXM Internet Radio app.
Behind the Numbers: Baseball SABR Style on SiriusXM focuses on examining and interpreting the statistical analysis that plays a critical role in baseball today. It airs weekly throughout the year on MLB Network Radio, available to subscribers nationwide on XM channel 89, Sirius channel 209, and on the SiriusXM Internet Radio App.
---
Please note: Only ONE entry per nomination will be considered (do not submit multiple nominations for the same award). For more information on SABR Awards, click here.
---
Here are some major headlines from recent weeks that we don't want you to miss:
All previous editions of This Week in SABR can be found here: /content/this-week-in-sabr-archives.
---
We'd like to welcome all of our new SABR members who have joined this week. You can find all Members-Only resources at members.sabr.org and the Membership Handbook can be downloaded here.
Please give these new members a warm welcome and help them make the most of their membership by giving them the opportunity to get involved in their local chapter or a research committee.
You can find contact information for any SABR member in the online Membership Directory.
| Name | Hometown |   |   | Name | Hometown |
| --- | --- | --- | --- | --- | --- |
| Stephen Dertinger | Webster, NY | | | Iaan Lopez | Port Charlotte, FL |
| Doug Etzel | St. Louis, MO | | | Rob Methven | Seattle, WA |
| Michael Fichman | Philadelphia, PA | | | Glenn Miller | Ft. Myers, FL |
| Frank Flood | Farmington Hills, MI | | | Ben Potenziano | St. Petersburg, FL |
| Thomas Frohnhoefer | US Armed Forces | | | Marc Robinson | Fairborn, OH |
| Kevin Heidorn | Milwaukee, WI | | | Michael Santiago | Port Charlotte, FL |
| Robin Hirsch-Jacobson | Columbia, MO | | | Jenny Scarlata | Brooklyn, NY |
| Wayne Johnson | St. Louis, MO | | | Manny Silver | Hollywood, FL |
| Brian Kritz | Washington, DC | | | John Snell | Calgary, AB |
| Richard Lampert | Philadelphia, PA | | | T.R. Sullivan | Plano, TX |
| Dennis Lewin | Beachwood, OH | | | Yoni Zierler | Jerusalem, ISR |
---
Here are the new research committee updates this week:
Find all SABR research committee newsletters at SABR.org/research/committees.
---
Here are the new regional chapter updates this week:
Visit SABR.org/chapters for more information on SABR regional chapters.
---
Here are some recent articles published by and about SABR members:
Please note: Some articles may require a separate subscription to view online. SABR does not endorse, and is not responsible or liable for, any content that appears on a third-party website.
---
This Week in SABR is compiled by Jacob Pomrenke. If you would like us to include an upcoming event, article or any other information in "This Week in SABR," e-mail jpomrenke@sabr.org.
Have trouble reading this e-mail? Click here to view this week's newsletter on the web.
Are you receiving our e-mails? "This Week in SABR" goes out by e-mail to all members on Friday afternoons. If they're not showing up, try adding "sabr.notes@sabr.org" to your contact list to ensure they show up in your inbox (and not the spam folder.)
---
Originally published: January 15, 2021. Last Updated: January 15, 2021.
https://h2j7w4j4.stackpathcdn.com/wp-content/uploads/2020/06/SABR-LatestNews-TWIS-2016.jpg
250
847
sabr
/wp-content/uploads/2020/02/sabr_logo.png
sabr
2021-01-15 14:40:19
2021-01-15 14:44:57
This Week in SABR: January 15, 2021