This Week in SABR: October 12, 2018

Welcome to "This Week in SABR!" Click here to view this week's newsletter on the web. Here's what we've been up to as of October 12, 2018:
---
Save the date! Join us for the eighth annual SABR Analytics Conference on March 8-10, 2019, at the Hyatt Regency Phoenix in downtown Phoenix, Arizona. All baseball fans are welcome to attend this exciting event which brings together the top minds in the baseball analytics community.
Registration and hotel information for the 2019 SABR Analytics Conference will be available beginning next week at SABR.org/analytics.
The schedule will consist of a combination of Guest Speakers, Panels, and Research Presentations — plus the unique Diamond Dollars Case Competition, in which undergraduate, graduate and law school students from across the country analyze and present a real baseball operations decision.
Check out highlights and clips from the 2018 SABR Analytics Conference at SABR.org/analytics/2018.
---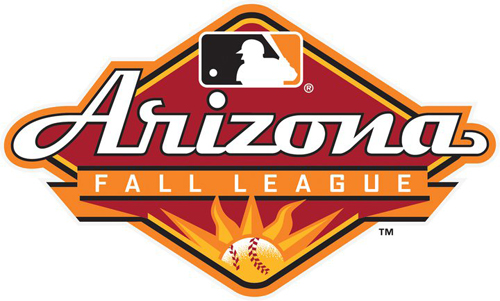 We hope you'll join us for the 10th annual SABR Arizona Fall League Experience, which will be held Thursday, November 1 to Saturday, November 3, 2018. The early-bird registration discount ends at 11:59 p.m. MST tonight, so sign up now!
The event will feature four AFL games showcasing baseball's top prospects. On Friday night, we'll come together for a special poolside taco bar dinner at our host hotel, The Saguaro, just steps away from Scottsdale Stadium and many Old Town Scottsdale attractions. On Saturday morning after our conference breakfast, attendees will join members of SABR's Hemond-Delhi Arizona Chapter for their regional fall meeting with research presentations and guest speakers. We'll conclude the conference with the nationally televised Fall Stars Game on Saturday evening at Surprise Stadium. All of this is included in one low registration price.
Your registration fee includes four game tickets; an AFL Media Guide; the poolside taco bar dinner on Friday; and the conference breakfast on Saturday.
Note: Local or visiting SABR members can purchase extra or optional tickets to the Friday evening poolside taco bar dinner ($45) at The Saguaro, the Saturday morning breakfast at The Saguaro ($25), or any of the ballgames, including the Fall Stars Game at Surprise Stadium ($7 apiece). Extra AFL Media Guides ($12) are also available for purchase while supplies last. Please contact Deb Jayne at djayne@sabr.org for details.
The 2018 team rosters were released recently and MLB's No. 1 prospect, Vladimir Guerrero Jr. of the Toronto Blue Jays, leads a star-studded cast this season in the AFL.
The annual conference, hosted by SABR's Arizona Hemond-Delhi Chapter, is held in conjunction with the Arizona Fall League (mlbfallball.com), baseball's premier player development league. In the first nine years of the conference, attendees have been treated to sneak peeks at MLB stars like Mike Trout, Bryce Harper, Buster Posey, Stephen Strasburg, Nolan Arenado, Gerrit Cole, Gary Sanchez, and Ronald Acuña Jr. before they hit the big leagues.
All baseball fans are welcome to attend the SABR Arizona Fall League Experience. Visit SABR.org/AFL for photos and highlights from past conferences.
---
For those of you whose SABR memberships expire by December 31 — you can check your current membership status here — it's time for you to renew!
From the Baseball Research Journal and the SABR Digital Library to "This Week in SABR" and our extensive list of research resources — and, of course, all the memorable conferences, chapter meetings, and events — we hope you enjoyed the many benefits of SABR membership this past year.
We hope you please continue your support by renewing your SABR membership today.
Dues are the same as they have been in recent years: $65 for one year or $175 for three years, with discounts available to anyone under 30 or over the age of 65.
Here are some of the membership benefits that SABR members enjoyed in the past year:
Want to learn more? Click here for Frequently Asked Questions about getting the most out of your SABR membership.
Please note: If you have had trouble logging in to the SABR website, please try resetting your password using this reset link. Then try logging in to renew at the link above.
Thank you for your support of SABR as we continue to strive to make SABR membership a great experience and a great value!
---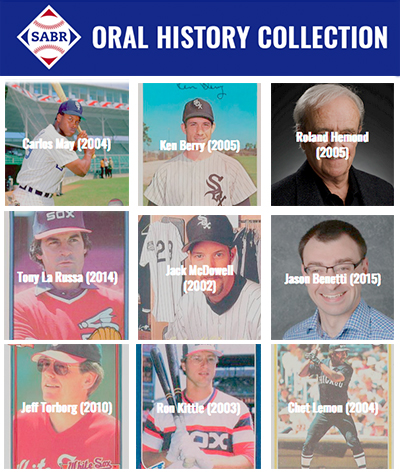 Nearly 50 interview transcripts of Chicago White Sox players, executives, and broadcasters conducted by SABR member Mark Liptak were added to the SABR Oral History Collection website last week.
Liptak, a sports broadcaster at Idaho State University and a Chicago native, graciously donated his collection of interviews that cover more than a half-century of history from a wide range of figures in the White Sox organization. His interview subjects include Hall of Fame manager Tony La Russa, broadcasters Jason Benetti, Milo Hamilton, Tom Paciorek, and Jimmy Piersall, executives Roland Hemond and Mike Veeck, and star players Ken Berry, Jim Kaat, Ron Kittle, and Jack McDowell.
Other highlights include his conversation with Joe Horlen about his memories of the 1967 All-Star Game, with Jim Landis about which "sun fields" were the toughest to play, and with Gary Peters about his bid for perfection.
Click here to read Mark Liptak's interview transcripts at the SABR Oral History Collection.
To listen to more interviews from the SABR Oral History Collection, visit oralhistory.sabr.org.
---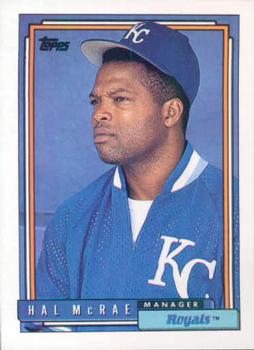 Two new interviews were posted this week at the SABR Oral History Collection website. Here are the new interviews:
The SABR Oral History Collection, which launched in March 2018 at oralhistory.sabr.org, includes hundreds of interviews conducted with ballplayers (Major Leagues, Minor Leagues, Negro Leagues, AAGBBL), executives, scouts, authors, writers, broadcasters, and other figures of historical baseball significance. These interviews, some of which date back more than 50 years, were conducted by members of SABR's Oral History Research Committee and were digitized through a collaboration with the National Baseball Hall of Fame Library.
To listen to more interviews from the SABR Oral History Collection, visit oralhistory.sabr.org.

---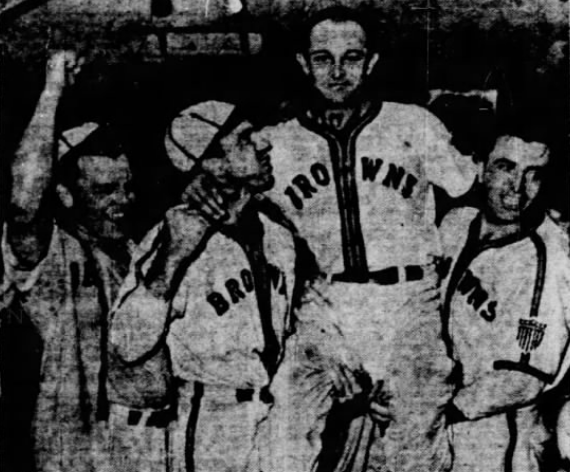 The new SABR Team Ownership Histories Project, which launched last year at SABR.org, is a joint effort of SABR's Business of Baseball Committee and the BioProject. The intention is to provide as much detail as possible about the organization and composition of ownership groups, franchise sales, relocations, stadiums, and other issues that provide the financial context for team success on the field. One new article was published this week:
Click on a link below to read other Team Ownership History articles published recently:
This project is a continuing effort. Some team articles have been assigned, but anyone who wishes to contribute is encouraged to contact Andy McCue at amccue@sabr.org. Thanks to Len Levin for his work in copy editing all of these essays.
To find out which essays still need authors, or to read author guidelines, click here.
---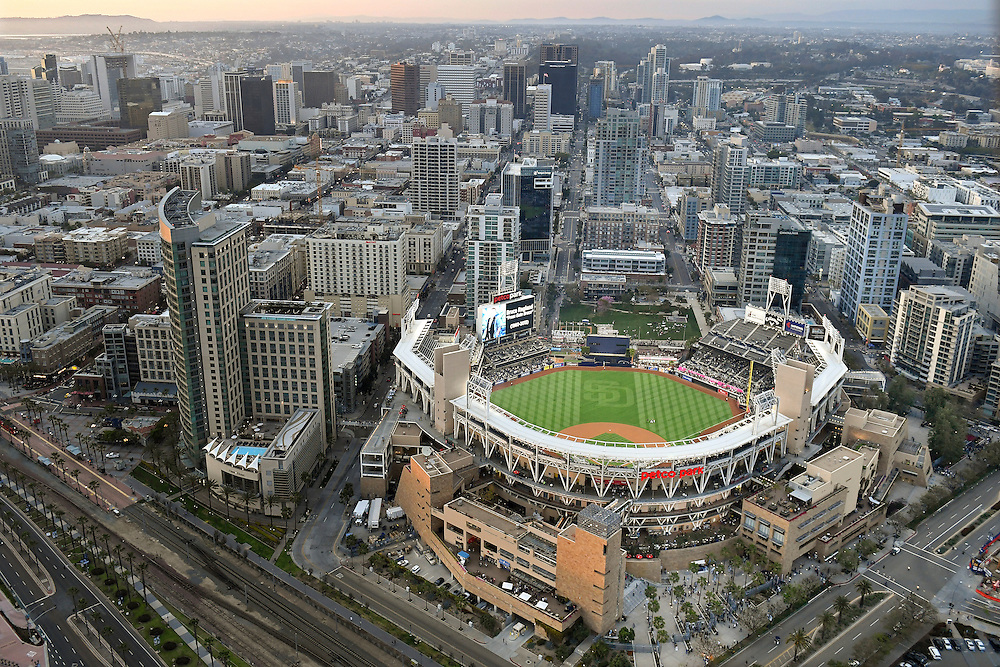 Save the date! SABR will be returning to San Diego for our 49th national convention on June 26-30, 2019, at the Manchester Grand Hyatt in downtown San Diego, California. Registration information and our special hotel room block will be available at SABR.org/convention in early 2019. The Padres are scheduled to play at home against the St. Louis Cardinals that weekend.
The Manchester Grand Hyatt is conveniently located within walking distance from Petco Park; our host hotel, a frequent host of baseball's Winter Meetings, features a spectacular waterfront resort-like setting with shopping, dining, and entertainment venues in abundance at the nearby Gaslamp Quarter. The San Diego Central Library's Sullivan Family Baseball Research Center, just a few blocks away, is home to the spectacular SABR Collection curated by our host chapter, the San Diego Ted Williams Chapter.
SABR 49 will be our second convention held in San Diego and first since 1993. Our 23rd annual convention that year featured a keynote address from former Padres manager Dick Williams and a panel celebrating the 1984 National League champions. Learn more about SABR's convention history by clicking here.
SABR's 2019 national convention will be our 49th annual gathering; the organization's founding in Cooperstown in 1971 is counted as the first.
For more information on the SABR convention, visit SABR.org/convention.
---
SABR's Rickwood Field Chapter joined with the Center for Negro Baseball Research, the Southern Negro League Baseball Museum, and Friends of Rickwood to host the inaugural Southern Negro League Baseball Conference on October 4-6 at Rickwood Field in Birmingham, Alabama.
The conference was dedicated to the preservation of the history of Southern Negro League Baseball, and the history of Negro Leagues players from the South.
This year's conference's theme was the final Negro League World Series in 1948, including a visit with Rev. Bill Greason, who played for the Birmingham Black Barons in that series 70 years ago.
Click here to view more photos of the conference at SABR.org.
---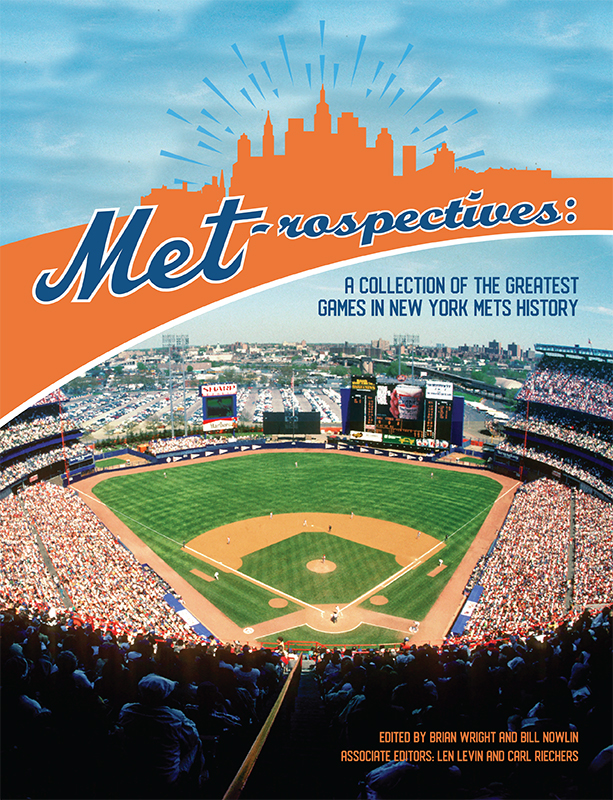 New York Mets fans can soak in some Amazin' memories with the newest book from the SABR Digital Library:
Met-rospectives: A Collection of the Greatest Games in New York Mets History
Edited by Brian Wright and Bill Nowlin
Associate Editors: Len Levin and Carl Riechers
ISBN (paperback): 978-1-943816-87-3, $14.95
ISBN (e-book): 978-1-943816-86-6, $9.99
139 pages, 8.5″ x 11″
Click here to read the full description at SABR.org.
SABR members, get this e-book for FREE!
SABR members will get discounted rates for all Digital Library publications, including many for free. Find all past titles in our collection at SABR.org/ebooks.
Having trouble downloading our e-books? To view PDF files on your computer, click here to download the free Adobe Reader software. Having trouble downloading e-books to your Kindle, Nook, Sony Reader or iPad? Click here for additional help.
---
All SABR members are invited and encouraged to submit a Research Presentation Proposal Abstract on any topic of 19th-century baseball for the 2019 Frederick Ivor-Campbell 19th Century Base Ball Conference at the Baseball Hall of Fame in Cooperstown, New York. The 11th annual Ivor-Campbell Conference is scheduled for April 26-27, 2019.
The deadline for proposal Abstracts is October 31, 2018. Your abstract must be between 200-400 words for a 20- to 25-minute presentation. Please include name, title, and contact information and send your proposal as a Microsoft Word or PDF attachment to Peter Mancuso at peterplus4@earthlink.net.
Click here for complete details and submission criteria at SABR.org.
To learn more about the Ivor-Campbell Conference, visit SABR.org/ivor-campbell19c.
---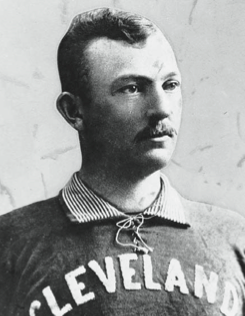 Join us for the SABR Cleveland 19th Century Baseball Interdisciplinary Symposium, which will take place on Saturday, November 10, 2018, from 9:00 a.m.-5:00 p.m. at the majestic Main Branch of the Cleveland Public Library in the heart of downtown Cleveland.
The day-long Saturday symposium will be devoted to 19th-century baseball as it was played and evolved in Cleveland and its greater region of northeastern Ohio. A keynote luncheon address of interdisciplinary history by David Goldberg, Professor of History at Cleveland State University, will provide a look at late 19th-century Cleveland with a particular understanding of one of that city's most important and powerful forces, its transportation system. In addition to the on-site luncheon, there will be both an early morning and mid-afternoon coffee and refreshments service.
Other speakers are expected to include John Thorn, MLB's Official Historian; John Skrtic, Director of Public Services, CPL; Jeremy Feador, Cleveland Indians, Historian & Curator; and four SABR researchers and authors with specific focus on elements of 19th-century Cleveland area baseball: David Fleitz, Joseph Wancho, Ken Krsolovic, and Bryan Fritz. Click here to download a complete schedule (PDF).
We hope to see you there!
---

SABR's The Baseball Index (TBI) has added more than 800 new entries to aid baseball researchers in its end-of-season update in October 2018.
TBI is an ongoing project to catalog the entirety of baseball literature, from the earliest references to the present day. The index — which now totals more than 254,000 entries of baseball articles, books, essays, and other materials — is designed to help baseball researchers find materials that advance their work.
The most recent update adds all Sports Illustrated articles through 2004 to the TBI catalog. Bruce Slutsky has begun the process of adding all the work of the SABR Games Project to the database, with more than 600 entries added so far. Bets Brown finished all the 1978 entries from Baseball Digest, giving the index more than 5,500 entries from that publication. Bill Lamb kept up with new research-oriented articles from the newsletters of the Deadball, Black Sox Scandal, and Biographical Research Committees. We're up to date on articles from the Baseball Research Journal, The National Pastime, and SABR books as well as Base Ball, Black Ball, Memories and Dreams, NINE, and other publications. Most of the 2018 books from commercial publishers have also been added.
More volunteers are always needed. We'd like to add more years of Sports Illustrated, Baseball Digest, and many books. We'd love someone to help us begin to catalog material from the SABR BioProject, as well. Contact Andy McCue at amccue@sabr.org to volunteer.
---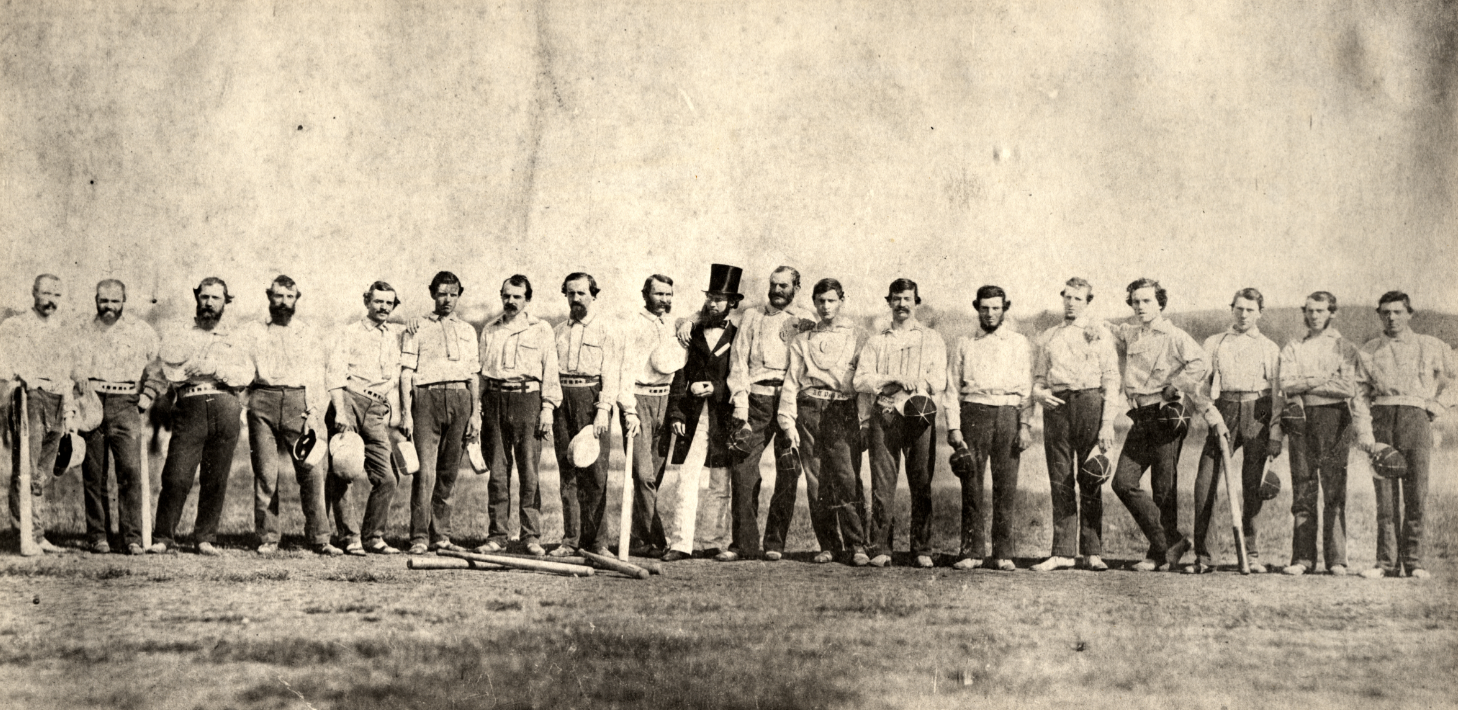 Our friends at Protoball.org are looking to hire a website developer/advisor with experience and expertise in the MediaWiki software to help out with general maintenance, organization of resources, helping to integrate new data that comes in (such as SABR member Bob Tholkes' repository of 5,000 pre-Civil War ballgames), and resolving any other technical issues or questions that pop up with their site from time to time.
The Protoball Project was established to help researchers and writers locate and refine primary data on the evolution and spread of ball play from ancient times to up to 1870, just before the first professional baseball league began.
This is a part-time remote position. If you are interested in applying, please contact Larry McCray at lmccray@mit.edu.
---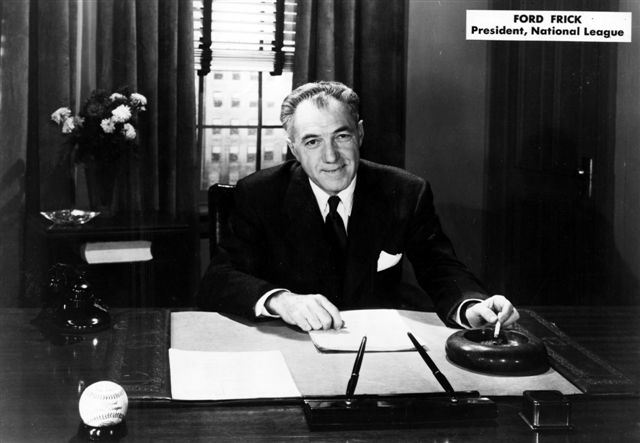 Six new biographies were posted this week as part of the SABR Baseball Biography Project, which brings us to a total of 4,644 published biographies. Here are the new bios published this week:
All new biographies can be found here: SABR.org/bioproj/recent
---
In 20-Game Losers (SABR, 2017), edited by Bill Nowlin and Emmet R. Nowlin, we told the stories of the pitchers who reached the ignomious milestone of 20 losses in a season — from Hall of Famers like Steve Carlton, Phil Niekro, and Old Hoss Radbourn to lesser-known hurlers like Mike Maroth, Brian Kingman, and Kaiser Wilhelm. You have to be a very good pitcher to lose 20 games in one season. Why would a manager keep putting you out there to pitch, time after time, if you didn't have a chance to win the game?
All of the biographies that appeared in 20-Game Losers are now available to read online at the SABR BioProject.
Click here to read them online at SABR.org.
To download the e-book edition of 20-Game Losers for free or get a 50% discount off the paperback edition, click here.
---
Four new game stories were posted this week as part of the SABR Games Project. Here are the new game stories:
New Games Project stories can be found at SABR.org/gamesproject/recent. Find all published Games Project articles at SABR.org/GamesProject.
If you have any questions about the Games Project, please contact Mike Huber. To request an assignment, please contact Steven C. Weiner. After the article has been completed in accordance with our Authors' Guidelines, please submit it to Len Levin, who will initiate the editing process and get your story started toward publication.
---
In Dome Sweet Dome: History and Highlights from 35 Years of the Houston Astrodome (SABR, 2017), edited by Gregory H. Wolf, we focused on memorable moments that took place at the "Eighth Wonder of the World."
Now, 70 outstanding and historic game stories from this book can be found online at the SABR Games Project — from Mickey Mantle's epic blast in the Astrodome's first game in 1965 to Mike Scott's no-hitter to clinch the NL West in 1986 to "Lima Time!" in the Dome's final season in 1999.
Click here to read more stories from Dome Sweet Dome at the SABR Games Project.
All SABR members can download this e-book for free or get 50% off the paperback edition at SABR.org/ebooks.
---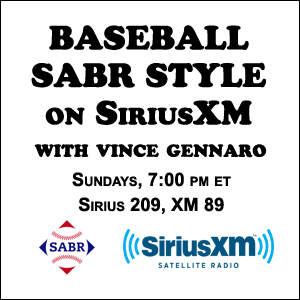 Behind the Numbers: Baseball SABR Style on SiriusXM, a radio show hosted by SABR President Vince Gennaro, will be on hiatus during the MLB postseason. After the World Series ends, the show will air again at its regular time, 7:00-8:00 p.m. ET on Sundays, on MLB Network Radio.
You can still listen to archives of recent episodes on-demand on the SiriusXM Internet Radio App. Click here to learn more.
Behind the Numbers: Baseball SABR Style on SiriusXM focuses on examining and interpreting the statistical analysis that plays a critical role in baseball today. It airs weekly throughout the year on MLB Network Radio, available to subscribers nationwide on XM channel 89, Sirius channel 209, and on the SiriusXM Internet Radio App.
---
We've heard your feedback: Some of you have said you look forward to "This Week in SABR" every Friday, but sometimes there are just too many compelling articles and announcements to read every week. We're not complaining — hey, keep up the great work! — but we know the feeling. So in an effort to make the length of this newsletter more manageable to read, we'll summarize some of the repeating/recurring announcements in a special "In Case You Missed It (ICYMI)" section of "This Week in SABR".
Here are some major headlines from recent weeks that we don't want you to miss:
All previous editions of This Week in SABR can be found here: https://sabr.org/content/this-week-in-sabr-archives.
---
We'd like to welcome all of our new SABR members who have joined this week. You can find all Members-Only resources at members.sabr.org and the Membership Handbook can be downloaded here.
Please give these new members a warm welcome and help them make the most of their membership by giving them the opportunity to get involved in their local chapter or a research committee.
You can find contact information for any SABR member in the online membership directory (SABR.org/directory).
| Name | Hometown | | | Name | Hometown |
| --- | --- | --- | --- | --- | --- |
| Kenneth Fowlkes | Voorhees, NJ | | | Matthew Miller | Rolla, MO |
| Jeremy Fritsch | Stevens Point, WI | | | Howard Mueller | Northville, MI |
| Travis Ice | Lawrence, KS | | | Melanie Nichols | Alhambra, CA |
| Matt Landry | Beverly, MA | | | Steve Porter | Loudon, TN |
| Chris May | Redondo Beach, CA | | | Cheryl Zane | Houston, TX |
| Cael Ryan McClanahan | Reading, MA | | | | |
---
Here are the new research committee updates this week:
Find all SABR research committee newsletters at SABR.org/research.
---
Here are the new regional chapter updates this week:
Visit SABR.org/chapters for more information on SABR regional chapters.
---
Here is a list of upcoming events on the SABR calendar:
All SABR meetings and events are open to the public. Feel free to bring a baseball-loving friend … and make many new ones! Check out the SABR Events Calendar at SABR.org/events.
---
Here are some recent articles published by and about SABR members:
Read these articles and more at SABR.org/latest.
---
This Week in SABR is compiled by Jacob Pomrenke. If you would like us to include an upcoming event, article or any other information in "This Week in SABR," e-mail jpomrenke@sabr.org.
Have trouble reading this e-mail? Click here to view this week's newsletter on the web.
Are you receiving our e-mails? "This Week in SABR" goes out by e-mail to all members on Friday afternoons. If they're not showing up, try adding "sabr.notes@sabr.org" to your contact list to ensure they show up in your inbox (and not the spam folder.)
---
Originally published: October 12, 2018. Last Updated: April 3, 2020.
https://sabr.org/wp-content/uploads/2020/03/research-collection4_350x300.jpg
300
350
admin
/wp-content/uploads/2020/02/sabr_logo.png
admin
2018-10-12 15:00:00
2020-04-03 14:38:17
This Week in SABR: October 12, 2018