---
Early in his career on the baseball diamond he was a man without a position. Luckily for him, the power emanating from his bat allowed him to hang around the major leagues long enough to settle into the only position he could play reasonably well. He came from Native American – or, in the common language of the day, "Indian" – ancestry, although that heritage was always more important to the press than it was to him. In August 1937 he broke a home run record set by the immortal Babe Ruth. He had a habit of falling asleep with burning cigarettes in his hand, setting many a hotel room on fire. Finally, he had a fondness for alcohol that contributed to an early departure from the major league scene. That summarizes what most fans and historians of the game know about Rudy York.
The fact is, however, Rudy York had a solid major league career. From 1937 through 1947, no one in the major leagues had more home runs, runs batted in or total bases than Rudy York, albeit because Rudy was one of the few stars who managed to avoid military service during the war. He had little formal education and grew up in the small mill towns of rural northwest Georgia where so many young people were naturally drawn into the same blue-collar existence as their parents, working in the mills for meager wages. Rudy's baseball skills allowed him to rise above the mill and enjoy, at least for a few years, widespread public recognition and financial comfort. The recognition and financial comfort diminished considerably after Rudy's baseball career was over. A close observer of his career can't help but come to conclusion that, while he had a fine stay in "the show," he could have accomplished more.
Early Childhood
Preston Rudolph York1 was born in Ragland, Alabama on August 17, 1913. He was the third of five surviving children of Arthur and Beulah (Locklear) York. According to family history, Beulah's grandmother on her mother's side, Elizabeth (Meddows) Barrett, was a full-blooded Cherokee. Although he was born in Alabama, Rudy's parents and their respective families had roots in the rural communities of northwest Georgia. The family moved to Ragland just before Rudy's birth and returned to Georgia while Rudy was still quite young. Unfortunately, Arthur, who at various times was described as a farm laborer and/or carpenter, was an unreliable husband and father who often wandered in and out of the family structure.
The address on Arthur's World War I draft registration card indicates he was back in the Aragon, Georgia area by 1917. He entered the Army in the fall of 1917 and was discharged five months later. Beulah and the four children were living at a different address in Aragon by the time of the 1920 census (the fifth child, Lavis, would not be born until later); Arthur is not listed with the family in the census, and a notation identifies Beulah as the head of the household.2 Beulah was supporting her family with a job as a spooler in the Aragon mill. The birth of Rudy's youngest sibling, Lavis,3 in 1921 is one of the few pieces of evidence that Arthur was maintaining any contact with the family. Years later, Rudy told Furman Bisher that his father had deserted the family completely by the time he was a teenager. Court records indicate a divorce was finalized in 1928.
Anecdotal evidence suggests Rudy developed a liking for baseball at a young age. According to Rudy's son, Joe, "When daddy was growing up, he had an aunt who could sew a cover on a ball, so they took socks and unwove them – wool socks – wrapped them around a little hard ball, and she was able to sew that. How well it was, I don't know. That was his first experience with a baseball…. They didn't have bats. They used broomsticks. They just didn't have the equipment."4
Atco
In 1903, the American Textile Company built a factory on the western outskirts of Cartersville, Georgia. In order to attract a stable base of employees, the company also established a village around the factory. The village, known as Atco, was owned and operated by the company and eventually included several hundred modest houses which were rented to the employees, as well as a grocery store, a church, a schoolhouse, a laundry, a community center and swimming pool, and its own power plant. The factory processed cotton into thread and other products for a number of different textile applications.
Beulah York moved her family to the Atco community in the late 1920s. Census records from 1930 indicate the family was living in the village by that time; Rudy5 and some of his siblings worked in the factory while Beulah helped make ends meet by taking in several boarders. Atco, like most other mill villages of the time, had its own baseball club that played against mill teams in other nearby towns. Rudy's road to professional baseball began in Atco. Joe York later commented, "I was told they pretty much hired Daddy not just as a mill worker but as a ball player."6 As in most mill towns, baseball was a popular source of entertainment. "We're talking about a time before TV….Not too many people had automobiles out there….So, most everything – most everybody's life – was right there in Atco….a baseball game was a big deal…"7 remarked Atco native Roy Bethune.
The earliest documented evidence of Rudy playing for Atco is found in the Rome News-Tribune on April 23, 1929, when his name appeared in the box score for a game in Atco the previous day against a team from Shannon, Georgia. Rudy played shortstop and batted ninth, going 0 for 3. Earlier newspaper accounts from both Rome and Cartersville, going back to 1925, make no mention of Rudy. The Goodyear Rubber Company purchased the Atco8 plant in June of 1929, and the baseball team played a schedule of "league" games against other Goodyear plants in nearby towns in addition to its non-league schedule against other traditional rivals in the area. By 1930 Rudy was a blossoming star amongst the other players. In April 1930, the Bartow Tribune-News revealed "York is a sensational shortstop and a clever hitter…"9 and, in October of that year, "Rudy has proved to the public that he loves the game called baseball. He is a good hitter and fielder and has more home runs to his credit than any other player in the Goodyear loop."10
In 1931, Atco, along with many of its traditional rivals, including the Goodyear teams from Cedartown and Rockmart, created the Northwest Georgia Textile League. Rudy continued to prove his superior skills against older players, as described in the Tribune-News: "York's batting average is well up with the best of the heavy hitters in the league. He manages to hit nice long ones in practically every game"11 and, at midseason, "York's record is outstanding. Out of forty-eight times at bat, he hit six singles, eleven doubles, two triples and six home runs. His average is .520."12 He finished the season as the league's home run champion and as a married man. He and Violet Dupree, an Atco girl, married on June 30, 193113.
In 1932, Rudy moved to center field and continued to showcase his talents. He was inexplicably absent from the Atco lineup for several games that summer. Later stories about Rudy claimed he had a tryout with a club14 in Organized Ball sometime before 1933, but it is not clear that is why he was absent from Atco's lineup during this time. Rudy led the Supertwisters to an outstanding second-half record, and they defeated the Goodyear team from Cedartown in the playoffs for that season's championship. By season's end, Rudy and Violet had welcomed their first child, Mary Jane, into the world.
1933: Have Bat, Will Travel
For Rudy, 1933 was a watershed year. He moved to third base for the Atco nine, and the Tribune-News continued to comment on his play. While describing Rudy as erratic at times and "…easily excitable at the crucial moments…"15 Tribune-News Sports Editor Horace Crowe wrote of Rudy: "…[he] seems to be headed for another great year….[he] is still quite a young man and should he continue to improve as he has in the past performances, he should go up in the game. At present though he has room for improvement, not having the proper hold of himself that the veteran ballplayer must have."16
After two weekends of play, Rudy's name disappeared from the Atco box scores and the Tribune-News announced he had received a tryout with the Knoxville Smokies of the Southern Association. As Rudy left to join the Smokies, Crowe wrote, "York has been clouting the apple well over .500…and has been playing a great game at third base. He is noted all over the Textile league for his wonderful throwing arm."17
Professional debut
The Knoxville club got off to a horrendous start in 1933. Having suffered through a 1-7 home stand at the end of April and with an overall record of 4-13, Smokies owner Bob Allen began making wholesale roster changes. The Knoxville Journal sports writer Bob Murphy revealed on May 1 that Rudy – a "young kid" – was slated to play left field until more help could be found. Murphy held out little hope that Rudy would make good, commenting that he "…won't get far."18
Rudy made his debut in Organized Baseball that day in Memphis, playing left field and going 1 for 4 with a single in an 11-1 loss to the Chicks. His hometown was proud; the Tribune-News on May 4 spread the word of Rudy's debut: "Many hearts in ATCO were made glad last Monday morning when it was announced that Rudolph York, erstwhile and deserving ATCO boy, was placed in left field on the Knoxville Southern League team to play that position until further notice. York was called in by Knoxville some three weeks ago and evidently he is making the grade, as his 'tryout' contract has expired and he is still with them."19
Unfortunately, what the paper's editors didn't know as they went to press that morning was that Rudy's tenure with Knoxville was already over. He played his last game for the Smokies the previous night; Knoxville dropped all three games of the series to the Chicks while Rudy went just 1 for 10 in the three games. Rudy was released and he returned to Atco's lineup in mid-May, playing first base upon his return. By late May he disappeared again, having joined the LaGrange Troopers of the Georgia State League, an independent league unaffiliated with Organized Baseball. A few short days after he joined the team, the franchise was shifted to Albany, Georgia and re-dubbed the "Indians." Rudy became the regular third baseman after an injury to another player. In 1991, Marshall Johnson, who played with Rudy in Albany, remembered Rudy's ability to hit the long ball: "[On] June 17, we played in Barnesville. As we entered the ballpark we were all amazed at the distance of the 10 foot high centerfield fence from home plate. We laughed and joked about it and agreed that nobody could hit a baseball over that fence 500 feet away. Needless to say, Rudy York did hit a home run over that fence. It was the farthest hit ball I have ever seen."20
Mr. Johnson also remembered that Rudy appeared as a relief pitcher in that game against Barnesville. He went on to describe Rudy as "…loud and boisterous, and [he] spoke poor English, due no doubt to his poor education…. But Rudy York had a heart of gold. He was kind and considerate and he had an outgoing, warm personality. On the ball diamond he was talking all the time, giving encouragement to his fellow players, and keeping moral [sic] high."21
Rudy, erroneously described as an "ex-college star" on the eve of the Indians' debut in Albany, provided the desired firepower at the plate, but his fielding was less than stellar. He played with Albany for three weeks; Rudy and two other teammates abruptly left the team on June 24 while in Macon. It is not clear why Rudy and the others abandoned the Indians. It is possible there were financial issues; the Indians were taken over by the league in July when the owners could no longer shoulder the financial burden of operating the team. There was some conjecture that Rudy and his teammates intended to sign with another team in the league, but the league president quickly forbid that possibility.
Rudy soon returned to familiar grounds; he played for Atco on Sunday, June 25, but once again he would not stay long. Detroit scout Eddie Goosetree had shown up in Atco in May to sign Rudy for the Detroit Tigers only to discover Rudy was already in Knoxville. Goosetree scouted the teams in the Georgia State League during Rudy's time with Albany; maybe Rudy left the Indians knowing that Goosetree would offer him an opportunity to sign with the Tigers. Whatever the chain of events, Goosetree got his man the first week of July. Rudy was signed and sent to the Shreveport Sports of the Class C Dixie League. Oddly enough, when announcing the signing, The Sporting News described Rudy as a "pitcher-fielder."22 Only two instances could be found of Rudy ever taking the mound before signing with the Tigers. He made one relief appearance with Atco in 1931, and the other was the relief appearance in June 1933 while with Albany. In both cases, he was inserted in a "mop-up" role and was ineffective.
Rudy played twelve games at second base for the Shreveport Sports before being removed from the roster on July 27 because of defensive weaknesses. Official records credit him with a batting average of .354 and his first professional home run; an examination of multiple box scores and game accounts for each of his twelve games does not reveal any mention of that home run.
Upon leaving Shreveport, Rudy reported to the Beaumont Exporters of the Class A Texas League. On July 31 Rudy23 was inserted at catcher with two outs in the bottom of the eighth inning when Beaumont's regular catcher, George Susce, suffered a broken collarbone in a collision at home plate. This appearance is the earliest documented occurrence of Rudy playing behind the plate.24 Overall, Rudy received little playing time at Beaumont; he made a few appearances at third base and in the outfield and batted just .189 in 37 official at-bats. His most memorable appearance with Beaumont that year may have been the game of August 21. Already losing by a score of 12–2 with two outs in the bottom of the third inning in a game in Oklahoma City, Rudy was called off the bench to relieve starting pitcher Jake Wade. Rudy pitched the rest of the game, giving up five runs, all earned, on two hits, ten bases on balls and one hit batsman.
Rudy's one-out experience as a catcher in 1933 would turn into a six-year, on-again, off-again experiment in human torture for Rudy and the Tiger organization. Rudy rejoined the Exporters for the 1934 season and was described as a promising catching prospect expected to add much needed power to the Beaumont lineup. Describing one workout a couple of days into spring training, the Beaumont Journal noted:
"Then came the big 'game' of the day, a 'one-eyed cat' move-up scuffle….as usual, Rudy York, the Georgia Bludgeoner, sparkled with his stick work. Rudy rammed out hit after hit and twice sent balls over the pilings just a few inches foul. The Georgia boy is far ahead of the others in camp, having worked out several weeks at his home in Atco before reporting here."25
As the season was getting ready to begin, the Journal wrote: "To casual observers, it looks like York is No. 1 man on the Exporters' receiving staff…[he] has a powerful arm; by far, the best arm in the Exporter camp. He can hit a dime at 100 feet….not only can Rudy throw, but he is the hardest hitter in camp as well…He's a real find and a real catcher, and Jack Zeller, Detroit scout, said he wouldn't take $50,000 for him right now."26
Rudy was slated to share the catching duties with Mike Tresh, but things quickly unraveled. Rudy got off to a slow start at the plate and exhibited none of the power that had been expected of him. In early May Beaumont sent Rudy to the Fort Worth Panthers – another Texas League team – "on loan" with the understanding that Beaumont would not recall him before the end of the season unless Fort Worth was willing to return Rudy to Beaumont earlier. Rudy started out as the Cats' primary catcher, but by the end of May it was apparent his catching skills were suspect. Cats manager Del Pratt moved him to right field and Rudy's bat began to come alive as his average rose steadily and his power numbers began to soar. Rudy hit a total of 18 home runs during the months of June and July and moved to the front of the league's home run race. Unfortunately, the Cats were a bad ball club and Rudy's presence did little to improve Fort Worth's chances of making the playoffs. On August 10, with Fort Worth out of contention and Beaumont fighting to qualify for the playoffs, the Cats agreed to return Rudy to the Exporters for the remainder of the season. That decision created a firestorm in the Texas League and paved the way for Rudy's major league debut.
When Rudy's recall was announced, other teams objected on the grounds that the league had a rule prohibiting the sale or trading of players between teams in the league after August 1 in order to prevent teams from acting in concert to affect the outcome of the pennant race. Beaumont argued the rule did not apply to Rudy's situation since he had only been "loaned out" to the Cats and was simply being returned to the Beaumont roster. League president J. Alvin Gardner ruled that while Beaumont had every right to recall Rudy, he would not be eligible to play in any of the Exporters' remaining games.27 Rudy's season appeared to be over a month earlier than expected after he had hit .332 with 26 home runs and 75 runs batted in for Beaumont and Fort Worth. (Beaumont eventually missed out on the playoffs.) To his great surprise and delight, on August 16 – the day before his twenty-first birthday – Rudy received word to report to the Detroit Tigers. The Tigers, fighting for a pennant of their own, decided to bring Rudy up to the major leagues with the hope that he might provide some power off the bench. Writing to Ed Sharpe, former Atco manager, Rudy said, "This is the happiest moment of my life!"28 Rudy spent his twenty-first birthday riding the train to Detroit, where he briefly met with the press at Navin Field before traveling on to join the team in Boston. He told the Detroit scribes, "It sure is surprising to be greeted like this….Three days ago I had no idea I would see this place until next spring, and it was quite a surprise when the Tigers sent for me."29 The press wasted no time playing up Rudy's Native American heritage, introducing him as the "Cherokee home run king": "York has been widely heralded as an Indian. In the south they called him 'Chief' and took his picture wearing head feathers and swinging a tomahawk…when he played in Tulsa or Oklahoma City, the braves from miles around came to see him perform."30 Rudy's own reaction to the interest in his background is proof that the press paid more attention to it than Rudy ever did. Noting the extent of his Native American ancestry was "greatly exaggerated," Rudy went on to say, "There is some Cherokee blood in our family, but it goes a long way back. I really never tried to trace it and don't know much about it. I suppose I've got about as much Indian blood as Jack Dempsey."31
Detroit fans were told scouts and others familiar with Rudy's performance in the Texas League were very high on him. "York hits the ball as hard as Rogers Hornsby ever did. His home runs are not of the Ruthian variety, long driven flies, but sizzle off the walls or clear the fences on a line."32 Fort Worth manager Del Pratt said "York is as good right now as Heinie Manush was when he broke into the majors."33 Sam Greene of the Detroit News wrote "Scouts covering the Texas territory say that York's record reflects the work of a natural hitter, of a man who looked better than Joe Medwick of the Cardinals, Henry Greenberg of (the) Tigers and Zeke Bonura of the White Sox did when they were breaking down the fences of the Lone Star circuit."34
Rudy made his major league debut as a pinch-hitter on August 22, striking out against Earl Whitehill of the Senators. Rudy did not play again until the final week of the season after the Tigers had wrapped up the American League pennant. Some reports claimed Rudy, already a big man, put on weight during his period of inactivity with Detroit and that manager Mickey Cochrane was not impressed with his catching skills. Rudy was on the Tiger roster for the 1934 World Series but did not make an appearance in the fall classic. At the end of the season, Rudy was reassigned to the Beaumont roster.
The Exporters were still determined to drive a square peg into a round hole. As the 1935 team headed into spring training, "Exporter scouts believe that York's place is behind the platter, and he is going to be given every opportunity to show his stuff in mask and protector…"35 and, on the eve of the opening game of the season, "Rudy is considered one of the greatest catching prospects in baseball.…[he] throws a ball like a 30-30….is rapidly rounding into a heads-up catcher, though his work behind the platter has been comparatively short….As Rudy goes this year, so will the Exporters, and lots is expected of the big fellow."36
Rudy began the season as the Exporters' main catcher, with manager Dutch Lorbeer providing occasional relief. The Exporters got off to a hot start, but by the end of May they were struggling to stay in the upper division of the league's standings. Rudy, who batted well over .300 during the first three weeks of the season, saw his average drop to .279 by the end of May, and he was struggling behind the plate as well. On May 30, Lorbeer moved Rudy to first base to replace George Archie and installed himself as the Exporters' primary catcher. Rudy received a number of compliments on his play at first base in his first few games there, and by June 5 the Journal was reporting that the Exporters planned to leave Rudy at first.
Rudy began a hitting barrage after his switch to first base that moved him to the front of the home run race, while his average slowly began moving towards the .300 mark. By the beginning of August the Exporters were back at the top of the Texas League's standings. They could not fight off the Oklahoma City Indians, however, and finished second by four games. Beaumont beat third place Galveston, three games to two, in the first round of the playoffs. In the championship series, Oklahoma City reinforced its standing as the best team in the league by defeating Beaumont four games to one. For the season, Rudy hit .301 and led the league in home runs (32), runs batted in (117) and total bases (198) and was voted the league's Most Valuable Player for his efforts.
Although Rudy was destined to ply his trade for the Milwaukee Brewers of the American Association in 1936, his assignment to the Brewers did not come without some spring training intrigue. Rudy's MVP season in Beaumont earned him an invitation to train with the Tigers in Lakeland, Florida that spring. Cochrane was surprised and pleased to find Rudy in excellent physical condition; Charles Ward noted that Rudy "…is built on the lines of a battleship."37 His conversion to first base served the Tigers' immediate needs as well. The start of spring training found first baseman Hank Greenberg in a contract squabble with the Tigers' front office. Greenberg had led the Tigers to the 1935 AL pennant and was voted the league's MVP. He was fully recovered from the broken wrist he suffered in Game 2 of the 1935 World Series and expected to be rewarded appropriately for his fine 1935 season. While Hank whiled away his time in New York waiting for the Tigers to improve their offer, Rudy put on powerful performances early in camp while playing first base in Greenberg's stead, and the Tigers made sure the press knew how happy they were with Rudy's play throughout the spring schedule. After just the first intra-squad game, Charles Ward reflected:
"This York person has proved himself quite a powerhouse, even when compared to the hard-hitting Hank Greenberg. He seems able to hit a ball no matter where it is placed just so long as it comes near the plate. And he has the power to give the ball wings once he gets hold of it….Despite Greenberg's great record…York may prove to be a distinct threat to him before the next season is over…. [he] has gotten over the stage fright that afflicted him when he was a member of the team two years ago….it must be said that he looks like a better ballplayer than Greenberg did the year he came up. However, Hank developed fast."38
Two weeks into spring training, Associated Press writer Paul Mickelson proclaimed, "Cochrane is so impressed with another rookie, Rudolph York from Beaumont, that scribes with the team expect him to let him play the opening game if for no other reason than to show big Hank that York is a qualified replacement."39 A few days later, the Tigers received some help in their public efforts to put the squeeze on Greenberg. AL President William Harridge singled out Rudy and Joe DiMaggio as the most promising rookies in the league that year and, when asked to choose between them "…his nod – very slight – goes to the Detroit youngster." Harridge continued: "In the Tiger camp, they weren't saying a thing about holdout Hank Greenberg…York looks like he'll deliver in great style. He's a powerful hitter and fields in major league manner."40
The public relations campaign was effective, if unnecessary. The next day it was announced Hank had decided to travel to Florida to work out his contract with the Tigers. The Detroit press never took Hank's holdout or the Tigers' promotion of York too seriously; as W.W. Edgar wrote on March 10, "…not by the wildest stretch of the imagination can one picture him [Greenberg] sitting on the sidelines. Neither can one picture Rudy York taking over his job. Greenberg will be back at first base when the season opens. Make no mistake about that."41 While Mickey Cochrane would have loved to have Rudy's bat in the lineup every day, the fact was there was no room for him on the roster. A place in the outfield was the only possible alternative to first base, but Detroit was already loaded with outfielders for 1936. Rudy himself knew he had little chance of displacing Hank at first base. When asked how he expected to win a place on the roster, Rudy remarked that he didn't "expect" anything; Mickey Cochrane got paid to make those decisions. But if it were up to him, Rudy would move Greenberg to left field, not because he felt he was better than Hank at first, but rather because Hank would make a better outfielder than Rudy. "I don't think much of my chances in the outfield."42 Rudy was optioned to Milwaukee the first week of April.
The Brewers, managed by former major league hurler Al Sothoron, had disappointed Milwaukee fans in 1935 but were expected to be a strong contender for the American Association title in 1936. The Brewers had a solid lineup with Rudy, second baseman Eddie Hope, shortstop "Wimpy" Wilburn and third baseman Lin Storti manning the infield; local favorites Chet Laabs and Ted Gullic patrolled the outer gardens along with Chet Morgan. Center fielder Frenchy Uhalt, purchased from Oakland in mid-May after Gullic went down with a broken ankle, solidified the outfield and provided a good bat and much needed speed at the top of the lineup. George Detore and Bill Brenzel shared the catching chores for most of the year. The pitching staff was led by Joe Heving, Clyde Hatter, Luke Hamlin and Tot Pressnell.
Anticipating Rudy's assignment to Milwaukee before the Greenberg drama began to play out in full, Sothoron said, "Rudy…will be one of the most popular players we'll have in Milwaukee this year. York, who is part Indian, showed me he is the kind of slugger our town will rave about."43 Rudy also was singled out for his enthusiasm and leadership on the field as well. On the eve of opening day, Sam Levy of the Milwaukee Journal wrote "York…is the spark plug of the entire club. Aggressiveness and fight are his motto and his steady patter around first base already has had a noticeable effect on the rest of the players."44 Two weeks into the season, Brewer owner Heinie Bendinger even commented, "…you can hear that fellow York all the time."45
Rudy and the Brewers got off to slow starts on their season-opening road trip through the league's eastern loop. They arrived in Milwaukee at the end of April playing just well enough to stay in the upper division of the standings and hoping the cozy confines of Borchert Field would awaken their bats from an early season slumber. Before the home schedule could get underway, the Brewers were temporarily jolted by the possibility they would lose Rudy to the Tigers after all. On April 29, Hank Greenberg broke his right wrist, the same arm that had been injured during the World Series the previous fall. It was natural to assume the Tigers would recall Rudy from Milwaukee to fill in for their injured star. This option apparently received scant consideration. Cochrane quickly decided to go with an experienced first sacker, trading pitcher Elon Hogsett to the Browns for Jack Burns.46 Milwaukee fans and manager Sothoron certainly weren't complaining. As Sothoron told the Journal "…Everybody on the club realizes Rudy's value to the team. If we had lost the Chief on the eve of our opening game with Louisville…it might have affected the entire club."47 Rudy stayed in Milwaukee, and the initial home stand provided the spark that Sothoron, the players and the fans had hoped for. By the end of May, the Brewers had moved into the league lead by one-half games over Kansas City. Rudy led the Brewer regulars with a .341 average and was tied with Chet Laabs for the team lead with 42 runs driven in. There was a spirited race for the team home run lead as well; Laabs led with 14 round-trippers, while Rudy and Lin Storti were tied with 10 apiece.
The Brewers led the league at the halfway point in the season, which entitled them to host the American Association All-Star game. Rudy was named to the All-Star team, although he actually played for the Brewers against the All-Stars from the other teams. The All-Stars defeated the Brewers, 9-5; Rudy went 2 for 4 with a double.
After the All-Star game, Milwaukee and St. Paul battled for the league lead until the Brewers, thanks to a 22-7 home stand in August, built an 11 ½ game lead. Rudy went over the 100-RBI mark on August 1, and other teams were starting to show interest in him. Sam Levy of the Journal disclosed that the Cubs were particularly interested in acquiring York, but the Tigers had no plans to trade him and would keep Rudy in Detroit in 1937 as insurance against further injury to Greenberg. Speaking of Rudy's aggressiveness and leadership, Levy wrote "…none of the players who are farmed out by the Detroit club possesses the vim, vigor and aggressiveness of Chief York. The big first sacker, the spark plug of the Brewer machine, fights just as hard when his club shows a large deficit in the scoring column as he does when it is in position to coast along."48 Levy's high opinion of Rudy was shared by others around the league. Minneapolis manager Donie Bush told Levy "I've had a high opinion of his ability ever since I saw him the first time we played your club in Florida. Any big fellow who moves around as fast as York does and has that long distance hitting power is my ideal."49
Rudy and the Brewers went into a mild slump after their impressive August home stand, but they clinched the pennant – their first since 1914 – with a doubleheader sweep over Minneapolis on September 3rd. Their end-of-season slump was quickly forgotten once the playoffs began. Led by the big bats of Rudy and Chet Laabs, along with solid pitching from each of the four starters, the Brewers swept the Kansas City Blues, four games to none, in the first round. Rudy went 6 for 16 with four runs driven in, and he and Laabs both hit two home runs in the series. Solid hitting performances up and down the lineup allowed the Brewers to breeze to the American Association championship over the Indianapolis Indians, 4 games to 1, in the final playoff series. Milwaukee hit .305 as a team in the series; Rudy and Laabs each drove in five runs.
Their win over Indianapolis entitled Milwaukee to face Ray Schalk's Buffalo Bisons, champions of the International League, in the Little World Series. The first three games were played in Milwaukee, a huge advantage that the Brewers capitalized on by sweeping the three games. Tot Pressnell won each of the first two games, pitching in relief of Joe Heving in the first game and Clyde Hatter in game two. Back in their home park, Buffalo won the fourth game of the series but Pressnell, this time in a starting role, closed out the series on October 1 with an 8-3 win. Rudy's bat was relatively quiet against Buffalo, as he knocked in just three runs in the series.
Thanks to the Brewers success that year, Milwaukee drew 250,000 fans in 1936, more than doubling the attendance from the previous year. Rudy finished the regular season with a team-leading .334 average (including 207 hits), and he was second on the team in homers (37) and runs batted in (148), finishing just behind Laabs in both categories. He was fifth in the league in slugging percentage (.620). Rudy won his second straight MVP award, edging out St. Paul pitcher Lou Fette who won 25 games for the Saints that year. He was also a fan favorite, winning their vote as team MVP in a poll sponsored by the Milwaukee Junior Chamber of Commerce. Rudy was even offered a one-week engagement at a local vaudeville theater, along with Laabs and Frenchy Uhalt, although there is no evidence Rudy cashed in on that offer.
The local press expressed tremendous pride in the accomplishments of Rudy and his teammates. Sports editor R. G. Lynch commented: "…it may be years before Milwaukee has a baseball team like the 1936 outfit…. How often do you find on one team the niftiest double play combination…the fanciest fielding first baseman…and a couple of young sluggers headed for the major leagues?… It's a pleasure to watch Rudy York operate around first base. He's a moose but amazingly agile for a big man, and the way he waves that leather claw of his through the air and picks off the ball never fails to cause comment among the crowd."50 Sam Levy, the Brewers' beat writer from the Journal, wrote at the end of the season: "Laabs and York! How we'll miss them dynamite twins in 1937. Two men of iron! Think of it – neither missed an inning throughout the trying 154-game schedule. There were times when Chief suffered hurts, minor hurts to him, but he never gave them a thought. Most players under similar circumstances would have 'jaked' – sought a rest."51
Perhaps Rudy's most significant bonus arrived near the end of October when Violet gave birth to their second child, Joe Wilburn York. Joe's middle name was selected as a tribute to Rudy's Milwaukee teammate, Chet "Wimpy" Wilburn.
Rudy's performance in Milwaukee virtually assured him of a place on Detroit's roster in 1937. He had nothing left to prove as a minor leaguer, and Mickey Cochrane was anxious to add Rudy's bat to the Tiger lineup in 1937. The only problem was where Rudy would play in the field. Hank Greenberg was well established at first base, and although Mickey Cochrane suggested that Greenberg might be moved to the outfield to make way for Rudy at first, Hank was having no part of it. "The only way I'll play the outfield is if Rudy York is a better first baseman than I am. I'm a first baseman by inclination…. I'll play first base unless Rudy can beat me out. Everything I hear is that he is quite a first baseman, the best the American Association ever turned out."52
For his part, Rudy much preferred to play first base, but he knew he had no better chance of displacing Greenberg in 1937 than he'd had in 1936. "If I don't play first base for the Tigers I'll play for somebody else. They can send me out just so often and then they'll have to do something about it. I'll play first base for some big league team and I don't care much which one it is so long as I get my pay regularly,"53 he told Charles Ward, and he later admitted to W.W. Edgar, "I'll give him a battle, but nobody is taking Greenberg's job away from him yet. That job is his if he's able to play."54
Rudy refused to sign the first contract he received in 1937, suggesting that as a two-time minor league MVP he deserved a little better consideration from the parent club. Ward believed Rudy's brief holdout might have been designed to put pressure on the Detroit club to "play me or trade me": "… it is also possible that Rudy's 'holdout' is motivated by Hank Greenberg, and that his demands for money are merely a means to an end. That end would be, of course, a railroad ticket to some major league city other than Detroit."55 Rudy and the Tiger management settled their differences before spring training started.
By the time spring training came around, Mickey Cochrane had abandoned the idea of shifting Greenberg to the outfield, but he was still anxious to find a place for Rudy in the Tigers' everyday lineup: "We are going to shift him around until we find a place for him. I'd like to make use of Rudy's power with the stick…I might send him over to third base and see what he does. If he can play first, Rudy should also be able to play third….and if he doesn't fit in there, we'll try him in the outfield. I'd hate to see all that batting power go to waste."56 Rudy spent virtually all of his time at third base during spring training. Coach Del Baker spent hours hitting balls to Rudy to help him learn the position. Cochrane acknowledged that it would be a tough decision to replace incumbent third baseman Marv Owen with someone as untested as Rudy, but that decision would hinge to a large extent on the status of the Tigers' starting pitching. "[I]f we are going to be weak on the mound, we'll have to sacrifice our defensive strength for power at the plate. We'll need all the heavy hitters we can get because it's a cinch the other fellows are going to get some runs and we'll just have to try and outscore them."57 Midway through spring training, H.G. Salsinger wrote, "Cochrane is much impressed with York's work at third base. 'If he makes up his mind that he can play third, he should be a top-notch third-sacker. There's no question, of course, about his hitting ability.'"58 Despite Cochrane's optimism, press accounts of the Tigers' spring games made frequent mention of Rudy's problems in the field. As spring training came to a close, Cochrane seemed to change his mind almost every day. At the end of training, Mickey had decided to move Owen back to third base, all the while lamenting, "It is almost a crime to keep those fellows out of regular jobs, but I don't see how they can get them on our club. On any other club in the majors, both York and Croucher would be stars, and yet here they are the victims of fate that keeps them off a club."59 By the time the Tigers got back to Detroit for the season opener on April 20, Cochrane had changed his mind again. Black Mike conceded: "Don't see how I can afford to keep York on the bench. He has shown me so much batting power, which we certainly can use, that it looks like the proper thing to do is to have him in our lineup….his defensive play has not been so bad either. He's made a couple of wrong moves because of inexperience at that base, but I think he'll get over that shortly. All he seemingly has to do is tap the ball to hit it out of the park…"60
Rudy was in the opening day lineup at third base as Eldon Auker outdueled the Indians' Mel Harder for a 4-3 victory. Rudy singled in two official at-bats. Noting the enthusiasm of the crowd that day, Doc Holst wrote, "For the first time since Chief Hogsett left Navin Field the fans had a chance to exercise their knowledge of Indian war cries. They started it when Rudy York came to bat."61 During the game, however, Auker tried to cover for Rudy on two bunt plays, failing to get the runner in both cases. "How well York can play bunted balls remains to be seen. Auker showed no confidence in York's ability."62
Rudy hit his first major league home run on April 29 against the White Sox' Earl Whitehill, but by early May his defensive liabilities were too obvious to overlook. In addition to mishandling a grounder in one game in early May, "York also let a pop fly get away from him while the crowd groaned. Rudy misjudged another pop foul, but escaped being charged with an error simply because he misjudged it so badly he couldn't get his hands on it."63 In addition to his difficulty with bunts and pop-ups, Rudy couldn't go to his right or left. The Detroit crowd increasingly expressed its impatience with Rudy's fielding, and their catcalls affected him at the plate. Owen replaced him soon thereafter, and Rudy spent most of the month of May on the bench.
The Tigers were dealt a severe blow on May 25 when Cochrane was hit in the head by a pitch from the Yankees' Bump Hadley, ending the future Hall of Famer's playing career. From a baseball perspective, Cochrane's loss was one for which the Tigers were ill prepared. Many people think Rudy replaced Cochrane as catcher immediately after the beaning. This was not the case; Birdie Tebbetts took over the catching duties after Cochrane was injured.64 Rudy remained on the bench and was actually sent to AA Toledo in early June, although he was recalled a day later after Owen suffered a broken arm. Even then, however, Rudy could not get back in the lineup right away. Interim manager Cy Perkins65 waited until mid-June, when Detroit left town for an extended road trip, to put Rudy back at third base, thinking that he would have less pressure on him playing away from the glare of the hometown fans.
Although his fielding continued to be a problem, Rudy's offensive output improved considerably with his return to the lineup. He hit 11 home runs with 34 runs batted in between June 16 and July 23, but he also was charged with 6 official errors during that stretch, not to mention the balls he couldn't make a play on that went for base hits. During the game of July 1, "…the White Sox had a hunch that maybe the big Indian at third base (Mr. Rudy York) wasn't so hot in fielding bunts and so they began bunting toward third. That kind of strategy is not good for a big Indian."66 Birdie Tebbetts had to come out from behind the plate to field the bunts put down in Rudy's direction. Two days later, "York missed on four balls today that went for hits. Three of these York-made hits made two runs possible. Driving in four runs in the second inning and scoring another after doubling in the seventh, York finished the day three runs up."67 On July 5th he failed to make the play on two routine grounders, both of which led to 2 runs, but Rudy hit a home run to win the game and "…all was forgotten when York hit for the circuit. He left the field, grinning, the hero rather that the villain of the Tiger cast."68 A few days later, "Averill hit a perfect double play ball to York's left but York never moved his feet an inch, simply waving his glove hand at the ball as it passed him."69 His poor fielding once again became too much to bear. Owen replaced Rudy at third in late July. Mickey Cochrane returned to his manager's post a few days later and agreed Rudy was unsuitable at third base. Detroit was still in desperate need of offensive punch in their attempt to gain ground on the league-leading Yankees; after a week on the bench and with Birdie Tebbetts barely batting .200, Cochrane decided to put York behind the plate for the game of August 4 against the Athletics in Philadelphia. York was not anxious to assume the club's catching duties. He didn't like catching because it required "…too much thinking to get any fun out of baseball,"70 but he agreed to do it if Cochrane would leave him there. Cochrane assured York that he would give him every chance to settle in and do well. Rudy responded by breaking a home run record held by the great Babe Ruth.
Rudy hit home runs in four of the first six games in which he appeared behind the plate. By August 19 he had produced 8 homers and 27 runs batted in for the month, numbers that would have reflected an excellent full-month's showing for most other players. But Rudy wasn't through. The first game of a doubleheader on August 22 began a streak of 5 consecutive games in which he hit at least one home run (he hit two in the first game of an August 24 doubleheader), producing 12 more runs batted in along the way. Heading into the game of August 31 against Washington's Pete Appleton, Rudy had 16 home runs for the month, just one shy of Ruth's record of 17 in a calendar month set in September 1927. Rudy came through in a big way that day, hitting two home runs and knocking in seven runs, which gave him 49 runs batted in for the month of August.71 Doc Holst noted that the 7,000 fans in Navin Field that day "…saw that it was York's day to establish himself as a greater home run hitter than Ruth and the Indian delivered."72
But what about Rudy's catching? Cochrane left Rudy behind the plate for the rest of the 1937 season. Cochrane presented Rudy's case to the press quite positively during that time, although there is plenty of anecdotal evidence to suggest that Rudy was hardly an All-Star catcher. He was charged with nine errors during his time behind the plate in addition to 12 passed balls, while throwing out just 28% of runners attempting to steal against him (the league average for runners caught stealing in 1937 was 38%). Still, Cochrane tried to convince the press he had solved the conundrum of where to play Rudy. After Rudy's first game as catcher, Cochrane told the press "That fellow looks all right behind the plate. He seems to know what the business is all about, and he can hit and throw. I think he will make good."73 Just a few days later, with trade rumors swirling around Rudy, Cochrane noted, "We could use some pitching strength, I'll admit, but we're not letting York go…I haven't seen any wild pitches get past him. He seems to have found his spot as catcher."74
Of a game on August 10 in which Tiger pitcher George Gill suffered from bouts of wildness, Charles Ward commented: "When George went to the mound he proved to the complete satisfaction of the 11,500 witnesses that York can stop wild pitches if he can do no other task that is required of a catcher. Rudy stopped them to the right of him and to the left of him, high and low." Ward also pointed out that many catchers have trouble when first learning to handle a pitching staff. Describing Rudy and Gill's difficulty in getting together on signals, Ward said, "….Rudy probably was calling the pitches in the Cherokee sign language while George, for all anybody could tell, knew only the Choctaw….Twice while Bonura was being walked, York called time and asked for a pow-wow."75 Later, Cochrane told Sam Greene, "He has improved fast in the few games he has been back there. He is not yet fully familiar with the weaknesses of the batters but he is learning. It won't take him long to iron out the few mechanical flaws he has. I'm sure that he is our best catching prospect for next year. If he fills the bill he will solve our biggest problem, outside of pitching."76
Offensively, Rudy cooled off a bit during the month of September. He spent several days in the hospital with an infected arm, a malady that originated when he accidently trimmed his nails too closely and opened a cut on one of his fingers. He finished the year with a .307 average, 35 home runs (which tied the American League rookie record) and 103 runs batted in, all in just 375 official at-bats. Although the Tigers finished in second place, 13 games behind the Yankees, Rudy's late home run surge and his race with Hank Greenberg for the club home run title, along with Charley Gehringer's run at a batting crown and eventual MVP title, kept the turnstiles humming at Navin Field in 1937; the Tigers finished first in the league in attendance, drawing just over 1 million fans. Towards the end of the season, Charles Ward wrote "… (York) is now rated as the finest young catching prospect in baseball. Not only that, but he is being acclaimed by critics as the prize rookie of the year"77 and, after the season was over, "…you can't…help but wonder what the Chieftan will do next season when he can play a full string of games."78 The Sporting News named Rudy to its All-Rookie Team for 1937.
Detroit 1938-1939
The Tigers' catching situation would be a constant source of concern for Mickey Cochrane heading into the 1938 season. Tigers owner Walter Briggs denied Cochrane permission to be reinstated as an active player, presumably out of concern for Mickey's health, eliminating that option behind the plate. Sam Greene observed before spring training ever started, that Rudy "…is not a polished receiver… is not yet a dependable thrower. He is not an inspiring partner for a sagging pitcher…. Cochrane will have to do a great deal of work with the Cherokee clouter before he is the kind of maskman required on a pennant winner."79 Cochrane indeed worked with York in spring training to try to improve his mechanics; progress was characterized as sufficient if somewhat minimal. Cochrane knew that Birdie Tebbetts was an outstanding catcher and instilled more confidence in the pitching staff than York ever could, but York's slugging made him the number one catcher. His hitting also bought him his first taste of widespread national exposure among the general public when he made the cover of Newsweek magazine with the caption "Rudy York: Greatest slugger since Babe Ruth?"80 Rudy began the season as the starting catcher, but things went downhill fast. Besides his limitations behind the plate, he got off to his typical slow start at the plate. Two weeks into the season, Cochrane installed Tebbetts as catcher and moved Rudy to left field, suggesting this would be his new position. Rudy made an error in his very first game in left field and generally seemed uncomfortable in the outfield. He didn't stay there long, however; in his second game in the outfield on May 5, Tebbetts got into a fight with the Red Sox' Ben Chapman, was ejected from the game and suspended several games by the league. Rudy returned to catching duties temporarily during Tebbetts' forced vacation. Luckily, Rudy's batting stroke returned at about the same time; he hit nine home runs during the month of May, including three grand slams. He went back to left field upon Tebbetts' reinstatement and played there the last half of the month, but his poor fielding forced Cochrane to throw up his hands in frustration and put him back behind the plate. York spent most of the rest of the season as the Tigers' primary catcher and his offensive contributions kept the Tigers' slim pennant hopes alive. At the end of June, Sam Greene claimed: "It is no more than fair to say that York has been the main factor in keeping Detroit within hailing distance of the leaders. Despite flaws in his defense, the Cherokee has been more valuable than any other individual. His long distance clouting has been both a mechanical and a moral force, pounding runs across the plate for the Tigers, giving them hope when behind and often providing the basis of exultation when ahead."81
The Tigers floundered around the .500 mark for most of the summer, mostly due to poor starting pitching. Rudy was named to the AL All-Star team and struck out in a pinch-hitting role. He missed a week after being hit in the head by a pitch on July 21 from Washington's Monte Weaver. Mickey Cochrane was fired on August 6 with the Tigers mired in fifth place with a record of 47-51. Arch Ward of the Chicago Daily Tribune went as far as to say Rudy and Hank Greenberg were partly responsible for Cochrane's firing because they often ignored Cochrane's signals while focusing too much on home runs.82 Del Baker took over the managerial reigns of the club and led it to a 37-19 record over the remainder of the season to finish in fourth place. For the season, Rudy hit .298 with 33 home runs, including a record-tying 4 grand slams,83 and 127 runs batted in.
Reports in the off-season indicated Del Baker was giving serious consideration to moving Rudy back to the outfield for 1939. The Tigers' starting pitching had struggled in 1938, and Baker believed Birdie Tebbetts would do a much better job of helping the pitching staff find their rhythm. The Tigers also were high on newcomer Dixie Parsons as a back-up to Tebbetts, making Rudy expendable behind the plate. Baker believed that Rudy had never been given a real chance in the outfield; he had been thrown into the outfield in 1938 during the season and expected to perform like an experienced outfielder without any chance to acclimate himself to the position. Baker felt that if Rudy could have an entire spring training to learn the position he would become at least an average outfielder, which would have been perfectly acceptable to the Tigers. The offseason also gave birth to new trade rumors. The most significant rumor had Rudy going to the Athletics for outfielder Bob Johnson and third baseman Bill Werber. Such a trade would have filled two holes for the Tigers, but the deal was never consummated. Rudy's name also was mentioned in a possible multi-player trade with Washington for shortstop Cecil Travis but that rumor also died on the vine.
Baker's plan to return Rudy to the outfield was derailed prior to spring training by Rudy himself. Rudy notified the Tiger brass that he did not want to move to the outfield. He preferred, instead, to remain a catcher, and Del Baker eventually decided to drop the idea. Heading into the season, however, a consensus finally seems to have emerged that "York is not a good catcher and … he will not likely ever be a member of the top class of receivers…. [Tebbetts] is a much better catcher than York; better than York probably ever will be."84 York's refusal to move to the outfield created problems for the team's outer garden as well. The outfield candidates lacked punch, with the exception of Chet Laabs who couldn't seem to find the consistency at the plate needed to win a starting job in the outfield. The Tigers were all set with Pete Fox in right field, but Baker was having difficulty finding suitable players from the likes of Laabs, Dixie Walker, Roy Cullenbine, Barney McCoskey, Frank Secory and Les Fleming for the other two outfield spots. Rudy began the season as the starting catcher but soon missed several games due to a relatively minor health problem; he ended up sharing the catching duties with Tebbetts for most of the summer. He missed time in July with a split finger, and then moved to first base in mid-August when a slumping Greenberg was briefly benched and then suffered a pulled muscle in his side shortly after his return to the lineup. Rudy returned to a platoon situation behind the plate in early September. The Tigers were never in pennant contention in 1939; they finished in fifth place with an 81-73 record. Rudy, his playing time significantly reduced (he had just 329 official at-bats) hit .307 with 20 home runs and 68 runs batted in. By the end of the year, it was clear that Birdie Tebbetts would be the Tigers' first-string catcher. Detroit was going to have to make a difficult personnel decision of some type if Rudy was going to remain with the club.
There was much speculation early in the offseason as to what that move would be. It was widely reported that the Tigers were open to trading either Greenberg or York, and that Washington was still interested in acquiring either one. The pundits also concluded that Detroit might well part with Greenberg instead of York, in part to rid itself of Hank's high salary and to avoid the usual haggling with Greenberg on his salary for the following year. The assumption was that the Tigers would ask Hank to take a cut in salary for 1940, a request Greenberg was likely to resist. Now, the Tigers had some ammunition in their salary battle with Greenberg. According to Sam Greene, "York has established himself as a long-distance hitter, regardless of the pitching, and this year he proved adequate at first base when called upon to substitute for Greenberg. As a matter of fact, York's work was a revelation, given the slip-shod performances he had previously given at third base and in the outfield."85
Greenberg could be replaced without sacrificing too much either at the plate or in the field; the Tigers might actually be better off if they could fill a hole in their starting rotation or the outfield by trading him. By the time of the winter meetings in Cincinnati, however, Clark Griffith of the Senators was more interested in York, offering Cecil Travis in return. A trade never materialized. Reports of possible interest in Rudy from the Boston Red Sox and New York Yankees also passed without any action being taken. The winter meetings came and went with both Greenberg and York still on the Tigers' roster. Other rumors coming out of the winter meetings loomed more ominously for the Tigers.
During much of 1939, Commissioner Landis, never a fan of farm systems, had been investigating the Tigers' manipulation of player contracts in their minor league system. By the time of the winter meetings, rumors were rampant that the Commissioner would be announcing his decision soon, and that the Tigers were going to be severely penalized for various improprieties.86 Among the rumors was one claiming Rudy would be declared a free agent. If that should occur, he would be able to sell his services to any club he wished for whatever amount could be agreed upon. Some speculated that Rudy might be able to get almost $100,000 on the open market; Washington Post columnist Shirley Povich likened Landis to Rudy's personal Santa Claus, and made a strong argument why Rudy was likely to wind up in the Yankee fold.87
The answer to Detroit's first base dilemma came in late January 1940. The solution no doubt emanated partly from Commissioner Landis's decision in early January to penalize the Tigers for improper farm team player manipulations. The commissioner granted free agency to 91 players in the Tigers' system.88 Rudy, however, was not one of those affected by the ruling. One of those granted free agency was Benny McCoy, who the Tigers had traded to the Athletics for outfielder Wally Moses during the winter meetings the previous month. Landis's decision had the effect of negating the trade, and the Tigers needed to find another solution to their long simmering problem of a lack of outfield punch. With spring training staring them in the face, the Tigers announced that Greenberg had acquiesced to the Tigers' request to try to learn to play the outfield; if he could make the transition successfully, the Tigers could move Rudy to first base and have both of their big guns in their lineup on a regular basis. It was later revealed the Tigers gave Greenberg a significant salary boost in return for his cooperation.89
Detroit 1940–1945
Having finally shifted Greenberg to left field and installed Rudy at first, the Tigers fielded a very competitive team in 1940. Led by Greenberg, York, Charlie Gehringer and Barney McCoskey at the plate, Bobo Newsom and a rejuvenated Schoolboy Rowe on the mound, the Tigers moved into first place on July 2 and clinched the AL pennant on September 27 with a 2-0 road win over Cleveland. Rudy provided the winning blow in that game, a 4th inning 2-run homer off Bob Feller, who for years afterwards complained it was a "cheap" wind-blown pop fly that just barely cleared the right field fence. For the season, Rudy hit .316 with 33 home runs and 134 runs batted in and did not miss a single game. He finished eighth in the MVP voting.90 The Tigers dropped the World Series to Cincinnati in 7 games. Rudy hit a 2-run home run to help the Tigers win Game 3 (his only RBIs of the Series), but hit just .231 overall.
One wonders what the Tigers might have accomplished from 1937 to 1939 if they had realized earlier that first base was the only viable option for Rudy. In addition to helping Detroit to pennants in 1940 and 1945, after taking over at first base he was in the lineup almost every day during his last for 6 years with the Tigers. In fact, from May 24, 1942 through July 30, 1942, Rudy held the active "iron man" title in the major leagues; his consecutive games played streak would reach 422 before ending on July 31.91 Rudy played in at least 150 games each year from 1940 through 1947. He was never drafted into military service (he was rejected in April 1944 because of a "loose knee") and was one of only 13 players in all of the majors to start each opening day game between 1941 and 1946.92 While his talent as a defensive first baseman is open to debate, on outward appearances his performance was certainly more than adequate. Fans marveled at his one-handed grabs of throws from the other infielders, and he routinely was among the league leaders in putouts, assists and double plays as a first baseman. In his years with the Tigers, his fielding percentage as a first baseman typically hovered around the .990 mark.93
Back home in Cartersville, Rudy and Violet's last child, Blanche, was born in September 1940. More than 60 years later she could still recall the times when some of her father's teammates, most notably Hank Greenberg and Dizzy Trout, would stop by the house on the way to spring training. Recalling one time when Greenberg spent the night with them, Blanche said, "He slept in Joe's bed. The next morning I knocked on the bedroom door and opened the door to tell him breakfast was ready. There were these two long legs dangling off my brother's bed. I closed the door as fast as I could. It was the funniest thing I had ever seen."94 She also remembered her mother "…wouldn't let Daddy whip the children. She was afraid he would hurt us because his hands were so big. One time, when I was 8 or 9, I left the yard when I wasn't supposed to and went down to a girlfriend's house a couple of houses away. I didn't go home when mother first called; I started home after she called a second time, and saw Daddy heading towards me. He met me halfway with a switch he had taken from the bushes behind the house. He swatted me all the way home. I kept trying to pull the bottom of my dress down to cover my legs. I hated those bushes for years. I swore I was going to burn them down."95
Rudy had become a local legend in the Atco community, particularly among the children. Atco native Grady Bryson Jr. remembered: "Everybody called him 'Big Rudy' but I didn't. I called him Mr. York… [he] was my hero. He was back home during the off season, and I think he had a Cadillac automobile. When he came through Atco, it was like the President, you know. Us kids would follow that car as he drove through the village. It was something else."96 Another Atco resident, Richard Jackson, fondly recalled, "Baseball was everything. We had Rudy York. We used to watch him when he practiced. He loved children and he'd say 'Okay, boys, what porch do you want me to put it on?' And he'd hit that ball and get it on that porch."97
The looming crisis associated with the United States' eventual entry into World War II would have a tremendous effect on major league baseball. Every team would be decimated by the loss of most of their top stars to military service. The Tigers lost Hank Greenberg to military service early in the 1941 season before the United States even got into the war; Charlie Gehringer slumped badly at the plate while Bobo Newsom and Schoolboy Rowe both regressed on the mound as the Tigers stumbled to a fifth-place finish. Rudy was the starting first baseman for the American League in the All-Star game that summer. Shortly afterwards, he suffered a broken bone in his left wrist that went undiagnosed until August; he continued to play, but the injury sapped the power from his bat for an extended period. His batting average dropped to .259 in 1941, but he still managed to hit 27 home runs and drive in 111 runs. His willingness to play with the injured wrist – he played in all 155 games in 1941 – took some of the sting out of what many observers considered to be a sub-par year. The Tigers finished tied for fourth that year, 26 games behind the Yankees.
Heading into the 1942 season, Rudy had his first major contract squabble with the Tigers. The Tigers, citing concerns about the war, wanted Rudy (and most of the other Tigers) to take a significant cut in salary, a demand Rudy did not take kindly to given his willingness to play with a cracked wrist in 1941.98 The salary dispute carried over to the beginning of spring training; reporting to camp without a contract, Rudy refused to accept Detroit's "take it or leave it" offer, and the Tigers told him to stay away from the camp until he signed. Rudy and his family prepared to return to Cartersville, but the parties came to an agreement before that became necessary. Rudy signed for $9,000, but a bonus clause gave Rudy the chance to earn an additional $5,000 if he drove in 100 runs that season.99 Charlie Gehringer retired after the 1941 season and was hired as a Tiger coach for 1942; although he was reactivated in May, his service was limited mostly to pinch-hitting. With an anemic offense and weak starting pitching, the Tigers struggled and finished in fifth place, costing manager Del Baker his job. Despite starting at first base in the All-Star game for the second straight year and hitting what would be the game winning, two-run home run in the first inning off of Mort Cooper in the Polo grounds, Rudy fell short of his bonus goal; he finished with a .260 batting average, 21 home runs and 90 runs batted in for the season. When it was over, Del Baker all but placed the blame for the Tigers' poor record on Rudy and Barney McCoskey: "I don't mean to be putting the blame on two good guys, but it must have been plain to everybody last spring that if Barney and Rudy didn't hit, we couldn't go anywhere…. Barney was off about 30 points and Rudy about 50. A club like ours couldn't stand such slumps by its best two hitters and still win."100
The Tigers replaced Del Baker with Steve O'Neill for the 1943 season. By now, virtually every team in the major leagues felt the full effects of the war on their rosters. Changes in the composition of the baseball put a stranglehold on offensive production early in the year. Wartime restrictions forced the manufacturers of baseballs to use a softer balata material around the cork in the center of the ball. The balata and characteristics of the glue used inside the balls caused the balls used early in the season to become much harder than usual, which had the effect of deadening the ball. Rudy did not hit his first home run until May 9 in the Tigers' fifteenth game of the season. It was the first home run hit by any Tiger that year.101 By the end of May, Rudy was hitting just .235 with 2 home runs and 11 runs batted in. His production steadily increased as the season progressed. He was named to the All-Star team for the fourth time that summer, but he still had just 13 homers by the end of July. Then Rudy went on another of his August rampages, hitting 17 home runs that month (just one shy of the single-month record he had set in August 1937) on his way to his league-leading 34 homers for the season. "Daddy used to say 'I could hit an aspirin out of the park in August'"102 recalled Joe York. He also led the league with 118 runs batted in while hitting .271. O'Neill got the team back over the .500 mark (78-76), but the Tigers again finished fifth in the standings. Rudy finished third in the MVP voting. His 34 homers represented 48.5% of the 70 home runs hit by the Tigers that year.
Ironically, while Rudy performed at reasonably high levels compared to overall league averages during the war years, he became the object of much scorn from the Tigers' faithful. Their displeasure began to show itself during the 1941 season, but the revelation that Rudy was playing with a broken hand allayed much of the fans' criticism that year. Recounting Rudy's problem with the Detroit fans, H.G. Salinger wrote in September 1943: "York got away to a bad start [in 1943] and soon found himself in a severe slump. He went from bad to worse….His fielding became as bad as his batting and he appeared to be on the verge of a nervous breakdown….The crowds at Briggs Stadium were 'riding' Rudy. Few players in history have ever been 'ridden' harder. They booed him from the time his name was announced in the starting lineup until the last man was out. They booed him every time he came to bat, every time he went after a batted ball, every time he took a throw. The razzing didn't start this year. The fans were 'aboard' York last season. He took an unmerciful booing all through 1942, and the booing increased with the start of the present season."103
Exactly what caused the fans' discontent isn't clear. With Greenberg gone, perhaps they expected too much of Rudy now that he was the only true power threat in the lineup. Perhaps they resented York's holdout prior to the 1942 season, particularly given the perceived decline in his offensive production. That, coupled with a slow start by Rudy and the general lack of firepower on the part of the Tigers in 1943, may have been the source of their wrath. Perhaps they weren't aware of the effect the new baseball had on offensive production in 1943, or of the general decline in offensive numbers throughout baseball during the war. Salsinger, who covered the team for the Detroit News, came to Rudy's defense in the summer of 1943, taking the Tiger fans to task for their behavior towards him. Rudy, as Salsinger pointed out, had been a good citizen during his tenure with Detroit, despite his holdout in 1942. He was a nice, generally quiet fellow. He gave his best on the diamond, even if he hadn't always been successful. He had persevered patiently when he was being bounced around between third base, the outfield and catcher early in his career. There was no doubt the fans' treatment towards him was affecting his play. Almost immediately, most fans' reaction to Rudy changed, at least for a while, and that coincided with Rudy's improvement at the plate in the last half of the season.
Things began to look up for the Tigers in 1944. Starting pitchers Dizzy Trout and Hal Newhouser won 56 games between them. Rudy, third baseman Pinky Higgins, outfielders Doc Cramer and Dick Wakefield led an improved offense. The Tigers went into the last game of the season tied for the league lead with the surprising St. Louis Browns. The Tigers and Dizzy Trout lost their final game at Washington, while the Browns, powered by Chet Laabs'104 2 home runs, defeated the Yankees to clinch their first and only AL pennant. Rudy made the All-Star team for the fifth time and finished with a .276 average, 18 homers and 98 runs batted in. While his 18 homers represented a significant decline in that category from 1943, it was still good for a tie for third place in the American League. Nick Etten led the league that year with just 22 home runs.
Rudy got off to another slow start in 1945, and the boo-birds came back. He didn't hit his first home run of the season until the first game of a doubleheader on May 27. Arch Ward of the Chicago Daily Tribune noted, "One of baseball's unsolved mysteries is the booing Rudy York still receives from the Detroit fans…. The Tigers certainly wouldn't have been a pennant threat last season without Rudy's big bat."105 Despite his slow start, the Tigers, behind outstanding pitching from Hal Newhouser, battled the Senators, Browns and Yankees for the league lead throughout the summer. Buoyed by Hank Greenberg's return to action on July 1, the Tigers clinched the pennant on the last day of the season when Greenberg hit a grand slam in the top of the 9th inning to beat St. Louis 6-3 in the first game of a scheduled doubleheader. For the season, Rudy hit .264 with 18 home runs and 87 runs batted in; his18 home runs were good for a tie for 2nd place (with teammate Roy Cullenbine and the Yankees' Nick Etten) in the American League, behind Vern Stephens' 24 homers. Hal Newhouser won his second straight MVP award, and Detroit won the 1945 Series in seven games over the Cubs behind the hitting of Hank Greenberg and Doc Cramer, and Newhouser's pitching. Rudy had just 5 hits in the Series; his single in the third inning of Game 3 was the only hit Claude Passeau gave up that day.
Looking ahead, the Tigers were faced with a problem for the 1946 season. It was obvious Greenberg's legs would no longer allow him to play the outfield. The Tigers also had a glut of other outfielders returning to the team after their service in the war. A move back to first base was inevitable for Greenberg, but that left the club with a decision on what to do about York. Rudy, it appeared to many, seemed to be slowing down. Justified or not, he had worn out his welcome with many of the Tiger fans. The Tigers went to the winter meeting in December 1945 with the hope of trading him, but came away empty handed. The Tigers finally traded Rudy to the Red Sox for shortstop Eddie Lake in January 1946.
Boston 1946-47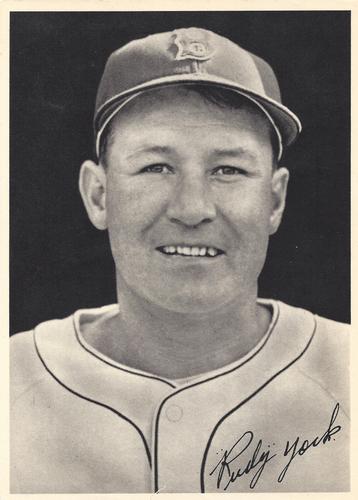 Rudy performed poorly at the Red Sox' spring training camp in 1946, and there was much consternation among the press that the trade with the Tigers was a bust. "The first base problem continues to go along without any signs of being solved," wrote Jack Malaney in early April. "York has not appeared to advantage at all this spring. He has been a total loss at the plate and he hasn't even done well afield. But Rudy never has done much in the spring…"106
When the regular season started, Rudy proved them all wrong and helped Boston get off to a 41-9 start, an all-time record for the best start to the season after 50 games.107 More importantly, the Red Sox had a 10-game lead on the Yankees by that point in the season and were never really threatened the rest of the way. Malaney commented in mid-July, "Of inestimable value to the team play has been Rudy York. The big Indian has been a team sparkplug. His first base play has been unusually firm and his scooping up of low throws has saved many an error. Rudy is the most enthusiastic of all the players…"108 Shortly after being named to his sixth All-Star game, Rudy enjoyed the best single day of his career on July 27 in St. Louis when he hit two grand slams and drove in 10 runs against the Browns. Boston reached the one million mark in attendance for the first time in its history on August 16 and clinched the AL pennant on September 13 in Cleveland. Earlier that week, Rudy learned his father had passed away on September 7.109
After clinching the pennant, manager Joe Cronin sent many of his regulars back to Boston to get some rest for the postseason. Rudy declined the opportunity to rest. "I'm a 154-game man" he said. Rudy finished the season with a .276 average, 17 home runs and 119 runs batted in. Rudy acquitted himself well at the plate in the 1946 World Series; his tenth-inning home run won Game 1 for the Sox while his 3-run home run in the first inning of Game 3 gave the Red Sox an early lead that they would never surrender. The Red Sox lost Game 7, and the Series, on Enos Slaughter's "mad dash" scoring play from first in the eighth inning. Rudy finished the Series with a .261 average, 2 home runs and 5 runs batted in. Back home in Cartersville after the Series, a banquet was held in Rudy's honor.
Ted Williams later said of Rudy: "He did an awful lot for our club that year. He had more information about more pitchers in the league than anybody. He was all the time stealing signs….[he] was a big, good-natured, easy-going Indian, but a powerful guy. I wouldn't have wanted him to get mad at me."110
Rudy did get mad at Williams at least once in 1946. Williams had shown a lack of hustle in the outfield one day, and Rudy confronted him in the dugout. "You're going to stop that," he said to the temperamental left fielder; "This means something to the rest of us. You're not going to do that anymore."111 Former teammate Don Gutteridge said years later, "Rudy was a good person to have in the clubhouse. He was older, more experienced, a stabilizer. He would talk to Williams, try to help Ted focus and get the most out of his talents, not just at the plate. Rudy wasn't part of the Boston clique. He wasn't with the team when Doerr, Pesky, DiMaggio and Williams were coming up together. He was an outsider and that made it easier for him to scold Ted….Rudy didn't get the credit he deserved for helping the Red Sox get the pennant. The others got all of the attention. But Rudy loved to hit at Fenway."112
In 1947, Rudy got off to the terribly slow start that everyone had feared in 1946. Furthermore, his fondness for alcohol may have begun to get the better of him. He was pulled out of his burning room at the Miles Standish Hotel late on the evening of April 25; Rudy had "fallen asleep" with a lit cigarette in his hand and witnesses indicated the room was strewn with liquor bottles. Some of his teammates took him away before too many people had a chance to witness his condition.113 Rudy's penchant for burning up hotel rooms this way was a source of frequent comment from teammates and the press over the years. Although the Boston incident is the only one that can be documented, Arch Ward wrote a year earlier, "Rudy York's Detroit roommates always wait to retire until he has fallen asleep. He has a habit of dozing off with a lighted cigarette in his hand."114 Charlie Gehringer later said, "He used to lead the league in burned-up mattresses…. I roomed with him for a year or two until I finally decided my chances were better in some other part of the hotel."115 Don Gutteridge claimed there were other incidents, possibly in Washington and/or Chicago, but he couldn't remember any details.
Rudy played his last game for the Red Sox on June 13 against Chicago; batting just .212 at the time, he was traded to the White Sox for first baseman Jake Jones after the game. After a day off because of rain, Rudy faced his old teammates in a doubleheader loss at Fenway Park on June 15. The trade looked even better to Red Sox fans when Jones hit home runs in both games, including a game-winning grand slam in the second contest.
When asked about Rudy's drinking, Don Gutteridge acknowledged that Rudy enjoyed bending his elbow, but "…he never caused trouble intentionally. Rudy would drink alone a lot of times in his room. We had a lot of spare time, particularly on the road. Rudy would drink and smoke and fall asleep, drop a cigarette and next thing you knew, you had a fire." Gutteridge indicated Rudy's skills seemed to be deteriorating in 1947, possibly from the drinking, and, in his opinion, that probably led to the trade. Still, "Rudy had a good personality; he was easy to get along with….He was a nice, quiet man."116
Playing out the string
Rudy hit a little better after joining the White Sox; he was named to his seventh, and last, All-Star team in July. He hit what turned out to be his last major league home run on September 18 against Spec Shea in a 3-1 loss at Yankee Stadium. The White Sox finished sixth that year with a record of 70-84. Rudy finished the season with an average of .243, 21 home runs and 91 runs batted in. He was released by the White Sox in January 1948.
Connie Mack signed Rudy for the 1948 season as an insurance policy for Ferris Fain, the Athletics' incumbent first baseman who was suffering from knee problems. Mack had coveted Rudy at various times over the course of his career but had never been able to make a trade for the big first baseman. "Daddy said Connie Mack was one of the most genuine gentlemen he had ever met," recalled Joe York. Fain, however, was able to play through the pain most of the year and Rudy managed just 8 hits – all singles – in 51 official at-bats. He made just two plate appearances after July 31, both as a pinch-hitter. Again, there were hushed rumors that Rudy was not taking care of himself; Mack later expressed great disappointment at York's inability to help the club that year. Rudy was released at the end of the season, his major league career over at the age of 35. What extent alcohol played a role in his early exit from the major leagues is unclear. Joe York indicated he wasn't sure alcohol was the reason; instead, it may have just been the result of diminished skills that come with getting older.117 Several years later, however, Rudy conceded that his drinking probably cost him two or three years in the majors, and he warned Joe, "Leave that liquor alone."118 He reminded Joe that because of their Native American heritage, people would be quick to stereotype him. "All an Indian has to do is be seen drinking a beer and he's drunk."119 He also warned Joe to save his money. Rudy estimated that he had earned over a quarter of a million dollars playing baseball, and he had spent every dime he made. He grew up poor, and when he had money he wanted to give himself and his family everything they wanted. In the end, all he had to show for his career was the house they were living in.
So often we summarize a player's career by looking at "the numbers." The numbers for Rudy show he finished with a .275 career batting average, 277 home runs, 1,152 runs batted in and a .845 OPS (On-Base Percentage + Slugging Percentage) in 1,603 games played across 13 seasons, although he only had 11 seasons in which he played at least 100 games. He finished in the top ten in the American League in home runs each season from 1937 through 1947, and finished in the top ten in runs batted in in each of those seasons with the exceptions of 1937 and 1939.
Post-Major League career
In 1949, Rudy made a few appearances in the Northwest Georgia Textile League before he was hired in June to take over as player-manager for the Griffin (Georgia) Tigers of the Georgia-Alabama League. Griffin, mired in a 1-14 slump before Rudy arrived, went on to lose Rudy's first seven games before turning things around and starting a seven-game winning streak on June 24. Overall, Griffin went 17-21 under Rudy and was still stuck in last place when he was fired on July 28. Rudy quickly caught on as player-manager with the Union City Greyhounds of the Kitty League. Union City was in fifth place with at 44-45 record when Rudy took the helm on August 5; Rudy led them to a 21-15 mark to end the season, but they missed the playoffs by 3 games.
Rudy was out of baseball completely in 1950. Little is known about what he was doing that year, except that he spent it in Cartersville. Rudy liked to hunt and fish, and he had a farm that he surely tended to on the outskirts of town. Joe York remembered, "We hunted sometimes. I never did go fishing with him very much because I always had to row the boat."120 Hank Greenberg, who was the general manager of the Cleveland Indians at the time, later recalled that he received a call from Violet York at some point after Rudy's retirement. Violet reportedly told Hank that Rudy had nothing to do and was drinking too much, and she asked Hank to help Rudy find a job.121 Greenberg invited Rudy to the Indians' spring training facility in 1951, where he helped the younger minor leaguers with batting tips. Rudy joined the Youngstown Athletics of the Mid-Atlantic League as a player-coach in early May; he replaced Mike Garbark as Youngstown's manager on May 21. Five days later, team owner Bill Koval announced the team was relocating to Oil City, Pennsylvania. Oil City lost its first 12 games with Rudy as manager, and by early August Koval was in dire financial difficulties. Under the threat that the team would fold unless local support improved, Koval sponsored a free-admission night on August 3 and simply asked the attendees to donate whatever amount they could to show their support for the team. Fewer than 200 people – a smaller crowd than usual – showed up for the game.122 The team ceased operations after its August 6 doubleheader. Closing out with a 13-game losing streak, Rudy's overall managerial record with Youngstown/Oil City was 19-64. Rudy, however, had been having a tremendous year at the plate. By the time Oil City folded, Rudy was approaching the league's single-season record for home runs. He was signed by the New Castle club on August 13 but fell short of setting a new record, although he did lead the league in homers. Official statistics show Rudy batted .291 with 34 home runs and 107 runs batted in for the season. There was some speculation that Cleveland would activate Rudy for the month of September, but that never happened.
In 1952, Rudy played with the Benson-DeGraff Irish Chiefs, a semi-pro team in the West Central League, which was part of an extensive network of amateur and semi-pro teams in Minnesota. He did nothing to distinguish himself and was released after just a couple of weeks amid whispers that his comportment left something to be desired. He hooked up with the St. James Saints of the Western Minnesota League, where he finished the season without incident.123
Rudy was out of baseball again in 1953, when he took a job in the Cartersville office of the Georgia Forestry Commission. By that time his son, Joe, was playing for the Cartersville High School baseball team. Joe York recalled that his father "…watched our games and sometimes he even umpired our high school baseball games. I remember one time Daddy called a strike on me and it was outside and I said 'Daddy, I couldn't have hit that if I had swung at it' and he said 'You didn't swing at it, so you don't know.'"124 Joe also recalled: "When I was in school, I thought I was good enough to play….Daddy told people, and he later told me, 'Joe is good, but I don't think he's good enough. He could bum around the minor leagues for six or eight years and then quit. I don't really believe he's good enough to play up there.' And I know it must have hurt Daddy to say that, to have to admit it, to say it out loud….I cried when I realized the scouts weren't coming to me to talk about playing. Daddy told me…I could have gotten a scholarship to play at Georgia Tech or Georgia. But I couldn't have passed the grades at any one of those places. I barely made it out of high school."125
Joe worked as a sheet metal worker immediately after high school. He later felt a calling to serve God and attended Erskine College in South Carolina and seminary in Jackson, Mississippi in the 1960s. He pastored at several churches and served as a missionary all over the world. "I've been chased by bandits in Bulgaria; I was in an earthquake in Greece. So it's been kind of exciting."
By 1956, Rudy was working for the New York Yankees as an advance scout. During his time in the majors, Rudy acquired a much-deserved reputation as a student of opposing pitchers. Del Baker, his coach and manager in Detroit, was one of the best the game had ever seen at reading pitchers and stealing signs, and reportedly tipped off upcoming pitches to Rudy and Hank Greenberg on a frequent basis. Rudy was equally adept at such skills.126 Rudy continued as a Yankee advance scout until June 1957127, when he was hired to manage the North Platte club in the short-season rookie-level Nebraska State League. North Platte finished with the worst record in the league at 11-45.
Rudy rejoined the Red Sox organization in 1958 as a hitting instructor for the Memphis Chicks. The following year, he was hired by Boston to serve as first-base coach under manager Pinky Higgins. When Higgins was fired by the Sox in 1959 after a July 2 loss to the Senators, Rudy acted as manager for the July 3rd game in Baltimore, won by the Orioles by a 6-1 score. The folks back home in Cartersville were excited for Rudy; when asked about Rudy's "promotion," Violet York said, "Naturally, I am thrilled to death – I know Rudy can do the managing job – and let's hope it will be on a permanent basis, for he certainly deserves this fine turn of good luck."128 Of course, the promotion was extremely short-lived. Billy Jurges took over as permanent manager the next day. Rudy stayed with the Red Sox through the 1962 season; he was fired when Johnny Pesky was hired to manage the team in '63. Rudy served as a coach for the Eastern League's Reading Red Sox in 1963 under manager Eddie Popowski. In 1964 Rudy was a coach for the Statesville, North Carolina, Colts in the Western Carolina League and took over as manager in June when Dave Philley was sent to the Florida Instructional League to work with the Colt .45s' minor league rookies.129 Statesville finished the season in seventh place, 18 games out. It was Rudy's last job in professional baseball.
Rudy lived the rest of his life in Cartersville, working as a self-employed house painter. He received 1 vote in the 1962 Hall of Fame election, and 10 votes in 1964. Lung cancer led to the removal of part of a lung in November 1969. After an initial recovery, Rudy developed pneumonia and died in the hospital in Rome, Georgia on February 5, 1970. He is buried in Sunset Memory Gardens in Cartersville, just across from the entrance to the Etowah Indian Mounds State Park. He was inducted into the Michigan Sports Hall of Fame in 1972, the Georgia Sports Hall of Fame in 1977 and the Alabama Sports Hall of Fame in 1979. The baseball field in the Atco community of Cartersville is named in his honor; a monument with a commemorative plaque stands next to the ball field.
Sources
Eldon Auker with Tom Keegan, Sleeper Cars and Flannel Uniforms: A Lifetime of Memories from Striking Out the Babe to Teeing It Up with the President (Chicago: Triumph Books, 2006)
Charlie Bevis, "Mickey Cochrane: The Life of a Baseball Hall of Fame Catcher (Jefferson, NC: McFarland & Co., 1998)
Peter Golenbock, Fenway: An Unexpurgated History of the Boston Red Sox (New York: G.P. Putnam's Sons, 1992)
Hank Greenberg and Ira Berkow, Hank Greenberg: The Story of My Life (New York: Times Books, 1989)
Donald Honig, Baseball When the Grass Was Real, "Charlie Gehringer" (Lincoln, NB: Bison Books, 1993)
Lloyd Johnson and Miles Wolff, ed., The Encyclopedia of Minor League Baseball (Durham, NC: Baseball America, 1993)
David Jordan, A Tiger in His Time: Hal Newhouser and the Burden of Wartime Baseball (New York: Taylor Trade Publishing, 1990)
Peter Morris, A Game of Inches: The Stories Behind the Innovations That Changed Baseball (Chicago: Ivan R. Dee, 2006)
Armand Peterson and Tom Tomashek, Town Ball: The Glory Days of Minnesota Amateur Baseball (Minneapolis: U. of Minnesota Press, 2006)
Lyle Spatz, ed., The SABR Baseball List and Record Book: Baseball's Most Fascinating Records and Unusual Statistics (New York: Scribner, 2007)
Jules Tygiel, Baseball's Great Experiment: Jackie Robinson and His Legacy (New York: Oxford, 1997)
David W. Vincent, Lyle Spatz and David W. Smith, The Midsummer Classic: The Complete History of Baseball's All-Star Game (Lincoln, NE: Bison Books, 2001)
Ted Williams, My Turn At Bat (New York: Simon & Schuster, 1969)Bob Addie, "Bob Addie's Column…" The Washington Post, June 7, 1957, pD2.
Jack Cuddy, "York's Mates Laughed When He Donned Mask; But They Started to Cheer When Sensation of Majors Began Blasting Away," Atlanta Constitution, September 5, 1937, p. 28.
L. Robert Davids, "Fox, Ashburn Skeins Brief in Comparison With Stan's," The Sporting News, June 19, 1957, p. 6.
W. W. Edgar, "Croucher May Go to Toledo to Try Luck at Shortstop," Detroit Free Press, March 31, 1937, p. 18.
W. W. Edgar, "Hank, Bengals Differ $10,000," Detroit Free Press, March 10, 1936, p. 15.
W. W. Edgar, "Mickey Ready to Shift Team to Add Power," Detroit Free Press, March 5, 1937, p. 25.
W. W. Edgar, "Rudy York Takes Field Today to Fight for Greenberg's Job," Detroit Free Press, March 12, 1937, p. 21.
W. W. Edgar, "Tigers Praying for a Rookie to Uncover Stuff," Detroit Free Press, March 31, 1937, p. 17.
Sam Greene, "'42 Most Valuable? He's Not On Tigers," The Sporting News, October 22, 1942, p. 2.
Sam Greene, "Baker Encore Strikes Popular Barber Shop Chord In Detroit," The Sporting News, September 4, 1941, p. 3.
Sam Greene, "Baker in the Oven on His '43 Contract," The Sporting News, October 1, 1942, p. 2.
Sam Greene, "Bengals All in Lair Without Growling; Jack Zeller Makes Trip to Atlanta to Sign York Personally," The Sporting News, February 16, 1939, p. 1.
Sam Greene, "Cochrane Faces His Hardest Tiger Test," The Sporting News, January 6, 1938, p. 5.
Sam Greene, "Cochrane Flashes Dollar Sign on Signals Fumbled by Tigers," The Sporting News, July 21, 1938, p. 1.
Sam Greene, "Detroit Riding Tip on Coach Being Vitt," The Sporting News, October 8, 1942, p. 5.
Sam Greene, "Greenberg Trading Up to Greenbacks," The Sporting News, October 26, 1939, p. 1.
Sam Greene, "Homers Make York Solid Again At Home," The Sporting News, September 18, 1941, p. 3.
Sam Greene, "It's Baker's Dozen in Tiger Problems; Rudy York Balks at Garden Job, Adding to Pilot's Worries," The Sporting News, February 23, 1939, p. 2.
Sam Greene, "Lawson's Pitching Overshadows York's Homer On Baker's Scale of Values," Detroit News, "Close Ups," July 6, 1937, p. 23.
Sam Greene, "Motor City Opens Exhaust on Trades," The Sporting News, October 27, 1938, p. 7.
Sam Greene, "Newsome's Pay Puff Backfires on Tigers; York Reported Asking $5,000 Increase Over Last Year," The Sporting News, February 6, 1941, p. 2.
Sam Greene, "Tigers Eye Their Own Talent and Other Clubs' Outfielders," The Sporting News, January 12, 1939, p. 1.
Sam Greene, "Tigers Played .661 Ball Under Baker," The Sporting News, October 13, 1938, p. 12.
Sam Greene, "York a Bomb with Bat, Dud with Glove," The Sporting News, May 12, 1938, p. 5.
Sam Greene, "York Gives Power Twist to Tiger Tale," The Sporting News, June 30, 1938, p. 14.
Sam Greene, "York May Be Used as Guinea Pig Again," The Sporting News, January 19, 1939, p. 2.
Sam Greene, "York's Bat Supplies 'Fireworks' For His Birthday Celebration," Detroit News, August 18, 1937, p. 23.
Sam Greene, "York Will Join Detroit Today," Detroit News, August 19, 1934, p. 3.
Doc Holst, "38,200 See Tigers Beat Indians, 4-3, in Season Opener," Detroit Free Press, April 21, 1937, p. 1.
Doc Holst, "Greenberg Declares Wrist Fully Healed and That He'll Play First," Detroit Free Press, November 18, 1936, p. 25.
Doc Holst, "York's Two Homers Break Ruth's Mark for Month," Detroit Free Press, September 1, 1937, p. 19.
Tom Hufford, "The Big Gun of August," The Baseball Research Journal, 1975.
Jack Jackson, "Confusion Reigns: Rudy York Offered Post as Griffin Pilot," Atlanta Constitution, June 4, 1949, p. 9.
Clifford Kachline, "Prewar Flavor in Opening Lineups," The Sporting News, April 18, 1946, p. 4.
Sam Levy, "Brewers Loom As Certain Contenders in American Association," Milwaukee Journal, April 12 1936, "Sports" p. 2.
Sam Levy, "Laabs and York – Two Iron Men of the League," Milwaukee Journal, "Sports Chatter," September 9, 1936, p. 7.
Sam Levy, "Millers Watch Laabs, York in Practise," Milwaukee Journal, "Sports Chatter", August 25, 1936, p. 5. (Spelling error in title is original)
Sam Levy, "Pressnell Cuts Weight; Luke Hamlin Gains," Milwaukee Journal, March 6, 1936, p. 8.
Sam Levy, "Tigers-Browns Deal Lays Fears for York's Recall," Milwaukee Journal, April 30, 1936, p. 2
Sam Levy, "York To Be Growling Tiger Next Season," Milwaukee Journal, August 5, 1936, p. 3.
Frederick G. Lieb, "Emphasis on Signs Whets Series Fans' Interest in Strategy," The Sporting News, October 16, 1957, p. 20.
R. G. Lynch, "Heinie Hasn't Given Up As No. 1 Fan," Milwaukee Journal, "Maybe I'm Wrong," April 28, 1938, p. 6.
R.G. Lynch, "Not Only a Winner, but a Colorful Ballclub," Milwaukee Journal, "Maybe I'm Wrong," August 30, 1936, p. 3.
Jack Malaney, "Cronin Goes to Garden to Pluck Third Sacker," The Sporting News, April 4, 1946, p. 11.
Jack Malaney, "Red Sox Stub Toes in Dark Day After Day," The Sporting News, July 17, 1946, p. 8.
Jack Malaney, "'Stop Williams' Tactics Rudely Jolted by Rudy," The Sporting News, August 8, 1946, p. 7.
Paul Mickelson, "Detroit Looks Stronger Than Ever This Season," Milwaukee Journal, March 19, 1936, p. 8.
Bob Murphy, "Heard on the Sportrola," The Knoxville Journal, May 1, 1933, p. 5.
Shirley Povich, "This Morning," The Washington Post, December 25, 1939, p. 14.
H. G. Salsinger, "Bengal Infield, as It Stands, Lacks Strength, Despite Efforts of Bartell in Sparkplug Role," The Sporting News, April 4, 1940, p. 1.
H. G. Salsinger, "Boots is 'Done Dirt' by Friends and Foes," Detroit News, July 2, 1937, p. 21.
H. G. Salsinger, "Boy Pitchers Silence Bats," Detroit News, July 12, 1937, p. 17.
H. G. Salsinger, "Coffman Checks Cleveland Batters and Tigers Win," Detroit News, July 4, 1937, "Sports" p. 1.
H. G. Salsinger, "Detroit's Infield Gains in Hit Crop That Garden Lacks," The Sporting News, 1939,
H. G. Salsinger, "It's Sink or Swim for York, Wilburn – Each to Get Full Chance," Detroit News, March 17, 1937, p. 25.
H. G. Salsinger, "One for Psychologists: Why Do Fans Ride York?" The Sporting News, September 2, 1943 p. 5.
H. G. Salsinger, "The Umpire," Detroit News, April 21, 1937, p. 25.
H. G. Salsinger, "Tigers Stronger Than Last Year, If Greenberg Stays, But Cannot Count On Three Rivals Collapsing Again," The Sporting News, April 3, 1941, p. 3.
H. G. Salsinger, "York May Not Know All Answers, But He CAN Catch," Detroit News, August 7, 1937, p. 12.
Bill Scurlock, "York Verdict Will Not Be Appealed," Beaumont Journal, "Tiny Talks", August 15, 1934, p. 11.
Watson Spoelstra, "Stellar Outfield in Tiger Plans," The Sporting News, December 20, 1945, p. 11.
Jack Troy, "Rudy York Balks at Detroit Terms," Atlanta Constitution, January 17, 1937, "Sports" p. 1.
Arch Ward, "In the Wake of the News," Chicago Daily-Tribune, August 12, 1938, p. 21.
Arch Ward, "In the Wake of the News," Chicago Daily Tribune, May 1, 1945, p. 17.
Arch Ward, "In the Wake of the News," Chicago Tribune, May 10, 1945, p. 29.
Charles P. Ward, "A Ward to the Wise," Detroit Free Press, October 10, 1933, "Sports" p. 1.
Charles P. Ward, "A Ward to the Wise," Detroit Free Press, December 21, 1936, p. 16.
Charles P. Ward, "A Ward to the Wise," Detroit Free Press, February 1, 1937, p. 14.
Charles P. Ward, "A Ward to the Wise," Detroit Free Press, August 6, 1937 p. 17.
Charles P. Ward, "A Ward to the Wise," Detroit Free Press, August 8, 1937, "Sports" p. 1.
Charles P. Ward, "A Ward to the Wise," Detroit Free Press, September 16, 1937, p. 21.
Charles P. Ward, "Cochrane, His Catching Career Measured, Prepares for Fateful Day," Detroit Free Press, October 11, 1935, p. 21.
Charles P. Ward, "Lawson's First Defeat Drops Tigers to Fourth," Detroit Free Press, May 12, 1937, p. 17.
Charles P. Ward, "Rookie Class of 1936 Looks Good To Tigers," Detroit Free Press, February 27, 1936, p. 17.
Charles P. Ward, "Rudy York Is Not Worried Over Choice at First Base," Detroit Free Press, March 9, 1936, p. 15.
Charles P. Ward, "White Sox Rally Shoves Tigers Back into Fourth Place," Detroit Free Press, August 11, 1937, p. 15.
Charles P. Ward, "York Shows Slugging Skill in Initial Practice Game," Detroit Free Press, March 3, 1936, p. 15.
Rudy York, "A Letter to My Son," Sport, September, 1954.
"4 Clubs Fined for Concealing Contracts," The Washington Post, November 30, 1939, p. 23.
"Adios, Boys" Bartow Tribune-News, April 20, 1933, "Sports" p. 1.
"All Eyes on Rudy York: He May Not Be Another Ruth, but He's Got the Makings," Newsweek, April 18, 1938, p. 26.
"Atco Completed Season Saturday, Defeated Gadsden," Bartow Tribune-News, October 2, 1930.
"Atco Gets Even Break In Games With Anchor Duck," Bartow Tribune-News, July 23, 1931.
"Babe Ruth Sees York, DiMaggio as Successors; Atco Slugger Socks Homers at Dizzy Rate," Atlanta Constitution, August 29, 1937, p. 28.
"Baseball Season to Open Here Thursday Afternoon," Albany Herald, June 6, 1933, p. 6.
"Boots and Bingles," Milwaukee Journal, September 8, 1936, p. 7.
"Cedartown Nosed Out Atco 8 to 7; Game Saturday," Bartow Tribune-News, June 11, 1931.
"Exporter Batterymen Are Due Monday," Beaumont Journal, March 2, 1935, p. 15.
"Exporters Have Four Catchers: Rudolph York and Mike Tresh to Do Most of Catching," Beaumont Journal, April 16, 1934, p. 16.
"Exporter Hurlers and Catchers Get Lots of Exercise," Beaumont Journal, March 14, 1934, p. 11.
"Fort Worth Panthers Turn Loose 11-Run Attack in Seventh to Beat Indians: Record Homer by York Starts Prattmen Rally," Fort Worth Star-Telegram, June 1, 1934, p. 10.
"Goodyear Opens Season Saturday; Plays Trion Team," Bartow Tribune-News, April 17, 1930.
"Iffy…the Dopester rises to remark…," Detroit Free Press, May 3 1936, "Sports" p. 2.
"Landis Lays Down Law for Farms, Working Agreements; Detroit Loses Title to 91 Players, Must Pay 15 Others," The Sporting News, January 18, 1940, p. 1.
"League Leaders to Play Two Games Here; Holt to Hurl for Redskins, Koneman to Rebuild Club," Albany Herald, June 26, 1933, p. 6.
"Minor League Highlights: Class D," The Sporting News, September 4, 1957, p. 42.
"O.C. Ball Club Folds After Disastrous Year," Oil City Derrick, August 4, 1951, p. 1.
"Pitcher-Fielder Rudolph York Added to Shreveport's Roster," The Sporting News, July 6, 1933, p. 3.
"Red Sox Set Early Record by Winning 41 of First 50," The Sporting News, June 26, 1946, p. 4.
"Rudolph York Called To Detroit," Bartow Tribune-News, August 23, 1934, "Sports" p. 1.
"Rudy York: Greatest Slugger Since Babe Ruth?" Newsweek, April 18, 1938.
"Rudy York Mainstay of Catching Staff," Beaumont Journal, April 9, 1935, p. 12.
"Rudy York Managing Boston's Red Sox," Daily Tribune News, July 3, 1959, p. 1.
"Rudy York Plays for Two Weeks with Broken Wrist," Chicago Daily Tribune, August 25, 1941, p. 22.
"Rudy York Signs for $9,000 and a $5,000 Bonus," Chicago Daily Tribune, March 12, 1942, p. 19.
"Texas Home Run Ace Surprised at Reception," Detroit Free Press, August 19, 1934, "Sports" p. 2.
"Textile League Season Opens Saturday," Bartow Tribune-News, March 30, 1933, "Sports" p. 1.
"This Man York," Bartow Tribune-News, April 6, 1933, "Sports" p. 1.
"Tresh Joins Shippers in Houston," Beaumont Journal, August 1, 1933, p. 10.
"Where Have You Gone…..Rudy York?" Sport, November 1969.
"York and White to Start, Mike's Plan," Detroit News, April 19, 1937, p. 18.
"York, DiMaggio Called Best of Spring Recruits," Milwaukee Journal, March 24, 1936, p. 6.
"York Making Good On Knoxville Club: ATCO Idol Made Lineup Monday; Gets Good Start," Bartow Tribune-News, May 4, 1933, "Sports" p. 1.
"York Rescued in Blaze, Laid to 'Smoking in Bed'," The Sporting News, May 7, 1947, p. 9.
Albany Herald (June 1933)
Atlanta Constitution (1934 – 1970)
Bartow Tribune-News (1929 – 1971)
Beaumont Enterprise (1933-1935)
Beaumont Journal (1933 – 1935)
Detroit Free Press (August 1933 – December 1945)
Detroit News (August 1933 – December 1945)
Fort Worth Star-Telegram (May – July 1934)
Griffin Daily News (June – August 1949)
Jackson Clarion-Ledger (July 1933)
Knoxville Journal (April – May 1933)
Memphis Commercial Appeal (May 1933)
Milwaukee Journal (February – October 1936)
New Castle News (July – August 1951)
New York Times (1933 – 1970)
Oil City Derrick (June – August 1951)
Rome News-Tribune (1929 – 1933)
Shreveport Times (July 1933)
Statesville Record and Landmark (June – August 1964)
St. James Courier (July – August 1952)
Swift County News (May – June 1952)
The Sporting News (July 1933 – March 1970)
The Wingfoot Clan (1929-1937) (Atco Village official newsletter.)
Youngstown Vindicator (May 1951)
Websites
Archives
Roy Bethune, interviewed by Trey Gaines on March 23, 2004 for the Bartow History Center Oral History Project. Transcript on file at Bartow History Center, Cartersville, Ga.
Grady W. Bryson, interviewed by Sandy Moore on July 22, 2004 for the Bartow History Center Oral History Project. Transcript on file at Bartow History Center, Cartersville, Ga.
Richard Jackson, interviewed by Trey Gaines on November 4, 2004 for the Bartow History Center Oral History Project. Transcript on file at Bartow History Center, Cartersville, Ga.
Marshall Johnson, "Rudy York". Three-page note with recollections of Rudy by former teammate in Albany, Georgia. On file at Bartow History Center, Cartersville, GA.
National Baseball Hall of Fame & Museum, Cooperstown, NY, Rudy York file
US Census Bureau, 1900, 1910 & 1930 US Census.
Personal Correspondence
Don Gutteridge, telephone interview with author, July 2007.
Blanche York Caswell, personal interview with author, November 18, 2004.
Annette Spinks, personal conversations and e-mail correspondence, 2006 – 2010.
Joe York, personal interview with author, October 14, 2004.
Notes
Born
August 17, 1913 at Ragland, AL (USA)
Died
February 5, 1970 at Rome, GA (USA)
If you can help us improve this player's biography, contact us.
http://dev.sabr.org/wp-content/uploads/2013/03/YorkRudy.jpg
600
800
admin
/wp-content/uploads/2020/02/sabr_logo.png
admin
2013-03-05 12:51:50
2013-03-05 12:51:50
Rudy York