This Week in SABR: April 16, 2021
Welcome to "This Week in SABR!" Click here to view this week's newsletter on the web. Here's what we've been up to as of April 16, 2021:
---
SABR members, please pay attention to the e-mail address that you have on file with SABR; you will receive a message on Monday, April 19 with a link to vote online in the 2021 SABR Board of Directors election. The poll will close at 11:59 p.m. Mountain Standard Time on Monday, May 3.
You can read the candidate biographies, along with full descriptions of the positions and responses the candidates made to a series of questions, in the 2021 SABR Election Guide which is available for download below:
When you vote, please rank the candidates in order of preference, with 1 being your top choice. SABR elections use a simplified preferential voting system, allowing voters to rank their preferred candidates 1-2-3 and transferring preferences until a winner with more than 50 percent of votes is achieved.
You will find three items on the 2021 election ballot: the election of the SABR President, Secretary, and one (1) Director's position. The candidates are:
For President
For Secretary

For Director

Tyrone Brooks
Tara Krieger
Alex Marks
Click here to learn more and to download the Election Guide.
---
Good news! The Spring 2021 edition of the Baseball Research Journal has been mailed out to all SABR members.
Those of you who receive the print edition should find your BRJ arriving in the next few weeks. For digital subscribers, the e-book edition — with a special illustrated cover design of Babe Ruth by SABR member Gary Cieradkowski — was delivered on Tuesday, April 13.
To read more articles from the BRJ archives, our flagship publication for the past half-century, click here. To learn more about contributing to a future SABR publication, click here.
We hope you enjoy reading the Spring 2021 Baseball Research Journal!
---
Add a new baseball book to your collection from the SABR Digital Library:
Jackie: Perspectives on 42
Edited by Bill Nowlin and Glen Sparks
Associate editors: Carl Riechers and Len Levin
ISBN (ebook): 978-1-9701-5950-9, $9.99
ISBN (paperback): 978-1-9701-5951-6, $29.95
8.5″ x 11″, 324 pages
No one can doubt the immense courage shown by Jackie Robinson when he took his position at Ebbets Field on Tuesday afternoon, April 15, 1947. The first play of the game was a ground ball to third base, and Robinson, playing first, took the throw to make the first putout.
It wasn't just the one moment that was important, of course, but the ongoing significance of his presence on the field. Robinson was the first Black American to play what was then defined as major-league baseball at a time when baseball was dominant in American culture — truly the National Pastime — but an institution which had been segregated by race.
After Robinson completed his 10-year Hall of Fame playing career, the six-time All-Star with a lifetime on-base percentage of .409 took his rightful place in Cooperstown.
Perhaps it is true that celebrating Jackie Robinson's courageous role in integration can sometimes reduce him to a symbol, over-simplify his complex grappling with the racial issues of his day, and turn him into a convenient and self-congratulatory icon celebrated by Major League Baseball today. But, in fact, he was — and remains — a meaningful and inspirational symbol. The articles in this book look beyond the oft-told tale of April 15, 1947, and examine many facets of Robinson's life and career, including his military service, role in the civil rights movement, and his post-baseball career moves.
Almost all of the articles in Jackie were written specifically for this book. Some 54 members of the Society for American Baseball Research (SABR) contributed their work as authors and editors to bring together a book that offers a variety of perspectives on "42."
Contributors include: Jack Anderson, Gary Belleville, Nathan Bierma, Dave Bohmer, César Brioso, Thomas J. Brown Jr., John Burbridge Jr., Frederick C. Bush, Ralph Carhart, Joshua M. Casper, Alan Cohen, Warren Corbett, Mary E. Corey, Joe Cox, Richard Cuicchi, Paul E. Doutrich, Peter Dreier, Eric Enders, Jeff English, Rob Fitts, Brian Frank, Vince Guerrieri, Mark Harnischfeger, Leslie Heaphy, Paul Hofmann, Mike Huber, David Krell, Steven Kuehl, Chris Lamb, Kevin Larkin, Bob LeMoine, Larry Lester, Len Levin, Andy McCue, Robert Nash, Bill Nowlin, Richard J. Puerzer, Carl Riechers, C. Paul Rogers III, Blake W. Sherry, Mark Simon, Wayne Soini, Glen Sparks, Lyle Spatz, Marc Steiner, Mark S. Sternman, Bryan Steverson, Rick Swaine, Bob Webster, Steven C. Weiner, Steven K. Wisensale, Gregory H. Wolf, Brian Wright, and William A. Young.
SABR members, get this e-book for FREE!
Having trouble downloading our e-books? To view PDF files on your computer, click here to download the free Adobe Reader software. Having trouble downloading e-books to your Kindle, Nook, Sony Reader or iPad? Click here for additional help.
SABR members can download all Digital Library e-book editions for free and save 50% on purchase of the paperback editions. Visit SABR.org/ebooks to view all past titles.
---
Registration is still open for the 11th annual SABR Frederick Ivor-Campbell 19th Century Base Ball Conference, which will be held virtually on April 22-24, 2021. All baseball fans are welcome to register for this special online event.
The 2021 virtual conference will be highlighted by a keynote address from Major League Baseball's Official Historian John Thorn, along with a panel discussion on National League president William Hulbert with Jack Bales, Richard Hershberger, Bill Lamb, and moderator Bill Ryczek; a special presentation by Jim Gates on the "Penny Marshall Sheet Music Collection" at the Baseball Hall of Fame; a Member Spotlight interview of Tom Gilbert by Bob Bailey; plus research presentations.
Registration: Click here to register online. The cost is $35 per person. Each attendee must register separately in order to receive the Zoom meeting information. Online registration will remain open until 11:59 p.m. MST on Tuesday, April 20.
Schedule: Click here to view the full schedule for the 2021 Ivor-Campbell Conference. Online sessions will be held from 8:00-10:00 p.m. EDT on Thursday, April 22; 12:00-5:30 p.m. EDT on Friday, April 23; and 12:00-5:00 p.m. EDT on Saturday, April 24. Registration provides access to all panels and presentations for each day.
For questions, please contact Peter Mancuso at peterplus4@earthlink.net.
To learn more about the conference, visit SABR.org/ivor-campbell19c.
---
Everyone knows Baseball's Better Together! With a new season upon us, we encourage all SABR members to share details about our new membership drive with the baseball-loving fan in your life.
In honor of the 2021 season, all baseball fans can save 21% off a new SABR membership through April 30. Visit SABR.org/better-together for details on how to sign up. We could celebrate our 50th anniversary this year by eclipsing our all-time high in global membership. With your help sharing this great offer for new members, this goal is within our reach!

SABR is the essential community for the world of baseball, where we celebrate history, research, and statistics of our great game. If you're a passionate fan, there's a place for you in SABR!
---
The 2021 SABR Baseball Research Awards, which honor outstanding research projects completed during the preceding calendar year that have significantly expanded our knowledge or understanding of baseball, have been awarded to:
Stephen M. Bratkovich, The Baseball Bat: From Trees to the Major Leagues, 19th Century to Today (McFarland & Co.)
R.A.R. Edwards, Deaf Players in Major League Baseball: A History, 1883 to the Present (McFarland & Co.)
Robert K. Fitts, Issei Baseball: The Story of the First Japanese American Ballplayers (University of Nebraska Press)
The SABR Baseball Research Award is designed to honor projects that do not fit the criteria for the Seymour Medal or the McFarland-SABR Baseball Research Award. The selection committee included Tara Krieger (chair), Pete Cottrell, and Don Zminda.
To see a complete list of SABR Baseball Research Award winners, click here.
---
SABR's Editorial Board — which includes Scott Bush, Christina Kahrl, Bill Nowlin, Jacob Pomrenke, Anthony Salazar, Cecilia Tan, and Sarah Wexler — was established in 2020 to evaluate proposals for publication. The Board welcomes new research project proposals from members to be considered for publication through the Digital Library, SABR.org, or any other multimedia formats.
We strongly encourage new proposals that involve collaboration between SABR research committees and/or chapters, and web-based projects with an eye toward enhanced multimedia presentation.
SABR seeks to publish 2-4 web-based multimedia projects and 6-8 books per year. Book projects should be of a scope that can fit in a single volume, typically between 100,000 and 200,000 total words.
Two sample project proposals can be downloaded by clicking here. Previously published web projects can be viewed at SABR.org/eight-myths-out or SABR.org/gamesproj/first-games-back.
Click here to read the full announcement at SABR.org.
---
SABR chapters and committees are encouraged to set up virtual meetings to stay engaged with our members throughout the world at SABR.org, as part of our Stay Home With SABR initiative to assist in limiting the spread of the COVID-19 coronavirus pandemic.
Can't-Miss Event: On Saturday, April 17, at 12:00 p.m. CDT, SABR's Emil Rothe Chicago Chapter will hold a virtual Zoom meeting with Sean Gibson, Executive Director of the Josh Gibson Foundation and great-grandson of the Negro League legend, along with prominent baseball historians Ted Knorr and Thomas Kern. They will be presenting on the life and career of Josh Gibson as well as the current campaign to name the MLB MVP awards in Josh's honor. To register for this meeting, please contact Jason Schwartz.

Video Replays: This week, we heard from Brian "Chip" Martin on "Kidnapping Their Way to Glory: The Detroit Wolverines"; Ron Rabinovitz, on his decades-long friendship with Jackie Robinson; Joshua Casper on "Jackie Robinson's Two Fights: Cavalry Officer, Pioneer, and Leader"; and our monthly New Member Experience meeting with Chanel Zapata. Click here to view more video replays of virtual SABR events.
Here are some more upcoming virtual events you can attend online; check the Events Calendar for complete details:
April 17: Pee Wee Reese (KY) Chapter meeting with Thomas Wolf (10:30 a.m. EDT)
April 17: Emil Rothe Chicago Chapter meeting with Sean Gibson, Thomas Kern, and Ted Knorr (12:00 p.m. CDT)
April 17: Rogers Hornsby (TX) Chapter meeting with Tim Jackson (1:00 p.m. CDT)
April 18: Connie Mack (PA) Chapter weekly chat (2:00 p.m. EDT)
April 18: Southern Michigan Chapter book club with Mitch Lutzke (7:00 p.m. EDT)
April 19: Halsey Hall (MN) Chapter meeting with Lee Kluck (7:00 p.m. CDT)
April 19: Larry Dierker Chapter (TX) meeting with T.R. Sullivan, Brian Frank, and Chris Chestnut (7:00 p.m. CDT)
April 20: Ken Keltner (WI) Chapter meeting with Lawrence Baldassaro (7:00 p.m. CDT)
April 20: Bay Area/Sacramento (CA) chapter joint meeting with Dan Taylor (7:00 p.m. PDT)
April 21: Baltimore Babe Ruth Chapter meeting with Jerry Manheim (12:00 p.m. EDT)
April 21: Rocky Mountain Chapter meeting (12:30 p.m. MDT)
April 21: Roush-Lopez Gulf Coast (FL) Chapter meeting (7:00 p.m. EDT)
April 22: Kat Williams: Isabel "Lefty" Alvarez: The Improbable Life of a Cuban American Baseball Star (6:30 p.m. EDT)
April 22: Frederick Ivor-Campbell 19th Century Virtual Conference (8:00 p.m. EDT)
April 22: Banks-Bragan DFW (Texas) Chapter meeting with T.R. Sullivan and Dan Taylor (7:30 p.m. CDT)
April 23: Frederick Ivor-Campbell 19th Century Base Ball Conference (12:00 p.m. EDT)
April 24: Frederick Ivor-Campbell 19th Century Base Ball Conference (12:00 p.m. EDT)
April 25: Connie Mack (PA) Chapter weekly chat (2:00 p.m. EDT)
April 25: Baltimore Babe Ruth Chapter meeting (7:00 p.m. EDT)
In addition, the following SABR events will be held in person this week:
April 20: Bob Davids Chapter Maryland Hot Stove Dinner (Silver Spring, MD)
April 24: Schott-Pelican Chapter meeting (Gretna, LA)
Find more upcoming SABR meetings on our Events Calendar page.
---
Baseball fans, tune in this season to SABRcast with Rob Neyer, a weekly podcast hosted by award-winning author and longtime SABR member Rob Neyer.
Episode #106 on Monday, April 12 featured Felipe Alou and Peter Kerasotis, authors of Alou: My Baseball Journey. Alou is part of one of baseball's most accomplished families, a three-time All-Star outfielder from the Dominican Republic — he played alongside his brothers Mateo and Jesús with the San Francisco Giants in the 1960s — who went on to a successful managerial career with the Montreal Expos from 1992-2001 and the Giants from 2003-06. Felipe managed his son Moises and the Expos to baseball's best record in 1994, when he was named NL Manager of the Year. Kerasotis is an author and journalist who has won ten Associated Press Sports Editor awards, six Football Writers Association of America awards, and seven Florida Sports Writers Association awards.
Visit SABR.org/sabrcast to listen to the full episode.
Subscribe to SABRcast on your favorite podcast networks, including Apple Podcasts, Spotify, or Stitcher, and listen to each episode as soon as it's released on Mondays. To learn more, visit SABR.org/sabrcast.
---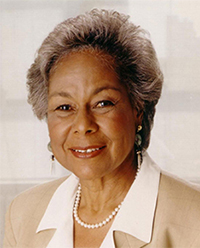 Seven new biographies were posted this week as part of the SABR Baseball Biography Project. Here are the new bios published this week:
All new biographies can be found here: SABR.org/bioproject
Find any SABR biography: You can visit sabr.org/bioproject to search for any player — or manager, executive, scout, spouse, broadcaster, or umpire — who appears in the SABR BioProject. In addition, we have pages for Ballparks, Broadcasters, Executives, Games, Managers, Scouts, Spouses, Umpires, Writers, people who were Famous Outside Baseball, and a lot more.
---
Eight new game stories were posted this week as part of the SABR Games Project. Here are the new game stories:
New Games Project stories can be found at SABR.org/gamesproject.
Get involved: Have memories of a game you attended? Or a game you watched that caught your interest? Write about it! Writing for the Games Project is an easy way to get involved as a SABR member. Find out how by reading the Games Project FAQs section or checking out the Authors' Guidelines. We have editors and fact checkers who are willing to help you write your first article.
Social media: Follow the SABR Games Project on Twitter or Facebook to keep up with new stories and updates.
Read all game stories from Federal League book online: In SABR's Whales, Terriers, and Terrapins: The Federal League 1914-15, edited by Steve West and Bill Nowlin, we told the story of an "outlaw" baseball league that challenged the American and National League for supremacy. The book included more than 50 accounts of some of the most interesting games during the league's brief existence. All of the game stories from SABR's Federal League book are now available to read online at the SABR Games Project. Click here to download your free e-book edition or save 50% off the paperback of SABR's Federal League book.
---
Behind the Numbers: Baseball SABR Style on SiriusXM, a radio show hosted by former SABR Board President Vince Gennaro, is back at a new time for the regular season. Listen to new episodes at 8:00-9:00 p.m. ET on Saturdays on MLB Network Radio.
You can also listen to archives of recent episodes on-demand on the SiriusXM Internet Radio app.
Behind the Numbers: Baseball SABR Style on SiriusXM focuses on examining and interpreting the statistical analysis that plays a critical role in baseball today. It airs weekly throughout the year on MLB Network Radio, available to subscribers nationwide on XM channel 89, Sirius channel 209, and on the SiriusXM Internet Radio App.
---
Here are some major headlines from recent weeks that we don't want you to miss:
All previous editions of This Week in SABR can be found here: SABR.org/this-week-in-sabr-archives.
---
We'd like to welcome all of our new SABR members who have joined this week. You can find all Members-Only resources at members.sabr.org and the Membership Handbook can be downloaded here.
Please give these new members a warm welcome and help them make the most of their membership by giving them the opportunity to get involved in their local chapter or a research committee.
You can find contact information for any SABR member in the online Membership Directory.
| Name | Hometown |   |   | Name | Hometown |
| --- | --- | --- | --- | --- | --- |
| Rene Boisvert | Oakland, CA | | | Brett Krasnov | Philadelphia, PA |
| David Brown | Lee's Summit, MO | | | Phil Kujawa | Toledo, OH |
| Robert Cottrell | Chico, CA | | | Craig Little | Towson, MD |
| Daniel Dumont | Edmundston, NB | | | Daniel Matuszewski | New Franklin, OH |
| Christopher Frey | San Francisco, CA | | | Josh Neiderhiser | York, PA |
| Richard Gaither | Bristow, VA | | | Ken Rosenblum | Rockville Centre, NY |
| Jonathan Hall | San Carlos, CA | | | Daniel Slaten | Prattville, AL |
| David Hellyar | Barry, WLS | | | Caroline Smith | St. Louis, MO |
| A.J. Howard | Fairhope, AL | | | AJ Whalen | Waxhaw, NC |
| Clyde Johnston | St. George, UT | | | | |
---
Here are the new research committee updates this week:
Find all SABR research committee newsletters at SABR.org/research/committees.
---
Here are the new regional chapter and chartered community updates this week:
Visit SABR.org/chapters for more information on SABR regional chapters.
---
Here are some recent articles published by and about SABR members:
Please note: Some articles may require a separate subscription to view online. SABR does not endorse, and is not responsible or liable for, any content that appears on a third-party website.
---
This Week in SABR is compiled by Jacob Pomrenke. If you would like us to include an upcoming event, article or any other information in "This Week in SABR," e-mail jpomrenke@sabr.org.
Have trouble reading this e-mail? Click here to view this week's newsletter on the web.
Are you receiving our e-mails? "This Week in SABR" goes out by e-mail to all members on Friday afternoons. If they're not showing up, try adding "sabr.notes@sabr.org" to your contact list to ensure they show up in your inbox (and not the spam folder.)
---
Originally published: April 16, 2021. Last Updated: April 16, 2021.
https://h2j7w4j4.stackpathcdn.com/wp-content/uploads/2020/06/SABR-LatestNews-TWIS-2016.jpg
250
847
sabr
/wp-content/uploads/2020/02/sabr_logo.png
sabr
2021-04-16 14:37:57
2021-04-16 14:38:57
This Week in SABR: April 16, 2021