This Week in SABR: May 7, 2021
Welcome to "This Week in SABR!" Click here to view this week's newsletter on the web. Here's what we've been up to as of May 7, 2021:
---
SABR members have re-elected President Mark Armour and Secretary Todd Lebowitz, and elected Tara Krieger to the organization's Board of Directors in the 2021 election.
Mark Armour was re-elected as SABR's President in an unopposed race, receiving 1,019 of 1,030 first-preference votes.

Todd Lebowitz was re-elected as SABR's Secretary in an unopposed race, receiving 1,006 of 1,010 first-preference votes.
Tara Krieger was elected as a SABR Director, receiving 544 of 1,024 first-preference votes. Tyrone Brooks finished runner-up for a Director's seat with 279 first-preference votes. Alex Marks received 198 first-preference votes.
Special thanks go out to Tellers Committee members Stephen Barnes, Stacey Flores, and Eric Simonsen for certifying the results on May 4 in a virtual meeting and to the Nominations Committee of Anthony Salazar, Lorene Kennard, and Clayton Trutor for their help in preparing the candidate statements.
The 2021 SABR elections featured online voting for the 12th consecutive year as well as traditional paper ballots. A total of 1,030 votes were received, constituting about 15.39 percent of the membership.
SABR members can find complete 2021 election results, including write-in candidates and voting totals, posted here.
---
Each year, SABR's Nineteenth Century Research Committee selects its Overlooked 19th Century Base Ball Legend — a 19th century player, manager, executive or other baseball personality not yet inducted into the National Baseball Hall of Fame in Cooperstown, New York.
All SABR members are eligible to cast a vote for the winner. The winner will be announced this summer during a Nineteenth Century Committee virtual meeting.
2021 finalists: Earlier this year, project leaders selected the 15 finalists for the 2021 Overlooked 19th Century Baseball Legend. Click here to download a PDF with the finalists' bios, compiled by project co-chairs Adam Darowski and Joe Williams. Voting in the final election will run until May 24, and will be open to all SABR members.
Vote now! Click here to access the 2021 ballot. All SABR members are eligible to vote in the election for this year's Overlooked 19th Century Legend. You *MUST* select five candidates — ranking them from first choice to fifth choice — from among the candidates presented. You are only allowed to vote once. ALL BALLOTS MUST BE CAST PRIOR TO 11:59 p.m. PDT on Monday, May 24, 2021.
This December, the Hall of Fame's Early Baseball Committee will meet and vote on eligible candidates for induction whose greatest contributions to the game were realized prior to 1950. This committee is not scheduled to vote again for nine more years, until 2030.
Click here for a list of past winners or to learn more about the Overlooked Legend project.
---
As a SABR member, you have vast resources and benefits at your disposal. With so much information at your fingertips, we realize it can be difficult or overwhelming at times to absorb it all! To highlight key benefits, we're introducing the SABR Member Benefit Spotlight, a new monthly email series that identifies and explains some of the most valuable features of your membership. We hope this allows you to take full advantage of all SABR has to offer.
Our first issue focuses on two of SABR's premier annual publications: the Baseball Research Journal and The National Pastime.
Here's a short video with more details on how to access the journals. (Haga clic aquí para ver este video en español.)
— Chanel Zapata
---
Good news! The Spring 2021 edition of the Baseball Research Journal has been mailed out to all SABR members.
Those of you who receive the print edition should find your BRJ arriving in the next few weeks. For digital subscribers, the e-book edition — with a special illustrated cover design of Babe Ruth by SABR member Gary Cieradkowski — was delivered on April 13.
All articles from the new Baseball Research Journal are now available to be read online at SABR.org.
To learn more about contributing to a future SABR publication, click here. We hope you enjoy reading the Spring 2021 Baseball Research Journal!
---
As SABR celebrates its 50th Anniversary in 2021, we are excited to both commemorate our history and look forward to our shared vision of the organization's future. We hope you are able to join us as we continue to come together in thoughtful baseball fellowship, since SABR could not have reached this golden milestone without members like you.
By joining our Future 50 Campaign, you will help ensure SABR's next 50 years are even brighter than the first 50. You can support SABR's Future 50 Campaign by making a gift of at least $100 by June 4, 2021.
All donors joining the Future 50 Campaign with a gift of $500 or more will receive:
Customized SABR Dugout Mug featuring 50th Anniversary logo
Paperback edition of The National Pastime: The Future According to Baseball journal
SABR 50th Anniversary lapel pin
Complimentary registration to the Summer of SABR: Golden Celebration Series
Recognition in This Week in SABR and on SABR.org
Recognition during an upcoming Summer of SABR virtual event
Ten randomly selected donors will also win an autographed copy of Eric Nusbaum's 2021 Seymour Medal-winning book Stealing Home.
Thank you so much for your consideration in joining the Future 50 Campaign. With your support, SABR will continue to be the world's essential baseball community for the next 50 years and beyond!
---
Here is a list of SABR supporters for the month of April 2021:
| NAME |   | NAME |
| --- | --- | --- |
| Dean Abelon | | Henry Levy |
| Ron Adams | | Peter Mancuso |
| Michael Ageno | | Alan Morris |
| Coleman Bazelon | | John Murphy |
| Jeremy Beer | | Rod Nelson |
| D. Bruce Brown | | Bill Nowlin |
| John Burbridge III | | Tim Otto |
| Scott Bush | | Laura Peebles |
| Ken Carrano | | Gregg Pericich |
| Brian & Hisayo Carroll | | John Rall |
| Scott Carter | | Patrick Ray |
| Anthony Cavender | | Michael Rosenwasser |
| Pat Courtney | | Harry Rothgerber |
| Jim Cox | | Charles Roussel |
| Ray Danner | | Bob Russon |
| Reid Duffy | | Jason Scheller |
| Steven Elsberry | | Douglas Schoppert |
| M. David Emmett | | Richard Smiley |
| Jonathan Epstein | | George Sommerfeld |
| Barry Evans | | Mark Stangl |
| Jan Finkel | | Thomas Stone |
| D.B. Firstman | | Wesley Story |
| Adam Foldes | | Mike Swinson |
| Roy Gedat | | Joseph Thompson |
| Jeanne Glazer | | John Thorn |
| Jeff Hauer | | Stew Thornley |
| Mike Haupert | | John Tierney |
| Leslie Heaphy | | Neal Traven |
| Tim Herlich | | Russ Walsh |
| Aaron Hill | | Steve West |
| Rockwell Hoffman | | Neal Wilson |
| David Hughes | | Jeffrey Wood |
| Rick Huhn | | John Wood |
| Donald Jensen | | Don Zminda |
| Jeremy Krock | | |
Want to become a Friend of SABR? Click here to make a recurring monthly contribution or click here to learn more about our Giving Circles to make a one-time contribution.
---
Add a new baseball book to your collection from the SABR Digital Library:
Jackie: Perspectives on 42
Edited by Bill Nowlin and Glen Sparks
Associate editors: Carl Riechers and Len Levin
ISBN (ebook): 978-1-9701-5950-9, $9.99
ISBN (paperback): 978-1-9701-5951-6, $29.95
8.5″ x 11″, 324 pages
Click here to read the full description at SABR.org.
SABR members, get this e-book for FREE!
Having trouble downloading our e-books? To view PDF files on your computer, click here to download the free Adobe Reader software. Having trouble downloading e-books to your Kindle, Nook, Sony Reader or iPad? Click here for additional help.
SABR members can download all Digital Library e-book editions for free and save 50% on purchase of the paperback editions. Visit SABR.org/ebooks to view all past titles.
---
SABR chapters and committees are encouraged to set up virtual meetings to stay engaged with our members throughout the world at SABR.org, as part of our Stay Home With SABR initiative to assist in limiting the spread of the COVID-19 coronavirus pandemic.
Can't-Miss Event: On Saturday, May 8, at 9:30 a.m. CDT, the Halsey Hall Chapter in Minnesota will hold its spring meeting. All baseball fans are invited to attend. We'll hear research presentations from Ed Weyling on baseball jerseys, Joe Niese on Hall of Famer Zack Wheat, and Hans Van Slooten on computer baseball simulations. Click here to sign up for Halsey Hall Chapter announcements to receive the Zoom meeting link.
Video Replays: This week, we heard from author David Krell (1962: Baseball and America in the Time of JFK). Click here to view more video replays of virtual SABR events.
Here are some more upcoming virtual events you can attend online; check the Events Calendar for complete details:
May 8: Halsey Hall (MN) Chapter meeting with Ed Weyling, Joe Niese, and Hans Van Slooten (9:30 a.m. CDT)
May 8: Pee Wee Reese (KY) Chapter meeting with Jane Leavy (10:30 a.m. EDT)
May 8: Quebec Chapter meeting with Christian Trudeau (2:00 p.m. EDT)
May 10: Luke Easter (NY) Chapter meeting with with Max Robertson and Dave Parlet (7:30 p.m. EDT)
May 10: Halsey Hall (MN) Chapter research committee meeting (7:00 p.m. CDT)
May 11: 19th Century Speaker Series with Bob Bailey (8:00 p.m. EDT)
May 11: Gardner-Waterman Vermont Chapter meeting with Dan Epstein (8:00 p.m. EDT)
May 12: New Member Experience with Chanel Zapata (8:00 p.m. EDT)
May 13: South Florida Chapter meeting with Steve Rippley (7:00 p.m. EDT)
May 15: Hank Gowdy (OH) Chapter book club (9:30 a.m. EDT)
May 15: Vanessa Ivy Rose: Angel in the Outfield: The Life and Legacy of Norman "Turkey" Stearnes (12:00 p.m. EDT)
In addition, the following events will be held in person:
May 15: Babe 'n' Bob (MD) Chapter Breakfast (Edgewater, MD)
Find more upcoming SABR meetings on our Events Calendar page.
---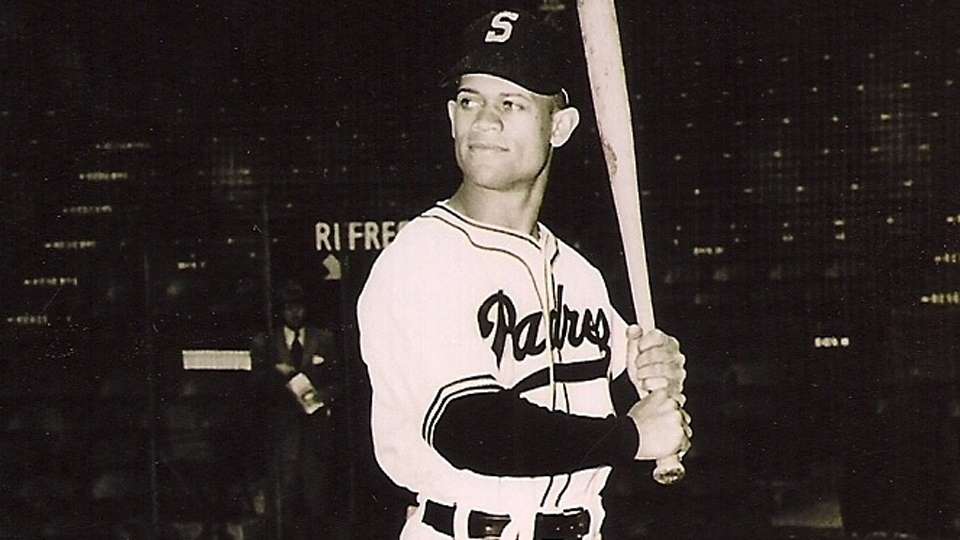 Patric Doyle's work to document the statistical history of minor league players led to the publication of his Professional Baseball Player Database on CD-ROM in the mid-1990s. Early editions had yearly statistical records for every player who appeared in the official Baseball Guides back to the 1930s, and subsequent research filled in the gaps for leagues and players who did not appear in the published totals.
At the time, Doyle's collection represented the best available tool to track a player's career or find basic statistics on career minor leaguers. The database has expanded its scope and size several times over the years, thanks to Doyle's work and contributions from numerous SABR members and minor-league researchers who contributed to the effort.
These documents — which are being made available to all baseball researchers for the first time at SABR.org — chronicle the details of much of that research which Doyle and his colleagues compiled and serve as an important reference source for those interested in the statistical history of minor league baseball.
Click here to read the full announcement at SABR.org.
Visit our Research Resources page for more tools and tips available to SABR members.
---
Baseball fans, tune in this season to SABRcast with Rob Neyer, a weekly podcast hosted by award-winning author and longtime SABR member Rob Neyer.
Episode #109 on Monday, May 3 featured Daniel Jacob Horine, creator of the Pop Fly Pop Shop of nostalgic baseball-themed art prints and paraphernalia. He is a self-described Dale Murphy "supercollector" who has produced original posters and illustrations of the Braves star. He is an Associate Creative Director at LinkedIn, and he has worked as a graphic designer, animator, and fine arts instructor for nearly two decades.
Visit SABR.org/sabrcast to listen to the full episode.
Subscribe to SABRcast on your favorite podcast networks, including Apple Podcasts, Spotify, or Stitcher, and listen to each episode as soon as it's released on Mondays. To learn more, visit SABR.org/sabrcast.
---
Eleven new biographies were posted this week as part of the SABR Baseball Biography Project. Here are the new bios published this week:
All new biographies can be found here: SABR.org/bioproject
Find any SABR biography: You can visit sabr.org/bioproject to search for any player — or manager, executive, scout, spouse, broadcaster, or umpire — who appears in the SABR BioProject. In addition, we have pages for Ballparks, Broadcasters, Executives, Games, Managers, Scouts, Spouses, Umpires, Writers, people who were Famous Outside Baseball, and a lot more.
---
Ten new game stories were posted this week as part of the SABR Games Project. Here are the new game stories:
New Games Project stories can be found at SABR.org/gamesproject.
Get involved: Have memories of a game you attended? Or a game you watched that caught your interest? Write about it! Writing for the Games Project is an easy way to get involved as a SABR member. Find out how by reading the Games Project FAQs section or checking out the Authors' Guidelines. We have editors and fact checkers who are willing to help you write your first article.
---
Behind the Numbers: Baseball SABR Style on SiriusXM, a radio show hosted by former SABR Board President Vince Gennaro, is back at a new time for the regular season. Listen to new episodes at 8:00-9:00 p.m. ET on Saturdays on MLB Network Radio.
You can also listen to archives of recent episodes on-demand on the SiriusXM Internet Radio app.
Behind the Numbers: Baseball SABR Style on SiriusXM focuses on examining and interpreting the statistical analysis that plays a critical role in baseball today. It airs weekly throughout the year on MLB Network Radio, available to subscribers nationwide on XM channel 89, Sirius channel 209, and on the SiriusXM Internet Radio App.
---
Here are some major headlines from recent weeks that we don't want you to miss:
All previous editions of This Week in SABR can be found here: SABR.org/this-week-in-sabr-archives.
---
We'd like to welcome all of our new SABR members who have joined this week. You can find all Members-Only resources at members.sabr.org and the Membership Handbook can be downloaded here.
Please give these new members a warm welcome and help them make the most of their membership by giving them the opportunity to get involved in their local chapter or a research committee.
You can find contact information for any SABR member in the online Membership Directory.
| Name | Hometown |   |   | Name | Hometown |
| --- | --- | --- | --- | --- | --- |
| John Basile | West Yarmouth, MA | | | Larry Hartzell | Howell, NJ |
| Jim Boulden | Faversham, ENG | | | John Helmantoler | San Diego, CA |
| Jeff Bridgeman | Carmi, IL | | | William Johnson | Port Neches, TX |
| Dylan Bumbarger | Oregon City, OR | | | Michael MacCambridge | Austin, TX |
| Steve Butts | Lansing, MI | | | Michael McCarthy | Norwood, MA |
| Mike Cavanagh | Lindsay, ON | | | Jonathan McFall | North Plainfield, NJ |
| Craig Curtin | Knoxville, TN | | | Bill Mclain | Fairfax, VA |
| Richard Ehisen | Davis, CA | | | Scott Melesky | Glendale, CA |
| Eaton Eichelberger | Weldon Spring, MO | | | John Milstead | Littleton, CO |
| Steve Finkelstein | Phoenix, AZ | | | Dave Rook | Clarence Center, NY |
| Mark Fishbon | Sharon, MA | | | Dan Runge | Saint Charles, MO |
| Zack Gill | Los Angeles, CA | | | Pietro Striano | Riga, LVA |
| Joshua Gordon | Blue Springs, MO | | | John Whitcomb | Glasgow, SCT |
---
Here are the new research committee updates this week:
Find all SABR research committee newsletters at SABR.org/research/committees.
---
Here are the new regional chapter and chartered community updates this week:
Visit SABR.org/chapters for more information on SABR regional chapters.
---
Here are some recent articles published by and about SABR members:
Please note: Some articles may require a separate subscription to view online. SABR does not endorse, and is not responsible or liable for, any content that appears on a third-party website.
---
This Week in SABR is compiled by Jacob Pomrenke. If you would like us to include an upcoming event, article or any other information in "This Week in SABR," e-mail jpomrenke@sabr.org.
Have trouble reading this e-mail? Click here to view this week's newsletter on the web.
Are you receiving our e-mails? "This Week in SABR" goes out by e-mail to all members on Friday afternoons. If they're not showing up, try adding "sabr.notes@sabr.org" to your contact list to ensure they show up in your inbox (and not the spam folder.)
---
Originally published: May 7, 2021. Last Updated: May 5, 2021.
https://h2j7w4j4.stackpathcdn.com/wp-content/uploads/2020/06/SABR-LatestNews-TWIS-2016.jpg
250
847
sabr
/wp-content/uploads/2020/02/sabr_logo.png
sabr
2021-05-07 00:01:30
2021-05-05 23:51:11
This Week in SABR: May 7, 2021