This Week in SABR: April 30, 2021
Welcome to "This Week in SABR!" Click here to view this week's newsletter on the web. Here's what we've been up to as of April 30, 2021:
---
As a SABR member, you have vast resources and benefits at your disposal. With so much information at your fingertips, we realize it can be difficult or overwhelming at times to absorb it all! To highlight key benefits, we're introducing the SABR Member Benefit Spotlight, a new monthly email series that identifies and explains some of the most valuable features of your membership. We hope this allows you to take full advantage of all SABR has to offer.
Our first issue focuses on two of SABR's premier annual publications: the Baseball Research Journal and The National Pastime.
Here's a short video with more details on how to access the journals. (Haga clic aquí para ver este video en español.)
— Chanel Zapata
---
Everyone knows Baseball's Better Together! With a new season upon us, we encourage all SABR members to share details about our new membership drive with the baseball-loving fan in your life.
In honor of the 2021 season, all baseball fans can save 21% off a new SABR membership through Friday, April 30. Visit SABR.org/better-together for details on how to sign up. We could celebrate our 50th anniversary this year by eclipsing our all-time high in global membership. With your help sharing this great offer for new members, this goal is within our reach!

SABR is the essential community for the world of baseball, where we celebrate history, research, and statistics of our great game. If you're a passionate fan, there's a place for you in SABR!
---
SABR members, please pay attention to the e-mail address that you have on file with SABR; you should have received a message on Monday, April 26 with a link to vote online in the 2021 SABR Board of Directors election. If you did not receive the election ballot, please email jpomrenke@sabr.org to have your ballot re-sent. You will receive a final reminder email on Monday, May 3. The poll will close at 11:59 p.m. Mountain Standard Time on Monday, May 3.
You can read the candidate biographies, along with full descriptions of the positions and responses the candidates made to a series of questions, in the 2021 SABR Election Guide which is available for download below:
When you vote, please rank the candidates in order of preference, with 1 being your top choice. SABR elections use a simplified preferential voting system, allowing voters to rank their preferred candidates 1-2-3 and transferring preferences until a winner with more than 50 percent of votes is achieved.
You will find three items on the 2021 election ballot: the election of the SABR President, Secretary, and one (1) Director's position. The candidates are:
For President
For Secretary

For Director

Tyrone Brooks
Tara Krieger
Alex Marks
Click here to learn more and to download the Election Guide.
---
SABR's regional chapter in Philadelphia has been renamed to honor one of the Phillies' all-time great players, Dick Allen.
The Connie Mack-Dick Allen Chapter serves SABR members in the Philadelphia area. With permission from the Allen family, the SABR Board of Directors approved the name change this week.
Allen was one of the most feared sluggers in baseball during his 15-year career from 1963 to 1977, hitting 351 home runs, winning NL Rookie of the Year honors with the Phillies in 1964 and an AL Most Valuable Player award with the Chicago White Sox in 1972. He narrowly missed induction in the Baseball Hall of Fame in 2014, before his death at the age of 78 on December 7, 2020, in his hometown of Wampum, Pennsylvania.
To learn more about the Connie Mack-Dick Allen Chapter, visit PhillySABR.com, or follow the chapter on Facebook or Twitter at @PhillySABR.
---
Good news! The Spring 2021 edition of the Baseball Research Journal has been mailed out to all SABR members.
Those of you who receive the print edition should find your BRJ arriving in the next few weeks. For digital subscribers, the e-book edition — with a special illustrated cover design of Babe Ruth by SABR member Gary Cieradkowski — was delivered on Tuesday, April 13.
All articles from the new Baseball Research Journal are now available to be read online at SABR.org.
To learn more about contributing to a future SABR publication, click here. We hope you enjoy reading the Spring 2021 Baseball Research Journal!
---
As SABR celebrates its 50th Anniversary in 2021, we are excited to both commemorate our history and look forward to our shared vision of the organization's future. We hope you are able to join us as we continue to come together in thoughtful baseball fellowship, since SABR could not have reached this golden milestone without members like you.
By joining our Future 50 Campaign, you will help ensure SABR's next 50 years are even brighter than the first 50. You can support SABR's Future 50 Campaign by making a gift of at least $100 by June 4, 2021.
All donors joining the Future 50 Campaign with a gift of $500 or more will receive:
Customized SABR Dugout Mug featuring 50th Anniversary logo
Paperback edition of The National Pastime: The Future According to Baseball journal
SABR 50th Anniversary lapel pin
Complimentary registration to the Summer of SABR: Golden Celebration Series
Recognition in This Week in SABR and on SABR.org
Recognition during an upcoming Summer of SABR virtual event
Ten randomly selected donors will also win an autographed copy of Eric Nusbaum's 2021 Seymour Medal-winning book Stealing Home.
Thank you so much for your consideration in joining the Future 50 Campaign. With your support, SABR will continue to be the world's essential baseball community for the next 50 years and beyond!
---
Add a new baseball book to your collection from the SABR Digital Library:
Jackie: Perspectives on 42
Edited by Bill Nowlin and Glen Sparks
Associate editors: Carl Riechers and Len Levin
ISBN (ebook): 978-1-9701-5950-9, $9.99
ISBN (paperback): 978-1-9701-5951-6, $29.95
8.5″ x 11″, 324 pages
Click here to read the full description at SABR.org.
SABR members, get this e-book for FREE!
Having trouble downloading our e-books? To view PDF files on your computer, click here to download the free Adobe Reader software. Having trouble downloading e-books to your Kindle, Nook, Sony Reader or iPad? Click here for additional help.
SABR members can download all Digital Library e-book editions for free and save 50% on purchase of the paperback editions. Visit SABR.org/ebooks to view all past titles.
---
SABR has launched a new email discussion forum for all members to enjoy. Working with the Groups.io interface, the new SABRgroups platform will help enhance participation and provide interactive collaboration tools for any chapters, committees or special-interest chartered community groups.
SABR members can visit profile.sabr.org/email-forums to learn more about the SABRgroups forums and how to subscribe. All messages come straight to your email inbox. The email forums also offer interactive file and photo sharing areas, wikis, chats, and many other intuitive features.
Members can subscribe to any existing group, or chapter and committee leaders can request to form their own new group. Some SABR committees — including the Nineteenth Century Committee, Black Sox Scandal Committee, Minor Leagues Committee, and Scouts Committee — have active email forums that have been transferred over from other platforms.
For a complete list of all SABRgroups forums, and information on how to subscribe, click here.
---
SABR's Editorial Board — which includes Scott Bush, Christina Kahrl, Bill Nowlin, Jacob Pomrenke, Anthony Salazar, Cecilia Tan, and Sarah Wexler — was established in 2020 to evaluate proposals for publication. The Board welcomes new research project proposals from members to be considered for publication through the Digital Library, SABR.org, or any other multimedia formats.
We strongly encourage new proposals that involve collaboration between SABR research committees and/or chapters, and web-based projects with an eye toward enhanced multimedia presentation.
SABR seeks to publish 2-4 web-based multimedia projects and 6-8 books per year. Book projects should be of a scope that can fit in a single volume, typically between 100,000 and 200,000 total words.
Two sample project proposals can be downloaded by clicking here. Previously published web projects can be viewed at SABR.org/eight-myths-out or SABR.org/gamesproj/first-games-back.
Click here to read the full announcement at SABR.org.
---
SABR chapters and committees are encouraged to set up virtual meetings to stay engaged with our members throughout the world at SABR.org, as part of our Stay Home With SABR initiative to assist in limiting the spread of the COVID-19 coronavirus pandemic.
Can't-Miss Event: On Saturday, May 8, at 9:30 a.m. CDT, the Halsey Hall Chapter in Minnesota will hold its spring meeting. All baseball fans are invited to attend. We'll hear research presentations from Ed Weyling on baseball jerseys, Joe Niese on Hall of Famer Zack Wheat, and Hans Van Slooten on computer baseball simulations. Click here to sign up for Halsey Hall Chapter announcements to receive the Zoom meeting link.
Video Replays: This week, we heard from authors Paul Hensler (Gathering Crowds: Catching Baseball Fever in the New Era of Free Agency); Bill Ryczek (Dr. Strangeglove: The Life and Times of All-Star Slugger Dick Stuart); and David Krell (1962: Baseball and America in the Time of JFK). Click here to view more video replays of virtual SABR events.
Here are some more upcoming virtual events you can attend online; check the Events Calendar for complete details:
May 1: Talkin' Baseball: Jerry Manheim (9:00 a.m. EDT)
May 2: Connie Mack-Dick Allen (PA) Chapter chat with Allen Abel (2:00 p.m. EDT)
May 5: Baltimore Babe Ruth (MD) Chapter meeting (7:00 p.m. EDT)
May 5: Buck O'Neil/North Florida Chapter meeting with Brian Frank (7:00 p.m. EDT)
May 8: Halsey Hall (MN) Chapter meeting with with Ed Weyling, Joe Niese, and Hans Van Slooten (9:30 a.m. CDT)
May 8: Quebec Chapter meeting with Christian Trudeau (2:00 p.m. EDT)
May 10: Luke Easter (NY) Chapter meeting with with Max Robertson and Dave Parlet (7:30 p.m. EDT)
May 10: Halsey Hall (MN) Chapter research committee meeting (7:00 p.m. CDT)
May 11: 19th Century Speaker Series with Bob Bailey (8:00 p.m. EDT)
Find more upcoming SABR meetings on our Events Calendar page.
---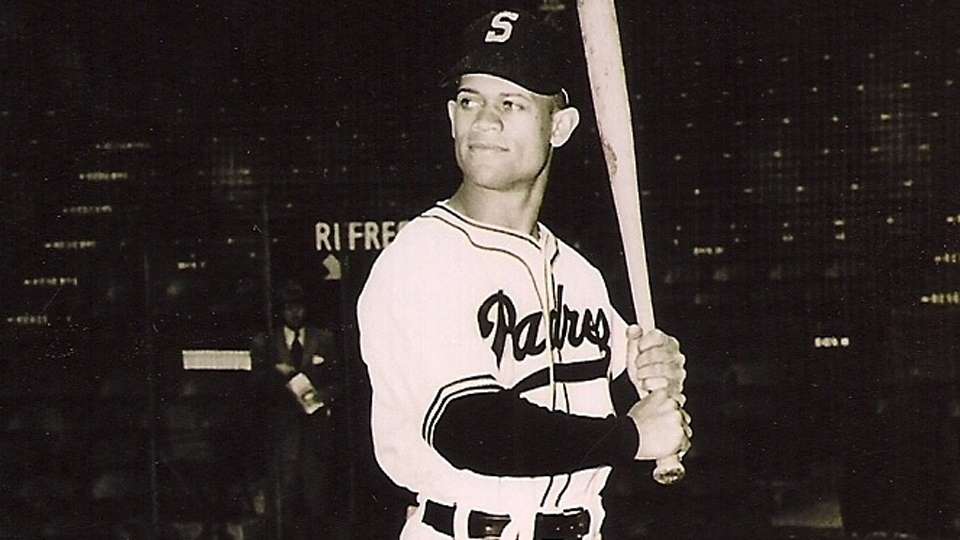 Patric Doyle's work to document the statistical history of minor league players led to the publication of his Professional Baseball Player Database on CD-ROM in the mid-1990s. Early editions had yearly statistical records for every player who appeared in the official Baseball Guides back to the 1930s, and subsequent research filled in the gaps for leagues and players who did not appear in the published totals.
At the time, Doyle's collection represented the best available tool to track a player's career or find basic statistics on career minor leaguers. The database has expanded its scope and size several times over the years, thanks to Doyle's work and contributions from numerous SABR members and minor-league researchers who contributed to the effort.
These documents — which are being made available to all baseball researchers for the first time at SABR.org — chronicle the details of much of that research which Doyle and his colleagues compiled and serve as an important reference source for those interested in the statistical history of minor league baseball.
Click here to read the full announcement at SABR.org.
Visit our Research Resources page for more tools and tips available to SABR members.
---
Baseball fans, tune in this season to SABRcast with Rob Neyer, a weekly podcast hosted by award-winning author and longtime SABR member Rob Neyer.
Episode #108 on Monday, April 26 featured Dan Epstein, co-author with former New York Yankee Ron Blomberg of the new book, The Captain & Me: On and Off the Field with Thurman Munson. He is also the author of the 1970s baseball histories Big Hair and Plastic Grass: Baseball and America in the Swinging '70s and Stars and Strikes: Baseball and America in the Bicentennial Summer of 1976. He writes about baseball, music and pop culture for a variety of outlets, including Rolling Stone, Revolver and the Jewish Daily Forward. He lives in Greensboro, North Carolina..
Visit SABR.org/sabrcast to listen to the full episode.
Subscribe to SABRcast on your favorite podcast networks, including Apple Podcasts, Spotify, or Stitcher, and listen to each episode as soon as it's released on Mondays. To learn more, visit SABR.org/sabrcast.
---
Six new biographies were posted this week as part of the SABR Baseball Biography Project. Here are the new bios published this week:
All new biographies can be found here: SABR.org/bioproject
Find any SABR biography: You can visit sabr.org/bioproject to search for any player — or manager, executive, scout, spouse, broadcaster, or umpire — who appears in the SABR BioProject. In addition, we have pages for Ballparks, Broadcasters, Executives, Games, Managers, Scouts, Spouses, Umpires, Writers, people who were Famous Outside Baseball, and a lot more.
---
Fifteen new game stories were posted this week as part of the SABR Games Project. Here are the new game stories:
New Games Project stories can be found at SABR.org/gamesproject.
Get involved: Have memories of a game you attended? Or a game you watched that caught your interest? Write about it! Writing for the Games Project is an easy way to get involved as a SABR member. Find out how by reading the Games Project FAQs section or checking out the Authors' Guidelines. We have editors and fact checkers who are willing to help you write your first article.
---
Throughout 2021, SABR's Century Committee is celebrating the 100th anniversary of the 1921 baseball season. SABR's Games Project is supporting the Century Committee with articles on historically significant games from 1921 involving National League, American League, Negro National League, and minor-league teams.
For April 1921, the Games Project dives into the season's opening with new articles on 15 games. Coverage includes the beginnings of the Giants' world championship quest and Babe Ruth's record-setting campaign, the Indians' pennant-raising at Dunn Field, headline offseason trades of Rabbit Maranville and Eppa Rixey, Ty Cobb's managerial debut, the White Sox and Reds in the aftermath of the Black Sox Scandal, a minor league no-hitter in Jersey City, and Negro National League action from Indianapolis and Columbus.
More coverage of the games, teams, and personalities that made 1921 such a pivotal season in the game's history will follow during the coming months. Visit SABR.org/gamesproject to read more stories.
---
Behind the Numbers: Baseball SABR Style on SiriusXM, a radio show hosted by former SABR Board President Vince Gennaro, is back at a new time for the regular season. Listen to new episodes at 8:00-9:00 p.m. ET on Saturdays on MLB Network Radio.
You can also listen to archives of recent episodes on-demand on the SiriusXM Internet Radio app.
Behind the Numbers: Baseball SABR Style on SiriusXM focuses on examining and interpreting the statistical analysis that plays a critical role in baseball today. It airs weekly throughout the year on MLB Network Radio, available to subscribers nationwide on XM channel 89, Sirius channel 209, and on the SiriusXM Internet Radio App.
---
Here are some major headlines from recent weeks that we don't want you to miss:
All previous editions of This Week in SABR can be found here: SABR.org/this-week-in-sabr-archives.
---
We'd like to welcome all of our new SABR members who have joined this week. You can find all Members-Only resources at members.sabr.org and the Membership Handbook can be downloaded here.
Please give these new members a warm welcome and help them make the most of their membership by giving them the opportunity to get involved in their local chapter or a research committee.
You can find contact information for any SABR member in the online Membership Directory.
| Name | Hometown |   |   | Name | Hometown |
| --- | --- | --- | --- | --- | --- |
| Brad Benedict | Calgary, AB | | | Jason Miller | Brooklyn, NY |
| Benjamin Coleman-Levy | Berkeley, CA | | | Stephen Murdock | Sterling, MA |
| William Coley | Toledo, OH | | | Emilio Nunez | Austin, TX |
| Peter Davis | Seattle, WA | | | Pete Olexa | Grand Rapids, MI |
| Teresa Egbert | Bel Air, MD | | | Carl Owens | Richmond, TX |
| Roy Fugitt | Vancouver, WA | | | Barry Piatt | Rockville, MD |
| David Gagnon | Montreal, QC | | | Charles Pribbernow | Bella Vista, AR |
| John Gibbs | E. Flat Rock, NC | | | Timothy Raub | Arlington Heights, IL |
| Thomas Harkins | Needham, MA | | | Paul Salley | Rolla, MO |
| Jake Ironside | Asbury, IA | | | Steve Shifflett | Gordonsville, VA |
| Robert Kessler | Phoenix, AZ | | | Chris Simser | Atlanta, GA |
| David Kropp | Aston, PA | | | Mike Smith | Lexington, KY |
| Sarah Lange | St. Louis, MO | | | Wayne Townsend | Camarillo, CA |
| Rob Maskin | Upper Montclair, NJ | | | Jose Tucupido | San Francisco, VEN |
| Mike McCann | Duarte, CA | | | Adam Vranesevic | Pittsburgh, PA |
| Jack McLaughlin | Chicago, IL | | | Kirk White | San Francisco, CA |
| Joseph Medler | New Providence, NJ | | | | |
---
Here are the new research committee updates this week:
Nineteenth Century: Please give a warm welcome to Sam Gazdziak as the new chair of the 19th Century Grave Marker Project. The goal of the project is to identify 19th-century baseball notables who either lack a grave marker or whose headstone is in dire disrepair, and then rectify those issues. Click here to learn more or to make a donation.
Find all SABR research committee newsletters at SABR.org/research/committees.
---
Here are the new regional chapter and chartered community updates this week:
Visit SABR.org/chapters for more information on SABR regional chapters.
---
Here are some recent articles published by and about SABR members:
Please note: Some articles may require a separate subscription to view online. SABR does not endorse, and is not responsible or liable for, any content that appears on a third-party website.
---
This Week in SABR is compiled by Jacob Pomrenke. If you would like us to include an upcoming event, article or any other information in "This Week in SABR," e-mail jpomrenke@sabr.org.
Have trouble reading this e-mail? Click here to view this week's newsletter on the web.
Are you receiving our e-mails? "This Week in SABR" goes out by e-mail to all members on Friday afternoons. If they're not showing up, try adding "sabr.notes@sabr.org" to your contact list to ensure they show up in your inbox (and not the spam folder.)
---
Originally published: April 30, 2021. Last Updated: April 30, 2021.
https://h2j7w4j4.stackpathcdn.com/wp-content/uploads/2020/06/SABR-LatestNews-TWIS-2016.jpg
250
847
sabr
/wp-content/uploads/2020/02/sabr_logo.png
sabr
2021-04-30 14:11:57
2021-04-30 14:12:30
This Week in SABR: April 30, 2021