This Week in SABR: November 25, 2020
Welcome to "This Week in SABR!" Click here to view this week's newsletter on the web. Please note: The SABR office will be closed for Thanksgiving on November 26-27. Here's what we've been up to as of November 25, 2020:
---
2020 has been a tough year for everyone, but it's not all bad news to close out the calendar. Now you can share your love of baseball with a great deal on SABR Gift Memberships!
Give the baseball fan in your life the holiday gift of SABR and you'll get 20% off their new membership, just in time to say goodbye (and good riddance) to 2020.
For fans who can't get enough baseball, especially when visiting a ballpark isn't an option, a SABR membership offers unparalleled access to the game's most important research and histories within a like-minded community of fellow enthusiasts.
Click here to purchase a gift membership and enter the promotional code GOODBYE2020 (case sensitive) on the final billing page. Click "Apply Code" to receive the 20% discount on your gift membership dues.
Visit SABR.org/goodbye-2020 to learn more about registering for someone else and how to keep your gift a surprise.
---
Early registration is now open for the SABR Virtual Analytics Conference, which will be held over four days in online sessions from March 11-14, 2021. We'll bring together the top minds in the baseball analytics community to discuss, debate, and share insightful ways to analyze and examine the great game of baseball. Register today to join us!
The Virtual Analytics Conference schedule will consist of research presentations and guest speakers from throughout the baseball analytics community, career development sessions led by experienced sports professionals, and industry networking opportunities — all available online for any aspiring front office executive or baseball fan to attend from the comfort of home. Students will have opportunities for skill acquisition and development, including sessions on how to work with baseball-related data sets as well as databasing and SQL.
Programming will run on Thursday and Friday evening from 6:30-9:00 p.m. Eastern, all day Saturday from 12:00-8:00 p.m. Eastern, and Sunday afternoon from 1:00-5:00 p.m. EDT.
Stay tuned for more details on guest speakers, panelists, and presenters! Visit SABR.org/analytics to learn more.
---
SABR and Baseball Info Solutions are excited to announce the call for presentations for the SABR Virtual Analytics Conference, which will be held online on March 11-14, 2021.
Abstracts of proposed research presentations should be no more than 500 words in length, and must include the abstract's title, review of previous work on the subject, a summary of the research methodology and anticipated results, and the expected contribution to the field of baseball analytics offered by this work. Please send all abstracts to this e-mail address: analytics@baseballinfosolutions.com. Please clearly indicate whether you are submitting for the general track or for the student track of presentations.
The submission deadline for all 2021 SABR Analytics Conference presentation abstracts is 11:59 p.m. MST tonight — Wednesday, November 25, 2020.
Click here to read the full announcement at SABR.org.
---
With the holiday season upon us and our Golden Anniversary around the corner, we want to thank you for your continuing support of SABR. Gifts from members like you make it possible to sustain and grow SABR into the future.
Thanks to one generous member, you have the opportunity to DOUBLE the impact of your donation on Giving Tuesday next week on December 1, 2020. SABR Director Bill Nowlin will match all donations made on December 1 up to a grand total of $5,000.
"For the past 25 years, I have enjoyed attending SABR meetings — in the USA and around the globe — and collaborating on any number of projects with so many talented baseball enthusiasts. SABR is a wonderful community. I hope you will help SABR build for the future by joining me in SABR's Golden Lineup by making a contribution on Giving Tuesday." – Bill Nowlin
All donors joining SABR's Golden Lineup with a $100 gift or more will receive a copy of From Rube to Robinson, our anthology of research celebrating the centennial anniversary of the Negro Leagues. Donors supporting SABR with a gift of $500 or more will also receive a miniature Rawlings Gold Glove Award replica and be entered to win the SABR Golden Ticket. The winner of the SABR Golden Ticket will receive:
Lifetime membership to SABR
All expenses paid to a SABR conference of their choice
Attend the 2021 Rawlings Gold Glove Award Banquet in New York City
And remember, your gift will go twice as far on December 1 — as all donations made on Giving Tuesday will be matched by Bill Nowlin, up to a grand total of $5,000.
To learn more, or to join SABR's Golden Lineup, visit SABR.org/donate/2020.
---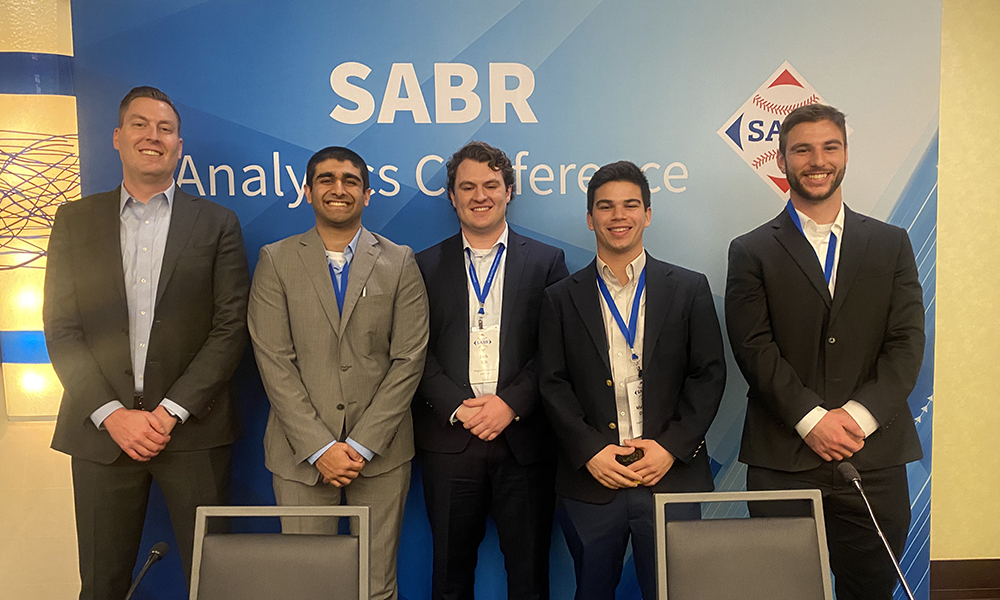 The 2021 Diamond Dollars Virtual Case Competition will be held online from 11:00 a.m.-3:00 p.m. EST on Friday, March 12, 2021, as part of the SABR Virtual Analytics Conference.
In the Diamond Dollars Virtual Case Competition, undergraduate, graduate and professional school students from colleges and universities across the country compete against each other by preparing an analysis and presentation of a baseball operations decision — the type of decision a team's GM and his staff is faced with over the course of a season.
Visit SABR.org/analytics/case to learn more.
---
With generous funding from The Anthony A. Yoseloff Foundation, Inc., SABR will award up to eight scholarships to high school and college students who wish to attend the SABR Virtual Analytics Conference on March 11-14, 2021. This scholarship will pay for all registration fees and expenses associated with the conference.
The objective of this scholarship fund is to encourage student engagement with baseball analytics, and to engender an active interest in baseball research and SABR. The Yoseloff scholarship is to assist young researchers who want to attend the SABR Virtual Analytics Conference and to introduce them to fellow SABR members and professionals within the baseball community. Through this fund, SABR hopes to inspire future baseball research, expose students to high-quality research and build the research capability of interested students.
Click here to read the full announcement at SABR.org.
---
SABR chapters and committees are encouraged to set up virtual meetings to stay engaged with our members throughout the world at SABR.org, as part of our Stay Home With SABR initiative to assist in limiting the spread of the COVID-19 coronavirus pandemic.
This week, we heard from Colorado Rockies Assistant General Manager Zack Rosenthal, Milwaukee Brewers Vice President of Minor League Operations Tom Flanagan, and authors Mike Vance and C. Paul Rogers III.
Here are some more upcoming virtual events you can attend online; check the Events Calendar for complete details:
November 28: Quebec Chapter meeting with Daniel Papillon (1:00 p.m. EST)
November 30: Gardner-Waterman (Vermont) Chapter meeting (7:30 p.m. EST)
November 30: Elysian Fields (N.J.) Chapter meeting with Deesha Thosar, Elizabeth Muratore, and Linda Surovich (9:00 p.m. EST)
December 1: IBWAA: Now Batting with Gabrielle Starr (8:00 p.m. EST)
December 2: Negro Leagues Centennial Panel with Leslie Heaphy, Ray Doswell, and more (3:30 p.m. PST)
December 2: Baltimore Babe Ruth Chapter meeting with Sean Gibson (7:00 p.m. EST)
December 3: Boston Chapter meeting with Bill Nowlin, Andy Sharp, and Tony Valley (8:00 p.m. EST)
December 5: Northwest Ohio Chapter meeting (9:00 a.m. EST)
December 5: Allan Roth Chapter meeting with Marshall Garvey and Bill Nowlin (10:00 a.m. PST)
December 5: Harriet Kimbro Hamilton virtual book launch party (4:30 p.m. EST)
Find more upcoming virtual meetings on our SABR Events Calendar page.
Click here to view replays of any SABR virtual event in 2020.
---
The full 2021 Baseball Hall of Fame ballot was released last week, and you can find all published SABR biographies of 2021 HOF candidates at the SABR BioProject. Visit the link below to read bios on Hall of Fame candidates Barry Bonds, Todd Helton, Scott Rolen, Omar Vizquel, and more:
http://sabr.org/bioproj/category/demographic/2021-hall-of-fame-ballot/
As part of our BioProject Hall of Fame Ballot initiative, we are still seeking authors for all of the first-time players on this year's ballot, including Mark Buehrle, Tim Hudson, Aramis Ramírez, Shane Victorino, and Barry Zito. Ideally, we would like to have the bios written, edited, and fact-checked by January 2021 so we can post them on the BioProject website and on social media before the election announcements. Please contact bioassign@sabr.org if you are interested in writing about one of these players.
Find more SABR biographies at SABR.org/BioProject.
---
The SABR office, housed at Arizona State University's Walter Cronkite School of Journalism and Mass Communication in Phoenix, Arizona, has been closed indefinitely due to the ongoing coronavirus (COVID-19) situation. Staff members will work remotely until it is advisable to resume normal operations on-site.
Please contact a member of the SABR staff by email or phone with any questions.
---
Baseball fans, tune in this season to SABRcast with Rob Neyer, a weekly podcast hosted by award-winning author and longtime SABR member Rob Neyer.
Episode #87 on Monday, November 23 featured Daniel Okrent, award-winning author of six books, including Nine Innings: The Anatomy of a Baseball Game and most recently The Guarded Gate. He was a featured guest on Ken Burns's Baseball documentary series and he devised the Rotisserie scoring system for the first fantasy baseball league in 1980. He served as the corporate editor-at-large at Time Inc., and was the first public editor of the New York Times.
Visit SABR.org/sabrcast to listen to the full episode.
Subscribe to SABRcast on your favorite podcast networks, including Apple Podcasts, Spotify, Stitcher, or Google Play, and listen to each episode as soon as it's released on Mondays. To learn more, visit SABR.org/sabrcast.
---
Eight new biographies were posted this week as part of the SABR Baseball Biography Project. Here are the new bios published this week:
All new biographies can be found here: SABR.org/bioproject
Find any SABR biography: You can visit sabr.org/bioproject to search for any player — or manager, executive, scout, spouse, broadcaster, or umpire — who appears in the SABR BioProject. In addition, we have pages for Ballparks, Broadcasters, Executives, Games, Managers, Scouts, Spouses, Umpires, Writers, people who were Famous Outside Baseball, and a lot more.
Sign up to view Trello submission pipeline: Chief Editor Rory Costello has made the BioProject submission pipeline visible to project contributors using the signboard app Trello. If you would like to see the pipeline — to know where your story stands in the review process or how many articles we have in the system — e-mail Rory for an invitation to become an observer.
---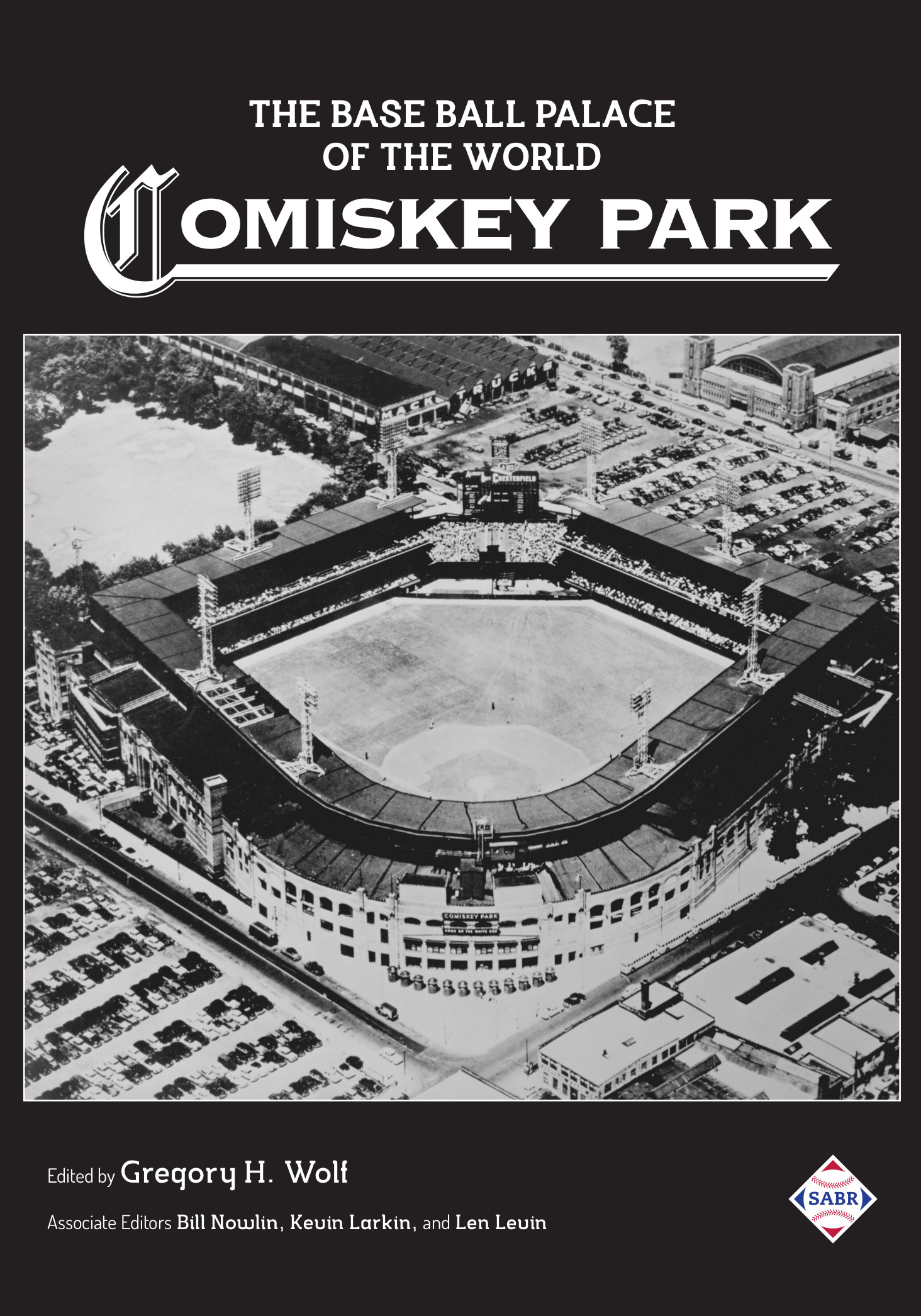 In 2019, The Base Ball Palace of the World: Comiskey Park, edited by Gregory H. Wolf and published in the SABR Digital Library, told the story of the most memorable games played at the intersection of 35th and Shields in Chicago, home of the White Sox from 1910 to 1990.
Among the gems presented in this book were Big Ed Walsh's no-hitter in 1911, several Negro League contests including the 1933 East-West All-Star Game, the 1919 and 1959 World Series, Disco Demolition Night, the 1933 and 1983 MLB All-Star Games, and many more.
To download the e-book edition of The Base Ball Palace of the World for free or get 50% off the paperback edition, visit SABR.org/ebooks.
---
Nine new game stories were posted this week as part of the SABR Games Project. Here are the new game stories:
New Games Project stories can be found at SABR.org/gamesproject.
Get involved: Have memories of a game you attended? Or a game you watched that caught your interest? Write about it! Writing for the Games Project is an easy way to get involved as a SABR member. Find out how by reading the Games Project FAQs section or checking out the Authors' Guidelines. We have editors and fact checkers who are willing to help you write your first article.
---
Behind the Numbers: Baseball SABR Style on SiriusXM, a radio show hosted by former SABR Board President Vince Gennaro, is back at a new time. Listen to new episodes at 4:00-5:00 p.m. ET on Saturdays on MLB Network Radio.
You can also listen to archives of recent episodes on-demand on the SiriusXM Internet Radio app.
Behind the Numbers: Baseball SABR Style on SiriusXM focuses on examining and interpreting the statistical analysis that plays a critical role in baseball today. It airs weekly throughout the year on MLB Network Radio, available to subscribers nationwide on XM channel 89, Sirius channel 209, and on the SiriusXM Internet Radio App.
---
Please note: Only ONE entry per nomination will be considered (do not submit multiple nominations for the same award). For more information on SABR Awards, click here.
---
Minutes from the Board of Directors conference call on October 26, 2020, have now been posted on the SABR website. You can view all past minutes of SABR Board meetings by going to the page below:
https://profile.sabr.org/board-minutes
Or you can go to the Members' Info page and click on "Org. files", then "Board Minutes" to view the minutes.
---
Here are some major headlines from recent weeks that we don't want you to miss:
All previous editions of This Week in SABR can be found here: https://sabr.org/content/this-week-in-sabr-archives.
---
We'd like to welcome all of our new SABR members who have joined this week. You can find all Members-Only resources at members.sabr.org and the Membership Handbook can be downloaded here.
Please give these new members a warm welcome and help them make the most of their membership by giving them the opportunity to get involved in their local chapter or a research committee.
You can find contact information for any SABR member in the online Membership Directory.
| Name | Hometown |   |   | Name | Hometown |
| --- | --- | --- | --- | --- | --- |
| Anthony Bruno | Chicago, IL | | | David McEllis | Chicago, IL |
| Bob Canter | Monticello, FL | | | Greg Novak | Darien, IL |
| Chad Cunov | San Antonio, TX | | | Tyler Oehmen | New Hope, MN |
| Amit Karr | Brooklyn, NY | | | Alexander Perrine | Lakeville, MN |
| Juan Lozano | San Diego, CA | | | Jeffrey Protzel | Slidell, LA |
| Andy Marut | Westlake Village, CA | | | | |
---
Here are the new research committee updates this week:
Find all SABR research committee newsletters at SABR.org/research/committees.
---
Here are the new regional chapter updates this week:
Visit SABR.org/chapters for more information on SABR regional chapters.
---
Scroll up to the top of this newsletter to learn more about the upcoming virtual events on the SABR calendar.
We strongly recommend that all SABR chapters follow CDC public health guidelines and your local/state government regulations when scheduling any in-person meetings and events.
Find details on all upcoming meetings on our SABR Events Calendar page.
---
Here are some recent articles published by and about SABR members:
Please note: Some articles may require a separate subscription to view online. SABR does not endorse, and is not responsible or liable for, any content that appears on a third-party website.
---
This Week in SABR is compiled by Jacob Pomrenke. If you would like us to include an upcoming event, article or any other information in "This Week in SABR," e-mail jpomrenke@sabr.org.
Have trouble reading this e-mail? Click here to view this week's newsletter on the web.
Are you receiving our e-mails? "This Week in SABR" goes out by e-mail to all members on Friday afternoons. If they're not showing up, try adding "sabr.notes@sabr.org" to your contact list to ensure they show up in your inbox (and not the spam folder.)
---
Originally published: November 25, 2020. Last Updated: November 25, 2020.
https://sabr.org/wp-content/uploads/2020/06/SABR-LatestNews-TWIS-2016.jpg
250
847
sabr
/wp-content/uploads/2020/02/sabr_logo.png
sabr
2020-11-25 12:23:43
2020-11-25 12:23:43
This Week in SABR: November 25, 2020