This Week in SABR: September 30, 2022
Welcome to "This Week in SABR!" Click here to view this week's newsletter on the web. Here's what we've been up to as of September 30, 2022:
---
Fifty years ago today, on September 30, 1972, Roberto Clemente reached the 3,000-hit milestone with his final career hit for the Pittsburgh Pirates. Thanks to a Local Grant from SABR, the Forbes Field Chapter is also working to install commemorative markers at the site of old Three Rivers Stadium.
This week, we're pleased to publish a new book on "The Great One" from the SABR Digital Library:
¡Arriba! The Heroic Life of Roberto Clemente
Edited by Bill Nowlin and Glen Sparks
Associate Editors: Len Levin and Carl Riechers
ISBN (ebook): 978-1-970159-87-5, $9.99
ISBN (paperback): 978-1-970159-88-2, $34.95
8.5″ x 11″, 338 pages
The year 2022 marks the 50th anniversary year of Roberto Clemente's final year in major-league baseball. ¡Arriba! The Heroic Life of Roberto Clemente celebrates his life and his baseball career.
The first universally acknowledged Latino inductee into the National Baseball Hall of Fame, Clemente played every one of his 18 seasons for the Pittsburgh Pirates. He became the 11th player to reach the 3,000-hit milestone, finishing his final season by hitting number 3000 on the season's last day. Named to 15 All-Star Game squads, Clemente also won 12 Gold Gloves, four batting titles, and was the National League's Most Valuable Player in 1966. He was twice a World Series champion, winning with the Pirates in both 1960 and 1971.
But off the baseball diamond, Clemente was known for his charitable work. He lost his life on the final day of 1972 while working to provide relief for victims of an earthquake in Nicaragua. He was aboard a plane loaded with relief supplies — the fourth such plane he had helped to stock — and had decided to accompany the flight personally to ensure the supplies were reaching those in need of aid and not merely falling into the hands of profiteers. The plane crashed immediately after takeoff from Puerto Rico, a tragic loss for baseball and the world.
This book is the collaborative work of 41 SABR members. Examining Clemente's baseball career, the book includes recaps of many of Clemente's greatest games, as well as chapters on his relationship with the press, his connections to Nicaragua and players such as Monte Irvin, and his continuing effects on players from Latin America as a role model today.
Contributors include: Malcolm Allen, Jeff Barto, Gary Belleville, John Blankstein, Steve Bratkovich, Thomas J. Brown Jr., Frederick C. Bush, Richard Cuicchi, Mark Davis, Peter Dreier, Robert Elias, Howard Elson, James Forr, John Fredland, Steve Ginader, Duke Goldman, Vince Guerrieri, Andrew Harner, Jane S. Hewitt, Thomas E. Kern, Justin Krueger, Alex Kukura, Kevin Larkin, Joe Leisek, Len Levin, Norman L. Macht, Michael Marsh, Emmanuel Mehr, Kellen Nielson, Bill Nowlin, Tony S. Oliver, Tim Otto, Zac Petrillo, Richard J. Puerzer, Carl Riechers, Juan Jose Rodriguez, Benjamin Sabin, Mark Simon, Glen Sparks, Wayne Strumpfer, Stew Thornley, Thomas E. Van Hyning, Steven C. Weiner, and Gregory H. Wolf.
SABR members, get this e-book for FREE!
Having trouble downloading our e-books? To view PDF files on your computer, click here to download the free Adobe Reader software. Having trouble downloading e-books to your Kindle, Nook, Sony Reader or iPad? Click here for additional help.
Note for Kindle users: Beginning in August 2022, Amazon will no longer allow Kindle users to send new MOBI files to their Kindle library. EPUB files are now a compatible format for your Kindle library. Click here to learn more.
---
As SABR continues toward our vision of becoming the essential community for the world of baseball, it is gifts from members like you who sustain our organization, allowing us to produce wonderful baseball research and programming that reaches people everywhere.
You can support SABR's end of year Bring it Home Campaign by making a gift of $150 or more by December 31, 2022. We will use your best gift of $150, $300, $500, or $1,000 to boost SABR's general operations.
Contributions from generous donors like you are vital in helping SABR maintain core mission programming, develop new initiatives, and ensure affordable membership access:
Support for Core Programming: Your donations help make SABR events possible and accessible, while fueling the productivity and development of our publishing efforts.
Support for New Initiatives: Your donations allow SABR to maintain its relevance and respectability in an ever-changing environment.
Support for Affordable Membership Access: Your donations are crucial to keeping SABR membership affordable for all, a critical aspect of fulfilling our vision to become the essential community for the world of baseball.
Visit SABR.org/donate/2022 to learn more.
---
Join us each month for SABR's Ballpark Figures, a new interview series hosted by Shakeia Taylor. The virtual Zoom event is free and open to all active SABR members.
On Thursday, October 6, our guest will be Perry Barber, a longtime professional umpire, author, and promoter of women in baseball.
Barber was the inaugural winner of the SABR Dorothy Seymour Mills Lifetime Achievement Award in 2018 and was recently inducted into the New York State Baseball Hall of Fame. She has umpired at all levels of the game, including Major League Baseball's spring training and around the world to places such as Japan, Guam, Hong Kong, and the Caribbean. She is also a Jeopardy! champion, accomplished musician, and author. She also conducts umpire clinics, speaks about umpiring and women's baseball, and serves as a board member for the International Women's Baseball Center and an advisor for Baseball for All.
Visit SABR.org/ballpark-figures to learn more or watch replays from previous events.
---
The fourth annual SABR/IWBC Women in Baseball Conference, co-sponsored by SABR and the International Women's Baseball Center and hosted by Rockford University, took place virtually on September 16-18, 2022.
The conference was highlighted by a keynote panel discussion with Justine Siegal, Maybelle Blair and Sarah Domin; Baseball Journalism panel with Claire Smith, Shakeia Taylor, Jen McCaffrey, and Melissa Isaacson; an Umpires Panel with Perry Barber, Alessia Cicconi, and Sophiyah Liu; a 21st Century Research panel with Allison R. Levin, Roberta J. Newman, Laura Furman, and Catherine Forslund; research presentations; pylon unveiling; and the announcement of the Dorothy Seymour Mills Lifetime Achievement Award.
This year's conference theme was "Title IX and Women's Baseball: Where We've Been and Where We are Headed."
Visit SABR.org/women-in-baseball-conference to learn more.
---
The SABR Editorial Board welcomes new project proposals from members to be considered for publication through the Digital Library, SABR.org, or any other multimedia formats. We strongly encourage new proposals that have no intention of being published as a book.
Proposals will be graded using the following criteria: Significance, Interest, Marketability, Intersectionality, Originality, and Likelihood of Completion.
SABR seeks to publish 2-4 web-based multimedia projects (click here for an example) and 6-8 books per year. Book projects should be of a scope that can fit in a single volume, typically between 100,000 and 200,000 total words. Two sample project proposals can be downloaded by clicking here. Previously published web projects can be viewed at SABR.org/eight-myths-out or SABR.org/jackie75.
Deadlines for review are April and October, with a likely publication timeline of about 18-24 months. For example, a proposal submitted by October 2022 would be considered for publication in Spring 2024, although some timely projects may be published earlier.
---
When baseball's schedule opens in the spring, the final day of the regular season sits as a blank slate, its significance largely dependent on the days and weeks that precede it.
This week, SABR's Baseball Games Project celebrates baseball's season finales by remembering a group of games in which batting crowns were decided, legends were hailed or farewelled, strange-but-true records were set, forgettable campaigns finally ended, and history's first-ever high-five was given.
Visit SABR.org/gamesproject to find more stories from the SABR Games Project.
— John Fredland
---
With the support of the City of Daytona Beach and the Volusia County-Daytona Beach Branch of the NAACP, SABR's Central Florida Chapter will install a commemorative marker at the site of Kelly Field, where Jackie Robinson and John Wright integrated spring training with the Montreal Royals in 1946, in Daytona Beach, Florida.
Kelly Field's role in the integration of baseball has long been overlooked and ignored. Located in the midst of one of the two predominantly African American sections of Daytona Beach, Kelly Field was the centerpiece of the Black community. Now an empty lot encompassing a retention pond, the site where the Royals practiced and an entire community gathered to watch and play baseball is currently unmarked and nearly lost to history.
Thanks to a Local Grant from SABR, the plaque will be unveiled for the first time as part of a ceremony on October 23 honoring the event.
2:00 p.m., Sunday, October 23, 2022
Midtown Cultural Center
925 George W. Engram Blvd
Daytona Beach, FL
All baseball fans are invited to attend. There will be some great presentations and SABR CEO Scott Bush will join us.
For more information about the historical marker, contact Jim Bard.
---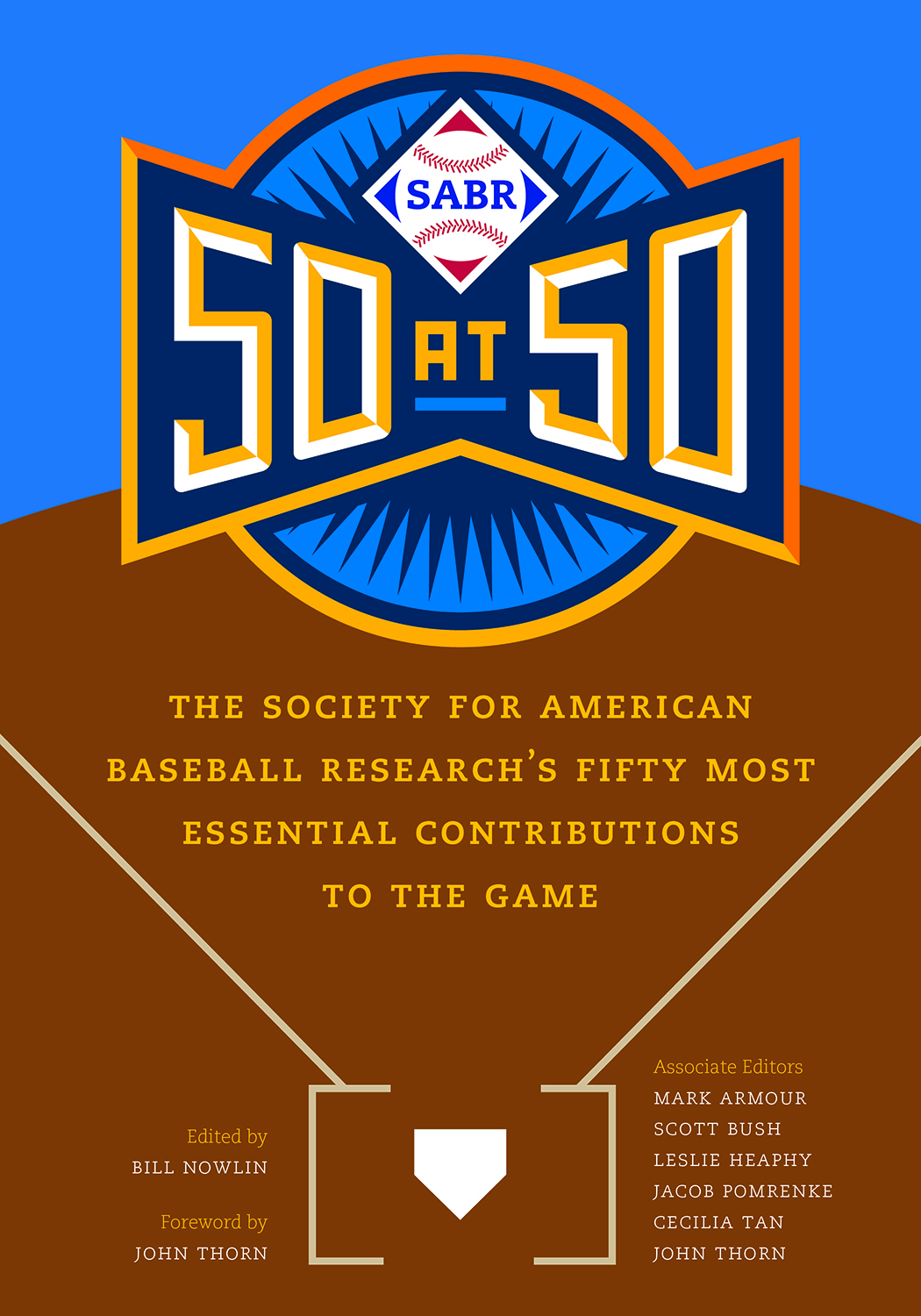 Baseball has seen many changes in the last 50 years, and SABR's 50th anniversary provides an opportunity to highlight the most memorable players, teams, and events from the game's glorious past.
SABR 50 at 50: The Society for American Baseball Research's Fifty Most Essential Contributions to the Game, edited by Bill Nowlin and published in 2020 by the University of Nebraska Press, celebrates SABR's wide-ranging contributions to baseball history.
The diversity of SABR members' interests is reflected in this fiftieth-anniversary volume — from baseball and the arts to statistical analysis to the Deadball Era to women in baseball. SABR 50 at 50 includes the most important and influential research published by members across a multitude of topics, including the sabermetric work of Dick Cramer, Pete Palmer, and Bill James, along with Jerry Malloy on the Negro Leagues, Keith Olbermann on why the shortstop position is number 6, John Thorn and Jules Tygiel on the untold story behind Jackie Robinson's signing with the Dodgers, and Gai Berlage on the Colorado Silver Bullets women's team in the 1990s.
Click here to read the full announcement at SABR.org.
---
It's time to get SABR Certified! The first course in the new SABR Analytics Certification program — Conversational Analytics and Critical Thinking in Baseball — is available online now.
The SABR Analytics Certification program is an online, on-demand curriculum offering professional development and learning opportunities for those interested in elevating their skills and knowledge relating to baseball analytics. The curriculum was developed by current baseball professionals, including employees of Major League Baseball and its clubs.
SABR members get a significant discount on this Analytics Certification course registration, saving $55 off the regular price.
Visit SABR.org/analytics/certification to sign up today or learn more.
---
SABR chapters and committees are encouraged to set up virtual meetings to stay engaged with our members throughout the world at SABR.org.
Can't-Miss Event:

SABR's South Florida Chapter will hold a virtual Zoom meeting at 7:00 p.m. EDT on Sunday, October 2. All baseball fans are invited to attend.

Dan Levitt will be our guest speaker to talk about his new book, Intentional Balk: Baseball's Thin Line Between Innovation and Cheating. Click here to register in advance for this meeting.
Video Replays: This week, we heard from Sam Zygner ("Baltimore Orioles Minor League Highs and Lows: 1966-1982.") Click here to view video replays of virtual SABR events.
Here are some more upcoming virtual events you can attend online; check the Events Calendar for complete details:
October 1: Talkin' Baseball: Michael Ortman (9:00 a.m. EDT)
October 2: South Florida Chapter meeting with Dan Levitt (7:00 p.m. EDT)
October 5: Baltimore Babe Ruth Chapter meeting with David Krell (7:00 p.m. EDT)
October 6: Ballpark Figures with Shakeia Taylor and Perry Barber (8:00 p.m. EDT)
In addition, the following events will be held in person:
October 1: Maddux Bros.-Las Vegas Chapter meeting (Las Vegas, NV)
October 3: Rabbit Maranville Chapter meeting (Springfield, MA)
October 5: Bob Broeg St. Louis Chapter fellowship meeting (St. Louis, MO)
October 8: Halsey Hall Chapter book club meeting (Roseville, MN)
Find more upcoming SABR meetings on our Events Calendar page.
---
Four new biographies were posted this week as part of the SABR Baseball Biography Project:
All new biographies can be found here: SABR.org/bioproject
Find any SABR biography: You can visit sabr.org/bioproject to search for any player — or manager, executive, scout, spouse, broadcaster, or umpire — who appears in the SABR BioProject. In addition, we have pages for Ballparks, Broadcasters, Executives, Games, Managers, Scouts, Spouses, Umpires, Writers, people who were Famous Outside Baseball, and a lot more.
---
Baseball fans, tune in this season to SABRcast with Rob Neyer, a weekly podcast hosted by award-winning author and longtime SABR member Rob Neyer.
Episode #181 on Monday, September 26 featured Jared Ravich, a senior software engineer at Major League Baseball who works on front-end development of baseball data. In his spare time, he coaches youth baseball and is a photographer who enjoys taking pictures at minor-league games around the Pacific Northwest for MiLB.com and MLB Pipeline. In 2004, he interviewed Dodgers great Maury Wills to talk about baserunning. He grew up as a Dodgers fan while living on the East Coast.
Visit SABR.org/sabrcast to listen to the full episode.
Subscribe to SABRcast on your favorite podcast networks, including Apple Podcasts, Amazon Music, Spotify, or Stitcher, and listen to each episode as soon as it's released on Mondays. To learn more, visit SABR.org/sabrcast.
---
Behind the Numbers: Baseball SABR Style on SiriusXM, a radio show hosted by former SABR Board President Vince Gennaro, is back at a new time for the regular season. Listen to new episodes at 8:00-9:00 p.m. ET on Saturdays on MLB Network Radio.
You can also listen to archives of recent episodes on-demand on the SiriusXM Internet Radio app.
Behind the Numbers: Baseball SABR Style on SiriusXM focuses on examining and interpreting the statistical analysis that plays a critical role in baseball today. It airs weekly throughout the year on MLB Network Radio, available to subscribers nationwide on XM channel 89, Sirius channel 209, and on the SiriusXM Internet Radio App.
---
Save the date! SABR will be returning to Chicago for our 51st annual convention on July 5-9, 2023, at the Palmer House Hilton hotel in downtown Chicago, Illinois. Registration information for SABR 51 and our special hotel room block will be available at SABR.org/convention in early 2023.
This will be SABR's fifth convention held in the Windy City, and the first since SABR 45 in 2015.
Learn more about SABR's convention history by clicking here.
---
Here are some major headlines from recent weeks that we don't want you to miss:
All previous editions of This Week in SABR can be found here: SABR.org/this-week-in-sabr-archives.
---
We'd like to welcome all of our new SABR members who have joined this week. You can find all Members-Only resources at members.sabr.org and the Membership Handbook can be downloaded here.
Please give these new members a warm welcome and help them make the most of their membership by giving them the opportunity to get involved in their local chapter or a research committee.
You can find contact information for any SABR member in the online Membership Directory.
| Name | Hometown |   |   | Name | Hometown |
| --- | --- | --- | --- | --- | --- |
| Griffin Bonini | South Lake Tahoe, CA | | | Anthony Kolton | Boston, MA |
| Shawn Chacon | Los Angeles, CA | | | Steve Montbriand | Eden Prairie, MN |
| Steve Gawrys | Brentwood, TN | | | Ryan Neubauer | Austin, TX |
| William Jardine | Lutes Mountain, NB | | | Brandon Simmons | Gilbert, AZ |
| Greg Kelly | Cincinnati, OH | | | John Weinholtz | Getzville, NY |
---
Here are the new research committee updates this week:
Find all SABR research committee newsletters at SABR.org/research/committees.
---
Here are the new regional chapter and chartered community updates this week:
Click here for more information on SABR regional chapters. Click here to learn more about SABR chartered communities.

---
Here are some recent articles published by and about SABR members:
Please note: Some articles may require a separate subscription to view online. SABR does not endorse, and is not responsible or liable for, any content that appears on a third-party website.
---
This Week in SABR is compiled by Jacob Pomrenke. If you would like us to include an upcoming event, article or any other information in "This Week in SABR," e-mail jpomrenke@sabr.org.
Have trouble reading this e-mail? Click here to view this week's newsletter on the web.
Are you receiving our e-mails? "This Week in SABR" goes out by e-mail to all members on Friday afternoons. If they're not showing up, try adding "sabr.notes@sabr.org" to your contact list to ensure they show up in your inbox (and not the spam folder.)
---
Originally published: September 30, 2022. Last Updated: September 30, 2022.
https://sabr.org/wp-content/uploads/2020/06/SABR-LatestNews-TWIS-2016.jpg
250
847
sabr
/wp-content/uploads/2020/02/sabr_logo.png
sabr
2022-09-30 14:12:49
2022-09-30 14:22:40
This Week in SABR: September 30, 2022