This Week in SABR: August 21, 2020
Welcome to "This Week in SABR!" Click here to view this week's newsletter on the web. Here's what we've been up to as of August 21, 2020:
---
We are pleased to announce that Lauren Meyer, Emmy Award-nominated director of The Other Boys of Summer, will be the featured speaker at the 2020 SABR/IWBC Women in Baseball Conference.
Meyer's new film explores civil rights and equality in America through the lives of Negro League baseball players. These are the men (and a few women) who played professional baseball in the 1930s, '40s and '50s alongside Jackie Robinson. The Negro Leagues was professional baseball, on par with MLB, that existed before African Americans were allowed in Major League Baseball.
Registration is now open for the SABR/IWBC Women in Baseball Conference on September 11-13, 2020. All baseball fans are welcome to attend!
This year's conference — co-sponsored by SABR and the International Women's Baseball Center, and hosted by Rockford University — will be a virtual event centered around the theme "Celebrating African American Women in Baseball." Presentations and panels will take place on Zoom.
Register now: Click here to register for this event at SABR.org. The All-Inclusive Package is $50, and includes access to all presentations and panels, Negro Leagues Centennial Celebration on Saturday night, 2 raffle tickets, and a commemorative program booklet. Regular registration is $25 for all baseball fans.
Schedule: Click here to view the complete schedule, along with presenter bios and abstracts.
Raffle: Purchase a raffle ticket ($5 each) when you register for a chance to win baseball memorabilia prizes, including autographed baseballs, caps, and books from IWBC authors, SPoRT Makeup kits, Rockford Peaches apparel, and the grand prize — a personal phone call from AAGPBL legend and IWBC founder Maybelle Blair!
If you have any questions, please contact Leslie Heaphy at lheaphy@kent.edu.
Visit SABR.org/women-in-baseball-conference to learn more.
---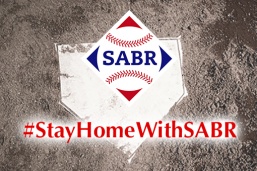 SABR has made a donation of more than $3,700 to Heart to Heart International, a nonprofit organization that distributes urgently needed equipment and medication to partners around the world.
This donation was made thanks to the generosity of new members who joined during the Stay Home With SABR initiative, an eight-week effort from April 1 to May 31, 2020, to assist in limiting the spread of the COVID-19 coronavirus pandemic.
"We are thankful to all of the new members who joined SABR and helped us play a small part in fighting COVID-19," SABR CEO Scott Bush said. "As our community continues to grow, we will continue to apply our collective strength to benefit others."
SABR now has more than 6,100 members worldwide and has established itself as a vibrant baseball community and a premier distributor of groundbreaking baseball information.
---
SABR chapters and committees are encouraged to set up virtual meetings to stay engaged with our members throughout the world at SABR.org, as part of our Stay Home With SABR initiative to assist in limiting the spread of the COVID-19 coronavirus pandemic.
This week, we heard from FanGraphs managing editor Meg Rowley and SABR's Jacob Pomrenke on pandemic baseball, Maxwell Kates on SABR's Time For Expansion Baseball, and authors John Shea (24), Rick Huhn (Eddie Collins) and Frank Amoroso (Wopper).
Here are some more upcoming virtual events you can attend online; check the Events Calendar for complete details:
August 22: Hank Gowdy (Ohio) Chapter book club (9:30 a.m. EDT)
August 22: Emil Rothe Chicago Chapter meeting with Thomas Stone (1:00 p.m. CDT)
August 22: Rogers Hornsby Chapter meeting with Round Rock Express GM Tim Jackson (1:00 p.m. CDT)
August 23: Detroit Chapter book club meeting with Thomas Stone (7:00 p.m. EDT)
August 24: NW Ohio Chapter book club meeting (6:30 p.m. EDT)
August 26: Northeast Florida Chapter meeting (7:00 p.m. EDT)
August 27: South Florida Chapter meeting (7:00 p.m. EDT)
September 2: Baltimore Babe Ruth Chapter meeting with Dan Joseph (7:00 p.m. EDT)
Find more upcoming virtual meetings and watch replays of past events on our SABR Events Calendar page.
---
SABR's Board of Directors has approved a new initiative: the Baseball Reminiscence online chartered community, led by Monte Cely, Jon Leonoudakis, Jim Kenton, and George Sommerfeld.
Since 2015, SABR members in Texas, California, Connecticut, and New York have created a field of dreams by sharing their passion and baseball memories with those dealing with Alzheimer's and dementia, with chronic medical issues or who are socially isolated and lonely.
The SABR Baseball Reminiscence chartered community group invites you to join this effort to share baseball memories and help make those who feel that they don't belong, belong.
Experienced SABR volunteers can provide resources and personal assistance to help you start a program in your community. Other volunteer roles include, just to name a few: talk about your favorite player or team, share some memorabilia, help with technology, or capture and share a memory of your own in pictures or video. You will find the experience to be both enjoyable and rewarding.
Click here to read the full announcement at SABR.org.
---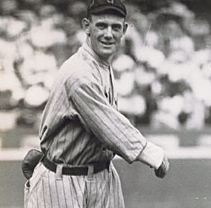 SABR's Century Committee hosted a special panel discussion on the 100th anniversary of the death of Ray Chapman on Sunday, August 16, 2020.
Our guest speakers included Mike Sowell, author of The Pitch That Killed; Don Jensen, editor of Base Ball: A Journal of the Early Game; Kevin Trusty, who writes on baseball history at RadbournsRevenant.com; and moderator Sharon Hamilton, co-chair of SABR's Century Committee.
Click here to watch a replay of this virtual Zoom panel on YouTube.
Chapman, the popular Cleveland Indians shortstop, suffered a fatal blow after he was hit in the head by a pitch from New York's Carl Mays on August 16, 1920. He died hours later from his injuries. Chapman's death remains the only on-field fatality in major-league history.
---
The Society for American Baseball Research is seeking remote interns to work during the Fall 2020 semester.
An internship with SABR will involve responsibilities across a variety of disciplines, possibly including:
Working with the Director of Editorial Content or Publications Director to help publish and/or produce content for our website at SABR.org
Working during a virtual SABR event, such as the SABR/IWBC Women in Baseball Conference
Working with other SABR staff members on organizational duties, membership renewal drives, customer service
Interested candidates should be able to demonstrate basic office-related computer skills and have a reliable Internet connection for remote working. Experience with WordPress (or other content management systems) and Zoom (or other virtual-conference platforms) is a plus. A working knowledge of baseball — and an awareness of the game's general history and basic statistics — is required.
The internship is an educational opportunity that may count toward college credit, covering 15-20 hours per week with a flexible schedule. The internship will be for a fixed period of time and is designed to provide the intern with skills and training that may be applicable to working in a nonprofit research environment or in other research-based organizations.
Please send a resume and cover letter in PDF form to jpomrenke@sabr.org by 5:00 p.m. MST Monday, August 31, 2020.
---
Periodically throughout the year, SABR.org publishes The SABR Bookshelf, a listing of new books that are received at the SABR office.
Click on the link above for more detailed information on each of these books:
SABR 50 at 50: The Society for American Baseball Research's Fifty Most Essential Contributions to the Game, edited by Bill Nowlin
Harvey's Wallbangers: The 1982 Milwaukee Brewers, edited by Gregory H. Wolf
Pride of Smoketown: The 1935 Pittsburgh Crawfords, edited by Frederick C. Bush and Bill Nowlin
An Illustrated Introduction to Japanese Baseball Cards, by Rob Fitts
The Resisters: A Novel, by Gish Jen
A Year of Playing Catch: What a Simple Daily Experiment Taught Me about Life, by Ethan D. Bryan
Spanking the Yankees: 366 Days of Bronx Bummers, by Gabriel Schechter
The Baseball Brain: Mental Game Training for the Developing Ballplayer, by Aaron Weinstein
The Official Rules of Baseball Illustrated: An Irreverent Look at the Rules of Baseball and How They Came to Be What They Are Today, by David Nemec
Stealing First and Other Old-Time Baseball Stories, by Chris Williams
Sports Journalism: A History of Glory, Fame, and Technology, by Patrick S. Washburn and Chris Lamb
Buzzie & The Bull: A GM, a Clubhouse Favorite, and the Dodgers' 1965 Championship Season, by Ken LaZebnik
The Baseball Bat: From Trees to the Major Leagues, 19th Century to Today, by Stephen M. Bratkovich
Cy Young: The Baseball Life and Career, by Lew Freedman
Deaf Players in Major League Baseball: A History, 1883 to the Present, by R.A.R. Edwards
Arky: The Baseball Life of Joseph Floyd "Arky" Vaughan, by Frank Garland
Hardball Architects – Volume 1 (American League), by Derek Bain
Bolded names indicates that the author(s) is a SABR member. Click here for a list of publishers found in the SABR Bookshelf, along with their contact information.
To view past editions of the SABR Bookshelf, click here.
---
Add a new baseball book to your collection from the SABR Digital Library:
Pride of Smoketown: The 1935 Pittsburgh Crawfords
Edited by Frederick C. Bush and Bill Nowlin
Associate editors Len Levin and Carl Riechers
ISBN (paperback): 978-1-970159-25-7, $34.95
ISBN (e-book): 978-1-970159-24-0, $9.99
8.5" x 11", 349 pages

Click here to read the full description of this book at SABR.org.
SABR members, get this e-book for FREE!
SABR members can download all Digital Library e-books for free or save 50% off the paperback editions. To find all titles, visit SABR.org/ebooks.
Having trouble downloading our e-books? To view PDF files on your computer, click here to download the free Adobe Reader software. Having trouble downloading e-books to your Kindle, Nook, Sony Reader or iPad? Click here for additional help.
---
The SABR office, housed at Arizona State University's Walter Cronkite School of Journalism and Mass Communication in Phoenix, Arizona, has been closed indefinitely due to the ongoing coronavirus (COVID-19) situation. Staff members will work remotely until it is advisable to resume normal operations on-site.
Please contact a member of the SABR staff by email or phone with any questions.
---
Baseball fans, tune in this season to SABRcast with Rob Neyer, a weekly podcast hosted by award-winning author and longtime SABR member Rob Neyer.
Episode #73 on Monday, August 17 featured Michael Schur, an Emmy Award-winning TV series producer, and writer who has created critically acclaimed ensemble comedy shows, including The Good Place, Brooklyn Nine-Nine, Parks and Recreation, and The Office. He is the co-host, with Joe Posnanski, of The Athletic's The PosCast podcast and he has written about sports on numerous websites, most notably on the defunct blog Fire Joe Morgan under the pseudonym Ken Tremendous. He was a writer for NBC's Saturday Night Live after graduating from Harvard University.
Visit SABR.org/sabrcast to listen to the full episode.
Subscribe to SABRcast on your favorite podcast networks, including Apple Podcasts, Spotify, Stitcher, or Google Play, and listen to each episode as soon as it's released on Mondays. To learn more, visit SABR.org/sabrcast.
---
Four new biographies were posted this week as part of the SABR Baseball Biography Project. Here are the new bios published this week:
All new biographies can be found here: SABR.org/bioproject
Find any SABR biography: You can visit sabr.org/bioproject to search for any player — or manager, executive, scout, spouse, broadcaster, or umpire — who appears in the SABR BioProject. In addition, we have pages for Ballparks, Broadcasters, Executives, Games, Managers, Scouts, Spouses, Umpires, Writers, people who were Famous Outside Baseball, and a lot more.
---
Thirteen new game stories were posted this week as part of the SABR Games Project. Here are the new game stories:
New Games Project stories can be found at SABR.org/gamesproject.
Get involved: Have memories of a game you attended? Or a game you watched that caught your interest? Write about it! Writing for the Games Project is an easy way to get involved as a SABR member. Find out how by reading the Games Project FAQs section or checking out the Authors' Guidelines. We have editors and fact checkers who are willing to help you write your first article.
---
Behind the Numbers: Baseball SABR Style on SiriusXM, a radio show hosted by former SABR Board President Vince Gennaro, is back at a new time. Listen to new episodes at 5:00-6:00 p.m. ET on Saturdays on MLB Network Radio.
You can also listen to archives of recent episodes on-demand on the SiriusXM Internet Radio app.
Behind the Numbers: Baseball SABR Style on SiriusXM focuses on examining and interpreting the statistical analysis that plays a critical role in baseball today. It airs weekly throughout the year on MLB Network Radio, available to subscribers nationwide on XM channel 89, Sirius channel 209, and on the SiriusXM Internet Radio App.
---
SABR member Marty Resnick is working on a research project, "Baseball 2040 – The Future According to Baseball," and invites all members to fill out a short survey about the different trends, technologies, and issues that will have the most impact on Major League Baseball in the future.
Baseball, and its history, is a reflection on culture and society in the past and present, and it could also be input, context, and/or predictor for predicting plausible futures. This research will focus on how we could look at the future through the lens of baseball.
For any comments or questions, please contact Marty Resnick.
---
We've heard your feedback: Some of you have said you look forward to "This Week in SABR" every Friday, but sometimes there are just too many compelling articles and announcements to read every week. We're not complaining — hey, keep up the great work! — but we know the feeling. So in an effort to make the length of this newsletter more manageable to read, we'll summarize some of the repeating/recurring announcements in a special "In Case You Missed It (ICYMI)" section of "This Week in SABR".
Here are some major headlines from recent weeks that we don't want you to miss:
All previous editions of This Week in SABR can be found here: https://sabr.org/content/this-week-in-sabr-archives.
---
We'd like to welcome all of our new SABR members who have joined this week. You can find all Members-Only resources at members.sabr.org and the Membership Handbook can be downloaded here.
Please give these new members a warm welcome and help them make the most of their membership by giving them the opportunity to get involved in their local chapter or a research committee.
You can find contact information for any SABR member in the online Membership Directory.
| Name | Hometown |   |   | Name | Hometown |
| --- | --- | --- | --- | --- | --- |
| Wesley Anderson | Madison, WI | | | Taiyo Konishi | Sacramento, CA |
| Louis Barella | San Rafael, CA | | | Sophie Kullman | Powell, OH |
| Richard Belle Isle | Marshall, VA | | | Koby Lieu | Foster City, CA |
| Jason Bounds | Redwood City, CA | | | Connor Moore | East Lansing, MI |
| Chad Bowar | Parker, CO | | | Frank Parrott | Billings, MT |
| Cody Dennis | Hanover, OH | | | Jack Peebles | Winter Garden, FL |
| Jeff Dickson | Louisville, KY | | | H.J. Prairie | New London, NC |
| Marc Evans | Merthyr Tydfil, GBR | | | Dave Pretty | Rock Hill, SC |
| Heeney Figueroa Calderin | Habana, CUB | | | Thomas Reilly | St. Petersburg, FL |
| Stephen Iovanna | New Haven, CT | | | Edgar Santana | Yonkers, NY |
| Laura Kintz | Weymouth, MA | | | Jonathan Wilt | Leonardtown, MD |
---
Here are the new research committee updates this week:
Find all SABR research committee newsletters at SABR.org/research/committees.
---
Here are the new regional chapter updates this week:
Visit SABR.org/chapters for more information on SABR regional chapters.
---
Scroll up to the top of this newsletter to learn more about the upcoming virtual events on the SABR calendar. In addition, the following in-person meetings are scheduled on our Events Calendar:
September 4: John Donaldson Statue Dedication Ceremony (Glasgow, MO)
We strongly recommend that all SABR chapters follow CDC public health guidelines and your local/state government regulations when scheduling any in-person meetings and events.
Find details on all upcoming meetings on our SABR Events Calendar page.
---
Here are some recent articles published by and about SABR members:
Please note: Some articles may require a separate subscription to view online. SABR does not endorse, and is not responsible or liable for, any content that appears on a third-party website.
---
This Week in SABR is compiled by Jacob Pomrenke. If you would like us to include an upcoming event, article or any other information in "This Week in SABR," e-mail jpomrenke@sabr.org.
Have trouble reading this e-mail? Click here to view this week's newsletter on the web.
Are you receiving our e-mails? "This Week in SABR" goes out by e-mail to all members on Friday afternoons. If they're not showing up, try adding "sabr.notes@sabr.org" to your contact list to ensure they show up in your inbox (and not the spam folder.)
---
Originally published: August 21, 2020. Last Updated: August 21, 2020.
https://sabr.org/wp-content/uploads/2020/06/SABR-LatestNews-TWIS-2016.jpg
250
847
sabr
/wp-content/uploads/2020/02/sabr_logo.png
sabr
2020-08-21 14:27:10
2020-08-21 14:27:10
This Week in SABR: August 21, 2020