This Week in SABR: January 7, 2022
Welcome to "This Week in SABR!" Click here to view this week's newsletter on the web. Here's what we've been up to as of January 7, 2022:
---
SABR is excited to announce the launch of a new virtual event, Ballpark Figures, a monthly interview series hosted by award-winning writer Shakeia Taylor. The first live Zoom show — free for all baseball fans to attend — kicks off SABR Day festivities at 8:00 p.m. EST on Thursday, February 3.
Taylor is a Chicago-based baseball historian and freelance writer whose work has appeared at SB Nation, FanGraphs, Baseball Prospectus, MLB.com, Yahoo! Sports, and other outlets. She was a recipient of the 2021 SABR Analytics Conference Research Award for historical baseball analysis/commentary.
The first guest on Ballpark Figures is Roger Cador, who won more than 900 games and two HBCU national championships as the baseball coach for 33 years at Southern University. He was inducted in 2021 to the American Baseball Coaches Association Hall of Fame and in 2019 to the Louisiana Sports Hall of Fame.
Ballpark Figures will be held on the first Thursday of each month; beginning in March, registration will be free and open to any active SABR member.
---
Longtime SABR member and baseball historian Bill Humber has been appointed a member of the Order of Canada, one of 93 Canadians to receive that appointment from Governor General Mary Simon on Tuesday, December 28.
Established in 1967, the Order of Canada recognizes outstanding achievement, dedication to the community, and service to the nation. Those appointed to the Order are deemed to have changed Canada's "measure of success and, through the sum of their accomplishments, have helped us build a better Canada."
Humber was honored for "his contributions as Canada's premier baseball historian, who has highlighted the key ways in which the sport's history is linked to our nation."
On top of the countless presentations about Canadian baseball history that he has done across North America, Humber has also authored several groundbreaking books on the topic, including Cheering for the Home Team (1983), Let's Play Ball: Inside the Perfect Game (1989), The Baseball Book and Trophy (1993) and Diamonds of the North: A Concise History of Baseball in Canada (1995). He was elected to the Canadian Baseball Hall of Fame in 2018.
---
Registration is now open for the 13th annual SABR Frederick Ivor-Campbell 19th Century Base Ball Conference, which will be held on April 29-30, 2022, at the Baseball Hall of Fame in Cooperstown, New York. All baseball fans are welcome to register for this special event.
The 2022 conference will be highlighted by a keynote address from author Thomas Gilbert, along with a panel discussion on owner Chris Von Der Ahe with John Thorn, Tom Hetrick, Dennis Thiessen, and moderator Bill Ryczek; a special presentation by Jonathan Popovich on "A Game of Ball: Reconstructing The Elysian Fields, 1845-1865"; a Member Spotlight interview of Dixie Tourangeau by Bob Bailey; plus research presentations.
Registration: Click here to download the registration form (PDF). Registrations can be accepted by mail only.
Cost: Conference registration is $65 per person, including the Saturday luncheon. Tickets for the optional Friday evening Welcoming Dinner ($50) and Saturday's Post-Conference Gathering ($40) at the historic Otesaga Hotel can also be purchased in advance for you or a guest.
RSVP: Please mail your registration form no later than February 28. Registration is limited to the first 100 people to sign up, so please register early!
Contact: For questions, contact Peter Mancuso at peterplus4@earthlink.net.
To learn more about the conference, visit SABR.org/ivor-campbell19c
---
Early registration is now open for the SABR Virtual Analytics Conference, which will be held over four days in online sessions from March 17-20, 2022. We'll bring together the top minds in the baseball analytics community to discuss, debate, and share insightful ways to analyze and examine the great game of baseball. Register today to join us!
The Virtual Analytics Conference schedule consists of research presentations and guest speakers from throughout the baseball analytics community, career development sessions led by experienced sports professionals, and industry networking opportunities — all available online for any aspiring front office executive or baseball fan to attend from the comfort of home. Students will have opportunities for skill acquisition and development, including sessions on how to work with baseball-related data sets as well as databasing and SQL.
Registration: Click here to register for the 2022 SABR Virtual Analytics Conference. Early-bird registration is $75 for SABR members, $100 for non-members, and $50 for currently enrolled high school or college students (includes one-year SABR membership).

Student Registration: Students should email Scott Carter with a photo of their student ID to receive a special link to register at a discounted rate.
Stay tuned for more information on speakers, panelists, and presenters soon! Visit SABR.org/analytics to learn more.
---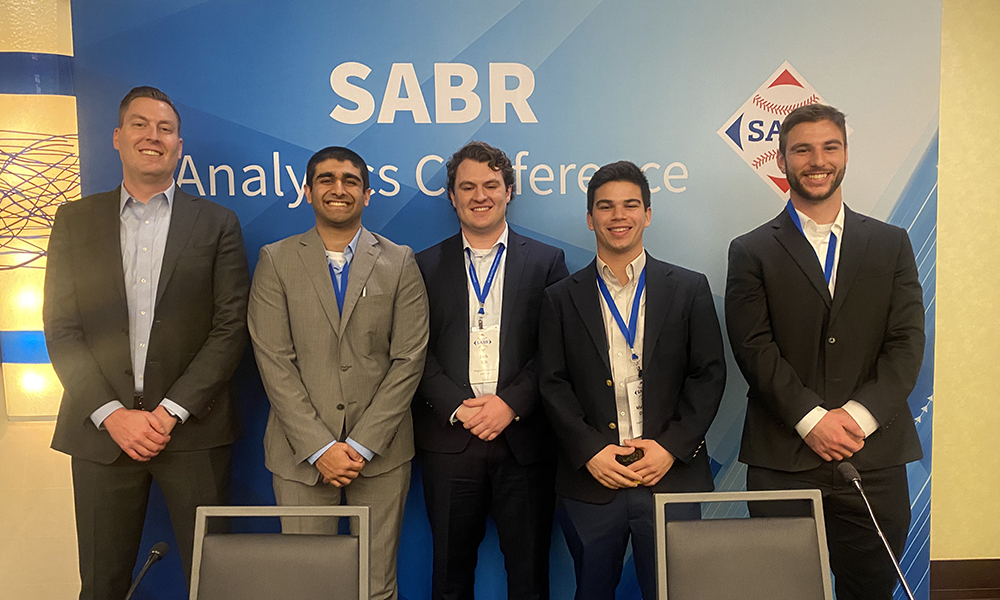 The 2022 Diamond Dollars Case Competition will be held online beginning at 11:30 a.m. ET on Friday, March 18, 2022, as part of the SABR Virtual Analytics Conference. Four- to five-person student teams are asked to evaluate a baseball operations case problem. The student team presents their analysis and recommendations to a panel of judges that includes MLB front office executives.
Visit SABR.org/analytics/case to learn more.
---
While we continue to celebrate SABR's 50th anniversary this year, we are keeping a keen eye on our organization's future and have so many exciting projects on deck. In 2022, we will deliver the SABR Local Grants program. This initiative will provide an opportunity for chapters, research committees, and chartered communities to apply for funding for their projects under SABR's Four Pillars: Research, Scholarship, Preservation, and Future of the Game. In total, $10,000 in SABR Local Grants will be awarded in 2022!
All SABR chapters, chartered communities, and research committees are now eligible to apply, until January 30, 2022. Individual SABR members and non-SABR groups are not eligible, so if you have an individual idea for a program grant, please follow up with your local chapter leadership or appropriate research committee to discuss an application.
Click here to read the full announcement at SABR.org.
---
SABR's Negro Leagues Committee will award $1,000 scholarships to high school seniors in its 14th annual Thomas R. Garrett Scholarship essay contest in 2022. Students must write a 1,200-word essay answering a question related to one of the Negro League figures who are the namesakes of the scholarships.
Click on a link below to learn more about each scholarship or to download an application. The deadline to apply is April 15, 2022.
The Jimmie Crutchfield Memorial Scholarship will honor one high school senior with a $1,000 prize and give out one $500 award for special recognition. The deadline to apply is April 15, 2022.
Visit SABR.org/malloy to learn more.
---
SABR chapters and committees are encouraged to set up virtual meetings to stay engaged with our members throughout the world at SABR.org, as part of our Stay Home With SABR initiative to assist in limiting the spread of the COVID-19 coronavirus pandemic.
Can't-Miss Event: The 16th annual SABR Rogers Hornsby Chapter Winter Meeting will begin at 9:00 a.m. CST on Saturday, January 8. We've once again assembled a Hall of Fame lineup of baseball speakers and presenters for your viewing and listening pleasure. This year features former executives, trailblazing pioneers, and good old fashioned baseball talk, including former Houston Astros GM Tal Smith, umpire Perry Barber, Round Rock Express GM Tim Jackson, Round Rock Express broadcaster Mike Capps, with presentations from chapter members Dan Walsh, Jim Baker, and Jan Larson. Click here to pre-register for this free Zoom meeting or visit SABRHornsby.org for more details.
Video Replays: This week, we heard from author Dan Joseph (Baseball's Greatest What If). Click here to view more video replays of virtual SABR events.
Here are some more upcoming virtual events you can attend online; check the Events Calendar for complete details:
January 8: Rogers Hornsby (TX) Chapter Winter Meeting (9:00 a.m. CST)
January 8: Talkin' Baseball: Jay Jaffe (10:00 a.m. EST)
January 8: John Thorn: "Two-Platoon Baseball: Faceless Heroes in the Age of Substitution" (3:00 p.m. EST)
January 9: Robinson-Kell (AR) Chapter meeting with Fred Worth (7:00 p.m. CST)
January 10: Ottawa Chapter meeting (7:00 p.m. EST)
January 10: Elysian Fields (NJ) Chapter meeting with Stu Shostak (7:30 p.m. EST)
January 11: SABR 19th Century Speaker Series with Alan Cohen (8:00 p.m. EST)
January 13: Pee Wee Reese (KY) Chapter meeting with Jay Jaffe (5:00 p.m. EST)
January 13: Ken Keltner (WI) Chapter meeting with Marcus Hanel (7:30 p.m. CST)
January 15: Jack Graney (OH) Chapter book club meeting (9:00 a.m. EST)
January 15: Sweet Lou Johnson Lexington (KY) Chapter meeting with Clayton Trutor (1:00 p.m. EST)
January 15: SABR Baseball Memories meeting (4:00 p.m. EST)
In addition, the following events will be held in person:
January 8: Halsey Hall Chapter Hot Stove Saturday Morning (Minneapolis, MN)
January 10: Bob Broeg St. Louis Chapter meeting (St. Louis, MO)
January 15: Babe 'n' Bob Chapter Breakfast (Edgewater, MD)
Find more upcoming SABR meetings on our Events Calendar page.
---
Baseball fans, tune in this season to SABRcast with Rob Neyer, a weekly podcast hosted by award-winning author and longtime SABR member Rob Neyer.
Episode #143 on Monday, January 3 featured Jeff Neuman, a prolific editor of many baseball books for the past four decades, including the fifth and sixth editions of Macmillan's The Baseball Encyclopedia. He served as Vice President and Director of Sports Books at Simon & Schuster for 15 years. He is the co-author of A Disorderly Compendium of Golf and Just Hit It. Since 2014, he has worked as Managing Editor of the Metropolitan Golf Association's magazine, The Met Golfer, and has been a contributor to the New York Times, Wall Street Journal, The A Position, and RealClearSports.
Visit SABR.org/sabrcast to listen to the full episode.
Subscribe to SABRcast on your favorite podcast networks, including Apple Podcasts, Amazon Music, Spotify, or Stitcher, and listen to each episode as soon as it's released on Mondays. To learn more, visit SABR.org/sabrcast.
---
Last fall, we launched the newly expanded SABR Oral History Collection online at sabr.org/oralhistory, where you can find audio interviews with some of the most interesting figures in baseball history. Here is a new oral history interview added to our collection this week:
The SABR Oral History Collection now includes more than 650 audio files of interviews conducted with ballplayers (Major Leagues, Minor Leagues, Negro Leagues, AAGPBL), executives, scouts, authors, writers, broadcasters, and other figures of historical baseball significance. These interviews, some of which date back nearly 60 years, were conducted by members of SABR's Oral History Research Committee; many of these recordings were digitized through a collaboration with the National Baseball Hall of Fame Library.
You can now find links to most SABR Oral History interviews on each player's page at the SABR BioProject and also by searching the Research Collection.
If you are interested in contributing to SABR's Oral History Collection, the committee offers guidelines for conducting effective oral history interviews or contact Jacob Pomrenke to learn more about donating your own audio recordings. Many SABR members use Oral History interviews as a launching point to write that person's biography for the SABR BioProject.
---
Six new biographies were posted this week as part of the SABR Baseball Biography Project. Here are the new bios published this week:
All new biographies can be found here: SABR.org/bioproject
Find any SABR biography: You can visit sabr.org/bioproject to search for any player — or manager, executive, scout, spouse, broadcaster, or umpire — who appears in the SABR BioProject. In addition, we have pages for Ballparks, Broadcasters, Executives, Games, Managers, Scouts, Spouses, Umpires, Writers, people who were Famous Outside Baseball, and a lot more.
---
Twelve new game stories were posted this week as part of the SABR Games Project. Here are the new game stories:
New Games Project stories can be found at SABR.org/gamesproject.
Get involved: Have memories of a game you attended? Or a game you watched that caught your interest? Write about it! Writing for the Games Project is an easy way to get involved as a SABR member. Find out how by reading the Games Project FAQs section or checking out the Authors' Guidelines. We have editors and fact checkers who are willing to help you write your first article.
Social media: Follow the SABR Games Project on Twitter or Facebook to keep up with new stories and updates.
Read more from Baseball's Biggest Blowout Games online: In 2020, the SABR Digital Library published Baseball's Biggest Blowout Games, edited by Bill Nowlin, with more than 125 accounts of the most lopsided games in major-league baseball history, including postseason games and the top four for all 30 MLB franchises. All of the stories from the Blowouts book can now be found online as part of the SABR Games Project.
---
Behind the Numbers: Baseball SABR Style on SiriusXM, a radio show hosted by former SABR Board President Vince Gennaro, is back at a new time. Listen to new episodes at 4:00-5:00 p.m. ET on Saturdays on MLB Network Radio.
You can also listen to archives of recent episodes on-demand on the SiriusXM Internet Radio app.
Behind the Numbers: Baseball SABR Style on SiriusXM focuses on examining and interpreting the statistical analysis that plays a critical role in baseball today. It airs weekly throughout the year on MLB Network Radio, available to subscribers nationwide on XM channel 89, Sirius channel 209, and on the SiriusXM Internet Radio App.
---
Here is a list of SABR supporters for the month of December 2021:
| NAME |   | NAME |
| --- | --- | --- |
| Dean Abelon | | Thomas Love |
| Harry Adamo | | Susan Lundstrom |
| Matthew Albertson | | Robert Mains |
| John Alcamo | | Nick Malian |
| Dennis Auger | | Peter Mancuso |
| Sandy Barlow | | Richard Maniglia |
| Robert Barrier | | Alex Marks |
| Jeff Barto | | Daniel Massey |
| Benjamin Baschinsky | | Rob McBride |
| John Bauer | | Lawrence McCray |
| Lynn Bevill | | Barry Mednick |
| Andrew Blume | | Tom Miller |
| Milton & Brittany Bowens | | Dave Mona |
| D. Bruce Brown | | Brad Moody |
| Ron Brown | | Chad Moody |
| John Burbridge III | | Frank Mooney |
| Allan Burdick | | Alan Morris |
| Arthur Cantu | | Thomas Mullen |
| Ken Carrano | | Matthew Mullin |
| Angel Castillo | | Andrew North |
| Ralph Christian | | Bill Nowlin |
| Karl Cicitto | | Jon Ohman |
| Ken Clawson | | Ralph Olliges Jr |
| Andrew Clem | | Dwight Oxley |
| Rodger Coauette | | Rodney Page |
| Robert Cole | | Robert Parham |
| Angel Colon | | Melyssa Paulson |
| Peter Coolbaugh | | Wayne Pedersen |
| Jim Cox | | Laura Peebles |
| E. Stephen Cunerd | | Gregg Pericich |
| Jon Daniels | | Greg Petty |
| Dennis Duquette | | Terry Phelps |
| Vernona Elms | | Barry Posin |
| Steven Elsberry | | John Rall |
| Joseph Favano | | Alan Raylesberg |
| Robert Fenili | | David Rockoff |
| Rebecca Fields | | Stephen Roney |
| David Firstman | | J. Scott Rose |
| Matthew Flesch | | Michael Rosenwasser |
| Adam Foldes | | Charles Roussel |
| Kent Fredrickson | | Bob Russon |
| Steve Friedman | | Michael Sass Jr |
| Gary Frownfelter | | Robert Sawyer |
| Vince Gennaro | | Richard Schabowski |
| Jeanne Glazer | | Michael Schell |
| Roger Godin | | Jason Scheller |
| Don Gomes | | Douglas Schoppert |
| Gerard Goulet | | John Schwarz |
| Earnie Granville | | Joseph Seliga |
| Lawrence Grasso | | John Shaffer |
| Michael Green | | Punch Shaw |
| Stephen Greyser | | Rob Sheinkopf |
| Mary Griswold | | Lynda Singer |
| David Guslani | | Linda Skory |
| Roger Hammond | | Janet Marie Smith |
| Timothy Harner | | Mikel Smith |
| Roxann Hassett | | Mike Sparks |
| Leslie Heaphy | | Tony Stahl |
| Julie Hedden | | Mark Stangl |
| Paul Hensler | | Steve Steinberg |
| Tim Herlich | | Joel Sternberg |
| Rockwell Hoffman | | Thomas Stone |
| James Holl | | Wesley Story |
| Tom Howell | | Dennis Strobel |
| Perry Huang | | David Studenmund |
| Thomas Hufford | | Stephen Suknaic |
| David Hughes | | Henry Summer |
| Jim Hughes | | Larry Taylor |
| Noel Hynd | | Joseph Thompson |
| Jeff Jaech | | John Thorn |
| Kirk Jenkins | | Stew Thornley |
| Donald Jensen | | Neal Traven |
| Rick Jones | | Ralph Turner |
| Christopher Kaempfer | | Stephen Turner |
| Evan Katz | | Hoyt Wallace |
| Lloyd Kepple | | Ronald Weaver |
| Michael Klingensmith | | Steve West |
| Michael Klitsch | | Gary Williams |
| Stephen Krevisky | | Beach Wires |
| Jeffrey Kutler | | Thomas Wolf |
| Christopher Lanski | | Jeffrey Wood |
| Lewis Levey | | Tony Yoseloff |
| Daniel Levitt | | Don Zminda |
| Henry Levy | | |
Want to become a Friend of SABR? Click here to make a recurring monthly contribution or click here to learn more about our Giving Circles to make a one-time contribution.
---
Please note: Only ONE entry per nomination will be considered (do not submit multiple nominations for the same award). For more information on SABR Awards, click here.
---
Here are some major headlines from recent weeks that we don't want you to miss:
All previous editions of This Week in SABR can be found here: SABR.org/this-week-in-sabr-archives.
---
We'd like to welcome all of our new SABR members who have joined this week. You can find all Members-Only resources at members.sabr.org and the Membership Handbook can be downloaded here.
Please give these new members a warm welcome and help them make the most of their membership by giving them the opportunity to get involved in their local chapter or a research committee.
You can find contact information for any SABR member in the online Membership Directory.
| Name | Hometown |   |   | Name | Hometown |
| --- | --- | --- | --- | --- | --- |
| Jonathan Amato | Leawood, KS | | | Steven Kresmery | Washington, MI |
| Timothy Anderson | Towson, MD | | | Carol Laube | Reno, NV |
| Ryan Atkinson | Roswell, GA | | | Jason Levin | Santa Monica, CA |
| James Bach | Shickshinny, PA | | | Ted Lewis | Bethesda, MD |
| David Bagdade | Indianapolis, IN | | | Matt Lutzke | New York, NY |
| Thomas Bell | Baltimore, MD | | | Greg Lutzke | Brighton, MI |
| David Biesek | Pasadena, CA | | | Michael Lyons | Thiensville, WI |
| John Blake | Grapevine, TX | | | Will MacLean | Skokie, IL |
| Robert Bowling | Fishers, IN | | | Michael Maltese | Singapore, SGP |
| Garry Brown | Wilbraham, MA | | | Rick McAuliffe | East Greenwich, RI |
| Andrew Burdick | Newton Square, PA | | | Brendan McGair | Warwick, RI |
| Blake Burdick | Phoenix, AZ | | | Jacob Nagel | Louisville, KY |
| Eddie Byrd | Memphis, TN | | | James Nahigian | Pacific Palisades, CA |
| Glenn Cashion | Middletown, NJ | | | Barry Neeb | Berlin, MD |
| Chris Cesare | Orange, CT | | | Enoc Nieves | Santa Isabel, PRI |
| Christian Chase | Fort Lauderdale, FL | | | Clint Nohavec | Hobart, WA |
| Steven Cheskin | Silver Spring, MD | | | Christopher Nowaczyk | Philadelphia, PA |
| Tim Christian | Burlingame, CA | | | Rich O'Malley | New York, NY |
| Bill Corbin | Boston, MA | | | Chris Pohore | Brooklyn, NY |
| Daniel Cox | Chicago, IL | | | Scott Ratzel | South Euclid, OH |
| Jeff Curtis | Plainfield, IN | | | Hendrix Reynolds | Everett, WA |
| Antoine de Nobili | Düdingen, SWI | | | Fred Richards | Brockport, NY |
| John de Sousa | Toronto, ON | | | Brian Rogers | Austin, TX |
| Aidan Donnan | Cabin John, MD | | | Ari Rubin | East Williston, NY |
| Kyle Eidson | Star, ID | | | Eve Schaenen | Montclair, NJ |
| Bruce Einhorn | Nipomo, CA | | | Andrew Slade | Scottsdale, AZ |
| Jim Eisenhower | Philadelphia, PA | | | Jake Smith | Columbia Heights, MN |
| Vincent Fusaro | Springfield, VA | | | Riley Sonz | Palm Harbor, FL |
| Matthew Gentile | Durham, NC | | | Dave Soyars | Camarillo, CA |
| John Giannelli | Forest Park, IL | | | Mark Stewart | Mason, MI |
| Michael Giganti | Rockville Centre, NY | | | Ian Thomas | Kent, WA |
| Andrew Godfrey | Deridder, LA | | | Jonas Thoms | Morgantown, WV |
| Charles Gregory | Nacogdoches, TX | | | Wyatt James VanDyke | Lake Geneva, WI |
| Kevin Gruber | Lombard, IL | | | Chris Vargas | Long Beach, CA |
| Bailey Hall | Austin, TX | | | Thomas Wachtel | Carmel, IN |
| Jeffrey Haskins | Palm Beach, FL | | | Sam Wallace | Grayson, GA |
| Eugene Horowitz | Red Bank, NJ | | | Adam Wright | North Bend, WA |
| William Hyland | Lisbon, ME | | | David Yamin | Sarasota, FL |
| Susan Keiser | Philadelphia, PA | | | Andy York | Austin, TX |
---
Here are the new research committee updates this week:
Find all SABR research committee newsletters at SABR.org/research/committees.
---
Here are the new regional chapter and chartered community updates this week:
Visit SABR.org/chapters for more information on SABR regional chapters.
---
Here are some recent articles published by and about SABR members:
Please note: Some articles may require a separate subscription to view online. SABR does not endorse, and is not responsible or liable for, any content that appears on a third-party website.
---
This Week in SABR is compiled by Jacob Pomrenke. If you would like us to include an upcoming event, article or any other information in "This Week in SABR," e-mail jpomrenke@sabr.org.
Have trouble reading this e-mail? Click here to view this week's newsletter on the web.
Are you receiving our e-mails? "This Week in SABR" goes out by e-mail to all members on Friday afternoons. If they're not showing up, try adding "sabr.notes@sabr.org" to your contact list to ensure they show up in your inbox (and not the spam folder.)
---
Originally published: January 7, 2022. Last Updated: January 10, 2022.
https://sabr.org/wp-content/uploads/2020/06/SABR-LatestNews-TWIS-2016.jpg
250
847
sabr
/wp-content/uploads/2020/02/sabr_logo.png
sabr
2022-01-07 15:29:14
2022-01-10 11:34:56
This Week in SABR: January 7, 2022